Looking for an easy slideshow maker for Mac? Below we will show you top 10 free slideshow maker for Mac, and you can choose any one to create interesting, animated videos in form of slideshows from your pictures while adding your favorite music or sounds to run in the background.
Free Slideshow Maker for Mac OS X (macOS Sierra Included)
#1. iSkysoft Slideshow Maker for Mac
iSkysoft Slideshow Maker perfectly works with Mac OS, making fantastic movies or slideshows out of your videos and photos. Besides, it can also burn the videos and photos into DVD from your iMovie files and iPhoto files. iSkysoft Slideshow Maker for Mac combines the function of both iMovie and iPhoto and lets users to add more effects when make slideshow on Mac.
Make a slideshow with lots of professional themes and editing features.
Share it all on iTunes, iDVD, YouTube, iPhone, iPad, or burn to DVD and more.
Allow you to add your own credits, captions titles, background music and other effects.
Full compatible with Mac OS X 10.6 Snow Leopard, 10.7 Lion, 10.8 Mountain Lion, 10.9 Mavericks, 10.10 Yosemite, and 10.11 EL Capitan.
people have downloaded it
==> How to Make Movie Slideshow with iSkysoft Slideshow Maker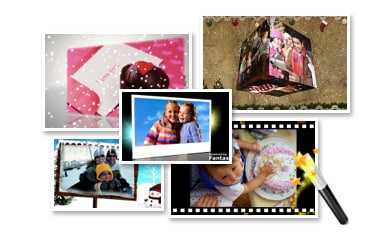 #2. iPhoto
iPhoto is a slideshow making program for Mac that has a beautiful interface which makes it easy to learn and use. With an extensive range of special effects, this software makes it ideal to use. It comes with different audio effects and shortcuts that you can use to make the slideshows. Aside from this factor, it also has great editing tools and great effects that you can use to make your slideshow interesting. Its photo organization helpers allow you to share your pictures or slideshows on Facebook and other social media forums.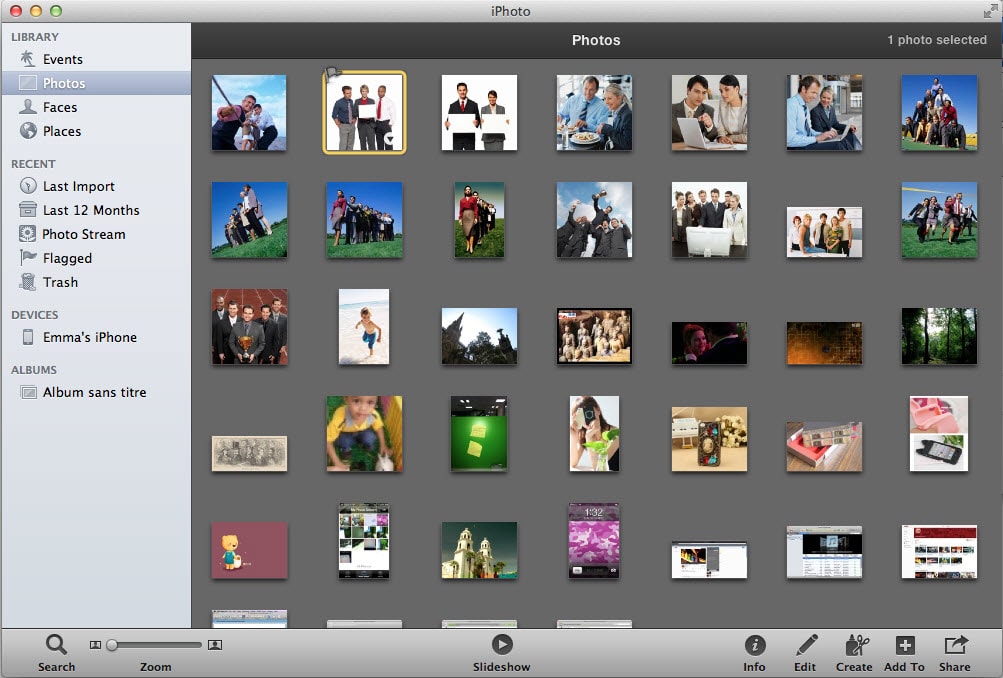 #3. iSkysoft DVD Creator for Mac
iSkysoft DVD Creator for Mac is another highly recommended slideshow maker for Mac users. This all-in-one tool enables you to simply drag and drop your photos and videos to the program and create slideshow. You can add background music to make the slideshow attractive. Besides slideshow creating, you can also convert videos in any format from any source to DVD disc or DVD file. See more benefits with this Mac slideshow creator.
Make slideshow with photos and background music.
Convert slideshow to DVD files and DVD disc.
Burn DVD with any videos in any format.
Provide thousands of free DVD menu templates.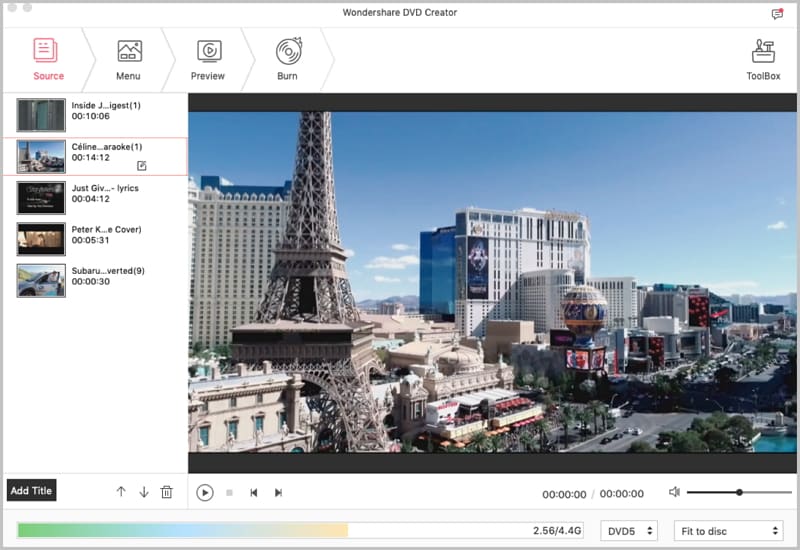 #4. HyperEngine AV
The HyperEngine-Av which was previously a Montage is a great multimedia editor which allows you to combine seamless photos, videos, texts and sounds to come up with great slideshows of family movies or even business presentations easily and quickly. With the HyperEngine, one can drag and drop media clips from a FireWire DV camera. You can later arrange this in your workshop to slideshows or movies.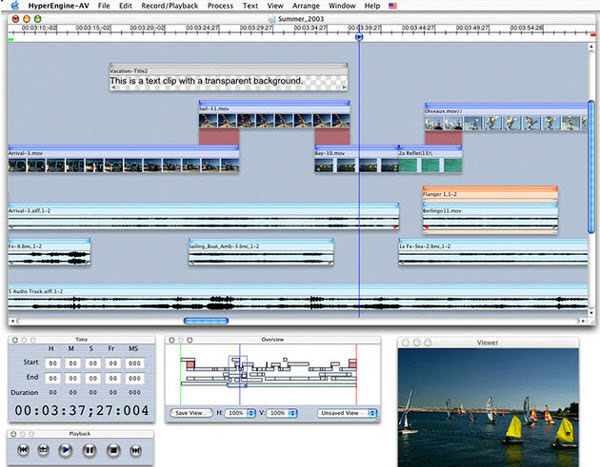 #5. iMovie
This software is preinstalled on Macs but which can also be downloaded online. It comes with several themes, new titles, video stabilization features that you can use to create slideshows. Whether you are using an upgraded version or not; iMovie comes with simple features which make the video editing process fun, satisfying and relatively easy not to mention stress free. You do not need any prior experience to fully use this software.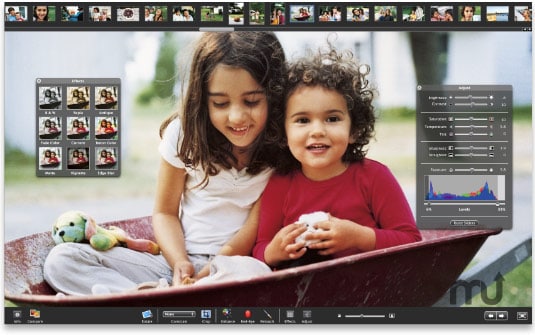 #6. iDVD
This is a built-in software that comes pre-bundled with your Mac. It lets you create video slideshows and picture slideshows using your digital media contents. It even offers an intuitive and easy-to-use interface. Furthermore, with this software, you can also burn or write your slideshows into a DVD disc on your Mac and enjoy the contents on Apple TV, computers or any other DVD players.
Pros:
It's a free slideshow maker software that comes pre-bundled with your Mac.
It offers a simple & intuitive interface which is easy to navigate.
You can also burn your slideshow to a DVD using this software.
Cons:
This comes with restricted features, for example, basic editing options, rudimentary theme or styling options.
This software doesn't allow to share your slideshow with friends & family.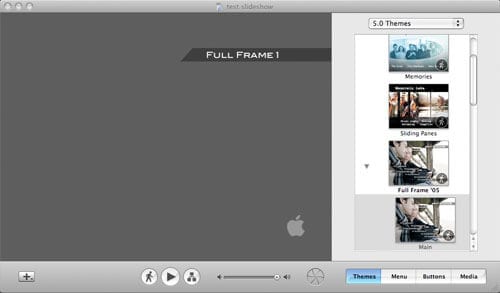 #7. JPEGDeux
It is an open-source tool for Mac OS X which can be used to make a slideshow program with image files. Originally inspired by a specialized tool (JPEGView), this effective slideshow generator comes with various useful customization options. With JPEGDeux, you can easily display your slideshows in full-screen mode, in a window, and in the Dock.
Pros:
It's an open-sourced slideshow maker tool for Mac OS X users.
It comes with several outstanding features especially the customization options.
You can easily create slideshows from recursive directories.
It's reliable and completely safe to use.
Cons:
The software doesn't come with vast editing options.
JPEGDeux doesn't allow you to share your slideshows with family & friends.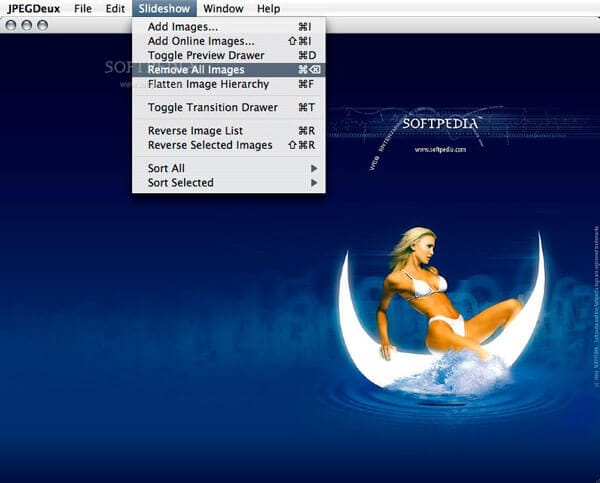 #8. FotoMagico 5
This tool presents you an absolutely trouble-free way to make a vivid yet beautiful slideshow on your Mac while using your existing photos, videos, music & text. Thus, you'll eventually create a high-resolution video or live presentation in a snap. What's more - this software offers you 4K Ultra HD resolution & splitting fast speed (that is less than 15 minutes). Considering all these features, FotoMagico 5 is a nice choice when it comes to choosing free slideshow maker.
Pros:
Allows you to easily create stunningly beautiful & professional looking slideshow.
Allows you to import photos, videos, music & text into your slideshow.
Offers interesting features like 4K Ultra HD resolution & splitting fast speed.
Cons:
Many important Pro features are only available to its premium licensed versions such as timeline view, recording mode, direct access to Lightroom photo libraries, additional export options etc.
The latest version of FotoMagico 5 is available only for Mac OS X 10.6.6 or later.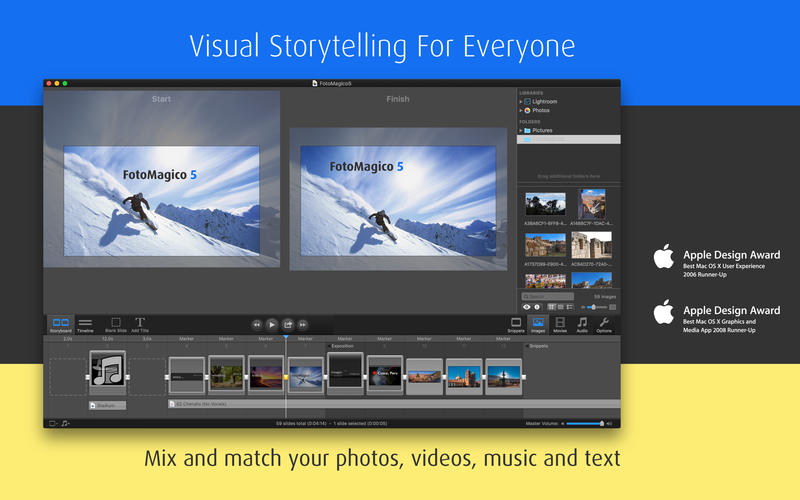 #9. Muvee Reveal Express for Mac
If you're looking for a free yet convenient slideshow maker for Mac OS X, then you can definitely try this software : Muvee Reveal Express for Mac. You can easily transform your photos into a live slideshow video with a maximum of 50 photos. You can also choose from one of five exciting styles, starting from Scrapbook-style slideshows to music-video slideshows (trailer type). Also, you can export your slideshow to iPad/iPhone/iPod Touch etc.
Pros:
Easily create a slideshow and export it to your gadgets.
You can make multiple slideshows with different songs & finally string them together.
Share your slideshows on big screens with iDVD or using Airplay.
Cons:
The latest version of this tool comes as a licensed and premium software.
You are limited to import a total of 50 photos in your slideshow.
It comes with only five styles or default themes.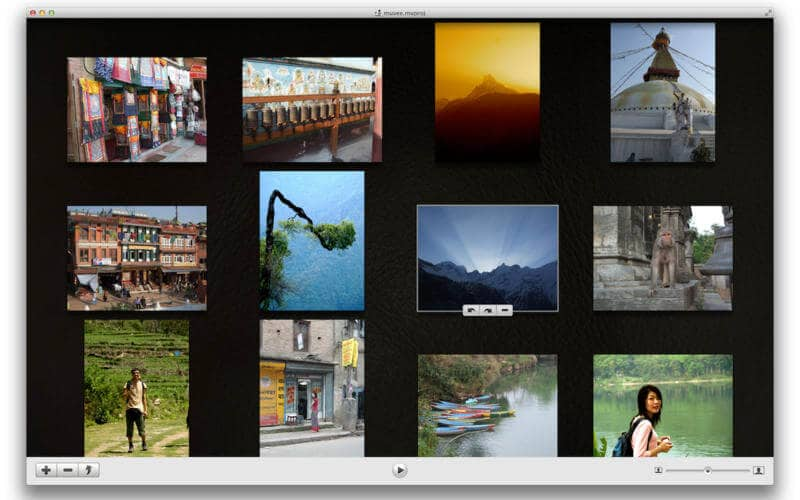 #10. 4K Slideshow Maker
It is a convenient, easy-to-use, and straightforward app that allows you to create slideshows. You can add the desired photos from your own Mac or from Instagram, select the music & then apply various gorgeous effects, filters, and transitions. It also comes with the advanced face recognition technology. Finally, you can save your slideshow on your iPhone or share it on Facebook.
Pros:
Add photos from your local folder or directly download them from your Instagram account.
Save the slideshow in Ultra 4K HD quality and enjoy the highest quality content on your iPhone, HD TV or even online.
Add your favorite music and customize the duration as per your wish.
Select your favorite video output format – Mac OS X Standard, Windows Standard, iPhone 5/4/3GS, YouTube, Facebook, iPad/iPad Mini etc.
Cons:
It doesn't allow you to burn your slideshow to a DVD.
It doesn't offer too many editing options.
It comes with only five styles or default themes.

How to Make Movie Slideshow with iSkysoft Slideshow Maker
The following user guide shows you how to make movie slideshow with iSkysoft Slideshow Maker for Mac.
Step 1
Download and run iSkysoft Slideshow Maker for Mac
Download and install Slideshow Maker for Mac, run this program, and you'll see its interface as below.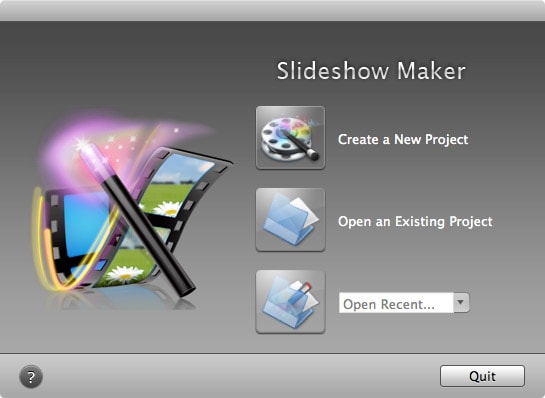 Step 2
Drag and drop media files into the program
Slideshow Maker for Mac offers a Media Browser icon for you to drag videos, images, and audio to your project easily. Click the Media Browser icon to select media you want and then click it again to close. After the media is added to the storyboard, drag and drop specific slide to design it. If you don't want the media, just drag it out of the Slideshow Maker to delete it. Besides the drag and drop method, it is easy for you to access editing buttons like rotate, edit and delete. You can also right click a photo or video for the same options. Before moving on to next step, set proper size for your slideshow. If you want to watch the show on mobile devices, you have to change the size when export. To set 1280*720 or 1920*1080 for a HD show.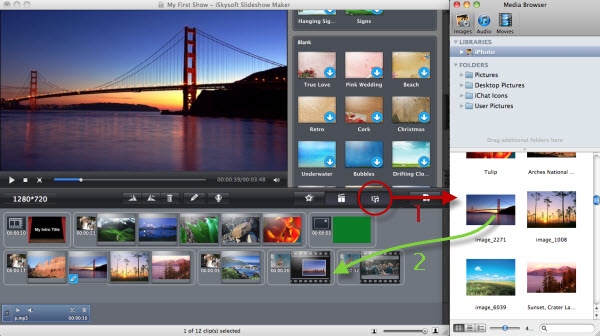 Step 3
Set slideshow styles
When you import videos and photos to the project, you will get random themes. You can keep them or change them anytime later as you like. Over 30 styles (themes) are included. To add a style to photo or video slide(s), simply drag and drop your desired style to the existing one to replace it. You are free to change style from one to another. You also can redefine the clips number if needed. Move mouse over a video or photo, a gear icon will appear on it. Click it to set clips number. If necessary, you can also change the duration of clips and background style. Click the option "Apply to all clips" to get all clips with the same duration. Alternatively, right click any slide to bring up a menu from which select individual duration by Duration option. Also note that only General and 3D styles allow you to change the background to pre-design paper or a local image on Mac. Internet connection is required to download themes with a down arrow indicator before you can apply them. Here is the all-in-one resource package that contains all themes and extra Intro/Credit slides.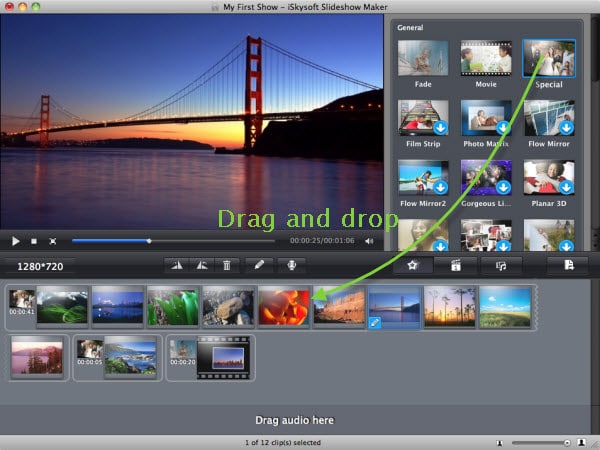 Step 4
Preview and share the slideshow
Now preview your slideshow movie from start to end. If you are happy with it, click "Share" icon on top, you will get many ways to share your slideshow movie with others. You can upload your shows to YouTube directly(simultaneously on Facebook if necessary), export to iTunes library or Apple devices, burn DVD. For sharing on Apple Device, you have no need to set the dimensions. The best dimensions and optimized parameters would be used. You can save the project for later editing. To do so, go to File menu and select Save or Save As option.