What is the transition in the video?
And what is the transition effect or video effect?
What is the most common transition in a film?
...
A transition always happens when one clip finishes and another begins. It makes videos smoother when change scenes. All videos need these transition effects like circles, squares, waves, wipes, and more to move between scenes. So, video transition effects are concerned to be one of the most indispensable elements in professional video editing.
I want to take a tool called "Filmora Video Editor" for your reference in this post. This special effect video editor comes with 100+ free built-in transition effects & unlimited paid effects resources (Filmstock), which are going to grab the viewer's attention as you jump from scene-to-scene.
Now, let's get started!
7 Examples of Cool Video Transition Effects for Your Vlogs and Films
A straightforward way to connect two scenes is to use the transition effect when doing video creation and video editing. Since the video editing project is different and the video themes are various, you must learn to apply other transition effects in the videos. The excellent video editor software like Filmora Video Editor can understand this well. It can fulfill cool video transition effects to your Vlogs and films. Below we pick up the top 7 stylish transition effects in Filmora Video Editor that you can use any one of them to customize your video.
1. Sample color transition
This type of transition is a collection of color samples that editors can use any sample color to travel from one scene to another. You will have multiple color sample options. And there are different colorful geometric transition samples, which show the color version in red, yellow, blue, pink, and blue. The color transition samples are widely used in graduation videos, landscape videos, and wedding video transitions. The way to apply color transition is straightforward. You pick up the color and geometric type you want and then drag and drop the timeline's change to add it to the video.
2. Sample video transition
The sample video transitions are also the collections of video transitions that users can apply any one of them at the beginning or ending of the video frame. The commonly used video transition is the countdown transition. This kind of video transition sample is created with the clock wipe transition technology. The countdown is about 5 or 10 seconds, which is often used at the beginning of the video clips. For example, a video showing important content will occur, or at the beginning of the movie, a countdown video transition will be applied.
3. Motion graphic transition
The set of motion graphic transition effects in Filmora Video Editor lets the editors customize their videos with beautiful modern graphics. Users can find the motion graphic transition from basic ones to complicated ones. And the graphic changes come in colorful. Filmora Video Editor can allow users to edit and customize the visual motion transitions. You can also download the graphic transitions and edit them in the Adobe Premiere Pro and other professional video editing tools.
4. Bar transition
There is a bar transition effect in Filmora Video Editor. The bar transition effect can be displayed in vertical and horizontal bars and present the change from one scene to another. This kind of transition is something like unveiling the stage to show an important thing. The bar transition can make an excellent effect if you make fair use of your video's growth. You might commonly see the bar transition effect in the wedding video transition.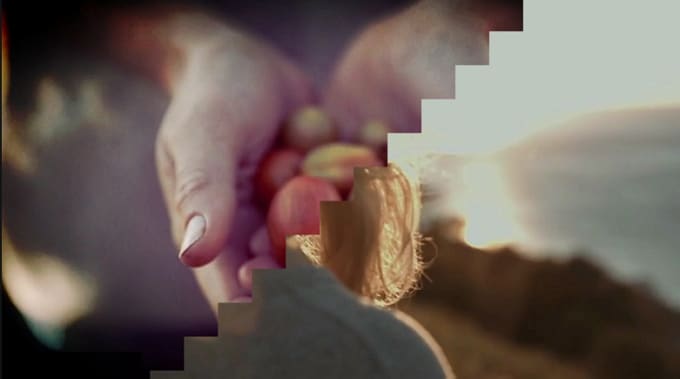 5. Blind transition
The blind transition effects can be used between two scenes to indicate the blinds' beginning and end. Filmora Video Editor enables the blind transition effects with beautiful animations. And it shows the blinds in the horizontal or vertical direction. The blind transition effect is the best video effect to open a scene or a slide to offer viewers a good impression on your video. Select the blind transition from Filmora Video Editor and drag it to the timeline for your video, and then customize the change.
6. Cinematic transitions
The cinematic transition effect in Filmora Video Editor is a special video effect used in movies or film transitions. This program provides you with many high-quality cinematic transition effects. You might have seen many old black and white films that use such a transition effect. Utilizing your videos' cinematic transition effects will help you create the vintage feel in your video project. There are multiple types of cinematic transition effects that you can choose from to fit your video theme.
7. Static transition effect
The static transition effect in Filmora Video Editor is a kind of impact that shows animated television static. You can use the static transition to make your video look great in your video editing. To enable the static transition effect in Filmora Video Editor, you add two videos to the program's timeline. And then, click on the "TRABSITIONS" option to select the static transition effect and drag it to the two videos' position. And it is possible to adjust the duration and customize the transition in the style you like.
---
Filmora Video Editor: Introducing 200+ Free Video Transition Effects for Your Reference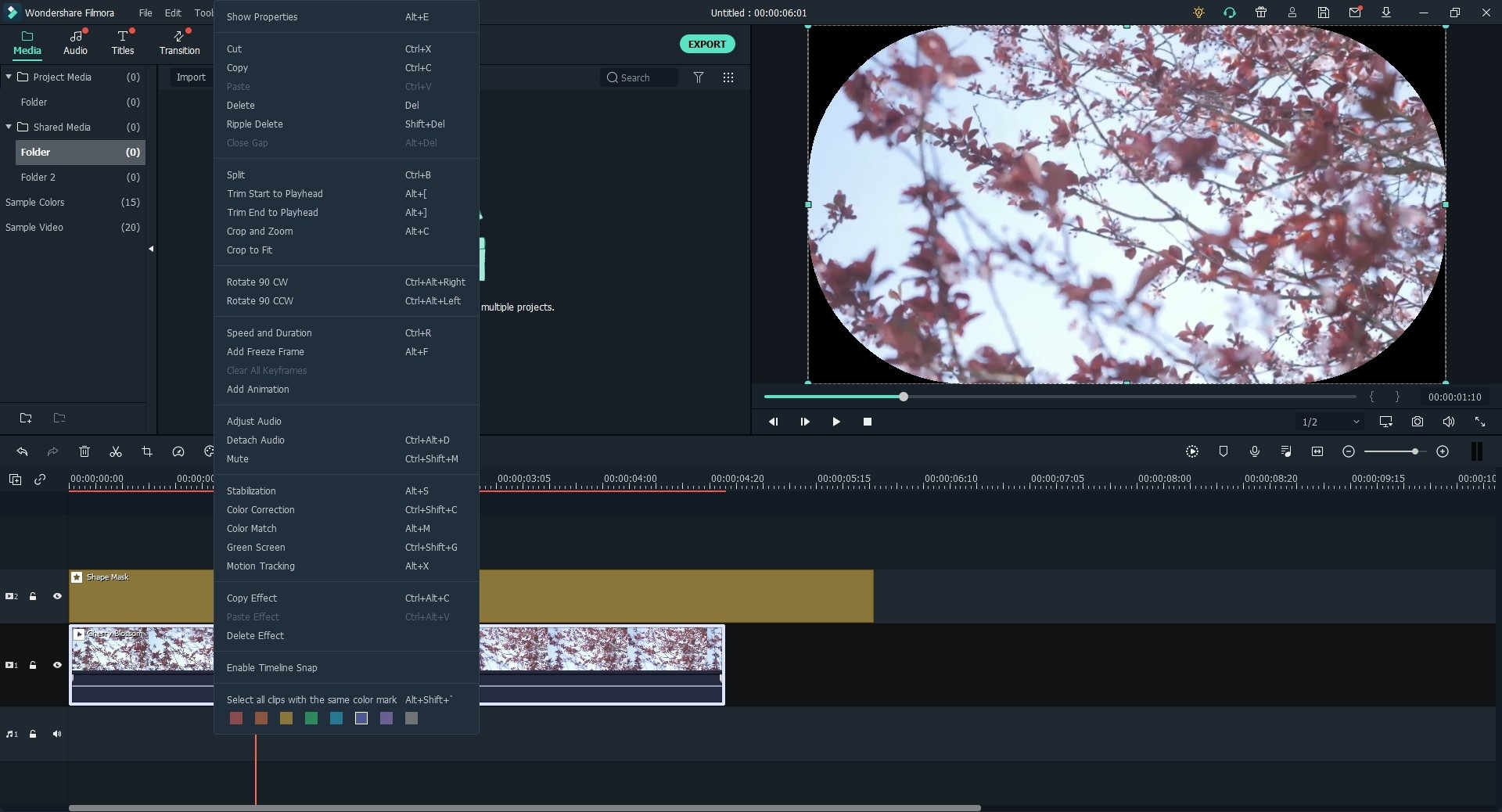 Filmora Video Editor for Windows (or Filmora Video Editor for Mac) is a special effect video editor, which not only allows users to edit a video like a pro but also provide users with various free effects for livening up their videos, including transitions, filters, overlays, title templates, etc. And it allows users to share edited videos freely under different online platforms.
This program comes with 200+ free transitions for your reference and is categorized into folders, such as basic, 3D, speed blur, warp, lifestyle, slideshow, linear, and so on. So, you can easily find and apply any transition effects to your video and preview it as you like.
Key Features:
Not only transitions, other effects like filters, texts, motion graphics, green screen, faceoff, PIP, split-screen, and more can also be found and applied to your videos directly.
Easy to use and get high-quality output in any formats, upload to the online web, or burn video to DVD.
All effects can be applied to videos within a few simple clicks, and you're also allowed to customize the results at your will.
...
---
How to Add Transition Effects to Videos using Filmora Video Editor?
Those people who have already discovered the excellent side of Filmora Video Editor enjoy endless benefits from time to time. You have the chance to find the same by reading through this guideline. It will give you an easy time when adding transition effects to your videos. Start by opening the program, but this is as long as it's already installed. If not, you must begin by installing, and that will take very minimal of your time.
To show you how easy the program works, I have created a video tutorial as follows:
Now, you've viewed the brief introduction of the Filmora Video Editor, and if you still have a question about it, let's check the next steps.
Step 1: Add video to Filmora Video Editor
The first step will be adding video files to your program, and they have to be those you intend to have the effects. Go to the "File" menu, and click "Import Media," and then browse through your computer to locate these files. For ease, you are advised to save the files in a place like desktop, where it will be straightforward when searching.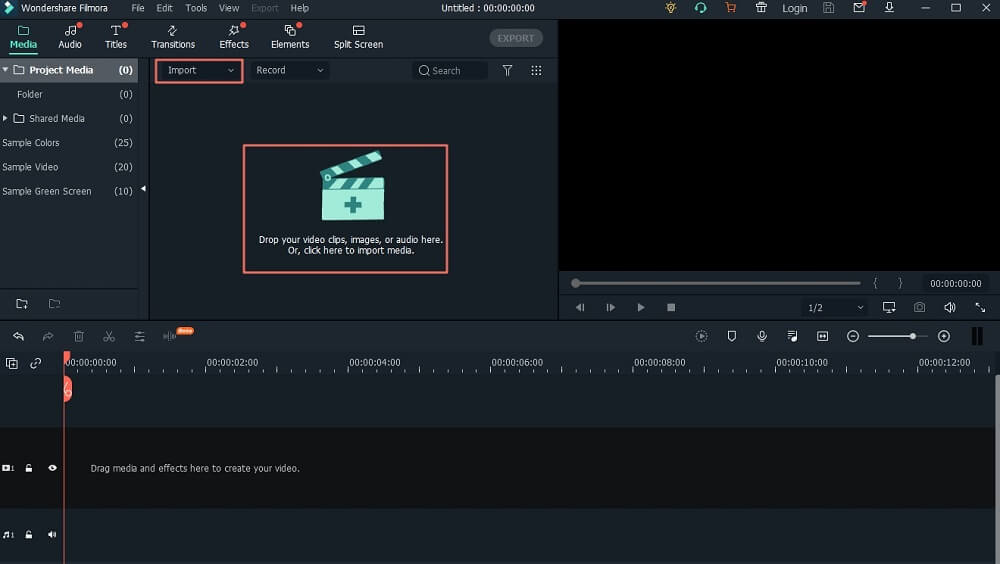 Step 2: Add transition effects to videos
Select the files to add and then drag to the program's timeline and drop. They will be added automatically. Now you can go to the "Transition" option to preview the full transition effects first. The Filmora transition effects are comparable to Premiere Pro transitions.
You can add effects to the videos singly or all at once, depending on your preference. To avoid any hitches, do it on a video at a time since multitasking has many challenges. The effects that you select will be added directly to the video. In case you want to do some more of the editing like trimming or rotating the video, this will be the right step to accomplish that.
Note: Transitions can only be added between video clips. You might need to split the video into several parts before you apply transition effects.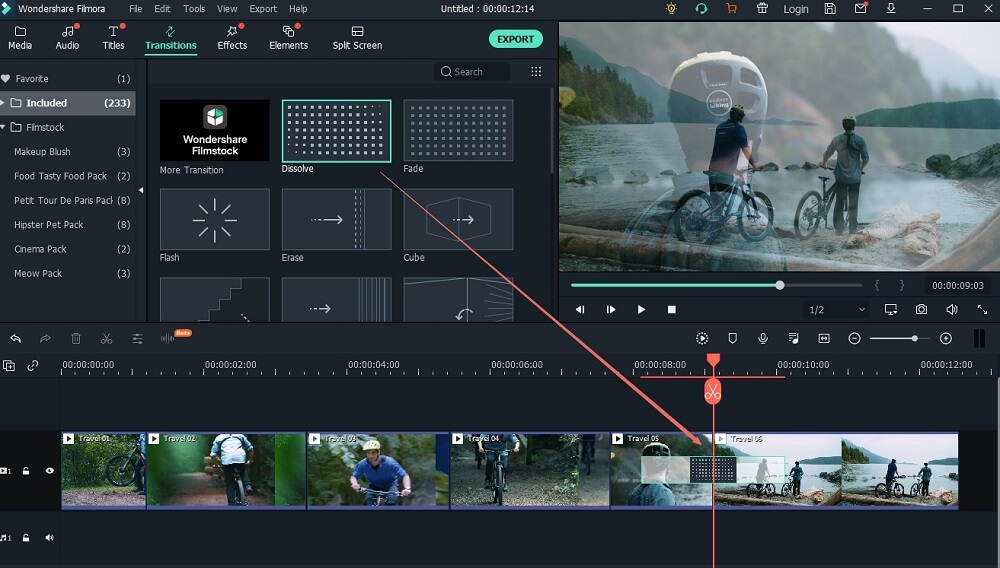 Step 3: Export the video
Finally, you can export your video with the "Export" button after successfully adding transition effects to your video.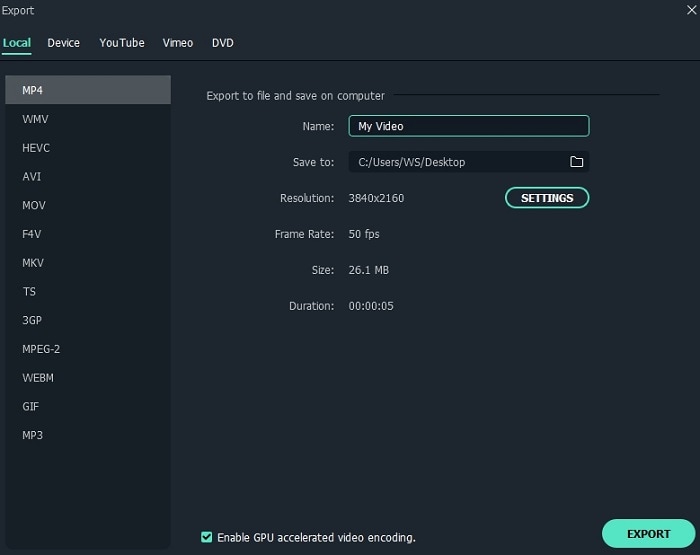 Read Also:
- How to Make Cool Videos with Effects
- How to Add Animated Text Effects to Videos
---
1000+ Special Video Effects for Filmora Video Editor and AE (After Effects)
If you're a novice or a beginner at the video editing area, then the Filmora's free transition effects can help you create an excellent video easily. But if you're a semi-professional or have a high requirement of the video effects, you'll not be satisfied with the program's existing video effects. And want to find some resources to get more special video effects for your videos, right?
Then, you've been the right place. Here, we would like to recommend an effects download site called "Filmstock" for all of you. This site will continuously update all kinds of impact packs for Filmora Video Editor and AE, free media assets, and footage. All effects and aids you find in this site are royalty-free.
Learn how to use Filmstockin details >>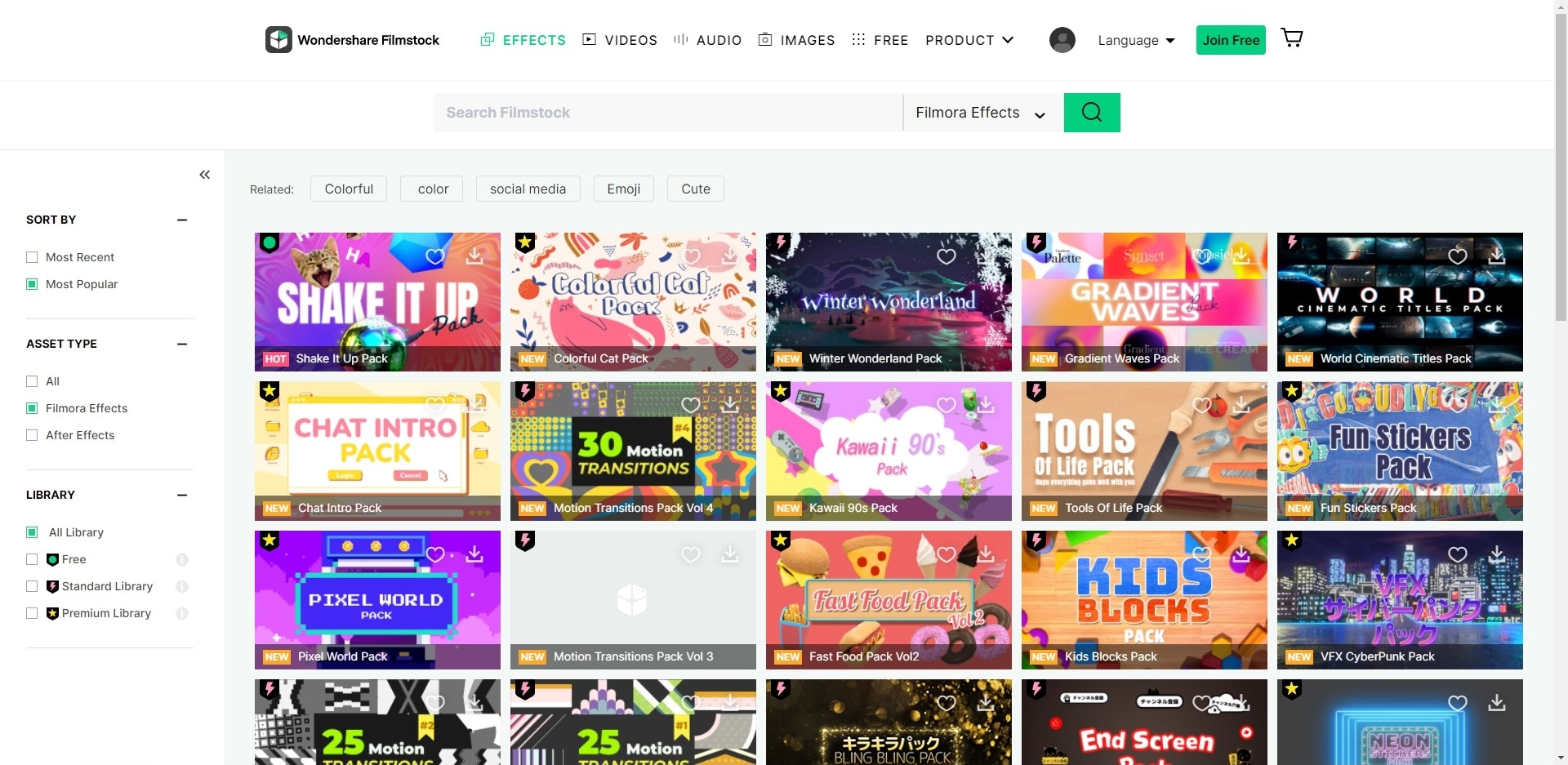 ---
Write in the End
There are still many other excellent transition effects in Filmora Video Editor. It provides you with 104 direct transition effects and 74 fancy transition effects. These transition effects are used the editing technology like wipe, fade in or fade out, dissolve, and more. You can drag your desired transition effect from the library and drop it between the two video clips to connect them with the magic mark. What's more, this program also provides you with lots of advanced editing skills like:
Audio extractor - you might be keen not to have your video and audio remain intact, and this feature will allow you to realize that. It will extract the audio files separately and even edit them with ease.
Timeline - this is all that you need for your video editing. The timeline has an easy-to-use interface to make editing enjoyable while viewing the project as you progress with your work.
Speed changer - never be frustrated that the speed at which your video is working under does not meet your expectations. If it's too fast, you can slow that down and increase if it's slow.
Green screen - this feature will make it possible to change the background music of your video. You can choose the best resonating music track to make your video's background track and offer a more personalized feel.
PIP effect - this is where you lay down many video files together to come up with a single video. As long as the videos have been laid in their right manner without violating any guidelines, you will end up with a superb effect.