- How do you edit videos for free?
MP4 video is the most common video format on the Internet, so you might need to edit MP4 files due to lots of reasons. However, as a novice in video editing, you cannot easily distinguish between a great MP4 video editor software and a piece of junk. And this will directly influence your video editing efficiency and output video quality.
Fortunately, we have produced a top-rated MP4 video editor list to show you 15 advanced yet reliable free MP4 editor. With these tools, you can easily edit your MP4 files with multiple video editing tools.
Now, let's check them one by one:
Part 1. Filmora Video Editor - Best MP4 Video Editor for Windows/Mac
Fimora Video Editor is a trustworthy MP4 video editing software to edit MP4 files. There is no problem of importing and exporting MP4 formatted videos. You can import MP4 videos for editing freely. It allows you to trim, split, merge, and crop MP4 videos, detach the audio from the MP4 videos to further editing, add background music, transitions and titles to MP4, etc. Besides, it offers multiple special effects, like filters, overlays, picture-in-picture, motion graphics, etc. for users to apply to videos.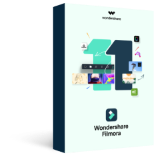 Best video editing software for beginner and semi-professional, that comes with powerful editing skills like trimming, splitting, rotating, editing, etc.
Advanced video effects like green screen, PIP, audio mixer, etc. can also be found and applied to your video within few clicks.
500+ free special video effects to customize and create an awesome movie by yourself.
1000+ standalone effects downloading resources to make videos in all kinds of styles.
Export videos to Chromebooks compatible format with 1 simple click.
Step-by-Step Guide to Edit MP4 Videos using Filmora Video Editor
Go to "Import" icon on the home button and then select "Import media files" and upload the MP4 file to edit. Next, drag and the files to the Media Library panel.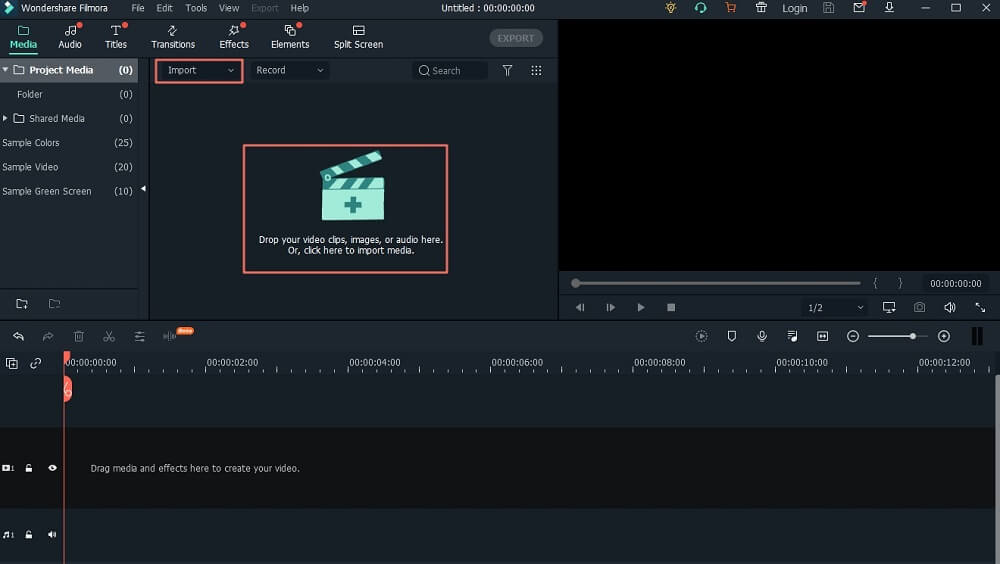 Step 2: Edit Video Files
Filmora MP4 Editor allows you to do a variety of basic and advanced video editing including. Basic video editing includes trimming, splitting, rotating, cropping and joining multiple videos into one. To apply effects on the video, click on the desired effects like: overlays, transitions or motions and drag it to the video to apply it.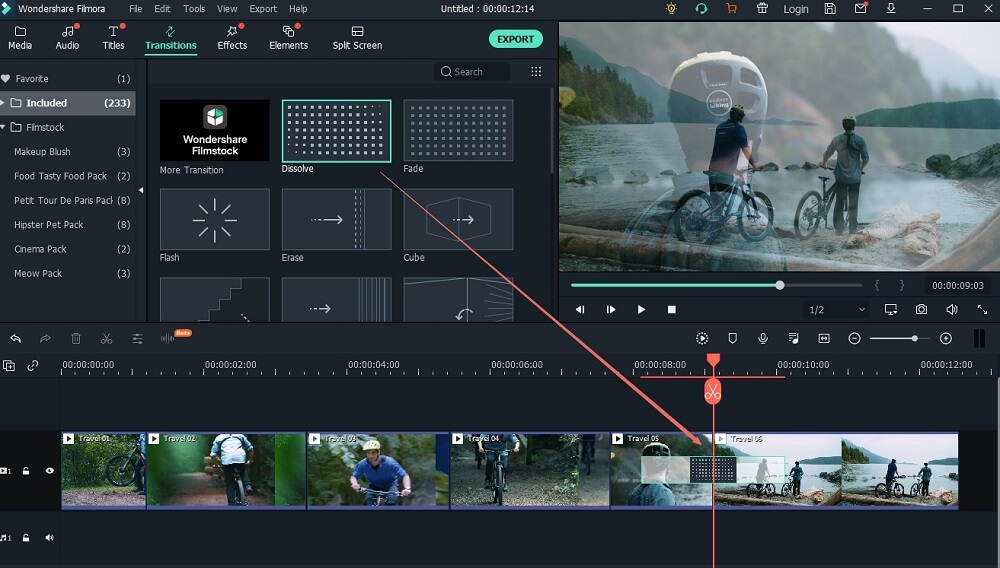 Quick Tips: To split clip on timeline, drag the play head to the position you want to split, click/right click and choose "Split".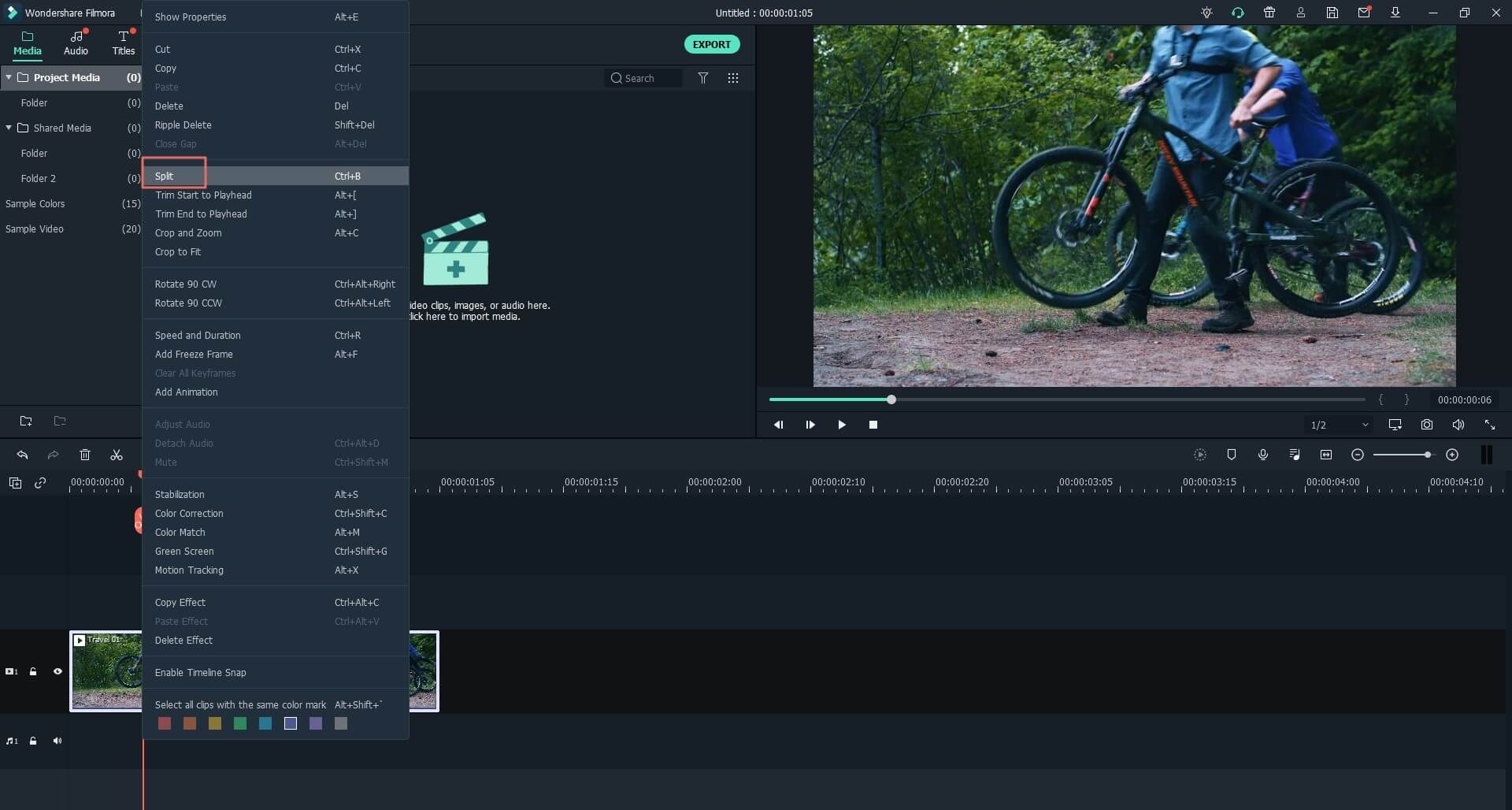 Quick Tips: To crop a video, select a clip in the timeline panel, right click on it and choose "Crop and Zoom" or click the "Crop" click button to open the editing panel. In the popup window, stretch and move the rectangle in the Preview window to define the desired frame area.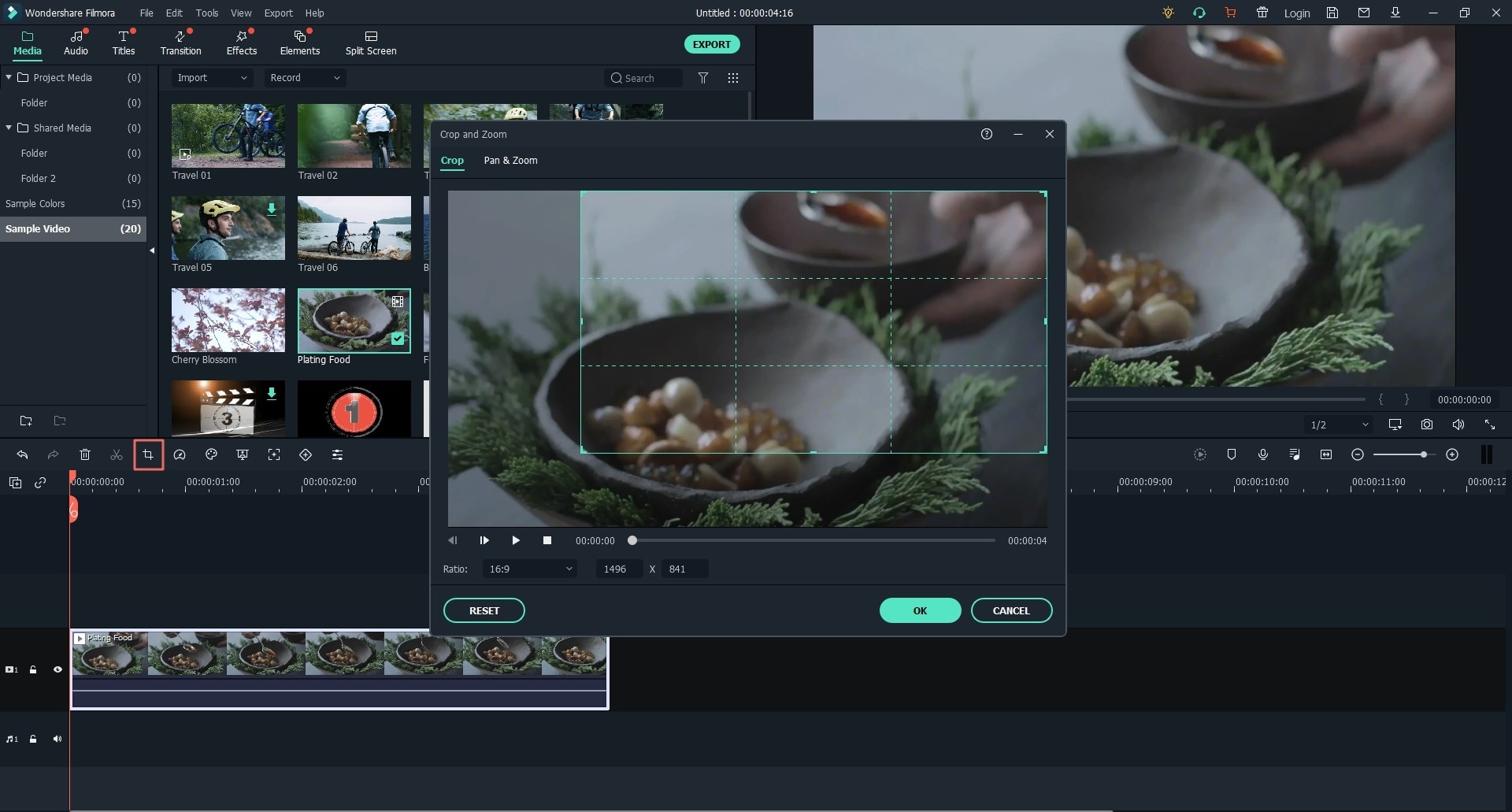 Step 3: Export and Share
Once done with all editing works, you should now save and export your work. You can do this in multiple ways, and that is:
- Exporting by formats;
- Export by devices;
- Directly share to social media;
- Burn to DVD.
To save the target video as MP4, just choose "Format" button. After that, you can rename the video and location where to save it and other settings and finally clicking Export to start the conversion.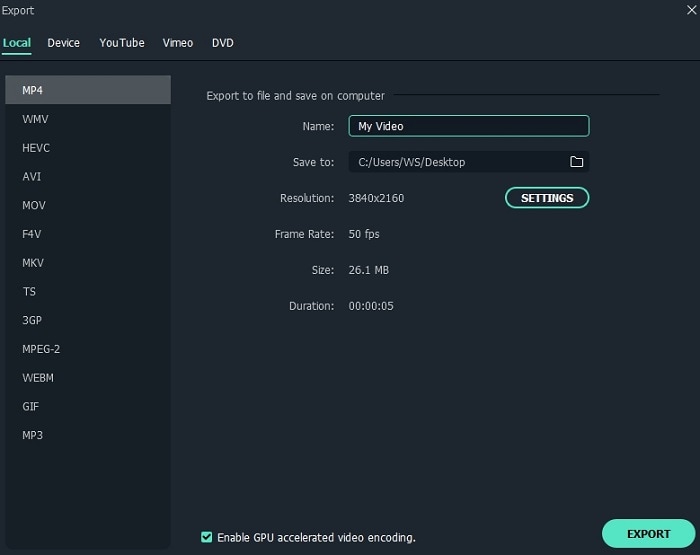 For more editing skills with Filmora Video Editor, please check the below video tutorial:
---
Part 2: Top 10 Free MP4 Video Editing Softwares for Window/Mac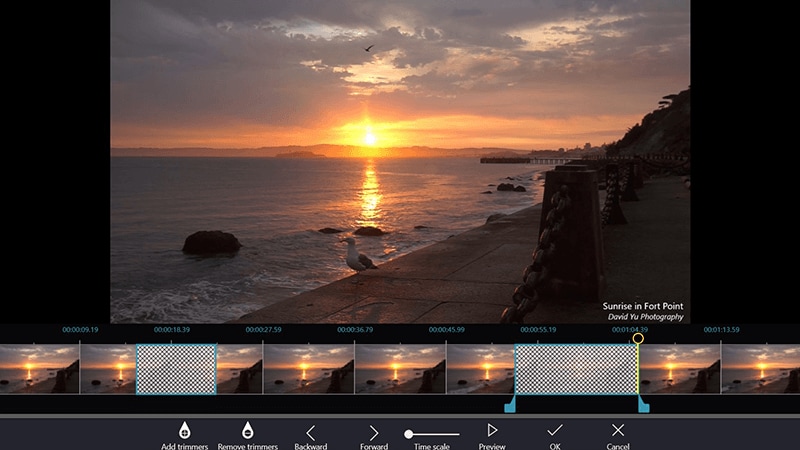 Windows Movie Maker is a free MP4 video editor and has always formed an integral part of the windows system for quite a number of years. It features a drag and drop functionality that enables you to add video files from the computer and drop them easily to the program. This software has made what was previously a nightmare possible. For instance, it allows you to easily put together videos and photos, add sound or music, apply effects and transitions, move videos and images around and play them at your own speed. It supports video formats such as MOV, M4V, WMV, AVI and MP4.
Pros:
It is easy to use.
It has multiple output options.
It features many video editing options.
Cons:
It crashes too much.
It is only available for windows OS.
Many versions are available for the same product.
Supported Platform: Vista, Windows XP, 7, and 8
Price: Free
---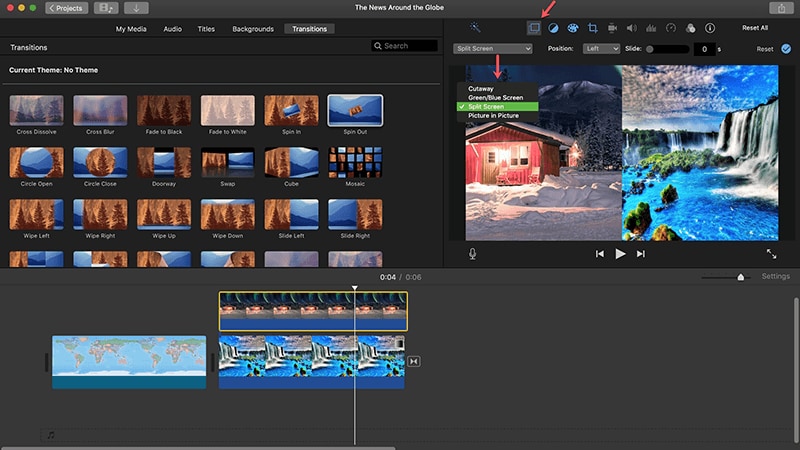 This MP4 editing software is an alternative to windows movie maker for Mac OS X. Its UI is simple to use and thus you can easily enhance the appearance of your videos. You just have to import video files from external devices or from your computer, arrange them, drop titles, and preview the results. With that done, click to export your files for internet usage or iOS. It supports formats such as MPEG, MOV, AVCHD, DV and HDV.
Pros:
It has a user-friendly interface.
Its audio editing as well as fun movie trailers are improved.
Cons:
It does not support direct import.
Import trans-coding and pre-processing is time consuming.
Supported Platform: Mac OS X 10.2 or later
Price: Free with the purchase of a Mac
---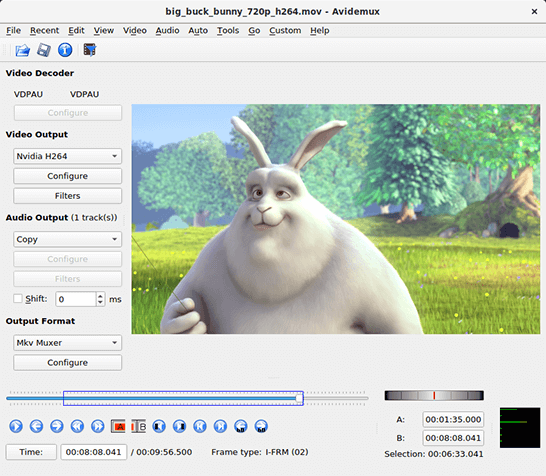 Avidemux is a free MP4 video editing software for Linux, Mac OS X and windows. It supports video formats such as ASF, MKV, AVI, MP4 and MPEG and comes with a feature that does filtering, cutting and encoding. It also has features such as encoding options, processing tools, different filters, and frame rate configuration. Another great feature of this program is that tasks can be automated with the use of job queue or projects.
Pros:
It is fairly simple to use and is lightweight.
It has a great selection of filters.
It has a command line interface meant for advance users.
Cons:
The interface is outdated.
In some formats it may drop frames.
It can be complicated for new users.
Supported Platform: Windows 2000/XP/Vista/7
Price: Free
---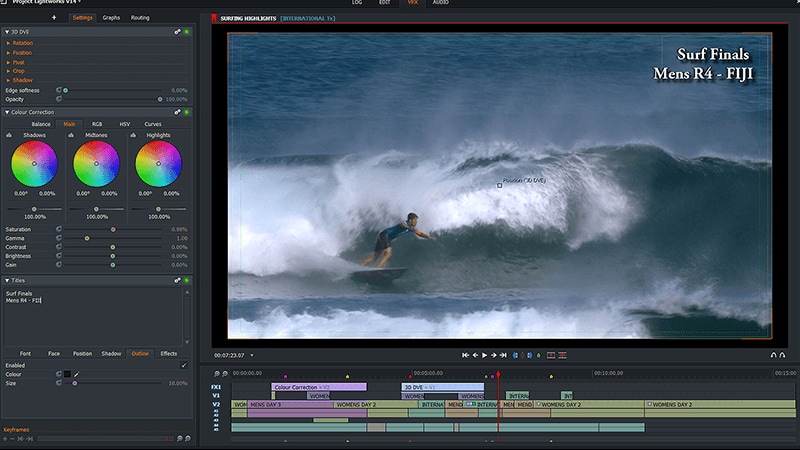 This is one of the progressed MP4 video editing software. Its interface is user-friendly and thus you can easily trim, import and weave video and audio files together in just a few mouse clicks. In addition to that, it also has features such as video capture function, board video format support, profession-level color correction and GPU-accelerated real time effects. It supports AVI, MP4, MOV, MPEG and other formats.
Pros:
It has customizable screens.
Its video quality is high.
There are a good number of video editing options.
Cons:
It needs a long learning curve.
It crashes regularly.
Supported Platform: Windows, Linux and Mac OS
Price: Free: $0; Pro: $24.99/month
---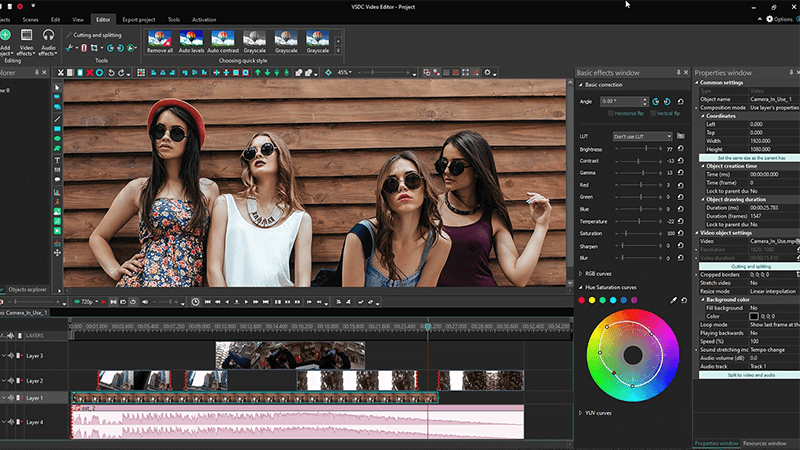 VSDC is a free MP4 editing software for windows. It supports video formats such as AVI, MP4, MPG, MKV, FLV, WMV and other formats. It provides drawing and selection tools, audio effects, transitions as well as video filters. Once you have completed editing, you can select the optimized outputs for devices such as gaming consoles and smartphones. It has a non-linear editing feature, and unlike other programs that uses linear editing tables to locate files in a sequence, this video editor locates and edits videos at any place of the table. It recognizes any graphical element as independent, and thus any effect tool can be used on any type regardless of its format.
Pros:
It has different output options.
It provides many useful filters.
It is absolutely free.
Cons:
At a high level it requires computer resources such as RAM and CPU..
Its interface is not very visceral.
Supported Platform: Windows 7 or newer
Price: Free: $0; Pro: $19.99
---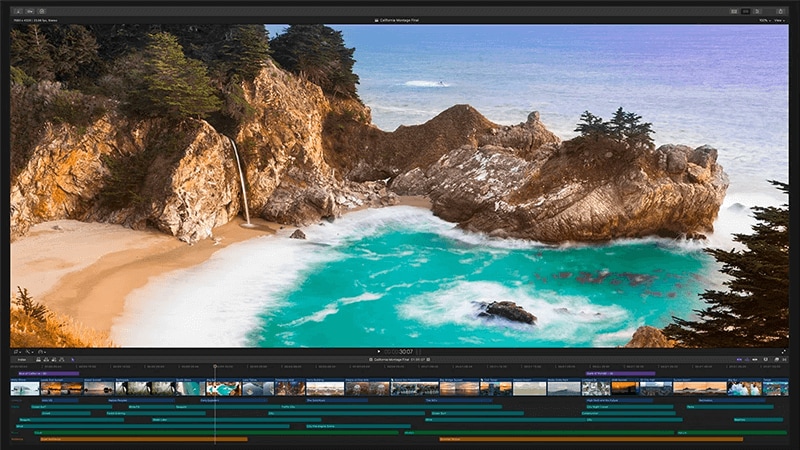 Final Cut Pro is video editing software available on iOS and you can use it to edit video, audio, motion graphics, and prep everything for delivery. It includes 4K and 360-degree video editing capability and VR headset playback. With great new features and an intuitive design, Final Cut Pro accelerates post-production. So editors can create and deliver at the speed of thought.
Pros:
Improved proxy workflows.
Smart Conform for social media.
High-performance Metal engine.
Cons:
Limited time for free trial.
Only works on Mac desktops.
Supported Platform: MacOS 10.15.6 or later
Price: Free Trial for 90 days or one-time payment of $299.99
---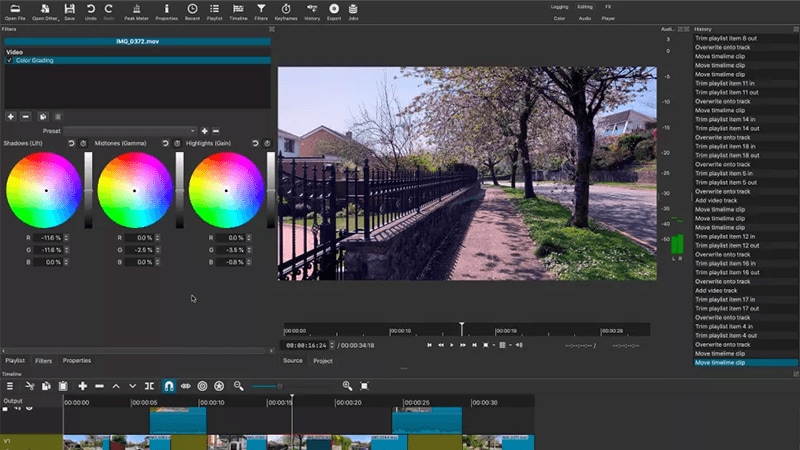 Shotcut is a free, open source, cross-platform video editor for Windows, Mac and Linux. Its major features include support for a wide range of formats; no import required meaning native timeline editing; Blackmagic Design support for input and preview monitoring; and resolution support to 4k. As such, it can be of interest to those who would rather not be dependent on giant software corporations, but prefer the continual regular upgrades of a community of enthusiastic and dedicated developers.
Pros:
Wide Format Support.
Free and multi-platform.
Full featured.
Cons:
No thumbnail previews for effects or transitions.
Can't automatically create new layers.
Supported Platform: Window/Mac/Linux
Price: Free at cost
---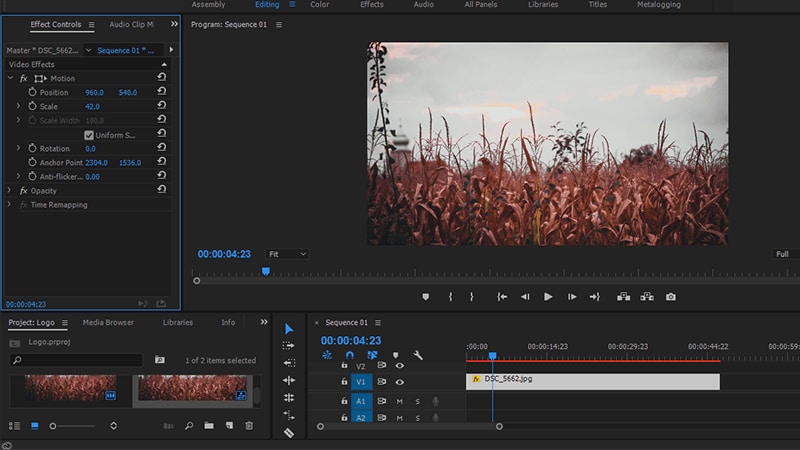 Adobe Premiere Pro is an expansive, professional-level digital video editing program with excellent collaboration tools, which works with the Creative Suite family of products or as standalone software. Premiere Pro has been known as an industry-standard for professional editing for some time. You can use it to edit any format from 8K to virtual reality on desktop and mobile workstations.
Pros:
Industry video editing level.
Works seamlessly with other Adobe softwares.
Full featured.
Cons:
Intimidating interface for nonprofessionals.
High requirement of system.
Supported Platform: Window/Mac
Price: 7 day Free Trial or charged at $31.49/mon
---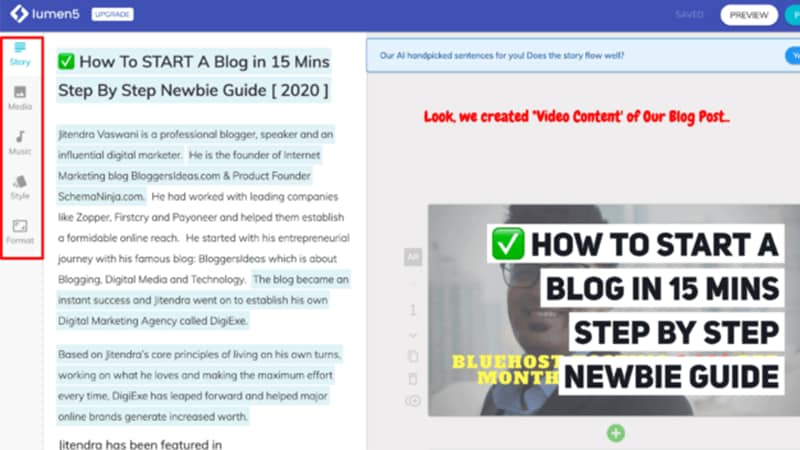 Lumen5 is an AI-powered video creation tool that helps in creating stunning engaging videos. And Lumen5 is the fastest video creating platform because it literally takes only a few minutes to create a video.The best part, with Lumen5 you can create engaging videos in minutes with little to no experience even if you're a beginner.You can easily create amazing videos in minutes. This AI technology offers marketing teams to focus on story and event while relying on this system to do the heavy lifting.
Pros:
Beginner-friendly features.
Thousands of fonts and templates.
Cons:
Limited to 3 videos per month
Contains Lumen5 watermark
Limited to 720p video resolution.
Supported Platform: Window/Mac
Price: Free: $0;Creator: $15/mon;Premium: $79/mon
---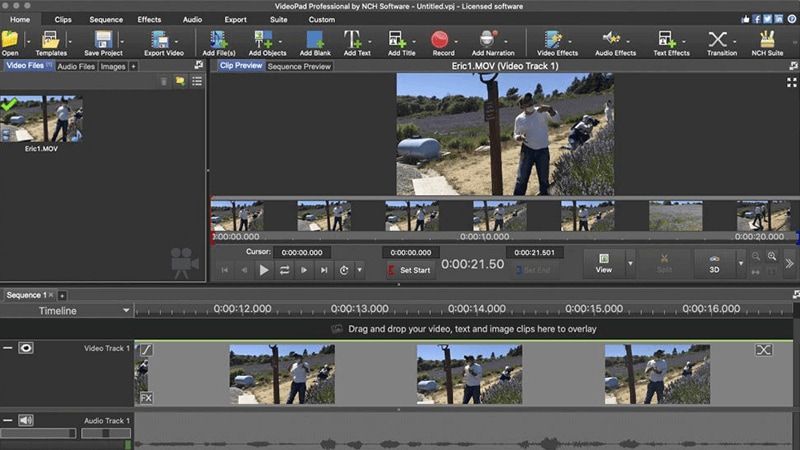 VideoPad is a video making solution that helps video editing professionals add visual effects and transitions to create 3D videos. The platform enables businesses to import music tracks, add text for captions, and adjust video speed to create GIF videos. The system offers video stabilization functionality, which lets operators reduce camera shaking effects. It allows managers to save visuals in PSP and iPhone, share them via YouTube, and export movies in HD, 2K, or 4K resolutions.
Pros:
Annoying notifications in free version.
Extensive output and sharing features.
Cons:
Annoying notifications in free version.
Auto speech to text subtitling feature works poorly.
Supported Platform: Window/Mac
Price: Free Trial or Editor Master's Edition Quarterly Plan at $2.77/mon
---
Part 3: Top 5 Free Online MP4 Video Editors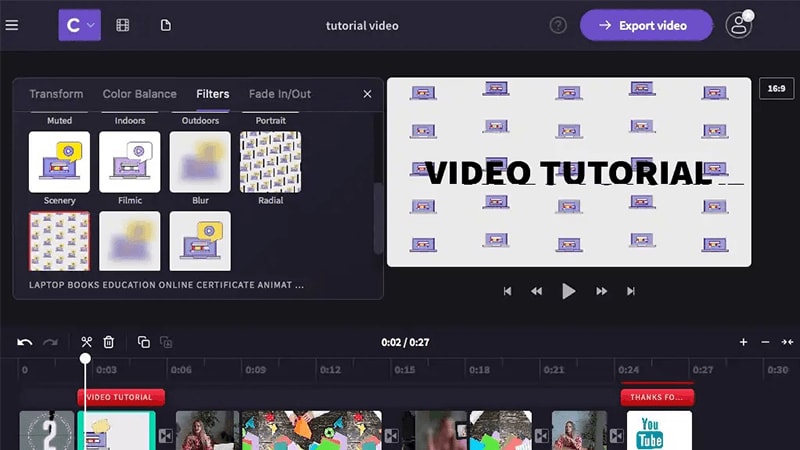 Clipchamp is the online video editor that empowers you to tell stories worth sharing through video. It gives users access to professional tools and features from simple trimming and cropping, to efficient online screen recording, to special effects like Green Screen. Users also have access to Clipchamp's stock library filled with over 800,000 video and audio files. Better yet, it comes with direct Google Drive and Google Photos integrations.
Once the editing process is complete, Clipchamp enables users to export their videos in a range of resolutions and aspect ratios, optimized for popular sharing platforms like YouTube, Instagram, and more.
Pros:
Beginner-friendly interface.
Edit clips of all sizes directly in-browser.
Cons:
Registration required before your first editing.
Lack of professional editing features.
Supported Platform: Online
Price: Basic: $0; Creator: $9/mon; Business Platinum: $39/mon
---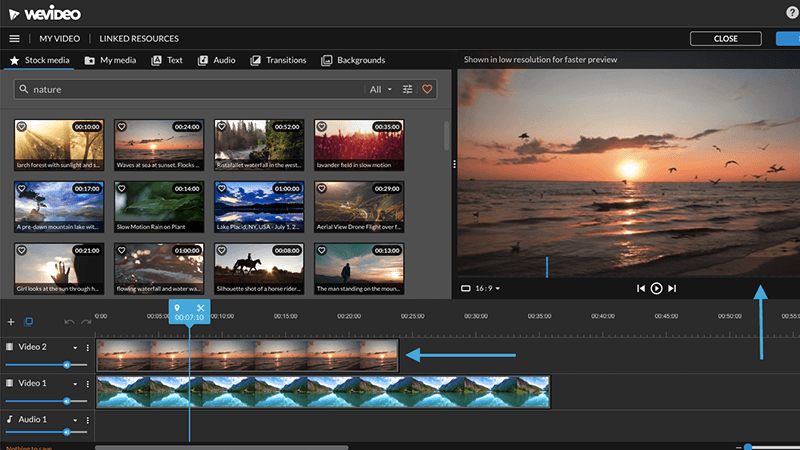 WeVideo is an online, cloud-based video editing platform that works in web browsers and on mobile devices. With wevideo, you can make videos on any device, including Chromebook, Windows, Mac, and mobile, and edit on the go with mobile apps for Android and iOS devices.
What's more, its cloud-based flexibility means you get unlimited storage for your media and there's no download or software to install.
Pros:
Easy, fast and flexible.
Zero upload wait time.
Built-in stock content.
Cons:
Wevideo watermark.
Limited export video resolution (480p).
Supported Platform: Online
Price: Free: $0; Basic: $59/mon; Pro: $99/mon; Pro+: $199/mon
---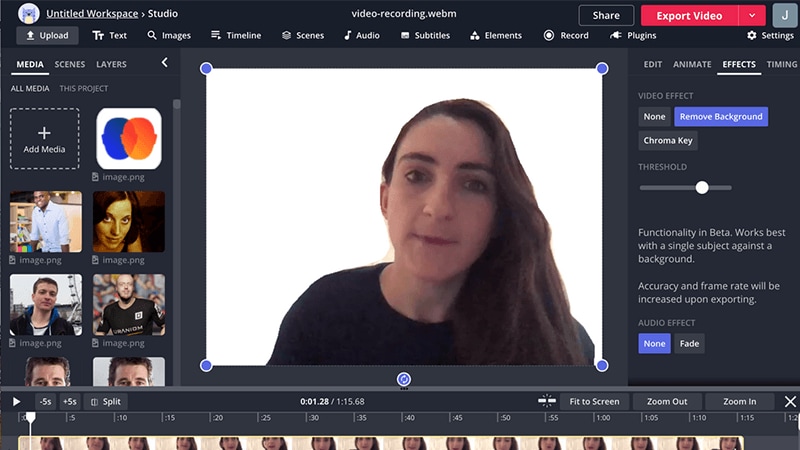 Kapwing is an online platform for editing video and creating content. It features the most popular meme maker, subtitler, trimmer, looper, filters, and more. You can make stop motions, share highlights, or resize a post for your Instagram Story.
With Kapwing's user-friendly MP4 editor, you can cut, split, and trim MP4 files within seconds. This tool is free to use on any iPhone and Android phone or Windows and MAC computers. In a few clicks, this simple editor can help you edit videos, video recordings, short clips and more without the hassle of downloading software.
Pros:
Easy-to-use interface.
No watermark.
Cons:
Supported Platform:Online
Price: Free: $0; Pro: $17/mon; Teams: $17/mon
---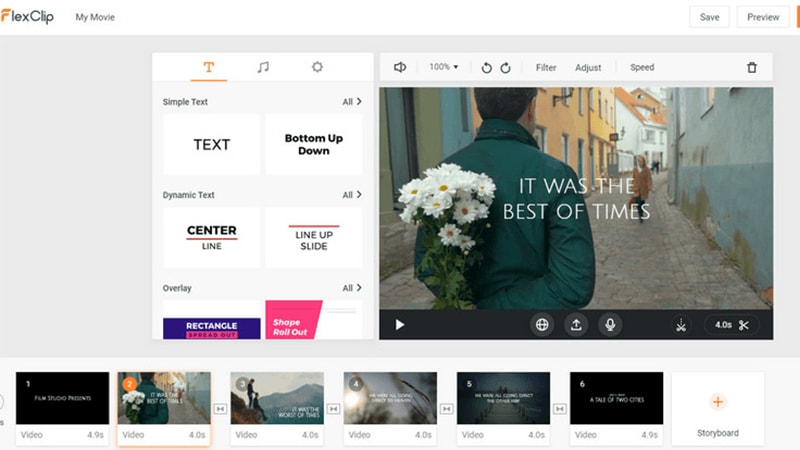 FlexClip is a free online movie maker that helps you combine photos, videos, and music together to a stunning short film for business, special events, and festivals.
FlexClip is everything you need to create and edit a movie. For people who are totally new in movie making, FlexClip is the easiest way to get started; for those who are expert in movie editing, FlexClip helps make your short film more professional.
Pros:
User-friendly interface.
Equipped with all professional and practical editing tools.
Cons:
Limited 480p video resolution (Video length).
Limited video length (1min).
Supported Platform:Online
Price: Free: $0; Basic: $9.99/mon; Plus: $19.99/mon; Business: $29.99/mon
---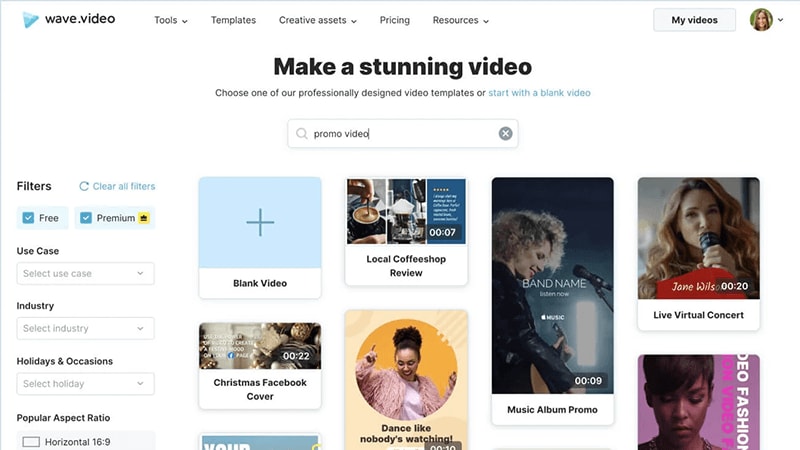 Wave.video is a video marketing platform that combines a first-rate online editing toolkit, cloud-based video hosting, and a landing page builder in one place. It's perfect for making, repurposing, and publishing videos on websites, blogs, social media, and emails.
Pros:
2 million royalty free video clips and images.
5 free video embeds.
Cons:
15-second editing limit.
Lack of separate tracks for video clips, images, audio.
Supported Platform:Online
Price: Free: $0; Creator: $24/mon; Business: $48/mon
---
Part 4: Conclusion
Now, you've seen more than a dozen of free MP4 video editors, be it for window, mac, or online. Have you decided which software are you interested in?
Obviously, all the listed MP4 Editors have their own limitations and advantages. So if you're looking for a high quality yet professional video editing software for MP4, WMV, AVI, 3GP, MP3, etc. video files, I'd like to strongly recommend the Filmora Video Editor for your reference. It would be a great choice for both beginners and semi-professionals.
If you're ready for a try, just click the below icon to get the Filmora's free trail version.
---
Frequently Asked Questions
1. What's the difference between different video formats?
To choose the best digital video format for your needs, first you must understand the difference between them. Let's briefly review and understand the common formats in the market and their features. MP4 is one of the earliest digital video file formats, which can be supported by most digital platforms and devices. MOV is a popular video file format designed by Apple and was designed to support the QuickTime player. The WMV video format was designed by Microsoft and is widely used in Windows media players.
2. How do I edit a mp4 video?
Depending on your actual needs, mp4 editing can be done in an easy or difficult ways. For example, if you just want to produce a travel vlog, you just need to use some basic editing features, including splitting/cutting/adding music/adding transistions. All of these can be done with imovie, Filmora, Windows movie maker. If you cant to make a complex video with green screen, motion tracking, Filmora can do the job as well, and you can also choose Adobe Premiere Pro, Final Cut Pro.