Remember the last 2D animation video with a voiceover you watched explaining a product or service? The ad that was so well produced that it had you glued to the screen till the end? Or the movie you watched but didn't get pick on the cues or missed important details, so you ended up searching for an example "Squid Game explained" on YouTube? All these are explainer videos, and they're getting more and more popular!
An Explainer Video is a short video explaining or describing an app, product, or service using visuals and voice-over. There are many reasons why Explainer Videos have become so popular on YouTube, and the reason being these videos can be viewed with different mediums online. Also, explainer videos are easy to access because they are posted on websites like YouTube and other social media websites.
Some of the most popular explainer videos, for example, Mint.com, are popular because of their brisk and efficient nature and the way it is explained in a UI that the application is easy to manage and user-friendly. Another popular explainer video is TripCase Travel App subtly takes on the pain point and gives a practical solution to the audience's travel problems. And like these, there are many more! So, let's dig deeper into Explainer Videos!
Part 1. Popular Genre of Explainer Videos
Explainer videos are a great way to capture the attention of your target audience and drive traffic towards your website, blog, or other online destination. Explicitly referring to YouTube, explainer videos are a great genre with immense potential - a gold mine of industry you don't want to miss out on!
You could be curious about the explainer videos and have a lot of questions. What kind of video is ideal for you, for example? Allow us to assist you! Although there are many various types of explainer videos, you can make, most of them fall into a few distinct categories.
Tips:
Only one thing matters in the end: create an engaging explainer video that attracts traffic to your Youtube channel and energizes your audience so that you may grow a large YouTube community!
#1. Animated video
An animated video is told without dialogue or vocal narration but instead uses sound effects and music created in post-production. Animated explainer videos are appropriate for any product line, service, company, or brand. They tend to play well with audiences who prefer to hear music or sound effects in their videos. You may also utilize animated videos to demonstrate gameplay or other content, and this is an excellent place to start!
#2. Whiteboard video
The second item on the list, "Whiteboard video," is trendy these days. They typically use minimalistic visuals with hand-drawn illustrations and present information to viewers by showing the functions of a product or technique in action. This type of explainer video is best when the primary goal is to inform rather than entertain or engage your audience, but can also be used to offer support, product demonstrations, and tutorials. Additionally, whiteboard videos tend to play well with viewers who prefer to watch videos without dialogue or narration.
#3. Stop motion video
Third on the list is stop motion animation, which is created by filming various still images at multiple angles and speeds, then compiling those photos into a video sequence that appears as if the subject of the video is moving. Stop motion explainer videos are great when the goal is to share an interesting technique or offer a fun tutorial, but they can also be enlightening or informative.
#4. Live action video
Live-action video typically uses real people in scripted scenarios which combine to create an entertaining and engaging experience for viewers; live-action explainers are often used to drive traffic to a company website or create brand awareness. Live-action explainer videos play well with audiences who prefer digital video to be more human-centric with real actors and tend to work well when the goal is to entertain rather than inform viewers.
#5. Kinetic text
These videos are typically narrated by an on-screen presenter whose speech is paired with dynamically changing words, phrases, and texts to visually represent the narrator's content. Kinetic text explainer videos are great for sharing important information with your audience in an exciting way; they work well for company or product promotion and effectively entertain viewers. See if you can work around this idea!
---
Part 2. How to Make an Explainer Video with Filmora [Step-By-Step Guide]
So, you have all the ideas coming to your mind, and you're deciding on what to do and how to edit the video once you record it. You've also decided the genre you're most interested in to make the explainer video!
The very first step is to make a script and record it as a voiceover. Once you're done with the voiceover, it's time to get started with the actual part of the explainer video, which is editing. Now you must have that fantastic video already running in your mind, but are you thinking about how will you make it a reality? Well, the answer to that is simple! Filmora provides numerous features with its latest update! May it be an explainer video or un-boxing video, Filmora Video Editor has got it all covered!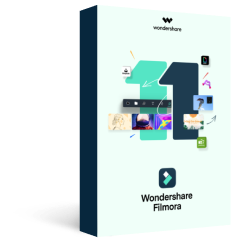 Key Features
Best video editing software for beginner and semi-professional, that comes with powerful editing skills like trimming, splitting, rotating, editing, etc.
500+ free special video effects to customize and create an awesome movie by yourself.
1000+ standalone effects downloading resources to make videos in all kinds of styles.
Record voice in real-time: you can have you voices recorded in realtime and instantly add them to the video files.
We have prepared a step-by-step guide for you to make it even easier!
Step 1: Import Media
First, import the media files you'll need for your explainer video, images, texts, graphics, video, voiceover audio, music, and any data you need. Drag and drop them at the media library. Now drag and drop them in order on the timeline.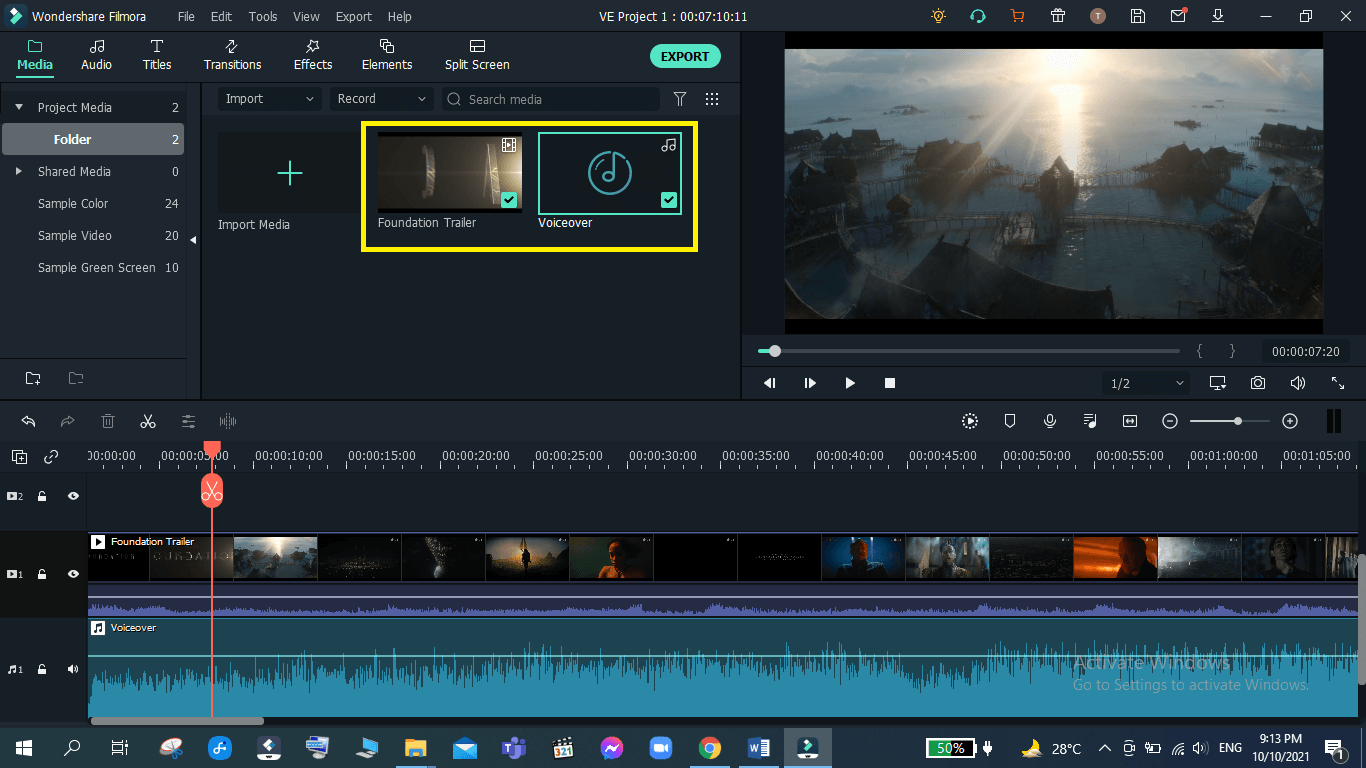 Step 2: Add Title and Subtitle
The next step is to add a title and subtitle to your explainer video in addition to the intro of your YouTube channel. Click on Title in the menu and select a Title that goes well with the movie genre, let's say, a funky title for a funky movie and a digital title for a Sci-Fi Tech movie. Also, add a subtitle that will include your channel's name.
Once you have selected it, drag and drop the title onto the timeline, double click to edit it, add your desired title name, i.e., Movie name, and you're on to the next step!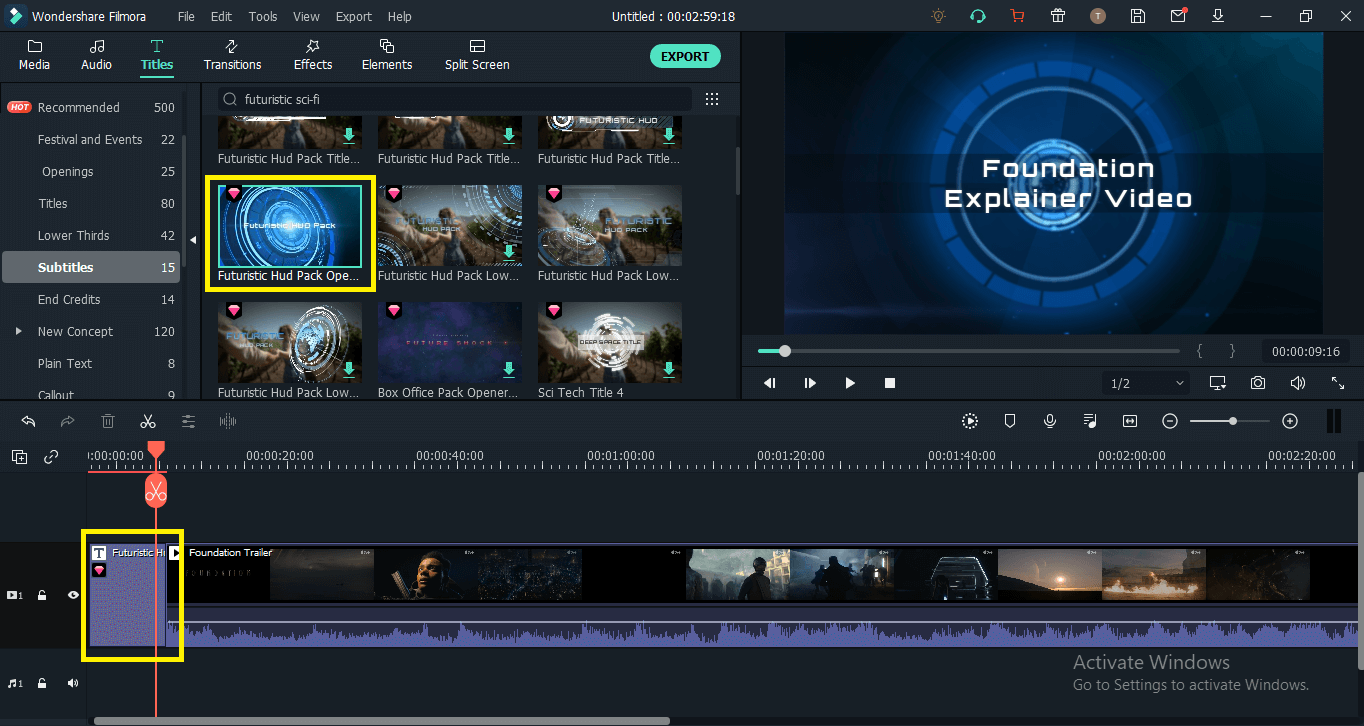 Step 3: Add Effects, Elements and Transitions
This is the main part of your video, and this part will make your video truly one of its kind and make it stand out!
Add different effects when you're explaining in the voiceover and music, matching it with every word and tone of the video.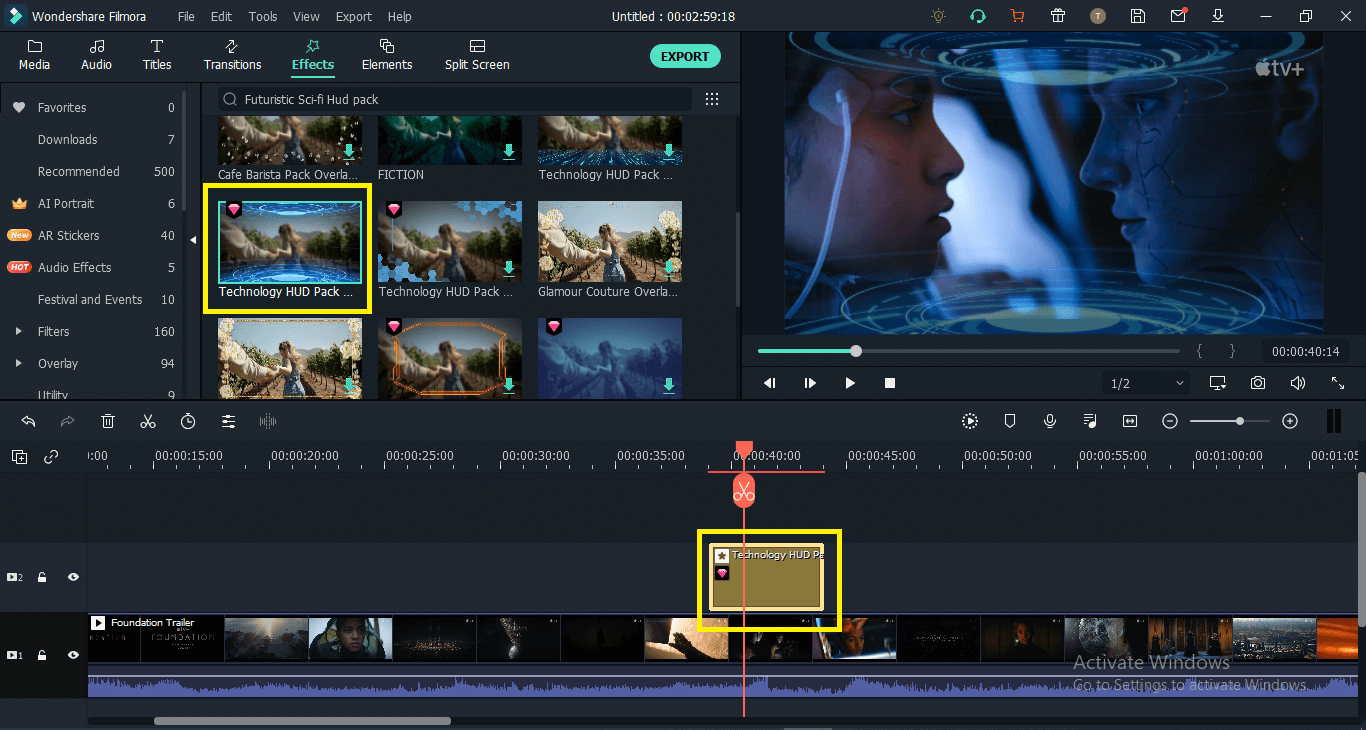 Add elements to add more touch to the video. When the visuals become intense, or any vital scene comes into play, adding features would bring a better look to your video.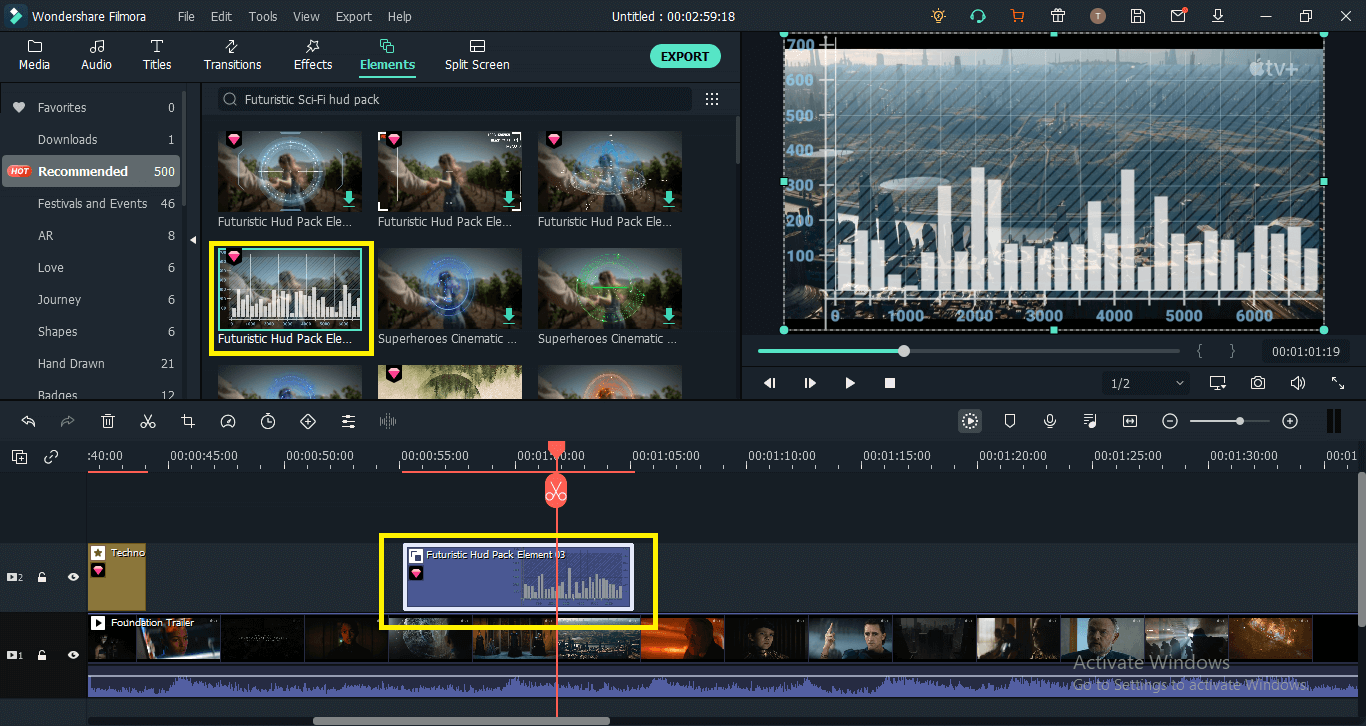 Now for the final touch, add transitions to make the video smoother, making it flow with the music and adding a sense of connection with each passing clip.
Check out the Sci-fi HUD Pack from Filmora stock to have all that you need - compiled in a single pack!
Tips:
HUD animation is relaying information through a UI; it makes the video look complex and futuristic making it even more amazing!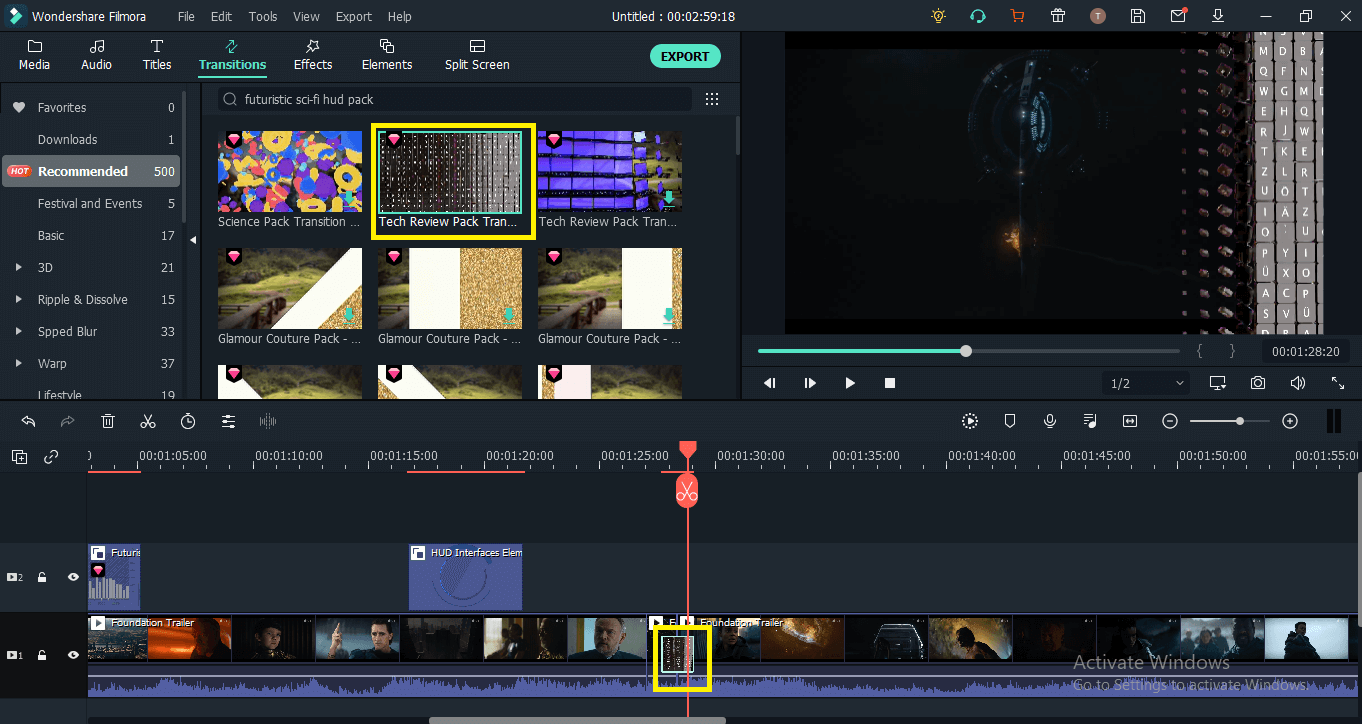 Step 4: Music and Sound Effects
Add your desired music with the movie genre and make it so to match the type of explainer video you're making, such as thriller music in "things you missed out in" explainer videos, etc. Adding music and sound effects conveys emotions sharply to the audience.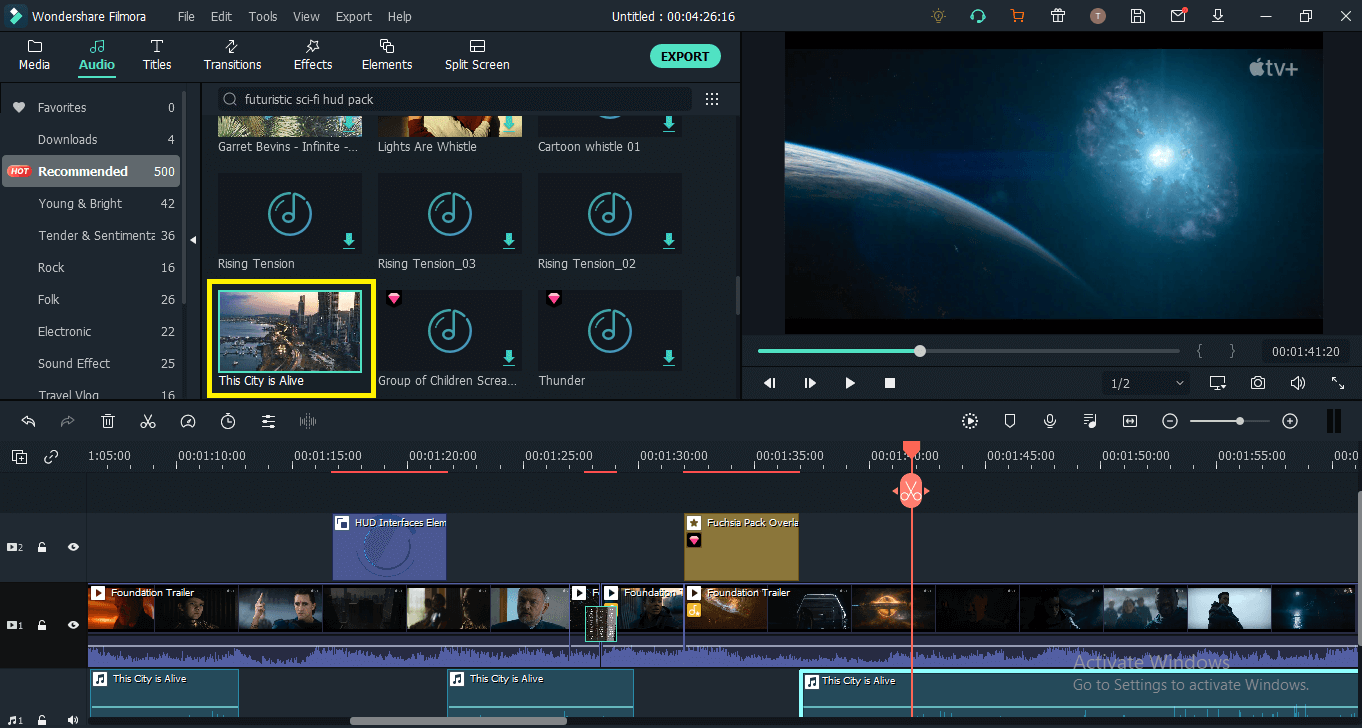 Step 5: Export the Video
Now that you're done making that amazing explainer video, it's time to export it! Click on export, choose your desired settings and wait for Filmora to export your result! Enjoy!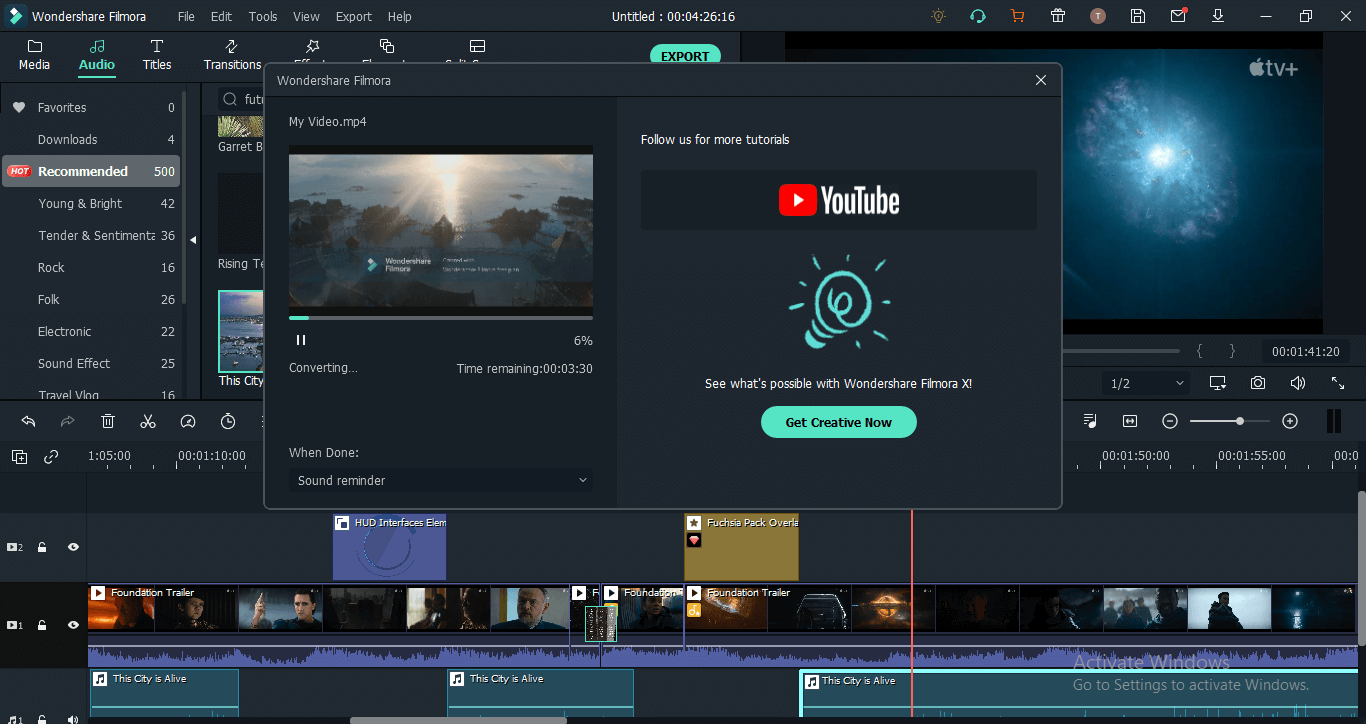 If you're interested in Filmora, watch the short clip below to learn more about its new amazing features. Then, start your journey of creating!
---
Part 3. Frequently Asked Questions
1. How much does it cost to make an explainer video?
This is one of the most frequently asked questions about explainer videos. The truth is, there's no cut-and-dry answer because there are so many factors that determine explainer video costs. However, if you have done your research and have a clear understanding of what you need, you should be able to get a pretty close estimate. However, if you use Filmora, you can save all of your money. The reason is simple: Filmora allows you to create excellent explanation films for free!
2. How explainer videos help businesses?
Explainer Videos are great to bring the attention of your audience to any product or service. For a better understanding of how our business works, we can use explainer videos to showcase the different aspects of your business. Additionally, explainer videos are a great way to introduce yourself and your business to new audiences and old audiences. It could be a stepping stone for other promotional materials such as articles, images, etc.!
3. What makes a good explainer video?
Many aspects influence the quality of explainer videos: the creativity, freshness, and originality of graphics and their attractiveness and clarity; whether or not your video is accurate and credible; how your video demonstrates what your product or service can do, but also its feasibility and usability. If you want your explainer video to look good, you'll need all of these!