Night of Halloween, October 31st! Every year on Halloween, everyone gets dressed up in costumes and goes trick-or-treating at their neighbors' houses. The best part about Halloween is dressing up and being something different from what you usually are.
Halloween costumes come in all shapes, sizes, and colors. From funny to scary Halloween costumes, some people even dress up as cartoon characters too. Halloween is an excellent time of year where everyone can be someone else for the night, and its fun knowing that there are no consequences.
Even some people attend Halloween parties dressed in more than one type of costume. Why be the same person twice when you can wear different Halloween costumes? Halloween is always a fun time of year, not just on Halloween night but for weeks beforehand too.
When so many exciting things happen on a great day, can you imagine if all these memories were captured in a Vlog? The day is getting closer, and your chance to make it memorable is here. You can record all the festivities with your family members and self-record the vlog. Youtubers often vlog on Halloween day, and vlogging isn't hard to master.
Read on to learn how to make a perfect Halloween vlog and how to edit it to make it even more special! For that purpose, we will use Filmora, so it will make everything much easier and smoother!
Part 1. Halloween Video Ideas for Every Vlogger
Halloween is a very popular time for video content and recording all those special, funny, and witty moments is an amazing thing to do! Halloween has many great themes that Vlogger can create videos around:
#1. Pumpkin carving
As one of the traditions of Halloween, carving pumpkins is one of the themes. A Halloween pumpkin is carved into a jack-o-lantern, or Halloween decoration that emits light and displays carved artwork. Besides pumpkins, carving pumpkins for Halloween can also be done with squash and gourds that have been hollowed out and carved.
You can also carve your Halloween pumpkin in a variety of ways. In other words, you can vlog around the topic and make a long and detailed video! Make sure you don't miss out on this idea, as many Youtubers already do it for their Halloween videos!
#2. Halloween party ideas
Another interesting topic to vlog about would be Halloween parties. Halloween party ideas can range from having a Halloween-themed party at your home to going trick or treating with the kids in your neighborhood. There are also Halloween party ideas for food, such as Halloween party treats and Halloween party drinks.
It can also include many fun Halloween games that can be played indoors or outdoors. Play Halloween bobbing apples, Halloween ring tosses, Halloween pin the tail on the black cat, and more! Aren't all these amazing things to enjoy and vlog about?
#3. Spooky pranks to play at Halloween parties
It's that time of year again; the cold, windy weather is back, and the leaves are falling from the trees. It's also time for Halloween parties to start hitting everyone's agendas! Spooky pranks to play at Halloween parties can be a great way to create memories and stories people will talk about next year.
Like all good jokes, though, timing is everything, and you'll need to make sure the prank comes at the right moment for maximum effect. Playing spooky tricks at Halloween parties can be a lot of fun, but they can also go wrong quickly if you aren't careful. Make your prank look real and legit by using spare masks, party hats, bowls, and other props. Don't forget to Vlog this!
#4. Halloween costumes and makeup tutorials
Everyone wants to look their Halloween best. Halloween costumes are a way for people to express themselves through the things they like and the characters they admire, as well as make-up can be used to great effect. This is a great way to vlog if you are good at it.
Halloween is a time when almost anything can happen, so it's the perfect chance to be scary and outrageous. You can vlog about Halloween costumes and provide a complete makeup tutorial. You can tell the audience how to make up different characters like a zombie bride, mummy, and others in the tutorial!
#5. Provide information on Halloween
The perfect theme or idea for you is if you are an expert in events. How about informing your users about Halloween, for example, where this festival originated? What's the history of Halloween, what are Halloween treats, and many more things!
If you don't know about all this and still want to make a video about it, no problem. Google is at your disposal. Just do some research first, and then record a video. This information can easily be shared with your audience and users or even with family members. Try it out; it's worth a shot!
---
Part 2. How to Edit a Halloween Vlog [Step-By-Step Guide]
Once you have finished recording your Halloween Vlog. For most people, the next question is how to edit the Vlog? For you, it is not! You have Filmora at your disposal, which allows editing to be fun and easy!
Don't worry if you haven't used Filmora yet! To make it even easier, we have prepared a step-by-step guide!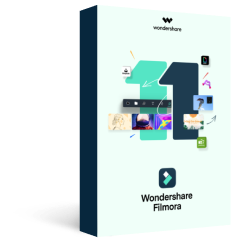 Key Features
Best video editing software for beginner and semi-professional, that comes with powerful editing skills like trimming, splitting, rotating, editing, etc.
500+ free special video effects to customize and create an awesome movie by yourself.
1000+ standalone effects downloading resources to make videos in all kinds of styles.
Record voice in real-time: you can have you voices recorded in realtime and instantly add them to the video files.
Step 1: Import videos, music, and photos
Once Filmora is open, the first thing you need to do is add media files. You can import audio, images, videos, etc!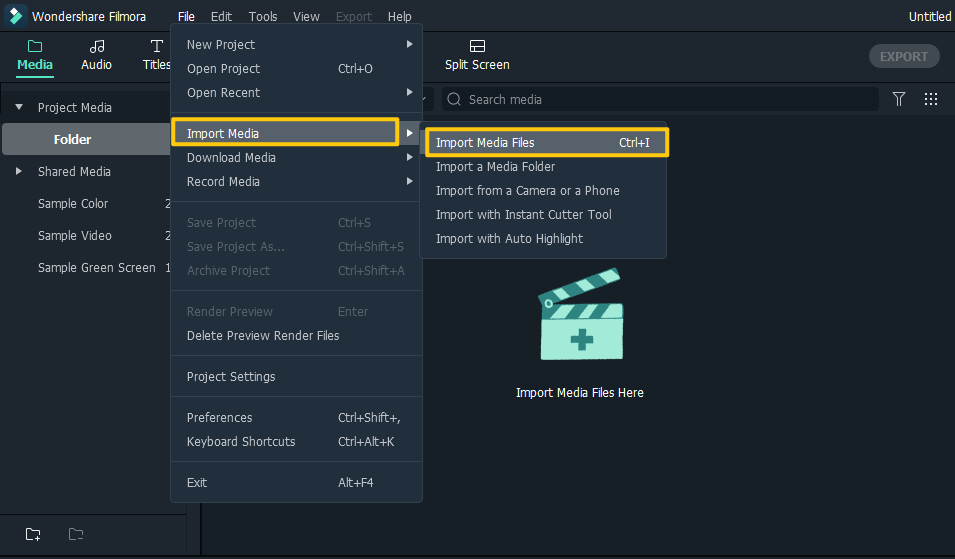 Here's how it will appear once you've added the files.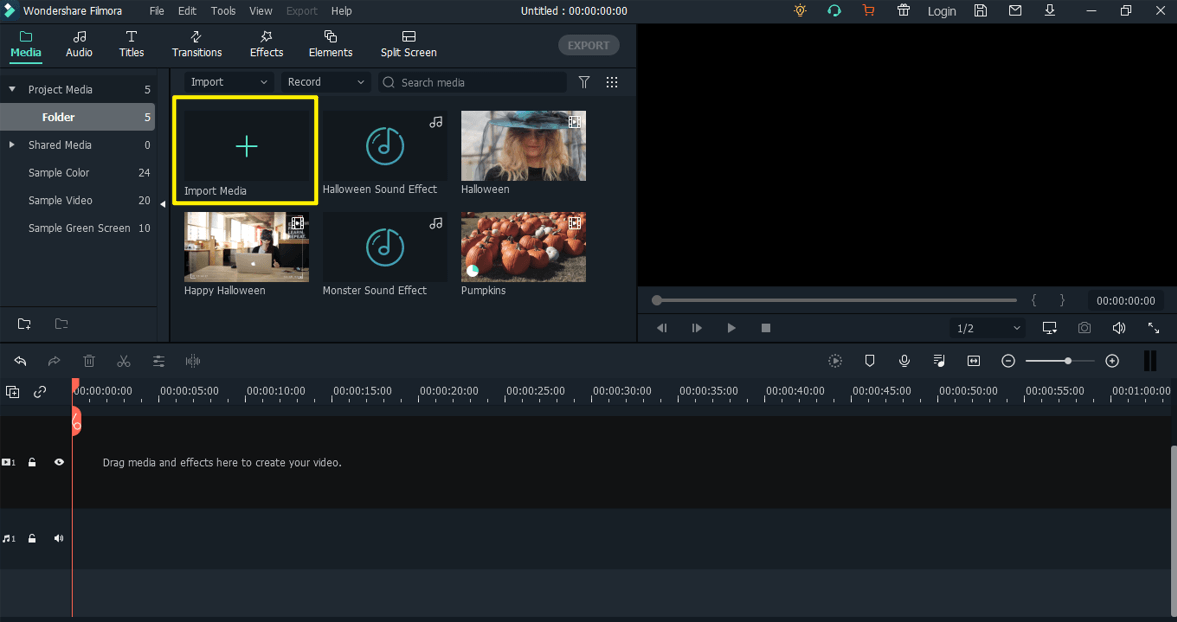 Drag and drop your imported files to the timeline to start editing!
Step 2: Use Cut, Trim Tools
It's now time to remove the undesirable portions of the video. On the timeline, click the Scissor (Cut) icon to cut clips directly from any part. Next, combine your refined clips into one video to give you a baseline.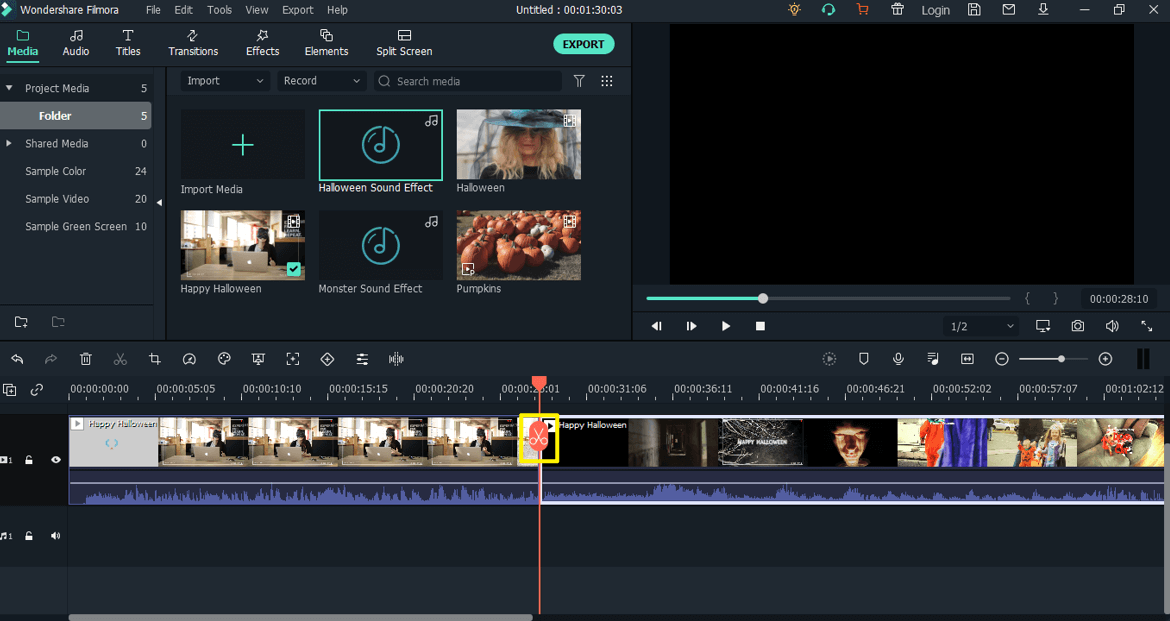 Using the scissor I cut off the part that I don't want.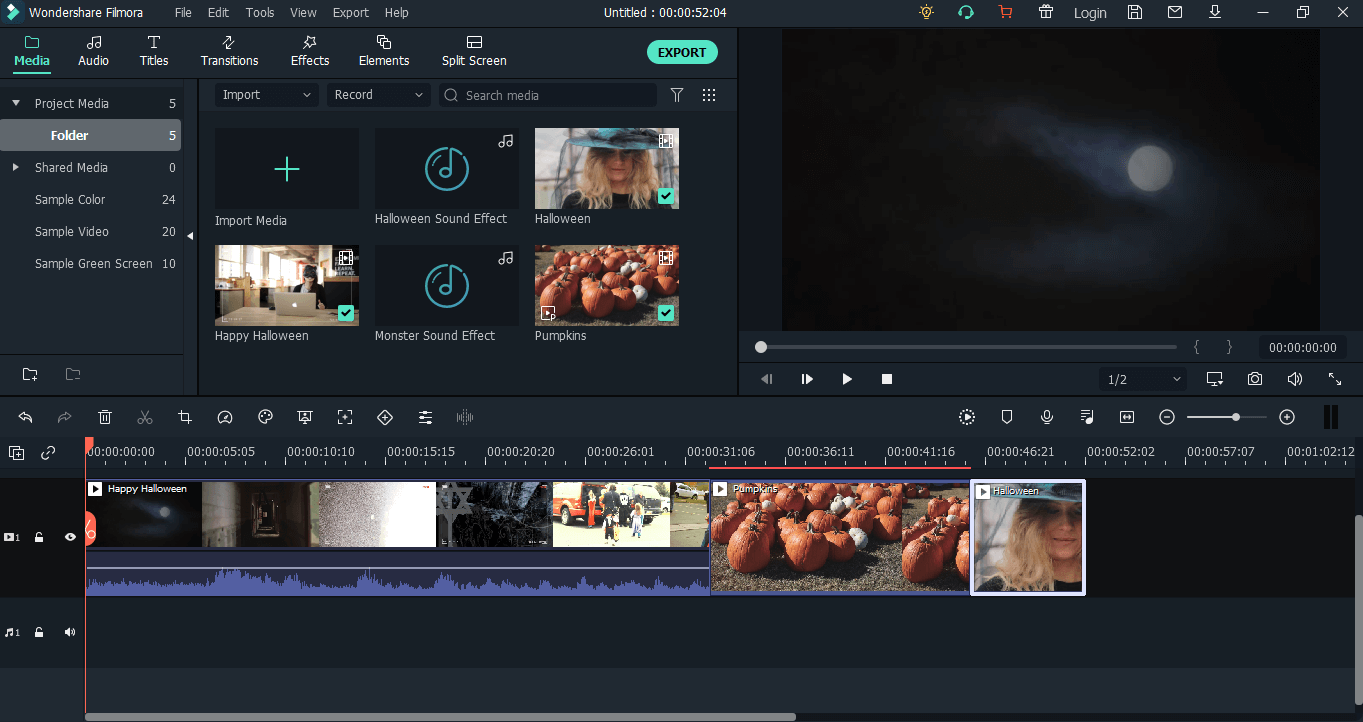 Here it is, after I trimmed the intro and merged all clips!
Step 3: Add an Audio
We now have the video we wanted to edit. Let's add the audio to complete our video.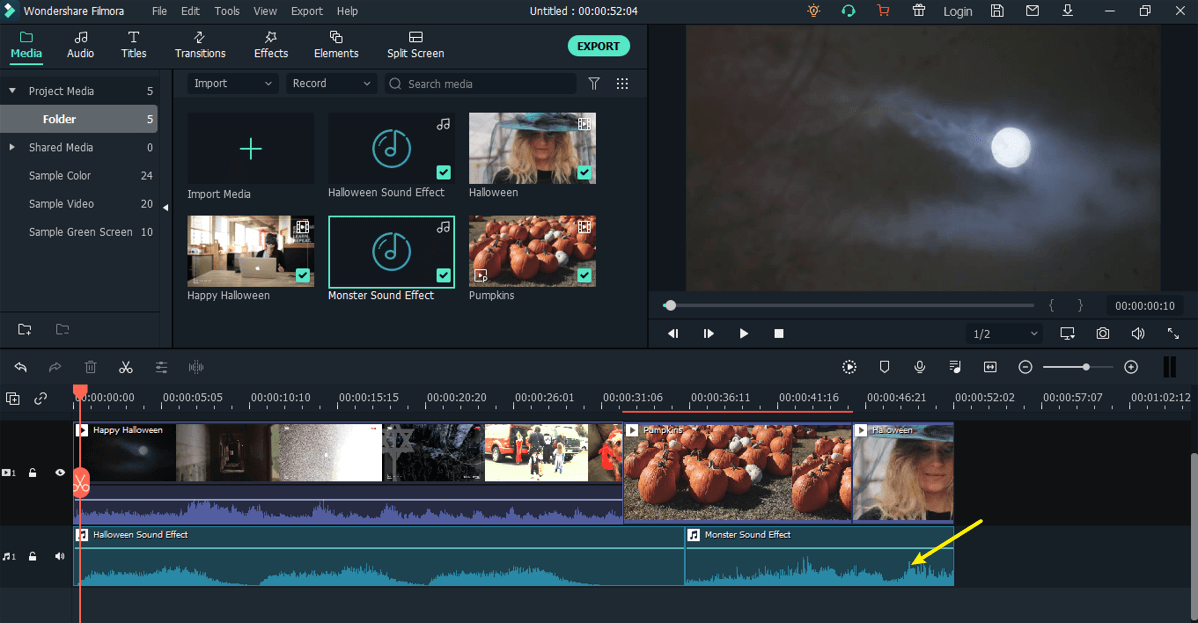 My audio files were already imported, so I just dragged them into the timeline.
However, Filmora comes with a wide range of audio effects. Click on the Audio tab at the top, and enter your video related term. Many audios will appear!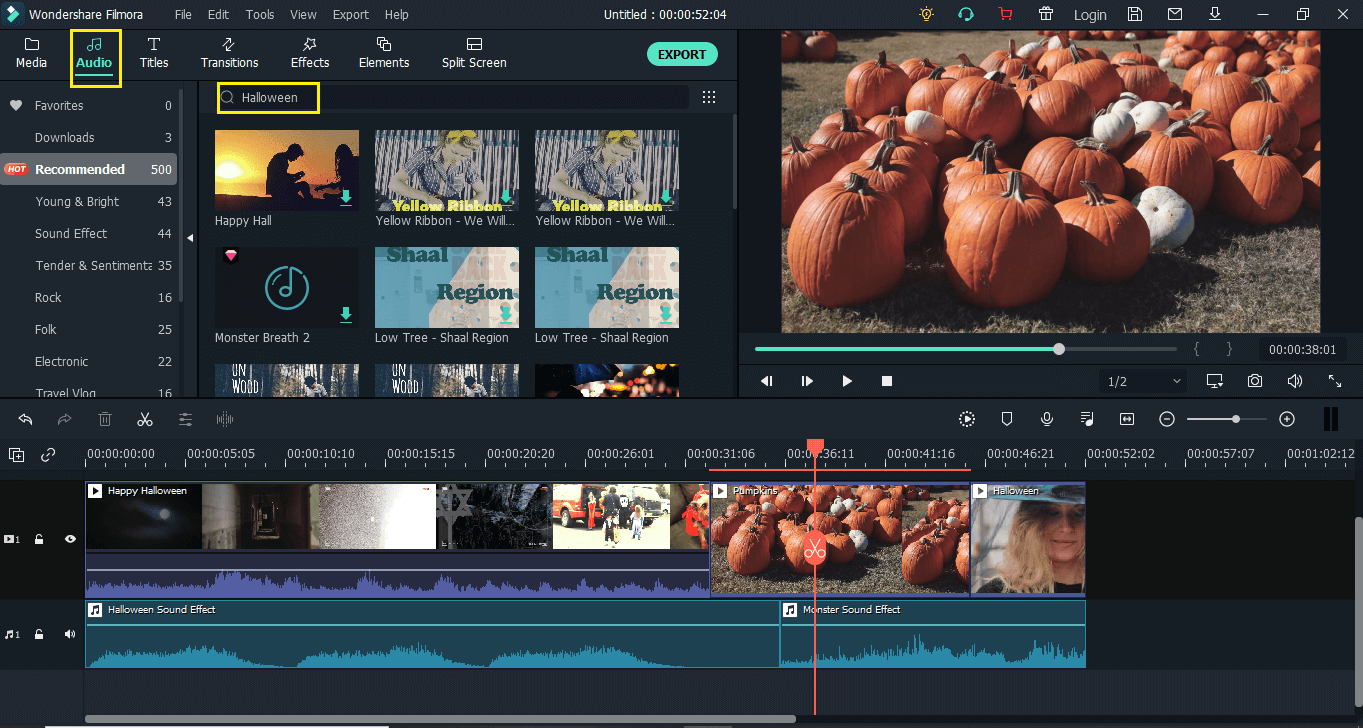 Step 4: Add Transitions & Effects
You can use a variety of transitions and effects. Simply go to "Transitions" and type in the word "Halloween" in the search field.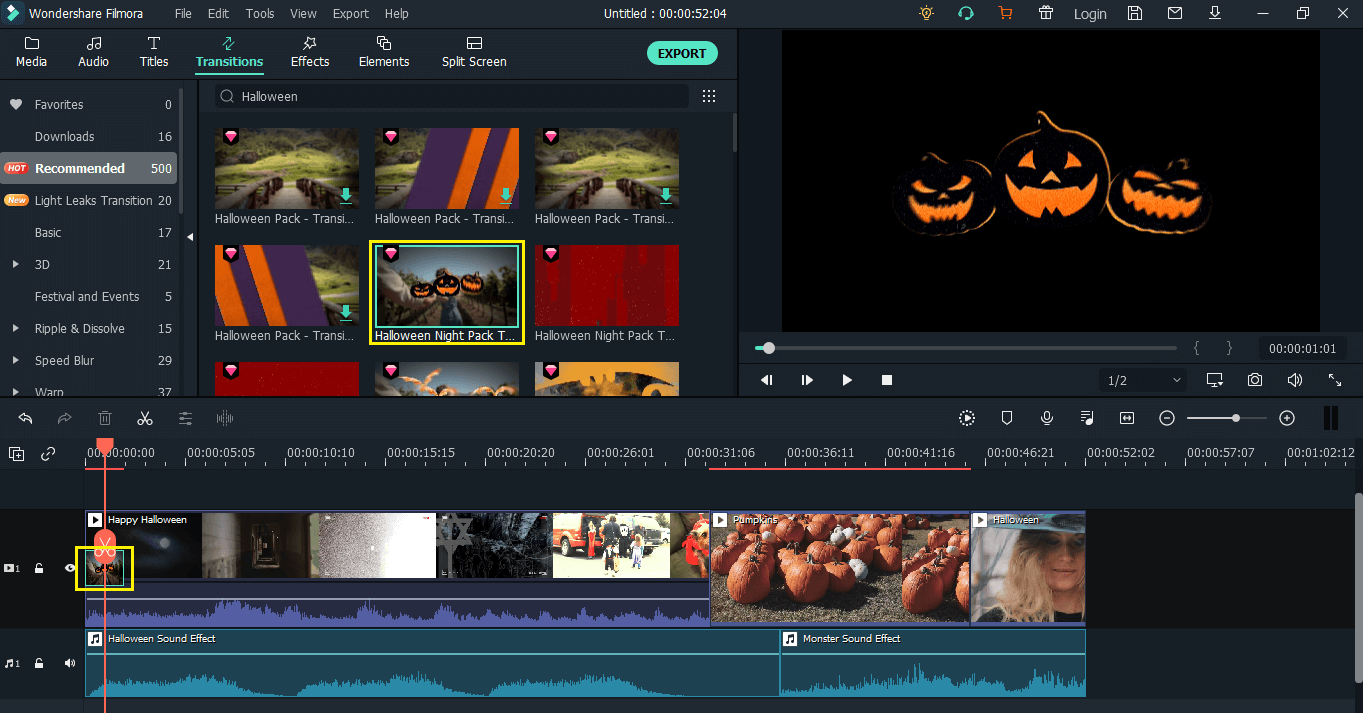 As you can see, I've added a Pumpkin as a transition, which adds to the overall appeal of the video!
Similarly the same way you can add different effects as well.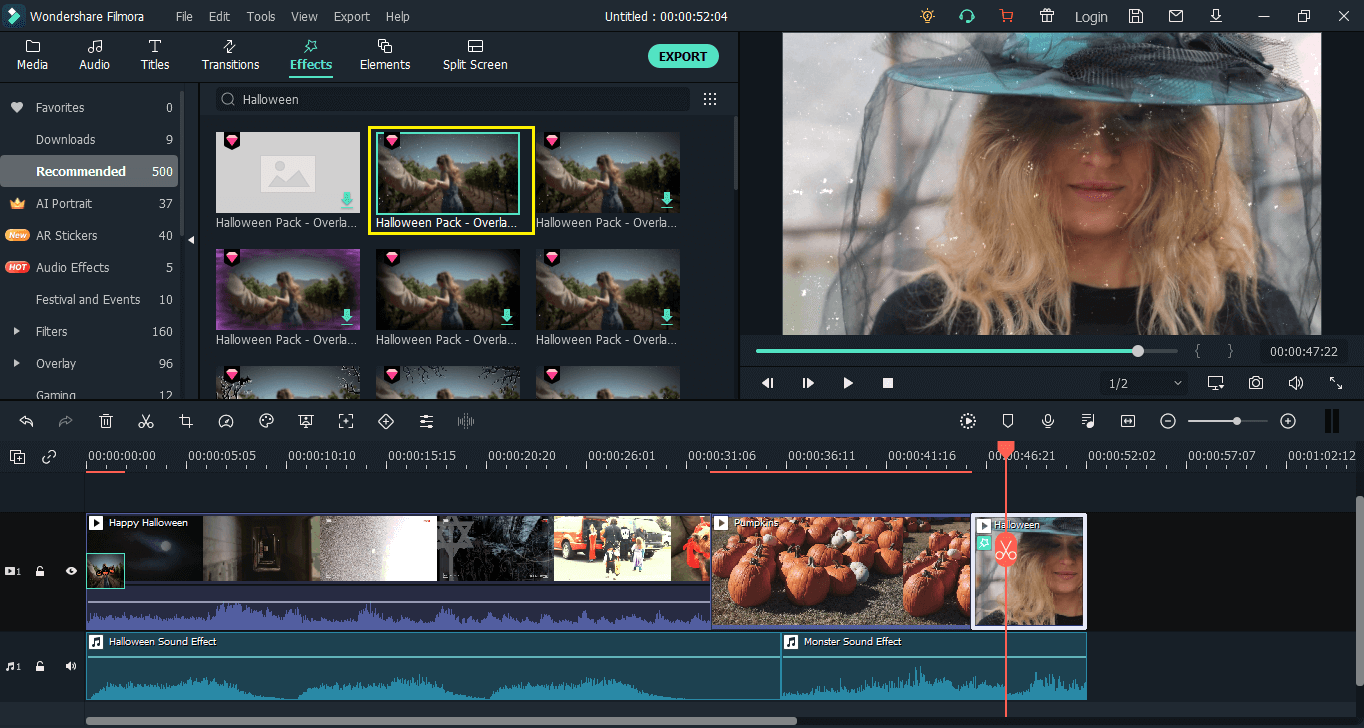 I've added the overlay effect to the face. It completely transforms the video!
Step 5: Add a title and Elements
It's time to add an interesting title to the video and add some elements to make it more interesting.
According to the video, I've provided a fitting title. Filmora has fantastic packs for all subjects!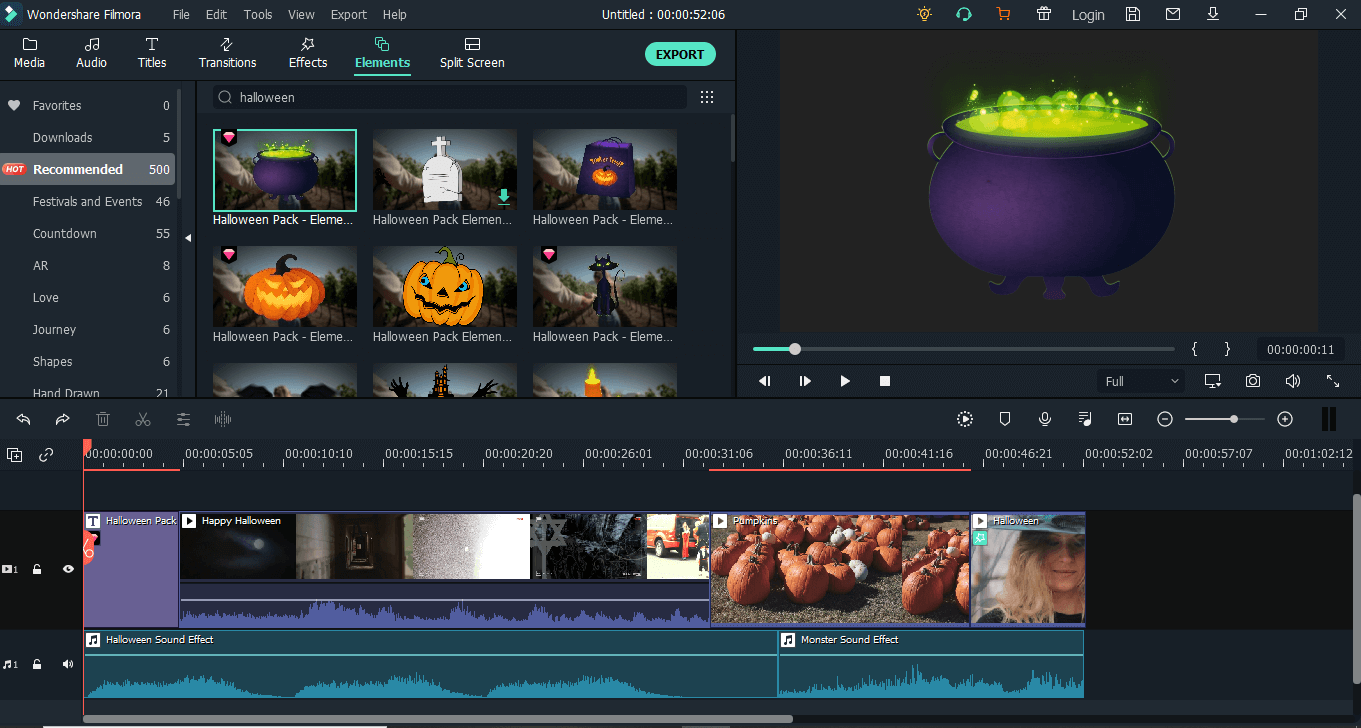 Similarly, you can select elements depending on the video and drag them to the part you wish to add!
Step 6: Export the Video
When you feel satisfied with the video editing, it's time to choose the specific output setting and export it now. Wait for a while till your input is being processed into output. And enjoy the fantastic final result!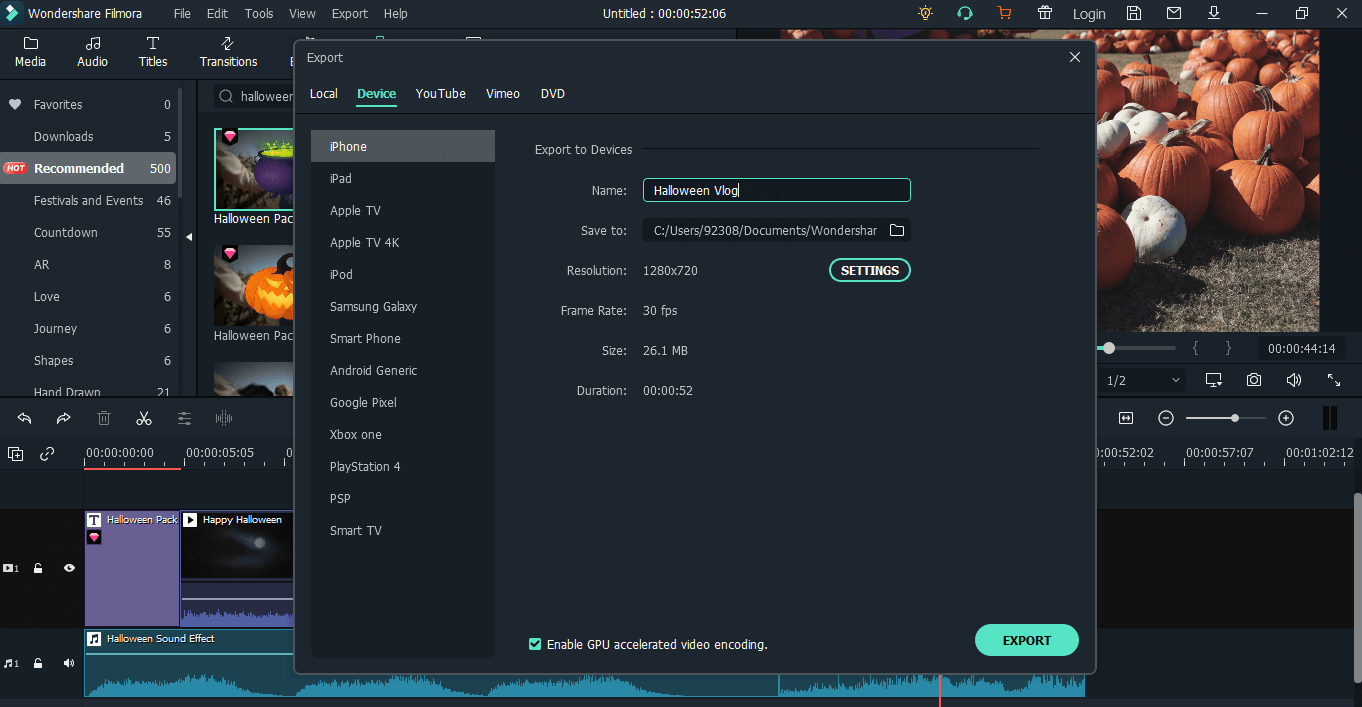 You can export the video to your device and also have the option to upload it on Youtube directly.
That's it, congratulations on your Halloween video. Share this with friends and family and let them know how easy it was to edit with Filmora.
If you're interested in Filmora, watch the short clip below to learn more about its new amazing features. Then, start your journey of creating!
---
Part 3. Frequently Asked Questions
1. What was the history of Halloween?
Halloween is usually celebrated on October 31, but its origins are actually in the ancient Celtic festival of Samhain. According to folklorists, our modern-day tradition of dressing up in costumes for trick or treating can be traced back 2,000 years to a holiday that would become known as Samhain. Originally practitioners would light bonfires and dress up in costumes to ward off ghosts during the ancient Celtic festival of Samhain! Over the years, Halloween developed into an event where people trick-or-treat, carve jack-o'-lanterns, attend parties, dress in costumes, and eat treats.
2. How to send Halloween candy video to Jimmy Kimmel?
The number of children sending Halloween candy to Jimmy Kimmel's show has skyrocketed, which is why the program has come up with a new game idea. The Jimmy Kimmel Live program has come up with the idea that children can no longer use their parents as accomplices to send them to eat their candy on TV. He also gives them funny tasks so they can send the best video possible for the show.
How do I submit a Halloween candy to Jimmy Kimmel 2021?
All you have to do to participate is:
1. Tell your kids you ate all their Halloween candy and record their reaction.
2. Upload the video to YouTube with the title, 'Hey Jimmy Kimmel, I Told My Kids I Ate All Their Halloween Candy.'
3. Keep an eye on your messages to see if the show reaches out to you.