They say a picture is worth a thousand words, but what about a finely edited video? A million words, maybe?
Videos are the best way to present creative ideas, and creators worldwide are using creative and brilliant effects and filters to flare up their videos with an authentic and original look. One such effect, old yet still relevant, is the vintage effect that brings back memories of the golden age of films.
The warm coloring and even vintage frame border give nostalgic vibes to the audience. Moreover, a correct combination of the right retro effects and photos can mesmerize your audience.
If a retro vibe is your thing, then Filmora is perfect for you.
Filmora is a fast and easy-to-use video editor in which you can easily add vintage effects to your videos. Filmora features a wide array of vintage effects that you can explore and create amazing retro videos.
Learning how to add vintage effect to video is not as difficult as it sounds. So, if you're wondering how to get vintage effect to video, the answer is simple, get Filmora X and read through this article.
Part 1. How to Make A 1980s Style Vintage Video with Filmora
As you open Filmora X on your computer, you will come across a workstation relatively easy to navigate. On the bottom are audio and video tracks on which you can drag music or video to edit.
Similarly, multiple tracks allow you to layer video or music depending upon the requirements of your project. On the top right, you can see the video in real-time as you edit. On the top left are your editing tools, effects, transitions, and much more – basically all the goodies you would need to edit.
Now with the navigation part out of the way, let's move on to the step-by-step guide on how to add vintage effect to video.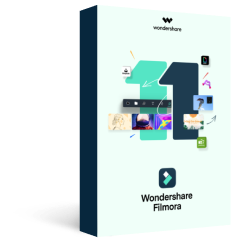 Key Features
Best video editing software for beginner and semi-professional, that comes with powerful editing skills like trimming, splitting, rotating, editing, etc.
500+ free special video effects to customize and create an awesome movie by yourself.
1000+ standalone effects downloading resources to make videos in all kinds of styles.
Record voice in real-time: you can have you voices recorded in realtime and instantly add them to the video files.
Step 1: Add the files
To get started, on your top left, you will see a small window with a "+" sign with "import media" written underneath it. Tap this to insert media onto the workstation. In our example, we will be using three videos.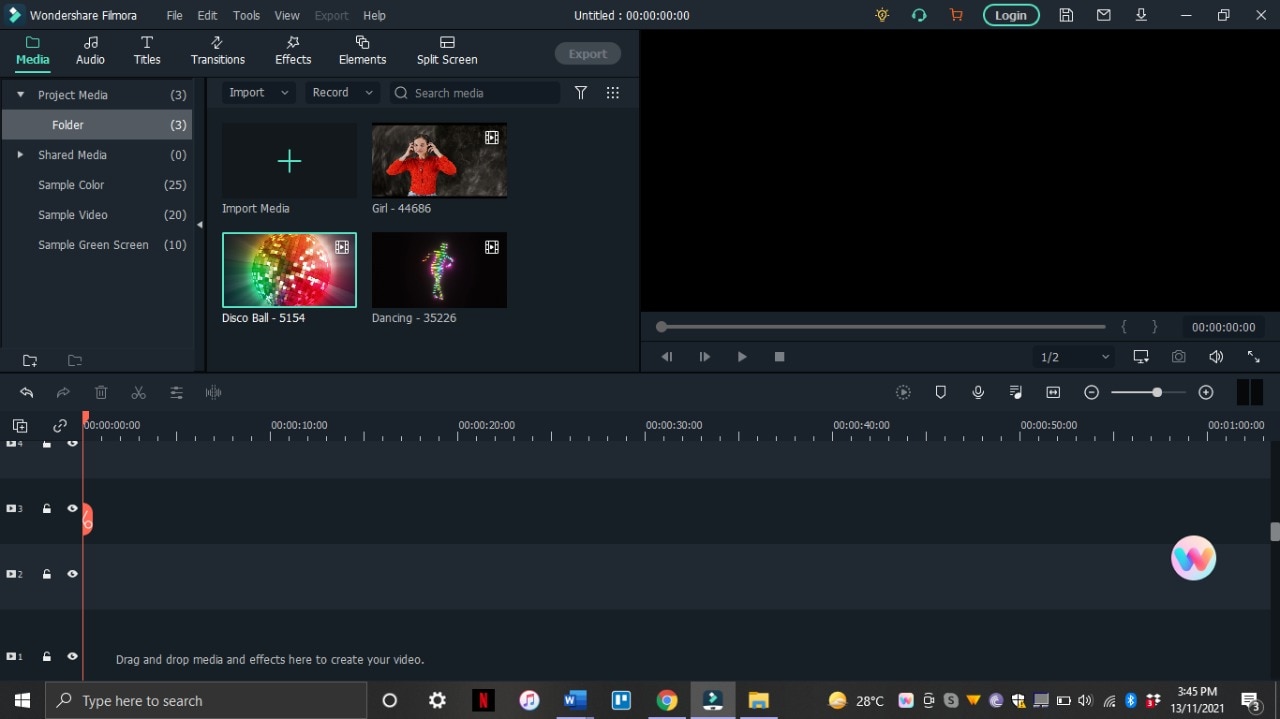 Step 2: Drag Media to the Dedicated Tracks
Filmora allows you to drag single as well as multiple files onto the tracks. You can either select all three and drag them onto the channel or select individual videos and drag them to their dedicated channels. Selecting all three and dragging them will position them on one channel side by side. Unless that is what you want, select individual files.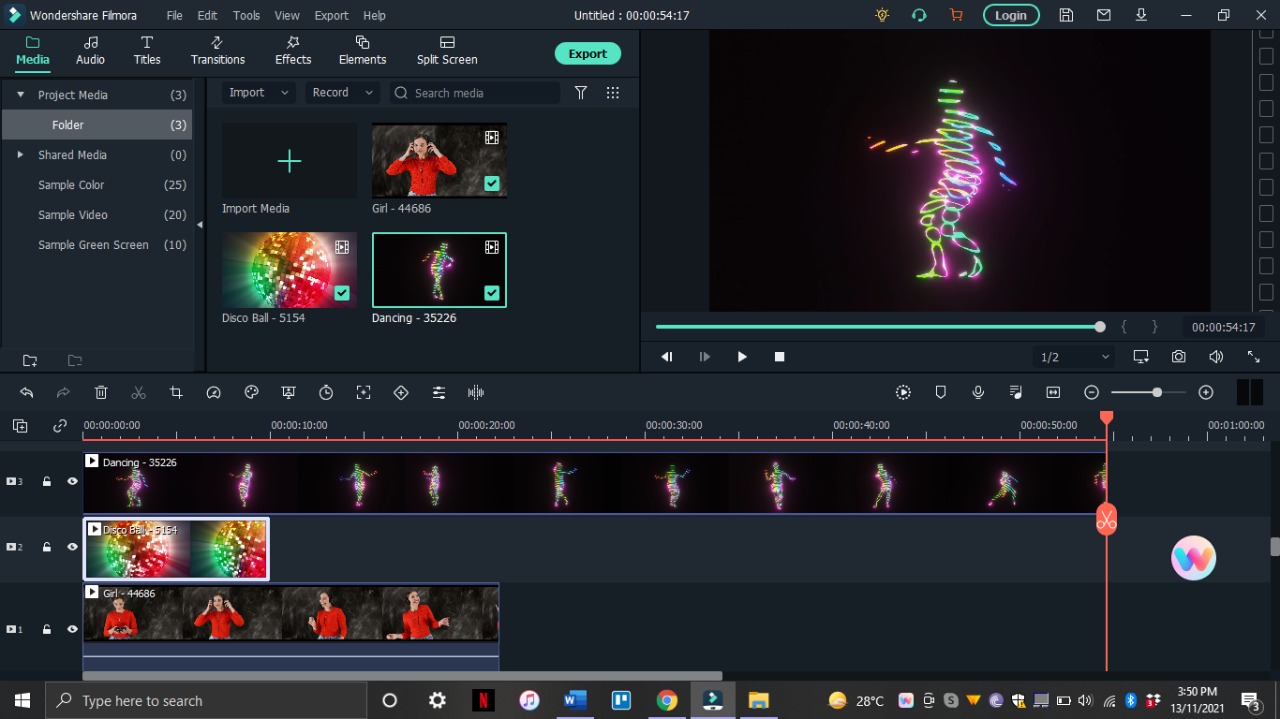 Step 3: Edit Your Video
Drag the other two layering videos (disco ball and dancing LED in our case) on the background video where you want them to play. Then tap any of the layering videos and click on animation. Under the animation, click on customize and reduce the opacity to what suits your eyes. Do the same for the other layering video as well and position it where you want it to play. You can also tag keyframes if you want a certain part of the video to play for advanced edits. Press Ok when you are done.
Now all three videos will play simultaneously.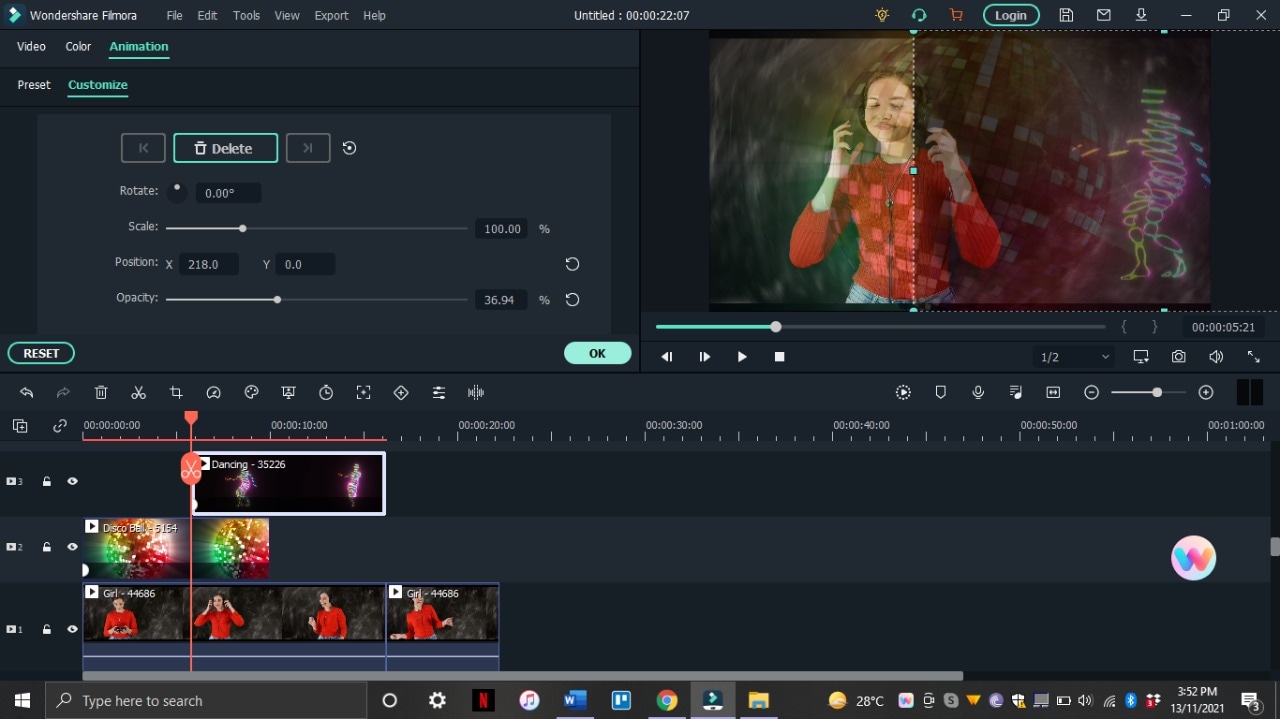 Step 4: Add Effects
Now is the time to add effects to bring more life to the project. First, go to the effects section and press overlay. From there, scroll down, tap on TV Static. Layer it on one of the tracks and stretch it over the other videos for as long as you want the effect to show. You can insert other effects as well.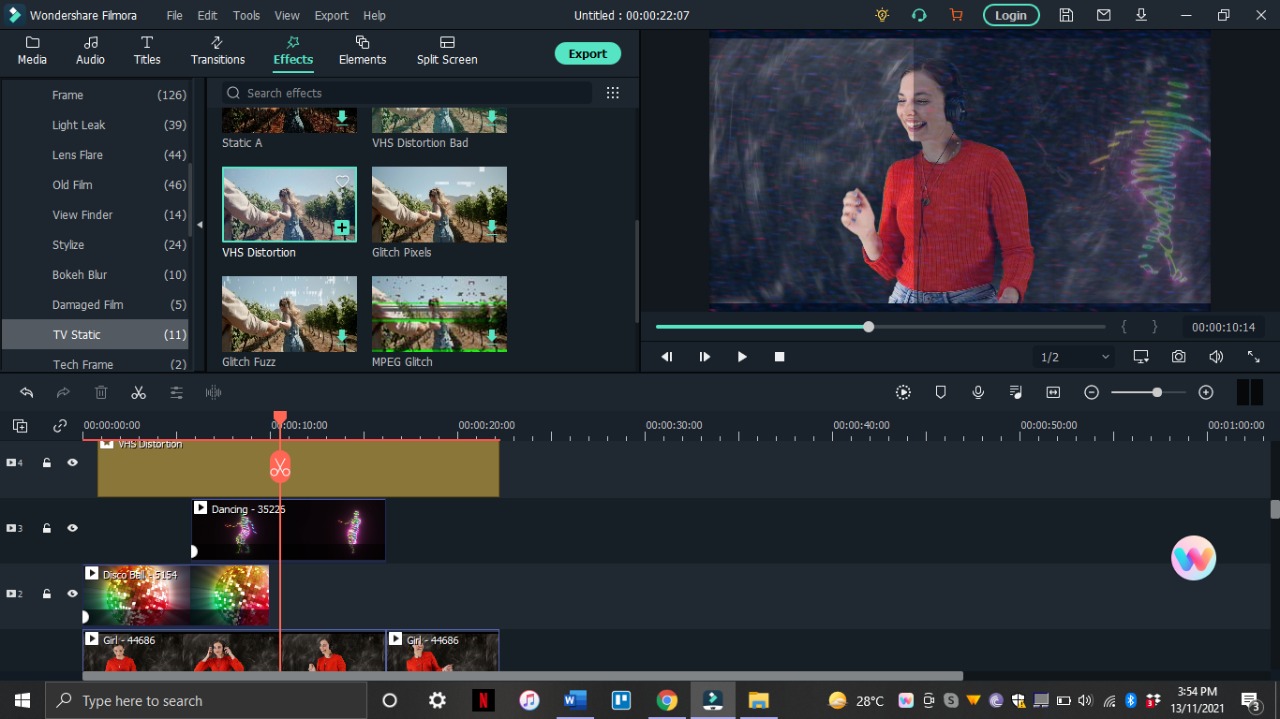 ---
Part 2. What Are The 5 Most Important Things of The 1980s Style Effect?
There are many free vintage video editing apps, and each app has different adjustments. Pick the right video maker like camcorder and Retro VHS that give the classic vibe to your photos and videos. If you want to learn how to make video look vintage premier pro, you are in luck because we have a trick or two or maybe five.
1. Select Adjustment
Using retro style helps to generate more likes on social media. Try to use old-school video filters to keep the look soft. Adjustment is the most important part in which you can easily change the color and the tone that differentiate your media from others. Use a DSLR or smartphone for taking an instant picture or a video and later adjust it with the software.
2. Color Palette
Retro style is all about mixing different color palettes on your media; you can play around with different palettes until you find the one that works for you. First impression is the last impression, and that stands fairly true for colors which is why color is an essential element since it is the first thing your audience will notice. You can also use the grain effect to make your media noticeable and get the exact look you are aiming for.
3. Effects
You cannot attain the classic retro look if you do not use the right effects. Effects like glitch, static, and distortion are perfect to create that much-loved retro vibe.
4. Add Scratches
To create the old look, add scratches that give an antique feel to the audience. These scratches immediately remind of vintage cinematography. It does not only deliver a nostalgic vibe but also makes you feel like you are virtually present in an 80s film.
5. Go To Settings
In fact, the most important part of editing is tweaking the settings to your desire. The software will present you with multiple settings which you can explore and play with to create a look that you like.
Adding warmth to videos is suitable to pull off the vintage style. It adds atmosphere to your media and makes the whole concept much more pleasing to the eye.
To create retro vibe, use vintage lenses to distort colors around the frame. Various types of vintage lenses are available that help to enhance the look.
Highlight helps to maximize or decrease the bright spot on your images. Apply filters to achieve an old look.
Contrast can either darken or lighten your video. So, it greatly depends on what look you are trying to score. Usually, while creating the retro vibe, bright and soft colors are used, so maybe darkening the video would not be a very good idea if you are aiming for a vintage look.
There is no fixed standard defining a perfectly edited video so play around with the tools to get the look that works for you. Make use of the tips mentioned above to get a quicker grip on editing.
---
Part 3. Frequently Asked Questions
1. What are the best oldies songs of the 1980s?
Some of the best oldie songs of the 1980s include:
Beatles - All You Need is Love
Close to Me by The Cure
Jump by Van Halen
Abba - Dancing queen
Beat it by Michael Jackson
Purple Rain by Prince.
2. Where can I download the 80s music?
With services like Viddly, you can easily lay your hand on vintage pieces. You can also buy music CDs or classic records from a vintage store.
3. Where can I watch an 80s music video?
There are multiple platforms on which you can watch 80s music videos such as YouTube, Vimeo, IMVDb, MTV UK, and Dailymotion.