Contents
1. Windows Recovery Software

2. Recover Files from Windows

3. Windows Recovery Solutions

4. Recover Windows Computers
Have you recently deleted a file from your computer? Well, in case of Microsoft Windows, deleted files will be moved to the Recycled Bin, but if you have emptied the Recycle Bin, used Shift + Delete to delete the files and folders or performed a disk cleanup option for a specific partition? In these cases files will be permanently deleted from your computer.
Well, if you have accidently deleted a file or a folder from your computer, don't panic and just use a recovery software to get all those files back. Internet is full of free recovery software and most of them don't work properly. They are actually just the freeware who will require the subscription to recover the files. On the other hand, some software are totally freeware, portable and will work with any type of storage media such as hard drive, USB, SD card and even SSD. We have compiled the list of 5 free data recovery software for Windows.
Part 1. Top 5 Free Data Recovery Software on Windows
1. Recuva
Recuva is no doubt the most amazing freeware to recover any type of files on your computer. It is perfect for the newbies, because the interface of the system is designed for the wizard mode. In this mode, it will ask the users some questions, answer to these questions and your files will be automatically recovered.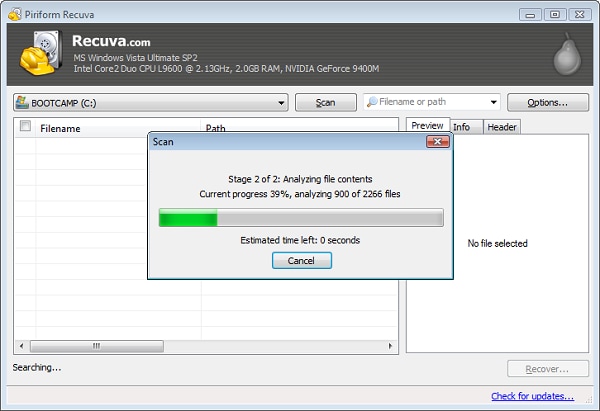 Pros
Perfectly works with any type of Windows XP, 2000, Vista, 7, 8 and even latest Windows 10.
Can recover data from the external hard drives, CD/DVD and even from iPods.
Also has a portable version to quickly use it on the other computers.
Easiest and user-friendly interface.
Cons
Doesn't work with the hard drive having storage capacity more than 3 TB.
Will also install another program during its installation on the computer.
Doesn't work with the faulty partitions on the computer.
2. Glary Undeleted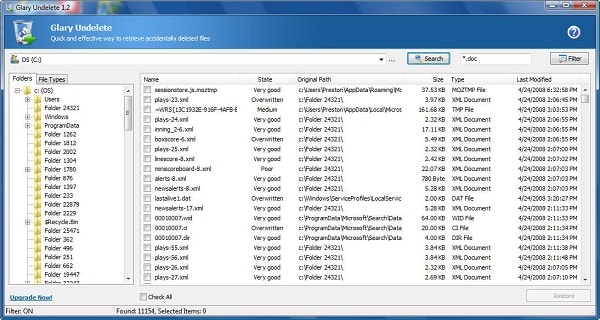 As the name of the software indicates, it can easily undelete the files and folders on any computer. With the simplest user-interface, it will also let you preview the files and there are two different methods to find the files. You can see the files via file type or a folder on your computer.
Pros
Small, lightweight and easy to install setup.
Works on any type of storage media from the latest USB, SD Card to the old school Floppy Discs.
It also provides an option to search any type of lost files.
Cons
Can't recover data on faulty hard drives or partitions.
Doesn't have a portable version and while installing on a computer will also install another program.
3. SoftPerfect File Recovery
SoftPerfect is an old school data recovery software which comes in a portable version. You don't need to install it on your computer, therefore, it doesn't have any third party software embedded in it. It will also let you search in the lost data but you can't scan the specific folders on your hard drive.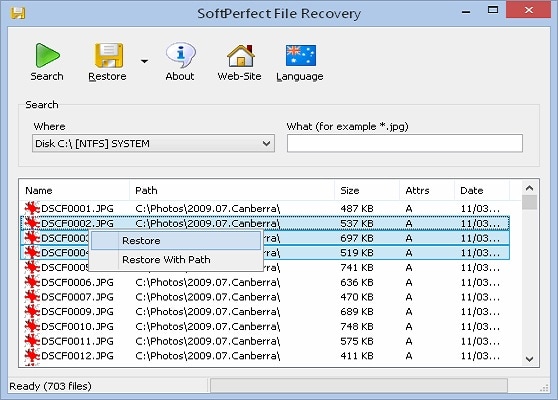 Pros
Easy to use, Lightweight, Portable program.
Easily recovers all types of files.
Works on all Windows versions.
No Ads or third Party software in the program.
Cons
Doesn't have an option to scan the specific folders on computer.
Very limited search options.
Doesn't have the Preview option for files before recovering them.
Doesn't tell about the health status of a file.
4. PhotoRec
Although the name of program is specifically associated with the photos, but it can check your hard drive for different errors and recover the files in a great way. The user-interface of the system is not for someone with normal computer-knowledge, it has command line user-interface which is not as easy to operate as it seems. However, it will work with any Windows version and recover data from any type of storage media.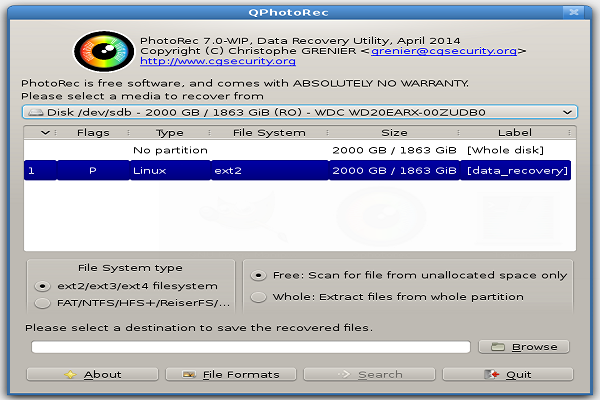 Pros
Perfect for professional users.
Works with any computer and any type of files.
Cons
Most complicated user-interface.
It is not a standalone program, however, a part of another data recovery software.
No option to preview the files before recovering.
Doesn't provide the information about the status of files.
5. Pandora Recovery
Last but not the least software on this list is Pandora Recovery that will recover any type of files from any type of storage media on your computer. Just like Recuva, it has a wizard mode which is easiest for newbie users. It will also recover data even from the formatted hard drive on your computer.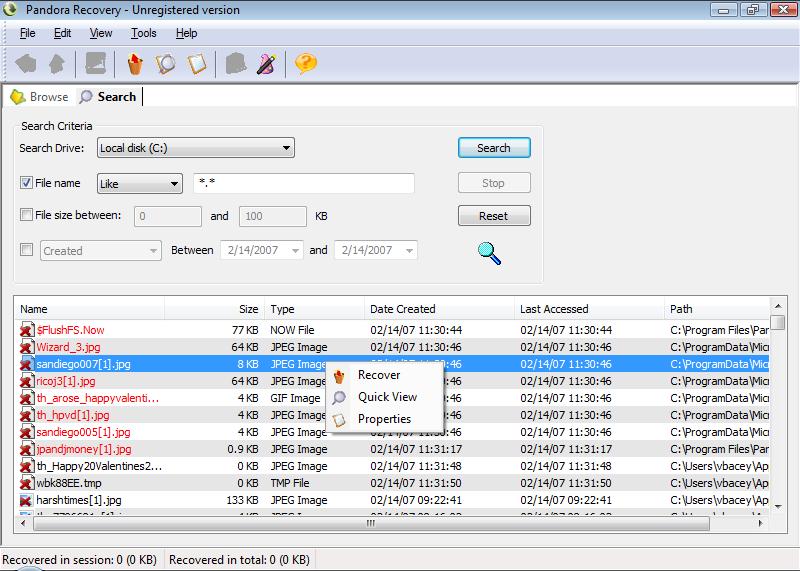 Pros
Works on all type of operating system and recovers almost every files.
Wizard mode to easily recover the files.
Search option to find the exact file from lost data.
Cons
Requires installation on your computer.
It will install a third party software during installation.
Part 2. Best Widows File Recovery Software (Windows 10 Compatible)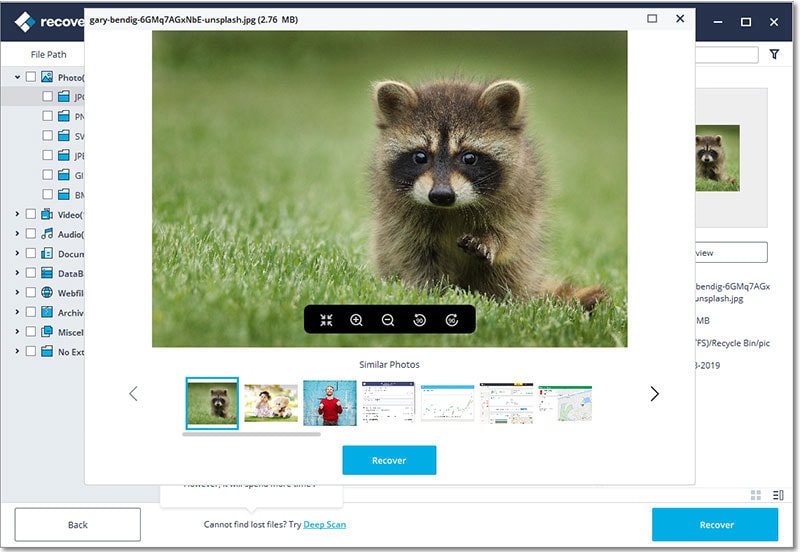 Although freeware is a great way to recover the lost files from computer but nothing can be said about the effectiveness of these programs. Unlike most of these programs, iSkysoft Data Recovery for Windows is a perfect software to recover all types of files and it has the easiest and user-friendly interface which is perfect for any type of user. You can use the Wizard Mode or Standard mode depending upon your computer knowledge. It doesn't install any third party software during installation and there are many different options to search in the scanned data. You can't only recover the deleted files but it will recover files from faulty partitions or hard drives on your computer. Last but not the least, it can also recover the raw files from your windows to stabilize your computer.