- What program do YouTubers use to record?
- How do you record a YouTube video to your computer?
- ...
We all love YouTube, but you likely had a frustrating experience trying to download content directly from YouTube. Many YouTube users resort to using online YouTube downloaders to download their favorite clips without taking into account that most online downloader services are not safe.
So, is there a safe way to save YouTube videos and songs on the PC without harming your PC?
There is.
In this post, you're going to learn how to record a YouTube video on Mac or PC without downloading it. And several tips to help you pick up the best YouTube video recording software on the Internet.
Now, let's get started...
How to Choose the Best Video Recording Software for YouTube?
While the process of recording videos from YouTube is easy, finding the right software tool can be a daunting task. You will need to identify all the features that are important to you before settling on a YouTube recorder.
Thus...
...I have summarized the main factors that you can take into consideration while you're going to download and install a YouTube recorder on your PC, Mac or portable devices.
1. Easy of Use
You'll not want to get a clunky software with a UI cluttered with ads, right? So, it is important to get a YouTube recorder software that has a good UI design and works fast. You shouldn't have to waste time registering to use an online YouTube recorder. Choose a YouTube recorder program that makes the entire process simple and straightforward.
2. HD Support
For the best experience, you want to watch your recorded videos in the highest available resolution. Pick a YouTube recorder that can save your videos at full HD or even better, 4K format. Most YouTube videos today are available at HD resolution, so you need to make sure that you can record them in the best quality.
3. Good Performance
Since you are recording videos in HD quality, you want a tool that is easy on system resources. Now that YouTube allows videos longer than 10 minutes, some videos might even be hours long, so make sure that you also have sufficient disk space to save your recorded videos.
4. Windows and macOS Compatibility
Your video recorder of choice should be compatible and well supported on your OS. Make sure that the software tool that you plan to use provides a smooth user experience whether you're using a Windows PC or an Apple computer.
Now, you can use the above factors to pick up the best YouTube Screen Recorder software to help you record shows that are already on YouTube.
However,
if you think the process is time-consuming and trouble, here I'd like to strongly recommend the Filmora Video Editor for your reference. This program not only works as a video recorder for YouTube, but also performs well as the best video editor.
Sounds great? Let's check more about the Filmora Video Editor one by one.
---
Filmora Video Editor - The Best YouTube Video Recorder & Editor You Can't Miss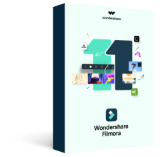 Full screen, customize and target window mode to help you capture any screen video on your PC or Mac within few clicks;
30+ editing tools allows you to cut, split, combine, crop, rotate, etc. the recorded video as you like;
500+ free effects are here to enhance your video performance, including titles, sound effect, filters, transitions and elements;
Export and share the recorded videos in multiple ways as you like.
Steps on Recording YouTube Videos on PC or Mac
Step 1. Assuming that you have already downloaded and installed Filmora Video editor from the official website, open the program and click "New Project".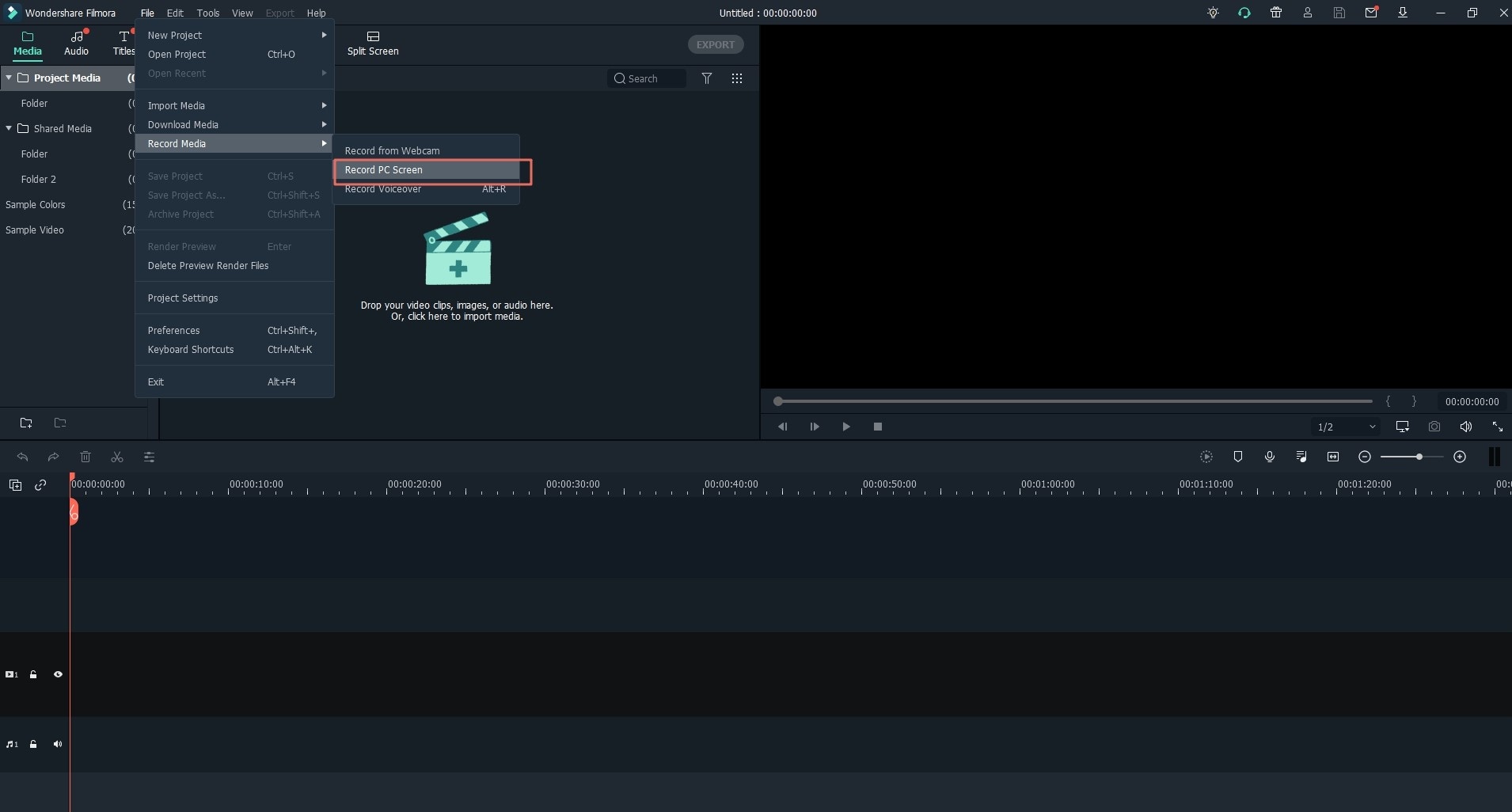 Step 2. Navigate to "Record > Record PC Screen" and configure your settings. When all these have done, you can click "REC" button to start recording your YouTube video.
[Note] You can select a recording method from Full Screen, Custom and Target window according to your own needs.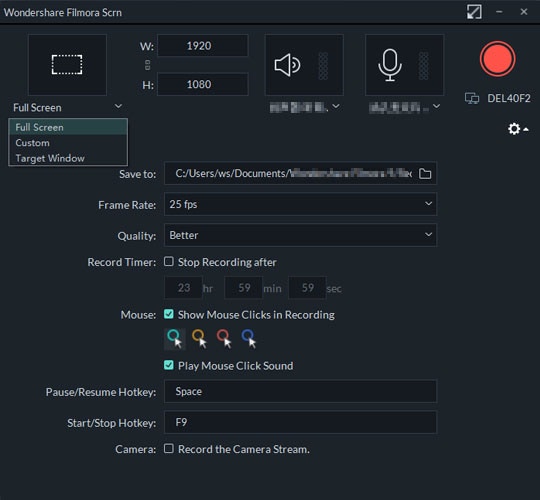 Step 3. After a short count down, the recording process will start. You can now minimize Filmora recording tab and recording the YouTube video. You can pause or stop the process at any time.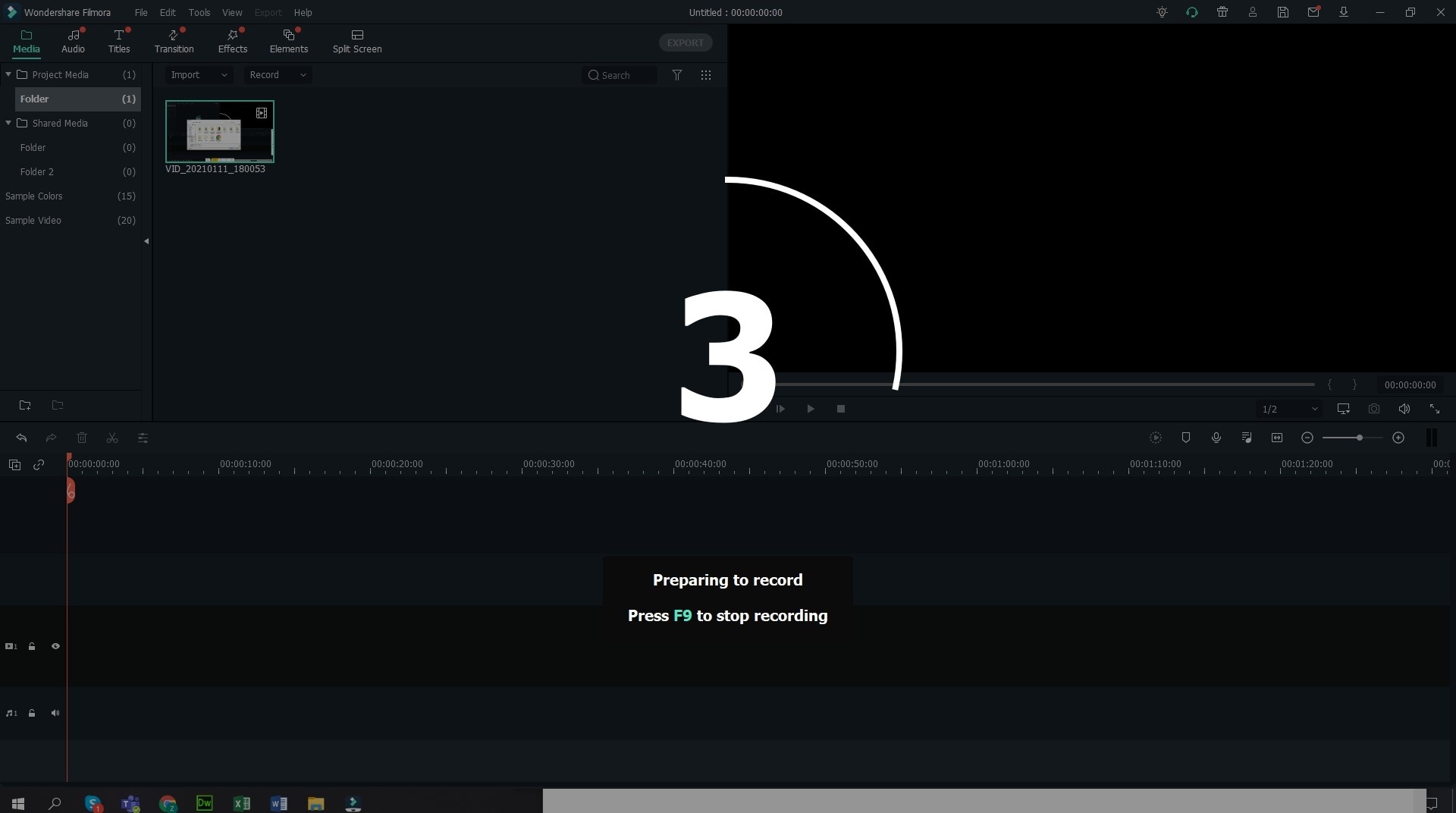 ---
Other YouTube Video Recorders You Might be Interested in
If you have viewed the above content, you might know how to record YouTube video on your computer, right?
But sometimes, you might also want to know more options that you can use to capture YouTube video. So, I've picked up 9different YouTube video recorder alternative software for your reference.
- Bandicam Screen Recorder
- Icecream Screen Recorder App
- Cam Studio
- iSpring Free Cam
- ShareX
- ScreenFlow
- Snapz Pro X
- QuickTime
- Screencast-o-Matic