If you enjoy capturing special or fun moments on your smartphone, you have probably asked yourself as follows:
- What is the best app for recording video?
- How do I make a video on my phone (including iPhone and Android)?
- ...
With the popularity of the smartphones, people are increasingly relying on them in the digital daily life. So, it is inevitable that you might encounter the issues in the above section. As an iPhone user, I know the iPhone has a built-in camera app on the device, but to be honest, I also need other video recorder app for iPhone due to the function limited.
Thus, if you're looking for the best video recording app for iPhone or Android (like me), this post will guide you to learn 10 advanced iPhone or Android video recording apps.
Now, let's get started...
5 [Free & Best] iPhone Video Recording Apps
#1. Mavis Pro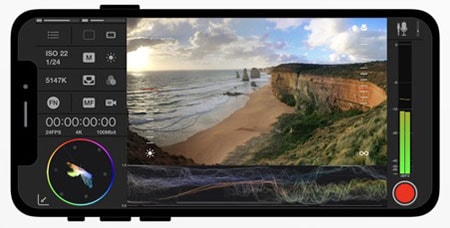 Mavis is a popular video recorder app for the iPhone, which comes with lots of manual controls that give users full control over their shots. However, its interface might be a little intimidating to beginners because you'll see all sorts of dials, graphs, and sliders that include a vectorscope, waveform, audio level meter and more.
Mavis Pro may be better suited to pros or users with some technical experience but if you don't mind a little tinkering and experimenting, this is a good app to use.
---
#2. iPhocus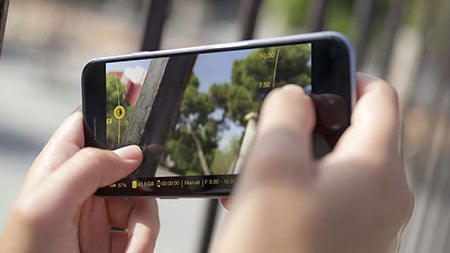 iPhocus is a manual video camera app that was developed to take full advantage of iPhone cameras. With its simple UI and intuitive layout it makes a good choice for beginners just getting into smartphone recording. It offers smooth and accurate control over focus while video recording and its AirFocus feature allow users to control iPhocus over Wi-Fi using another iOS device.
---
#3. MoviePro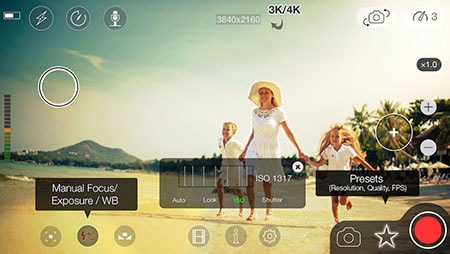 MoviePro makes it easy to use your iPhone to shoot high-quality footage, edit it and share it with friends and family. It is compatible with all iOS devices and can be used on your iPad and iPod touch as well.
This app comes with a good number of tools and features that include manual controls for most options, giving the user complete control over the shot. It also does a great job of recording sound allowing users to monitor and adjust microphone input options and other audio levels.
If you enjoy video recording on your iPhone and need a simple, inexpensive app that produces great results, Movie Pro makes an excellent choice.
---
#4. Kinomatic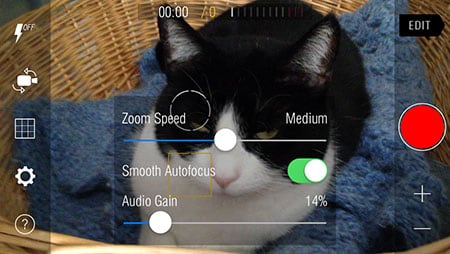 Kinomatic is another good choice for mobile phone video recording. This app makes it easy for all iPhone users to quickly record video clips, edit them, adjust their volume and add extra touches such as a title or music.
It also provides extended camera function, which offers more possibilities than Apple's native app for video recording. In addition to three focus and exposure modes-automatic, point-to-point, and fixed-white balance can also be customized, optional image stabilization enabled, and gridlines displayed. Kinomatic uses both the front and back camera and supports the camera light or the flash.
---
#5. ProMovie Recorder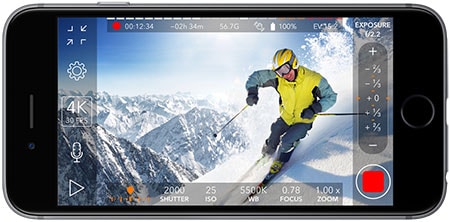 Users who need full control over their video recordings will find ProMovie Recorder to be a suitable choice. This feature-rich app supports 4K resolution and has manual controls for framerate, video bitrate and aspect ratio. Users also get other advanced options to adjust audio levels, ISO, exposure, zoom and white balance.
This video recorder is free to download but you'll need to buy the paid version to get rid of the watermark in recorded footage. ProMovie Recorder is a good choice for beginner and intermediate level hobbyists looking to record videos on iPhone.
---
Top 5 Video Recorder Apps for Android
#1. Filmic Pro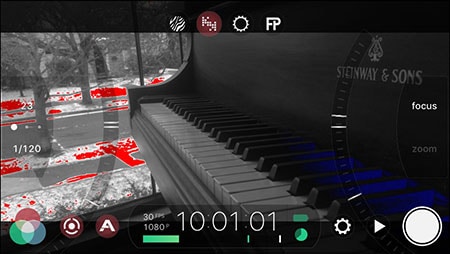 Filmic Pro's advanced feature set and high-quality design make it one of the best third-party video recording apps for both Android and iPhone. This camera app not only provides all the familiar essential camera functions but is also packed with advanced tools and features to give pro users complete control over the look of a scene.
An interesting feature of Filmic Pro is that it can use both of the phone's cameras to record video simultaneously. You can, therefore, film with both the main camera and the selfie camera at the same time. In addition, you can also use the ultrawide angle and the standard lens at the same time to create a cool shot. Fans of smartphone filming that feel limited by the native camera app should definitely consider Filmic Pro.
---
#2. Open Camera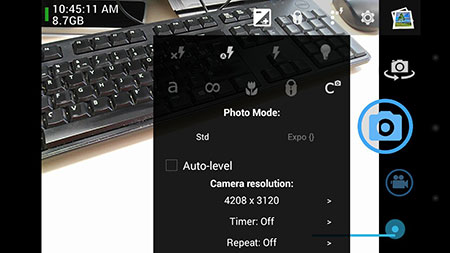 Open Camera is a free and fully featured video recording app for Android. It is quite popular and ranks high on the Google Play Store's "best photography apps" list. It features many of the functions and manual control options present on paid camera apps and even includes a widget that makes it possible to take quick photos.
Key features of Open Camera include auto-stabilize function, manual controls for color effects, ISO and white balance, ability to disable shutter sound and GPS and location tagging. If you need a free, easy to use a video recorder to extend the functionality of your Android camera, this is a good place to start.
---
---
#3. Cinema FV-5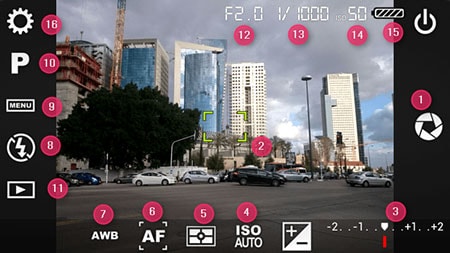 Another good video recorder to replace your stock Android camera app is Camera FV-5. This app is designed to give you the feel of using a high-end DSLR camera. This video recorder offers manual controls for almost all its features including flash, exposure, ISO, white balance, color effects, shutter speed, and face detection.
You can also get detailed scene information on the viewfinder such as live histograms, exposure time, f-stop, audio meters and more. The Camera FV-5 is ideal for hobbyists and smartphone filmmakers looking to take their video recording game to the next level.
---
#4. Videoshop Video Editor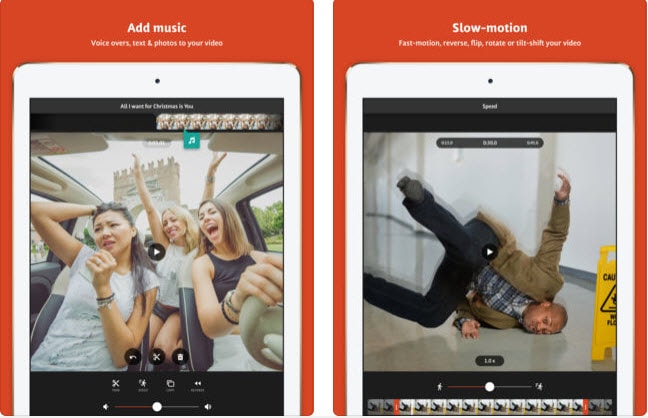 Videoshop Video Editor is an interesting video recorder that you can use to create movies on Android or iPhone. It allows users to apply a wide variety of overlays, effects, animations, filters, and transitions to recorded videos or videos from the camera roll.
Using Videoshop, you can also merge different clips, trim unwanted parts from recorded footage, add text, add sound effects and music and apply slow-motion effects. Other key features include the ability to adjust brightness, contrast and color effects.
---
#5. Camera MX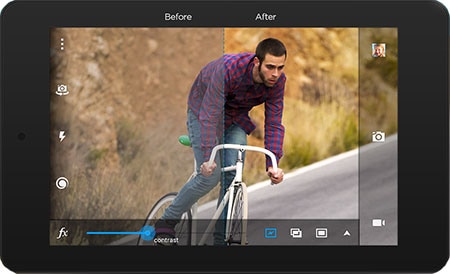 Camera MX is another Android video recording app that is easy to use and offers users tons of filters and special effects. What is unique about this app is that unlike some apps featured on this list, Camera MX can apply filters and effects in real-time as you are recording. The basic video editing tools offered to allow users to adjust brightness, color effects, contrast, sharpness and more. The app is free to download but requires an in-app purchase to allow access to premium tools and features.
While most third-party video recorder apps either have too many or too few features, Camera MX offers a good balance that allows beginner smartphone filmmakers to shoot significantly better videos.
---
Conclusion
Now, you've seen 10 different video recorder apps for iPhone and Android, which one will the top 1 option?
In my opinion,
Flimic Pro or Camera MX could be a nice option if you feel hard to make a decision. These two video recorders outperform most of the other apps on this list and are a big upgrade over iPhone and Android native camera apps. Although packed with features, they are still fun, easy to use and have attractive interfaces.
No matter what app you choose to use finally, please make sure it fulfills all your needs and is also suited to your skill level. As a beginner, it is always a good idea to start with free video recorders and after you've gained some experience, move on to the premium video recording apps.
[Bonus]
All apps on this post are used on the portable devices, so if you want to record video on PC or Mac, you can take the Filmora Video Editor into consideration. This software allows users to record from webcam, PC screen, etc. within few simple clicks.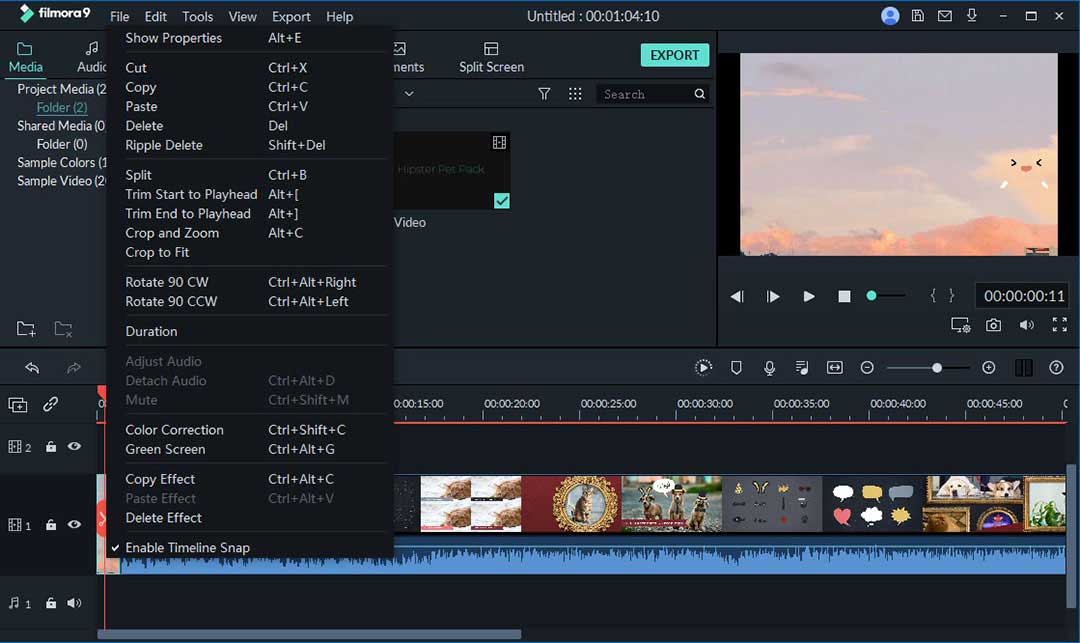 Key Features of Filmora Video Editor:
Record video from webcam, PC screen, etc. on the PC or Mac directly and output video in high quality.
Able to edit the recorded video before exporting with basic and advanced editing tools, including trimming, cropping, rotating, adding background music, title, transitions, filters, etc.
Support output video in various video formats, including MP4, AVI, WMV, etc, to portable devices, social platforms like YouTube, Vimeo, or burn to DVD as you like.
...
Learn how to record video on PC/Mac with Filmora Video Editor? Check it now.