A wedding day is one the most awaiting days of your life. You have probably been thinking about this day since you were a kid — the decor, the dress, the rings, the wedding card messages, most importantly, your life partner with whom you will spend the rest of your life. You can imagine it all in your head for months, years even, leading up to the big day, but what about afterward? You might be wondering how you can relive the moments of your big day. Wedding videography is the answer.
Your wedding day is the moment when you commit to love and cherish your life partner endlessly. A wedding video is so special because you can hear the words you spoke to your spouse years later. Isn't it romantic?
Your wedding is on the way, and you are planning to hire a videographer to capture the beautiful moments of your day. We recommend you save your money by creating your video on your own. You need not spend too much money to hire a professional videographer.
The good news for you is that you can create your wedding video on your own!! We are here to help you to create your wedding video with amazing effects and transitions. Yes, you heard it right! You might be concerned about how to choose a video editing software. You can use Filmora X relive the emotions of your special day. It is free and easy to use for beginners. Follow our step by step to make your video more stunning. Let deeper dive:
Part 1. How to make a wedding video with Filmora (step-by-step guide)
Filmora is the best wedding video editing software to add stunning effects, titles, and transitions to add more to your wedding video. You can use this software for wedding video editing even if you're a beginner.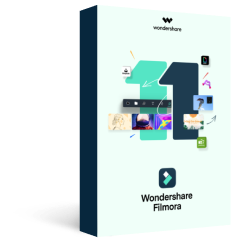 Key Features
Best video editing software for beginner and semi-professional
Advanced video effects like motion tracking, keyframe, AI Portrait can also be found and applied to your video within few clicks.
500+ free special video effects to customize and create an awesome movie by yourself.
1000+ standalone effects downloading resources to make videos in all kinds of styles.
Step-by-Step Guide on Making a Wedding Video as You Like
Step 1. Import video, music, and photo
Import video clips, music for wedding, and photos to the Filmora media library. You can import videos, photos, and music by clicking on the Import to choose all the content from your computer. Once you have imported the videos, you're all set for editing.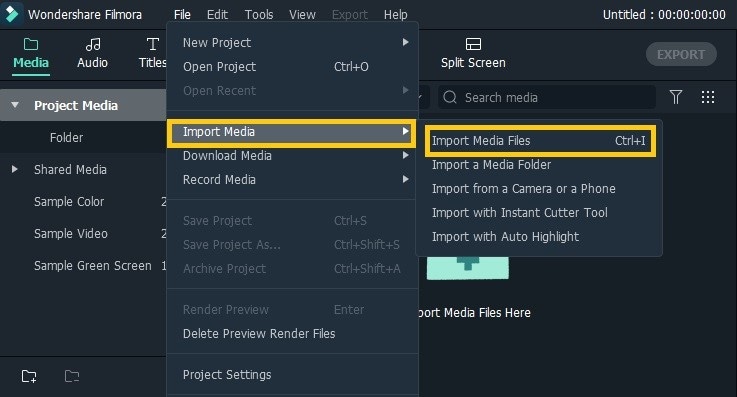 Tips:
Wedding songs serve as the background music of your wedding video. There are plenty of songs to add to the wedding videos. You can select the most romantic wedding songs to add more to your video. We recommend you add 10,000 Hours (Dan + Shay, Justin Bieber), The Boy I'm Gonna Marry (Darlene Love) , and Countdown (Beyoncé). Once you have selected the songs, drag the files to the track for editing.
Step 2: Use the cut, trim tools
You can use cut, trim tools to delete the unwanted parts of the video and merge all the clips in a single video. You can easily cut the clips from starting and ending by clicking on the Scissor button on the timeline.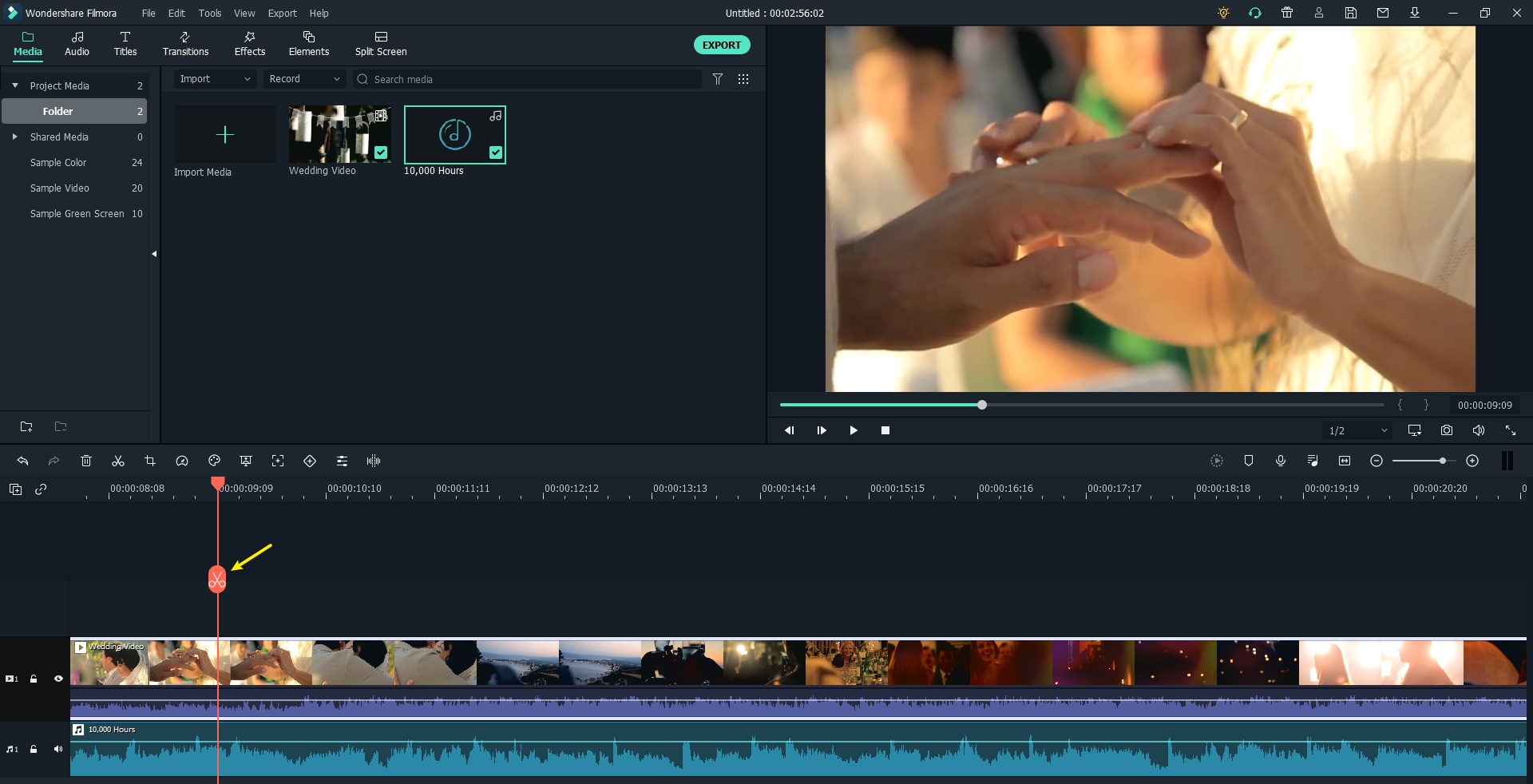 Step 3: Add romantic filters
Filmora provides 160 different filters to spice up your wedding video. Just choose your favorite one and drag it onto your video clips on the timeline. Double click on your desired filter (here we choose the Romantic Filter from Instagram genre) to preview it, and the filter will load on your video in the preview window. If you feel the tint of the filter is too heavy, you can double-click the filter on the timeline and adjust its "Alpha" in the window.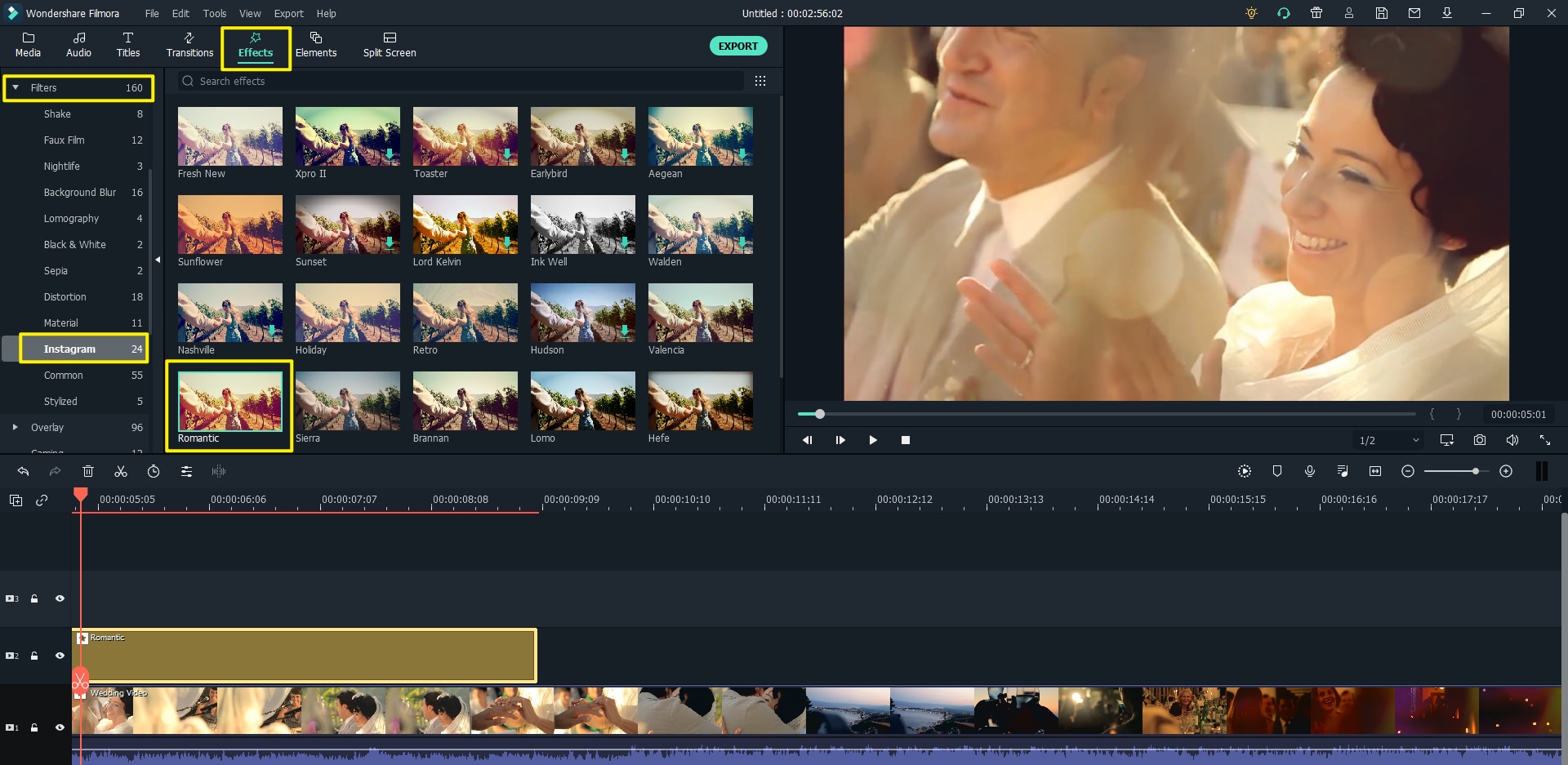 Step 4: Use titles, transitions, elements
Our next step is to add titles, transitions, elements to make our video more unique and beautiful. There're plenty of effects that you can select from under each menu. Here we use the "Wedding Floral Pack" from Filmstock, because all the effects included in the pack belong to the same theme with well-designed, coincident color and style. Highligh the names of the bride and bridegroom with adorable titles in pink to leave an impression on your audience first!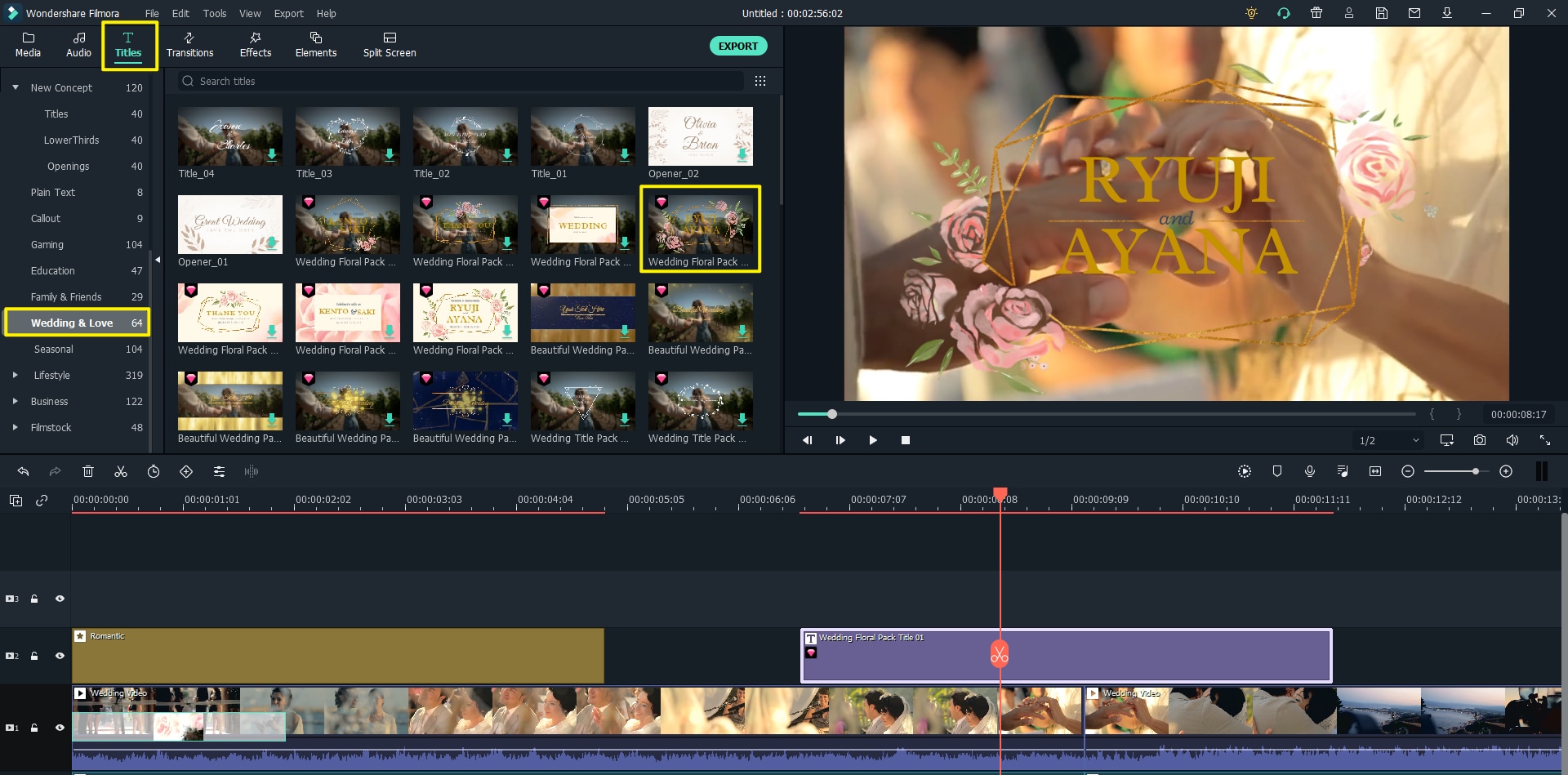 Adding stylish transitions between seprate clips will make the watching experience more smooth.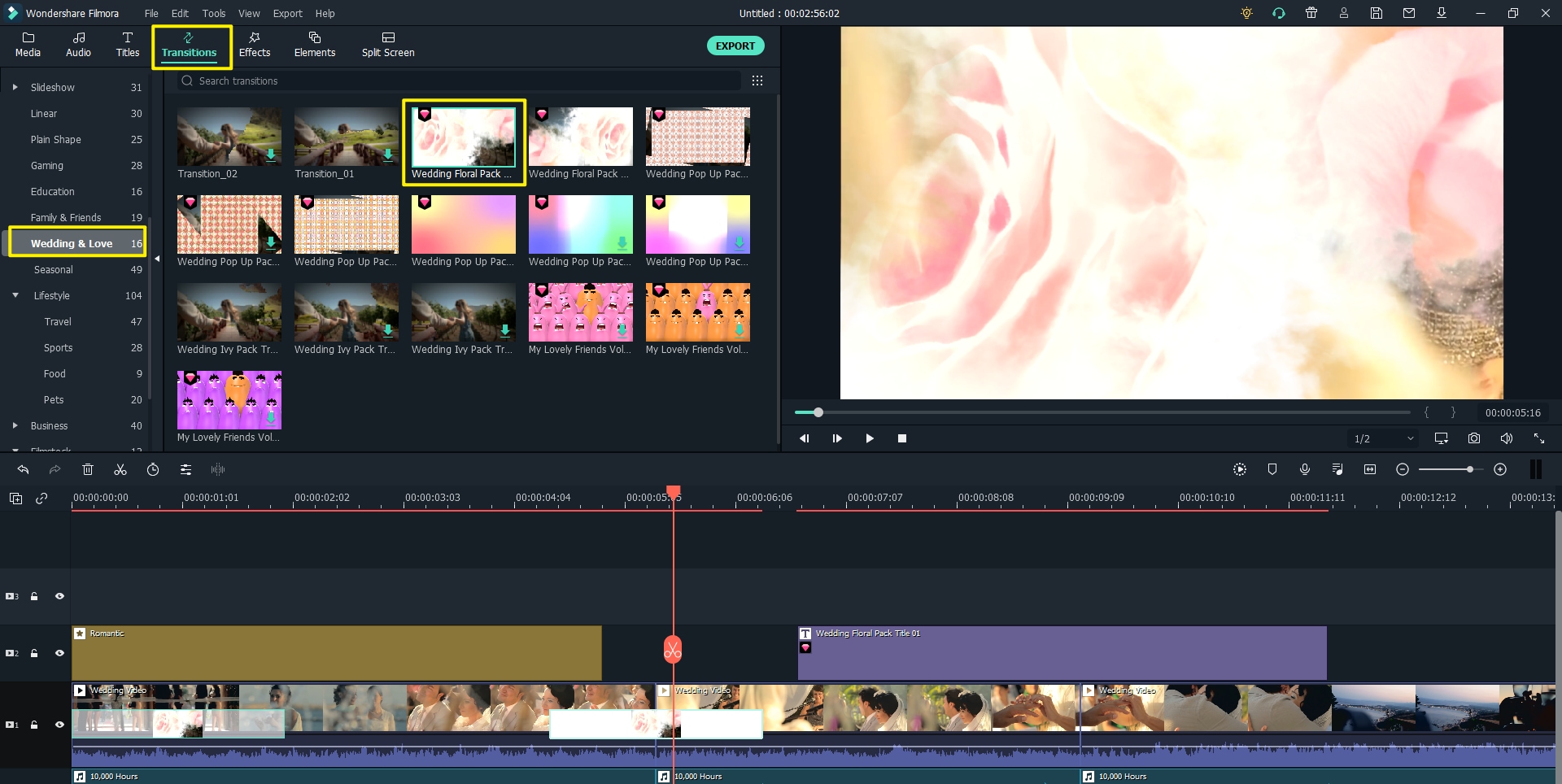 Cute elements such as Heart Shape, Flower, and Boy and Girl Characters can also make your video look more sweet and lovely.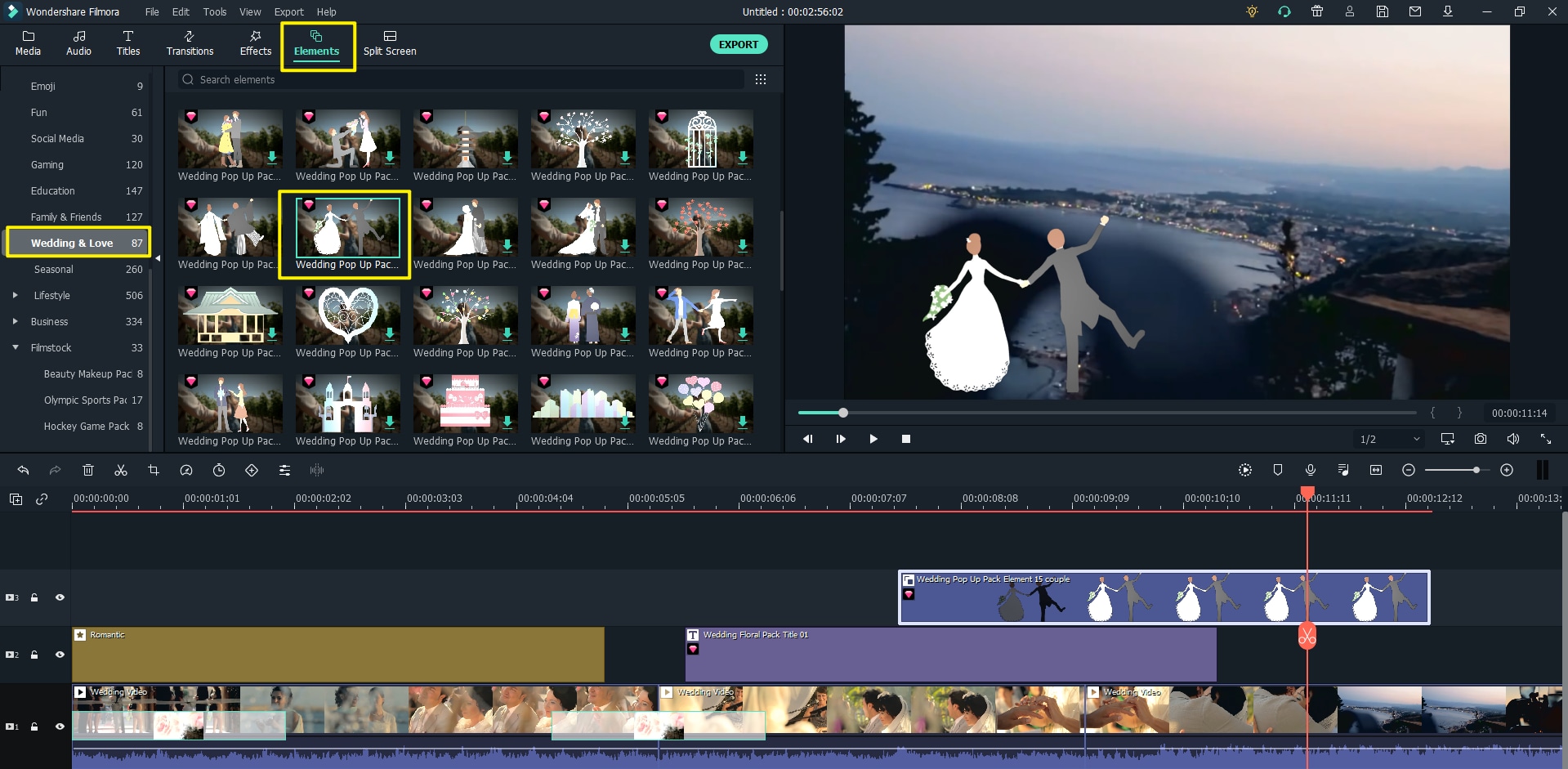 Step 5: Discover amazing wedding-themed effect packs in Filmstock
You might be surprised to know that Filmora offers wedding packs to add all kinds of transitions/titles/lower thirds/elements to your video. You can easily find a complete suite of effect packs in Filmstock - a one-stop shop for royalty-free video effects, footage, audio, and more.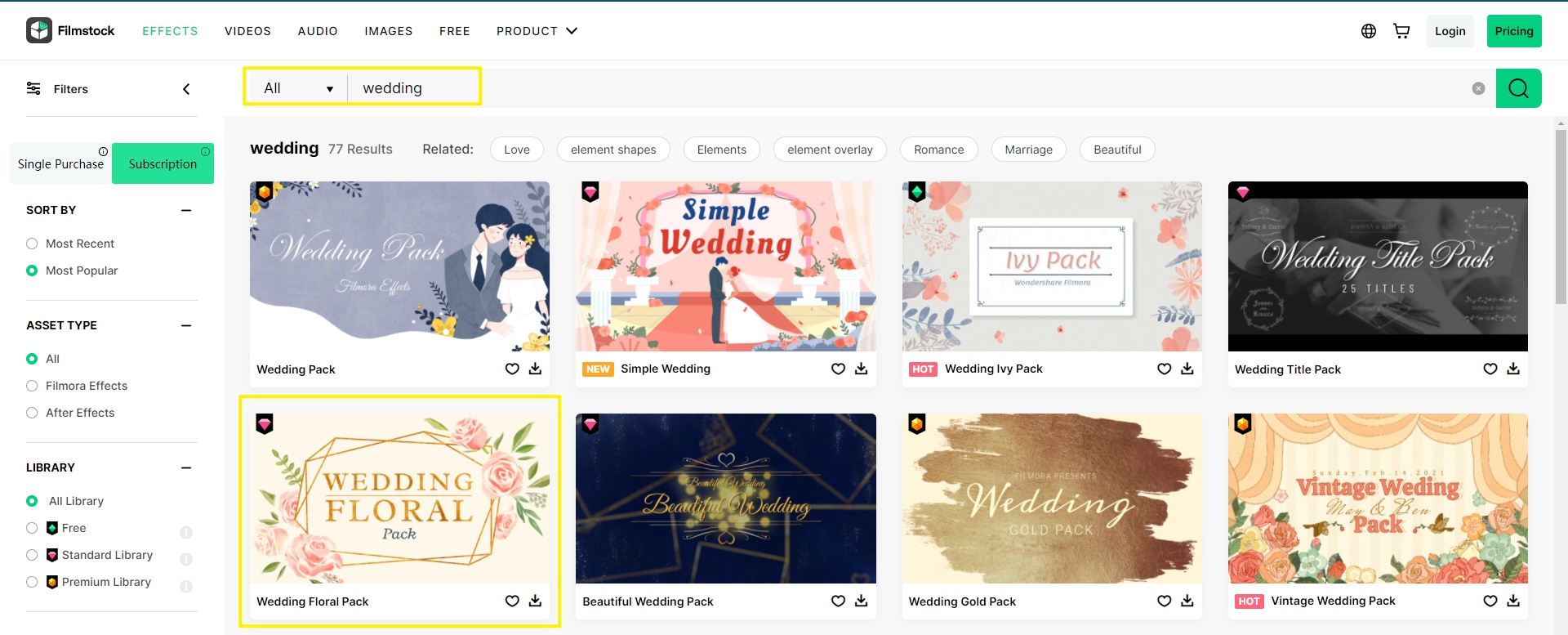 Step 6: Export the video
When you finished editing, click on "Export" to save your wedding videos.
Step 7: Share with Family and Friends
Now, it's time to share the most cherishing moments with your family and friends. Never forget to pat on your back after their feedback. Bonus tip: Burn your wedding videos to DVD for better preservation with Filmora X. Congratulations! You have stored the precious moments of your life forever!
---
Part 2. What to Include and Avoid When Making Your Wedding Video
You might be wondering how to shoot wedding videos as you will be preoccupied with your events. Don't worry! We are putting an end to your concern! You can entrust your friend or a relative to capture the delightful moments of your day. It's ok for you not to care much about the video as you will have a lot in your head to care about like your makeup, hairstyles.
You can share wedding video ideas with your friend about how do you want your wedding video to look. After the wedding is over, your focus quickly shifts to your wedding video, and you'll be reliving your moments for years.
So, we are unveiling what you should include and avoid in a wedding video to make it the best. Let's take a look to make a perfect video of your big day.
What to Include
Capture all the key shots; the idea behind the wedding video is to relive the most special day in sequence and style. If something skips, then that whole idea is ruined.
Get the best camera to capture your wedding ideas skillfully.
Keep the camera still throughout the video; if a camera is shaky during video capturing, it shows the poor quality and lack of videography skills. So make sure to entrust your friend/relative with expertise in videography.
Make sure that lighting is always perfect; keep every shot and scene perfectly lit for the best possible results after editing.
Capture the footage from the ceremony.
Direct and edit well to describe the story of a day. Now, this is the time to practically implement our suggestions and recommendations to edit the video skillfully.
What to Avoid
We are enlisting some points to avoid when making a wedding video. Keep them in mind to save the whole idea of your wedding video. If you want to make your video worth watching, make sure to avoid all these problems:
Bad lighting
Poor audio quality
Shaky camera
Rough exposure in the shots while grouping them
Repetitive footage of the stuff with no attraction
---
Part 3. Frequently Asked Questions
1. How much should I pay for a wedding videographer?
Wedding videographer is an important person to create the most cherishing moments of your day that you will adore for years to come. The cost of a wedding videographer depends on the experience, level of expertise, wedding location, and the time the videographer spends on your wedding. Most couples spend between $1,000- $2,500 on videographer.
Instead of hiring a videographer, we recommend you use Filmora X to edit your wedding video free of cost. Follow our guide to make your wedding video memorable!
2. What are the best wedding video songs?
Choosing the right song for your wedding video is crucial as it gives a lift to the mood and the entire vibe of your wedding video. Most couples ask the videographer to add songs of their choice, but we recommend selecting the songs you like the most. We are enlisting the most romantic songs for your reception, dance party, and more. You can add Shawn Mendes – Fallin All in You, George Strait – I Cross My Heart, and Beach Boys – Chapel of Love to express the vibes of the day.
Using Filmora X allows you to uplift your wedding video for free. Try this software to add more using sound effects, special filters, and wedding effects.
3. What are the must-have wedding shots?
Wedding shots are one of the most memorable parts of the wedding day, so you should prioritize your must-have wedding shots. These are the memories you'll cherish for the upcoming years. But, you may find it daunting to make a list of your wedding shots. So, we will help you to make a list of must-have shots we think should be on your wedding shot list. We recommend you add engagement shots, pre-ceremony shots (wedding invitation, wedding rings, special gifts, bridal bouquet, bridal's accessories, groom's accessories), first look shots, ceremony venue shots, bride entrance shots, cocktail hour shots, and reception shots.
To add more to your wedding shots, we recommend you the best wedding video editor software, Filmora X. Download it on your PC to unveil its gripping effects, overlays, filters and transitions.
If you're interested in creating your customized wedding video with Filmora, watch the short clip below to learn more about this easy-tp-use software!