Thanksgiving is a holiday to thank what you're grateful for, and in this age of social media and technology, you definitely want to share your moments with the world as well. Creating a vlog would be one of the best ways to do it, now that you've decided it, you're trying to find ways of what to do and how to do it exactly, what theme should u go for, which software to use, you want to record the precious moments and compile them by vlogging. Don't worry, we have everything covered!
Before we start, there is one thing that you need to consider, and that is the actual purpose of the festival. That is to be grateful for the past year's success/offerings etc. Whenever we plan to do anything, we always have to figure of the "why" of it, why are you celebrating, what's the purpose, the outcome and what not. Knowing the core of the festival and shaping your actions according to it will give it a real touch. If you're celebrating Thanksgiving for the sake of making a vlog and that you have to show up on social media just like every other vlogger, it will not be worth it, because then you'll be more focused on the vlog than the actual festival and it may seem fake, and that might take away the real purpose of the holiday. The essence of the festival is actually knowing and acknowledging the purpose of it.
Now let's get started. To put it simply, take shots of different moments, while truly living in the moment, because that is what's going to make your vlog livelier and more unique, after all, being genuinely thankful is has an essence of its own.
Part 1. Thanksgiving Video Ideas/Themes
Thanksgiving is just around the corner! And you've been thinking of making a vlog since long! But are finding it a bit difficult to break the chain of thoughts and infinite options to determine what theme will best suit this year's Thanksgiving vlog, worry not! Thanksgiving comes once a year, and it has to be memorable, doesn't it? Whether it be sharing your unique family recipe for Thanksgiving or sharing stories, we have it all covered! Here are 6 ideas that are sure to pump you up for making your vlog! So, let's start!
#1. Favorite Recipe Vlog
Every family has that one special recipe that was either passed down through their great-great grandmother or even recently invented by their own family member or even yourself. And what's a Thanksgiving holiday without a special dinner? What is better than sharing that amazing mouthwatering recipe with everyone?
Making the video and editing it would be easy as well, all you'll need to do is follow the steps of the recipe and present them in order! Tip: Record everyone's reactions after tasting that special recipe and add two in the beginning of video to create engagement and the remaining at the end!
#2. Family Vlog
It is that time of the year where everyone including you gathers for a family meetup! How about you reveal new faces in your Thanksgiving vlog? It doesn't have to be a formal introduction anyways; you're not conducting their interviews, are you? You could also ask your family to say a little hello and wish your YouTube family a happy Thanksgiving, this way you can get more engagement and your subscribers will have fun watching everyone saying hello in their own unique way!
Either ask your family to introduce themselves to your YouTube family or make clips of them and add some engaging captions when editing. This way you will not even need to make a proper setup for recording or anything, after all, you're enjoying family time and making memories. Memories you will later edit and introduce to your YouTube family!
#3. Thanksgiving Story-time
This one is a little different, do you remember any event that made your Thanksgiving holiday more memorable? No matter if it was a success or a disaster? May it be the decorations falling off before the dinner or accidentally burning up the turkey? Or the time you fell off the stairs and ended up ripping your dress? (No one's saying that last one actually happened, okay?)
There might even be something your family recalls laughing every Thanksgiving dinner! Or they could be memories you cherish by heart and get teary even today. You could share it with the world, make it a story time and express it in a creative way, or even add a clip of it if you have it by chance!
#4. Holiday Themed
If you're not looking for a whole lot of effort you can just go with a holiday theme, take small clips of special moments and share them with the world. Hey, you're already setting up the house and the dinner table, right? You can just make a simple, vlog as well, share what made it memorable and share the process, funny moments, moments where you thought Thanksgiving got ruined?
There are just so many options you can choose from, you can even make a how-to guide, celebrate with something unique, and what not! Remember to enjoy the holiday and make the vlog according to it and not the other way around!
#5. Friendsgiving
If you're away from your family and can't make it to the family meetup, don't worry, invite your friends over and celebrate a Friendsgiving! After all, there are a few who hold a special place in our hearts and are family!
Celebrate your Thanksgiving with your friends or even invite your vlogger friends! Your short clips would never seem to end! Friends and no fun? Doesn't seem quite right. Show the world how special Thanksgiving was, Bonus tip: create memes of your friends! They might make memes of you too so be on guard :')
#6. Creative Vlog to Share What You're Thankful For
The true essence of the holiday is to be grateful for the harvest of the previous year, right? Why not analyze your past year and share the moments you're thankful for with your YouTube family? You can also ask your friends or family for their thoughts on it, and combine them to form a video, the more the merrier!
Creativity is a major part of content creation, Thanksgiving is a holiday to be thankful for, everyone knows that already. But how you choose to express it to the audience is what matters, although you'll be analyzing your past year, express it in an engaging way, add bloopers, memes, anyway you like it!
---
Part 2. How to Make a Thanksgiving Vlog with Filmora [Step-by-Step Guide]
So, you've made all the clips you require for the video, now its time for video editing. The new update of Filmora i.e., Filmora is truly one of its kind when it comes to a video editing software. Anyone can use it, because it's extremely easy and convenient to use as well as the number of features are incredible, whether it be themes, stickers, intros/outros, anything for that perfect Thanksgiving vlog you're looking for! We have prepared a step-by-step guide for you to make it even easier!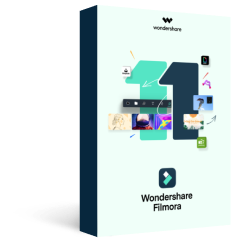 Key Features
Best video editing software for beginner and semi-professional, that comes with powerful editing skills like trimming, splitting, rotating, editing, etc.
Advanced video effects like kens burn effect, glitch effect, green screen, audio mixercan also be found and applied to your video within few clicks.
500+ free special video effects to customize and create an awesome movie by yourself.
1000+ standalone effects downloading resources to make videos in all kinds of styles.
Record voice in real-time: you can have you voices recorded in realtime and instantly add them to the video files.
Step 1. Import Video, Music, Photos
The first step is to import any data you require for the video editing, whether it be audio, images, videos, etc., you can simply drag and drop the media in media library by clicking on Import Media. Use Thanksgiving theme songs or choose the ones you think will seem more suitable, there are numerous options in Filmora as well!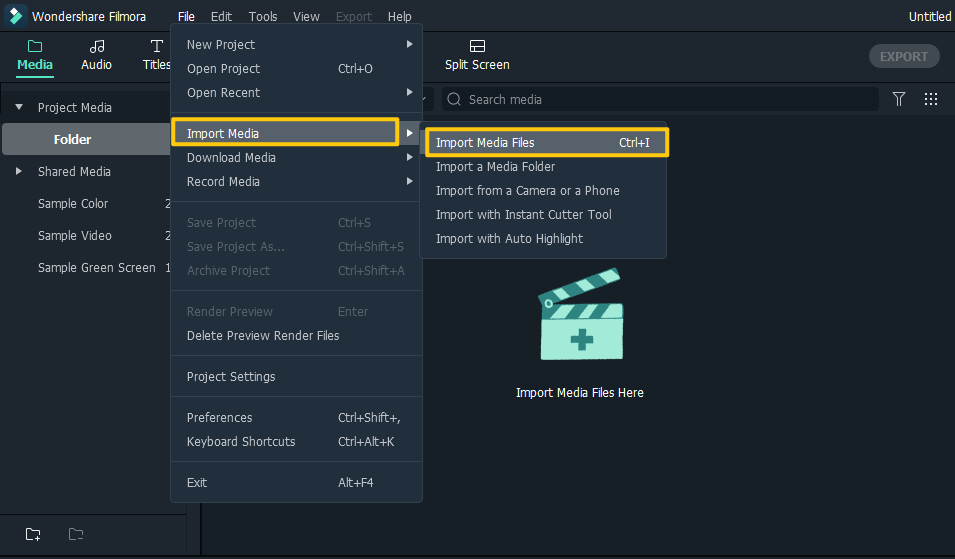 When you have imported media, simply drag and drop them to the timeline to get started with editing.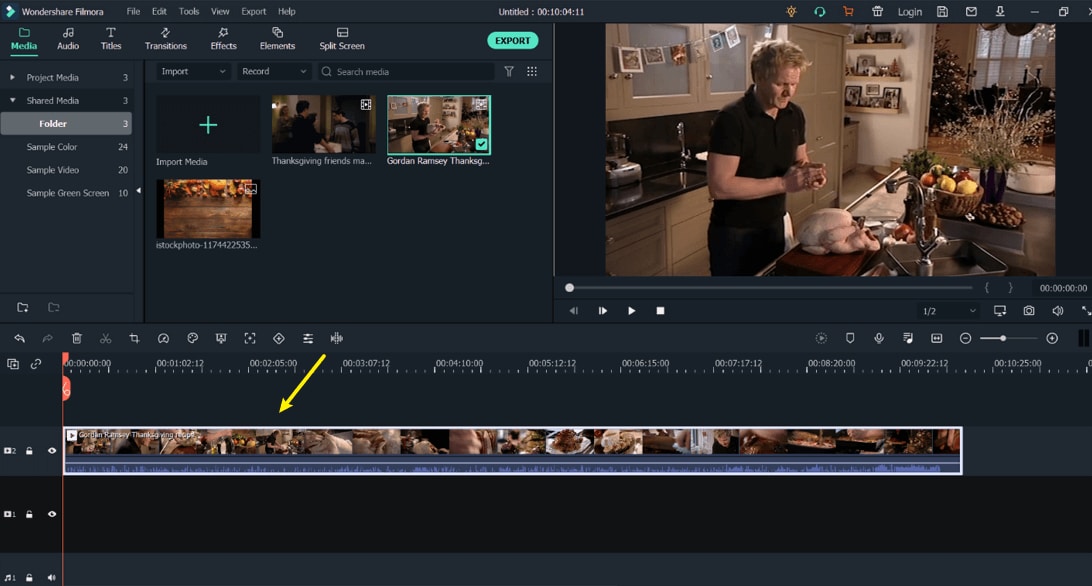 Step 2: Use Cut, Trim Tools
The next step is to drag cut, crop, trim any unwanted segments of audio/video. You can also cut the clips directly from any part by clicking on the Scissor (Cut) icon on the timeline. Next, merge your refined clips into a single video giving you a baseline.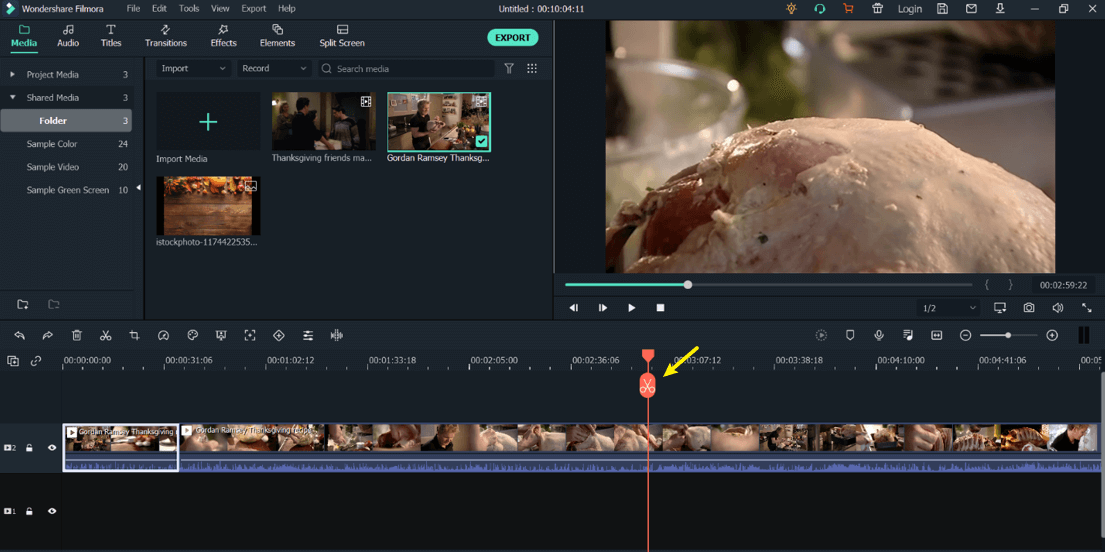 Step 3: Add Theme Filters
Filmora has numerous filters to add that perfect touch to your Thanksgiving vlog. Choose your favorite filter, double click on it to preview it, drag and drop it to the timeline. If the tint or color feels a little off, you can also adjust it its color, saturation, hue and much more! Easy, isn't it?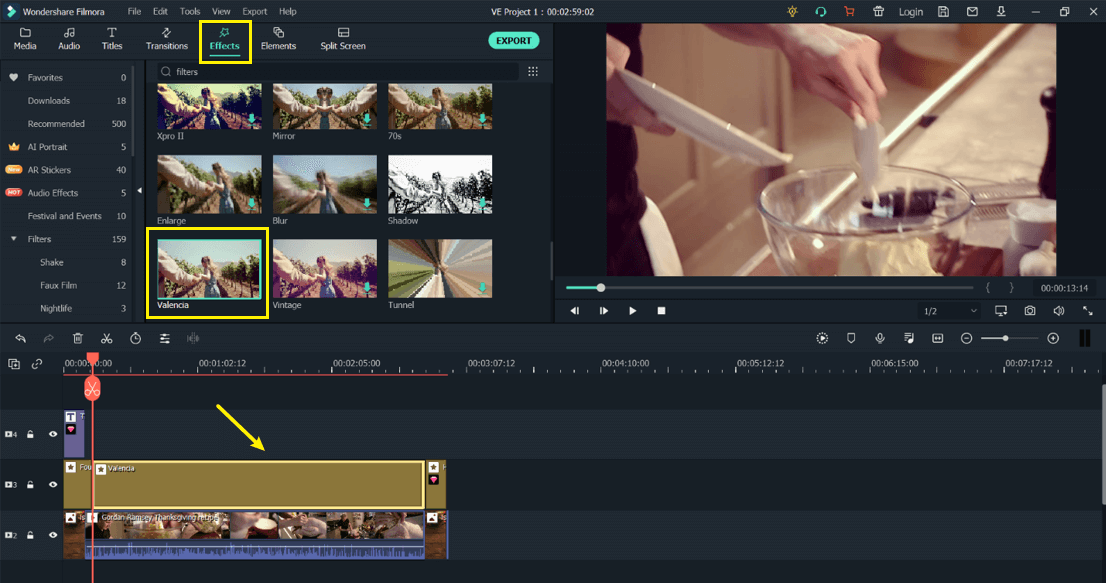 Step 4: Use Titles, Transitions, Elements
The next step is adding little important details that make the vlog more magical and unique. That is, adding titles, transitions and elements. There are numerous effects to choose from, there are Thanksgiving themed titles, transitions, and elements as well, to make your Thanksgiving vlog even more lively!
Adding light transitions between clips will make the experience even smoother.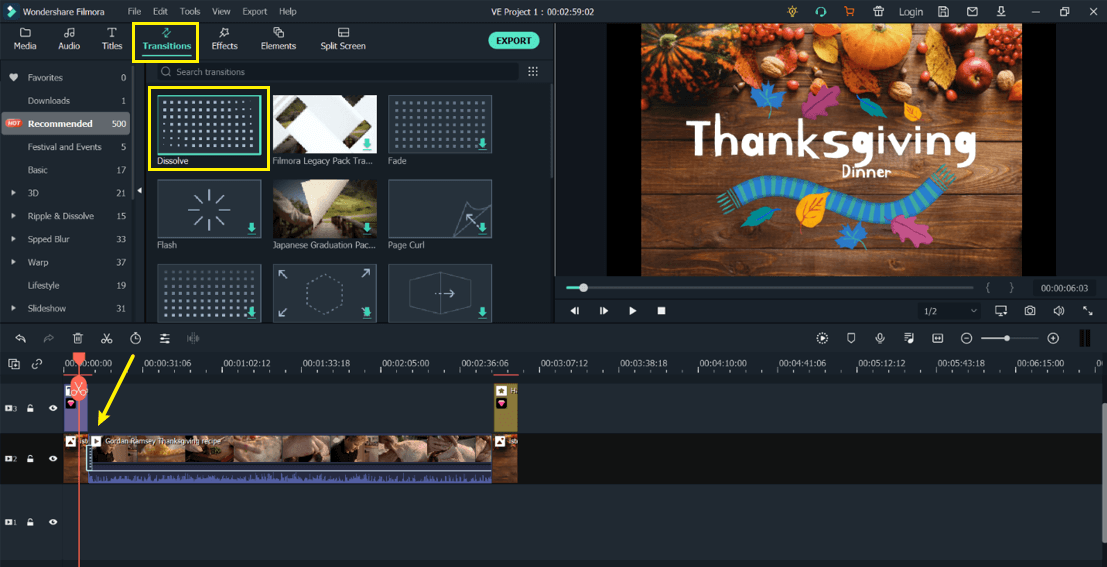 Elements such as arrows, fireworks would add that perfect spark for your vlog! Or you can also create a text reveal effect, its trendy nowadays and easy to create!
You can also adjust the colors by color correction, setting the highs and lows and many more options to make your video more vibrant.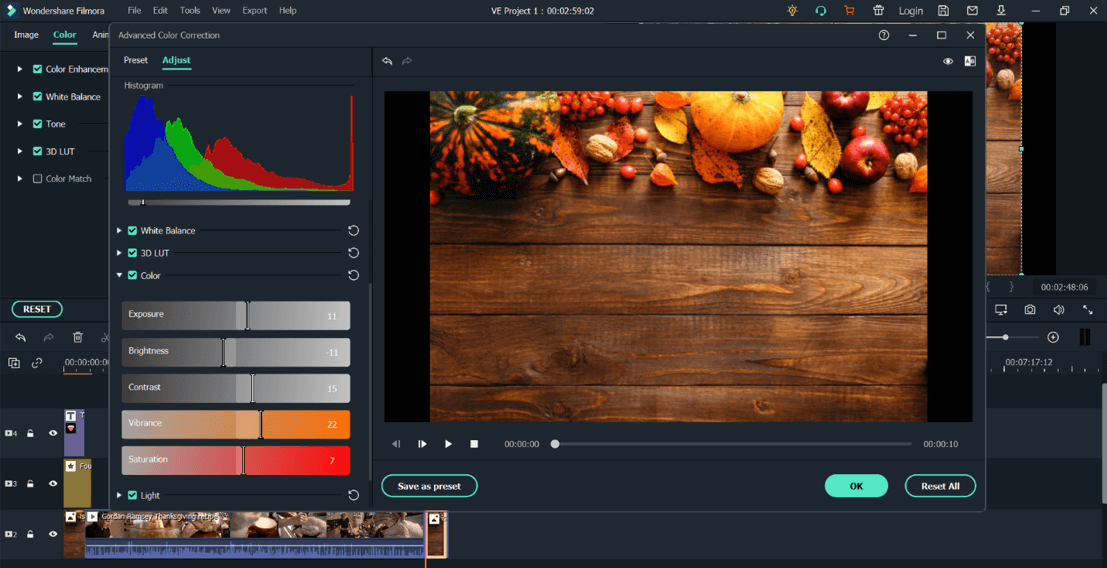 Tips:
Highlight any important details, use more elements if you're adding a humorous taste to it.
Step 5: Discover Amazing Thanksgiving-Themed Effects Packs in Filmstock
Finding it a bit difficult to find and choose Thanksgiving themed titles, transitions, elements etc.? Did you know Filmora offers Thanksgiving themed packs to have all that you want in one place for that perfect Thanksgiving vlog? Pretty cool right? You can find a complete suite of effect packs in Filmstock and choose all the perfect matches for your Thanksgiving vlog!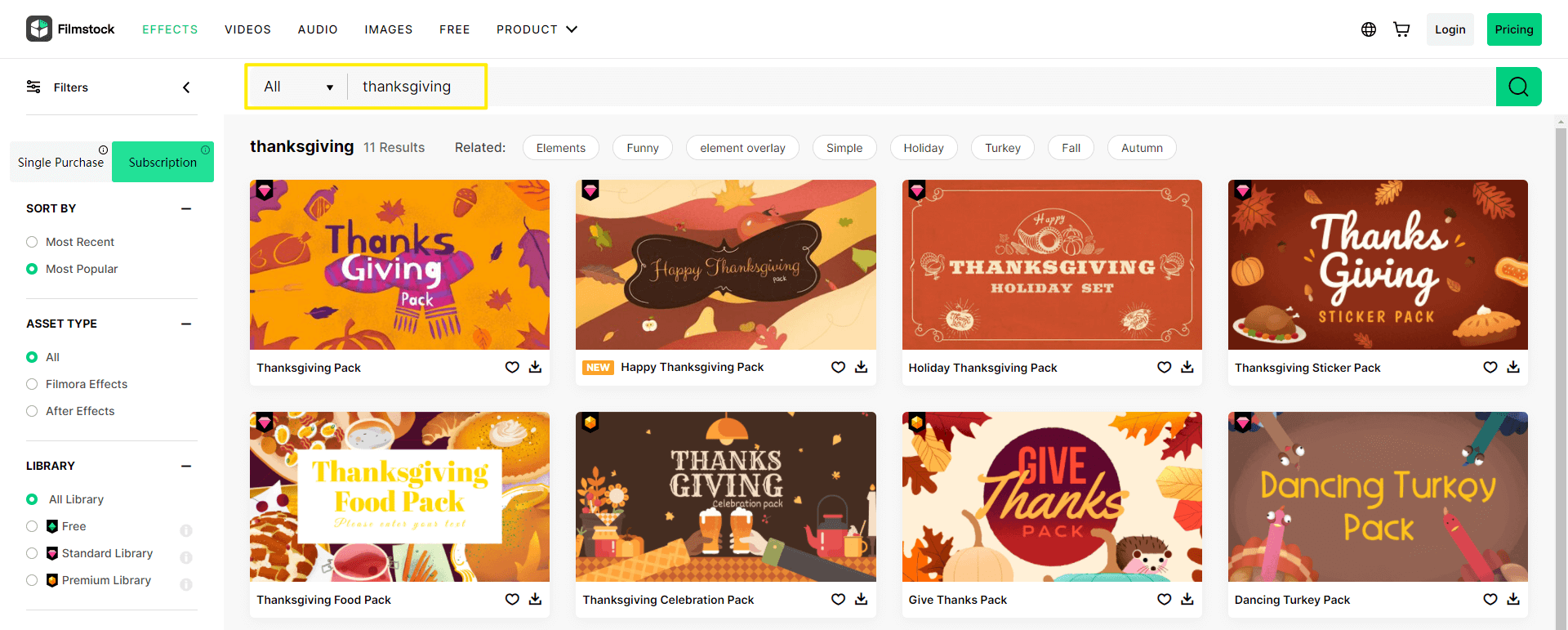 Step 6: Export the Video
When you feel satisfied with the video editing, its time to now choose the specific output setting and export it, wait for a while till your input is being processed into output. And enjoy the amazing final result!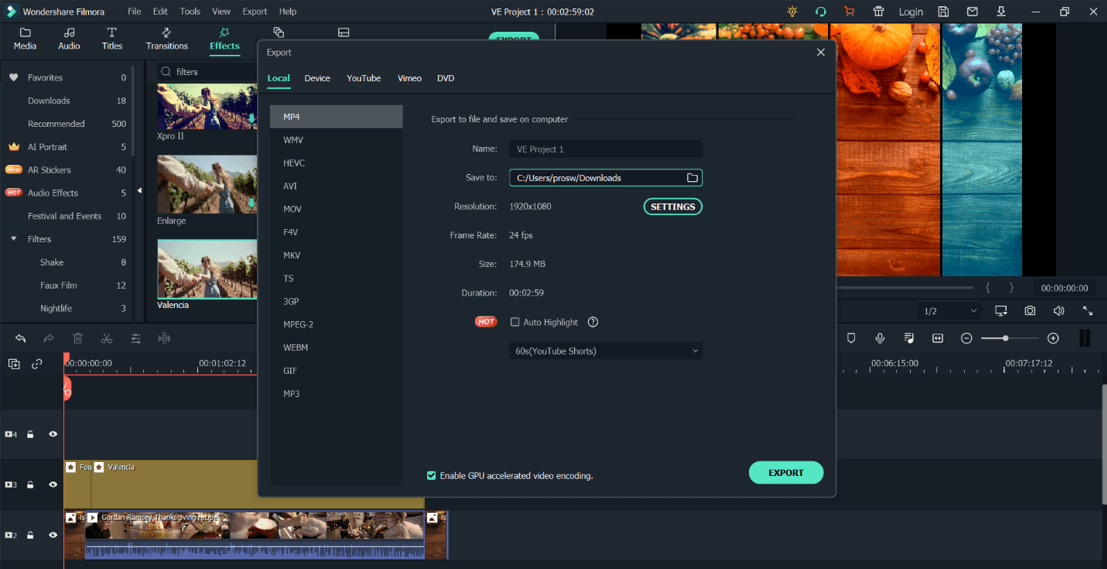 Once you're done with the settings, click on export and wait for your hard work to pay off! You can also add a sound reminder to alert you when your file has been exported.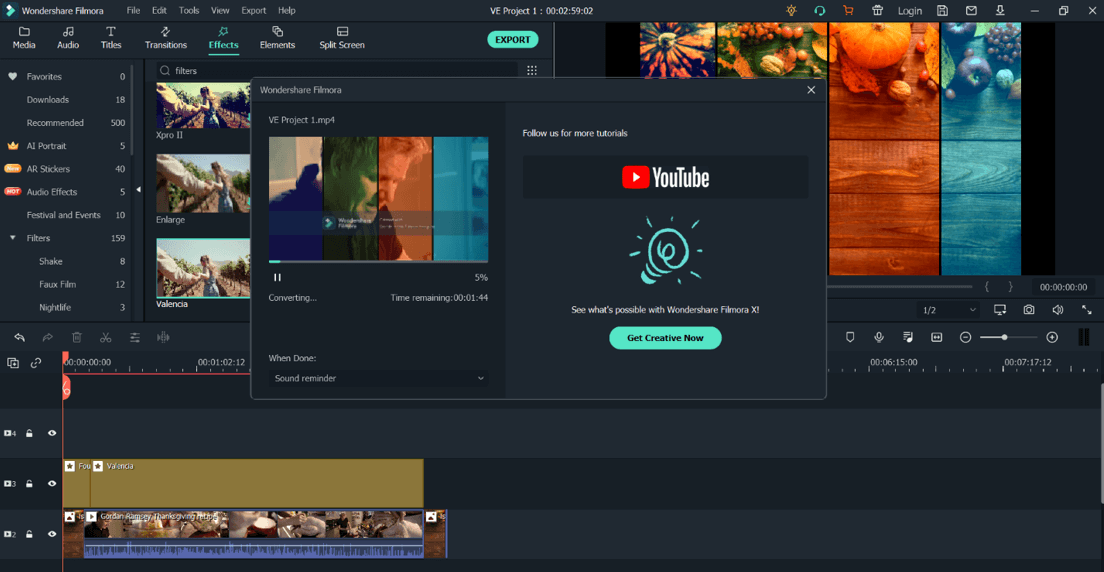 Step 7: Share with family and friends
You're not making a Thanksgiving vlog just for yourself, right? The last step is to share it with your family (includes YouTube family as well) and friends! Never forget to give yourself appreciation and acknowledge your efforts as well after their feedback! So, what are you waiting for?
If you're interested in Filmora, watch the short clip below to learn more about its new amazing features. Then, start your journey of creating!
---
Part 3. Frequently Asked Questions
1. What is the history of Thanksgiving?
Thanksgiving holiday is celebrated in various countries as a day of expressing thanks as well as sacrifice of the blessing of the harvest and for the preceding year. The Pilgrims i.e., English colonists did celebrated thanksgiving as a part of religion, but these were not days of feasting, but of prayer. In 1621, Wampanoag Native Americans and Plymouth colonists shared the colony's first very successful Autumn harvest feast.
Before 1863, thanksgiving was celebrated individually by states and colonies. Abraham Lincoln, the then President of the United States proclaimed a national holiday of Thanksgiving to be celebrated each November. Although Thanksgiving has deep historical roots in cultural and religious traditions, it is also celebrated as a secular holiday since long.
2. How to cook turkey for a Thanksgiving video?
The best way is to first layout everything that you will do, that includes the ingredients as well as the recipe, and start making a normal cooking video. The turkey being cooked properly matters more; the video will surely be edited later on. As a turkey takes pretty long to properly cook given its size, you can even make a timelapse video of it! The pale pink turning rich brown would definitely be mouthwatering for you and the viewers as well. Editing the video would just take a couple of minutes with Filmora video editor to give you that perfect golden brown Thanksgiving turkey!