Travel Vlogs are engaging and a fun way for the audience to experience the world through the eyes and ears of travel vloggers. Travel vlogs have proven to be a powerful medium for information sharing, entertainment, and hospitality industry with impressive growth. It is a popular genre on YouTube as travelers share their experiences, and the audience seeks inspiration for their adventure.
People love to watch travel vlogs on YouTube as it is on many people's bucket lists. There is a lot of learning when people spend their leisure time exploring different countries from all over the world.
More than one billion people visit YouTube every month to watch travel vlogs with more than six billion hours of video. Isn't it a huge number? That is the reason that makes YouTube an ideal platform to explore how travelers interact with a massive audience.
Kobe Bryant, Disneyland, and WestJet Airlines are popular channels of travel niche on YouTube. They all have featured as most viewed travel videos on YouTube. You might be wondering how to start a travel vlog on YouTube. If yes, you are just a step far! In this handy guide, we'll provide you the expert tips and tricks about how to make a travel vlogs with Filmora X. We'll help you not only to edit your travel videos but share the pre-editing tips to make your travel video flawless.
Part 1. How to Make a Travel Vlog with Filmora [step-by-step guide]
Filmora is the best software with intuitive, easy-to-use features. You can use Filmora for travel videos even if you're a beginner. Once you have captured travel shots, follow our step-by-step guide to add more flair to your travel video with Filmora.
Prerequisite: If you haven't downloaded Filmora on your system, we recommend you download it. It is free to download, and you can use it even if you're a beginner. Let's take a deeper dive to fine-tune your travel video with Filmora: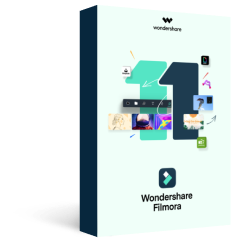 Key Features
Best video editing software for beginner and semi-professional, that comes with powerful editing skills like trimming, splitting, rotating, editing, etc.
500+ free special video effects to customize and create an awesome movie by yourself.
1000+ standalone effects downloading resources to make videos in all kinds of styles.
Record voice in real-time: you can have you voices recorded in realtime and instantly add them to the video files.
Step 1: Import your travel shots
Import all the travel video clips to the Filmora media library. You can import videos, photos, and music by clicking on the Import to choose all the content from your PC. Once you have imported the videos, you're all set for editing your travel video.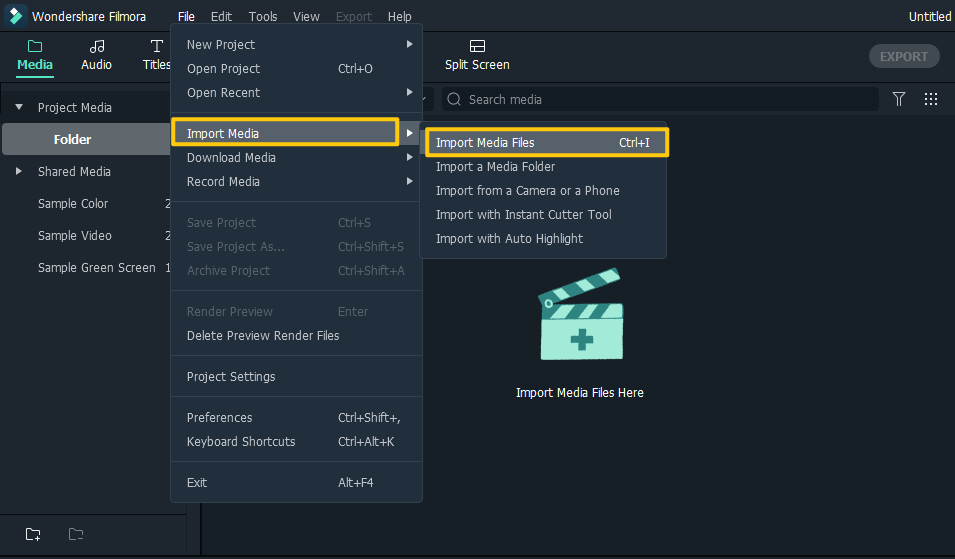 Step 2: Use the cut, trim tools
You can use cut, trim tools to delete all the fluffs from the video and merge all the clips in a single video. You can cut the clips by simply clicking the Scissor Icon. Then, merge all the clips together and rearrange them.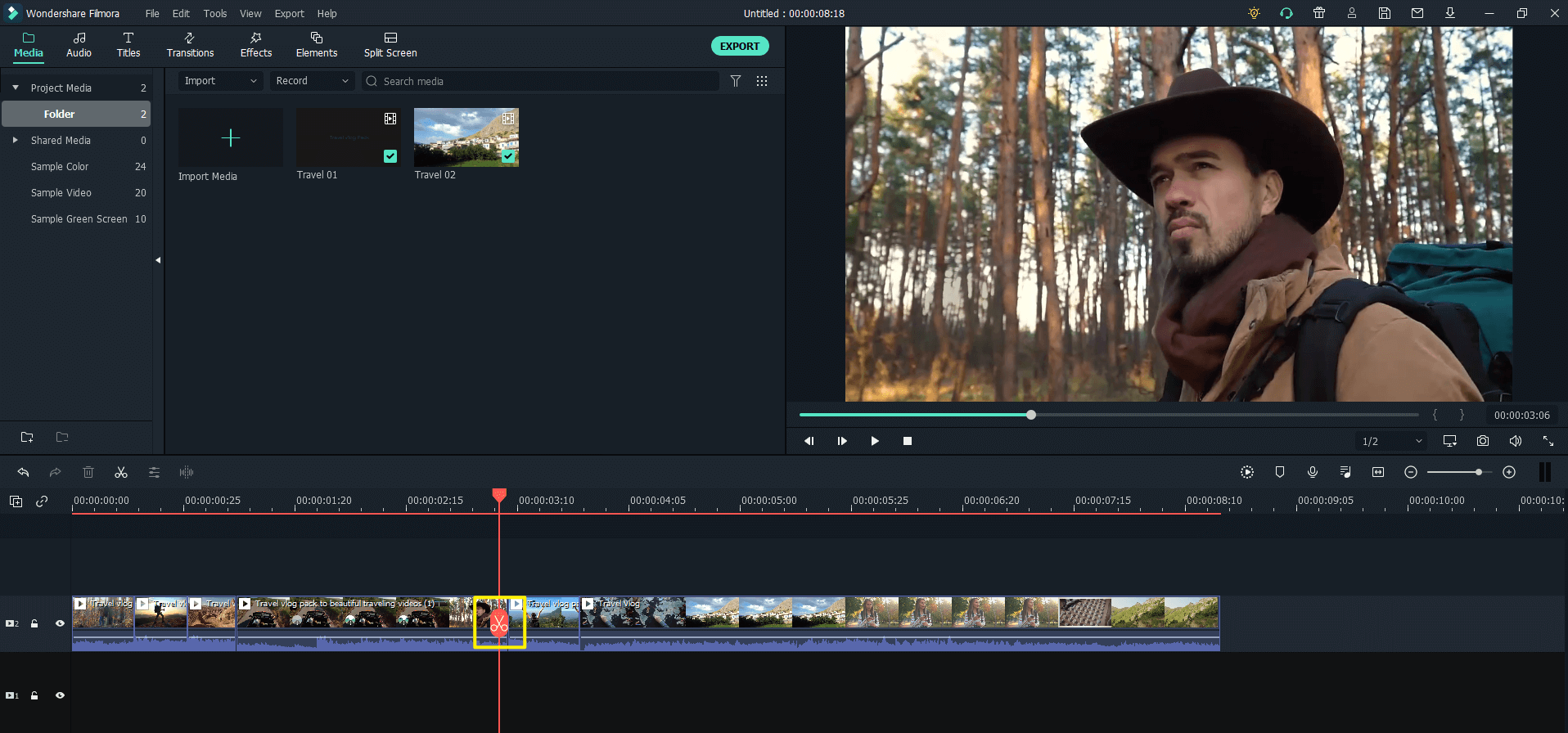 Step 3: Add transition, title, element
Filmora is the best wedding video editing software that allows you to add titles, motion, transition, and cool travel effects to your vlog. You can click on "Transition" to add smooth transitions to your travel vlog. Double-click the transition effects to preview on the right window. Once you have selected your favor, put it between two clips to make your video more alive.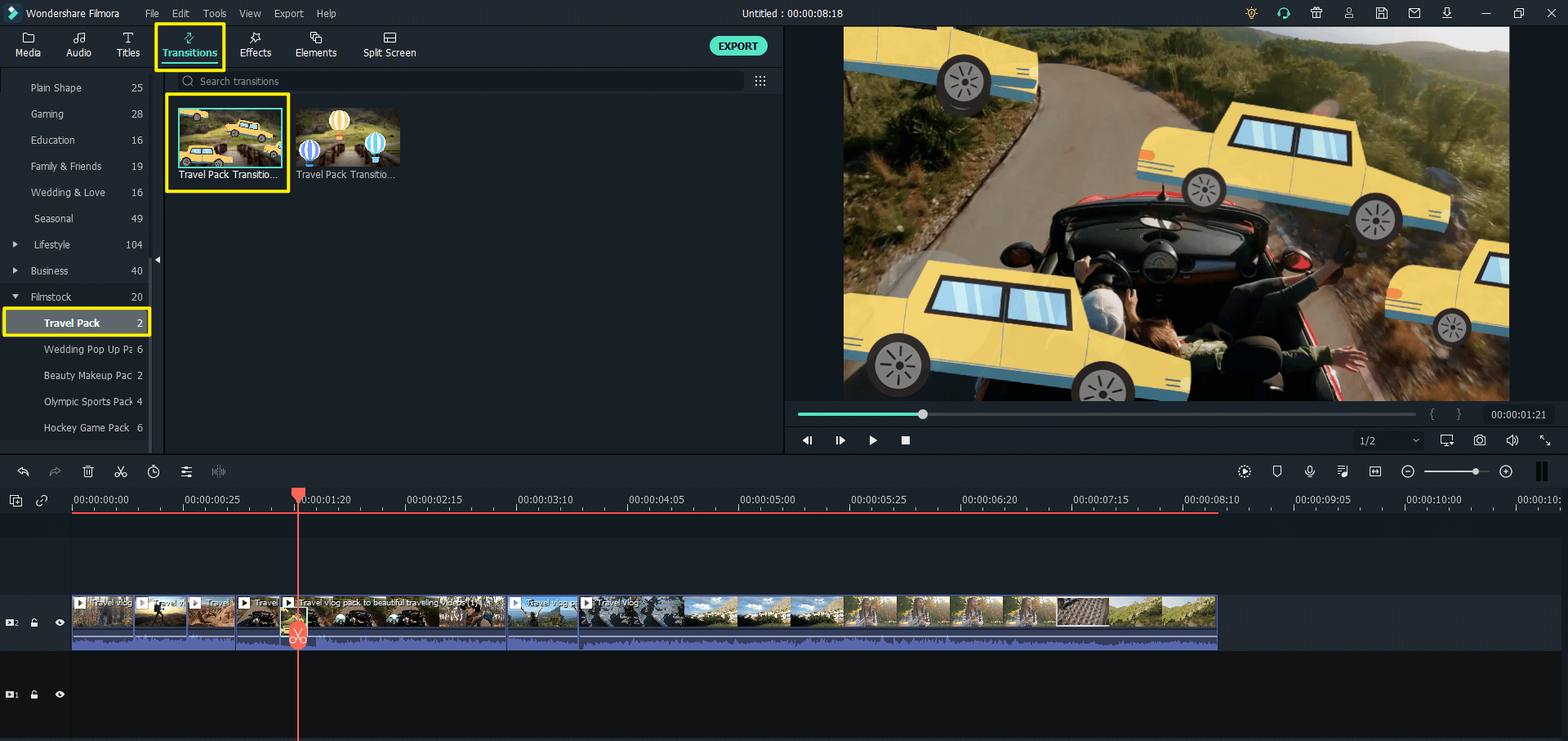 Adding appropriate titles, lowerthirds and subtitles are also very important. It can help you to connect with your viewers. Add titles and lower thirds to connect with your viewer. Text will add more appeal to your travel, and you can use intriguing text to grab the attention of travel lovers. From Title, add Title to add text to your travel video.They can help audience follow your mood/storyline better.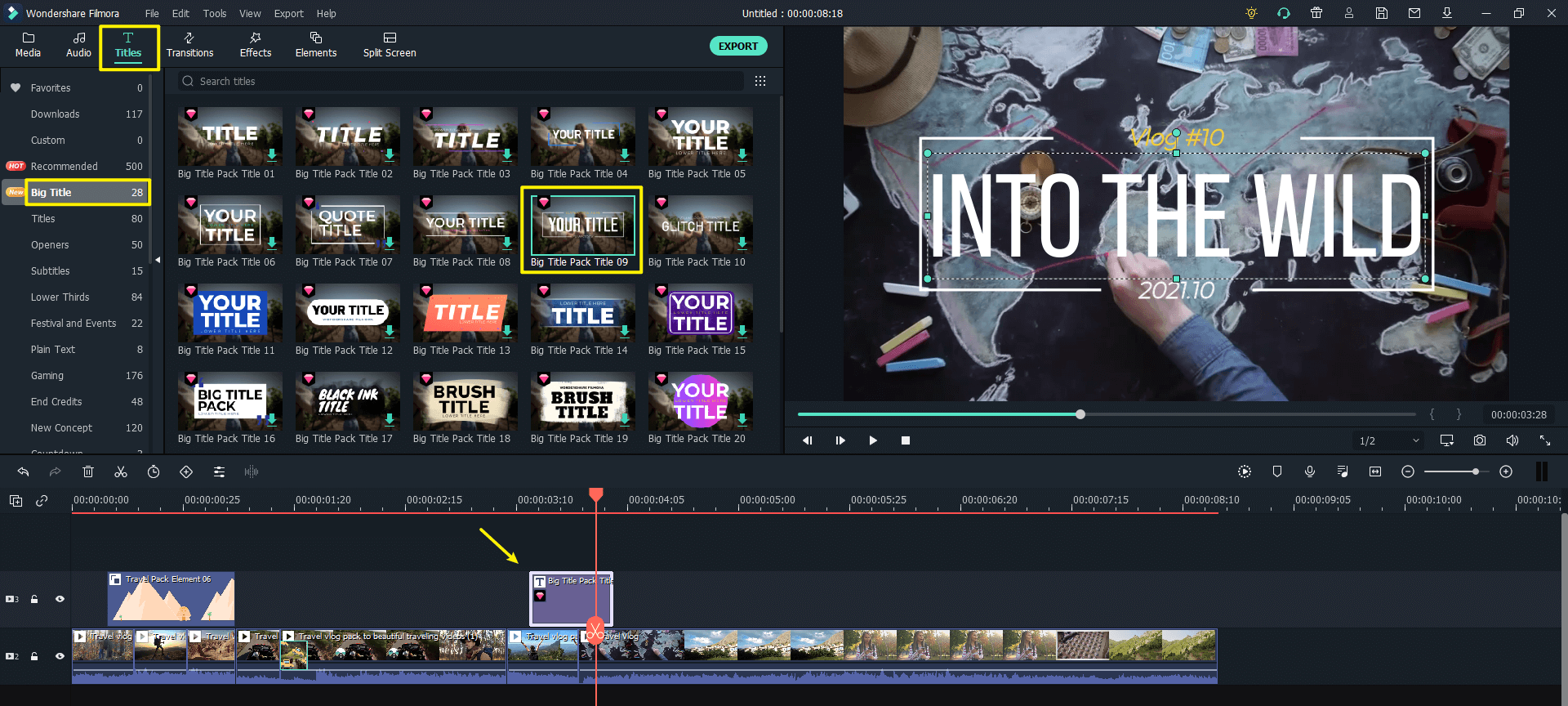 Apart from that, interesting and stylish element can spice up your vlog and makes it more light & bright!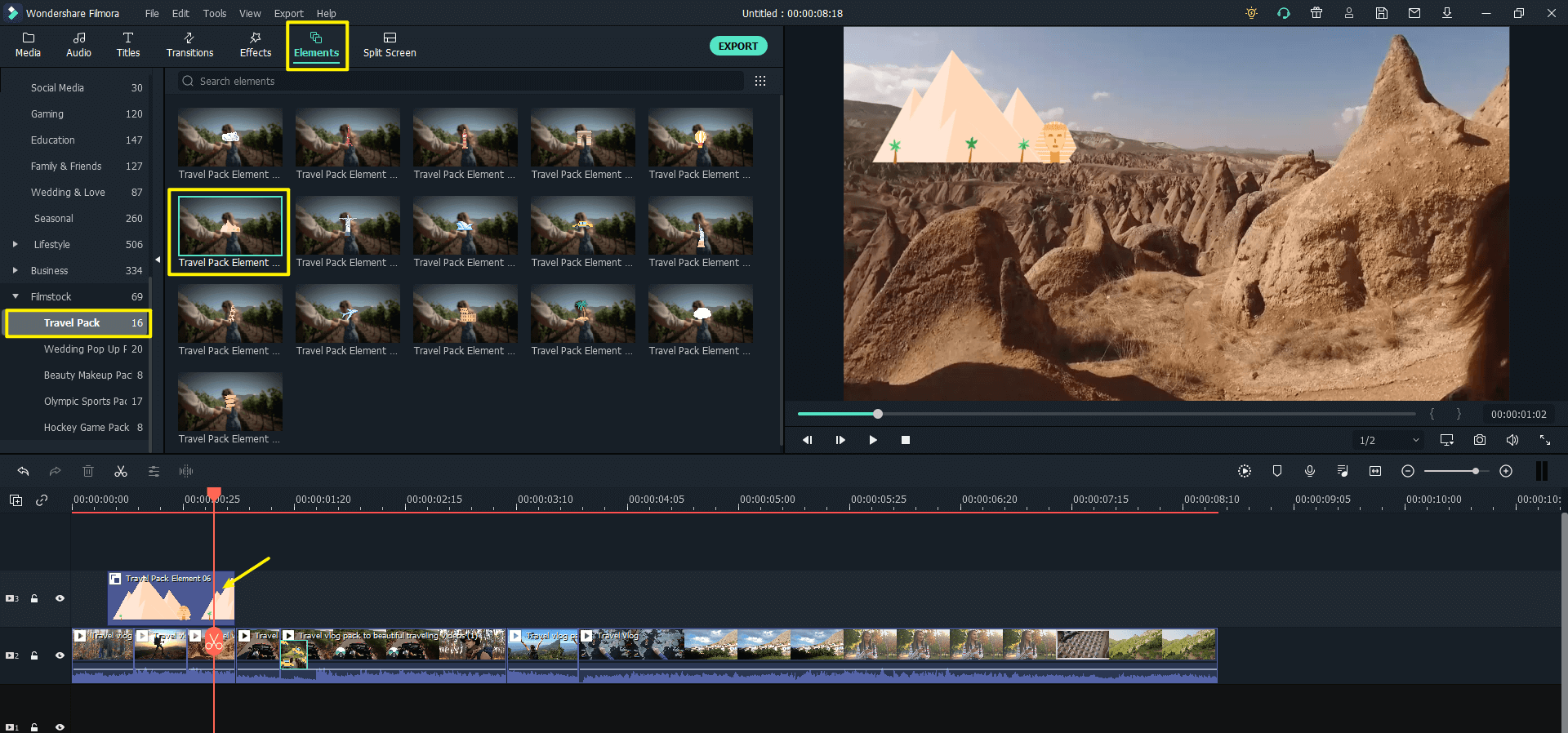 Step 4: Discover amazing travel vlog -themed effect packs in Filmstock
Filmora offers travel vlog packs to add all kinds of transitions/titles/lower thirds/elements to your travel video. You can easily find a complete suite of effect packs in Filmstock - a one-stop shop for royalty-free video effects, footage, audio, and more.
Visit Filmstock's official website and type travel video in the search bar; you'll get a power pack with all in one suite. These travel video packs will uplift the vibe of your video making it more unique!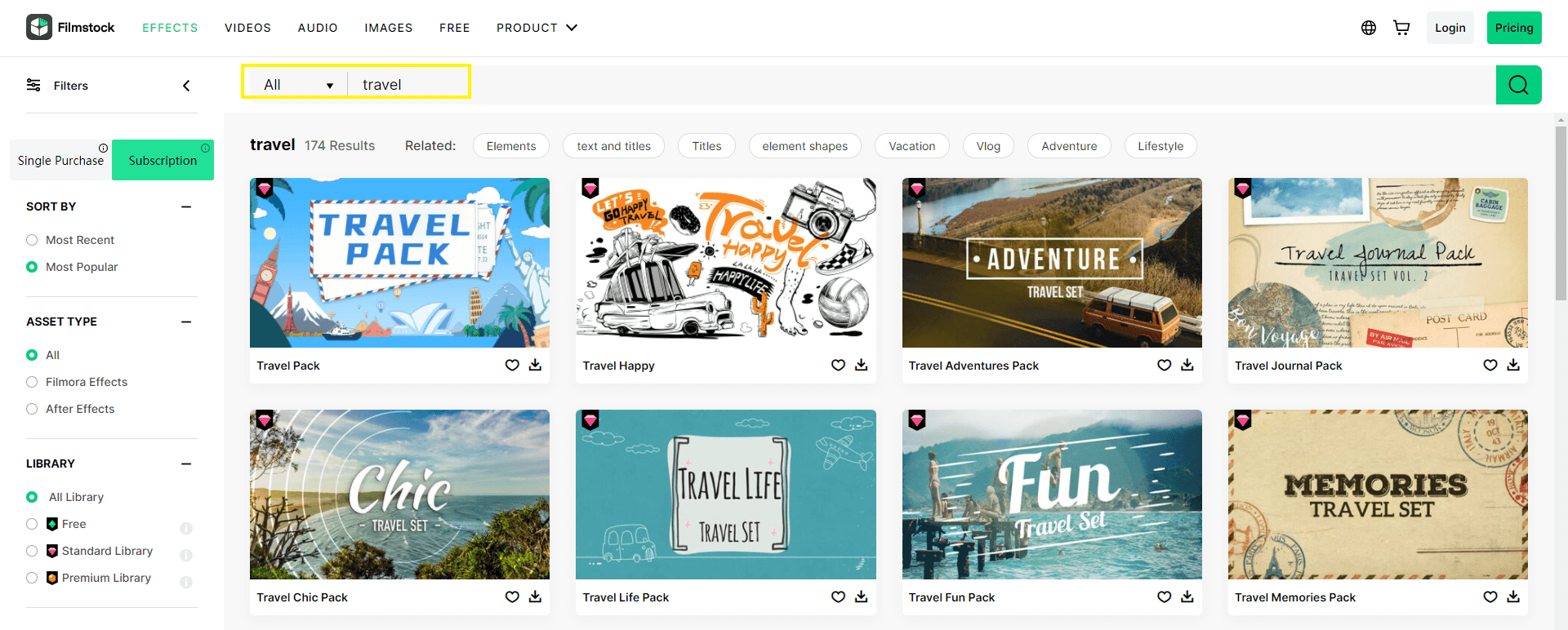 Step 5: Add music
There are plenty of songs suitable to add to the travel vlog. You can select the most adventurous tunes to add more spice to your video. Once you have selected the songs, drag the files to the track for editing.
In addition, Filmora offers templates for music to excite your viewers. From Audio tab, go to Travel Vlog, and select the best audio for your travel vlog.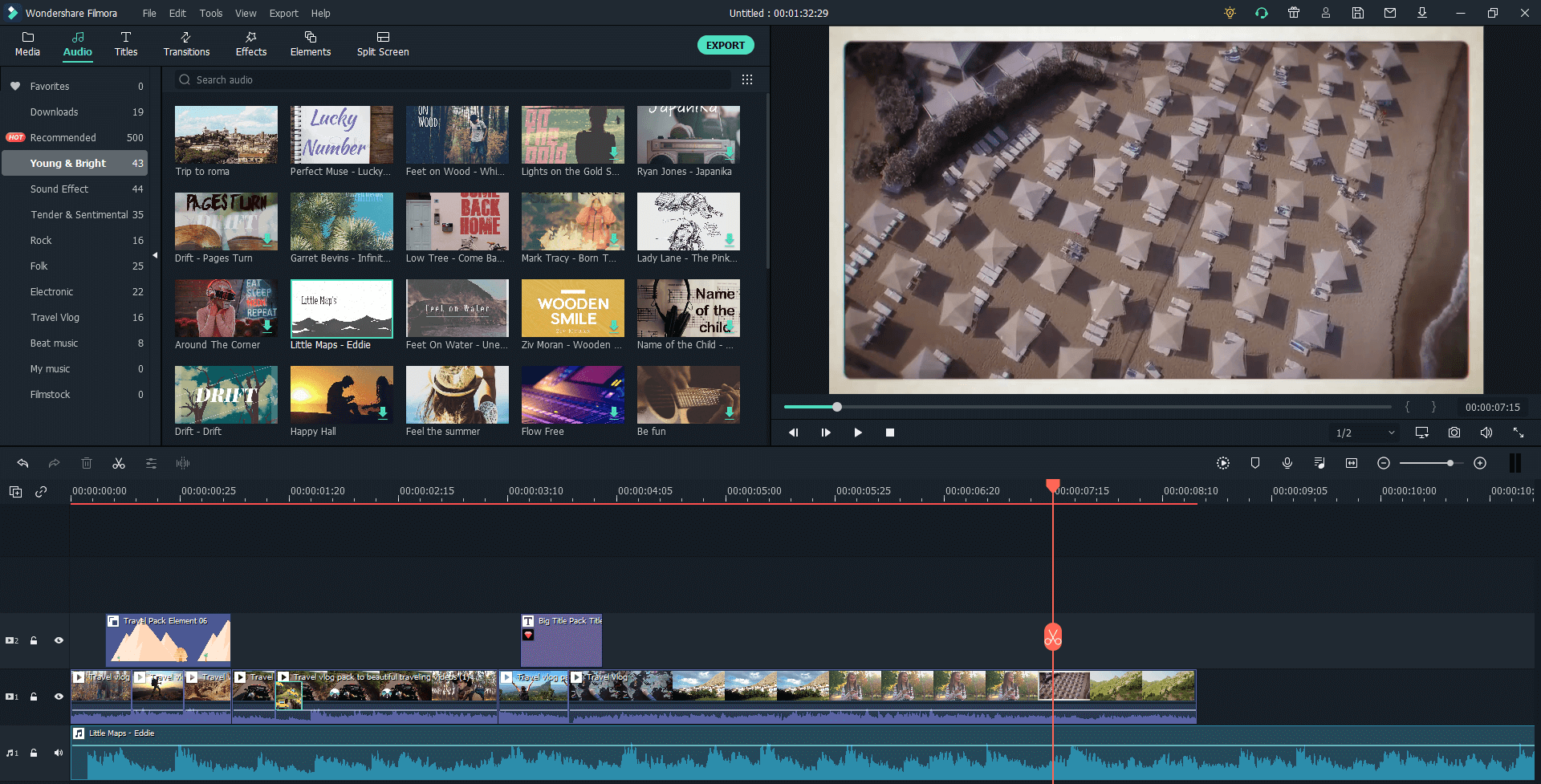 Congratulations! You are all set to export the travel vlog and share your travel video on with your audience.
If you're interested in Filmora, watch the short clip below to learn more about its new amazing features. Then, start your journey of creating!
---
Part 2. Top Travel Vlog Tips for Beginners
Travel vlogs are on their hype. Many travelers capture travel videos, but they don't know how to make a great travel video. Creating a travel video is a creative process, and there are lots of techniques to follow when creating a travel video.
We are unveiling some professional tips to help you capture a stunning travel video. Let's get started:
#1. Research the Destination
If you're traveling for the first time, do some research about the destination to get prepared. Once you have done your research, get an idea about what you will be shooting. While preparing your story, look for locations where you can find famous tourist attractions.
After deciding the locations, you need to specify what you would capture in your travel videos; such as people, religious festivals, or food.
#2. Capture the shots
For capturing your shots, we recommend you use a tripod. Capture each shot for at least five seconds without shaking the camera. For action shots with action, extend it to a minimum of ten seconds. Take establishing and close-ups shots to show details. For instance, if you are in a taxi, capture a close-up of the rear-view of the mirror.
When recording, don't zoom in on the camera. All you need is to get as close-up shots as possible. Another important thing you should keep in your mind is to capture the different angles of your video.
#3. Record an on-camera introduction
Recording an on-camera introduction is an engaging way to grab the attention of the viewers. A good vlog depicts your personality and perspective. Capture your vlog in a way that gives the personal touch. We recommend you get in front of the camera to introduce what you are tackling in your travel video.
Initially, you may find it uncomfortable, but it will add more appeal to your travel vlog. Be genuine and share everything in a friendly way.
#4. Be a storyteller
Storytelling is an art to unveil things without defining them. Before capturing your video, do paperwork off the camera and plan your narration like a map. Engage your viewers by telling a story. You can also write down a short script for your travel video. Once you have written the script, practice, practice, and practice to add more twists and meaning to your video.
Moreover, engage your viewers with the audio. Suppose you're in a forest, connect viewers with the crunchy sound of fallen leaves. Let your audience smell the moist soil from the drops of rain and much more.
#5. Talk to people
Never forget talking to people as it will help you in capturing the culture of your travel destination. It will also add more appeal for the viewers. Interact with them in a humorous or informational way. It's a fun way to unveil the culture of a destination.
#6. Cross Promotion
Once you have created an excellent vlog, you need an audience. Cross-promotion is the best way to earn more viewers for your travel vlog. Ask other travel vloggers to promote you. Moreover, you can also ask your friends and family to share your content with their circles. Exchange favors and stands out with a massive audience!
Tips:
Use a professional camera for capturing the shots. The majority of the travel vloggers go with a GoPro Hero action camera. It is easy to carry, waterproof, dustproof, and very robust. You can also carry a DLSR in your bag when leaving for your favorite destination.
---
Part 3. Frequently Asked Questions
1. What is the best camera for travel vlogging?
You might be wondering how to vlog a trip. The camera is the most important component when it comes to travel vlogging. Choosing the right camera can add more appeal to your travel videos with the best video and sound quality. You should choose a camera that includes some special features; the option to plug in an external mic, 4K resolution, and Autofocus tracking.
We are showcasing some best cameras for travel blogging so that you can make the right decision. Panasonic Lumix DMC-GH4, Sony ZV-1, Sony Alpha a6600, and Canon EOS M200 are the best options for travel videos. You can try any of these to make a high-quality travel video.
2. Who are the most famous traveling vloggers on YouTube?
YouTube is the most popular video-sharing platform that lets travelers unveil their adventures. We are enlisting the most famous YouTube travel vloggers, follow their travel vlog channels to feel connected with the world. Fun for Louis, Mr. Ben Brown, Vegabrothers, and Migrationology have hit stardom on YouTube with millions of subscribers. These travel YouTubers inspire travel enthusiasts with storytelling, daily vlogging, cinematic look, drone shots, and 360 viewings. You can also start your travel video channel and use Filmora for the best editing experience.
3. Where can I find travel vlog intro templates?
There are countless intros templates available online for free, which you can easily edit your travel video. At present, travel vloggers prefer to use built-in intro templates editable in just a few seconds. The popular intro templates include Kelcie Vlogs, Painting Studio Template, and Travel with Me, and Conway Vlogs Intro. You can choose any of the templates to create the intro part in few seconds. These templates include ready-made animation, transition, music, and elements easily editable in few clicks.