Contents
1. Memory Card

2. SD Card

3. Mini SD Card

4. Micro SD Card

5. CF Card

8. Memory Stick

9. Phone Card

11. More Card Recovery Tips
I am using a 60MB/s CF card. I accidentally format the card in m 5D2. There were some photos in there, in RAW format. Is it possible to recover them? --- from a user
CompactFlash (CF) Card is a mass storage device used in electronic devices to store important data like family photos, favorite movies or music. Data loss in CF card is a common issue due to different scenarios, such as accidental deletion of files from CF (compact flash) card, computer breakdown during file transfer between device and Mac, and reformatting of CF card data either intentionally or accidental. If you have encountered these issues, in order to prevent from losing the data forever,it is time to learn to perform the CF card recovery now.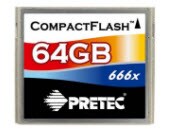 Part 1. How to Recover Lost Files from CF Card on Mac (macOS 10.12 Sierra Included)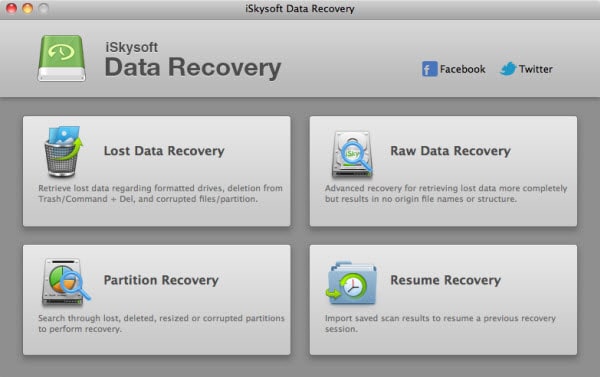 The best solution of this issue is to use the backup of lost data if you have. Otherwise, there's still a good way to restore all lost files. To recover files from CF (Compact Flash) card, download iSkysoft Data Recovery for Mac and connect the CF card to your Mac. Then, you can take some easy steps below to perform CF card recovery. The following are main features of the program and it's definitely one of the best and safest applications for you to restore lost data from CF card on Mac.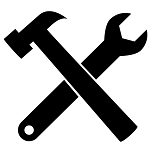 What You Will Need:
A Computer;
iSkysoft Data Recovery for Mac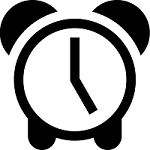 Time Required:
Time will vary according to file's size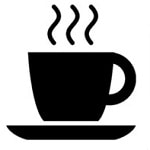 Difficulty:
Easy
Step 1

Choose a File Recovery Mode

Launch iSkysoft Data Recovery for Mac from the Applications folder. When it opens, choose "Lost Data Recovery". This recovery mode will scan your files quickly and lets you recover photos and videos on CF card with their original filenames. However, this mode sometimes fails. If so, also try "Raw Data Recovery" mode which will scan your CF card completely and recover all deleted photos and videos from CF card as long as they have not been erased by new files.

Tips: If you're recovering only photos or only videos, you can choose Image or Video from the Select File Type in Lost Data Recovery mode, or make restrictions by clicking the Filter Options in Raw Data Recovery mode. (More Tips for CF Card Recovery)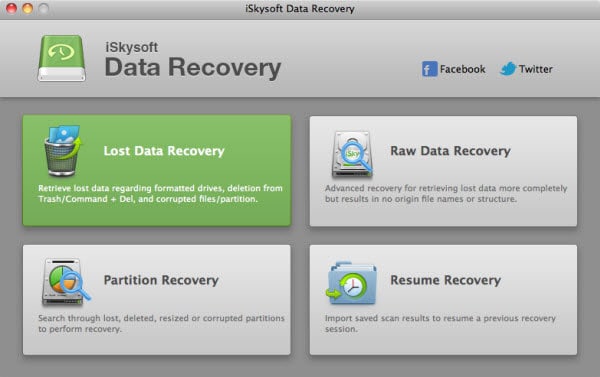 Step 3

Preview and Recover Scanned Files on Mac

When your files are found, they will be shown at the bottom list, organized by the left folder tree. To recover lost photos and videos, check the boxes before a file or a folder and click the "Recover" button on top. In the window that appears, choose a folder you want and click "OK" to recover lost files from your CF card to a safe place.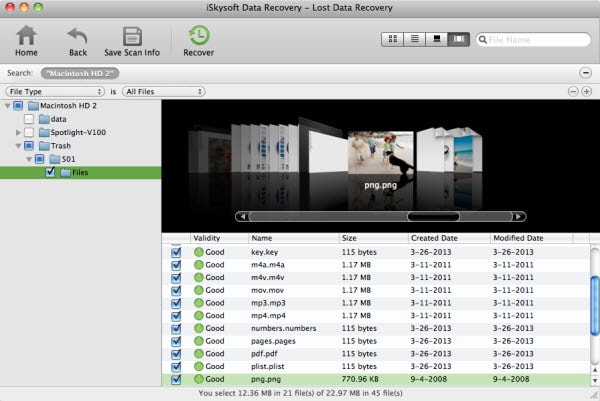 Part 2. How to Recover Deleted Files from CF Card on Windows (Windows 10 Included)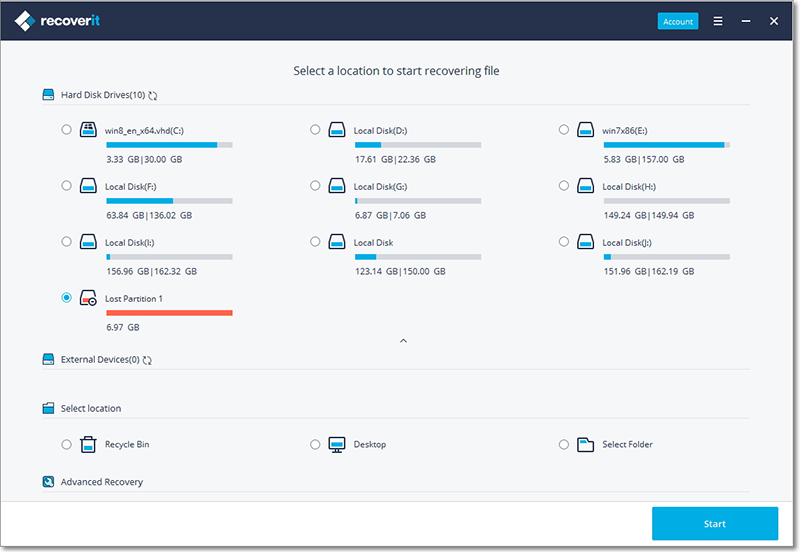 In order to recover files from your CF card, you can use iSkysoft Data Recovery for Windows as long you wish to have again your deleted / damaged files. You are able to restore your files from CF card, files lost probably because of deletion, formatting, errors, and viruses. Operating Systems requirements for your computer to run this software are Windows 10, 8, 7, Vista, XP.
Your files from the CF card can be recovered with iSkysoft Data Recovery on Windows operating systems by following the steps below: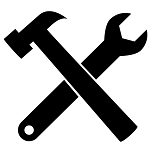 What You Will Need:
A Computer;
iSkysoft Data Recovery for Windows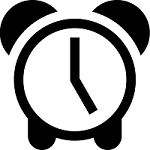 Time Required:
Time will vary according to file's size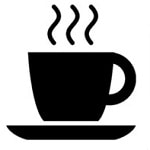 Difficulty:
Easy
Step 1

Insert Your CF Memory Card to Computer

After you connected the card, run the software on your Windows system. Enter the "Standard Mode" and then choose "Lost File Recovery" Mode.

You also have one easy way to recover the files by using the "Wizard Mode" and answer at which type of files you wish to recover and where are located your files. In this case, you will choose your CF card name. You will be prompted to answer at which type of files you need to recover and where to store your recovered files.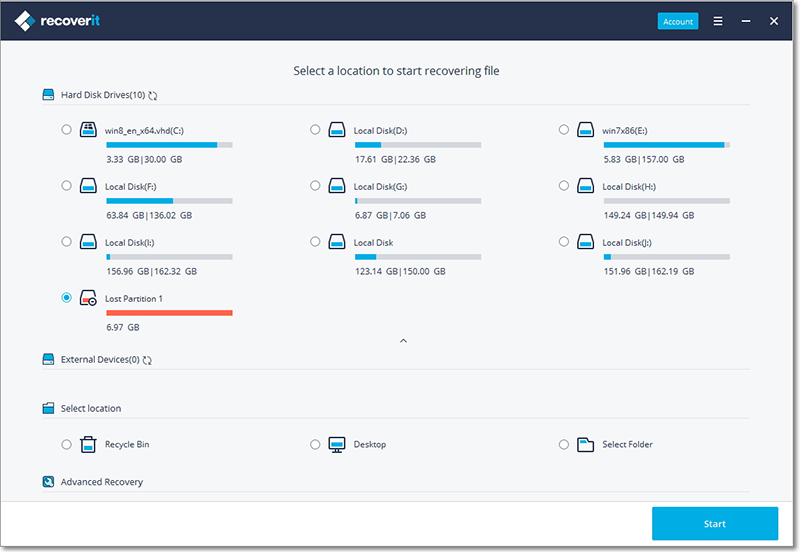 Step 3

Recover the Files You Need

When the scanning is complete, you can preview the found files. Choose the photos or videos you need and click on "Recover" button to get them back.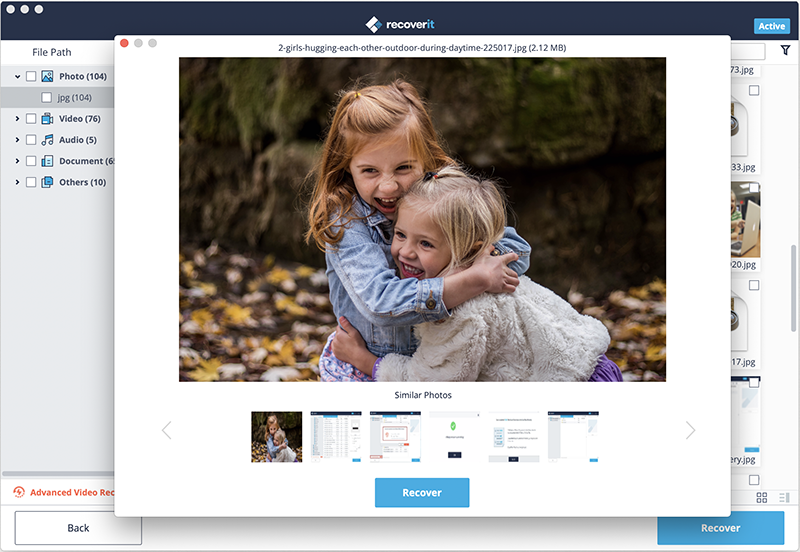 Part 3. What is CF Card and Tips for CF Card Data Recovery
What is CF Card?
CF Card (Compact Flash Card) is produced by SanDisk company. It's a mass storage device format which used in all kinds of portable devices either in high-end consumer devices or common applications such as digital camera/camcorder, mobile devices like blackberry phone, MP3/MP4 players which have storage areas, game device like Sony PSP or other devices. It usually takes the property of 130 MB to 64 GB.
Tips for CF Card Data Recovery on Mac
When you realize you've deleted photos or video from CF card by mistake, stop using your device to avoid ost photos and videos are covered by new files.
The best way to prevent CF card image or video loss is to backup important files on your Mac or other storage devices.