SDXC (Secure Digital Extended Capacity) cards are the new generation memory cards. It has high storage capacity varying from more than 32 MB to 2 TB and remarkable bus interface speed up to 104 MB per second. Of late, many digital cameras and HD camcorders have been launched which are compatible with SDXC cards. Though these cards boast of retaining the data pictures and videos for a longer period, the fact remains they can't be completely trusted.
Any minor problem with an SDXC card can result in data loss. Such issues cannot be predicted and hence, it is advised you should maintain backups frequently. However, if you lose some valuable data and, that too, in the absence of a valid backup, don't be upset! Such situations can be easily handled with the help of a SDXC card recovery software.
Part 1. The Best SDXC Card Data Recovery Software (macOS High Sierra Compatible)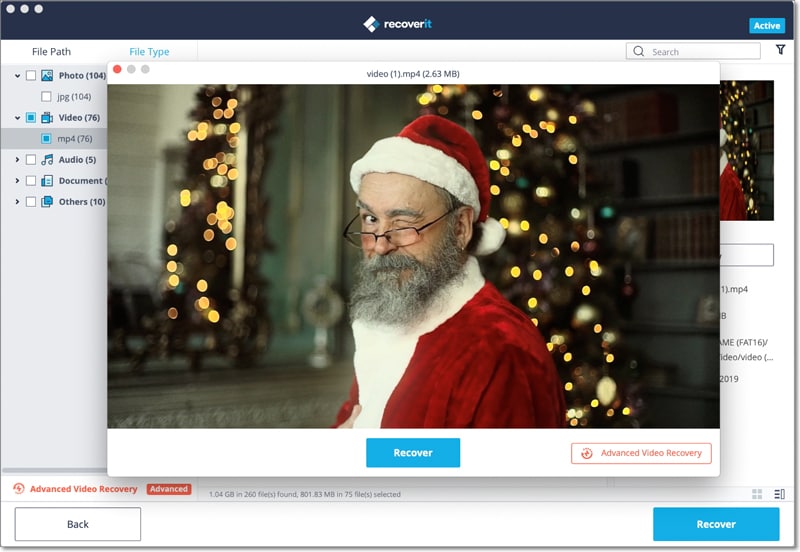 Fortunately, lost and deleted data can be recovered from SDXC card on Mac by the use of Recoverit for Mac. With help of this SDXC card recovery program, you can preview the files you need and then choose part or all files on your SDXC card. For Windows users, Recoverit for Windows version is also available.
The good news it that no matter what device you are using, whether digital cameras, game consoles, mobile phones, camcorders and more, Data Recovery for Mac allows you to get back files from SDXC card medium with ease. Therefore this recovery program facilitates a wide range of devices that uses SDXC cards.
---
Part 2. How to Perform SDXC Card Data Recovery on Mac (MacOS 10.13 High Sierra Compatible)
Below is a step-by-step procedure on how to recover files on SDXC cards using Recoverit for Mac. And you can get more tips about card data recovery here.
Step 1: To start with, download the SDXC Card Recovery program - Recoverit for Mac and install it on your Mac. Then run it by double clicking to bring up the starting window. Connect your SDXC card to Mac either via a card reader or just connect your device to Mac via a USB cable. Now from the main window, please select the file types that you have lost. Then click on the "Next" button.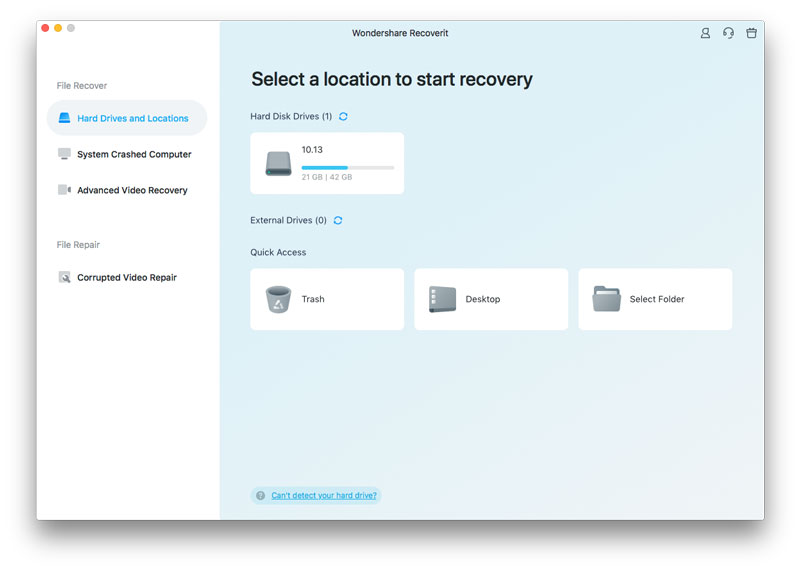 Step 2: Once the SDXC card is detected by the program, it will be displayed in the window. Select the SDXC card and then click the button "Scan" on bottom of the starting window. The program will then start to scan all files including deleted ones from trash as well as other locations.
Step 3: Now, all found files are displayed in the starting window. You can check them to view whether they are the ones you need before recovering them. After finding the files you need, please check the boxes before the files you want to recover and click the button "Recover". You will then see a pop-up window, please choose a place to save your files here and then click the button "OK". The program will then start to recover checked files for you automatically.
You will notice there is a "Deep Scan" option appeared on the bottom of the window. "Deep Scan" allow you to scan again in case your wanted data are not recovered in the previous scanning. In this scanning mode, the program will bring you much more data, in the price of taking more time.
Note: To ensure success of the process, you should not save recovered files to the original drive to avoid files overwritten. It is recommended that you to save files to your Mac or an external hard drive, if available.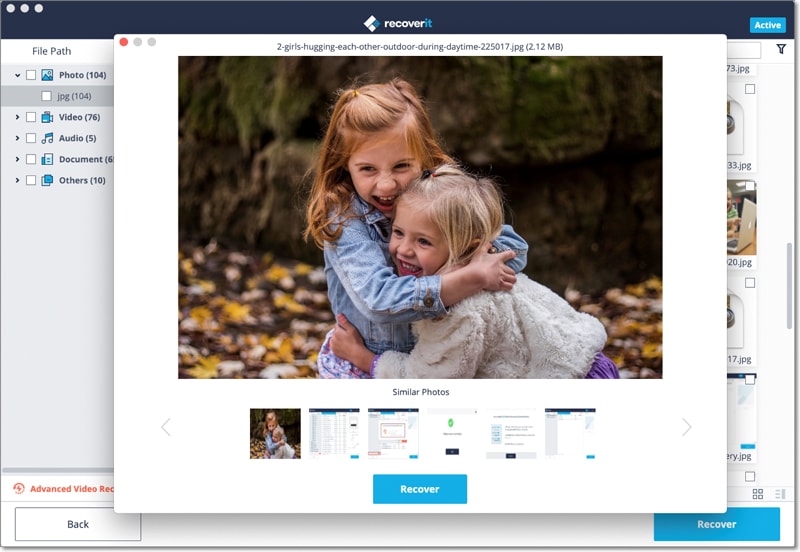 ---
Part 3. Have a Better Understanding of SDXC Cards
At first glance, an SDXC card is a small, flat, rectangular object with a notch along one edge and copper leads, called pins, embedded on one side along another edge. But there are a few different form factors. Here are the physical sizes you'll see for SDXC cards:
● 32 x 24 millimeters, 2.1 millimeters thick - This is the most common size you'll see. This size has nine pins and features a write-protection switch on one side to toggle between read-only and read-write states.
● 20 x 21.5 millimeters, 1.4 millimeters thick - This is the "mini" version with 11 pins, and it's less common than the other two sizes.
● 15 x 11 millimeters, 1 millimeter thick - This is the "micro" version with eight pins. Because it's so small, this size has become popular in mobile devices like smartphones.
To read and write data to the SDXC card, you'll need card-reader hardware that can handle both the size factor and the capacity class indicated. Also, if you're using a mini- or micro-size SDXC card but have the large-size reader, you can insert the smaller card into a special adapter in the shape of the larger card. Some SDXC card manufacturers even sell micro SDHC cards together with SDHC-sized adapters to make it easier to move the cards between devices.
This is where you have to be cautious. For example, if you have an older digital camera that takes SDXC format cards, an SDHC card might not work, even if it fits into the camera. Check your hardware specification to find out what capacity formats your device supports. Then look for cards featuring the SDXC logos that correspond to the capacity-size combination you need. You can see all those logos at the SDXC Association Web site here.
In addition to these SDXC card types, there is another classification you might want to know when purchasing an SDXC card: its speed. Next, let's look at what activities require higher SDXC card speeds and how the SDXC Association classifies cards by speed.