"I accidently delete videos from my SD card. How can I recover deleted videos from SD card?"
We useally use SD card to store videos and photos for mobile phones and camcorders to save space of the devices. However, people often mistakenly delete videos from their camcorder, camera, or phone's SD cards without creating a full backup before. Unlike on computers, there is no Trash bin on camcorders and mobile phones. That's why so many people are asking help when they want to recover delete videos from SD card.
Data loss could be a trouble yet annoying situation in the digital life, but no one can predict it unless you can always keep a full backup all the time. Obviously, it is hard to promise it for everyone, so when you find some videos is deleted or lost on SD card without backup. Don't worry, you still have a great opportunity to get them back, especially when you have a good-performanced SD Card Video Recovery software at hand.
Now, let's drive to the right section to see how to recover deleted videos from SD card on Mac or PC respectively.
Where You May Lost Videos from SD Card?
There are many situations where you can lost your important videos from the SD card, few are listed below.
- Your videos might get deleted accidentally from SD card which you have inserted into mobile phone, digital camera, PDA and many more devices.
- While formatting your SD card files your videos might get deleted and you want them to restore back.
- Your SD memory card might get corrupted, unreadable or damaged and so you need a data recovery tool to get them back.
- While adding my SD card to other device, you might lose your videos and files accidentally.
- You might have stored the SD Data since long time and haven't used it then there are chances of your data or videos to be crashed.
---
How to Recover Deleted Videos from SD Card on Mac (macOS High Sierra Compatible)?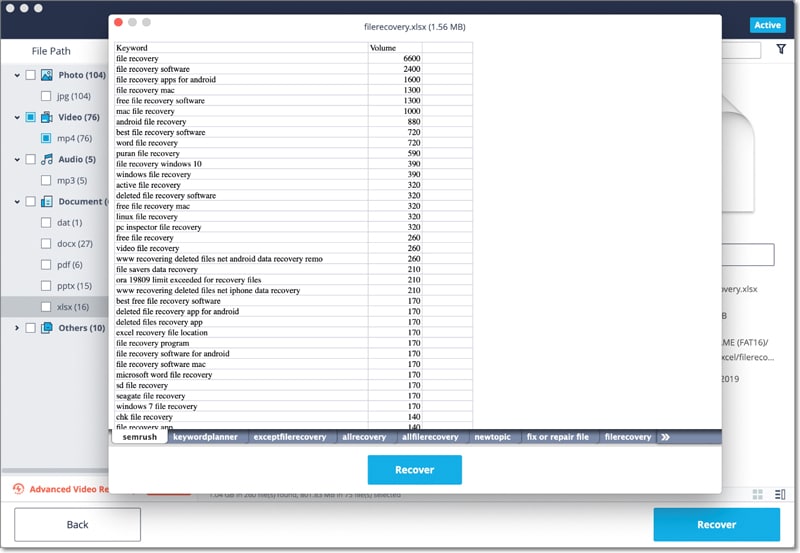 When you find a video is deleted on SD card by accident, stop using the card immediately. This action will help you to improve the success rate of video recovery on SD card because the deleted videos are just inaccessible and not be deleted permanently. And you only need to get a file recovery software program, then the lost videos can be retrieved soon. Therefore, Recoverit for Mac is recommend here as the optimal option.
This program can help you scan your SD card for lost videos in quick and deep modes. And not only videos, other data like photos, documents, etc. can also be found or restored if you have a need. Moreover, this program also allows users to recover data lost due to any reasons, such as deletion, formatting, system crash, virus infection, and so on.
Check the supported video file formats:
Supported Video Formats
Video
MP4, M4V, AVI, MOV, 3GP, 3G2, MKV, MXF, WMV, ASF, FLV, SWF, MPEG, MPG, RM and RMVB.
For more supported file formats, check out Tech. Specs. of Recoverit for Mac >>
3 Steps for Recovering Deleted Video from SD Card on Mac
With Recoverit for Mac application, you can effortlessly recover deleted video on Mac. Just 3 steps are required: Select, Scan and Recover. Follow the steps below to retrieve all deleted videos on your SD card.
Step 1. Connect your SD card to your Mac and run the program
Power off your device immediately after you realize that you've deleted video accidentally, and take out the SD card. Then connect it to your Mac with a card reader. Run Recoverit (IS) for Mac and you'll see the primary window as below.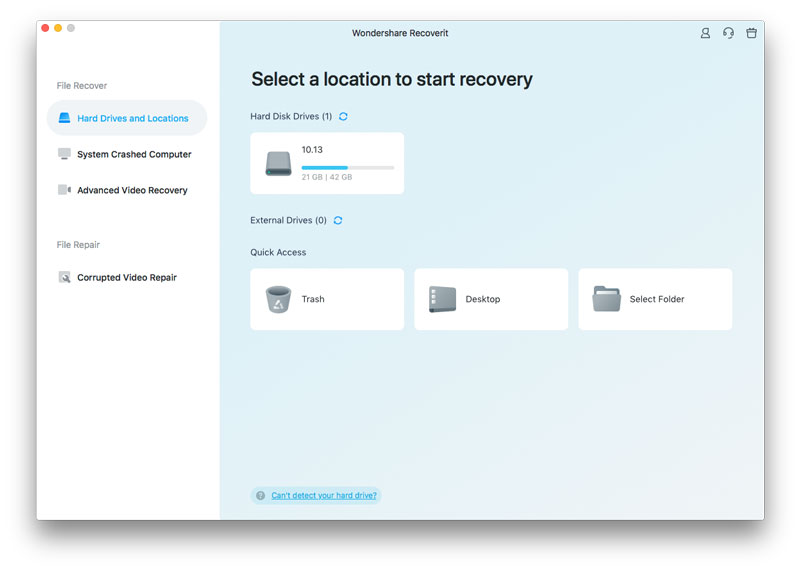 Choose "External Devices Recovery" mode and select the location of your SD card, hit "Start" button to begin the scanning process.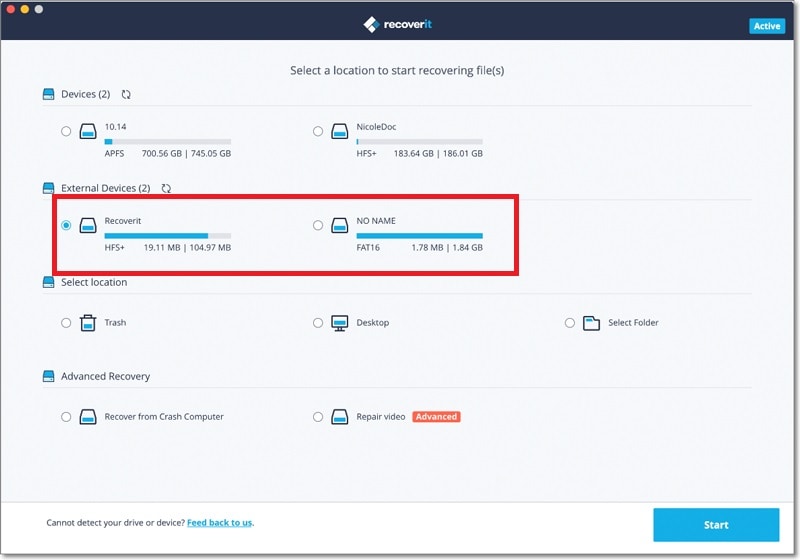 Step 2. Preview Videos
The scanning will be finished soon, and all data on your SD card will be categorized and displayed in the left panel. Directly click "File View" > "Videos" to check all videos in the program one by one.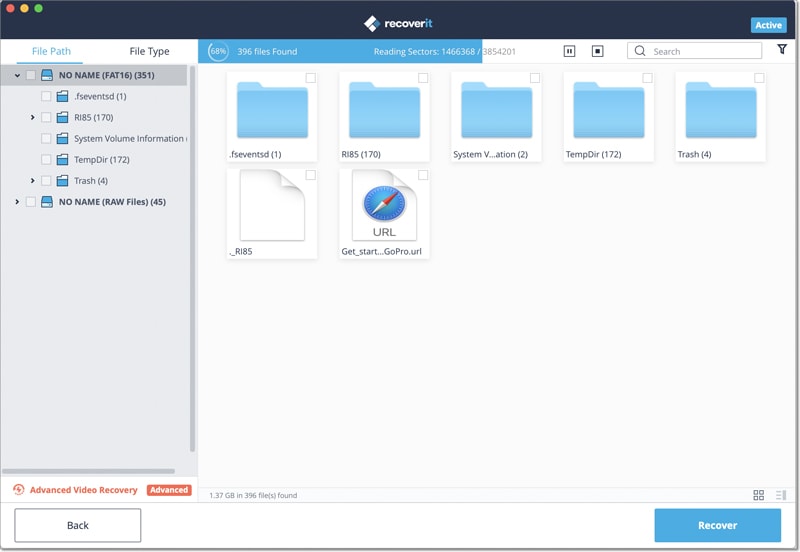 If you cannot find your lost video, you can try the "All-Around Recovery" by clicking the option in the left-bottom panel. This mode will find more recoverable files on SD card for your reference.
Step 3. Recover Videos from SD Card on Mac
Tick the video file you wish to recover and click the "Recover" button to finish the process. You'll be prompted to choose a folder to save the recovered videos. Finally click "OK" to start recovering deleted videos from your SD card.
You can't use the original SD card as the output folder of recovered video files, in view of protecting your deleted video. Just choose a folder on your Mac.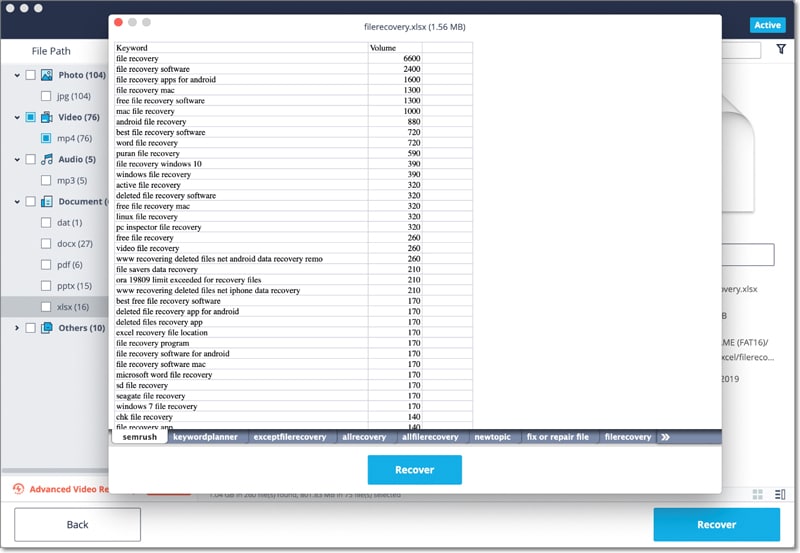 ---
How to Recover Videos from SD Card on Windows (Windows 10 Compatible)?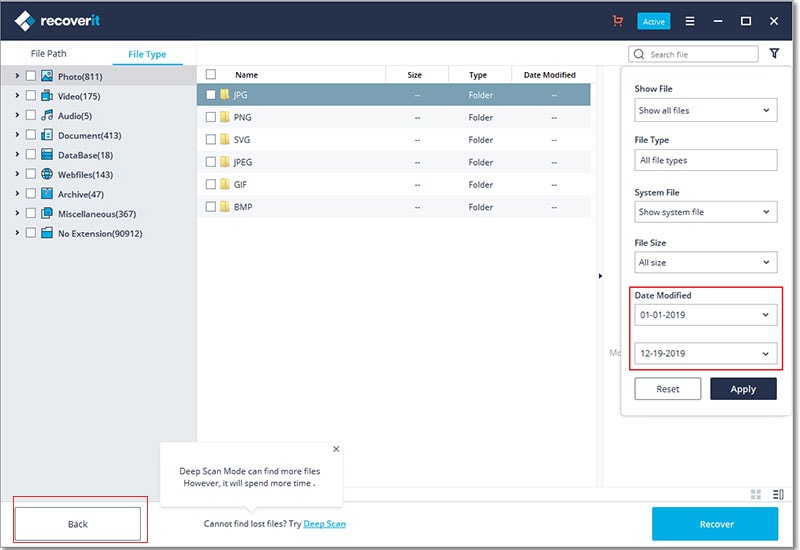 i Recoverit for Windows can help you recover all your lost videos if they are not overwritten or damaged. It supports any popular video format like AVI, MOV, MP4, M4V, 3GP, 3G2, MKV, MXF, WMV, ASF, FLV, SWF, MPEG, MPG, RM (RMVB).
This program offers flexible recovery settings and full preview ability of found videos. With this feature, you can check your lost data. You can even pause or stop scanning whenever you want, as well as save the recent scanning result for future use.
Steps to Recover Videos Files from SD Card on Windows PC
Your videos from the SD card can be recovered with Recoverit on Windows operating systems by following the steps below:
Step 1. Insert Your SD Card to Computer
After you connected the card, run the software on your Windows system. Click the "External Device Recovery" mode tab in order to make the software scan and recover the SD card only.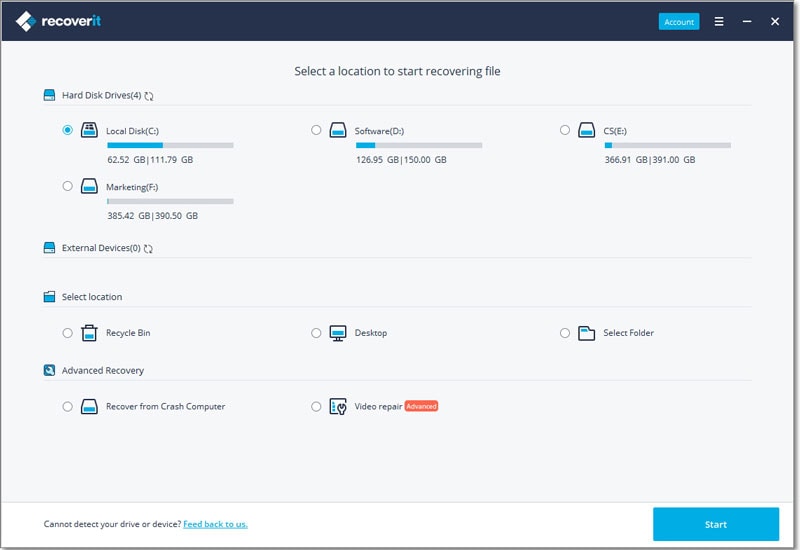 Step 2. Start the Scanning Process
Now, you can click "Start" to activate the process of lost file scanning. The scanning will be finished at seconds and all data on the SD card will be categorized.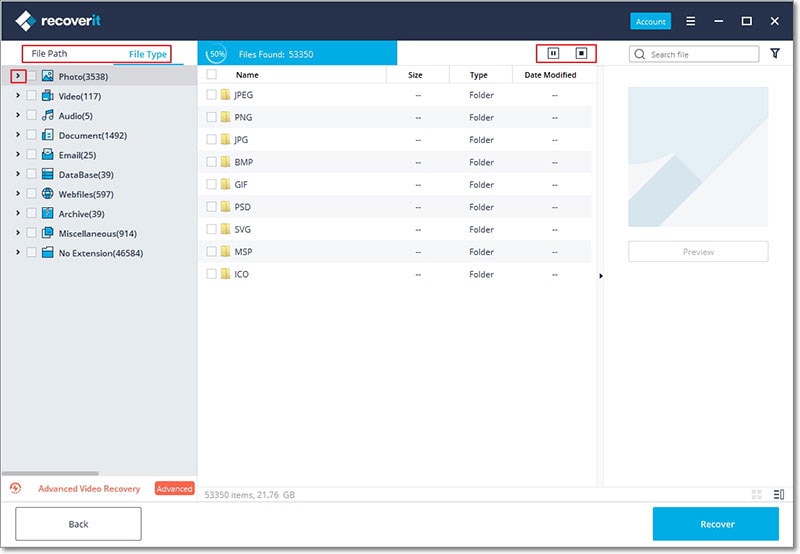 Step 3. Recover the Videos You Need
Preview the result and find all your needed videos. Mark the files in the list and click the "Recover" button to save your videos.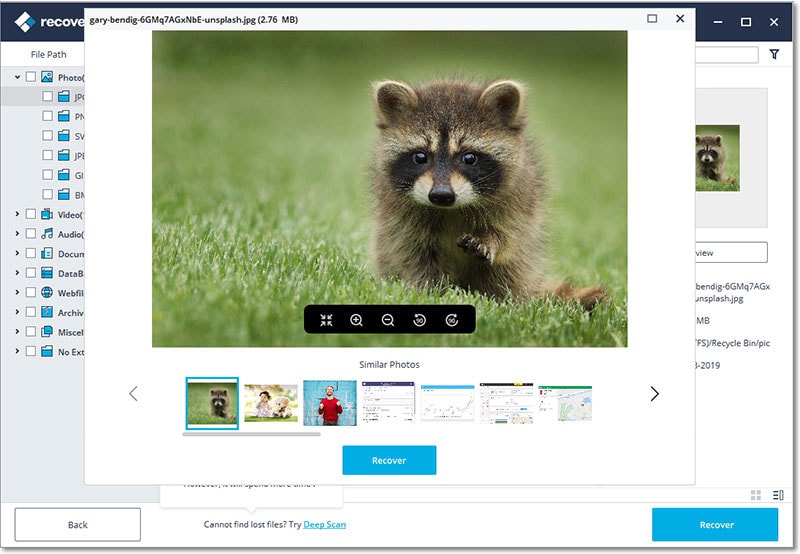 If the external device recovery mode cannot help you find your target videos, you can try "All-Around Recovery" mode and it will help you get more recoverable files.
---
Tips for Recovering Deleted Videos from SD Card
The prerequisite is that you have not recorded or transferred any video or photo file to your SD card. Only adding new files to the SD card will physically remove your videos from SD card.
● Don't move files to your SD card when you find out videos are deleted by mistake. Pull it out immediately and find a reliable data recovery program.
● You can even restore videos from a formatted SD card if you use a standard format command instead of a low-lever format command.
● This SD card data recovery application supports all regular SD card brands on the market, like ATP SD card, Lexar SD card, Kingston SD card, SanDisk SD card, Transcend SD card, PNY SD card, etc.