- "Is there any way for me to recover data from Micro SD Card after format?"
- "How can I unformat an SD card"?
- ...
Lots of people want to find a solution to recover data from SD card after format on the Internet, and they always can get thousands of results at seconds. But how to pick up an ideal solution is an awful task because there's no way that gives its users the option of which one is the best. So, you have to spend lots of time to read the introductions of every solution and test them one by one until you get a solution that can get your lost data back. Time-consuming, right? Now, you can end the process of searching & testing here, this post is going to show you different ways to recover formatted SD card on Mac or Windows computer respectively.
SD card is widely used to store various types of data like photos, videos, audio, documents, etc. But it might be formatted in the situations as follows:
- Unintentionally;
- SD card is infected or attacked by virus;
- SD card cannot be used to store data and behaves abnormal.
No matter what reasons result in formatting on your SD card, you can try to unformat an SD card with the help of Recoverit for Mac or Recoverit. They can provide users the simplest and safest way to recover files from formatted SD card. And this post will also offer an alternative solution for your reference. Now, just learn these efficient solutions one by one and then pick up one to start your formatted SD card recovery process.
Part 1. How to Unformat SD Card on Mac (OS X 10.11, 10.12, 10.13 macOS High Sierra)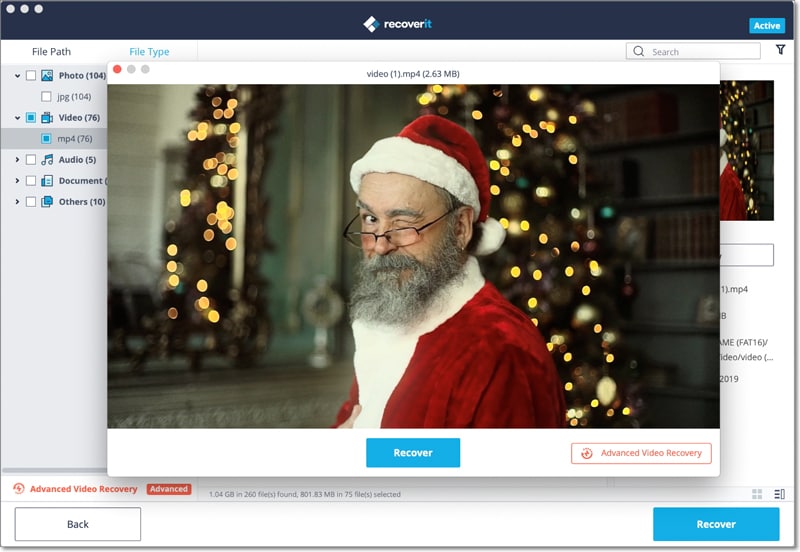 It is possible to use an SD card recovery software to recover formatted SD card. An experienced user should be able to understand how to use this type of data recovery software, but novices may need a good guidance in order to successfully unformat SD card. Good SD card recovery software should be user-friendly yet it offers many comprehensive options to restore data from SD card. Here Recoverit for Mac is recommended.
Easy Steps to Recover Files from Formatted SD Card on Mac
If you are using a Mac computer, you are provided with a good deal of recovery software choices including Recoverit for Mac. It can recover lost files due to formatting, deleting, corrupted partitions, and more. Next, I'll show you how to use Recoverit for Mac to recover data from formatted SD card on Mac.
Step 1. Choose the Right Recovery Modes
When you open Recoverit for Mac, you'll be directly taken to the recovery mode of "All-Around Recovery". Here, you can choose to use it to scan your formatted SD card, or click home icon to back to the main screen, and choose "Formatted Disk Recovery" as your final option.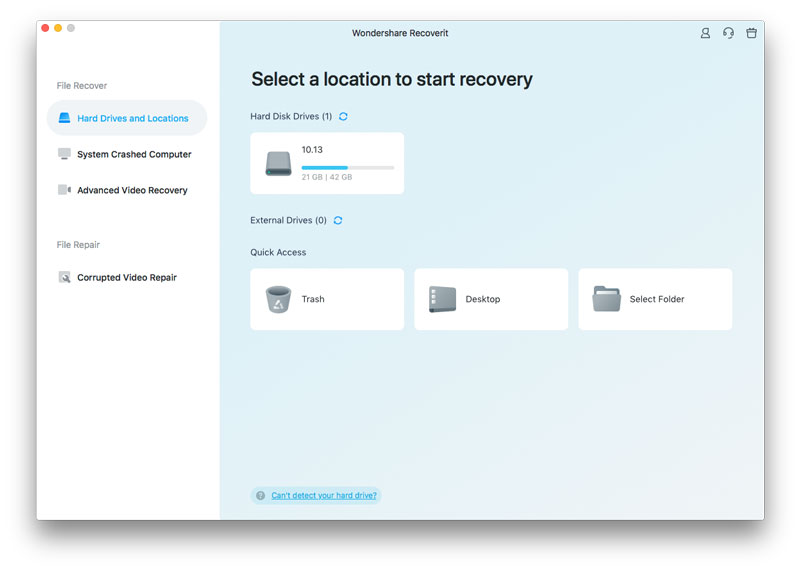 Step 2. Search for Formatted SD Card to Scan Files
Connect the formatted SD card to Mac via a card reader and select it, click the "Start" button on the bottom of the window to begin the scanning process. If you have not found your connected SD card, try to click "Refresh" icon next to "External Device".
Step 3. Preview and Recover Formatted SD Card Files
When the scanning process ends, you can drill down folders on the left to find only some files to recover. The selected files will be all saved to the selected folder. Make sure they are intact and can be played after recovery. Then click "Recover" button on the bottom right corner of the window to complete formatted SD card recovery process.
If you can't find the files you want to get back, try "Deep Scan" feature by click "All-Around Recovery" on the bottom of the window.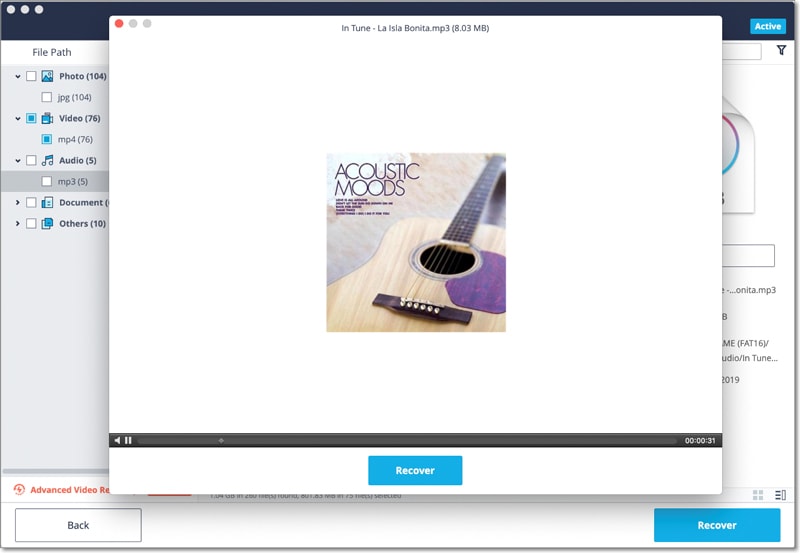 ---
Part 2. How to Recover Data from Formatted SD Card on Windows 10/8/7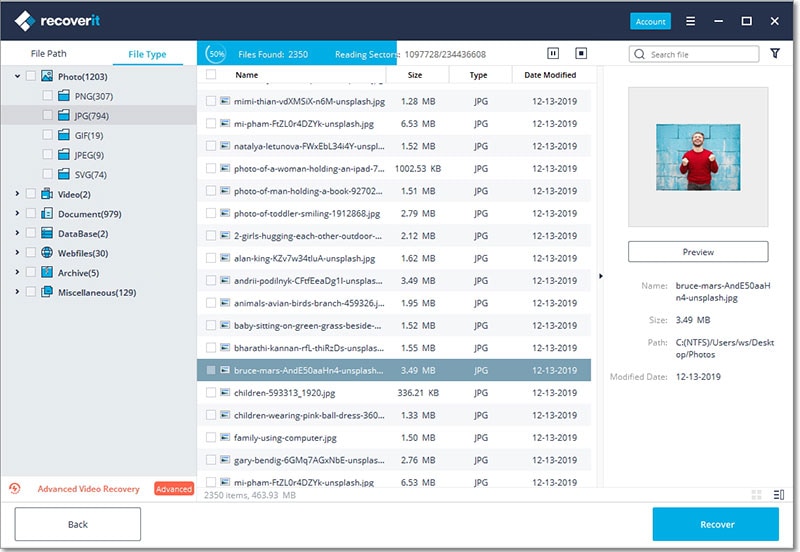 If you have accidentally formatted your SD card, Recoverit for Windows will lend you're a hand in handling and recovering the lost data and files. Apart from that many types of files can be recovered by this tool which you can preview before actually storing it to your computer. SD card from several companies like SanDisk, PNY etc. are also compatible.
3 Steps to Recover Files from Formatted SD Card on Windows
Worried about how you can recover data from a SD card that's already been formatted? Well, just follow the simple steps below.
Step 1. Select the Recovery Mode
Open the program and select a recovery mode as to recover the target lost data files on formatted SD Card. And then insert your SD card to the computer. Here, you can have a trial on "Formatted Disk Recovery" or "External Device Recovery".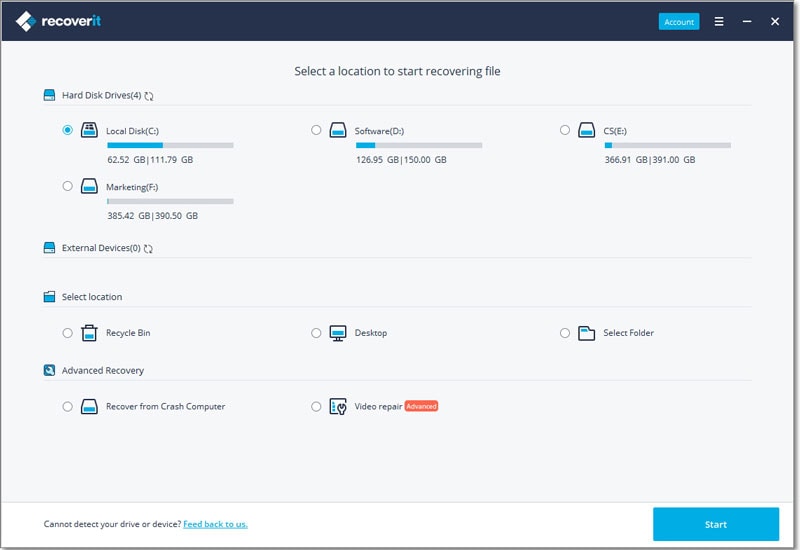 Step 2. Scan the Formatted SD Card
After the card is inserted in the computer, the process of scanning of corrupted SD card is to be done. For that purpose, you need to click "Start" button and begin the searching of data on it.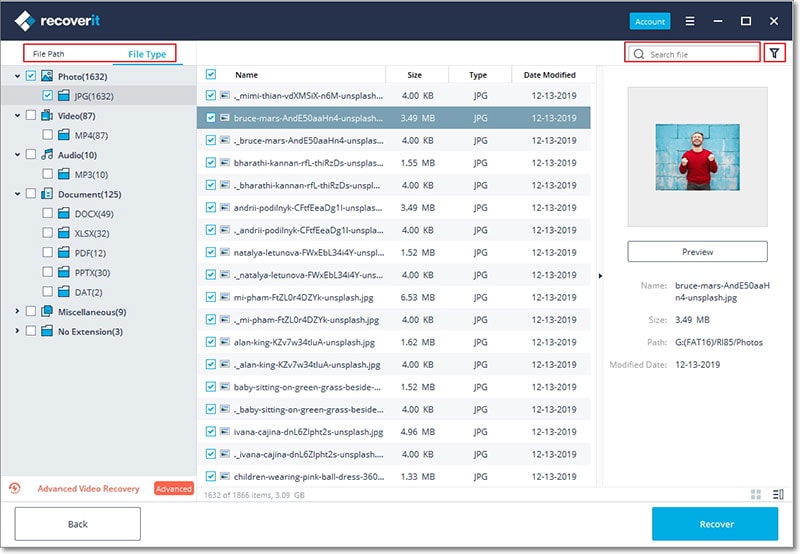 Step 3. Retrieve the Lost Data
After the process of scanning is completed, all the files will the displayed on the Recoverit dialogue box according to their structure. You just need to select files to retrieve all the files. Finally click on the "Recover" button to save them on your PC.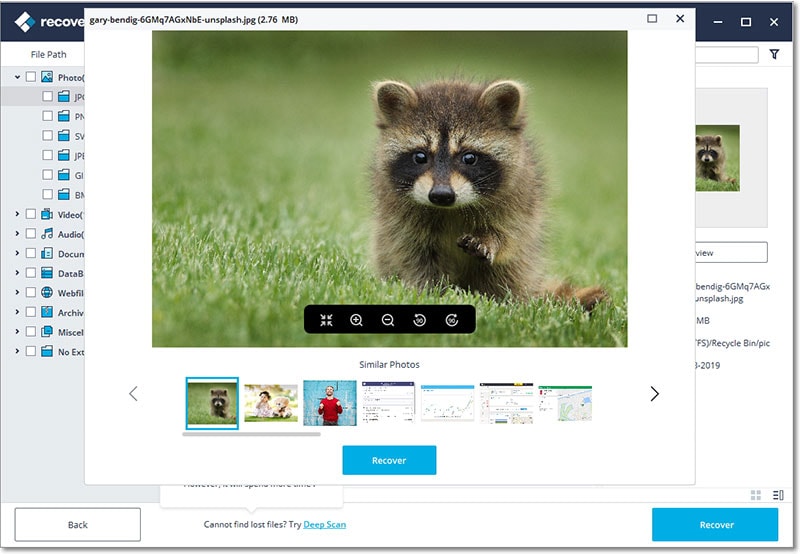 ---
Part 3. How to Recover Data from SD Card after Format using CMD
CMD (Command Prompt) can also be used to recover formatted SD card on your computer, but the premise is that you're familiar with the chkdsk order before. Because this solution is difficult and complex for a novice, and that might result in data overwriting due to improper operation. So if you're not familar with the CMD, don't try it.
Step 1. Connect SD card to computer via a card reader, and check the drive letter of your SD card by clicking "Computer > Disk Management".
Step 2. Type "cmd" in the search box, and right click it and select "run as administrator".
Step 3. Type the command: "chkdsk H:/r" in the command prompt and hit "Enter". When the command prompt tells you to volume is in use, type "Y" and press "Enter" to confirm the order.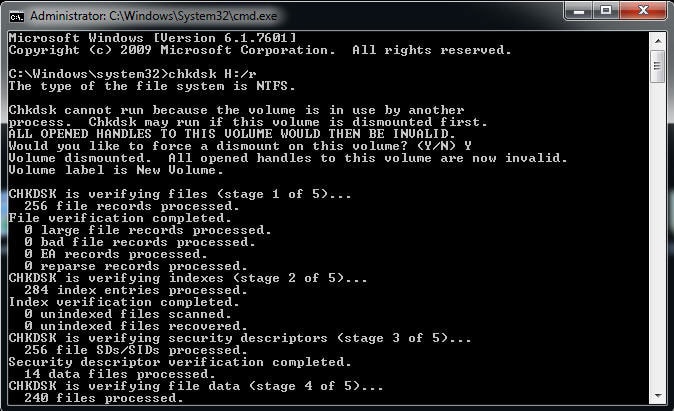 ---
Part 4. How to Reduce the Risk of Data Loss after Format?
In some cases, an SD card requires formatting after you insert it into a device. For example, if you unplug the SD card from your camera and then insert it to your phone, it's possible that your phone will ask you to format SD card before you can access it. However, it's not right. Usually, you restart your portable device and the problem will disappear.
Unfortunately, if you tap too fast, your SD card has formatted or restarting cannot solve the problem, you have no choice but to format the SD card, then there are some things you can do after formatting your SD card. These methods will greatly improve the success rate of format SD card recovery and reduce the risk of data loss permanently.
1. Stop using the SD card immediately and don't write any new files over the formatted SD card;
2. If Windows asks to format the memory device, don't do that;
3. Eject your SD card from the device, and find a reliable yet professional Data Recovery software as your life saver.
If you have done the above things, your formatted SD card data can be retrieved with 98% success rate. Now, just get this powerful data recovery software on your Mac or Windows computer, and try to recover formatted SD card soon.