Contents
1. Memory Card

2. SD Card

3. Mini SD Card

4. Micro SD Card

5. CF Card

8. Memory Stick

9. Phone Card

11. More Card Recovery Tips
A Secure Digital Card is a small electronic device used to store information. It is normally referred to as an SD card for short by many individuals. SD cards are a type of memory card as well. These cards are widely used by people who see the need for additional storage on their devices. An SD card is usually used in mobile phones, digital cameras, notebook computers, laptop computers and MP3 players.
Part 1. Get to Know the Types of SD Card
Currently there are various types of SD cards, such as micro SD card, mini SD card etc. which are all available on different market places such as Amazon or eBay. Here you can get plenty of card data recovery tips.
| No. | Name | Information |
| --- | --- | --- |
| 1 | | Up to 2GB SD memory card using FAT 12 and 16 file systems. The first-generation Secure Digital card was developed to improve on the MultiMediaCard (MMC) standard, which continued to evolve, but in a different direction. |
| 2 | Mini SD Card | The Mini SD card is a smaller version of an SD card that is inserted into many devices such as tablet PCs, smartphones and other technological gadgets; this card can also be inserted in the SD card holder for some devices such as a PC. |
| 3 | | The Micro SD card is a smaller version in the Mini SD card which can also be inserted into the full SD card or used as it is, depending on what the device is compatible with. These devices have a storage capacity of up to 2 GB. |
Part 2. Learn How to Select a SD Card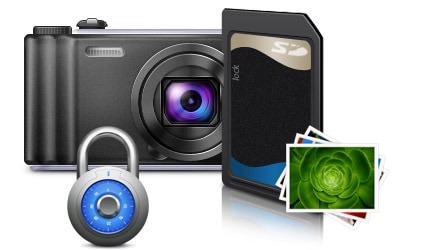 When choosing an SD card you must analyze the different brands on the market in order to make a good pick. The SD card elements that are outlined below are some good information that can assist you on how to pic a SD card as well. You should ensure you are familiar with the different brands as well and what price range you are budgeting for. (More about Memory Cards)
Firstly you should consider the type of SD card that you need by looking at the device you need it for and reading the label on the slot that will tell you if it is SD or SDHC for instance.
Another important factor is size. When buying an SD card you should think about your needs. Do you need a small amount of storage just for pictures such as 2-4 GB? Or do you need to save a lot of music and all other types of media? In this case it would be more ideal to buy 8-32 GB of SD card storage.
Moreover if you are skeptical about durability you should go for a top brand in the industry such as Samsung, Sony or SanDisk for instance. Besides there are many different brands of SD cards available and all are not durable if we should read some online reviews are contact family members who have used them before.
Part 3. Top SD Card that You Can Consider
The SD card market is full of many different SD card brands as it is a common source of storage for many individuals. The top card brands today includes: Transcend, SanDisk, PNY, Samsung, Sony, Verbatim, Lexar and Kingston not in order of quality though. These are high quality brands in SD card storage that have storage capacities available from 1GB to 64GB on the market. The price range for these brands are from 19 USD to 70 USD depending on the size and brand that you chose to buy and sometimes it really depends on the place you are purchasing from too.
| No. | Name | Information |
| --- | --- | --- |
| 1 | | SanDisk SD cards are one of the top sellers on the market, it offers an easy and very much affordable way to expand any of your compatible devices memory. The SanDisk SD cards are shock proof, x ray proof, water proof and temperature proof as well. SanDisk SD cards comes with preloaded software to protect it from viruses and also gives the user games and other tools such as a web browser to use. |
| 2 | | Another card brand that is commendable is the Kingston SD cards. It is also one best sellers in SD card brands. The Kingston brand is not water proof like the SanDisk but it comes as a shock proof and x-ray proof storage device. It also has a cheaper value than the SanDisk SD card but is somewhat close in the range of quality. Kinston is sold as one of the most inexpensive in its league of SD cards to date. |
| 3 | PNY | The PNY SD cards are very durable and made with a wide range of style than most of the other manufactures. PNY actually puts a lot in designing its products. They come in many colours, and are shock resistant as well. These SD cards sold by PNY come with a string and a small clip case in order to help prevent theft or loss. |
| 4 | | Another credible SD card brand on the market is the Samsung SD card that also comes with most devices such as the Samsung Smart Phones and tablets that we see many people using on a daily basis. This brand is one of the best sold for a very long time especially in the American region. The Samsung SD cards are of superior value to most SD cards like the PNY and others, it starts at a price of 64 USD and onwards for the 32 GB cards. |