- How to crop video online?
- What is the best video cropper for PC or Mac?
- Is it possible to crop a video without installing a program?
Well, you can get many online cropper or solutions for cropping videos free, these tools always have limitless features to enjoy and come with a unique experience for users. But the facts have proved that not all online video croppers are working well in any situations. So today, I'd like to list 5 free yet actionable online video cropper to help you crop video online.
The best part?
In addition to online video croppers, I also take a tool called "Filmora Video Editor" to all Windows and Mac users. This program will provide users with the super fast video editing experience that you never imagine before, even though you're a beginner.
Now, let's get started.
5 Best Online Video Croppers to Crop Videos Online for Free
#1. Video Cutter

This video cropper online tool is well suited to remove all irritating advertisements from your online video.
Pros:Its availability on different languages makes it good for use anywhere and by any person without such barriers.
Cons:It does not support newest operating systems like OS X.
Learn more >>
---
#2. Cellsea Video Editor

This online video cropper can allow for the uploading of videos from a computer system and sites like YouTube. It has several customizing options for video editing that you will enjoy.
Pros:Offers flexible editing options including cropping.
Cons: It has some basic features missing so you can't get the best results.
Learn more >>
---
#3. Video ToolBox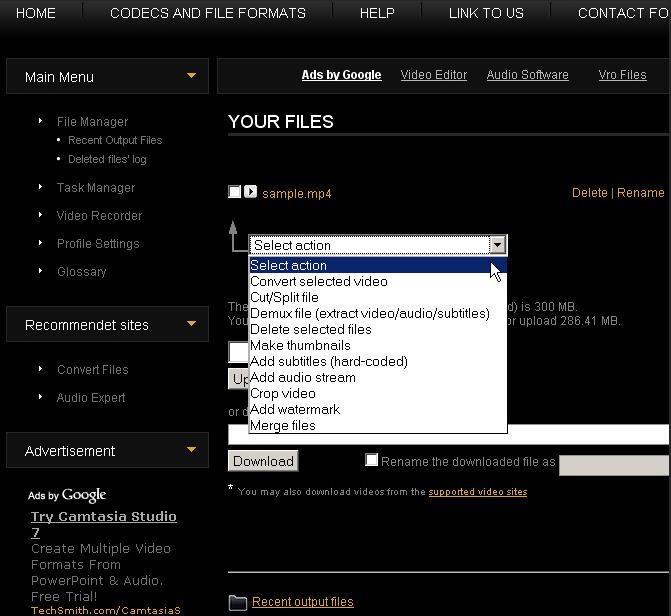 This software program suits use by both experienced editors and beginners to crop video online. It has very easy editing functionalities.
Pros:The user-friendly interface means you will have stress-free use and the many features will only work to satisfy you.
Cons: The functionality of this software is highly compromised since key features are absent due to free availability.
Learn more >>
---
#4. FileLab Video Editor

Count yourself lucky if you get the opportunity to use this video editor to work on cropping your video for free. It is compatible with many file formats and comes with unlimited features.
Pros:It's easy to use and has support for multiple video formats.
Cons: Before using this software, you must have the plug-in downloaded.
Learn more >>
---
#5. WeVideo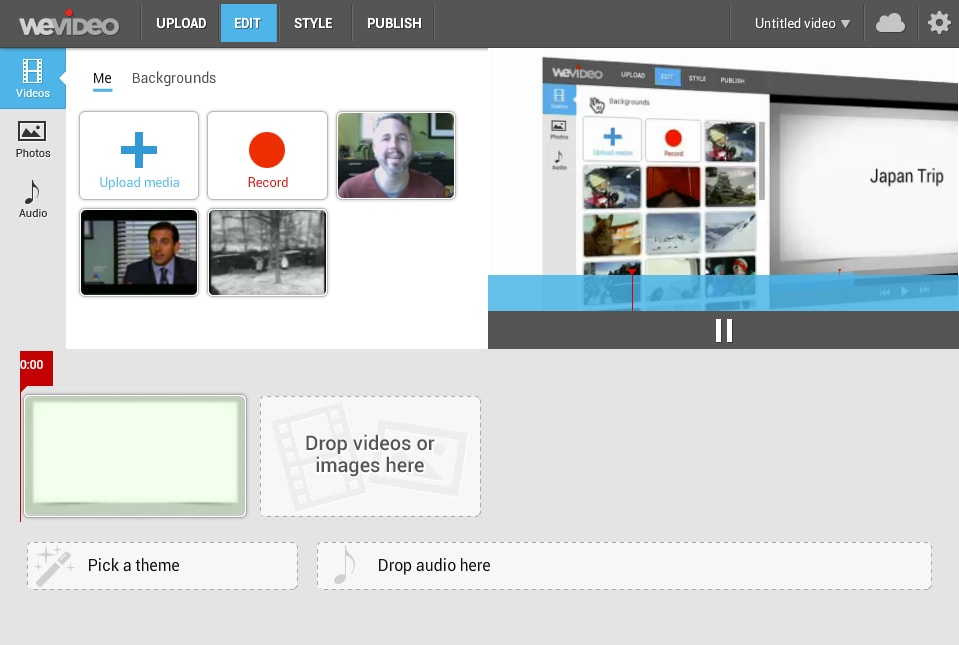 This is an all-in-one platform for editing videos and publishing the same on online sites. All that will happen without necessarily exiting the app.
Pros:It makes editing very simple and easy with options to share online.
Cons:The price tag is definitely high and hard to put up with.
Learn more >>
---
Filmora Video Editor - How to Crop & Edit Video Like A Pro [Rcommended]
Filmora Video Editor for Windows (or Filmora Video Editor for Mac) is better than any online video cropper tool, offers you all the basic editing features you need: trim, crop, split, merge, add text, add music, and more than 1000 effects are available for you to use freely. For beginners, you can try the Easy Mode; and for professionals, the Advanced Mode is ready for you to explore more stunning features. Filmora Video Editor has separate version for Mac and Windows PC.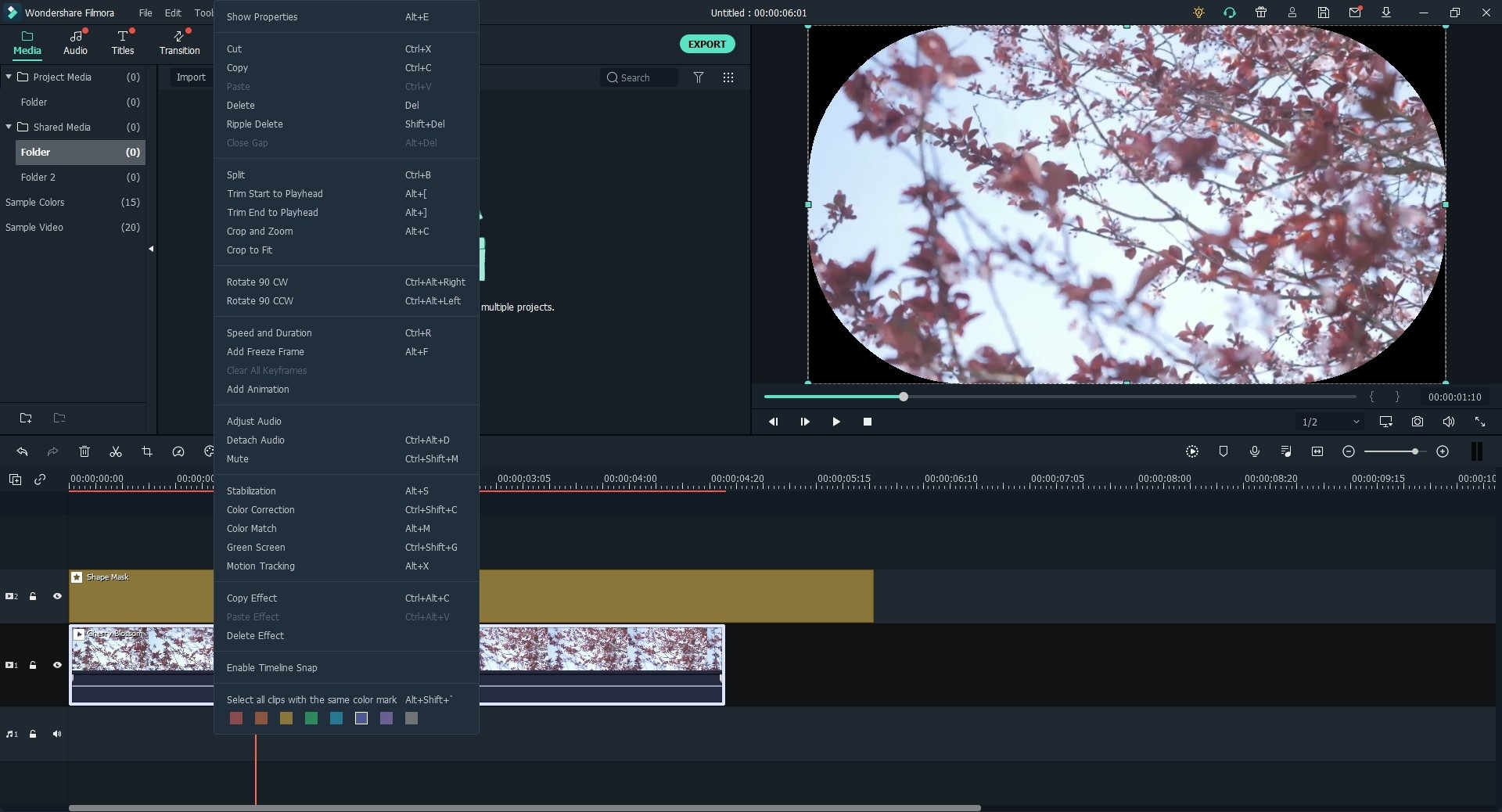 A must-have video editing tool to make professional-looking videos with lower price.
Crop, trim, split, rotate and join videos freely.
1000+ video effects options like PIP, filters, overlay, face-off, green screen, etc. for your reference.
You can apply free audio effects to your video by drag-n-drop.
It helps you to share the video to YouTube, Vimeo directly.
Let's Learn How to Crop Video on PC or Mac with Best Video Cropper Software
Step 1: Launch Filmora Video Editor on your Windows or Mac computer, then enter "Full Features Mode". Here, you can click "Add Media Files Here" to load the video(s) into the media library.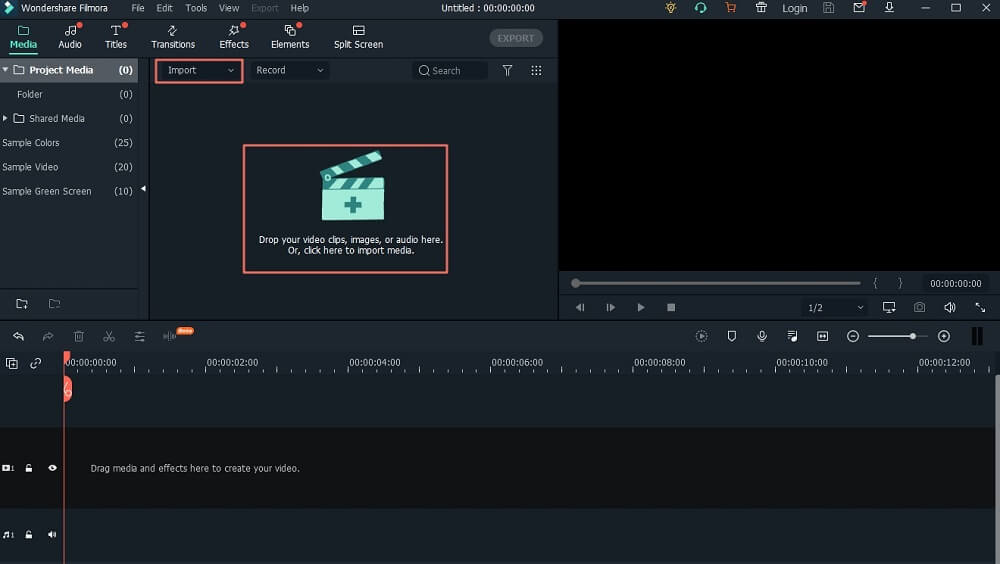 Step 2: Drag and drop the video to the timeline, and right click the video, then choose "Crop and Zoom" option.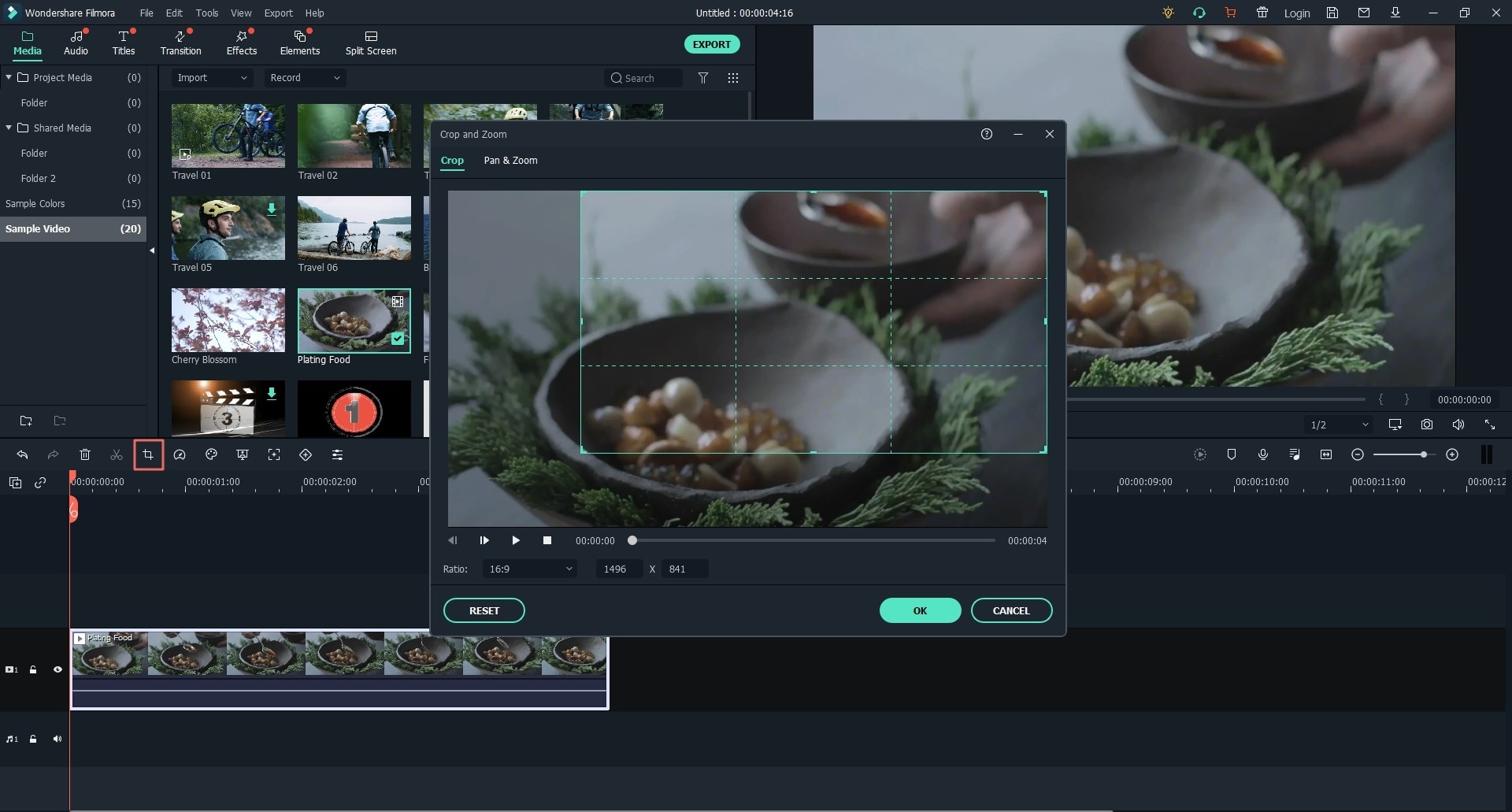 Step 3: Now, you can crop the video as the picture shows. When the editing is completed, you can hit "OK" button back to the main screen.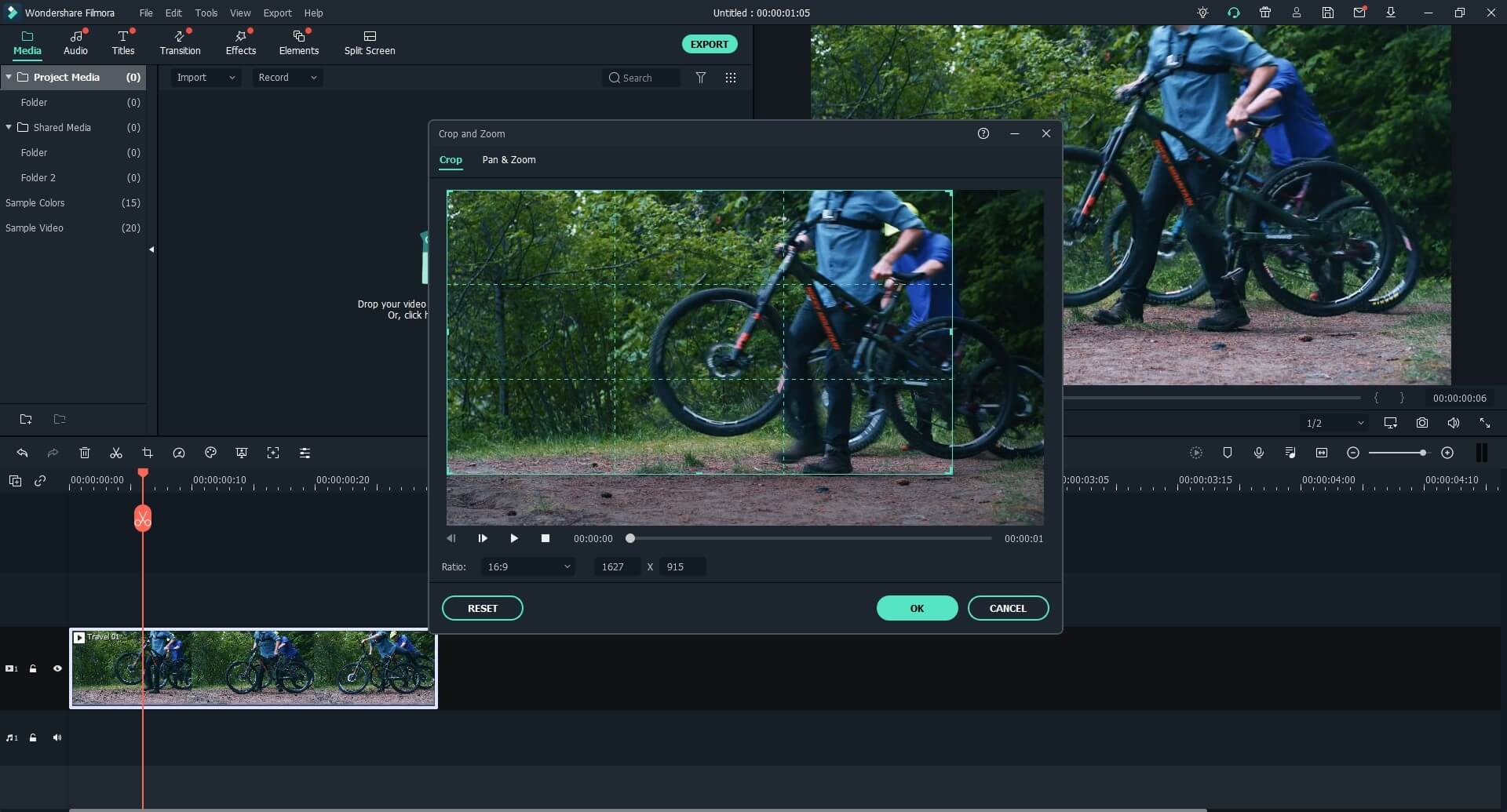 Step 4: Now, you can click "Export" button to choose an output format or output device according to your own needs.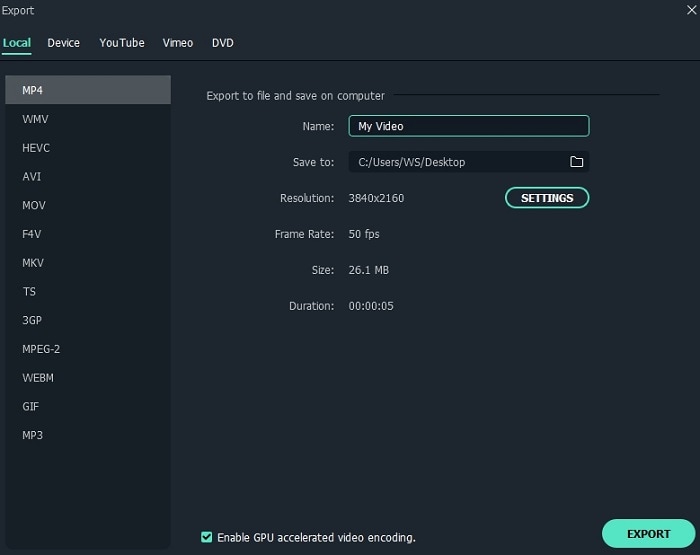 [Attention]
The above steps are used to crop the whole video with Filmora Video Editor. If you only wish to crop several parts of the video, then you need to split video into frames at first. After that, you can follow the same steps to crop targeted video clip. And you can also perform lots of effects to your video after cropping as follows:
- How to Make Cool Videos with Effects
- How to Overlay Video/Pictures to A Video
- How to Create An Awesome Intro/Outro to Video
Obviously, Filmora Video Editor is not only a simple video cropper for Mac or PC, it also works well as the video effects maker, and video editor. So that you can deal with all kinds of video editing issues with this simple-to-use application. What's more, this program can works well while your network is not steady.