Find the distracting black bars appear on your videos? Want to remove unnecessary information portions of the video? Intent to attract your views' attention to a specific place and get your messages across? Need to crop your video to square to match the aspect ratio of the platform like Instagram?
Don't worry, you can solve these issues with a simple to use video cropper software. But, selecting a reliable yet usable video cropping software have troubled a large amount of users because most of these video croppers promise great results but end up providing poor quality video output.
There is a lot of work that is involved in determining whether the chosen video cropping software is best for cropping videos. So if you're also frustrated by this problem (like me), keep reading this article to get out of it.
The best part?
Well, the recommended 11 video cropper for Windows or Mac are all tested and proved practical for cropping videos. But every program has their own pros and cons.
So, you need to compare them and pick up the proper one to trim a video according to your own needs.
Now, let's get started...
Part 1: How to Crop Videos with the Highly Recommended Video Cropper Software?
The first video crop software I most want to recommend to you is Filmora Video Editor for Windows (or Filmora Video Editor for Mac). This video cropper editor has some very basic tools to help you crop, trim, merge, split and rotate video easily. Its biggest advantage of this professional video editor is ease of use because of an intuitive interface while compatibility rate is high with multiple supported formats.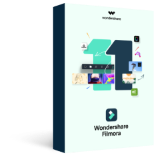 It offers easy cropping and supports customize crop, you just need to mark out all the areas you want cleared out and then apply the crop command.
This easy video cropping software comes with a wide range of editing tools. You can easily trim, rotate, combine, cut and split videos.
You can freely apply effects to make videos more outstanding with 200+ filters, overlays, transitions, animated titles and texts, etc.
The video enhance, audio mix and audio detach can also be done with ease.
...
[Tutorial] How to Crop A Video on Windows and Mac (Windows 10 and macOS Supported)
The following are four easy steps that everyone can use to get that sleek video cropping from the best and simple video cropper.
Step 1: Download and install the simple video cropper
Download the best video cropping software from the "Free Trial" button above. After effectively downloading Filmora Video Editor, Once it is done, launch it and you can see the main interface, choose "New Project" to enter next step.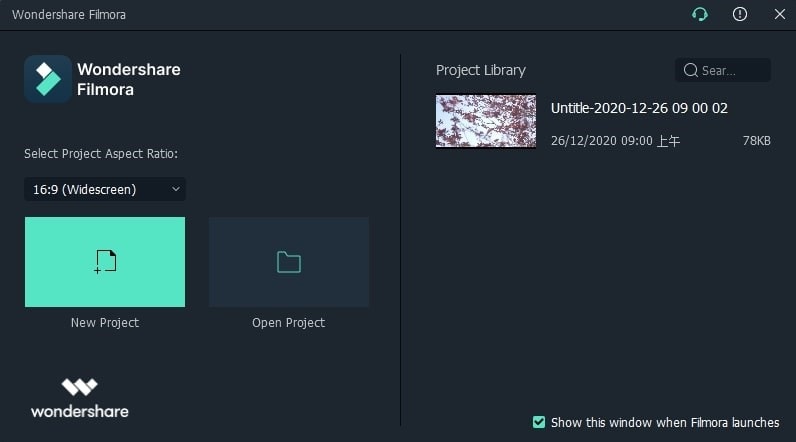 Step 2: Import videos to the program
This process is simple just like video cropper download. The tool is easy to understand and you will see an "Import Media Files Here" button on the media library whereby you can easily click on it and select your files from your storage. In addition to this, you can also drag and drop the file you want to edit on to the program.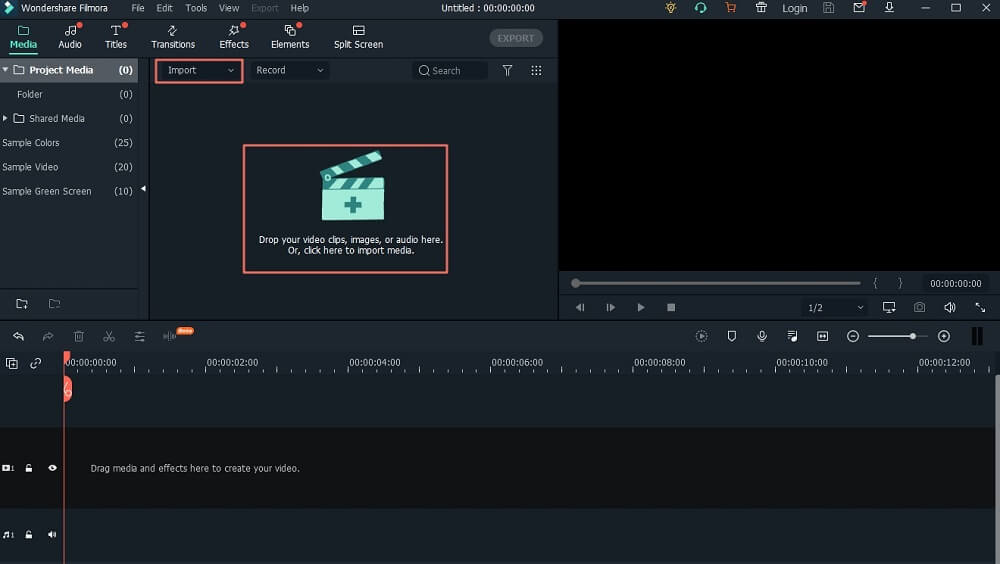 Step 3: Crop video
This step is the most important and it is also easy to do. With Filmora Video Editor, you will be able to easily crop your video using the crop feature. You have two choice to open crop feature.
1. After you drag your video to the timeline, you will see a "Crop and Zoom" icon which is in the tool bar above the timeline. Click on it and you will enter the crop window.
2. Or you just need to right click the video clips in the timeline, and choose "Crop and Zoom" option from the list.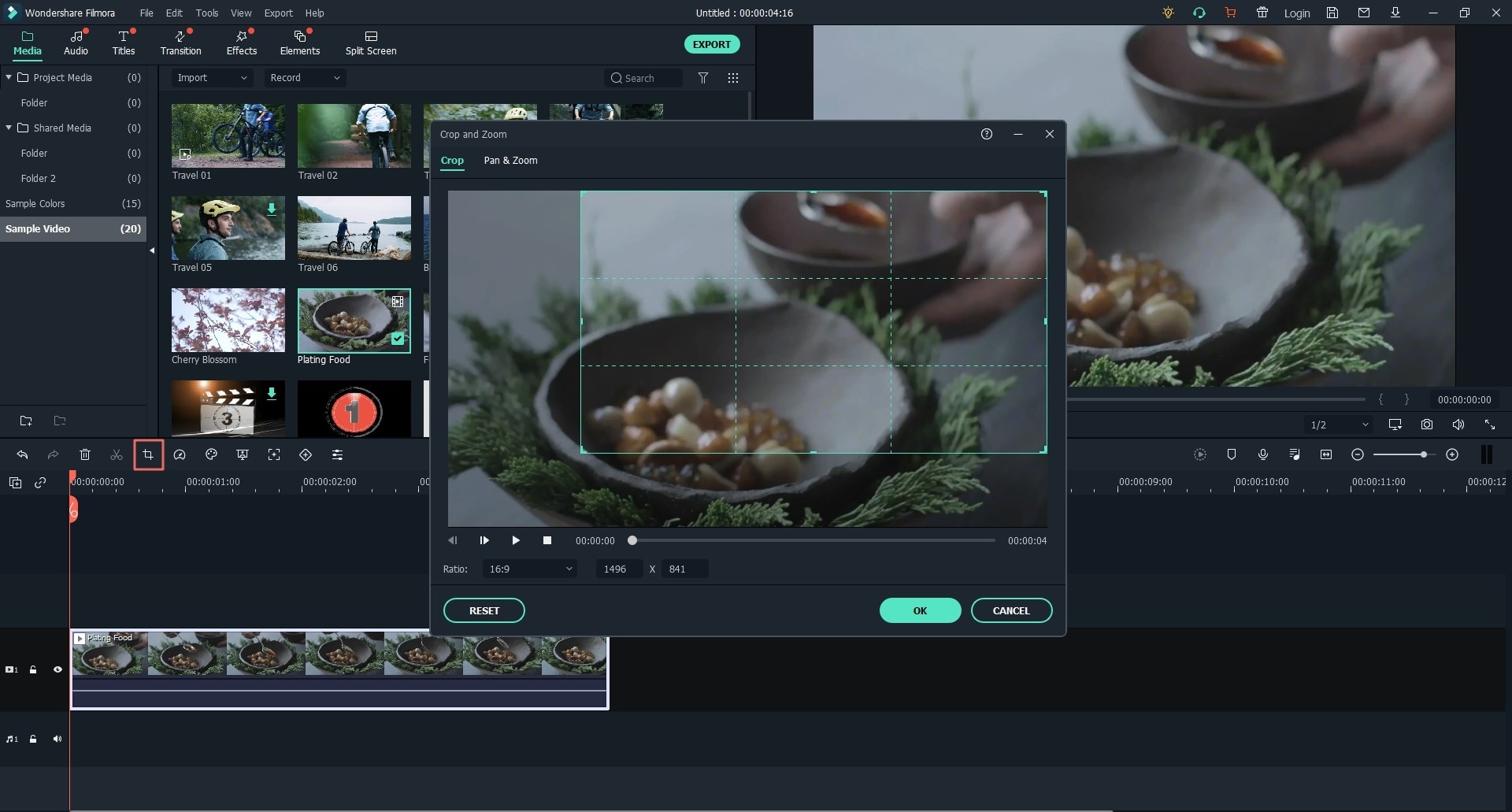 A new window will appear whereby you can resize your video to the desired shape. As should be obvious, there are 3 alternatives at the base:
• Two optional predefined crop sizes, 16:9 or 4:3 aspect ratio;
• Manual cropping, which is free and any area of the video can be cropped and edited with ease. You can apply any option as per your desire.
Note: you should choose a suitable and right dimensions if you have picked a specific ratio here. If not, dark bar will be produced. For instance, you have cropped your video to 16:9, and afterward you have to set the Resolution in "Advanced settings" as 480*272 or 1280*720.
Once you are satisfied with the size you can click save. There are also other predefined crop sizes. You can select the aspect ratios available on the crop menu for easy cropping.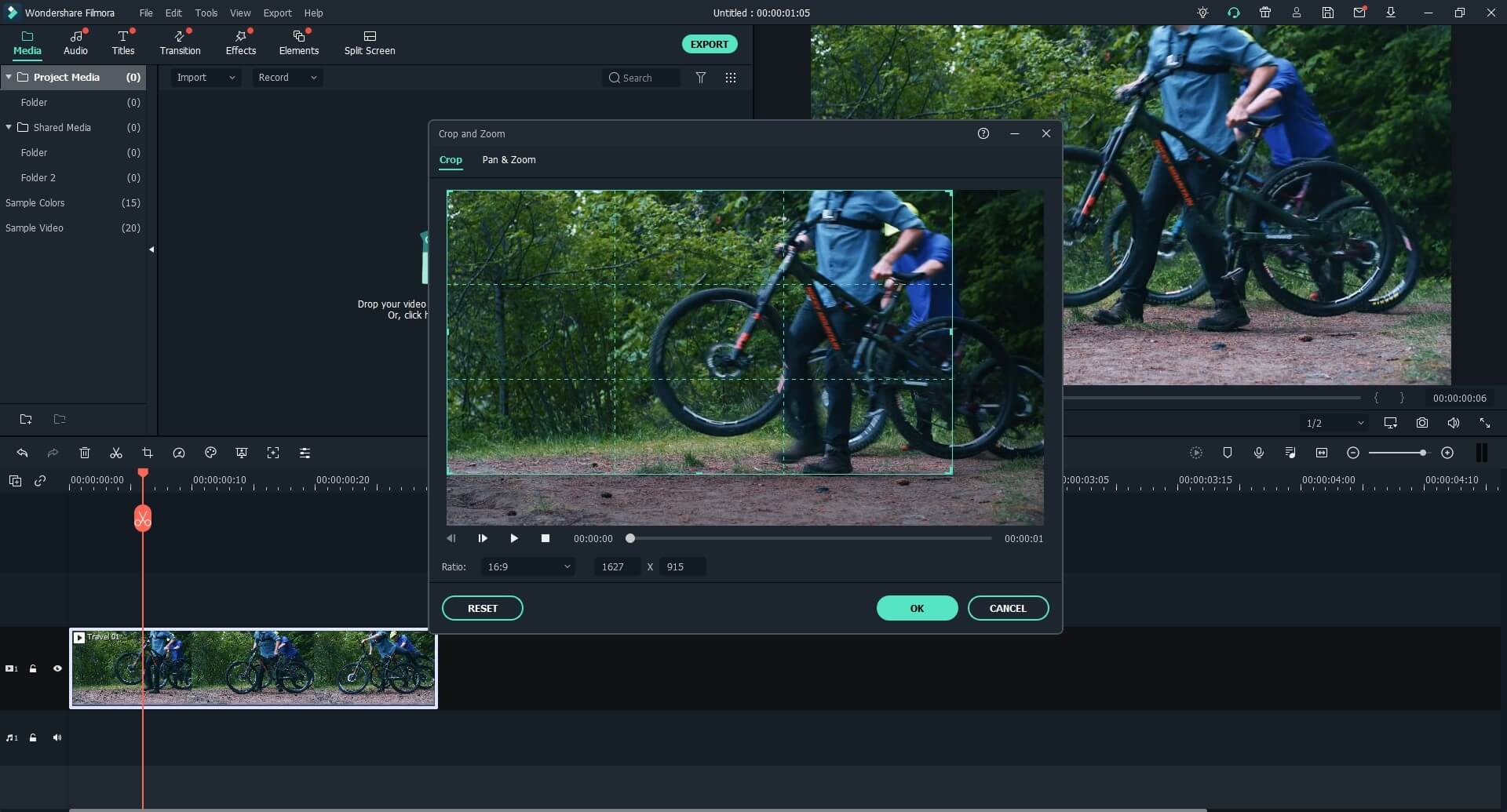 After cropping the video, you are allowed to add some cool effects to your video to make it more special and engaging, you can choose a suitable filter to apply to the video, or you can add a transitions between different scenes.
Step 4: Save or export video
This is the last thing to do, when you are fully satisfied with the final end result, you can simply click on the save button to keep changes made. If you want to export your video in different formats, then click on the "Export" button. Here, you will find various types of file format you can export in, select your preferred choice.
There is also an option to save your edited video for it to be compatible with devices such as iPod, iPad among others; just select "Devices". You can likewise straightforwardly transfer your cropped video to YouTube or copy to DVD circles for playing on TV utilizing a DVD Player.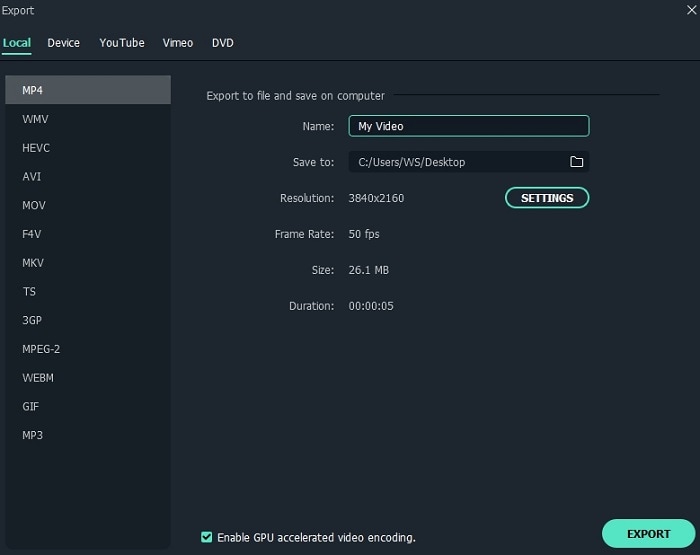 ---
Part 2: 10 Advanced Video Cropper for Mac and Windows (Free and Not Free)
Search from the internet, you will find a wide variety of quality professional video cropper, free video cropper and online video cropper. Now I sort out these 10 video size cropper to help you to create eye-catching videos easily.
Premiere uses a timeline to edit so you should be prepared for the best experience when cropping your video. One good thing with Premiere as a video crop editor is its support for high resolution editing. Also, its support for both import and export formats is very high to prove its compatibility.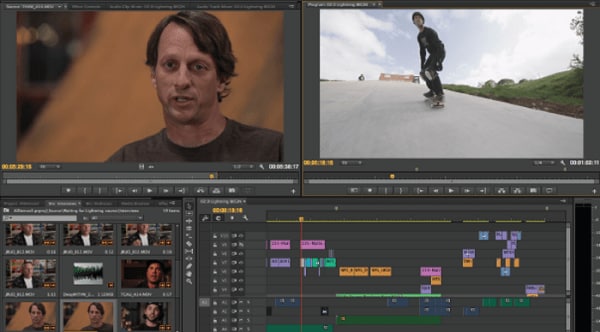 ---
Final Cut Pro video cropper from Apple is very powerful and the ideal choice for video cropping. This revolutionary editor for video has tools that will make your work easier and enjoyable. Standout features for this software are incredible performance, powerful media organization and revolutionary video editing.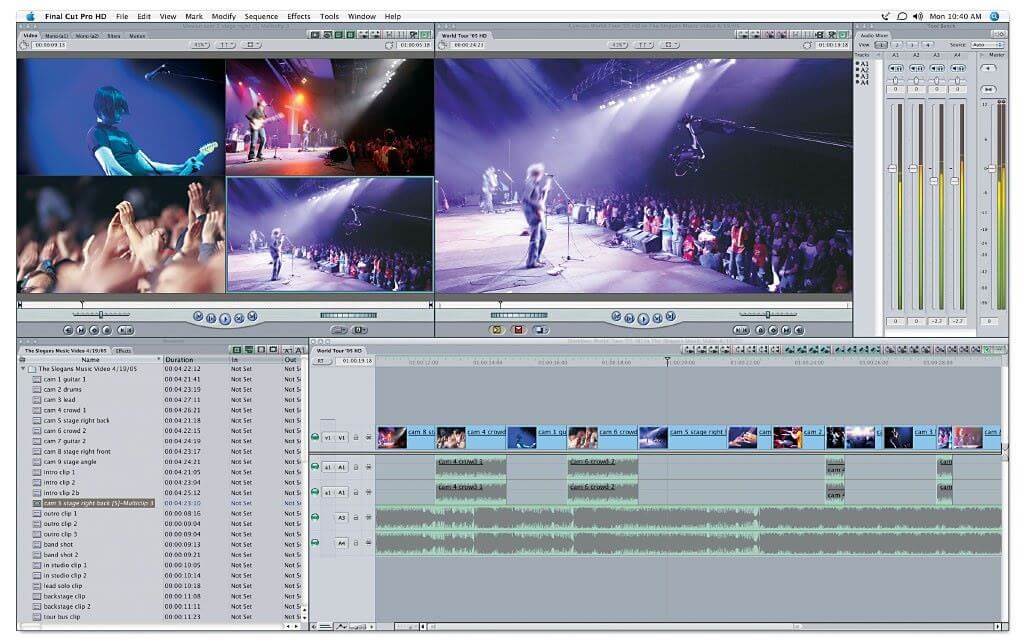 ---
One of the easiest things to accomplish with iMovie free video cropper and editor is browsing of files because they are well organized. It will be stress-free. There are many other features that make this a good video cropper to use and include titles to insert and effects to add in making your video more expressive. Once edited, iMovie makes sure you can share the video easily with friends.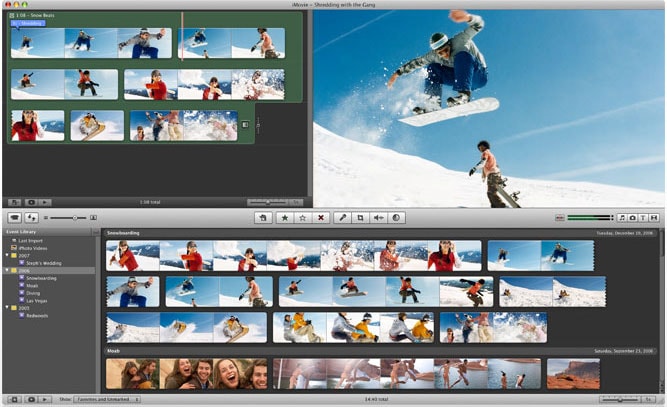 ---
VLC is free non-linear software for video cropping that you should consider as well. It can run on both Mac and Windows platforms while key features are user-friendly, cross-platform capabilities and compatibility with multiple file formats.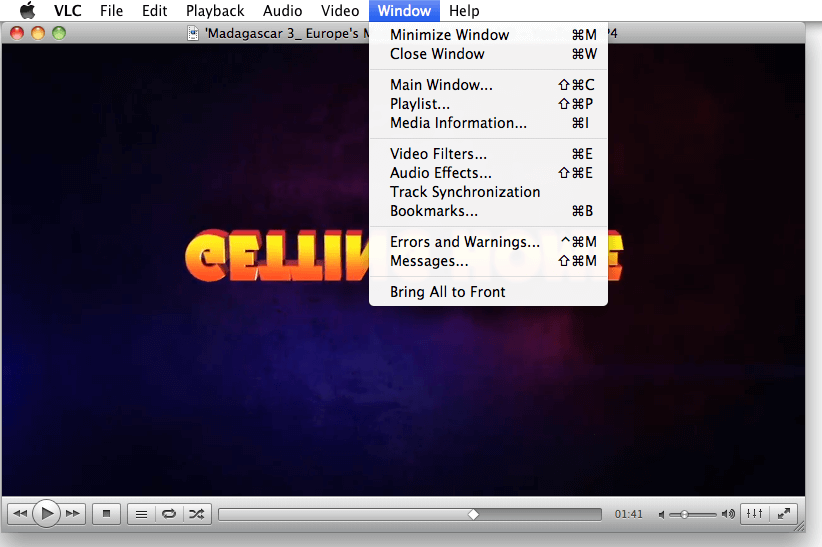 ---
Avidemux free video cropper software can crop video in addition to filtering, cutting and encoding of tasks. Its support for multiple file formats makes Avidemux a top consideration for your use while most users prefer it for abilities to automate tasks and authoritative scripting. Works on Mac, Windows and Linux platforms.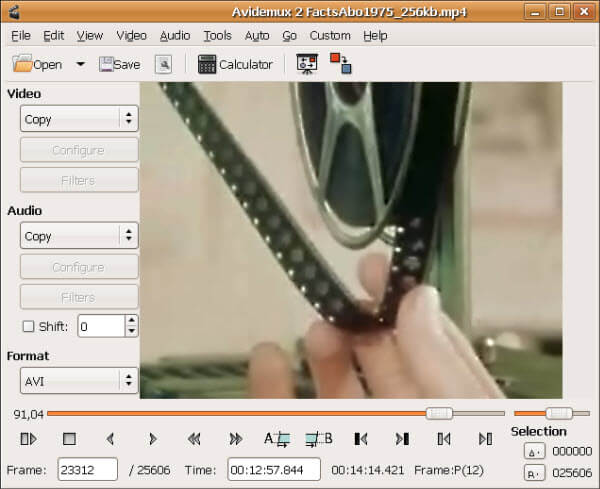 ---
You will get to use FFmpeg for free in cropping your video files and has codec for both video and audio. It has limitless components that will make your editing experience enjoyable and they include ffplay, ibavformat, libavfilter, libswresample, ffserver and ibswscale among many others.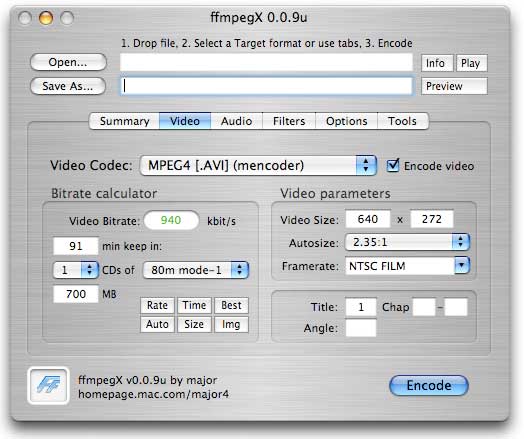 ---
By just looking at the features offered by this video cropper software, you will be satisfied that Sony Vegas is the right choice for cropping your videos. Unlike other programs, this one will not demand for special hardware before it functions effectively thus comes with flexibility. Integration with 24p DV is the most notable feature for this program as well as support for a unique scripting technology.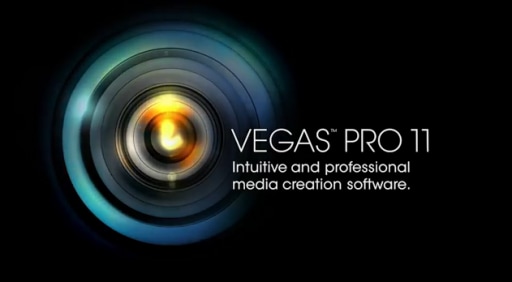 ---
Virtualdub is software for Microsoft Windows that can work on linear video streams and mostly uses AVI as the main storage format for video. Even though it's designed for use with Microsoft Windows, you can have this software program for Mac and Linux as well in accomplishing video capture and video assembly. It's very effective in editing and cropping videos.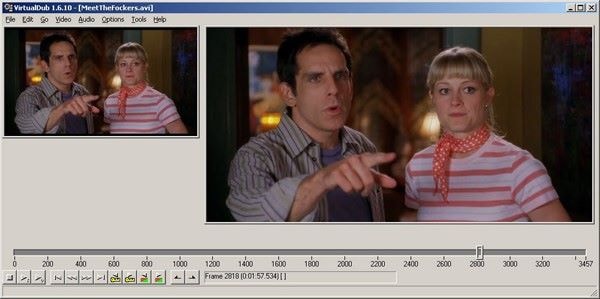 ---
Windows Movie Maker is a free video crop tool that will allow you to take full control of video editing in relation with cropping. After cropping, you can use the software to publish your video files in different online sites like YouTube, Facebook and Flickr. It has a very huge support for transitions, effects and titles that help to make videos expressive. You must always get the best out of this software program.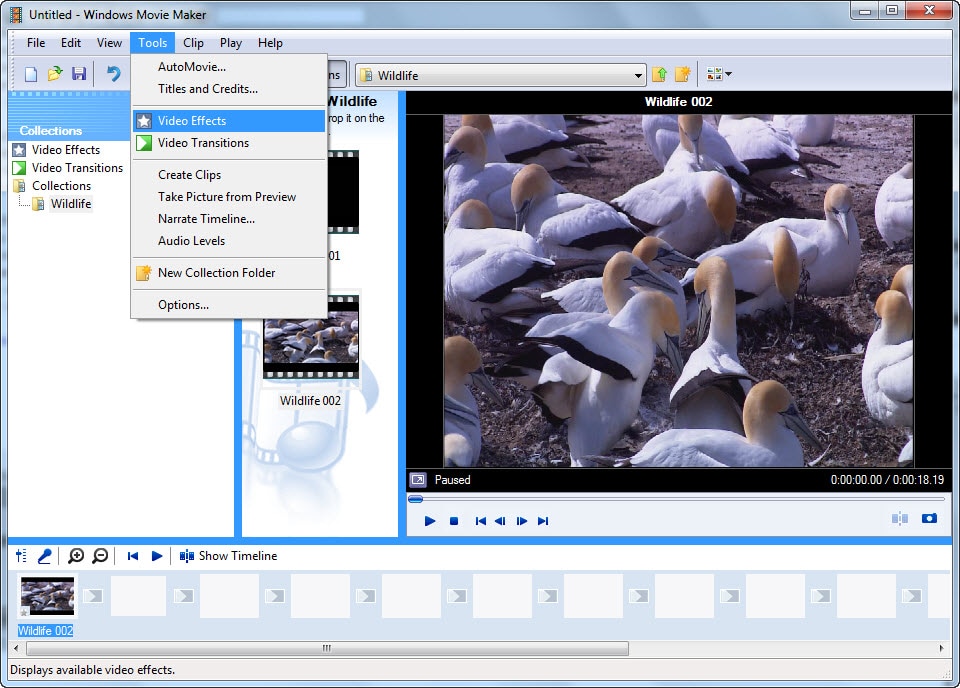 ---
This free video cropping tool has all what a user can expect and therefore it means a lot to the users that are looking for similar class of programs. If a user wants to make the video presentable this program has all that is required to get the work done. It comes with a wide range of possibilities to make video editing easy. The best is it does not demand flexible hardware to get the work done. However, this video size cropper does not have high end video editing functions so cannot be used professionally.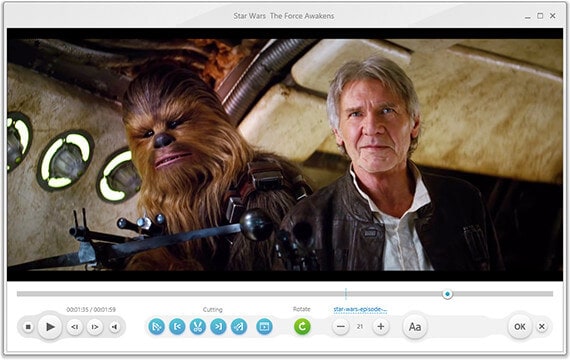 ---
Final Thought: Video Cropping Best Practices
You have reviewed the top 11 video cropper now, which is the winner in your mind?
They are all designed to help you to crop a video as you desired. Most professional users prefer Adobe Premiere Pro or Final Cut Pro to some other video crop software. For beginners or semi-professionals, I think an easy-to-use yet functional video size cropper is more suitable. Among this kind of software, if it is me to choose, Filmora Video Editor is the best video crop editor for myself.
Why Choose Filmora Video Editor?
Well, there are many of such benefits and the following four will hugely influence the decision you end up making:
|   | |
| --- | --- |
| Compatibility | You have possibly heard of software programs that are not compatible with certain formats but not Filmora Video Editor. It supports for all the popular formats for importing and editing. They include and not limited to AVI, FLV, MP4, ASF, MTS, MOV, VOB, MPEG and 3GP. |
| Easy sharing | It will be very easy sharing your cropped video with Filmora Video Editor. This happens across a variety of mobile devices including iPhone, Blackberry and HTC. Also, it is possible to share videos to DVD discs and YouTube plus Vimeo among social media platforms. It will be a convenient way of transferring data to friends and people who matter to you. |
| Boundless features | Enhancing your video after cropping will not be a tall order with Filmora Video Editor. It has very fabulous features like timeline, jump cut, speed changer, mistyped extractor and video optimized mode. You will cherish using these features to edit your video. |
| Wonderful effects | With Filmora Video Editor, you will enjoy using filters, special effects, transitions and intro/credit as well as sound effects in making your cropped video more animated. You have to choose carefully what to use with your video. |
That's all information I want to share with you, I think you can make the right choice now!