Social video has never been so important to online sharing or marketing. Among all the social media platforms, YouTube has become the most popular one. Once you can edit videos before and after uploading your videos to YouTube, the situation has changed since the closure of YouTube Video Editor in September 2017. Google has updated the web-based editor's features and only keeps the trim and blur functions.
So, you can only merge YouTube videos before you upload them to YouTube.
Then, how to effortlessly merge YouTube videos into one?
You may ask me about this question now. To save your time, I do research on it, and I have tested many YouTube video combiner software to choose a surefire one, in order that you can get the functional yet flexible video editor supports to merge multiple YouTube videos together and easily add transitions between video clips to make the new video more harmonious (it is also an important process in video combination).
This post is going to show you 3 different ways to combine YouTube videos with Filmora Video Editor. You can follow these methods to combine your loved YouTube videos or merge them for sharing easily.
See Also: YouTube Video Cutter - How to Cut & Trim YouTube Videos on PC/Mac
Filmora Video Merger: How to Merge Videos on YouTube
Filmora Video Editor for Windows (or Filmora Video Editor for Mac) is the best option for YouTube merge videos, resulting into high quality and personalized videos. Get every effect and advanced editing that will leave your friends mesmerized. The following are some reasons why this editor is the best answer to your question on how to merge videos on YouTube or rather, how to join YouTube videos together.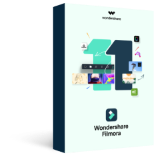 Drag-n-drop operation help you combine video clips without time-consuming;
30+ basic and advanced editing tools allows you to create a cinematic movie without any professional skills;
1000+ special effects to make your video unique in the YouTube, or Vimeo platforms.
Compatible with almost all popular video formats, including MP4, MP3, AVI, FLV, GIF, PNG, etc.
...
Before checking the detailed steps of merging YouTube videos, you can take a brief look on a brief introduction about how to perform Filmora Video Editor easily:
Step by Step Guide on How to Merge Videos Together on YouTube
- Situation 1: Merge Two or More YouTube Videos Into One Directly
- Situation 2: Merge YouTube Videos and Audio Into A Single Video File
- Situation 3: Merge Multiple YouTube Videos Together by Overlaying Them to A Video
Situation 1: Merge Two or More YouTube Videos Into One Directly
Step 1. Download and launch Filmora Video Editor
To begin with, visit the official website and download the latest version of the program. This will take just a couple of seconds to fully download. Start the installation process as guided. The software has been designed in such a manner that you'll have an easy time with the installation process. Once the installation is done, launch the program. You will be directed to the home interface that appears as shown below. Click on "Full FEATURE MODE" to get started with more exciting stuff.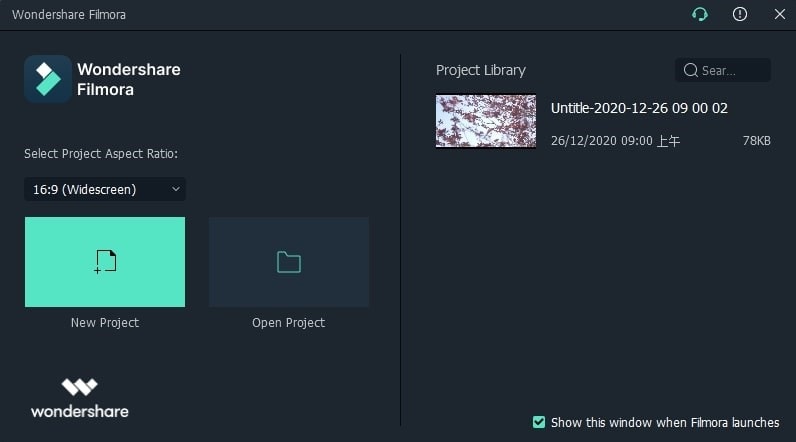 Step 2. Import the video clips
Then you will be directed to a new window where you can start the video importing process. Hit the "Import Media Files Here" button and start importing all the videos that you want to edit and merge.
Instead of having to import videos one by one (it's a waste of time), you can select them all and import them to Filmora Video Editor in one time.
Or you can select all and then drag and drop into the Filmora media library directly. All the imported files will occur as thumbnails. Feel free to preview any by double-clicking on it.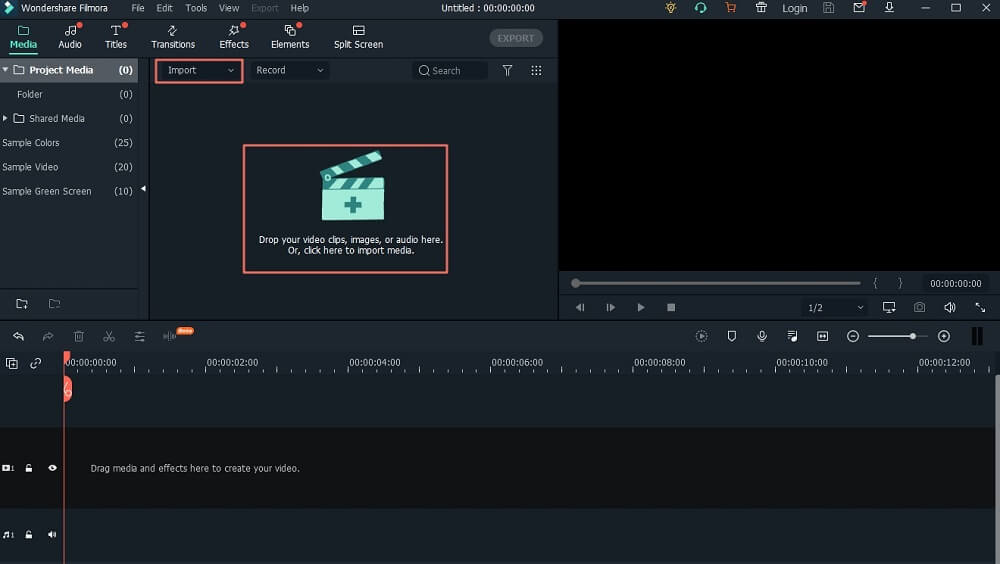 Step 3. Combine YouTube videos into one
Select the first video clip (you want it to be the beginning) and drop it to the timeline, then select another one or more video clips from the media library and drop them to the timeline next to the previously dropped video, it will save your time if you drag the video clips to timeline in order. Make sure that all videos are side by side. The video clips will be merged automatically in Filmora Video Editor.
The video combination process is so easy, right?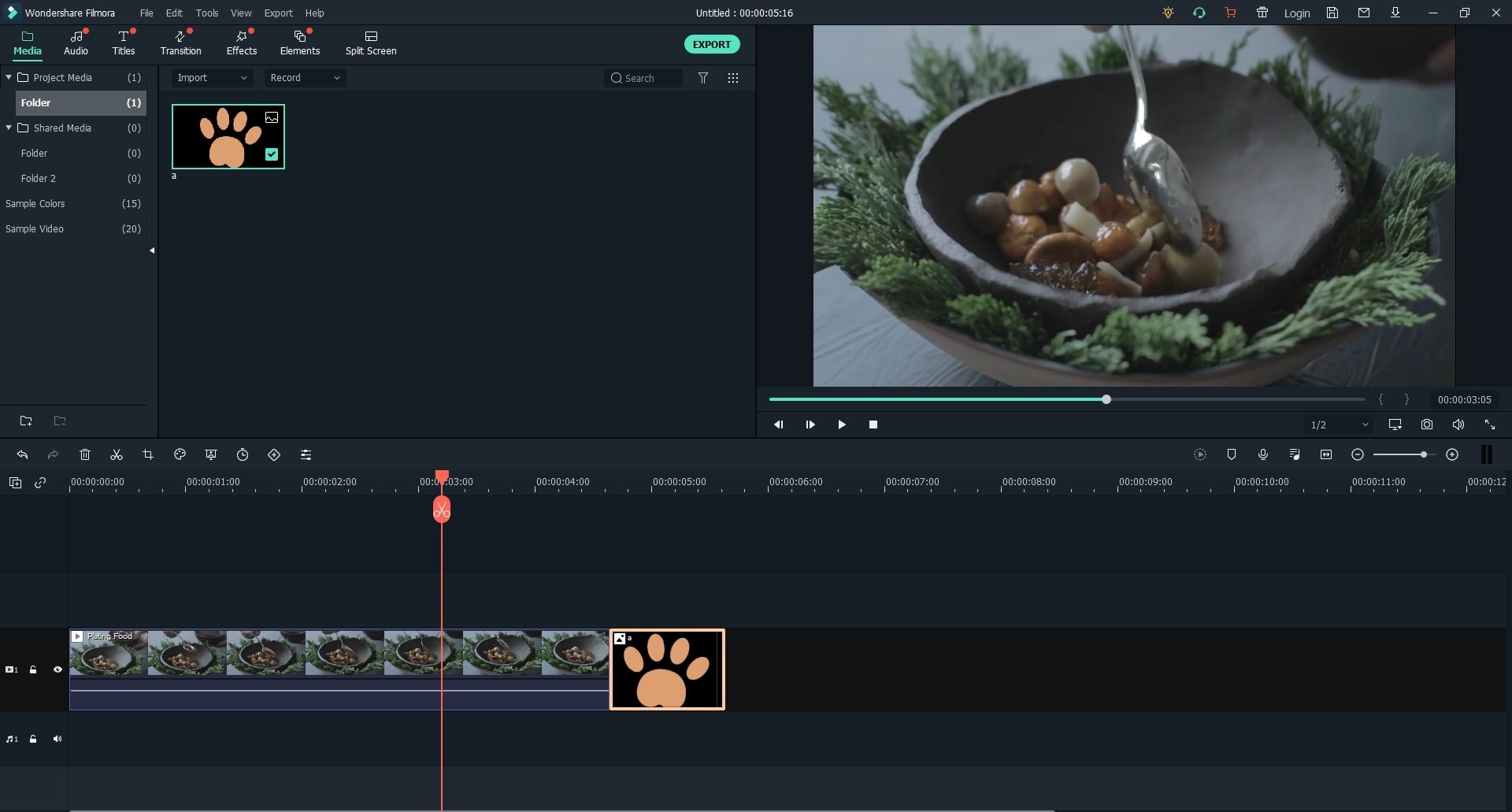 Step 4. Add transitions between video clips
Now, you can trim down first video or join both of the videos using beautiful transitions present in the Filmora Video Editor. Adding transitions helps make the joined videos appear as though they are an intact movie. It also ensures the change from one clip to the next is swift.
To do this, visit the "Transition" tab and pull the transition that you wish to the joining point between two video clips. The program allows you to right click any transition and applying it to all or applying randomly. You also have numerous other editing options.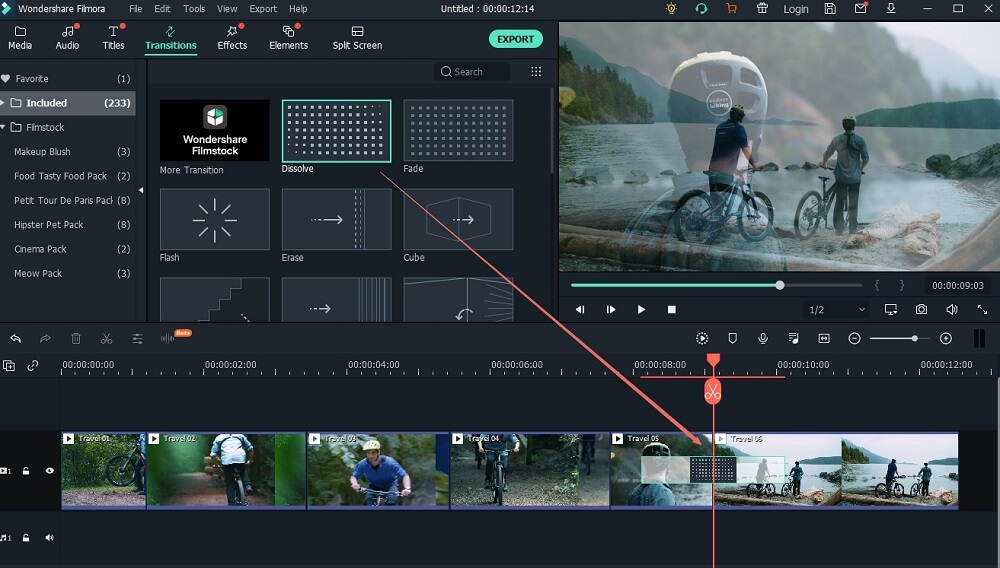 Step 5. Save or export video
You can now preview the video and see whether it meets your requirements. If it does, hit the "Export" button to save your creation. Use the "Format" tab to select any format of your liking. Choose "Device" to transfer to target device directly. The final output can also be burned on DVD discs or uploaded directly to YouTube or Vimeo. We are now done how to join videos on YouTube, but read for more information.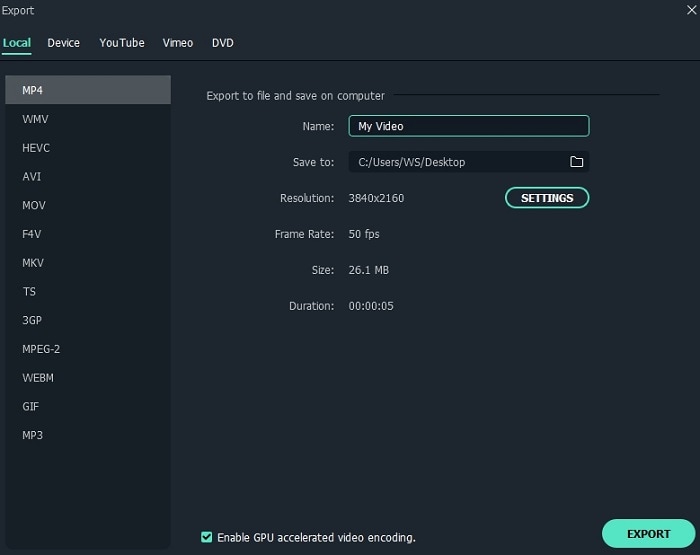 ---
Situation 2: Merge YouTube Videos and Audio Into A Single Video File
The Step 1 and Step 2 are same as the Situation 1 mentioned above. We now only talk about how to merge YouTube video and audio files into one video.
Combining several YouTube videos and audio is similar to the combining features. However, there are a little more things that you can do while attaching audio files with the videos.
If your YouTube video don't have background music, you have two options to add the music. Try to click on "Music" icon, select and drag your desired music to the Music Track in timeline panel. Or if you have your own audio files on the computer, just click "IMPORT" in media library and import them to Filmora Video Editor and drag them to Music Track to complete video merging process.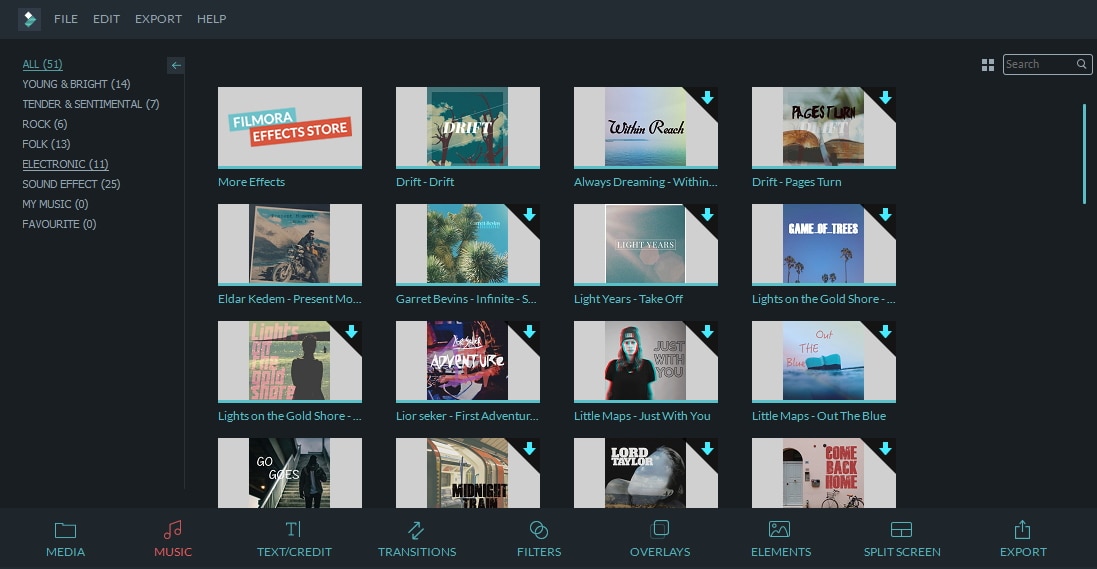 [Additional]: If your video already has an audio track and you want to remove that original background audio. Right-click on it and select "Audio Detach". To adjust the audio file to whatever length you require, move the slider to the right location, click on the scissor icon to split the audio as you want, delete unnecessary parts. Double tap on an audio track to reveal the audio options, you can change the volume, speed, pitch and Fade In and Fade out of an audio track.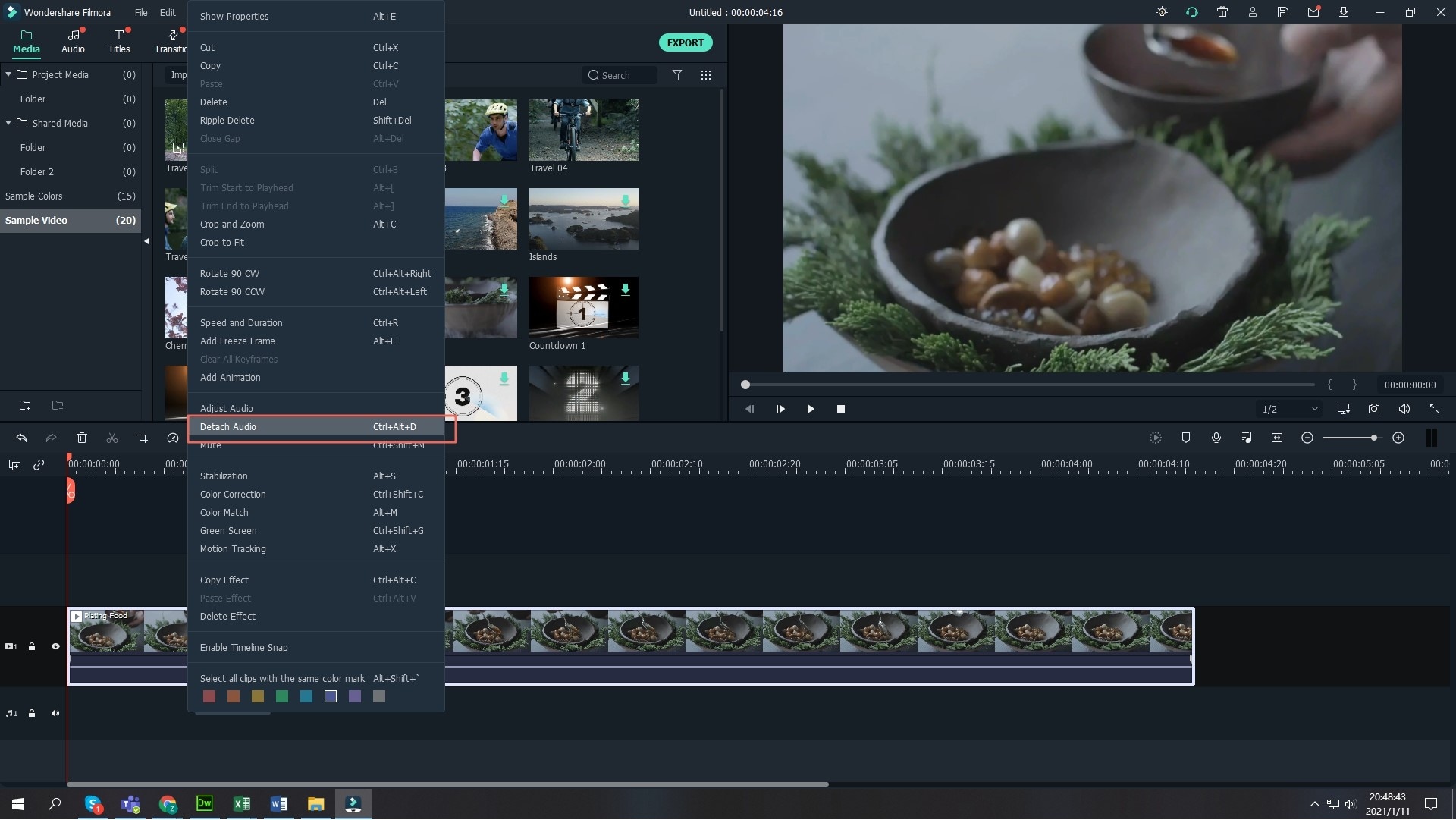 After successfully adjust and combine YouTube videos and audio files, you can save and export the video to your devices.
---
Situation 3: Mix Multiple YouTube Videos Together by Overlaying Them to A Video
There are basically two different ways of overlaying YouTube videos, you can either use the "Picture-in-Picture" mode which will let you play a video inside another video. Alternatively, "Split-screen" is used to two or more videos add different videos in the same screen.
- Picture-in-picture effect:
Firstly, import background video and overlay video to Filmora Video Editor, drag background video to video track and drag overlay video to PIP track below the video track. You can move and resize the overlay video in the preview window.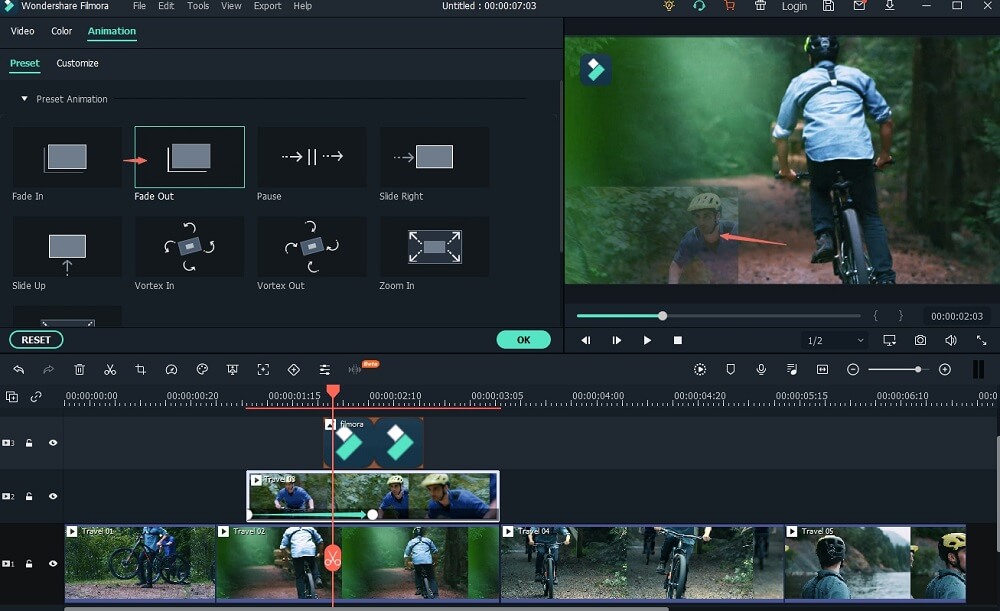 After the adjustment, save and export your video.
- Split Screen mode:
On the media library, click on "SPLIT SCREEN" button, select a style for the video. It will automatically open a new window. Now drop one YouTube video in the "Drop Zone 1" and move the second video in the "Drop Zone 2" and so on. Once you have dropped all the videos, click on "OK" to apply the split screen effect on your videos.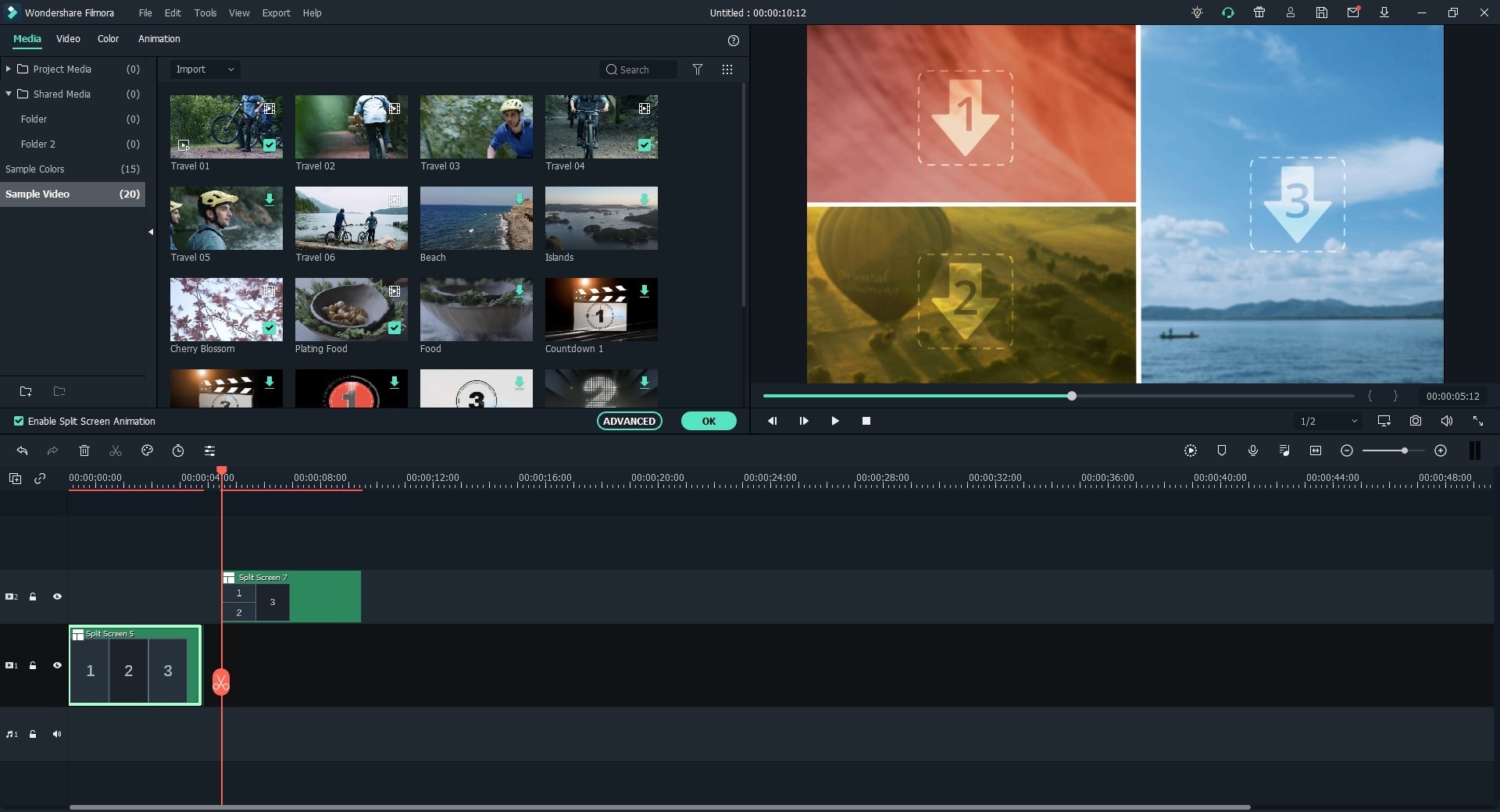 ---
Further Reading
As you can see, Filmora Video Editor dedicates itself to helping users to create satisfied videos in different requirements. You have the choice to add extra flair to your YouTube videos with the one-of-a-kind. You may have read many reviews on software which can merge video files on Mac and Windows, paid or free. Some of the software whose features leave a lot to be desired, some of them need a long learning curve, it's definitely hard to sift through them to find the one which is for you.
So, I have done the work for you, and that's why I recommend Filmora Video Editor to you.
No matter you are a beginner, semiprofessional, enthusiast or even professional, you can get the best out of Filmora. Filmora Video Editor can do more than just merge YouTube videos, it provides cool effects (amazing effect store) and advanced video editing functions like chroma key, video reverse, video stabilization, screen record, etc.
Video creation shows no signs of fading away, more and more people in all level (entry level to pros) are participating in video sharing. Believe that, Filmora Video Editor would come in handy when you edit videos including merging videos for YouTube.
It is time to try this surefire YouTube Video Editor! Don't hesitate to click download button below.