- How to record your screen on Windows 10, 8. 7, etc.?
Your answer must be "downloading and installing a screen recorder", right?
Obviously,
Finding a screen recorder for Windows is perhaps a very easy task, but this doesn't mean you can find the most appropriate application to execute your recordings with ease and convenience. Why?
There are lots of screen recording apps on the Internet and claims that they can help their users to record anything they want on the PC or Mac. So you download and install it on your computer, and finally find that it is not working as they're advertising on the Internet. Troublesome and time-consuming, right?
So today, I'd like to show you the top 10 rated screen recorder for Windows PC in this post. You can compare them and decide which one is better according to your own needs.
[Attention]
Windows 10 has released its own built-in screen recording app, just check how to record a screen video in Windows 10.
Now, let's check the screen recorder list for 2020 one by one.
10 Advanced Screen Recorder for Windows 10/8/7/Vista/XP
#1: Filmora Video Editor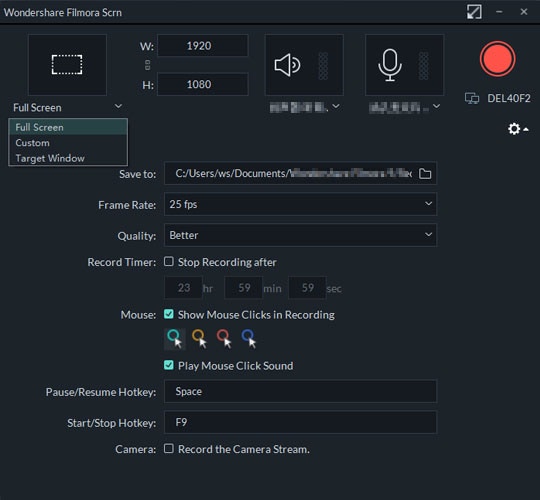 Filmora Video Editor is a professional video editing software for Windows and Mac users. It provides users with a large amount of useful editing tools and special effects to make your video unique and attractive. What's more, this tool also offers a powerful screen recording feature to its users. With it, you can record PC screens in different sizes, settings, etc. in different ways.
After recording, you can directly crop, cut and split unwanted part and make a simple editing on the recordings. Then, upload and share the recordings on YouTube, Vimeo, etc. as you like.
Pros:
- Risk-free to record PC or Mac screen without restrictions, and allows you to edit the recordings before exporting;
- Unlimited special effects and functions to help you create an awesome masterpiece easily;
- Export and share with any people as you like.
Cons:
- Even though Filmora has a free trial version, but it will add a watermark on your exporting video. To remove the Filmora's watermark, you need to update your account to quarter, yearly or lifetime license user.
---
#2: CamStudio Screen Recorder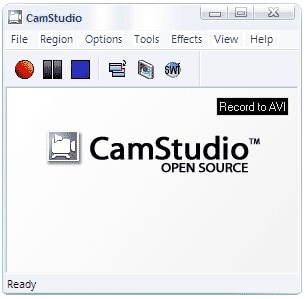 If you are looking for a brilliant screen-recording tool that will help you to quickly make screencasts and presentations on your PC, the Camstudio is there to serve you. It will save your files in AVI format and can easily convert them to Flash format.
Pros:
- It is completely free and easy to use.
Cons:
- You may risk downloading virus that will attack the chrome browser.
Price: Free
---
#3: Bandicam Screen Recorder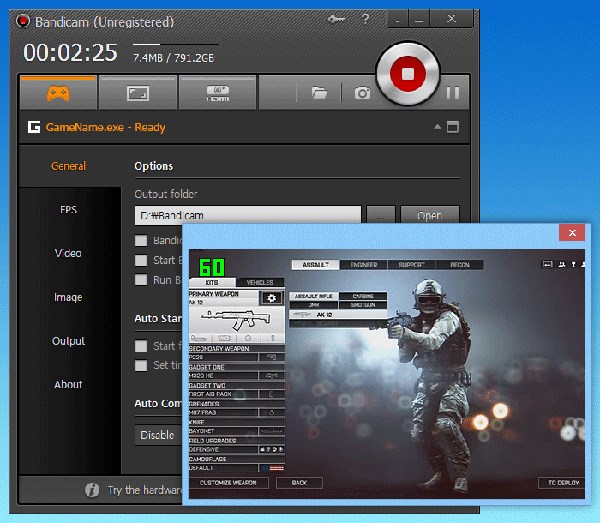 Next online is the Bandicam Screen Recorder. This screen recording tool has the capability of recording everything on your PC's screen. This app will allow you to save the recorded screens in several formats such as AVI and MP4. If you choose to capture some images, this app will save them as JPG, PNG or BMP.
Pros:
- It has a free version and free updates.
Cons:
- It lacks the editing tool.
Price: $39.00
---
#4: Screencast-o-Matic Screen Recorder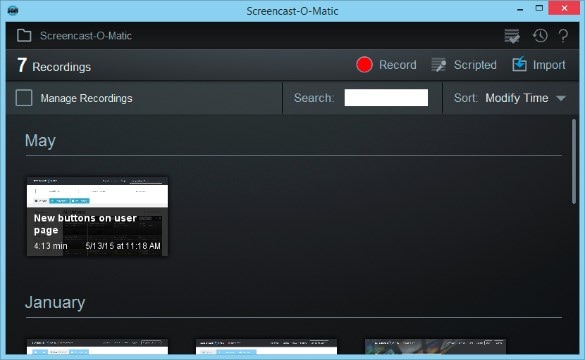 Screencast-o-Matic is the world's famous free and fast online screen recording application that registers over 30,000 recordings every day. With just $15 a year, you can upgrade to Pro version, which has advanced features such as longer recordings, editing tools, zoom and scripted recordings.
Pros:
- Running fast and the Pro version have great editing tools.
Cons:
- The recording space is limited to only 15 minutes.
- It works only with Windows Vista or Later.
Price: $15.00/year
---
#5: DVDVideoSoft Free Screen Video Recorder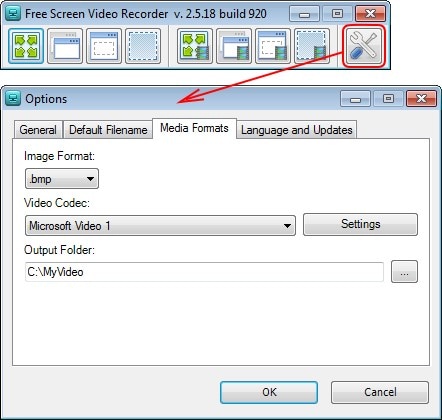 DVDVideoSoft Free Screen Video Recorder is a free and one of the screen recorders that offers high-quality screen capture. It easily captures any screen activities ranging from windows, menus, full screen or even the rectangular regions. It saves the recorded video files as AVI while the image files formats as JPEG, GIF, TGA or BMP. It also has features in-built editing tools for video and image which are quite good for basic functions such as cropping and rotating.
Pros:
- It offers high-quality screen capture and easy to use.
Cons:
- The inbuilt tools are for image and video editing are only effective for basic functions.
Price: Free
---
#6: Camtasia Studio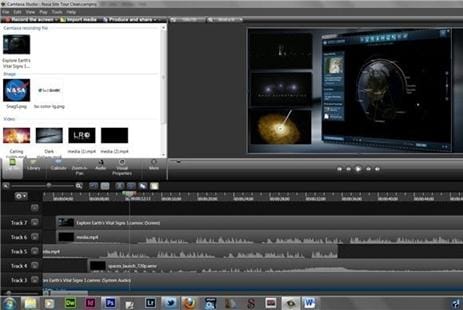 Camtasia Studio is a screen recording tool that comes with great features such as the ability to use SmartFocus to zoom and pan, work with callouts, allow you to produce and share your recordings, and much more. If you wish to make a microphone narration during the recording, then Camtasia is the right app for you.
Pros:
- It is flexible as you can custom your screen or use full-screen.
- You can use keyboard shortcuts such as F10 to stop the recording.
Cons:
- Too expensive to individual using.
Price: $299
---
#7: Super Screen Capture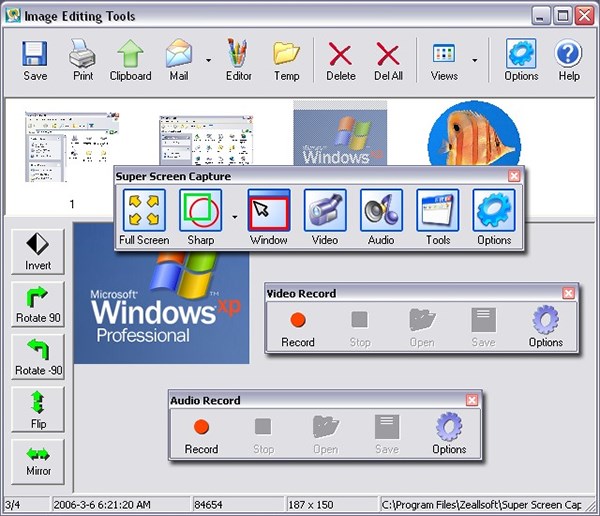 If you are looking for an all-in-one screen recorder, then you are in the right place. Super Screen Capture will serve you right. With this app, you can capture your screen in window capture, full-screen capture and region capture among others. With and easy-to-use interface, this app is great in making tutorials and presentations.
Pros:
- It has a high recording speed.
- Its user interface is easy and intuitive.
Cons:
- As a recording app, this one is a little expensive.
Price: $49.95
---
#8: Snagit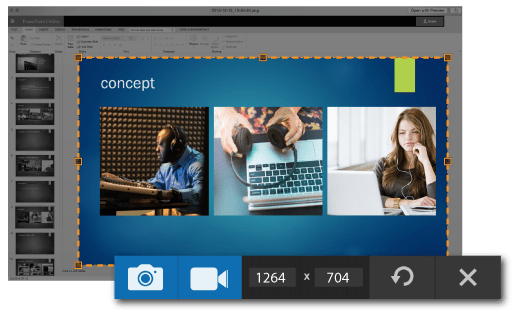 Snagit screen recorder has proved to be the best tool among professionals and individuals. This app has a very intuitive and easy-to-use user interface.
Pros:
- Its interface is user-friendly.
- Keyboard shortcuts is available.
Cons:
- It has very few editing features, which might cannot satisfy your editing needs.
Price: $49.95
---
#9: Rylstim Screen Recorder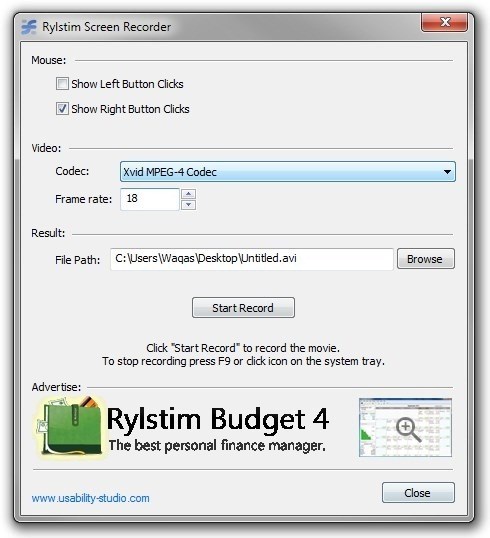 Rylstim Screen Recorder is a good application that allows you to perform instant recordings on the screen with high-quality. This software allows you to save the recordings to an AVI file. The recordings cut across what is happening on the screen, the mouse pointer and even the visualization of the various clicks of the mouse button. This software is quite easy to use and does not require any special skills. Just after selecting the right video codec then the rest is video recording. This software is absolutely free.
---
#10: Ezvid Screen Recorder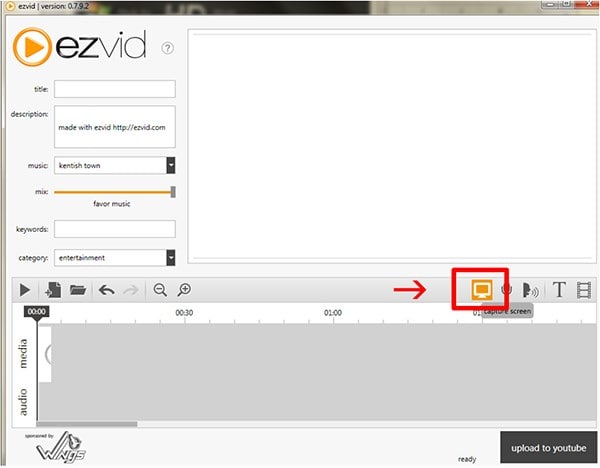 Ezvid Screen Recorder is one of the easiest to use screen recorder and screen capture programs for Windows. You are just required to click the screen capture button to start your recording. It has the capability of making excellent computer speech narrations for the videos you made. It is very good for uploading your videos to YouTube as it does so very fast with a crystal clear display. This free software is compatible with Windows XP/Vista/7/8/8.1/10.
---
Write in the End
As you can see, there are 10 different screen recorder for PC in this post.
Some are free and some are paid, which one are you ready to try first?
In my opinion,
If you are looking for a simple screen recording software to record screen on Windows, then there are lots of free screen recording app for your reference.
But,
if you'd like to find a tool that have the recording and editing functions at the same time, then you can start your experience from the Filmora Video Editor program.