Contents
4. iPhone 6S Camera

5. iPhone 6S Videos

6. iPhone 6S Tips

7. iPhone 6S Troubleshooting

8. iPhone 6S Apps & Software

9. iPhone 6S Accessories
Have you lost your crucial data from iPhone 6s? Losing data can be quite frustrating at times specially from your iPhone because it is a repository to some of your most important files. Data loss is a major problem faced by people today which is why it is highly advisable to create a backup of your phone. You can create a backup of your iPhone using either iTunes or iCloud. If you have lost your data from your iPhone, then stop using your phone from immediately to avoid overwriting of data. Now let's learn how to perform iPhone 6s data recovery.
Part 1. Best iPhone 6s Data Recovery Tool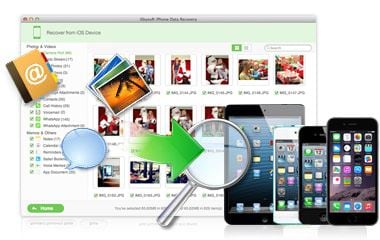 If you have lost your data from iPhone 6s, then you definitely need a reliable data recovery software like iSkysoft iPhone Data Recovery. It can recover many types of files including photos, messages, contacts, notes, WhatsApp conversations and more directly from your phone or from your iTunes and iCloud backup.
Another wonderful feature provided by the software is that you can preview these lost files and then decide whether they are worth recovering or not. No matter what caused your iPhone 6s to fail, iPhone Data Recovery is the ultimate product that can recover data from almost any kind of damage, be it the upgrade failure or physical damage. This software is fully compatible with both iOS 9 and iPhone 6s so you don't have to worry about any compatibility issues.
Part 2. How to Recover Lost Data Directly from iPhone 6s
If you have not created a back up of your device using either iCloud or iTunes, then you can use this method for retrieving the lost files quickly. Follow the steps below to recover the lost files directly from iPhone 6s.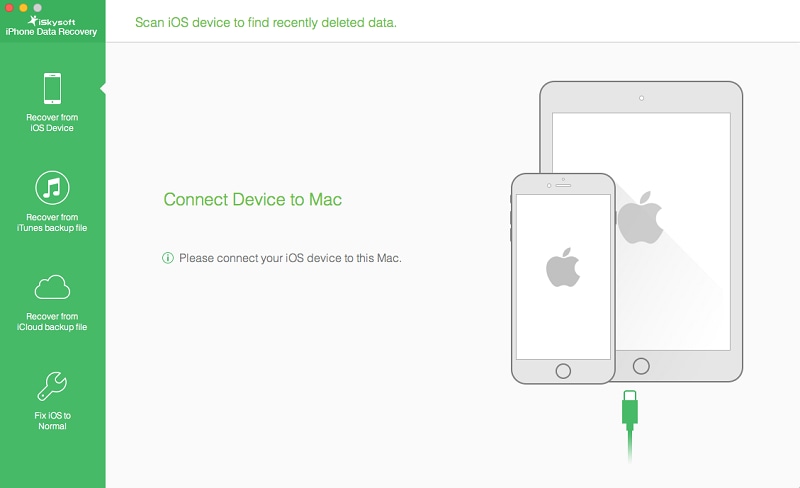 Step 1. Plug in Your iPhone 6s
Connect your iPhone 6S with your Mac computer. From the options displayed in the software, choose "Recover from iOS Device". After the device has been recognized, you can then start the scanning process by clicking on the "Start" button and then let the data recovery software do its job.
Part 3. How to Recover iPhone 6s Data from iTunes Backup
If you have already created a backup of your device with iTunes, then you can use iSkysoft iPhone Data Recovery software for quickly retrieving your data from that backup. Follow the steps below to recover your data quickly from iTunes backup: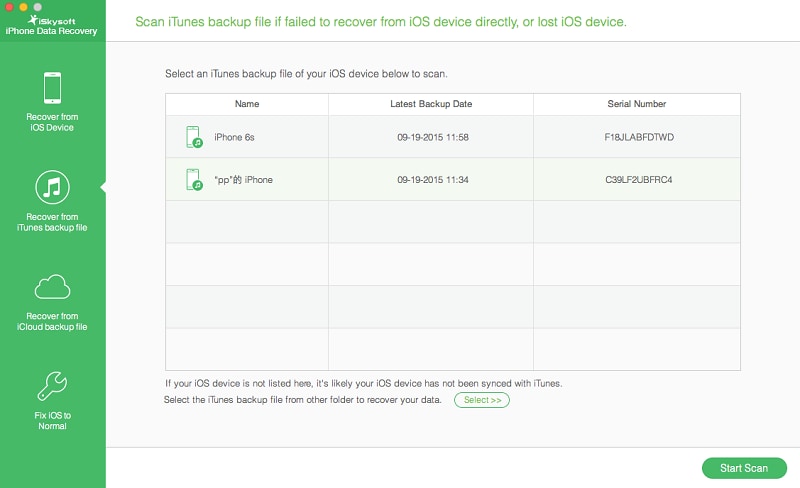 Step 1. Download iTunes Backup File
Open the program and then choose "Recover from iTunes Backup File" option from the top menu. The program will list all your iTunes backups. Choose the iTunes backup file from where you want to recover files and then click "Start Scan".
Part 4. How to Recover iPhone 6s Files from iCloud Backup
If you have created a backup of your device using iCloud, then follow the steps below to recover your files from there: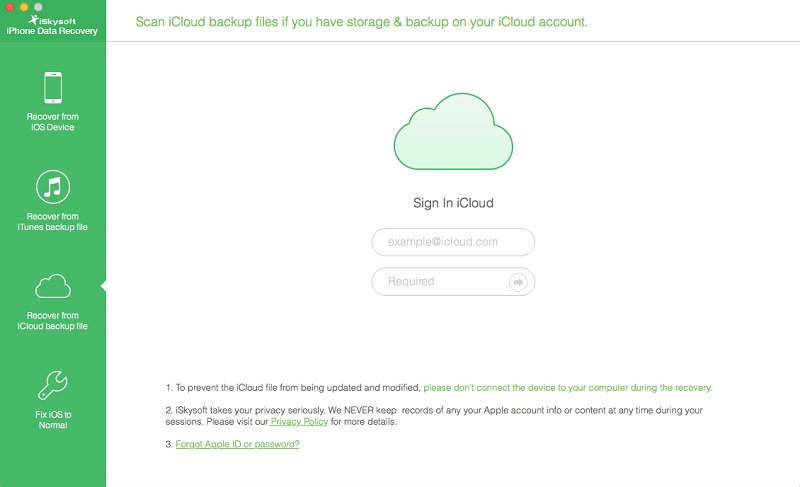 Step 1. Log in Your iCloud Account
What you need is good internet connectivity as well as good bandwidth. Right after you're completed with this thing, start the program and select "Recover from iCloud Backup File". And then type the Apple ID in order to login to iCloud.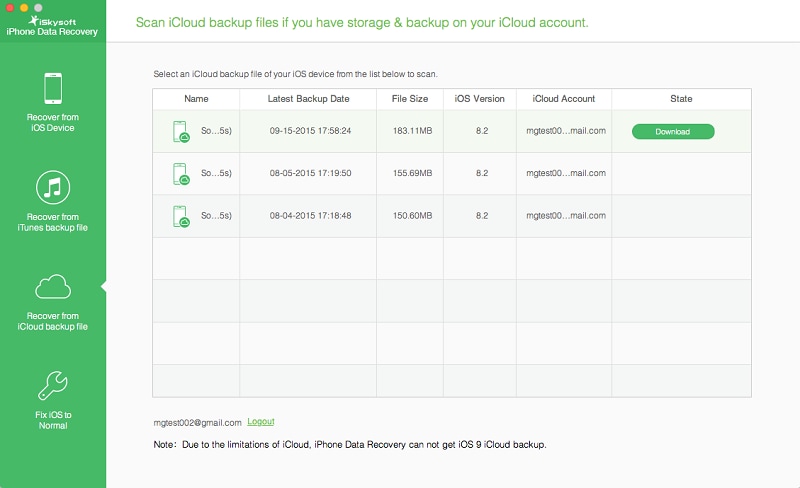 Step 2. Download and Scan Your iCloud Backup
Once you have signed in into your iCloud account, download the target backup that you had created by clicking the "Download" button. When the download is concluded, you then need to click the "Scan Downloaded" button to let the program scan the backup.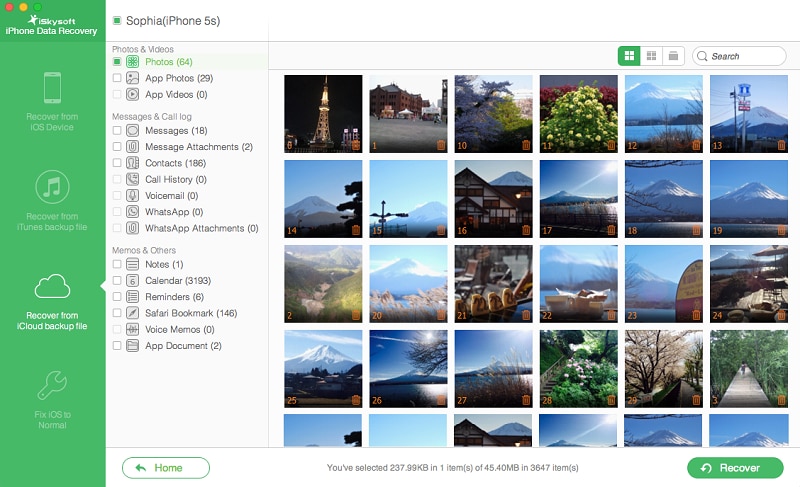 Step 3. Retrieve Your Lost Data
Once the scanning is complete, you can preview the files and extract it as per your requirement. All you need to do is to mark the files you want to recover and then click the "Recover" button and specify the destination folder.
Tips on how to prevent data loss in iPhone 6s
If you use your iPhone 6S to store your important files that you just can't afford to lose then always create a backup of your device with either iTunes or iCloud storage. It only takes a few steps to create such backups and saves you from lots of trouble.
You must back up your data after every regular interval and specially before upgrading your device to the higher version.