Contents
4. iPhone 6S Camera

5. iPhone 6S Videos

6. iPhone 6S Tips

7. iPhone 6S Troubleshooting

8. iPhone 6S Apps & Software

9. iPhone 6S Accessories
Just acquired a new iPhone 6S and wondering how you'll make it a nice one with all files and data from your old phone? Worry no more for this is an activity that every other person does whenever they are in that situation too. All you need to do is get an iPhone 6S Transfer that not only aids the transfer process, but also assures you of hassle free transfer and security for all your data. Many a times, we find it troublesome to do the transfer but the good news however, is that things are nowadays easier.
Many iPhone 6S Transfer tools are out there in the market with all promising exceptionally excellent results but half the times, we know that those are just the usual baits to put us in the trap. If you have used such programs in the past and got discouraged, let not your heart be troubled anymore. You have found the best iPhone 6S Transfer tool. MobileTrans for Mac ( or MobileTrans for Windows ) is an amazing application software designed to help you transfer every tiny bit of your data from/ to iPhone 6S in no time and hassle free. With this great software, you will be able to transfer everything right from messages, email accounts, photos, calendars, call logs, audio files, video files and contacts among other types of data from your phones to iPhone 6S and vice-versa.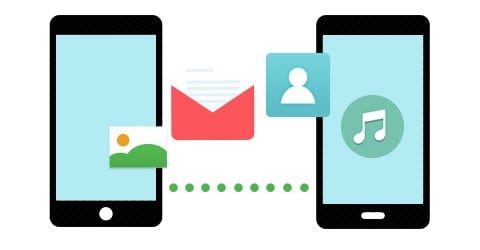 Phone Transfer supports lots of other media devices and comes with the following wonderful features that make everything simple as never before:
Transfer every bit of data (contacts, call logs, messages, apps and even calendar) from phone to phone.
Backup all your phone data and other details to your computer just in one click.
Gives you the option to restore your phone data.
Erase all your existing phone data including the deleted.
How to Transfer Data Between iPhone 6S and Phones with Ease
Once you have this application software in your Mac or Windows, transfer of data becomes a one click job that you can even do while relaxing and rest assured that everything is safe and done as per your expectation. Here's how to go about the transfer process.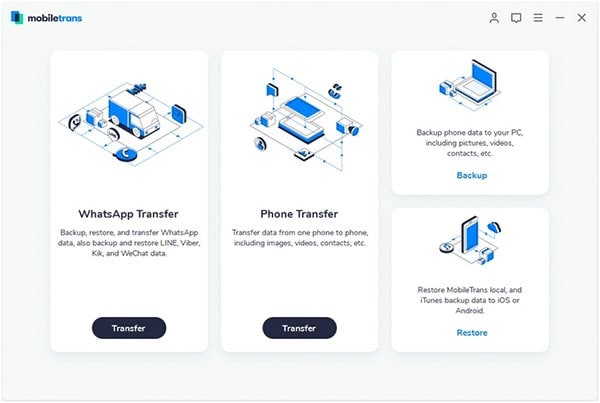 Step 1. Run the iPhone 6S transfer
Once the software is installed in your computer, get to the main interface to start the process. Open the program and move to the phone to phone transfer option/window.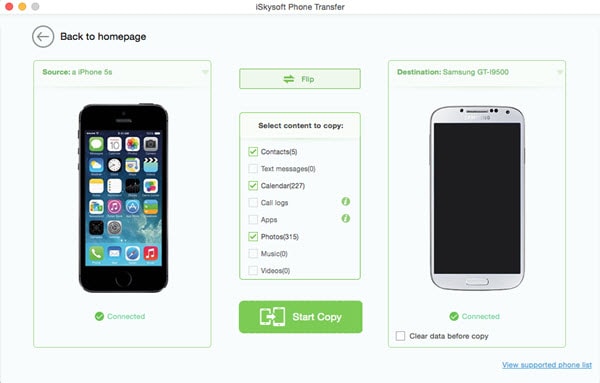 Step 2. Connect Your Phones to the Windows or Mac
Use your preferred or appropriate connection method to connect your phones to your Mac or Windows and wait for the device to recognize the phones. Once recognized, use the "flip" button to choose which of your phones will be the source and which will be the receiver/destination.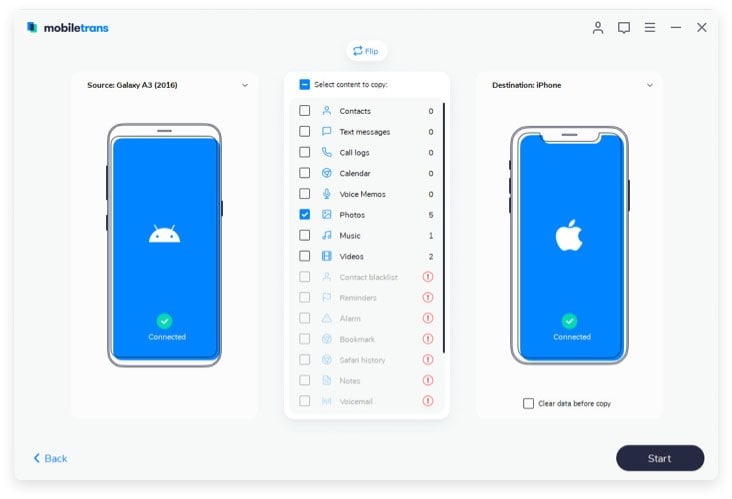 Step 3. Start Transferring Data
Select all the data you would like to transfer either from iPhone 6S to other phones or from other phones to iPhone 6S. You can then go ahead and instruct the software to begin moving the data once through with the selection. In no time, you will have all your data moved from the source to the destination and without any alteration or distortion.
Transfer of data is that simple and hassle free with this great software. Give it a try today and you will definitely become a walking advertisement of Phone Transfer.