You might record some video with Android phone in wrong direction. If so, you need a video rotate app for Android devices to change the video orientation. Below we share top 10 best app to rotate video on Android phones and tablets easily.
Part 1. Best Desktop Software to Rotate Videos for Android
If you want to rotate your camera videos in Android phone and share online with your friends, Filmora Video Editor for Windows (or Filmora Video Editor for Mac)is the best choice for you. It helps rotate videos to correct orientation on Mac (macOS 10.13 High Sierra included) and Windows with simple clicks. Besides, it contains multiple fantastic features for you to export a stunning video.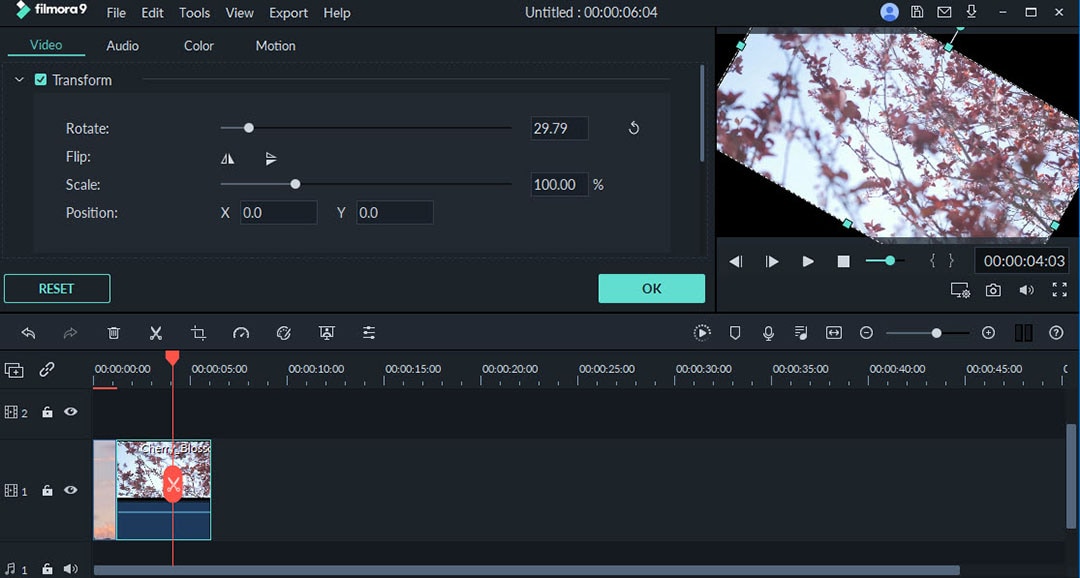 Supports almost all video, audio and image formats, making it easy to import media files from cameras and camcorders.
Simple and clean interface with all the editing tools and effects displayed in the main window.
Contains all the basic features: trim, but, split, merge,add text/music, etc.
Over 300 types of effects to make your videos stunning and perfect: filters, overlays, motion graphics, and transitions, etc.
How to Rotate Android videos using Filmora Video Editor
Step 1. Import Android Videos
Launch Filmora Video Editor in your PC and connect your Android device via a USB cable. On the program's toolbar, select "Import" option then "Import from Camera or Phone" and from the drop-down options, choose "Media import from device". Locate the "Import from" box and select your Android phone. Go to the media files and locate the target videos on your Android device. Once selected, click "OK" to import the Android videos to the "User's Album" on Filmora Video Editor.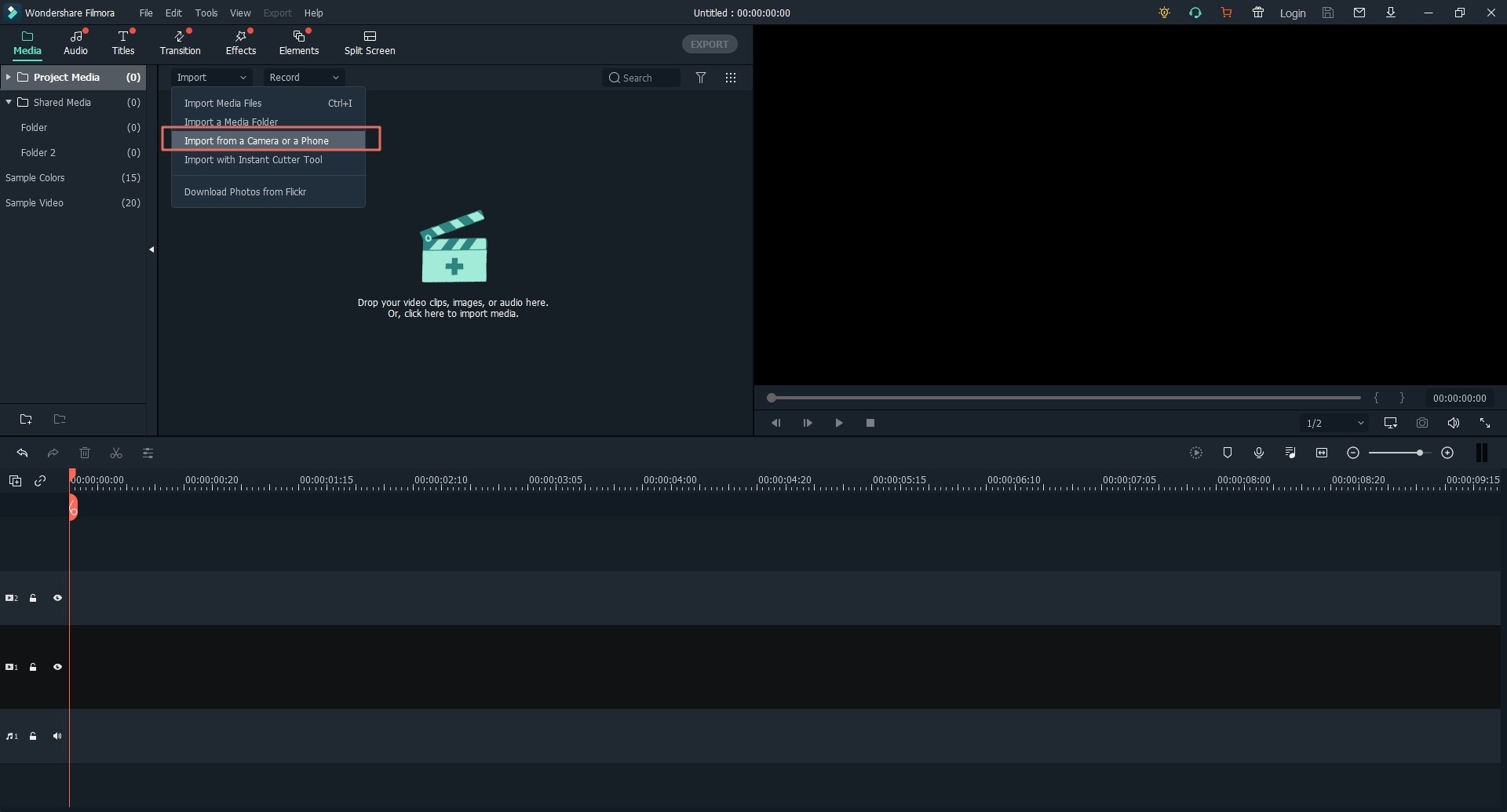 Step 2. Rotate your Android Videos
Now drag the Android videos to be edited to the program's timeline located at the bottom of the interface. Double click on the respective video to display the editing panel. Go through the editing panel. Fortunately, the rotate option is at the top and quite clear. The rotate option has four buttons which enables you to rotate as per your desire. You can rotate video 90 degrees, 180 degrees, 270 degrees, and 360 degrees either clockwise or anticlockwise by simply clicking the respective rotate arrows.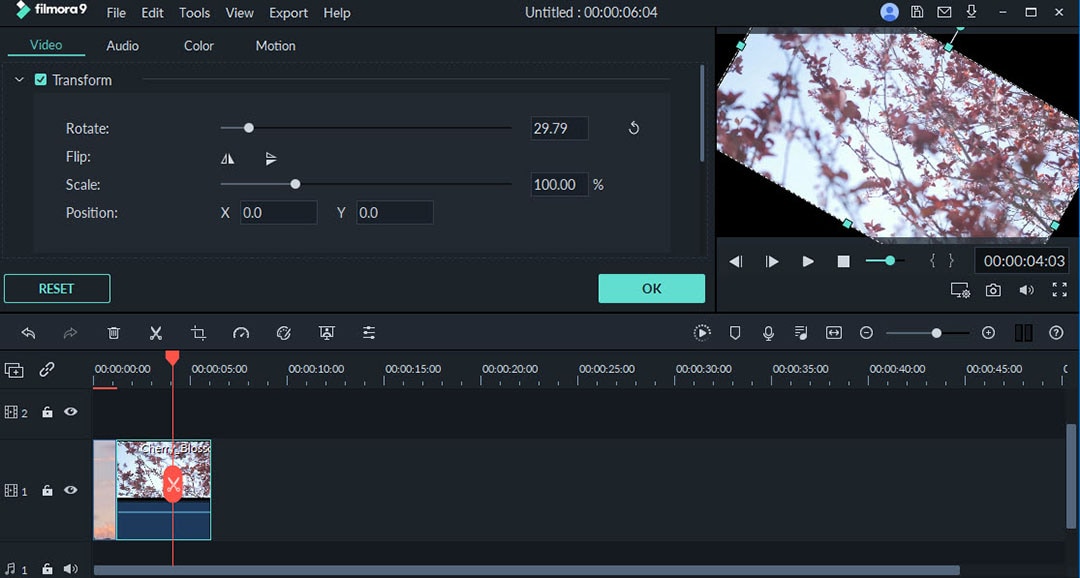 Step 3. Export your Android Videos
Once you are satisfied with the rotation, it is time now to let the program finalize and export your rotated android videos. Simply navigate to the "Export" button either on top of the timeline or just at the top of the program.
On this window has a host of options from which you can select your desired output options. Under the "Formats" tab, choose your preferred output video format like MP4, then select the save path and provide the name for your videos. You can also change the resolution although optional. Click "Export" when through and wait for the program to process and export your android videos.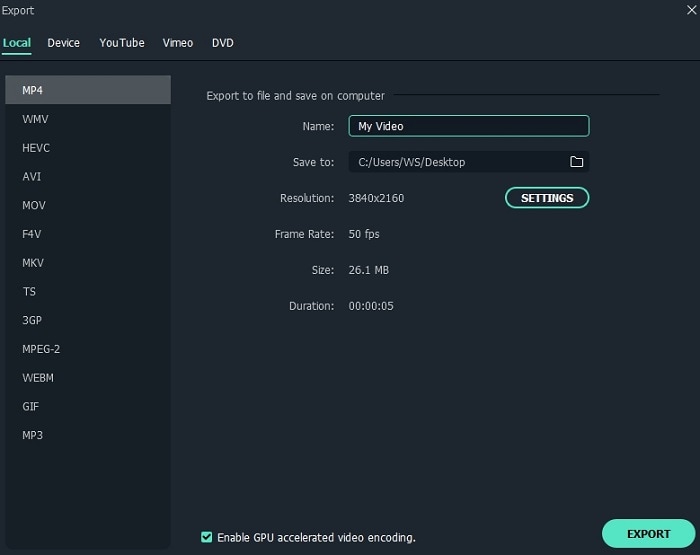 ---
Part 2. Top 9 Apps to Rotate Videos on Android Phone
App 1: Fast Video Rotate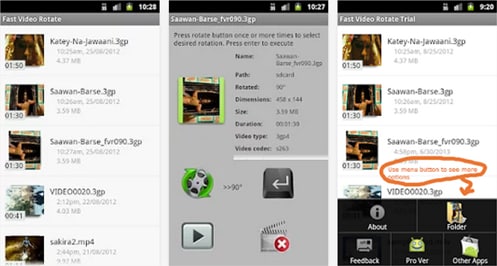 Fast Video Rotate is a recommended video rotate app for Android devices. The orientation change is made when the modifying flag in the header of the video file is changed. The process is incredibly fast. It typically completes within a few seconds.
Some video formats or some video players are not compatible. The way the video rotator for Android works is it makes a copy of your original video and only modifies the orientation of the copied video. The likelihood of this damaging your original file is slim, however this can occur and therefore, please use the application at your own risk. You should back up your original file before editing or making changes to it. Backing up video files can take time depending on the size of the video.
Some android video players do not make use of the orientation flags and because of that you will not see any change in the playback orientation.
PRICE: $1.08
KEY FEATURES:
Corrects videos playback with the wrong orientation
Corrects video sideways or upside down
Will rotate any of your videos by 90, 180 or 270 degrees and change their playback orientation
How to use this app to rotate video:
Select a video from the displayed video list
Use the rotate button and choose the desired rotation angle
Use the execute (Enter) button to make the rotation change
Use the play button to playback the new video. A new video file will be created with the selected rotation and displayed in your list of videos.
Use menu button to change folder and see more instructions.
---
App 2: VivaVideo

VivaVideo is your best video camera & android rotate video app like never before!
Recording the favorite moments and making the beautiful movies just by mobile phone become so easy from now on!
New Features:
Clip speed adjustment in Clip Edit
Media file scanner to find your own video & music more easily
Rotate & crop feature when importing video
Optimize video importing performance for more than 200%
PRICE: FREE
No. 1 on Android for a movie maker app:
Multi capture modes
Multi trimmer for single video
Multi title adding with animated bubble style
Multi music and dubbing adding
More themes, effects, titles and transitions downloads for FREE!
Creative & Fun video cam
First video camera on Android that supports multi capture modes: normal / FX / music video / fast-motion / slow-motion
Built-in 20+ really cool live video effects and more can be downloaded FREE
Unique storyboard shooting style to tell your own story easily

Quick photo movie maker

Create the great video slideshow from your album less than one minute
Easy but Powerful video editor
Provide quick & pro editing modes for normal and pro users
Multi trimmer for single video
Storyboarding editing, easy to merge videos and make the montage
---
App 3: Rotate Video Tool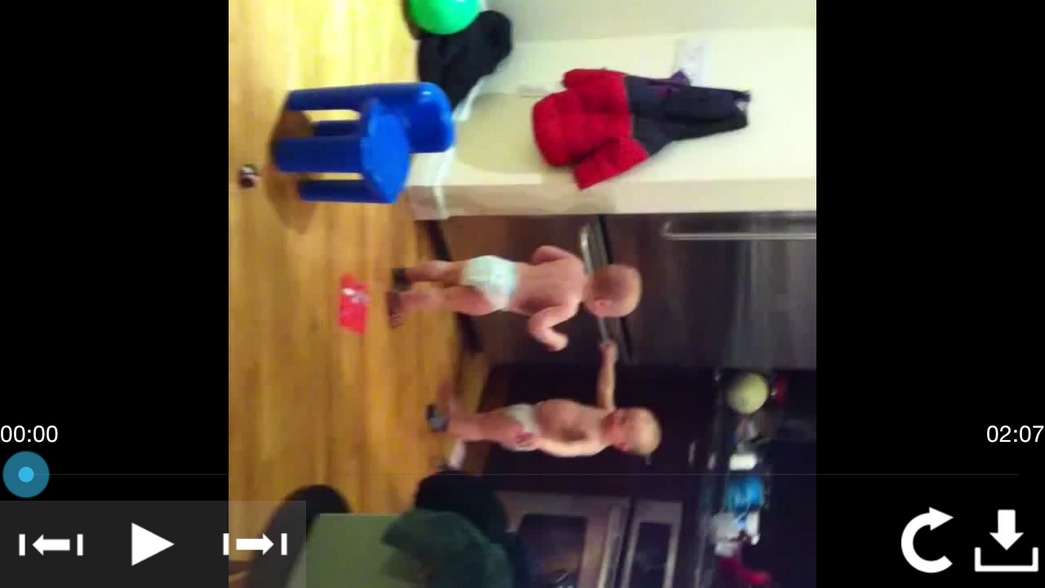 KEY FEATURES:
Some videos are saved in the wrong direction of rotation when using Rotate Video Tool. It's a common occurrence.
Takes a video and rotates it 90 degrees, 180 degrees, 270 degrees and allows you to save and play that video.
Videos playback wrong direction when tag is incorrect or wrong encoded.
Other apps modify the video tag, however all devices don't recognize tag information.
There is some encoding time required but all devices are recognized by your video clips and will play it.
Free version: Ads are included. Watermark displayed when playback. Encoding file is limited 10 seconds
PRICE: FREE
---
App 4: Video Editor: All in One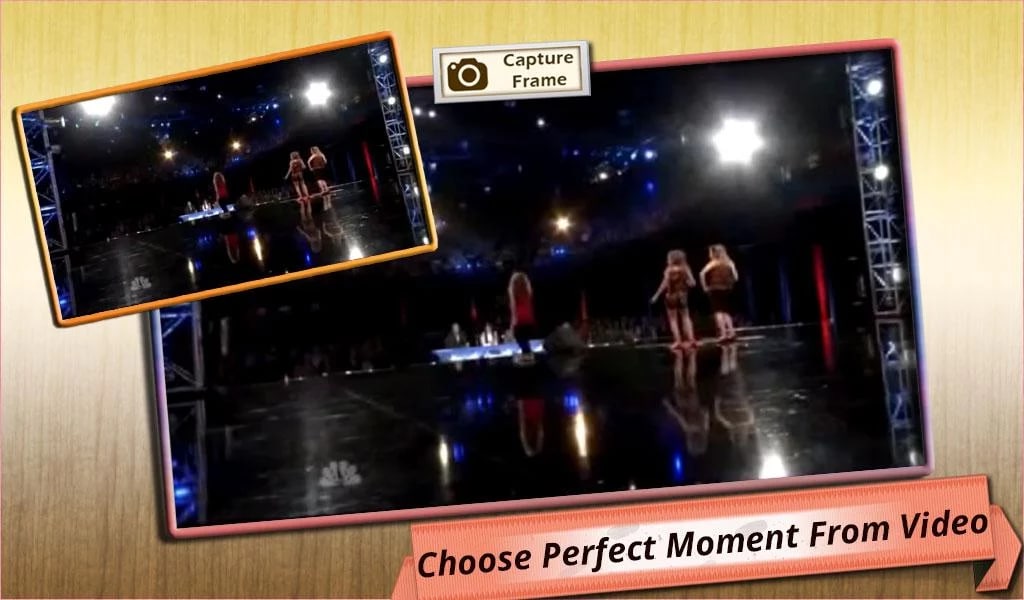 Video Editor: All in One is another app to flip video. And it is also a video trimmer and audio cutter which provide various options to the user.
KEY FEATURES:
In this app you can easily change your video to audio (.acc file).
Trim videos and add various video effects in your selected videos like Blur, Slow, Mirror, Gray Scale Effect, Negative Effects, etc.
Convert videos in the various formats like AVI, MP4, FLV.
Video Rotating and Compression of videos.
Merging videos too; for example merge your Marriage Videos with Birthday Party Videos and make it more funny or romantic.
Shoot your new Videos with these exciting features and add latest music with your videos, produce your own frames and wallpaper.
Share on social networks and upload your funny videos on YouTube.
Can be used like a video rotator app.
PRICE: FREE
---
App 5: AndroVid Video Editor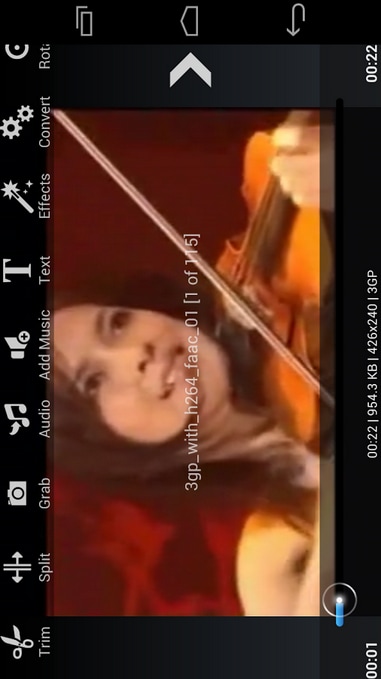 KEY FEATURES:
AndroVid Video Editor video rotate app can trim your videos and produce clips.
Add music (replace audio or mix music with original audio, and adjust audio volumes)
Ability to merge multiple videos into one main file (Limited to 30 seconds per clip for free version. In Pro Version clips can be any length)
Delete middle parts from a video
Separate your video file into two different video clips
Video Effects (Fade in and out, Gray Tone, Mirror, Negate, Remove Audio, Slow / Fast Motion, Swap U-V, Sepia, Vignette, Vintage)
Set video frames to use as your wallpaper
Sort your videos by their name, size, duration and date
PRICE: FREE
---
App 6: mVideoCut - video editor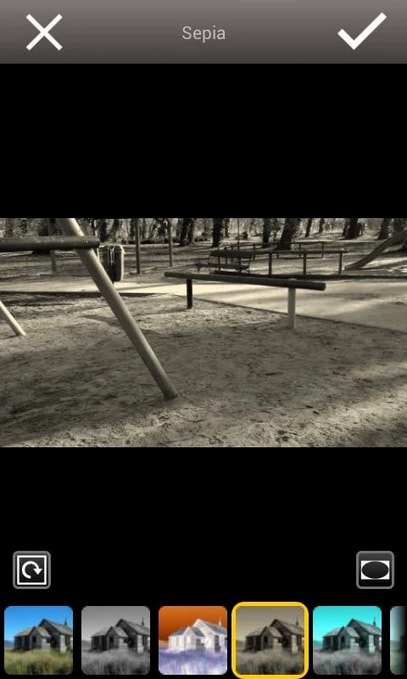 KEY FEATURES:
mVideoCut - video editor is a rotate video app which is also a free cloud based service used for processing your videos via a remote server. This allows you to use your phone or tablet for other things, such as playing games or browsing the Internet.
If you intend to use other video editor apps, at the same time your video clip is being processed it will be necessary to charge your phone. During this time, be sure to leave your phone screen on. You won't be able to use your phone for browsing or gaming while the video is processing because it is so intense on the consumption of power that it will lock up your mobile. The great news is with mVideoCut this is NOT the case. Your video is processed on a cloud server, so processing does not drain your battery or slow down your phone at all. You will even be able to create full movies with phones that are less expensive.
PRICE: FREE
---
App 7: Video Converter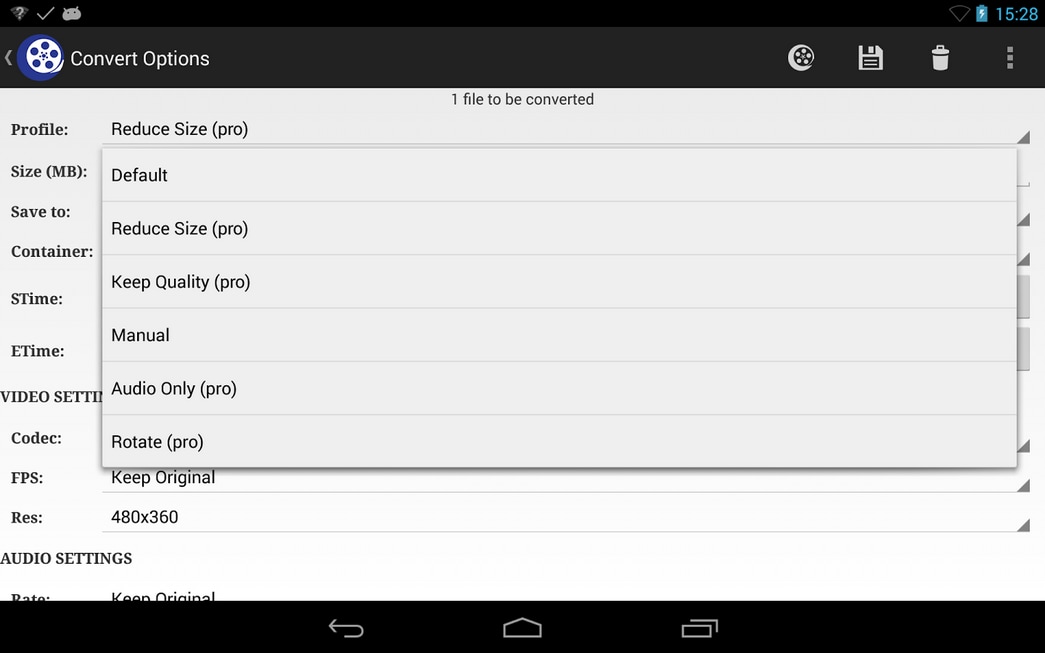 Video Converter as an alternative to using MX Video Player, MoboPlayer, DoubleTwist Player, mVideoPlayer, VPlayer, RockPlayer or many other video players to play your videos in various formats, use Video Converter for Android to convert the video to formats that your Android supports, and then enjoy playing the video and using system player with hardware acceleration. It provides a better video experience. It's also an app to rotate videos.
PRICE: FREE
KEY FEATURES:
Convert to mp4 or h.264 or mpg from most commonly used video formats (video to video converter)
Reduce video file size to send out through SMS etc. (Reduce size profile)
Convert video and keep original video quality (Keep quality profile)
Manual mode available to specify video bitrate, arbitrary resolution, audio bitrate, codec etc. (Manual profile) extract audio from videos, convert mp4 to mp3 or other video formats to mp3 or aac. (audio only profile)
Rotate audio in arbitrary angle (rotation profile)
---
App 8: Vidstitch Free - Video Collage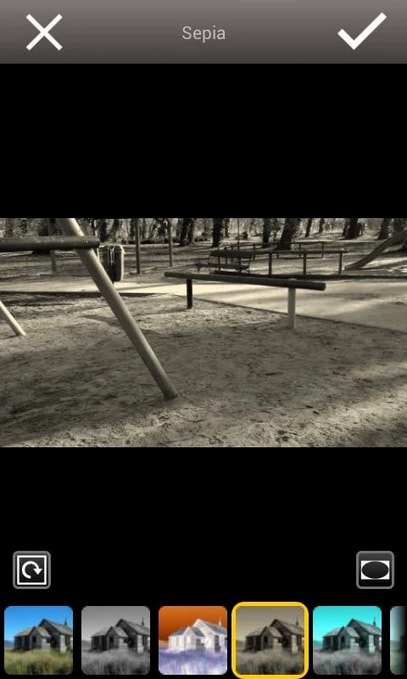 KEY FEATURES:
Vidstitch Free - Video Collage video rotate app seamlessly combines your videos and images and ability to share in a collage on Instagram with an easy user interface. It's an app to flip video if you need to rotate video on Android.
Rotate your video or pic (long press)
Simple and Intuitive UI
Single frames allow you to post full size videos without the need for cropping
Share your Vidstitch on Instagram, Facebook, or Twitter
PRICE: FREE
---
App 9: Video Kit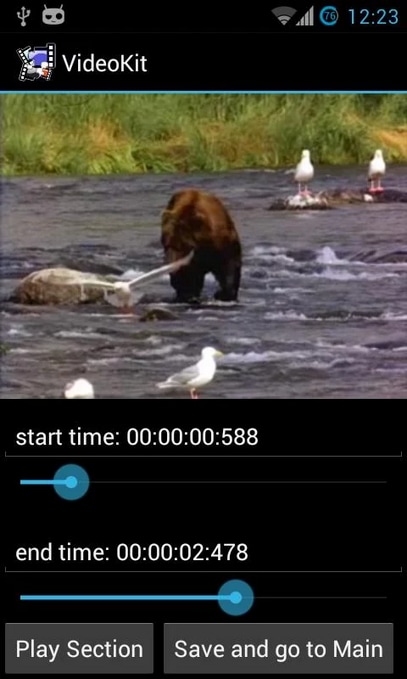 KEY FEATURES:
Video Kit video rotate app comes with Video Editing toolbox on your device.
Ability to keep original resolution by using resolution and compress wizards.
Rotate video.
Change video frame rate, resolution size, aspect ratio, etc.
Crop wizard, which crops a square from the input video.
Extract images from video wizard (and share to Picasa, Gmail etc).
PRICE: $3.50