Do you know that KMPlayer can rotate your videos? If not, then learn about how to rotate video using KMPlayer in this article. Here we will share tips on KMPlayer rotate video when playing and solutions to solve KMPlayer not working when rotating videos. Read on and learn.
Part 1: How to Rotate Video Using KMPlayer
Now, we'll show you how to use KMPlayer to rotate a video. Follow the steps given below to accomplish the task –
Steps to Rotate Video in KMPlayer:
Step 1. Firstly, download the software on your PC. Then, install it there.
Step 2. Then, launch the software on your PC.
Step 3. Open the video that you'll rotate using KMPlayer.
Step 4. After that, hit the menu button and then, go to the "Video (Basic)" tab.
Step 5. You'll have to hover over your mouse cursor on the tab which will show up a list of other options.
Step 6. From the list of options, you'll have to land "Screen Rotation (CCW)" tab. This will open some other option.
Step 7.The options are listed here – Do Nothing; 90 degrees Rotation; 270 degrees Rotation, etc.
Step 8. Hit the "90 degrees Rotation" button to rotate the video in 90 degrees. You can rotate the video in different angles too.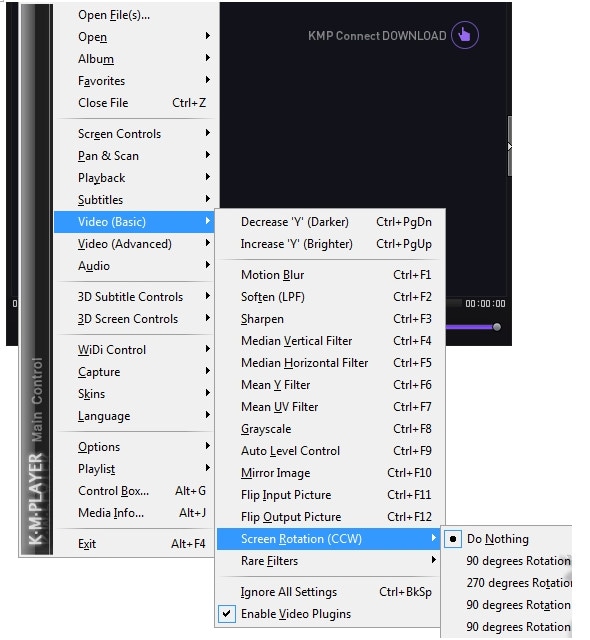 ---
Part 2: Troubleshooting on KMPlayer Rotate Video Not Working Problems
Though you've seen that KMPlayer can rotate and edit a video, there are some drawbacks of using this video player. Below are common problems when using KMPlayer to rotate video.
• After doing the rotation of a video, the video comes without any black bar which may be irritating to many of you. And there's no solution to this since this is the native option of the software.
• Sometimes, you can get an error message like "class not registered" which will close your videos at the time of watching them.
• Also, the screen might turn blue.
• Sometimes, the "Login required" message comes which is a matter of great irritation.
• It's not also uncommon to see that some portions of a media file are running and some other portion isn't able to run.
---
Part 3: Best Alternative to KMPlayer to Rotate Video - Filmora Video Editor
It's very likely that you're seeking a great alternative to KMPlayer as to rotate your videos flawlessly after knowing about its issues. Don't worry since there's an awesome tool named Filmora Video Editor for Windows (or Filmora Video Editor for Mac) that can go the extra mile for editing your videos. You'll be amazed to see the wide range of video editing features available in the software.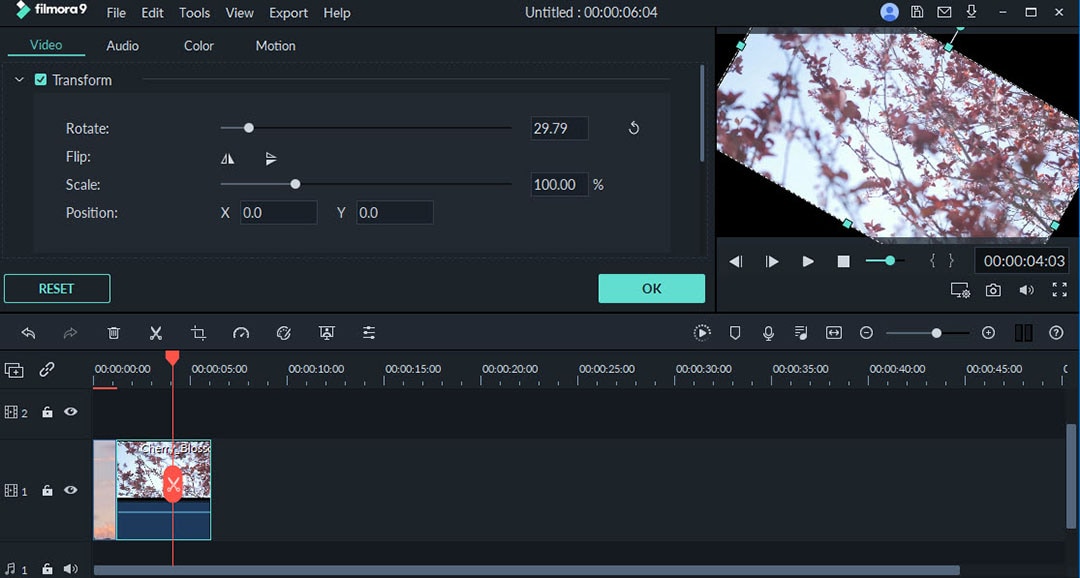 It comes with initial interface and is easy to handle for beginners.
You can add videos in any formats or from any devices for editing.
It provides you with easy-to-use tools to rotate, trim, combine, split or crop videos.
There are free effects including titles, filters, transitions, motion elements, face-off, etc.