"Is there any app to combine videos?"
"What app for iPhone can I use to flow videos together?"
"How do I combine videos online?"
If you have the same issue to look for a video combiner app or tool to put or merge videos, here is the right place for you. This post will introduce the top 10 apps to combine video clips on iOS and Android devices.
Read Also: Video Merger | How to Merge Videos Online or Offline
The best part?
All apps listed in this top list have been analyzed from their standout features, price, pros, and cons so that you can easily compare them and pick up the ideal one according to your own needs. (As a Chromebook user, you might need a video editor for Chromebook.)
The Best iOS Apps to Combine Videos
#1: FilmoraGo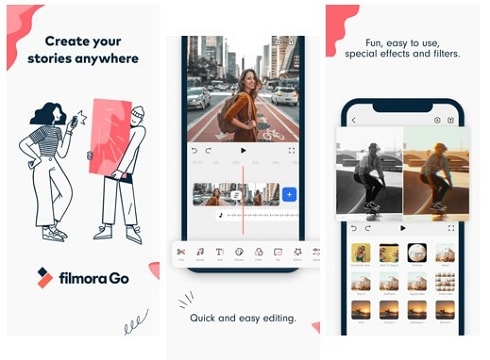 FilmoraGo is an easy-to-use video joiner app. You can easily combine your videos with it. It also has notable features like powerful video and music editing, color adjustments, video canvas, and colorful borders, which will make your editing work creative. You will not require any specialized skills for using the app.
Pros:
- You can combine, trim, split, rotate the video in a few seconds.
- It allows you to and adds texts, stickers, filters, or PIP effects to your video.
- You can add background music or sound effects easily.
- It is compatible with several file formats and allows for saving multiple projects at a go.
Cons: It is currently only available on the iPhone and iPad.
Price: Free with In-App Purchases
---
#2: Video Merger FREE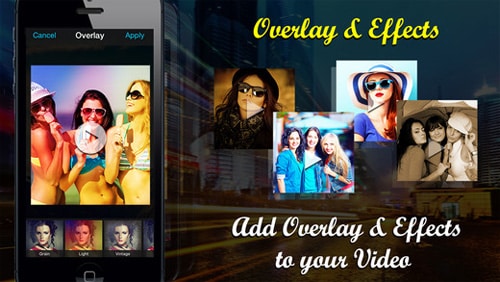 Video Merger FREE is another recommended app to merge videos. Apart from joining, use this video joiner app to add overlays to your edited video and several effects that are available for free.
Pros: The user-friendly interface makes it possible to use and understand how it operates.
Cons: Its availability as a free version means some features will be missing out.
Price: Free
---
#3: Movie Director Pro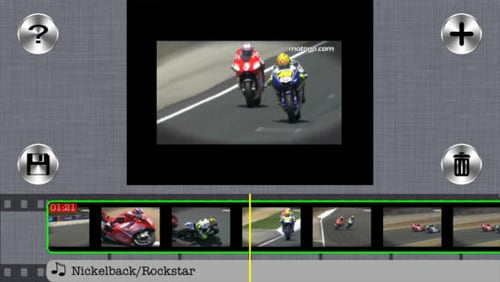 Movie Director Pro is another app to combine videos into one. Using this video combiner app to merge videos has limitless features that include transitions, trimming, connecting, and background music that you can use to enhance your video.
Pros: It has simple controls that are very easy to use and highly intuitive.
Cons: The program is not available for download in some countries.
Price:$2.99
---
#4: Instant Video Editor & Slideshow Maker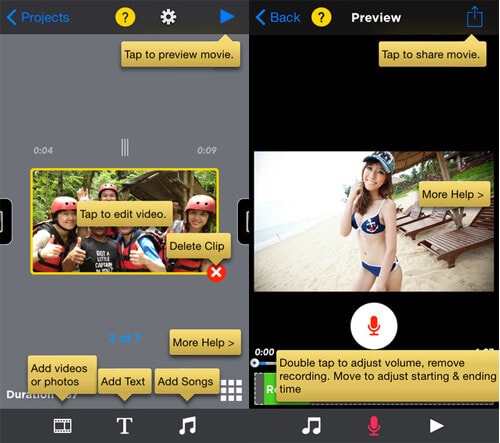 Instant Video Editor & Slideshow Maker is a video App that can be combined, trimmed, cropped, and performed other editing tasks that it provides to run at too high speeds.
Pros: There are many pre-defined video effects of allowing you to choose the ideal ones for use with your video.
Cons: Expect some key features to be absent from this app, which will undermine its performance.
Price: Free
---
#5: VivaVideo - Free Video Editor & Maker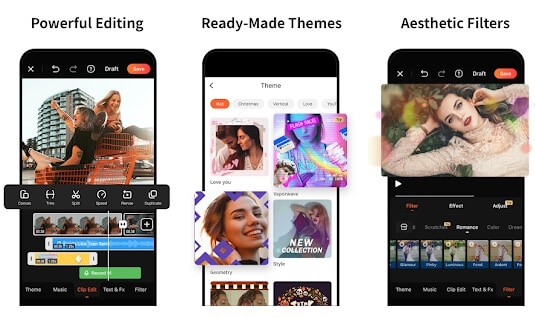 VivaVideo - Free Video Editor & Maker is a compelling video combiner app to combine videos that you will have an easy time using. It also allows for free downloading, which is an added advantage.
Pros: Both beginners and professional video editors will have an easy time using the app since its interface is in-built.
Cons: You will not be able to enjoy using some features due to limitations.
Price: Free
---
Part 2: The Best Android Apps to Combine Videos
#1: VidTrim - Video Editor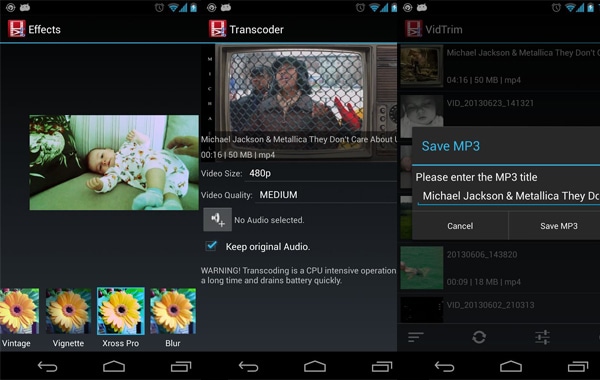 VidTrim - Video Editor is a video merger app to combine video clips on Android devices. You will enjoy using various editing features that include merging, trimming, audio extraction, and frame grabbing, among others.
Pros: It is effortless sharing your edited video with friends.
Cons: It's very prone to be affected by bugs leading to constant crashing down.
Price: Free
---
#2: VivaVideo: Free Video Editor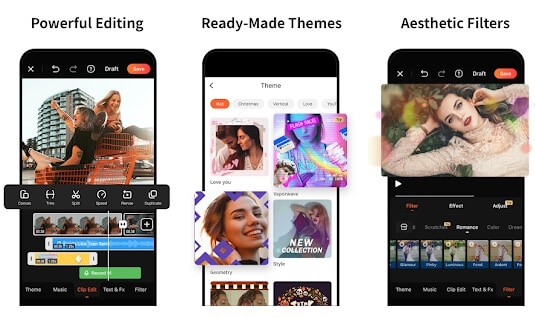 VivaVideo: Free Video Editor is the best video merger app. This combined video app is in more than 60 countries globally, which means you can trust it to deliver quality editing work.
Pros: There are more than 60 cool effects built-in that you will use to improve your video's general appearance.
Cons: Its performance is not always the best because of features limitations.
Price: Free
---
#3: FrameBlast - HD Video Editor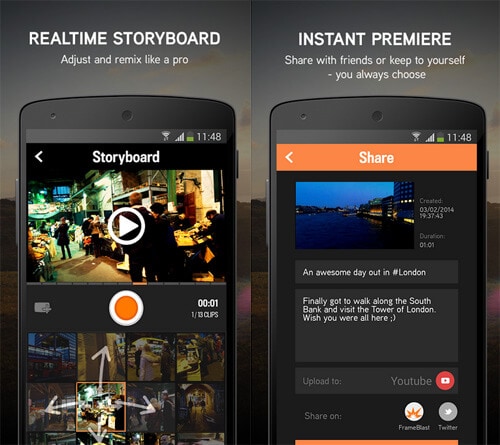 FrameBlast - HD Video Editor is available for free; its interface is easy to use and assures delivering effectual output.
Pros: It allows users to customize their videos thanks to the many editing features available.
Cons: The app might be available for free, but it's very costly when doing desktop editing.
Price: Free
---
#4: Video Editor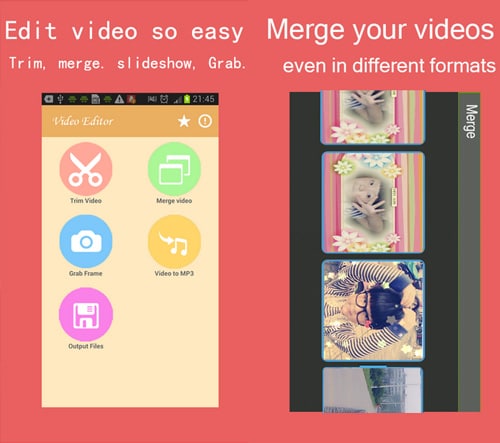 Video Editor might appear to be simple, but the editing results it delivers are compelling. It is easy to edit video using Android devices.
Pros: You can easily add background music to your video as well as convert video to MP3.
Cons: Merging is not always successful with this app.
Price: Free
---
#5: Movie Maker: Video Merger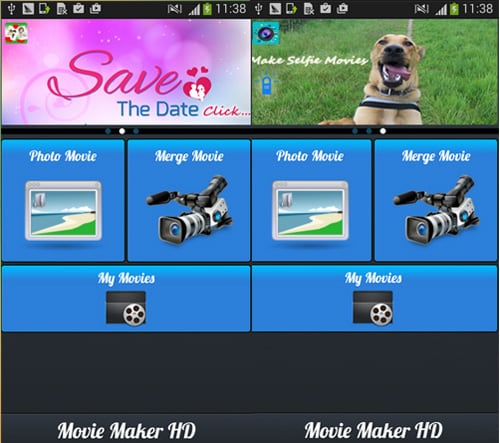 Movie Maker: Video Merger is the video merger app for merging video files and split video and audio.
Pros: You will not incur any expenses in getting this app, and beginners will not have problems learning basic editing. It's effortless to use.
Cons: Obviously, you will experience a lot of limitations since its editing tools are inadequate.
Price: Free
Sum up:
All apps in this post are tested available in merging videos on your device.
If you have more editing needs, like add transition effects to combined videos, filter to videos, speed up videos, etc., I recommend you try FilmoraGo first. There is no doubt that it is an easy-to-use or powerful app that can best meet your video editing needs on your phone.
If you also need to merge videos on your computer or pursue a more professional editing experience, I have also picked up a desktop video editor for you here.
---
Editor's Pick - Filmora Video Editor | Best Video Merger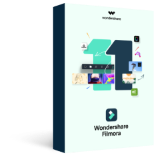 If you are looking for a video combiner for Mac (10.14 included) and Windows which not only lets you merge videos files easily but also provides you with video editing tools and lots of special effects like transitions, intro/credit, animated titles, and more, I'd like to recommend you Filmora Video Editor for Windows (or Filmora Video Editor for Mac). It's the best video editing tool for beginners in video editing to export professional-looking videos.
Why Choose Filmora Video Editor
Join 2 and more videos into one and split video to several clips.
Edit video by trimming, cropping, rotating, zooming, copying and pasting, etc.
Customize video with filters, transitions, PIP, split-screen, motion effects, and more.
Apply texts, titles, face-off, intro/credit, green screen, and more products to personalize the video.
One-click to share the video to YouTube, Facebook, iPhone, or convert to other formats.
See Also:
How to Edit A Video Completely
How to Make A Split Screen Video
Or please check the below video tutorial to see how easy the video combiner works.