"What app can merge videos together?"
"How do I combine videos on my phone?"
If you are looking for a video combiner app to merge videos, here is the right place for you. This post will introduce the top 10 apps to combine videos on iPhone and Android devices.
The best part?
All apps listed in this top list have been analyzed from their standout features, price, pros, and cons so that you can easily compare them and pick up the ideal one according to your own needs. 
---
10 Best Apps to Combine Videos on iPhone or Android
#1: VivaVideo - Free Video Editor & Maker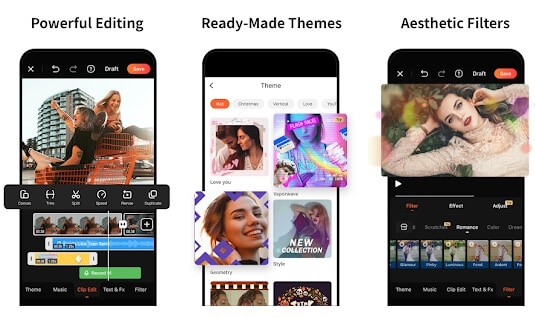 VivaVideo for Android (or VivaVideo for iOS) is a compelling video combiner app to combine videos that you will have an easy time using. It also allows for free downloading, which is an added advantage.
Pros: Both beginners and professional video editors will have an easy time using the app since its interface is in-built.
Cons: You will not be able to enjoy using some features due to limitations.
Price: Free
---
#2: FilmoraGo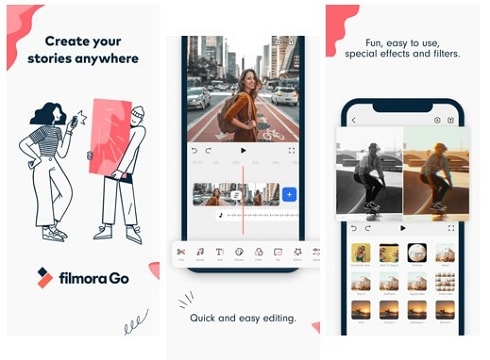 FilmoraGo for Android (FilmoraGo for iOS) is an easy-to-use video joiner app. You can easily combine your videos with it. It also has notable features like powerful video and music editing, color adjustments, video canvas, and colorful borders, which will make your editing work creative. You will not require any specialized skills for using the app.
Pros:
- You can combine, trim, split, rotate the video in a few seconds.
- It allows you to and adds texts, stickers, filters, or PIP effects to your video.
- You can add background music or sound effects easily.
- It is compatible with several file formats and allows for saving multiple projects at a go.
Cons: It is currently only available on the iPhone and iPad.
Price: Free with In-App Purchases
---
#3: VidTrim - Video Editor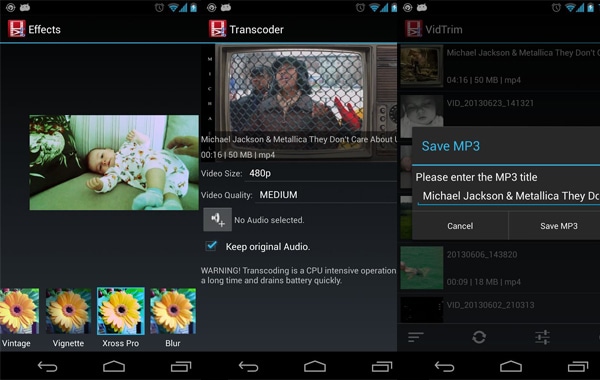 VidTrim for Android is a video merger app to combine video clips on Android devices. You will enjoy using various editing features that include merging, trimming, audio extraction, and frame grabbing, among others.
Pros: It is effortless sharing your edited video with friends.
Cons: It's very prone to be affected by bugs leading to constant crashing down.
Price: Free
---
#4: Capcut
Capcut for Android (Capcut for iOS) is a free video merger app. This app can help you merge video clips with 1 click, and you can trust it to deliver quality editing work.
Pros: There are more than 60 cool built-in templates that you will use to combine videos and improve your video's general appearance.
Cons: Video length limit ·
Price: Free
---
#5: Video Merger: Easy Video Merger & Video Joiner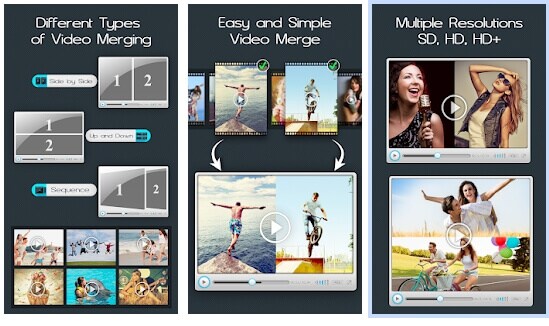 Video Merger for Android is another recommended app to merge videos. Apart from joining, use this video joiner app to add overlays to your edited video and several effects that are available for free.
Pros: The user-friendly interface makes it possible to use and understand how it operates.
Cons: Its availability as a free version means some features will be missing out.
Price: Free
---
#6: Video Merge - Side By Side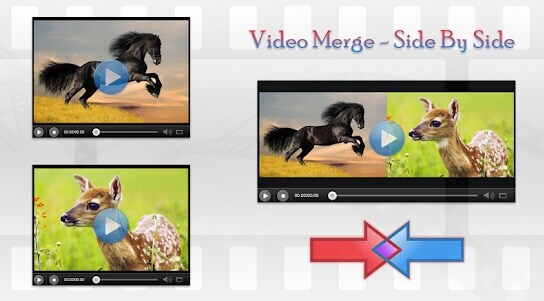 Video Merge - Side By Side for Android is another app to combine videos into one to play them simultaneously. Using this video combiner app to merge videos has limitless features that include transitions, trimming, connecting, and background music that you can use to enhance your video.
Pros: Easy to make videos into one and play them side by side.
Cons: The orientation of video is always horizontal.
Price:$2.99
---
#7: iMovie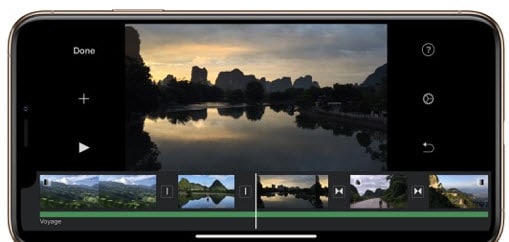 iMovie is a free video creator for iPhone. This app can combine, trim, crop, and perform other editing tasks with high speeds.
Pros: There are many predefined video effects of allowing you to choose the ideal ones for use with your video.
Cons: Expect some key features to be absent from this app, which will undermine its performance.
Price: Free
---
#8: Magisto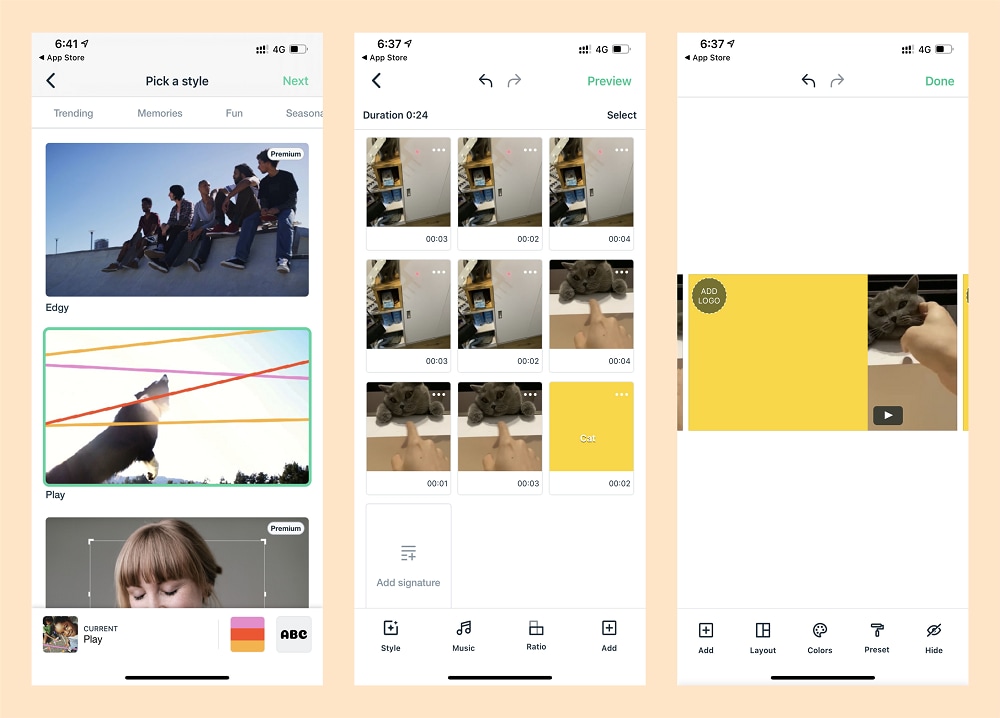 Magisto for Andoird (or Magisto for iOS) is available for free; its interface is easy to use and assures delivering effectual output. See Magisto reviews and pricing >>
Pros: It allows users to customize their videos thanks to the many editing features available.
Cons: Magisto has an obvious restriction of making 10 minutes long videos only.
Price: Free with In-App Purchases
---
#9: Video Merger, Joiner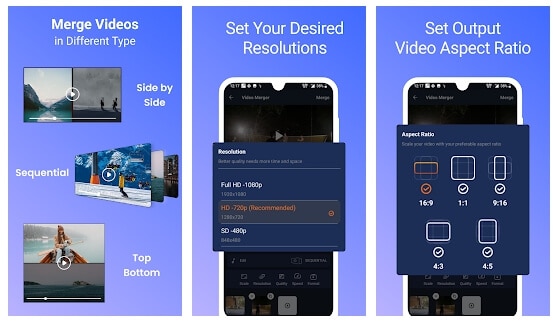 Video Merger, Joiner for Android might appear to be simple, but the editing results it delivers are compelling. It is easy to edit video using Android devices.
Pros: You can easily merge videos in different type: side by side, sequential, or top bottom.
Cons: Merging is not always successful with this app.
Price: Free
---
#10: VMER Video Merger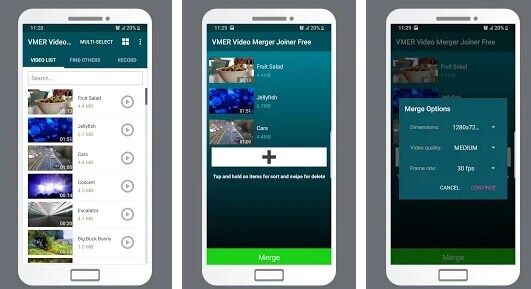 Movie Maker: Video Merger for Android is the video merger app for merging video files and split video and audio.
Pros: You will not incur any expenses in getting this app, and beginners will not have problems learning basic editing. It's effortless to use.
Cons: Obviously, you will experience a lot of limitations since its editing tools are inadequate.
Price: Free
---
Best Desktop App to Combine Videos into One - Filmora Video Editor
If you have more advanced editing needs, like add transition effects to combined videos, add filter to videos, speed up videos, etc., I recommend you to try a desktop video merger. There is no doubt that it is an easy-to-use and powerful desktop software that can best meet your video editing needs.
If you are looking for a desktop video combiner app which not only lets you merge videos files easily but also provides you with more video editing tools and lots of special effects like transitions, intro/credit, animated titles, and more, I'd like to recommend you Filmora Video Editor for Windows (or Filmora Video Editor for Mac). It's the best video editing tool for beginners in video editing to export professional-looking videos.
With Filmora, you can merge your videos in any type and in any orientation.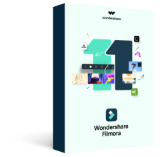 Key Features of Filmora Video Editor:
The software supports almost all available videos, images, and video formats. Besides, it also supports GIF files and 4K resolution videos.
Allows to import images and clips from Facebook, Twitter, and other social media channels.
The app also provides advanced functions, such as the audio mixer and picture-in-picture support, and basic functions.
Step-by-Step Guide on How to Combine Videos into One with Filmora
Step 1. Import video clips
Download and Install Filmora on your computer. Open it, and click "Import"button in the main interface of Filmora.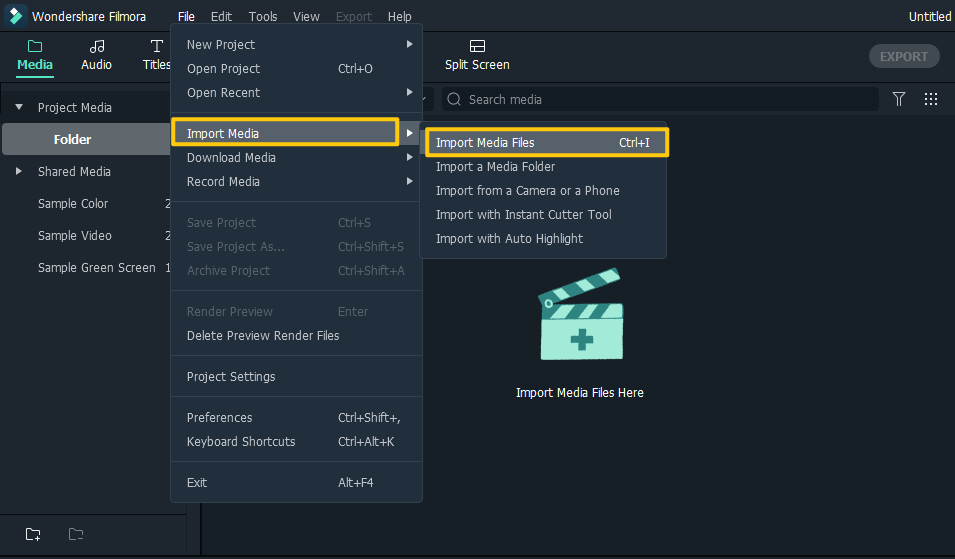 Step 2. Drag the videos you want to merge to the timeline.
Drag and drop the videos to the timeline. As you can see, we add 3 different travel videos to the timeline here.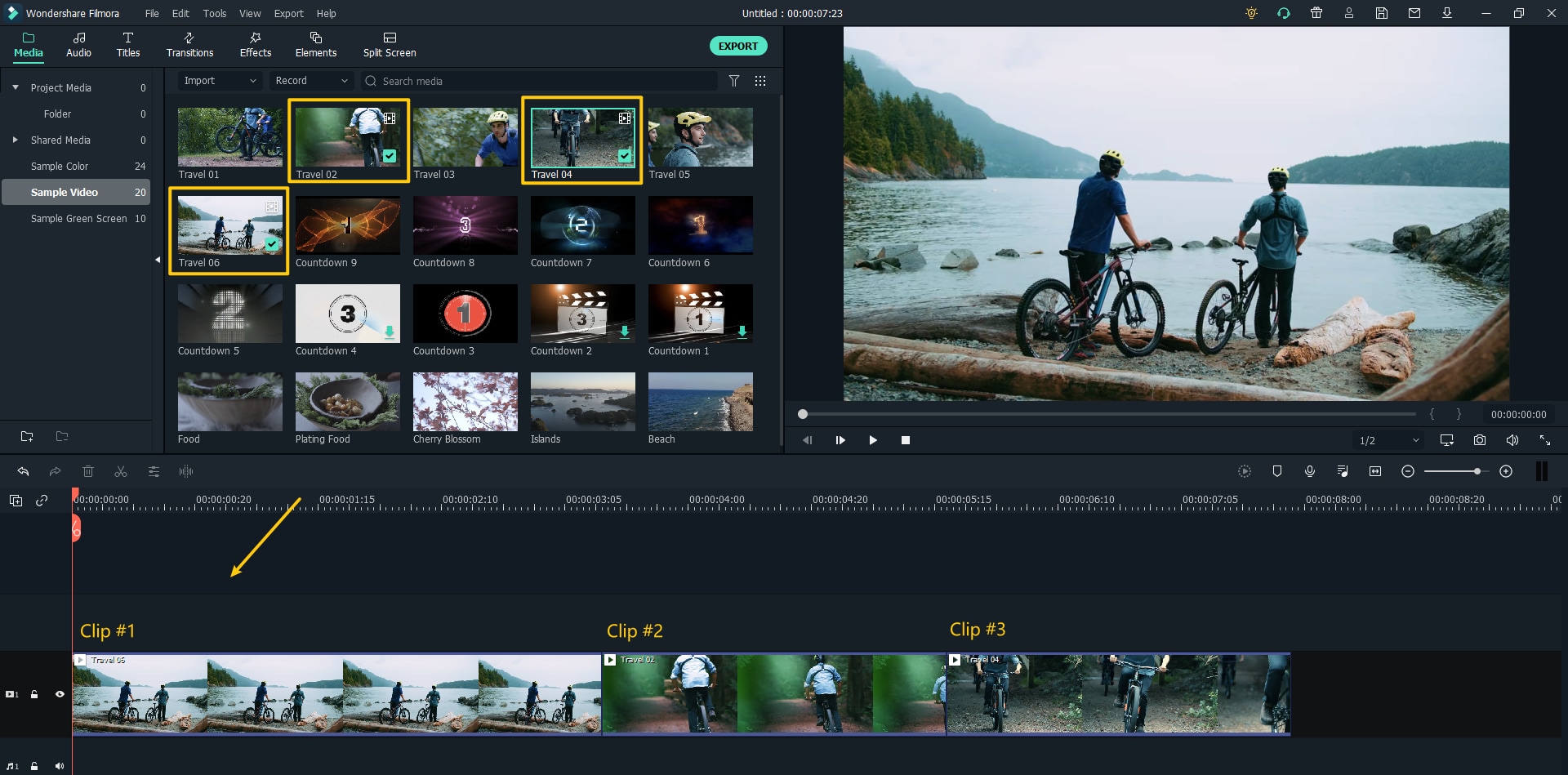 Step 3. Trim your clips to merge them together.
Get right to the good stuff with the trimming tool - just drag the left/right end of the clips to trim it. In this way, you can get exactly the moment you are looking to capture in your clip.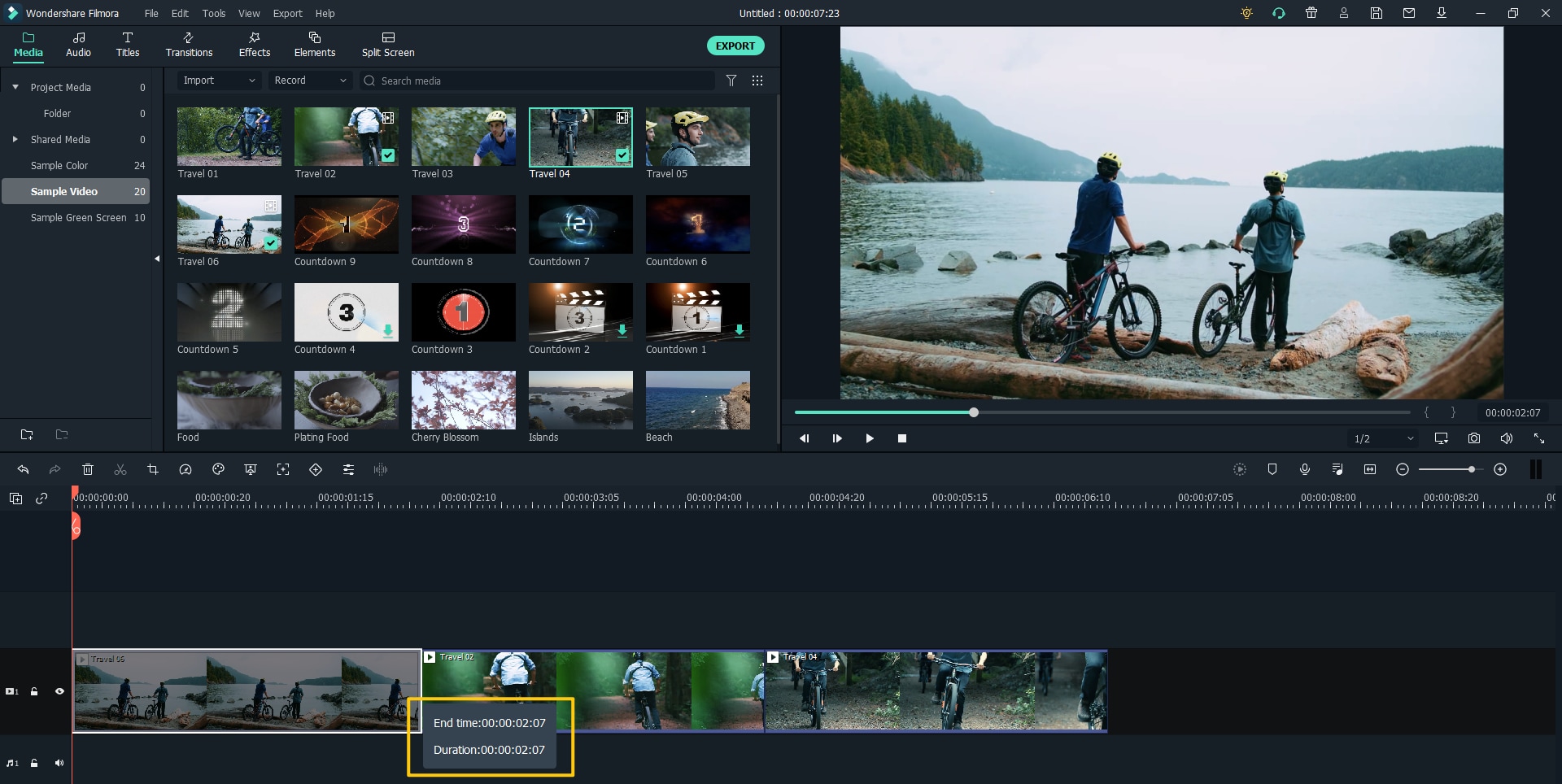 Step 4. Crop or Zoom your clips to create a consistent look.
Use the Crop & Zoom function to fill the frame for content that is vertical or cropped. Drag the frame to make sure your subject stays in focus throughout the clip.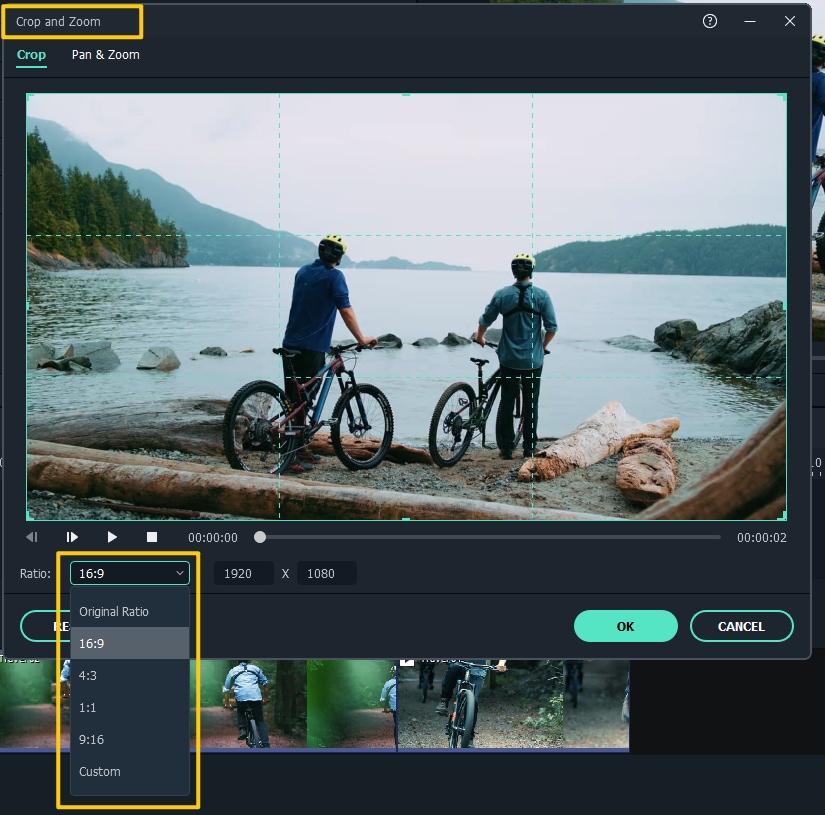 Step 5. Once you have arranged your clips, just click "Export" to merge them into one video.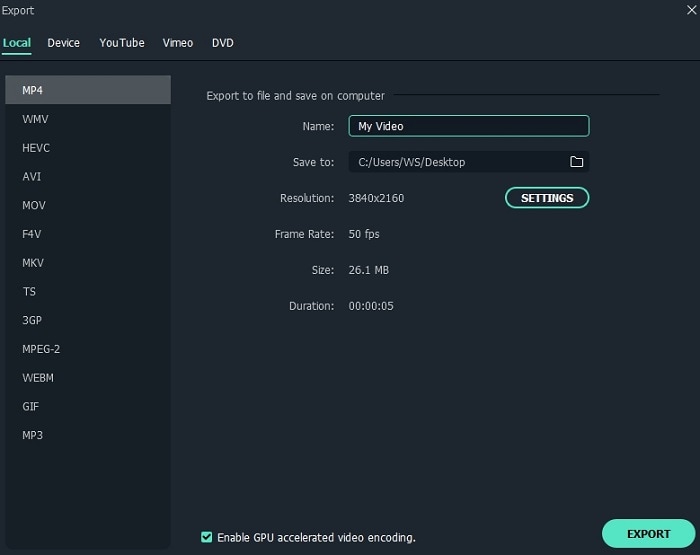 ---
Sum up:
All apps in this post are tested available in merging videos on your device. You can pick one and have a try! If you are interested in advanced editing with more professional (but not more complicated) functions, try Filmora! Check the short clip below to learn more about this beginner-friendly software and set off your journey of creation!