Do this with us. Open up your gallery and see how many videos you recorded in the last year. What if you could quickly combine your best memories of last year and merge them into one video on your iPhone or Android phone? Combining videos need not be a huge task. You just need to know which app to use.
In this blog, we tell you the list of top 10 apps you can use to combine videos on your iPhone or Android phone.
---
Part 1. 10 Best Apps to Combine Videos on iPhone or Android
#1. VivaVideo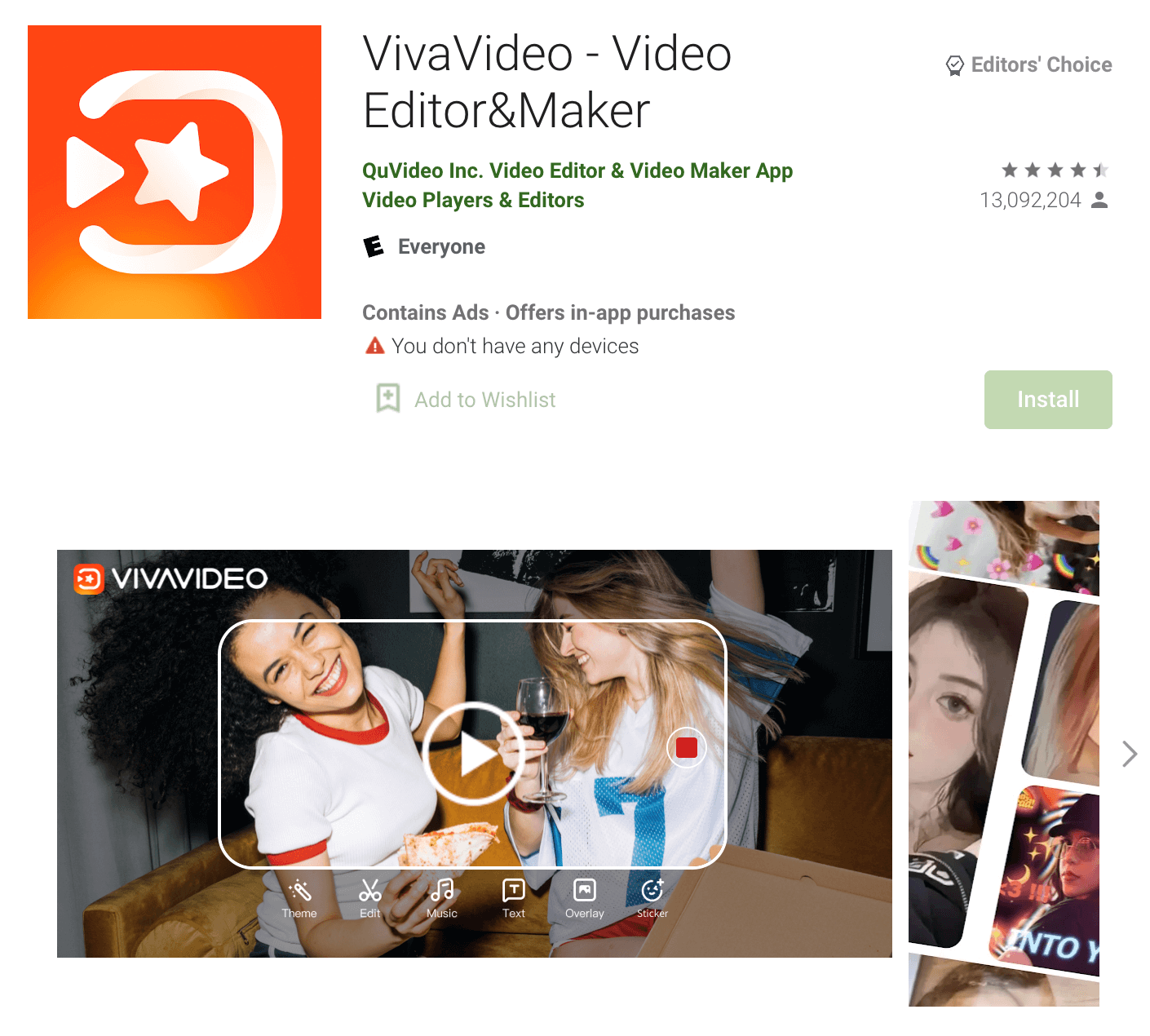 Rating: 4.8 Stars of 5 (Android), 4.4 Stars of 5 (iOS)
App URL/website: http://www.vivavideo.tv/
Price: Free with in-app purchases and subscriptions starting $0.99
With VivaVideo, both professional-level editors and beginners can easily combine different clips and photos into one organized video. This robust app has a user-friendly interface with a navigable UI for a quicker and simpler user experience.
Users can add dynamic effects and text styles during editing and include cinematic filters for better quality. The output videos have high resolution, and you can optimize them with stickers and music. Choose them from your personal device folder, pre-set app library, or online mediums, like iTunes (for songs).
Pros:
Imports audio tracks for background sound in video from personal save videos, music library, and iTunes.
Adjust the speed from 1 to 10 times the rate in different video sections.
A wide list of effects, animation, text, stickers, and music, is available for editing.
Cons:
A limited list of popular songs, effects, and advanced features are free.
Not a lightweight app, as the iOS version has a 194.9 MB app size.
Best for: Users merging and editing videos for social media.
---
#2. FilmoraGo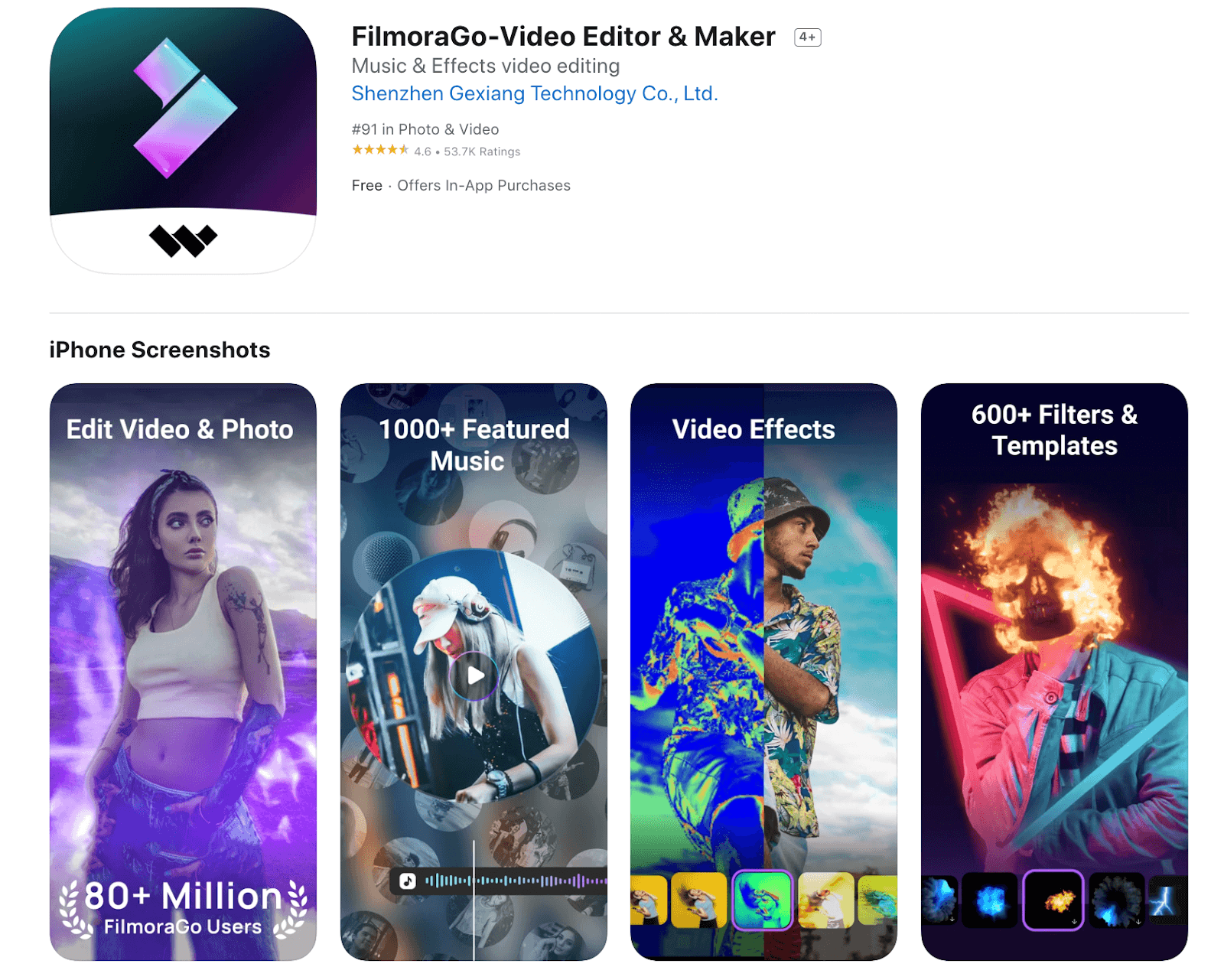 Rating: 4.5 Stars of 5 (Android), 4.6 Stars of 5 (iOS)
App URL/website:Wondershare FilmoraGo
Price: Free with in-app purchases and subscriptions starting $0.99
FilmoraGo is a strong app choice for video combining and other editing skills in a one-in-one rich software. You can edit the clips by trimming their length, adding transition effects in the merged section, or slicing videos into multiple clips. After changing video settings like colour and aspect ratio, you reverse the footage to check.
Besides these, you can easily adjust video speed at different sections and also insert text, effects, filters, and stickers. Royalty-free sound effects and music are available for use.
Pros:
Add diverse transition types for video-to-video clip merging.
Adjust parameters like color, aspect ratio, and ratio during editing.
It is easier to understand and learn than some other high-level apps.
Cons:
You need to register into a Wondershare or MediSafeaccount first to get access to account details, like order info, support team contact, or invoices instead of directly from the app.
Advanced features and high-quality effects/filters are under the paid plans.
Cons: Free version is highly limited in functionality. Being a complete video editor, the app can have a learning curve.
Best for: users looking for an all-in-one video editing app.
Disclaimer: Writers of this blog are part of the company that made FilmoraGo.
---
#3. Video Merge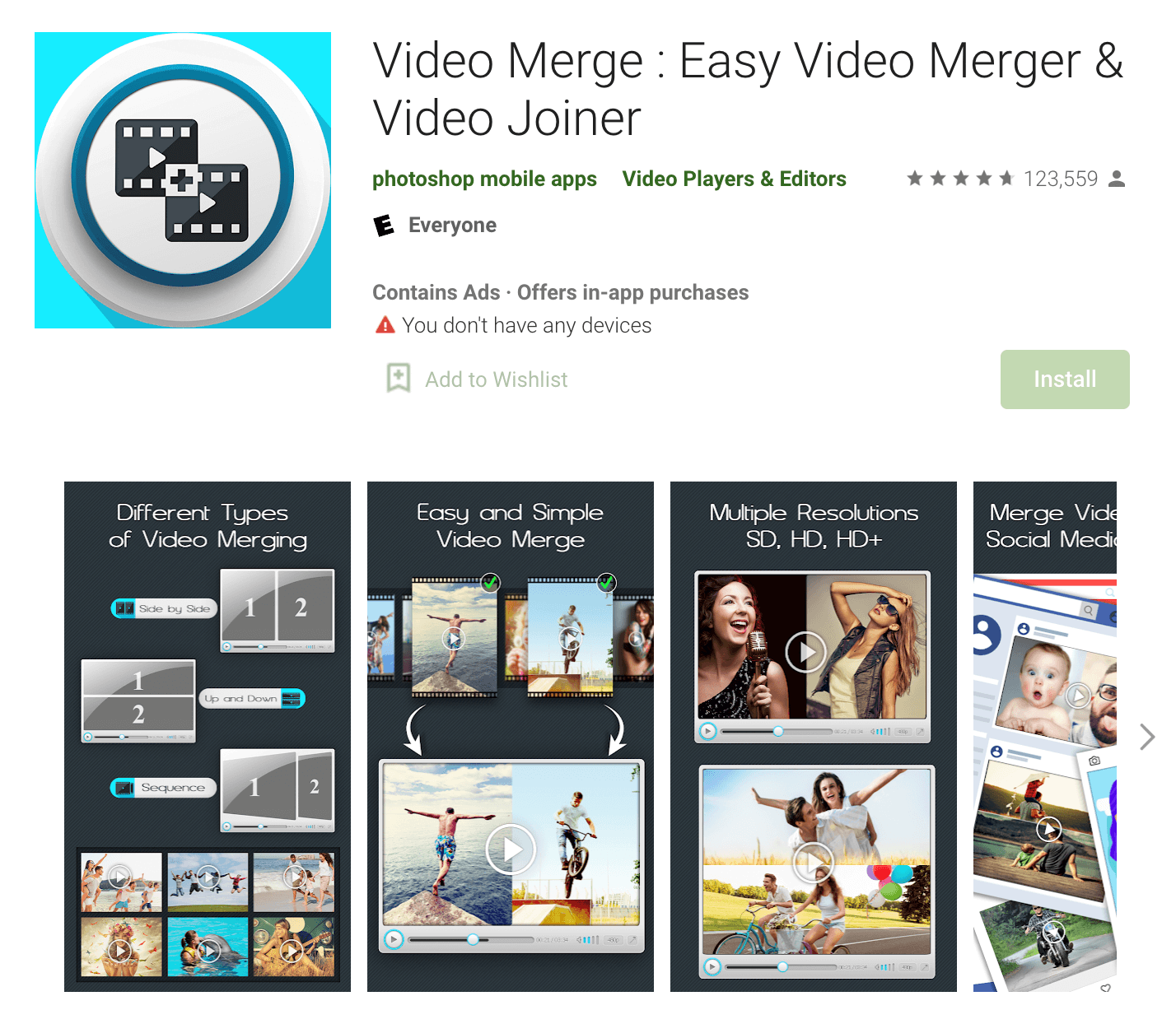 Available on: Android
Rating: 4.7 Stars of 5 (Android)
App URL/website: Play Store link
Price: Free with in-app purchases starting $6.99
This is a simple mobile application that users can opt for to merge different video files. You can add two clips with the same frame rate, audio rate, and frame size or add clips with different specifications. You can customize these points of the video clips to ensure they flow smoothly in the final file during editing.
You can add two videos in an up-and-down or side-to-side fashion for merging or adding sequential styles. It operates in the background, so you can focus on other tasks while the app completes video merge processing.
Pros:
No watermark would appear on the videos.
Output supports various formats like MP4, MKV, AVI, etc.
View or delete final files directly from the app.
Cons:
Users can combine two video files each time so the process can take a long time.
Audio merging is not possible with this app.
Best for: users looking for a straightforward app that simply merges videos.
---
#4. Video Merge - Side by Side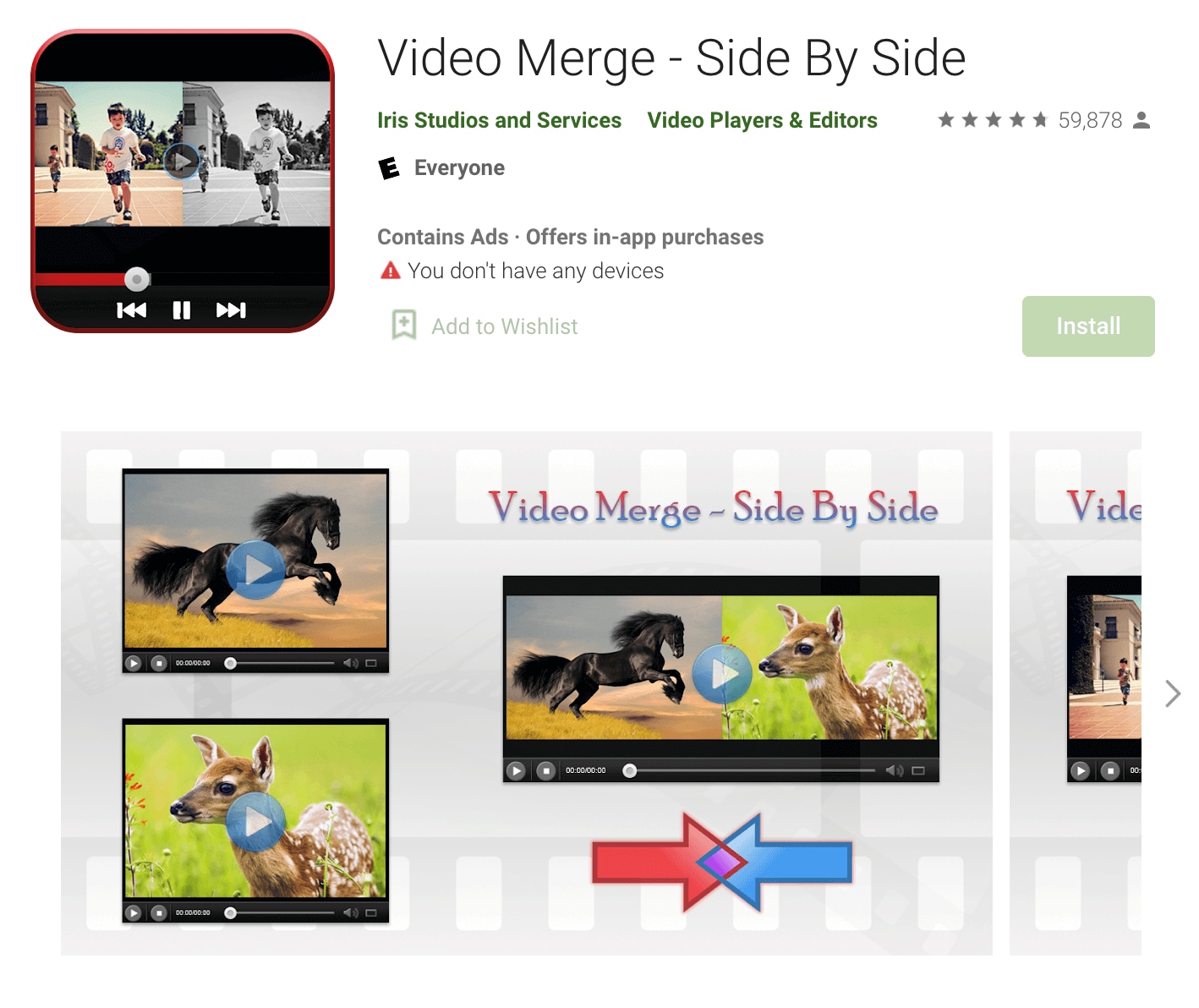 Available on: Android
Rating: 4.8 Stars of 5 (Android)
App URL/website: Playstore link
Price: Free with in-app purchases starting $2.99
Video Merge-Side by Side is another simple app for users to easily edit creative components into videos and join two files. You can include the video clips from your device gallery with a few clicks. Then, you can join them together side by side in a well-designed new video.
It is possible to merge them with transition features between the clip breaks to make the video look seamless. You can preview all of your videos in one location through the app and share them with your synced social media accounts.
Pros:
Easy to use for even beginners.
Add two videos together and combine them in simple steps.
Share the videos on social media platforms easily.
Cons:
Only allows side-by-side video merging.
Limited features compared to other apps in this list.
Cons: Very basic. The app only merges videos side-by-side. You can鈥檛 merge them sequentially or up-and-down like other apps. No other editing functionality exists.
Best for: users who only want this one functionality - quick and easy.
---
#5. Magisto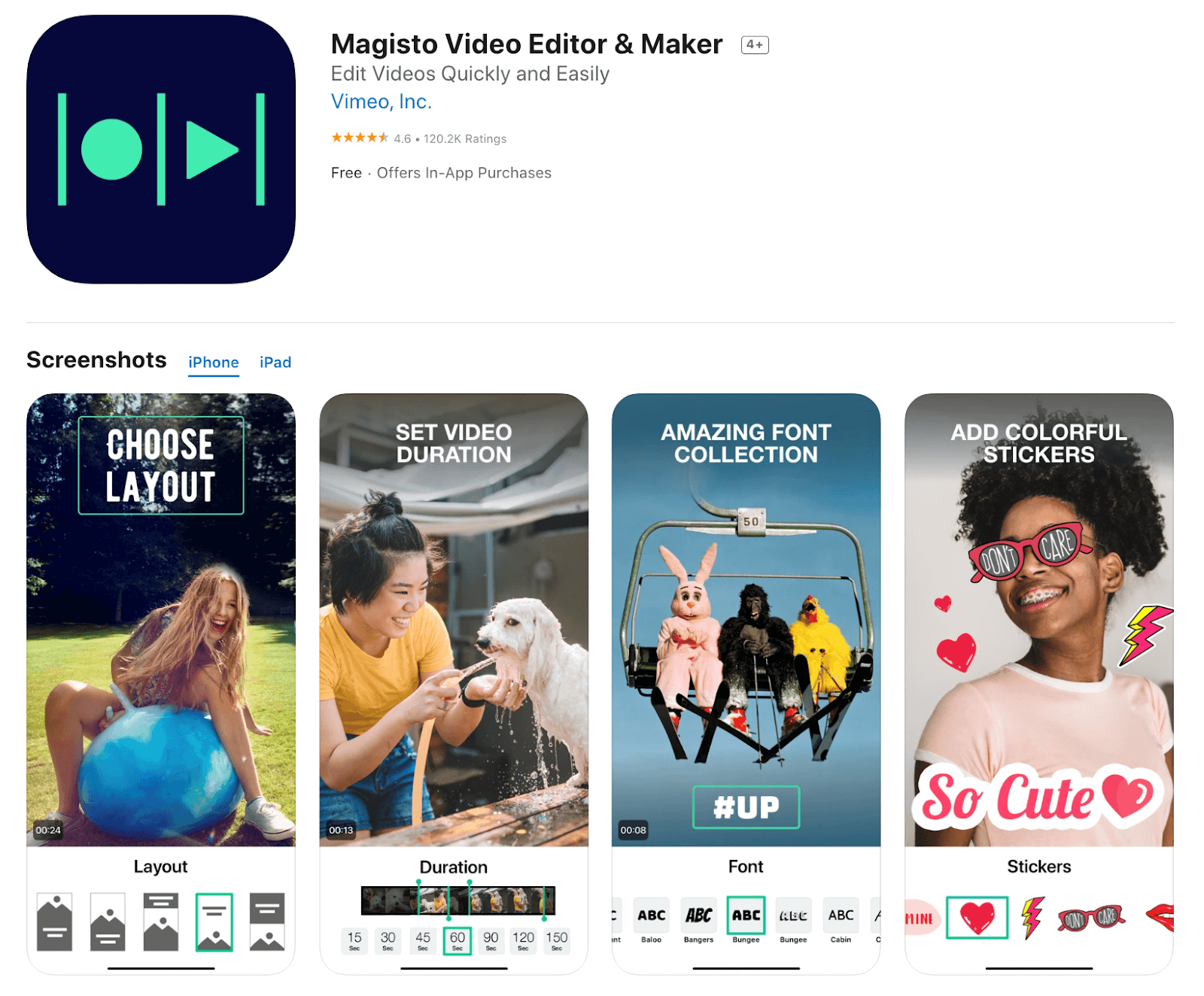 Rating: 4.1 Stars of 5 (Android), 4.6 Stars of 5 (iOS)
App URL/website: Magisto.com
Price: Free with in-app purchases and subscription starting $0.99
Magisto is a premium-level video editing software that allows professionals a wide range of advanced features. You can make 10-minute-long videos with the standard editor, accessing different editing styles. It is possible to download different videos after splitting clips, merging multiple clips, and adding extra elements like text or stickers.
If you choose one of the bigger plans like Professional or Business, you will get access to analytics-powered social shares, a wide range of stock photos and video clips in HD, and cloud storage support.
Pros:
The video editor contains robust video editing styles even in the lowest Premium plan.
You can make unlimited downloads.
License commercial music is available under all plans.
Cons:
The cost is high if you are looking for just a simple video merging app.
Advanced features like logo/text addition, font/colour customization, etc., are available under pricier plans.
Cons: Expensive for anyone just looking to merge two video files.
Best for: users who are looking for a full-fledged video editor and not just a video joiner.
---
#6. Video Merger, Joiner, Trimmer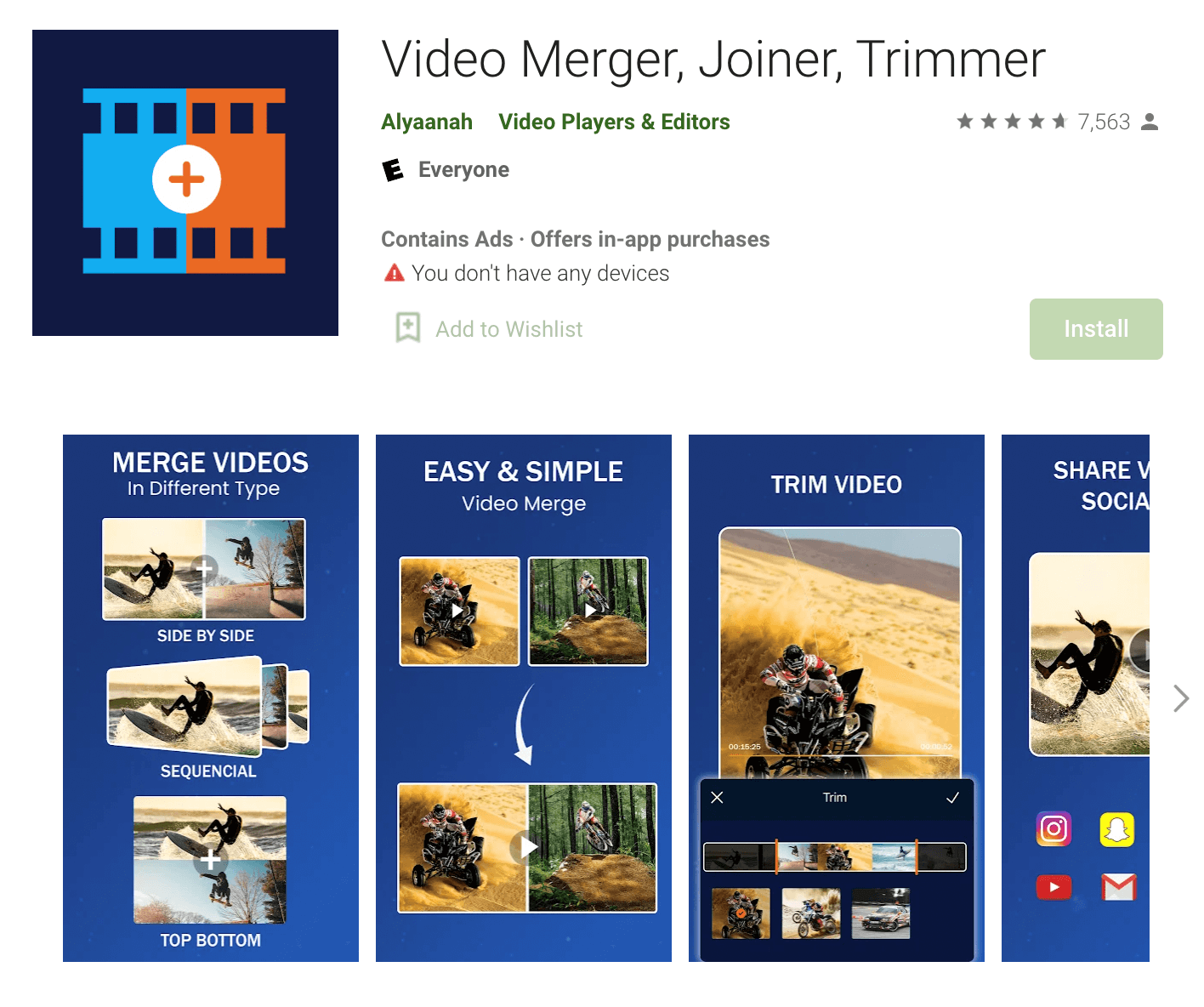 Available on: Android
Rating: 4.7 Stars of 5 (Android)
App URL/website: Playstore link
Price: Free with in-app purchases starting $1.99
With Video Merger, Joiner, Trimmer app, it is simple for users to combine multiple videos into one file. You can add video files in different formats like VOB, MPEG, M4V, MP4, FLV, MKV, and more and convert the final output format as well. The app allows users to combine videos vertically, horizontally, or one after the other.
You can adjust the resolution and scale of each video clip to fit cohesively into one video. To save space, you can shrink or reduce output video size.
Pros:
Compressed videos still have high video quality and resolution.
Supports multiple input/output formats like MKV, MP4, AVI, MOV, and 3GP.
Choose a new resolution and aspect ratio for videos during editing.
Cons:
A bigger app size of 66 MB can lag the device system鈥檚 performance.
Customer support is limited on this app.
Cons: Lack of support. Current version 1.0.0 was last updated in Jan 2022. The developer website goes to an empty blogger site. Gmail address is given as a support email ID.
Best for: users who just want to quickly merge two files. The Pro version may not be worth it.
---
---
---
#9. Splice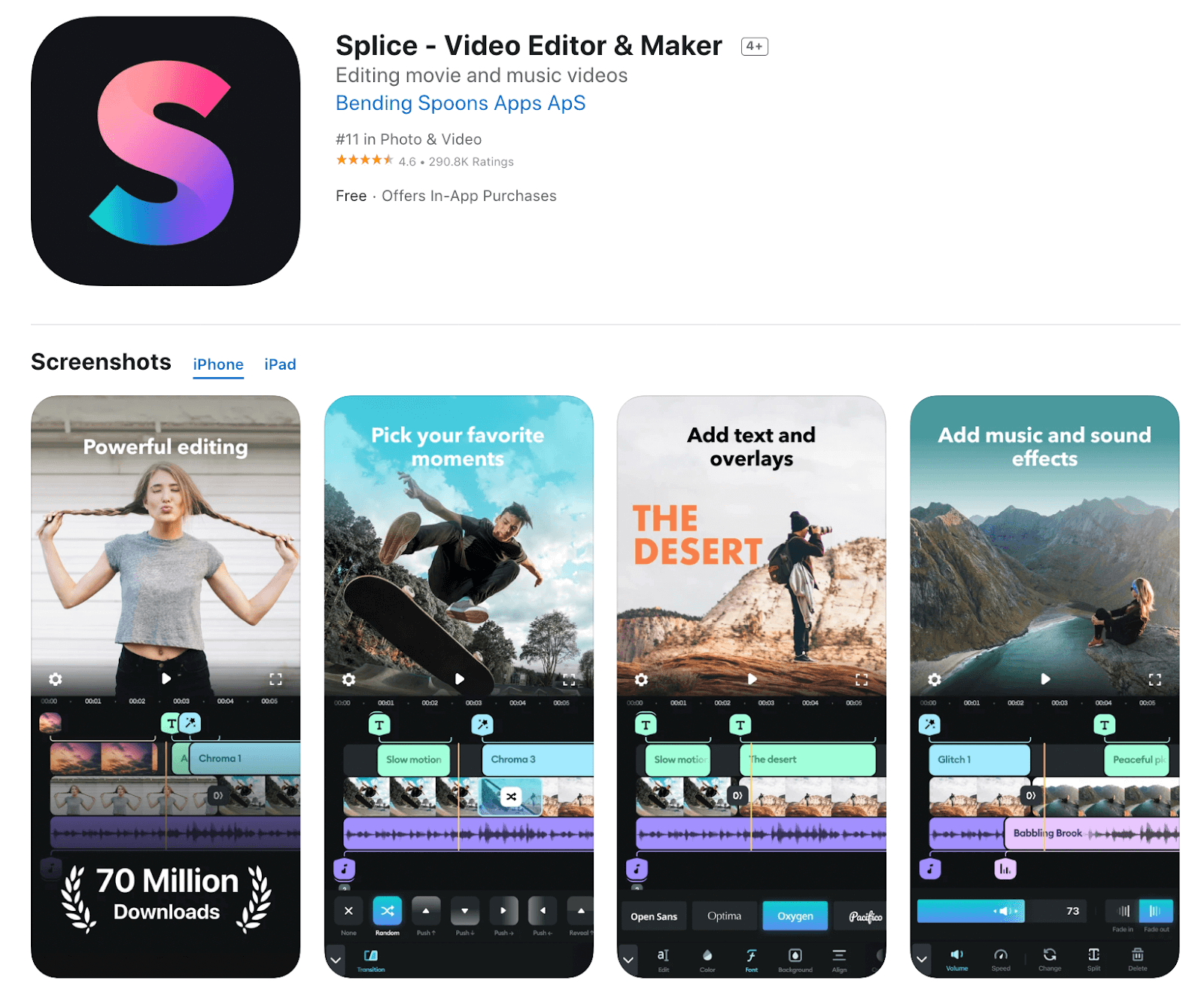 Rating: 4.7 Stars of 5 (Android), 4.6 Stars of 5 (iOS)
App URL/website: SpliceApp
Price: Free with in-app purchases starting $1.99
Splice is one of the best video merging and editing applications for Android users, ensuring an intuitive experience. Premium-level tools and features are available, like Speed Ramp, for pace management and control.
With Chroma key integration, users can tap on a color to change the hue without many steps. The community of developers for Splice is consistent with their updates and constantly tries to improve the app.
Pros:
How-to guides and tutorials about the Splice app are available for users to learn the app鈥檚 features and how to use them.
Edit and share videos with some taps only.
Choose audio from the music library full of 400+ songs.
Cons:
The feature of automatic subtitles is stillunder development.
The app size of 272.2 MB is relatively big and can lag the device's RAM power.
Cons: The free version is extremely limited in functionality.
Best for: users who can take the paid version. The paid version is worth the money.
---
#10. VivaCut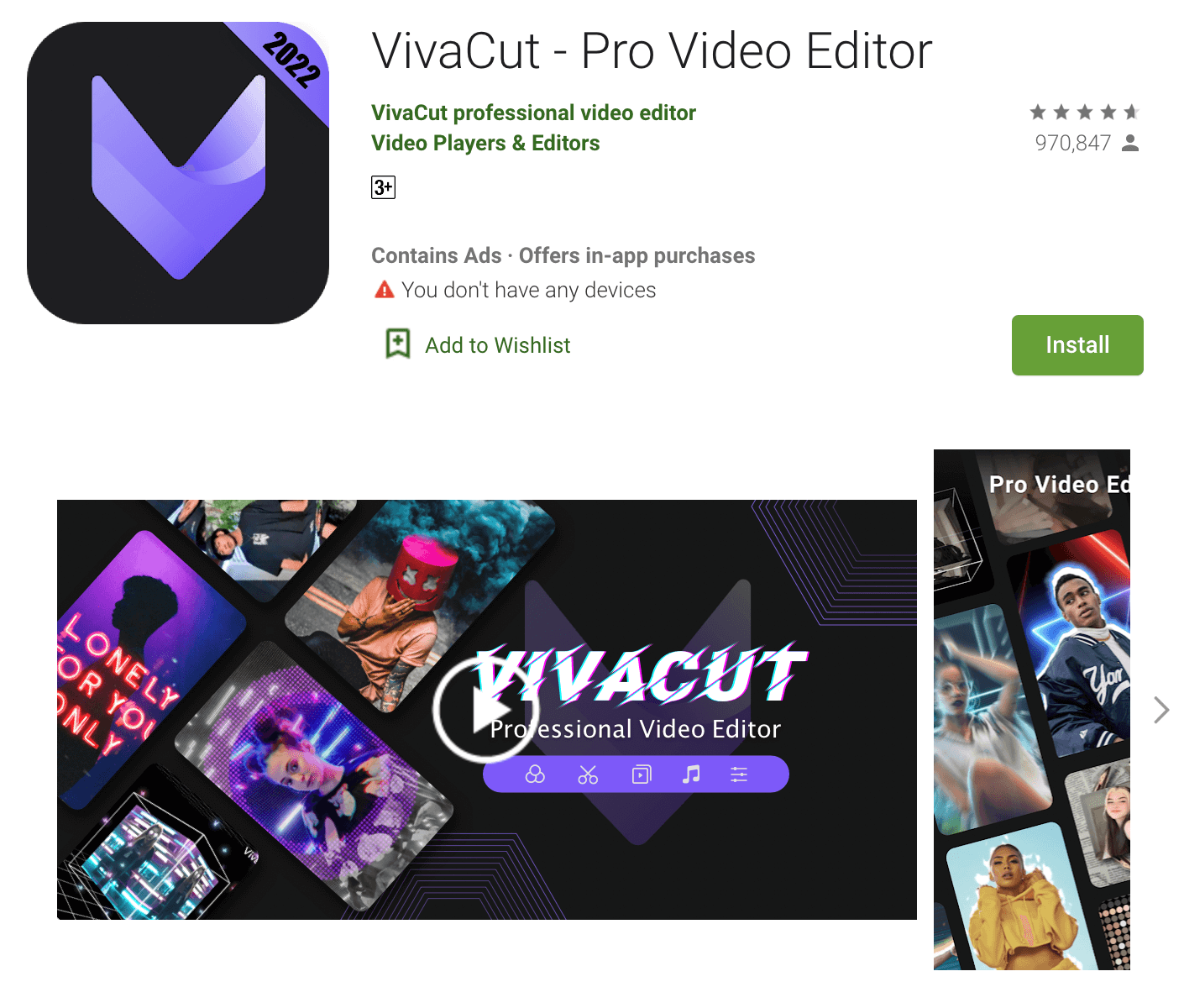 Rating: 4.9 Stars of 5 (Android), 4.5 Stars of 5 (iOS)
App URL/website: VivaCut
Price: Free with in-app purchases $0.99
VivaCut is a suitable app with easy-to-use, intuitive features for video editing. There are an unlimited number of video and audio tracks available that users can take to cut and merge into their video projects. You can work with a lot of different video editing features on this app, like trimming, video segmentation, reverse playback, speed shifting, and scale adjustment.
Users can edit videos with the green screen background with the chroma key support. Drag and drop the elements and even adjust scaling, motion, and transparency in video animation with keyframing tools easily.
Pros:
Control the video toning points like saturation, brightness, highlight, curve toning, hue, color temperature, and shadow.
Over 10 types of blending modes are available for video-to-video overlay.
Balance the animations with the B茅zier curve adjustment feature.
Cons:
The Fx PluginCenter requires more updates; adding more updates in this Center is in progress.
The payment plan is not stable and can fluctuate.
Cons: Needs a lot of phone memory to handle large files properly.
Best for: Users who have large storage space and want a full-fledged video editor.
That completes our list of top 10 apps for your phone to combine videos on your iPhone and Android phones. Let us know which one is your favourite.
---
Part 2. How to Combine Videos on Desktop with Filmora
If you have more advanced editing needs, like add transition effects to combined videos, add filter to videos, speed up videos, etc., I recommend you to try a desktop video merger. There is no doubt that it is an easy-to-use and powerful desktop software that can best meet your video editing needs.
If you are looking for a desktop video combiner app which not only lets you merge videos files easily but also provides you with more video editing tools and lots of special effects like transitions, intro/credit, animated titles, and more, I'd like to recommend you Filmora Video Editor for Windows (or Filmora Video Editor for Mac). It's the best video editing tool for beginners in video editing to export professional-looking videos.
With Filmora, you can merge your videos in any type and in any orientation.
Step-by-Step Guide on How to Combine Videos into One with Filmora
Step 1. Import video clips
Download and Install Filmora on your computer. Open it, and click "Import"button in the main interface of Filmora.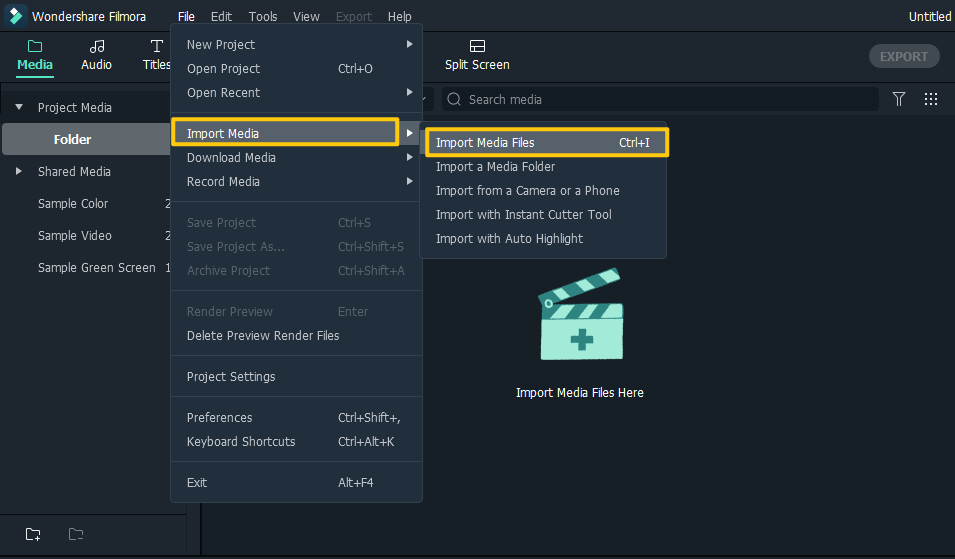 Step 2. Drag the videos you want to merge to the timeline.
Drag and drop the videos to the timeline. As you can see, we add 3 different travel videos to the timeline here.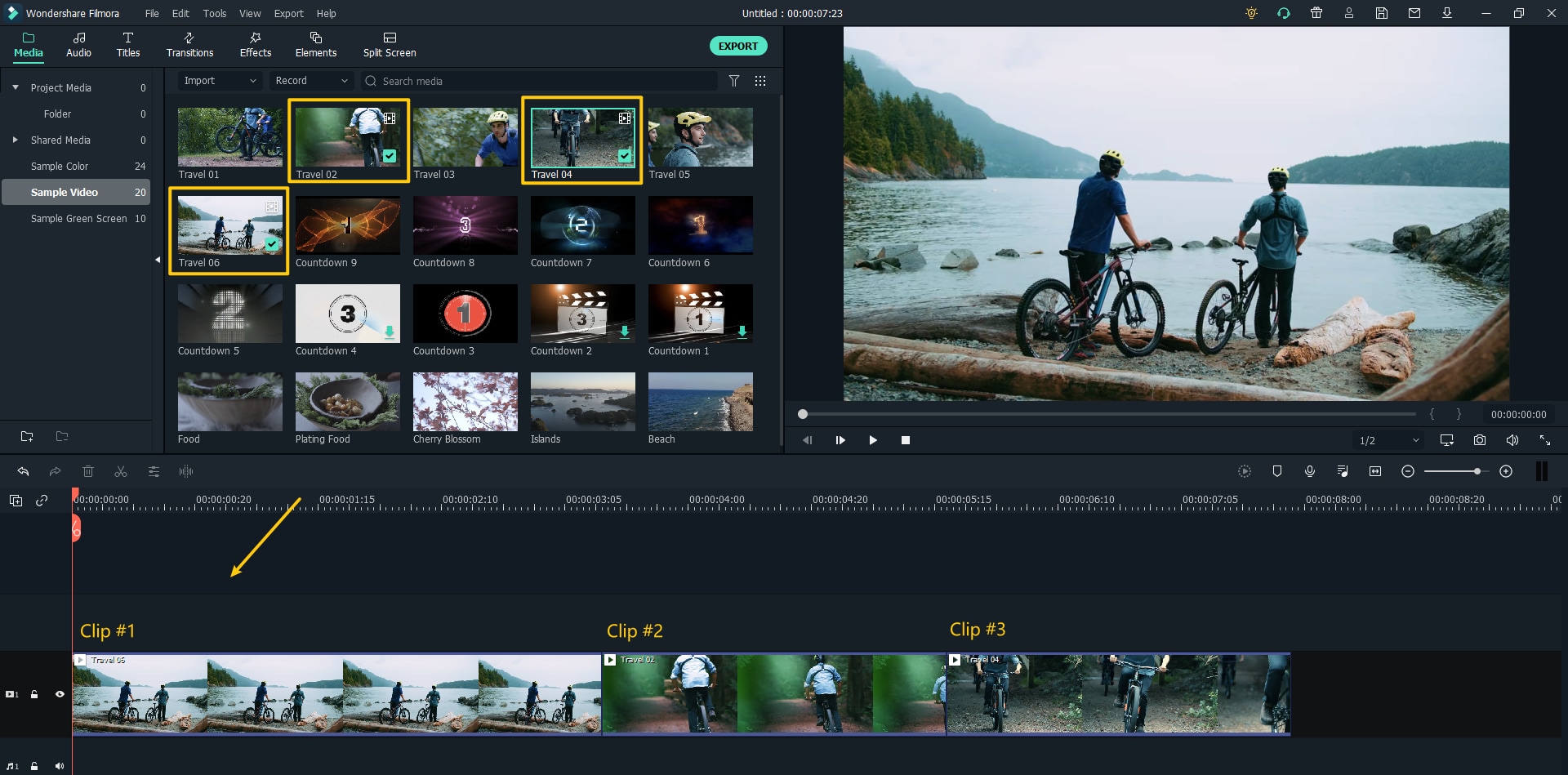 Step 3. Trim your clips to merge them together.
Get right to the good stuff with the trimming tool - just drag the left/right end of the clips to trim it. In this way, you can get exactly the moment you are looking to capture in your clip.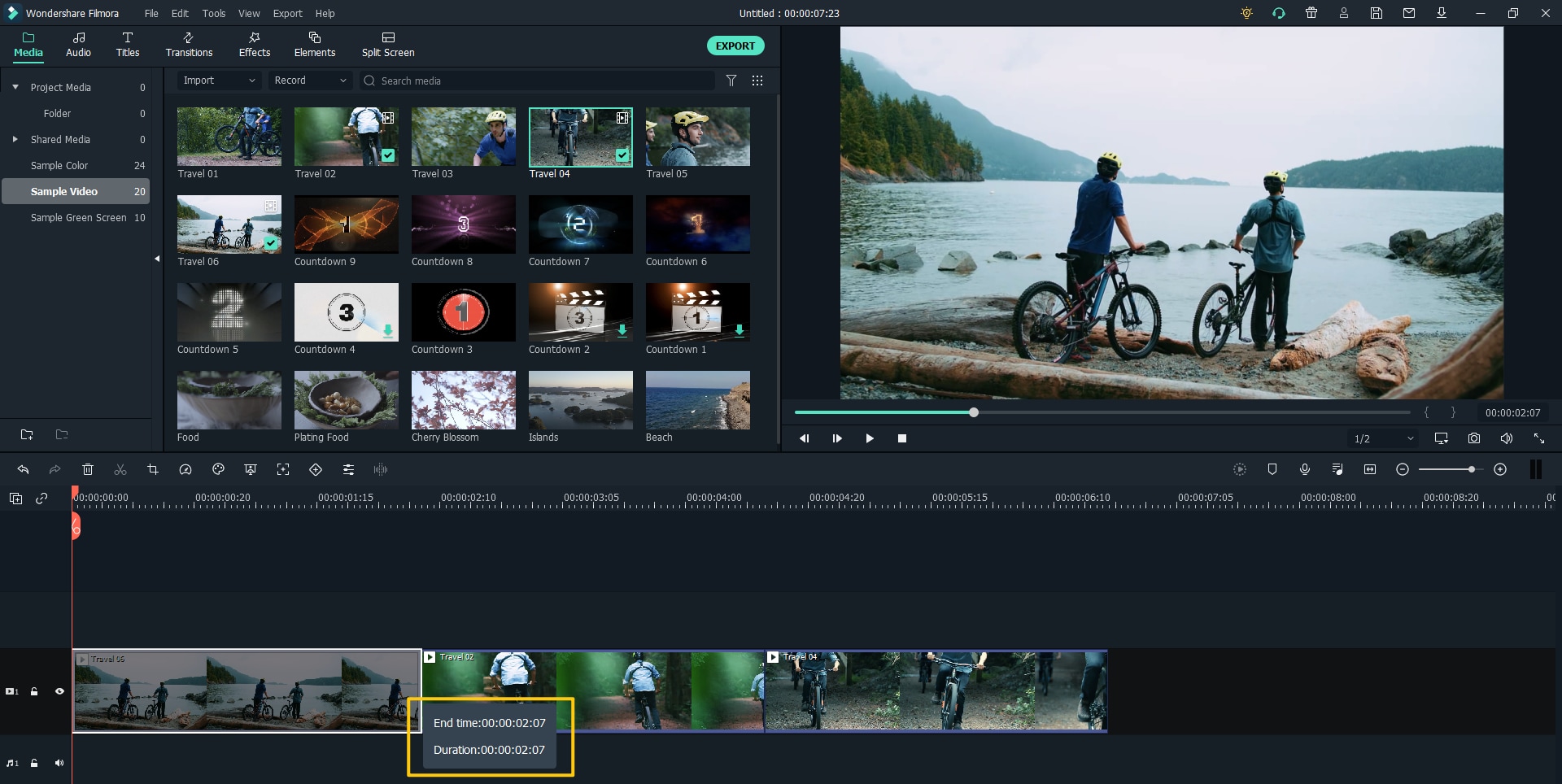 Step 4. Crop or Zoom your clips to create a consistent look.
Use the Crop & Zoom function to fill the frame for content that is vertical or cropped. Drag the frame to make sure your subject stays in focus throughout the clip.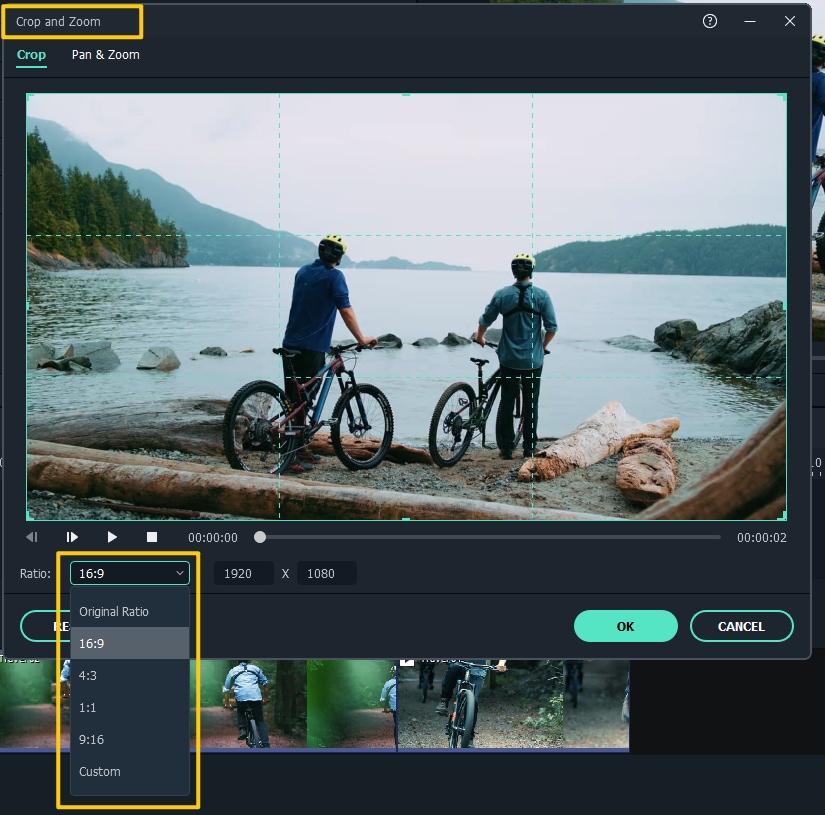 Step 5. Once you have arranged your clips, just click "Export" to merge them into one video.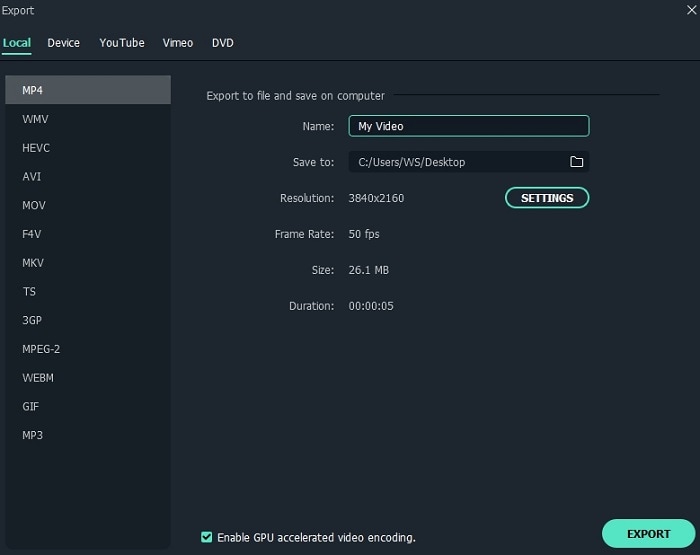 ---
Sum up:
All apps in this post are tested available in merging videos on your device. You can pick one and have a try! If you are interested in advanced editing with more professional (but not more complicated) functions, try Filmora! Check the short clip below to learn more about this beginner-friendly software and set off your journey of creation!