- How can I add an audio track to my video on my iPhone?
- How do I add sound to an Instagram video on my phone?
Now you can get help from apps to add audio to video on your iPhone or Android devices. In most situations, your iPhone, iPad, or Android device might come with a default video editing app like iMovie. But if you want more options, this article is going to show you the top 8 apps to help you add audio music to video on iPhone, iPad, or Android.
What's more?
If you're a person who love to edit videos and want to create an awesome video for sharing, I also take an advanced tool to help you edit video with 1000+ video effects, and output video to any desired format with 1 simple click.
Now, let's get started.
4 Advanced Add Audio to Video Apps for iPhone
#1: FilmoraGo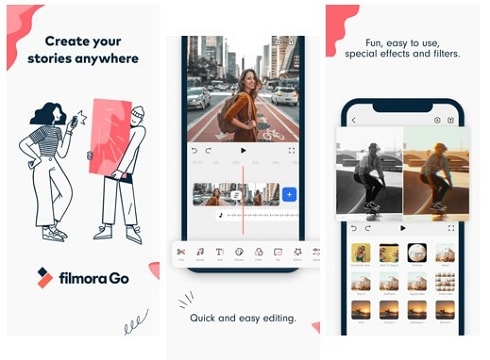 FilmoraGo helps you to add audio to video for free on iPhone and its user experience is more than satisfying. Use it to add music and voiceovers in making your video a wonderful file. Its working speed is very fast and comes with a very easy to use interface. Before you add the audio, this app can trim it to a likable size, merge more than one audio file, and even share. Those are the standout features that you will have to consider when making your choice.
Price: Free (offers In-App purchases)
Pros:
It can split and cut music, adjust audio volume, separate audio from video, as well as audio recording;
It allows you to add multiple audio tracks and even sounds effects.
Cons:
---
#2: Splice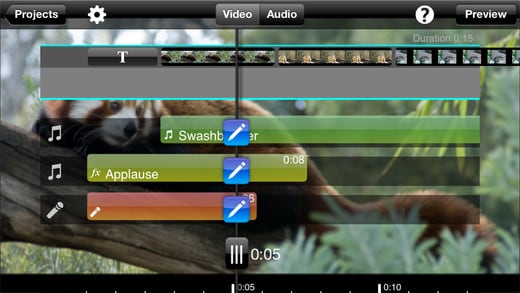 Splice will be a good iPhone app to add background music to your video. It will do away with all the concerns you have about adding an audio file to your video because its features are well designed for that. You can record a voiceover and add it to your video using this app with additional enhancements including trimming the audio and adding sound effects plus transitions.
Price: Free
Pros:
Time-saving multi-photo/video picker for adding new content to the timeline;
Ability to add music from iTunes or other music sources;
Preloaded with music and sound effects.
Cons:
---
#3: Studio
Studio has the voiceover option that you will use to add audio to your video file on iPhone. Its interface is user-friendly making it even possible to edit your audio before adding. It is well advanced and has multiple tools to use like sound effects, media organizers and video editor.
Price: $12.99
Pros:
Montage templates to create multi-layer 3D animations;
Professional video effects and graphics.
Cons:
---
#4: Clipper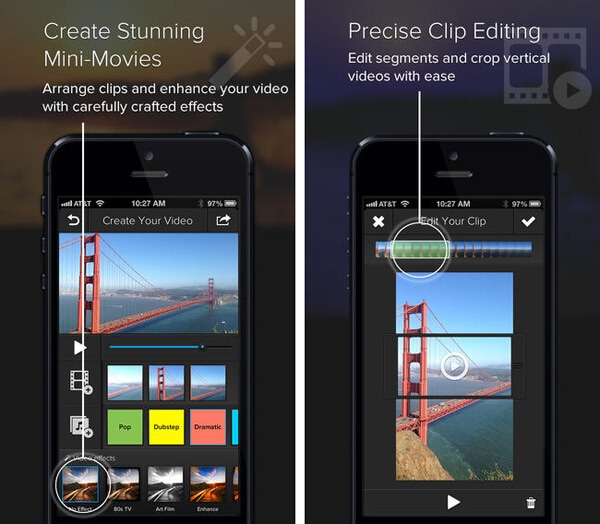 You will never get a free app to add audio to video for iPhone 8 that is easier than Clipper. You will not have trouble maneuvering through its basics. Clipper is available for free and will handle any task that a normal video editor can do including adding audio to video. This app works at high speed and will take short time in accomplishing the task.
Price: Free
Pros:
To create stunning mini-movies;
Precise clip editing.
Cons:
---
The Best 4 Apps to Add Audio to Video on Android phone
#1: AndroVid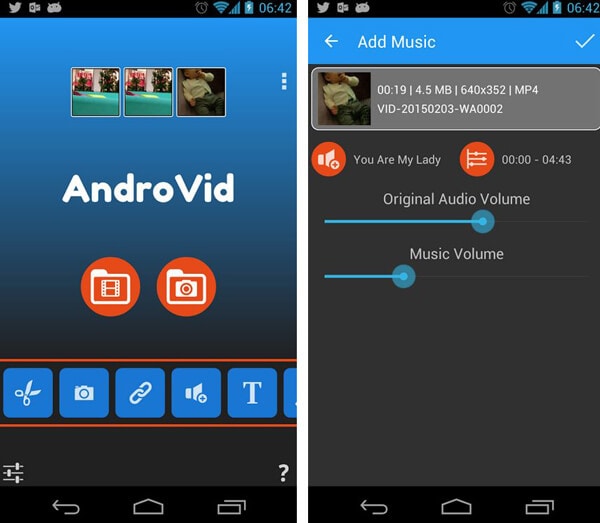 AndroVid is a simple to use Android app to add music to video for free that has very many things it can accomplish but the standout one is adding audio to video. You will get to see an option that allows you to add an audio file to video.
Price: Free
Pros:
Professional video effects;
Set video frames as wallpaper.
Cons:
The free version is limited to 30 seconds to merge every single clip.
---
#2: KineMaster Pro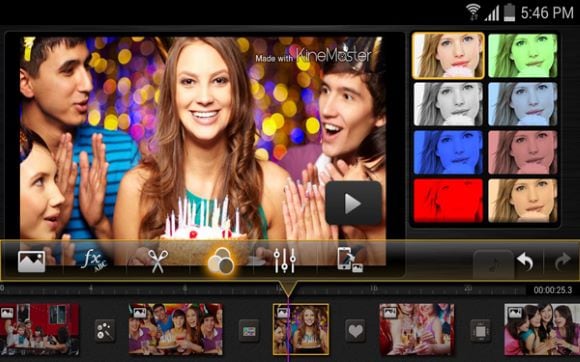 KineMaster Pro has support for multiple audio tracks and has the tool for recording a voice-over. Its interface is clean and friendly to the user.
Price:$0.99-$39.99 per item
Pros:
Professional-grade video editing app;
Features multitrack video timeline;
Real-time video and audio recording.
Cons:
---
#3: Video Maker Pro Free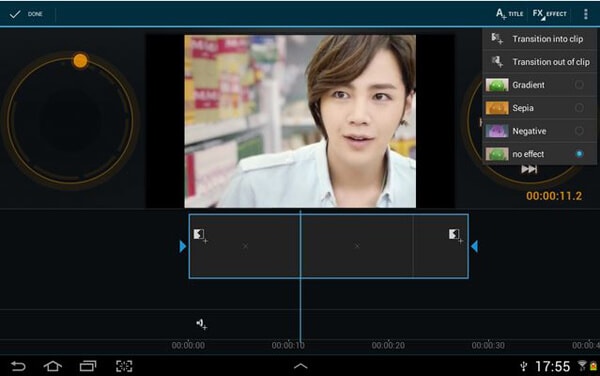 Video Maker Pro Free is an Android app to add an audio track to the video. The feature will come in handy if you want to have some background music or voice over added to your project. Its failure to support multiple audio files might be a limitation.
Price: Free
Pros:
Professional video effects and graphics;
Multiple pictures as slide show movies.
Cons:
---
#4: VidTrim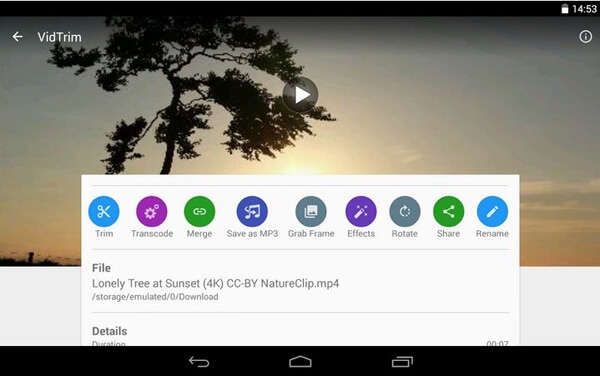 You should not ignore VidTrim when looking for a suitable app to add audio to video on Android devices. It has the option of adding a supplementary audio file that you can take advantage of.
Price: Free
Pros:
Professional video effects.
Cons:
Watermark will be applied to the resulting video on the free version.
Summary:
Well, the above 8 apps can help you add audio to video on iPhone, iPad, or Android device easily. If you want to make a simple editing on your target video, among these apps, FilmoraGo can be the best choice.
But if you're going to make a video with cool effects, you'd better ask help from a professional video editing software on PC or Mac. Considering lots of users have the further editing needs, here I also give you an advanced tip to make a high-quality video with audio as you like.
---
Advanced Tip: How to Add, Replace & Customize Audio in Video for iPhone and Android?
Instead of adding audio to videos on mobile devices, I suggest you try the desktop video editing app, Filmora Video Editor for Windows (or Filmora Video Editor for Mac) to add music to video on Mac (macOS 10.14 Mojave included) and Windows. This program can also help you remove audio from video, mute video, or enhance audio settings by yourself.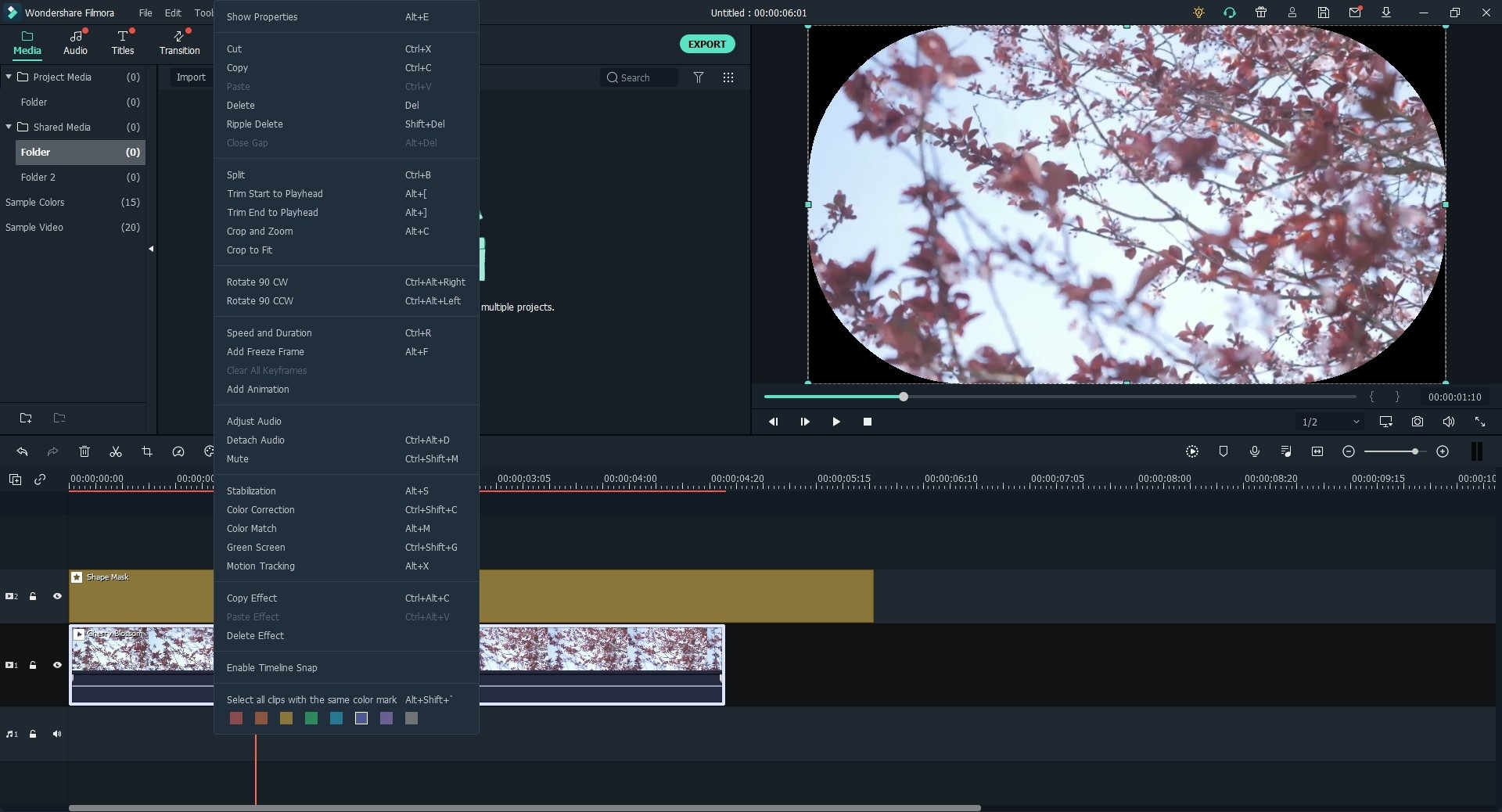 This video editor supports almost any audio format. And it allows you to detect audio from video, trim, cut, fade in or fade out the audio as you like. You can also easily add audio to a video or replace audio in video with few simple clicks. Besides, there are so many hand-picked sound effects available to make your videos better.
Key Features of Filmora Video Editor
Get various types of free music tracks to fit your different video theme, and allows you to load local music for editing.
Customize your music track with handy editing tools. Detach, remove, mute, or replace audio files in video with 1 simple click.
To make video more attractive, you can apply diversified video effects. There are 1000+ video effects in the Filmora's effect store for your reference.
The created music video can be shared to YouTube, or convert to other formats, or send to iPhone or Android.
---
Steps for Adding Music to Video on PC/Mac via Filmora Video Editor:
1. Import video and audio files to the program through dragging and doping or going to "Import Media Files Here".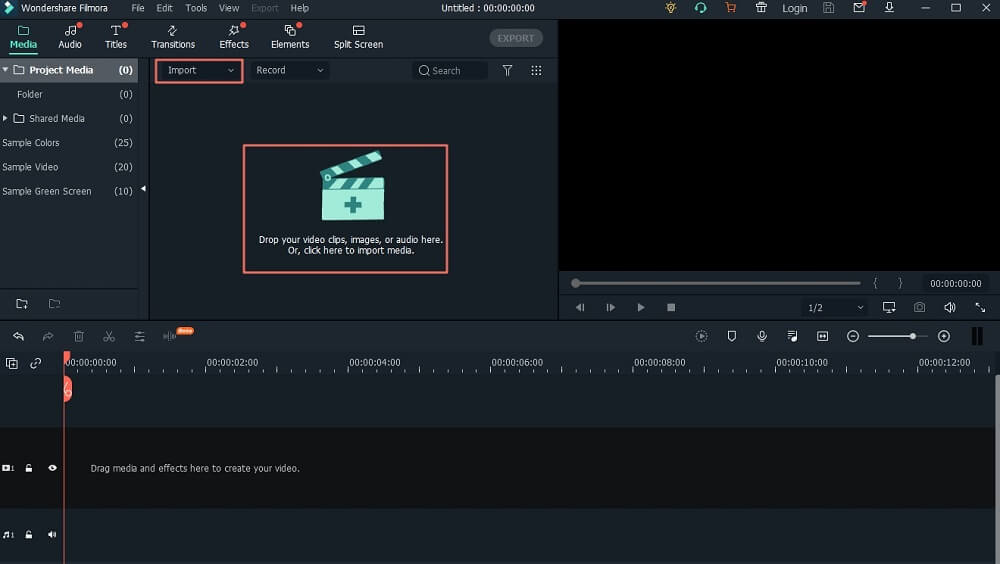 2. Drag the audio and video file to the timeline of the program. Here, you can double click the audio track to adjust the volume, speed, fade in, fade out, remove background noise, etc. as you like. If you want to use the built-in music track, you can click "Music" to select a sound effect to your video.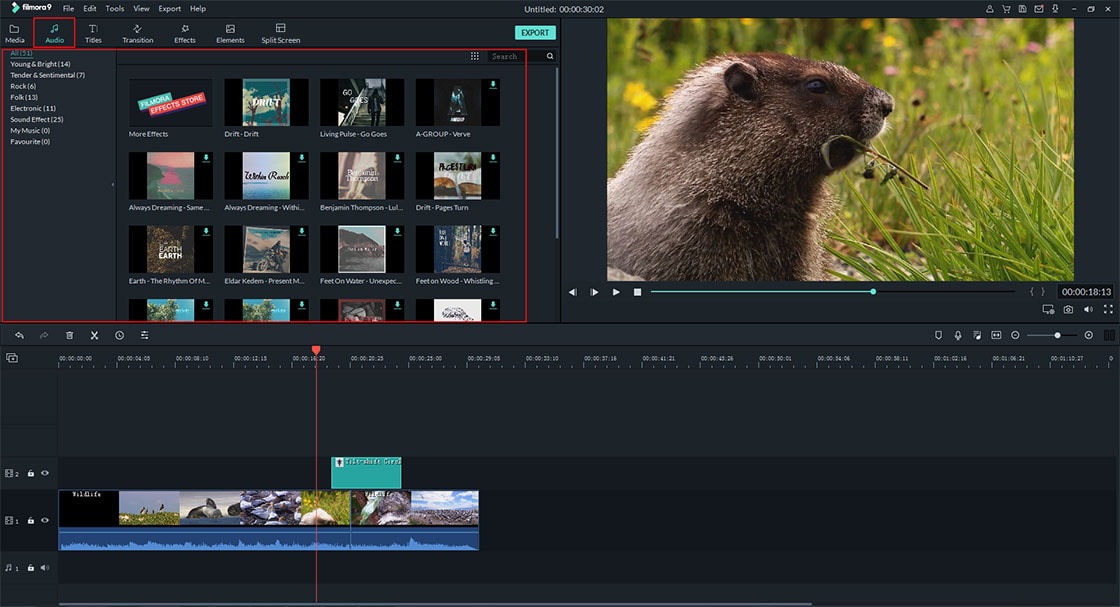 [Bonus] Replace Audio in Video
If you want to change the video's original audio effect, you can right-click on the video track in the Timeline and choose the "Audio Detach" option. Then, the audio will be removed from your targeted video and displayed in the audio track. You can click on the audio and hit the "Delete" button. Then, follow the above steps to add a new audio to the video.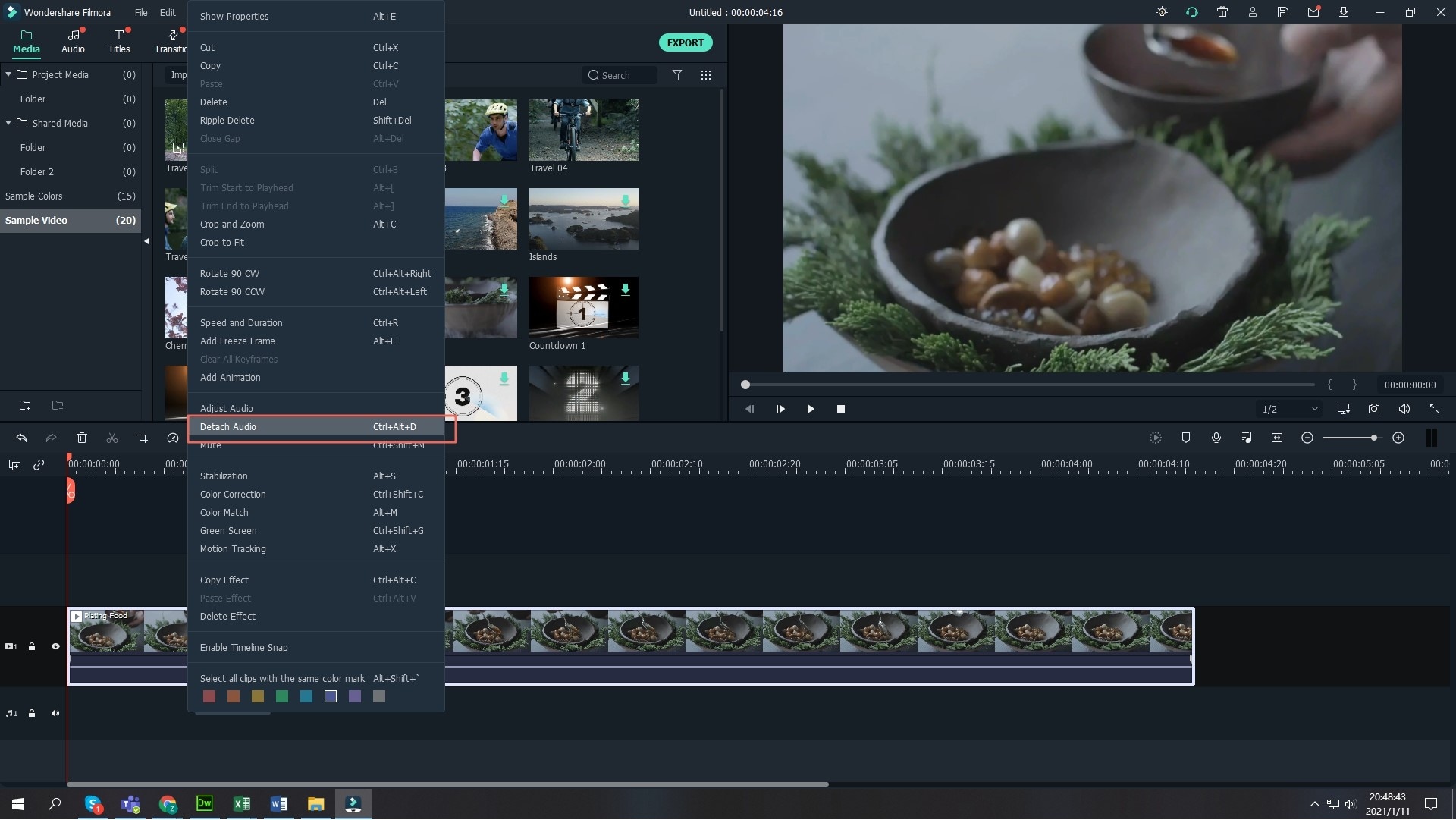 3. When the audio is successfully added, you can click the "Export" button to select an output format or device to save the video with an audio effect.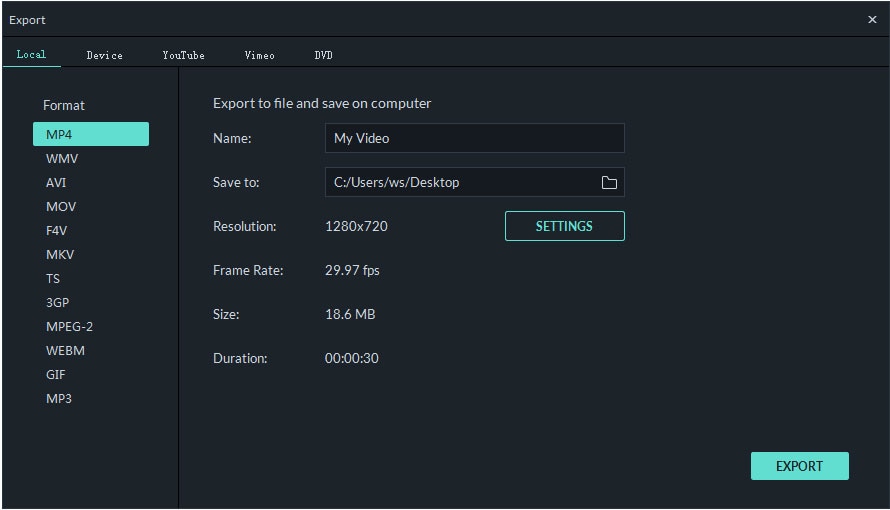 As you know, this Filmora Video Editor is a professional video editing software for Windows and Mac, so you can use it to edit a video as follows:
- How to overlay pictures, videos to a video
- How to split video into frames
- How to make a video with music and pictures
---
Now, It's Your Turn!
And now I'd like to hear from you:
Which kinds of tools from today's post are you excited to try first?
Or maybe you still have a question about something you need?
Either way, let me know by leaving a comment below.
If you're hesitating between the add audio to video app and the video editing software, then, you can get started from FilmoraGo and Filmora Video Editor. With the two tools, you can solve almost all editing issues by yourself.