There are many video compressor apps which you can choose from to make your video compression experience wonderful. It is strongly advised that you have a complete consideration whenever looking for a suitable app for compressing your video files. This is because there are many in the market some of which are original and others simply counterfeits. This article will discuss three of the top video compressor apps for Android and iPhone that you will get to choose in the online market. Make sure you know how to differentiate original apps from counterfeits and that will cushion you from making wrong choices.
Part 1. Recommended: The Best Desktop Video Compressor - Filmora Video Editor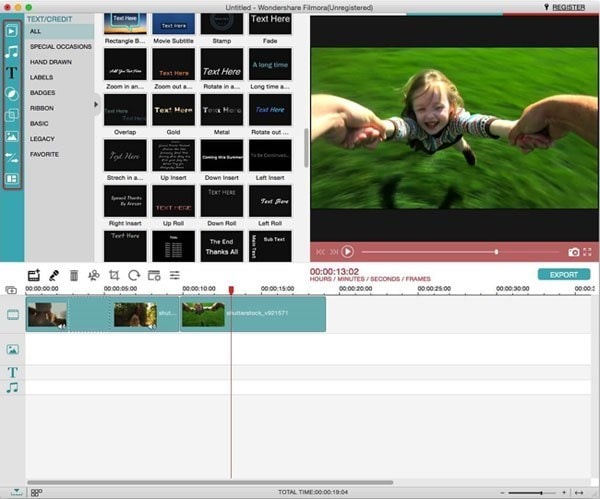 For Mac and Windows users, Filmora Video Editor for Mac (or Filmora Video Editor for Windows) is the best helper to compress videos in many ways. You can compress video by trimming unwanted part, cropping videos or deleting unnecessary elements, as well as saving video to other format.
Why Choose Filmora Video Editor
Compress video without reducing the quality.
Trim, crop, rotate, split and join video with handy tools.
Personalize video with 300+ new effects.
Share video to your social account directly.
Part 2: Top Video Compressor Apps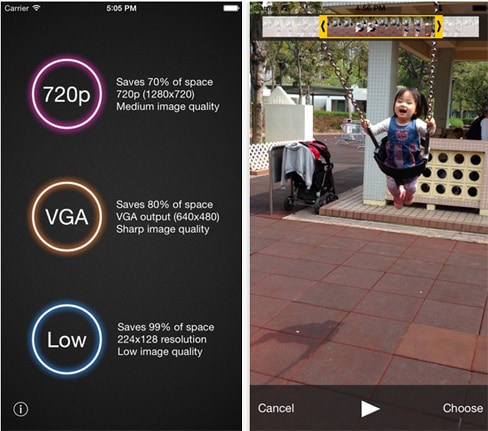 This video compressor app has to be a top consideration for you in case you want to compress your videos and save your computer some of its valuable space. The greatest feature of this compressor is ability to reduce dimensions of your video as well as resolution in making them good for use with iPhone. The video quality feature is another one that you will not choose to ignore as it helps to decrease the bit rates of your video. That automatically lowers its size without interfering with the quality. Use the video slimmer feature to cut or split your video on iPhone. The main advantage of using Video Compressor for iPhone is that you can share your compressed video using third-party apps and even through e-mail. It supports many formats that include AVI, MP4, AVCHD, H.264 and MOV.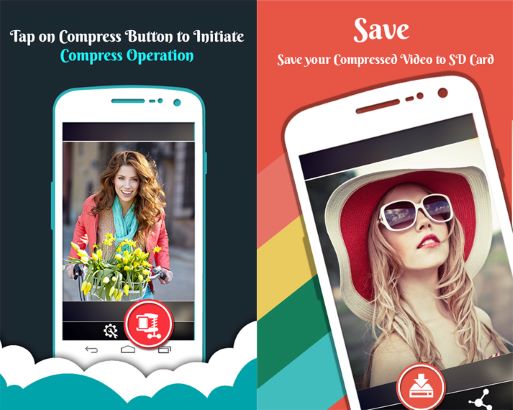 Support for many android versions beginning with 3.0 is the key feature for this Android video compressor. That eliminates any possible challenges to be experienced with compatibility. Once you are through with compressing your video, it's easy to share it through e-mail and other social networks like Facebook, WhatsApp and Wechat. It will give you an opportunity to enjoy some of your memorable moments with family members and people close to you. You will not be looking for any other benefit than that in using this compressor app for android. AVI, MP4 and 3GP are the main video formats that are supported by Video Compressor for Android.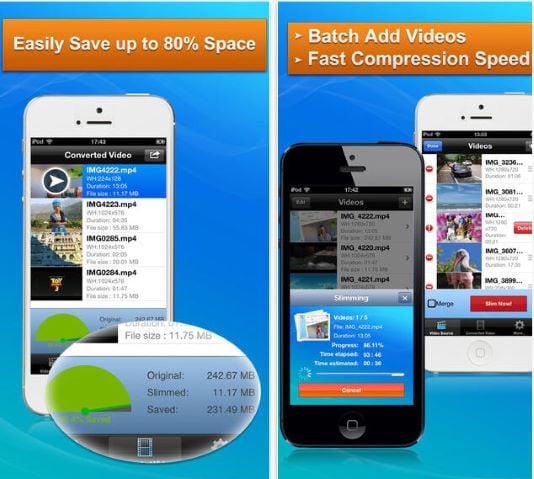 This is an video compressor app for iPhone with all the beautiful features that any user will be out looking for when compressing video. You do that directly on your iPhone because it's not a PC program. For that reason, compressing of videos is achievable directly on the iPhone without requiring third-party apps. Using this app to compress your video can save 80% of disk space in your iPhone. This is for the reason that an optimized codec is used which guarantees reasonable compression as well as high quality to the video. iPhone Video Compressor for iPhone allows for batch compression and that means speeds used are very high. It will not take long to successfully compress your video while sharing with your friends is easy. The main video formats supported by this app include MPG, MP4, MOV, WMV, AVI, FLV, MKV, VOB and 3GP.