Videos are one of the leading options for people to showcase their creativity and content in an appealing visual representation. Digital marketing experts and solo content creators require top-notch photo video maker apps for suitable video making/editing. With these apps, you can create stylish slideshow videos with audio and text inlay and, surprise your target audience!
Looking for the best option that you should try out for professional-level video creation? We have listed the top 10 options available here; read to find out.
Part 1. 10 Best Photo Video Maker Apps
We looked at various options for the best applications for photo video making. Here, we have compiled the top 10 options that we found after thorough research.
The FilmoraGo app is suitable for multi-level video editing experience. Users can trim the video clips, add transitions between different clips, or slice the footage into multiple sections.
We found it easy to adjust the aspect ratio and change the video playback speed. There are royalty-free sound effects and music that one can add. Or, you can create personalized recordings or import them from the music library.
We tried using this app for creating appealing video blogs, memes, and even personalized videos from photos. To test it out, I downloaded the app on my Redmi Note 7 device and then clicked on New Project.
There are options to add photos or video clips from the device albums or stock. My 13-year-old is a massive fan of the Korean band, BTS, so I used it to prepare a small video of her favourite member, RM, as a gift. Needless to say, she was highly excited, as much as I was seeing the smooth functionality and diverse editing tools on this app.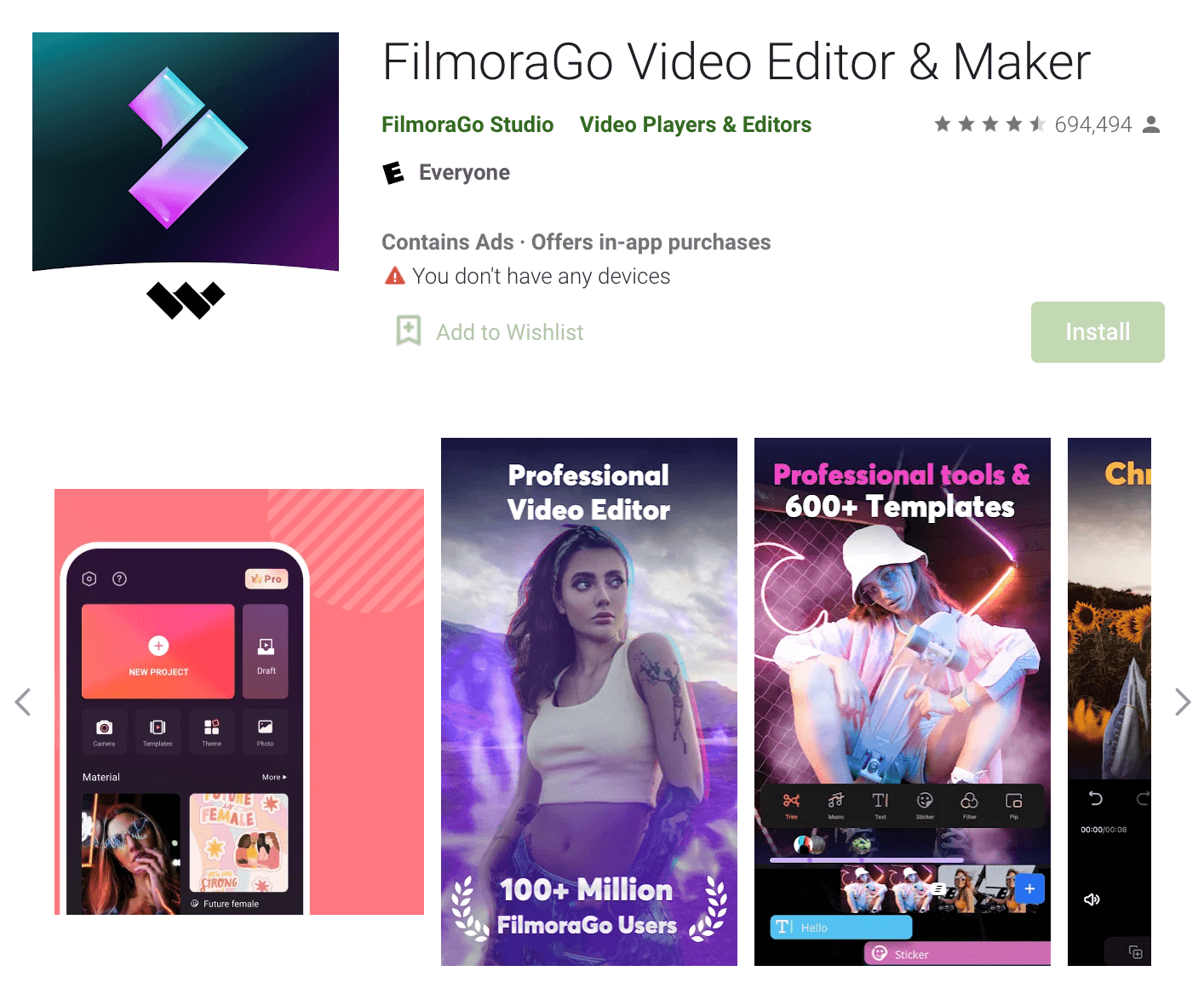 How to download: Google Play Store, Apple App Store
Compatibility: iOS, Android
Price: Free, with in-app purchases of USD 1.99 (FilmoraGo- 1 week) – USD 42.99 (FilmoraGo- Perpetual Plan)
Main Selling Point:
This application performs suitably well on different devices and OS types without much lagging or issues.
Best for:
It contains a wide range of easy-to-use and advanced editing functions, suitable for beginners and professional video editing experts.
Features:
Add diverse music/audio clips.
Use filters for quick video look change.
Add content, information, and headings in Text Formats in the video clips.
One tap social media sharing.
Pros:
Layer sounds and music easily through the mobile app version.
Easy to use filters, effects, and stickers.
Intuitive app features, easily accessible.
Cons:
Users cannot operate it offline.
The app size can differ on various devices with more app updates.
---
Magisto is a suitable app for photo video editing with stunning effects, filters, and layouts. Pre-set images and audio clips are available under the Professional and Business plans, with Stock pictures. We used it to create professional-level projects and personalized the brand icons/font.  
My colleague tried this out for creating a romantic video for her husband on their anniversary, using their photos from their dating period to entering parenthood. She added the photos, chose the editing style, added their favorite song as the background soundtrack from the in-built library, and the software did the rest of the work for her!
While using this, you can expect easy cloud storage access and can make a lot of HD video downloads as well.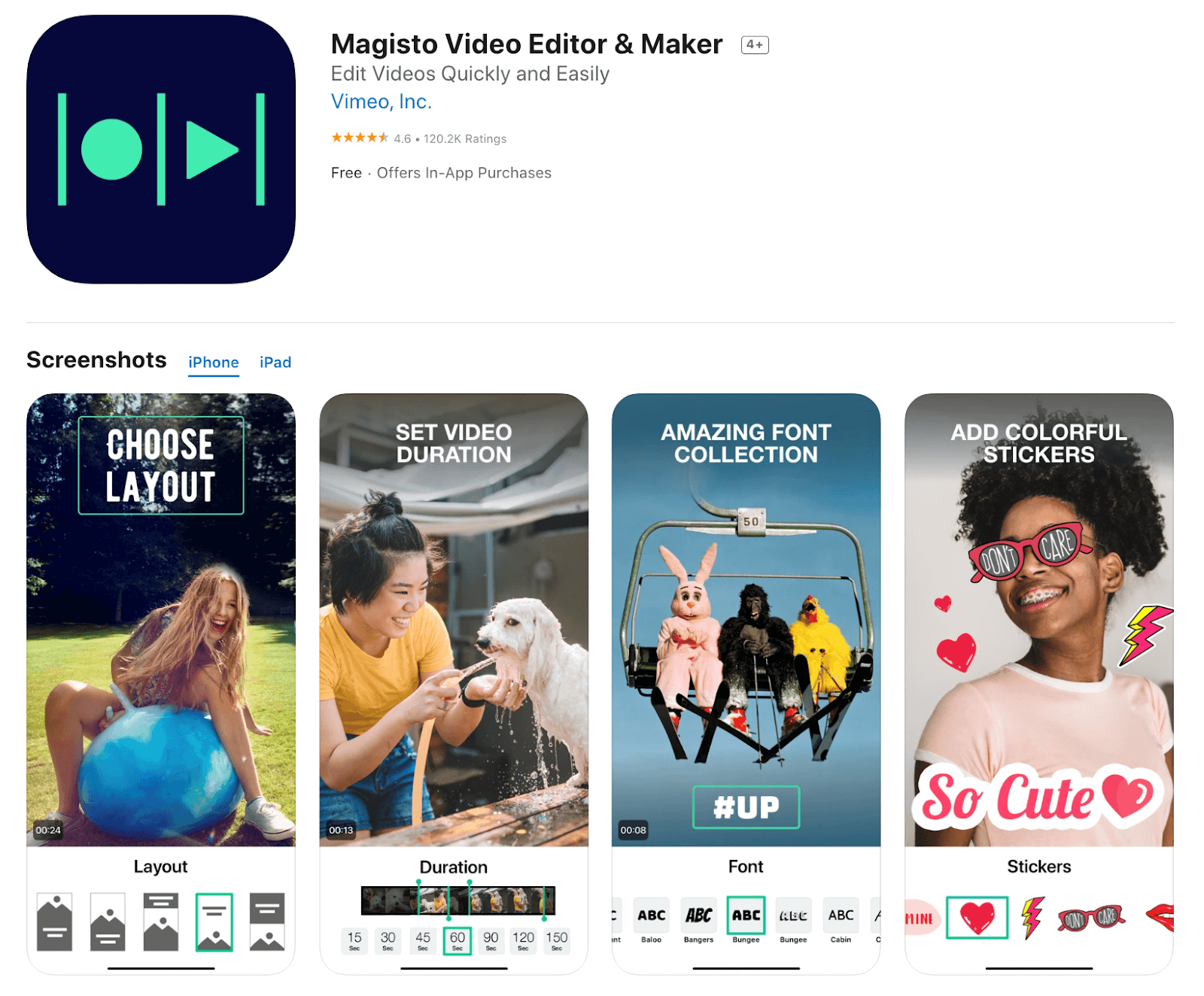 How to download: Google Play Store, Apple App Store
Compatibility: Android, iOS, Web App
Price: Premium plan- USD 4.99 per month, Professional plan- USD 9.99 per month, Business- USD 34.99 per month
Main Selling Point:
The AI-powered video editor is made for omnichannel distribution and marketing.
Best for:
Social media marketing experts can prepare short but informative promotional video content with Magisto advanced features and increase user engagement.
Features:
Create videos at least 10 minutes in length.
Premium editing styles are available.
All standard video editing features like Split, Merge, Cut, etc., are available.
Make unlimited downloads.
Pros:
Professional and Business plans have a trial period for initial use.
Simple templates for quick editing.
User-friendly interface.
Cons:
Only the Best for creating very short videos.
Video exporting does not support high-resolution options like 4K.
---
KineMaster is one of the best video editors available for merging clips and photos into dynamic video projects. We found interesting options from the KineMaster library and then added personalized photos and videos to these pre-build projects. Then, it is easy to backup the files for future use or directly share them online or with other users.
One of the best unique features of this app that we found was the blending mode. With this, we could overlay pictures and videos in eight diverse blending modes for a creative, transitional effect.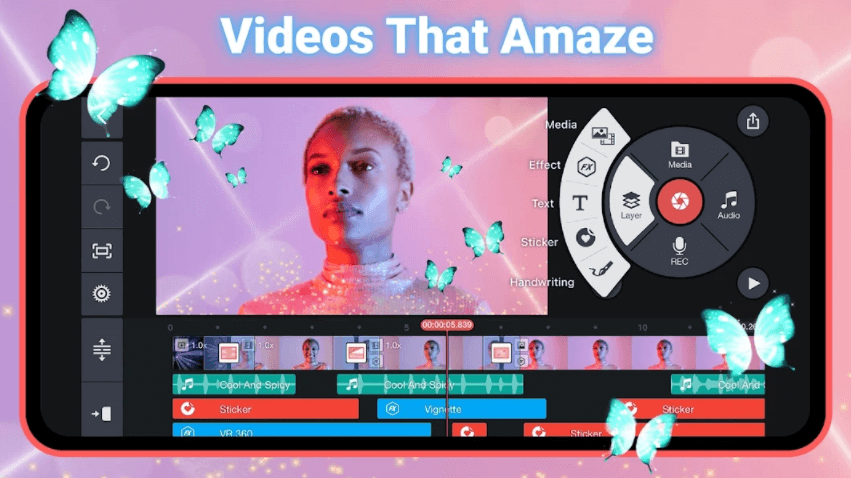 How to download: iTunes, Google Play Store
Compatibility: Android, iOS, Chromebooks, M1 Apple computers, Samsung DeX
Price: Free. The Premium plan comes with additional benefits like Watermark removal, premium assets, etc. In-app purchases are available, ranging between USD 73.28 – USD 476.69 per item.
Main Selling Point:
Access to a wide range of features, modules, and extensions from the open-source community, like glide, wire, SnapKit, ReSwift, JSONSchemaValidation, etc.
Best for:
It is useful for creating rich videos with high-resolution photo and video quality, with available modules from the community. The app is better for professional-level video makers.
Features:
Play upto 9 videos in layers; this can differ as per the device.
High-end video quality at 4K up to 60 fps.
Chrome key integration for mask edge fine-tuning, etc., during video composition.
Access the KineMaster Asset Store to download unique stickers, effects, fonts, music, etc.
Pros:
An open-source structure assures more updates/features/community support.
Robust editing features like layering, multi-track editing, blending, etc.
Easily share content to synced social media apps.
Cons:
Multiple languages are supported, like English and Traditional/Vietnamese Chinese, but the options are limited.
Watermark is available; only Premium users can remove it.
---
One of the easiest options for creating interesting videos from photos is Video Maker. This app has a simple UI and different photo collage and transition features. While the app does not contain modern advanced effects, it is a simple alternative for new users.
You can create storyline-based short videos for private events or prepare a slide show of memories for a loved one. My friend uses this app for all her blog-making work on her iPhone 6 occasionally, adding images into the software after clicking on the SlideShow feature. She just adjusts the photos in the right order and uses filters to enhance the stylistic view of the videos. Then, the photo-based video is ready to go!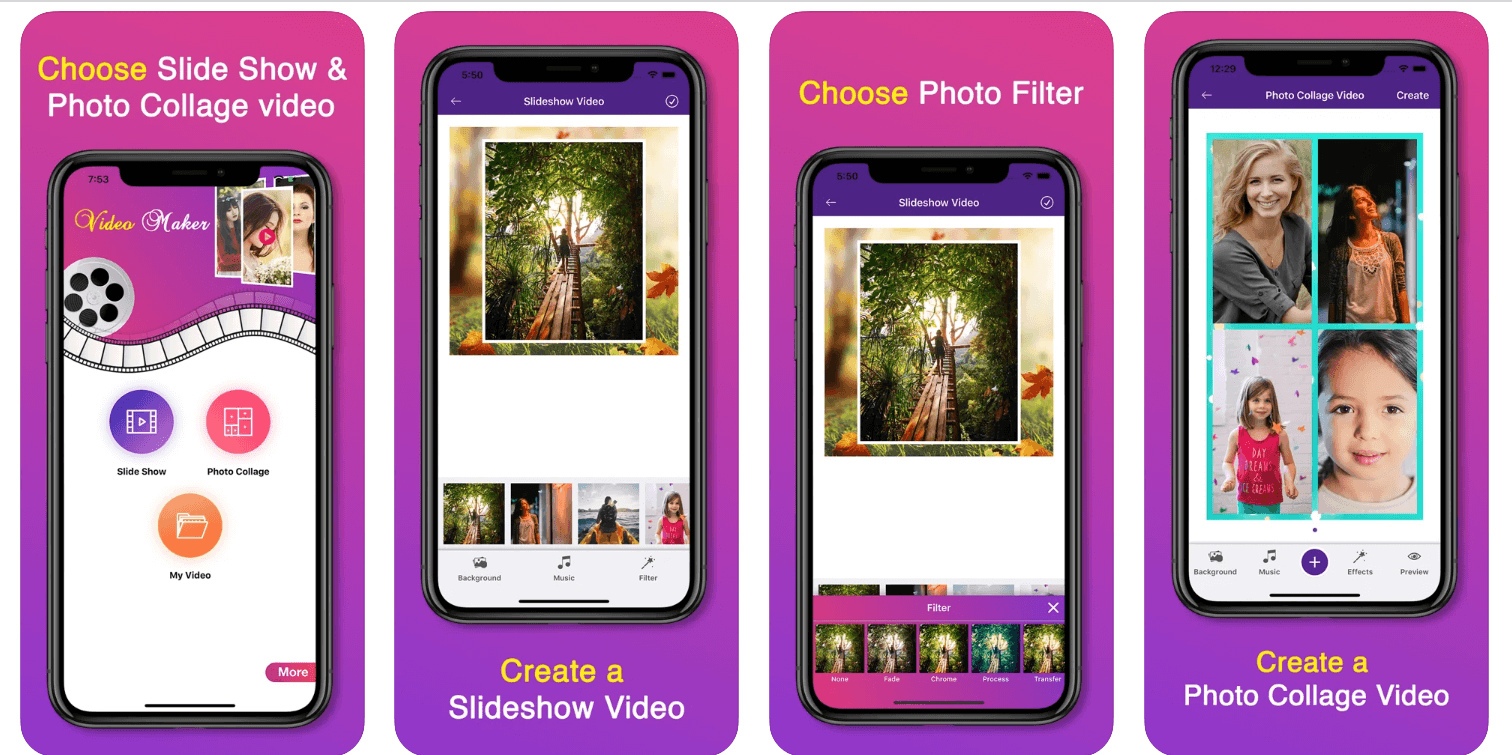 How to download: Apple App Store
Compatibility: iOS, Mac
Price: Free with in-app purchases for advanced features like ad removal at USD 1.99-8.99
Main Selling Point:
Easy-to-use video editor for adding music and photos together to form short videos.
Best for:
Simple video making for celebrations, Best for total beginners.
Features:
Add music and photos from the device.
Quick online sharing.
Store videos in Vault.
Make collages or slideshows.
Pros:
Small size of 4.9 MB is lightweight and assures faster performance
Prepare a slideshow of images.
Simple UI.
Cons:
Only available for iOS devices.
Not many languages are supported.
---
This application is one of the best video editors available for powerful video formatting and composition.  You can add transitions and effects with the drag-and-drop editor in the app. Also, adjust aspects like saturation, colour, and brightness easily.
I tried this out to create a fun short video for my 6-year-old on his birthday. It was very easy to add the photos I wanted to make the video with, using speed adjustment to add slow-motion effects. Later, I added a fun audio clip using the voice changer as a voiceover and used the multi-timeline feature to adjust the video clips and images in a smooth transition. The blending mode helped smoothen the transition, and I exported the final video in a full 4K resolution.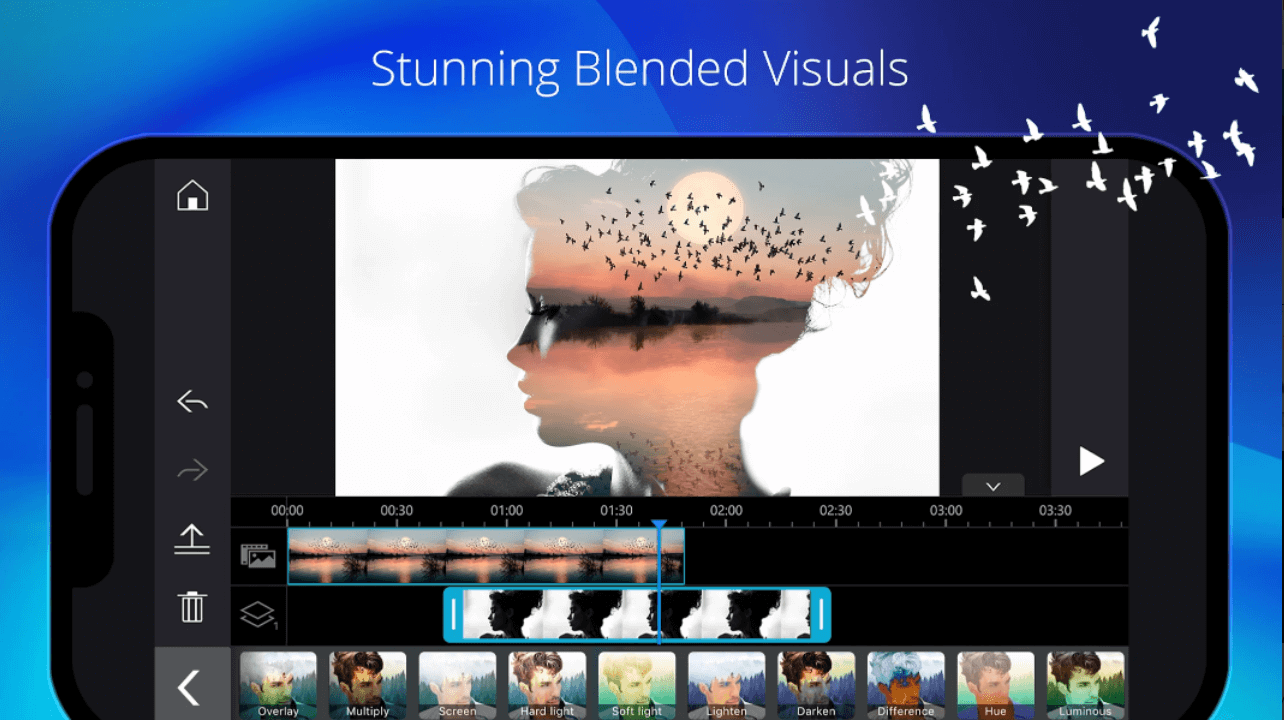 How to download: Apple App Store, Google Play Store
Compatibility: iOS, Android
Price: Free version with standing editing features, Ultra- USD 99.99 (One-time), Ultimate- USD 139.99 (One-time), PowerDirector 365- USD 48.99 per month, Director Suite 365- USD 89.99 per month, PowerDirector 365 Business- USD 149.99 per month
Main Selling Point:
Use Chroma-key to put a green screen instead of a background for editing videos.
Best for:
Content creators can use this app to create short music videos or films with engaging intros, quirky music effects, and animated titles. 
Features:
High-quality videos till HD 4K resolution.
Video stabilizer for fixing shaky video recordings.
Easy and direct social media sharing.
Double exposure with blending/video overlays.
Pros:
Premium effects and plugins are available.
Library of sound clips/music.
Multiple speed adjustments.
Cons:
Stock images are only available under subscription plans.
Customer support is not available for one-time payment plans.
---
Are you looking to prepare stylish videos in a storytelling manner? iMovie is useful for bringing that vision to reality. During the testing process, I used it to create personalized Storyboards. It is possible to do these using genre-based models, adding guides for clip organization and story structure reference.
It is easy to add modern and intuitive effects to video files while using an iPad or iPhone. You can import clips from storage and edit them in the Cinematic mode, modifying and adding stylistic elements.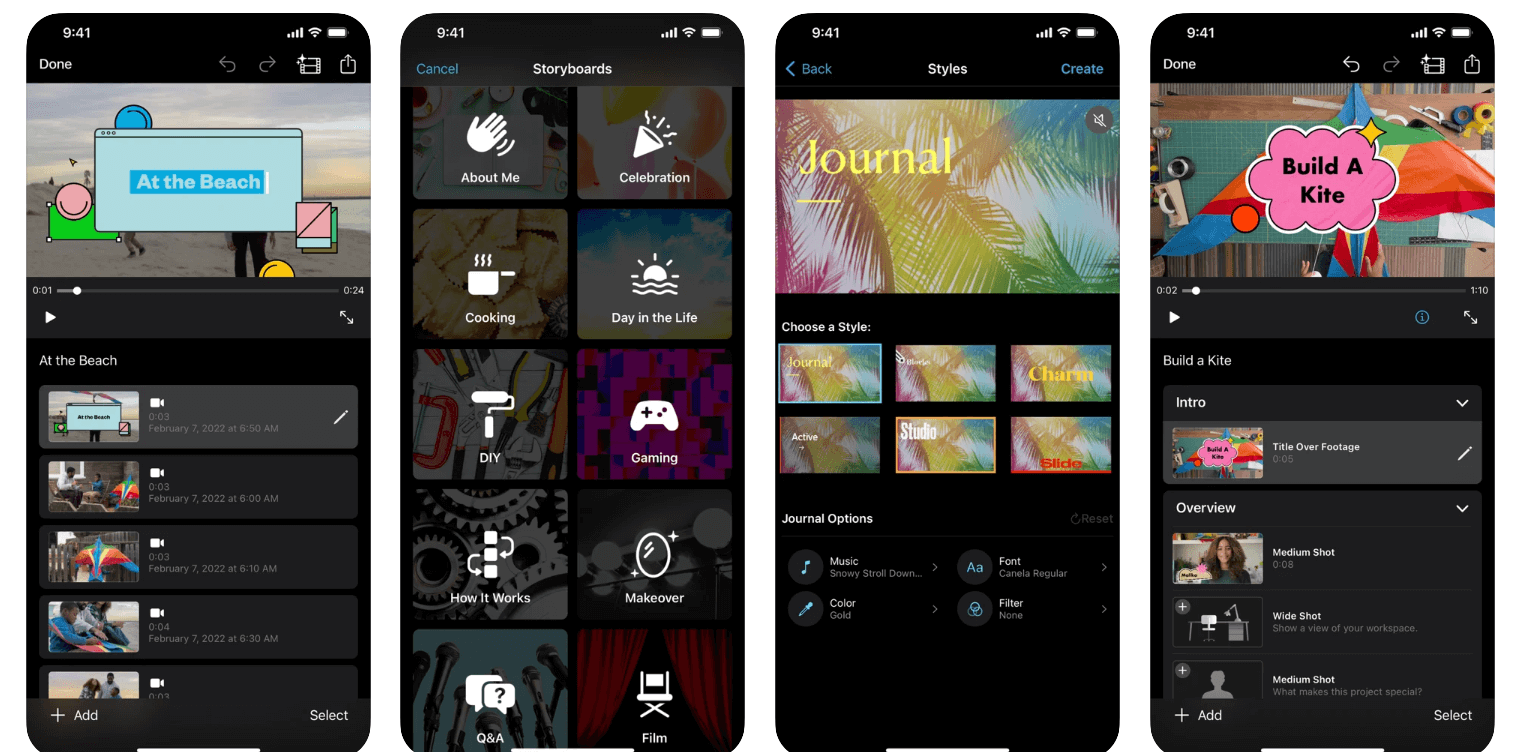 How to download: Apple App Store
Compatibility: iOS, Mac
Price: Free
Main Selling Point: Create cinematic videos with high-resolution quality.
Best for:
You can prepare to create movie-long documentaries and short videos with informational content. This is suitable for teaching purposes and presentations with picture-in-picture/split-screen features.
Features:
Prepare long movie-like videos with transition effects, overlay filters, and other advanced features.
Add titles, text, subtitles, music, etc., to the video.
Choose a stored album or media for automatic editing.
Over 20 video styles for quick, creative edits.
Pros:
Multiple languages are supported for global users.
Professional-quality intuitive features for Storyboards and Magic Movie.
Shot tips in storyboard types for each storytelling/video framing technique.
Cons:
The size of 618 MB requires a lot of space in mobile devices to avoid lagging.
Best for newer iPhone models, for iOS 15.2 and further.
---
One of the best things about this free photo video editor is its usability. Multiple advanced features are available for quick and short video editing, like splitting clips, adjusting the speed, and rotating clips.
The advanced beauty effects are useful for creating smooth videos with well-defined images. This app is suitable for generating aesthetically appealing short videos/photos for social media-based marketing. I clicked on the New Project option on the app and added the photos to turn into a video.
For quicker performance, I clicked on the Shortcut button and made some trimming, text addition, and filter changes. Later, I tried out the green screen function, too, importing the first edited video into the camera roll and another green screen video. I merged the videos with the Overlay feature, removed the background, and added additional filters, colors, and other edits.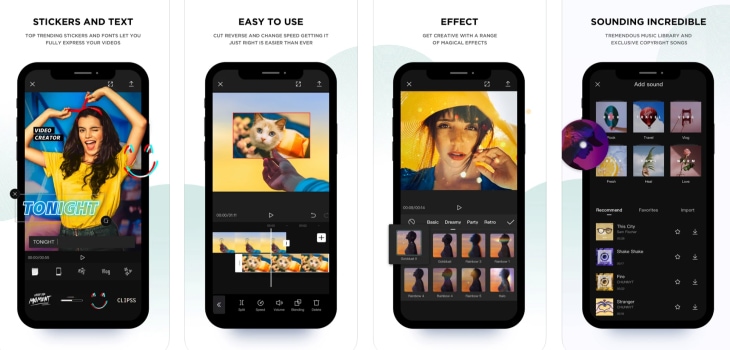 How to download: Google Play Store
Compatibility: Android
Price: Free
Main Selling Point:
Cut big video files into smaller clips and merge multiple clips into one streamlined video. Plus, the green screen feature is great for more detail-oriented professional video making with pictures and video clips.
Best for:
Beginner-level video editing enthusiasts can use this app for quick short video edits, adding beauty effects and advanced themes/filters.
Features:
Extensive library of video editing themes, effects, fonts, and stickers.
Diverse music library for adding quick background audio.
Simple editing features for video editing, like cutting/splitting, rotating, reversing, and speed adjustment.
Creative beauty effects for stylish video creation.
Pros:
Relatively small size at 97 MB; it assures strong performance.
Wide range of filters and beauty effects to optimize video files.
Library of copyright music for video editing.
Cons:
Not available for many Android devices, especially under 5.0 version options.
Apple users do not get this option at all.
---
For preparing a short video, we turned to use VivaVideo as the next option. This application does not have a huge size, making it easy to operate on different Android and iOS devices with low storage remaining.
It is possible to add multiple photos into a slide-show-like video with trendy audio tracks in the background. There is a wide selection of stickers and music available. Notably, my friend uses this app regularly to make song videos with lyrics through the text input option and adding background sound. Later, she shares them easily on her social media apps like TikTok and gains multiple likes. The process of editing is so simple that it takes her minutes to complete the whole edited video.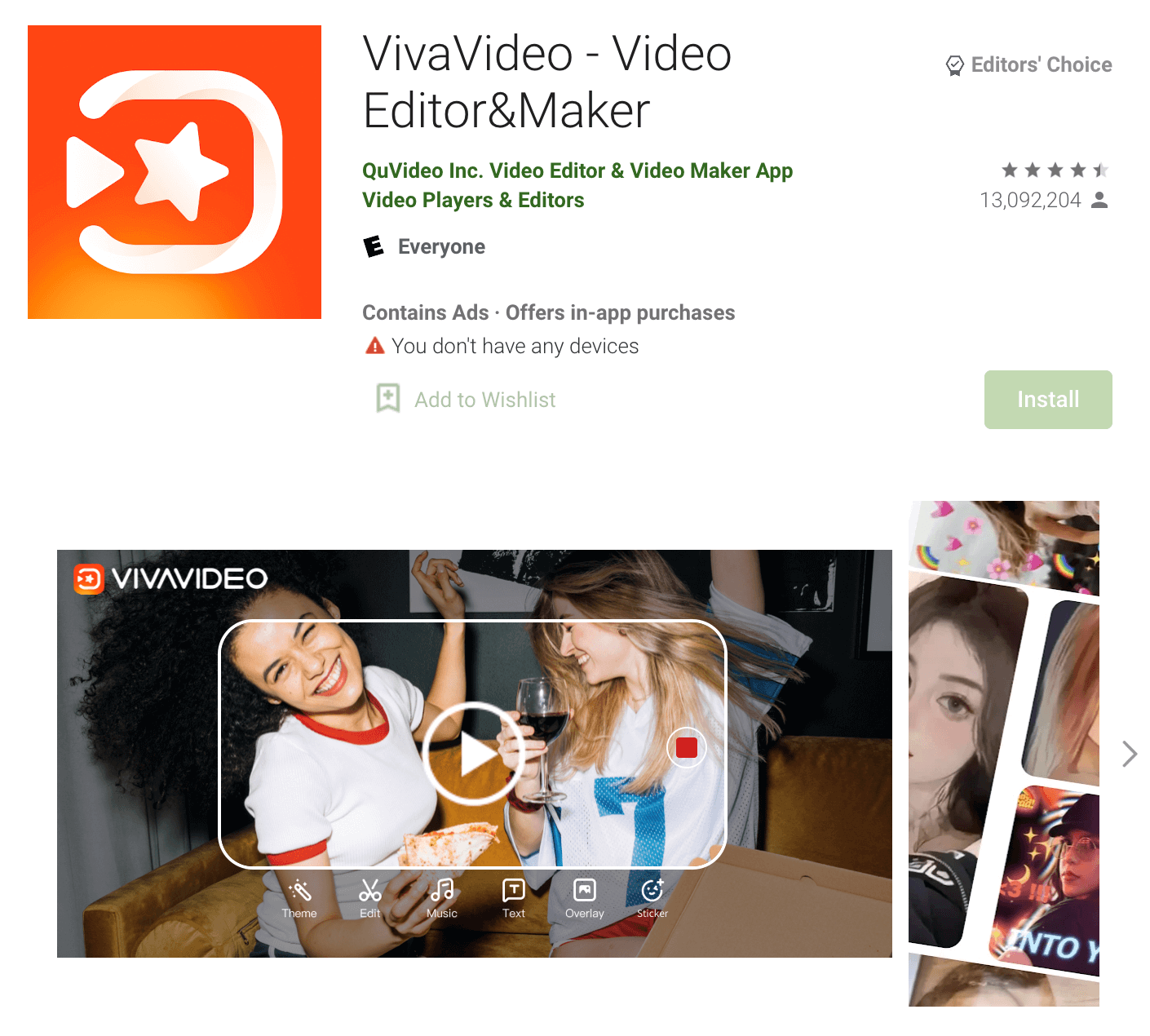 How to download: Google Play Store, Apple App Store
Compatibility: iOS, Android
Price: Free, with in-app purchases between USD 0.99 – 59.99 for each item
Main Selling Point:
Professional-quality video editing effects like FX, VHS, Transitions, Glitch effect, etc.
Best for:
As a social media influencer, this app is suitable for high-definition video and movie edits in 720p/1080p/4K resolution. Then, either save them offline or share them directly to TikTok, Instagram, or YouTube, whatever your platform is.
Features:
All-in-one app with various editing features like cut, split, copy, merge, cut, and other actions.
High-quality templates are available for quick video formatting.
Make short videos with photos and add background audio.
Speed changing is possible between 0.1 to 10x speed.
Pros:
Users get a comprehensive library of audio clips to use during video editing.
Different types of effects, templates and filters are available.
Multi-track editing function available for layering music and voice clips into videos.
Cons:
The videos have a limit of 5 minutes.
Slow-motion mode is unavailable.
---
GoPro Quik app is one of the best photo video editors for content creators to save all their best images in one comprehensive platform. While testing the product out, we tried the private Mural here. Importing favorite pictures into the library was simple regardless of the device type.
Furthermore, multiple editing tools are available for efficient video/photo formatting, like speed adjustment, beat sync with GoPro music, and more. We did not have to do much while trying this app out. The software automatically enhances the videos with special effects and transition highlights to the video we create using HD-quality stock photos.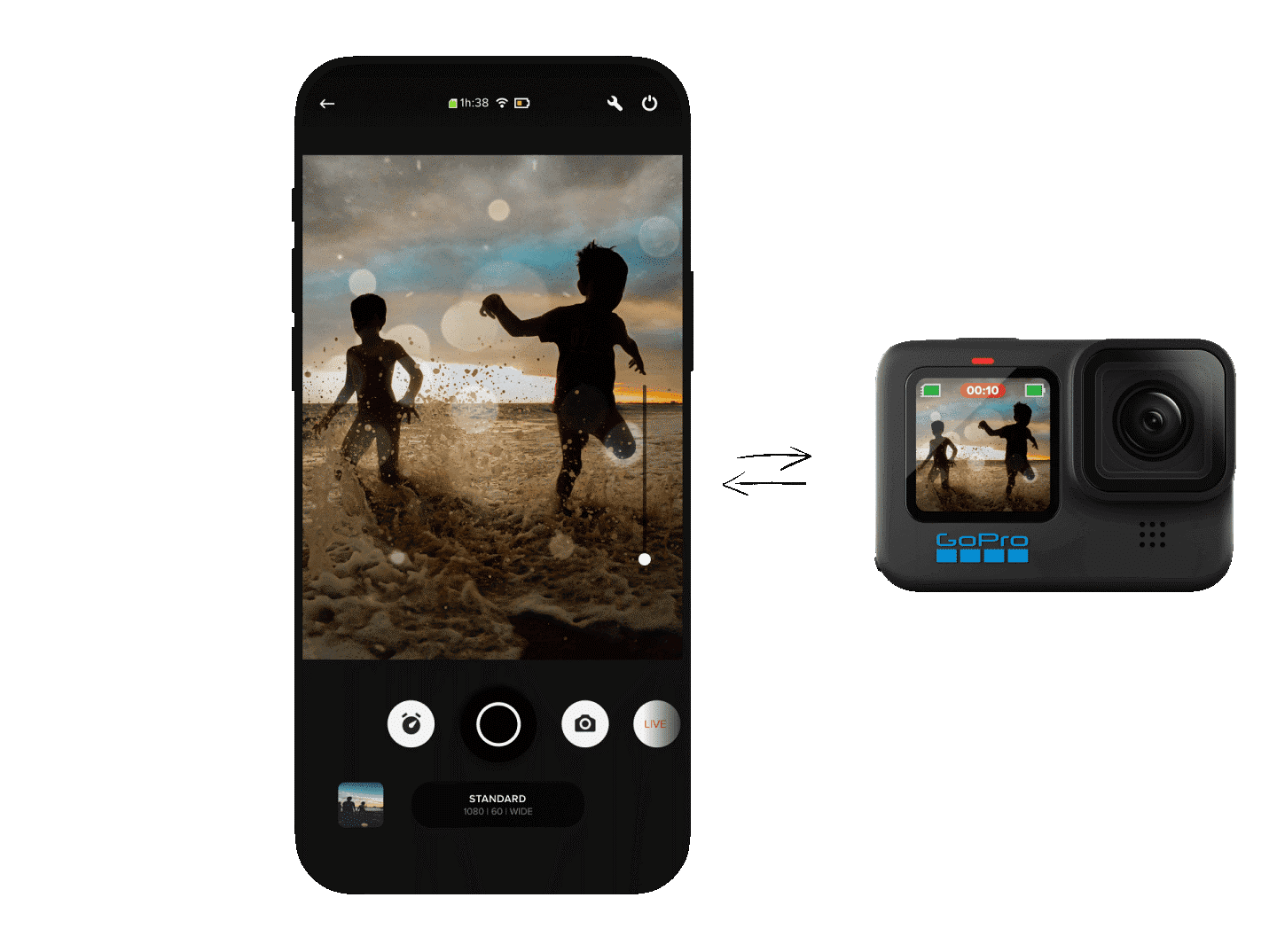 How to download: Google Play Store, Apple App Store
Compatibility: iOS, Android
Price: Free with standard editing features/effects/templates, Quik Subscription- USD 1.99, Quik Subscription (1 year)- USD 9.99
Main Selling Point:
Wireless video or photo transfers occur smoothly between different types of devices. Personalized Mural of all favourite pictures in one private library.
Best for:
Unlike most other options, the Cloud Backup feature allows unlimited video storage at top quality from any device, phone, or camera.
Features:
Multiple filters are available for quick edits.
Auto syncs music with video edits.
Adjust video speed with a few steps.
Format text font/photos/video with cropping, trimming, colours, etc.
Pros:
A small app size of 234.2 MB guarantees a smooth editing experience and better storage.
Multiple languages are supported.
Grab frame shots from any moment during video playback at high resolution.
Cons:
Cloud access is only available for premium users.
Updates are limited.
---
When we tried out VideoShow, the first impressive thing was the easy UI, which was highly suitable for inexperienced creators. There are loads of filters, music, stickers, special effects, and text options that one can add to create appealing videos.
The app gives no set limit on the time length for videos and allows advanced features like live dubbing. We could compress/reduce the video files to export for less storage wastage.
While using this app for photo-based video editing, my colleague, Roxanne, downloaded it on her Samsung Galaxy Note 10 device. Then, she clicked on the Photo Video option from the app homepage and selected the images/video to make into a video from the device camera roll.
After that, the editing options appear for trimming the clips, adding text/subtitles, and even music to the file. There are speed adjustment options here as well.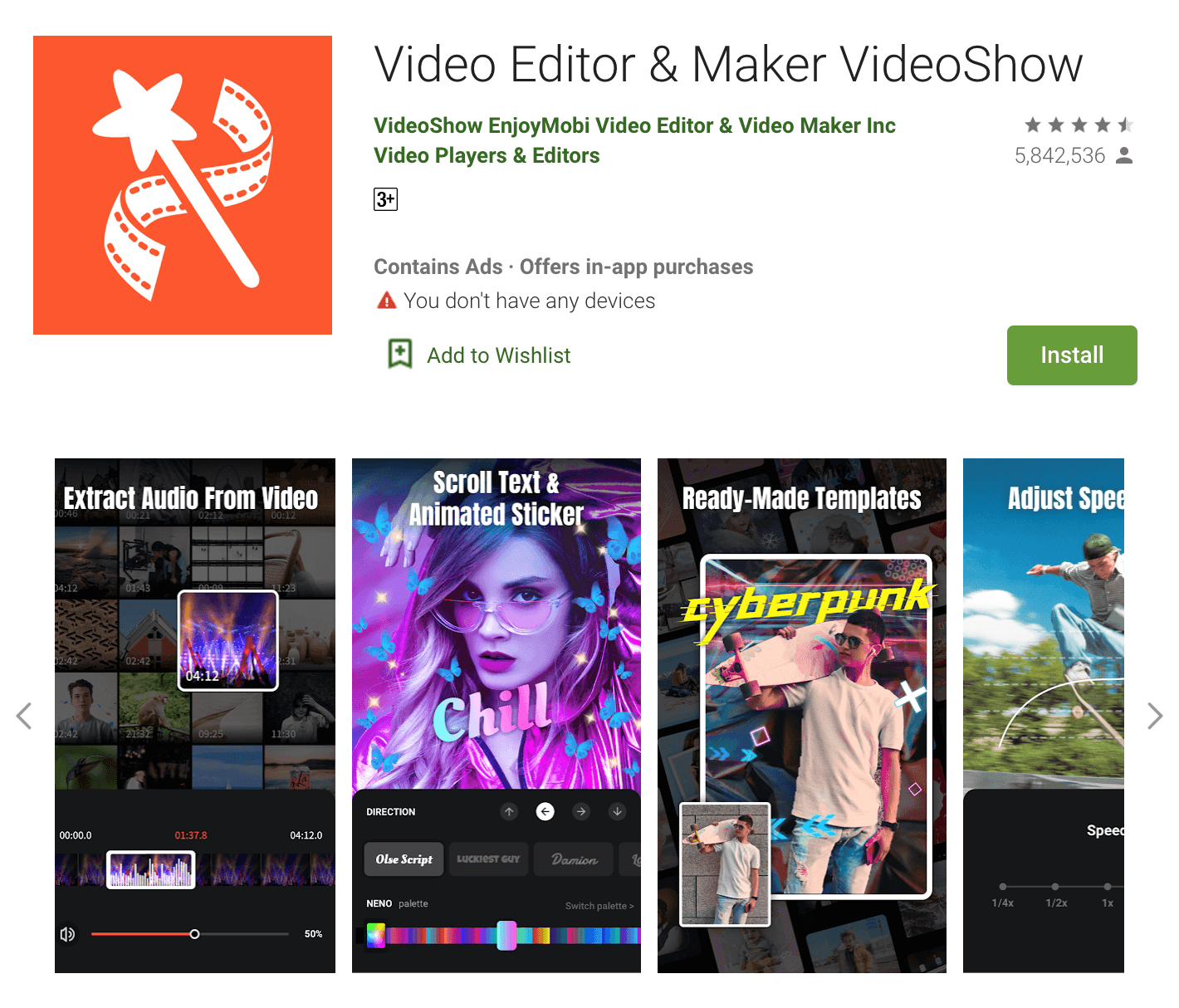 How to download: Apple App Store, Google Play Store
Compatibility: iOS, Android
Price: Free, Monthly subscription- USD 7.99, Yearly VIP Plan Subscription- USD 35.99, VIP Privilege- USD 35.99
Main Selling Point:
Users can get VIP Membership to get advanced features like GIFs with long videos, watermark removal, and subtitles. Support for video export in HD quality, adjustable audio adjustment, stickers/themes/subtitles/music/content.
Best for:
You can add voiceovers, audio files from the local music library, or other background audios into the videos you are editing. So, this app is highly suitable for personalized videos like birthday montages, hour-long home videos, and memes.
Features:
Variety of fonts/styles for subtitles.
Long stretches of exported video files.
Add robotic video or custom voiceover.
Zooming feature for focused viewing.
Pros:
Smooth interface with easy-to-use features.
Wide range of music libraries for optimized editing.
Powerful features like HD exports are free for users.
Cons:
Video exporting function is available only for the paid version users.
Free videos come up with a "VideoShow" watermark.
---
Part 2. How to Make a Video with Photo and Music with Filmora Video Editor
If you are pursuing the ultimate editing experience, here I suggest you start the photo video made from a desktop photo video maker software: Filmora Video Editor.
You can get the best photo video maker on your desktop computer to edit and make a video with photos and music.
Follow the easy and quick video tutorial below and make your first slideshow/photo video with Filmora for free.
---
Part 3. Conclusion
Overall, these options are powerful video editors with diverse features, access to music/video library, and HD export availability. One can use VivaVideo to make short videos or opt for Filmora to make professional movie-like presentations. Make your selection based on your needs.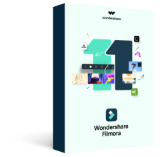 Drag and drop photos and videos for making photo video, and be able to split, cut, edit photos at seconds;
Built-in free titles, transitions, filters, overlays, elements, etc. can be downloaded and applied to your photo video with 1 click;
1000+ video special effects to create cinematic video from photos;
Export photo video to any formats, platform, or devices as you like;
...