- What is the best mobile video editor?
- What is the best app for making video edits? Or how to edit a video on my Android phone?
- ...
Have you ever wondered of the questions like above? Do you want to know what is the best video editing software for Android? If so, you've been the right place. Today, you'll learn 8 best video editing app for Android with a full comparison. So that you can pick up a proper one without downloading and installing them on your Android phone or tablet for testing one by one.
The best part?
I will also list some tips to help you select a Android video editor that is suitable for you in the shortest time. And also provide all of you with an alternative solution when all these video editing apps cannot satisfy your needs.
In short: If you're looking for the best video editor for Android like Samsung video editor, HTC..., then you'll love this top list.
Let's get started.
What to Look at When Choosing the Best Video Editor for Android?
A good Android Video Editor should have an easy interface, powerful editing ability, high compatibility, and 100% risk free. Here, I have summarized several functions that should be included into a good video editing app for Android. You can check and confirm if the Android video editor app you interested in supportes these functions:
1. Check if all you needed basic editing functions like split, trim, crop, text, etc. is supported or not. If not, you can directly give up this app and look at another one. If the app contains the editing features you need, you can go to the next tip.
2. Check the supported effects. Android Video Editor app cannot provide uesers as many effects as the desktop tool due to lots of reasons. So, in order to pick up the best one which can satisfy all your editing needs for Android device, you need to check the program's supported effects, including overlays, filters, transitions, etc.
3. If you have high requirement of video editing, then you might also need to check some advanced editing skills, such as green screen, apply picture in picture, effects customization, etc.
4. Supported formats. Since the video comes with various formats, so a good Android video editor should have the ability to import and export videos in various formats, including MP4, MKV, WMV, AVI, 3GP, etc.
5. ...
Now, let's use the above tips to pick up a proper video editing app for Android.
[Attention] For iPhone users, please click here to find the best free video editor app for iPhone.
---
7 Best Free Video Editing Apps for Android
Adobe Premiere Clip
Adobe Premiere clip can turn the clips you shoot with your Android or iOS device into videos that look and sound incredible. Then you can share them on your favorite social channels or sync them to Adobe Creative Cloud to take them further in Premiere Pro CC.
Key Features:
- You can create videos simply fast if you know the tools better.
- Customized editing option is for the pro people to make some good things happen.
- It would auto sync the devices for any project or clip that would be edited later.
- You would get Lightroom and CC access for better editing.
Cons:
- You can't purchase the software outright - you must subscribe to Creative Cloud ($52.99/month).
- If you are a new user, the broad timeline might make you a little bit uncomfortable.
Price: Adobe Premiere Clip ($19.99) + Creative Cloud Plan ($52.99/month)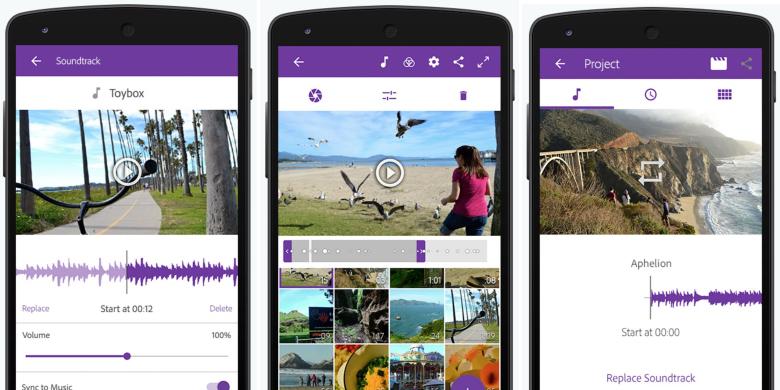 Movie Maker Flimmaker
Movie Maker Filmmaker is the best video editor & movie maker with perfect filters and vfx effects, it can makes your day and turns your work into an art with the free features of this editing application. To use this app, you don't need a certain technical knowledge to operate this software, all you need is a collection of hand-picked effects and apply them to make a change in your video.
Key Features:
- Moving effects such as Film effects, light overlays, dynamic filters, light leaks, and lens flares to make a standing out the video clip.
- Grab your favorite animation effects from the huge library of custom effects that includes Infographics, bubbles, light rays, transitions, cute hearts, realistic dinosaurs and many more with no limits.
- Add a custom text animation to your video with customized typography, calligraphy, emojis, and comic bubbles. You can also select the custom texts to make titles, subtitles and anything that you need on your video.
- You can also add an audio file to your video or override the audio track on your video by choosing a favorite track from your library. This audio will merge with your video and make it more appealing to share with your friends on Facebook, Instagram, Tumbler, Twitter, Email, YouTube and so on.
Cons:
- This app contains too many ads that might disturb you while editing videos.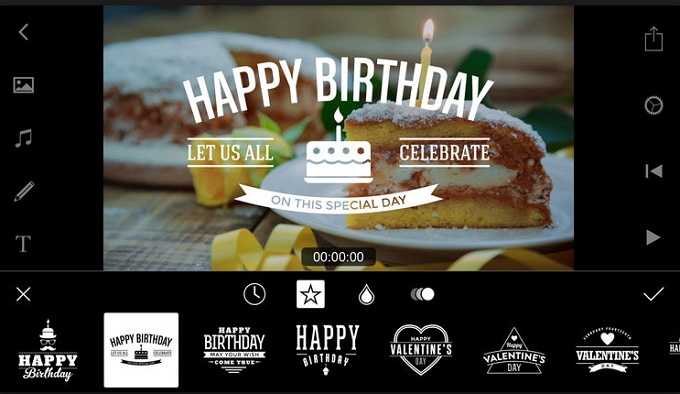 Quik
Quik application is another smart way to create perfect videos absolutely free and fast. You can select from your videos or photos to make a video clip and post on social media story. It has an automatic video creation interface with video crop, adding texts and effects. You can sync a music file too with a video clip to make it more enticing and soothing.
Key Features:
- Output video on a rich format in 720p or 1080p and share it on social media platforms.
- Fast and free app, and never display any ads.
Cons:
- It is easier to crash.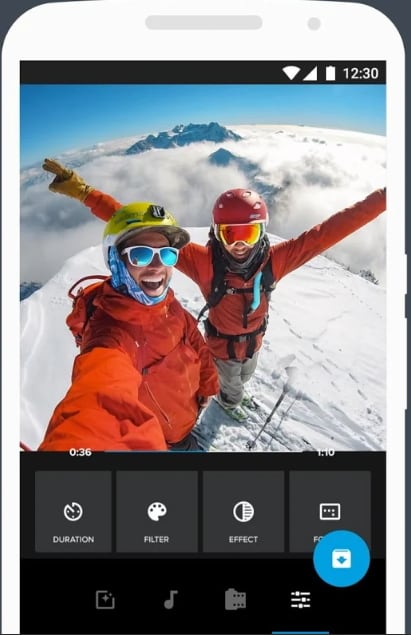 Magisto
Magisto application is your best friend if you don't have any knowledge about formal editing and workshop. It contains text, music, video clips, photos, video filters and video effects to help you in creating an ultimate video with less work.
Key Features:
- Magisto makes it easier to edit a video like you create slides on powerpoint.
- You can distribute your videos on multiple channels at the same time and get great exposure.
- Magisto keeps data and analysis of your video, so you can see how a video has performed and kept tabs on it.
- Video marketing is also effective with Magisto as it would increase brand awareness by 200% in the coming time.
Cons:
- Magisto doesn't guarantee a great return on your videos shared on different platforms. It might be possible that you won't get any return on your investment too.
- $9.99/month, it could be a big deal for long-term use.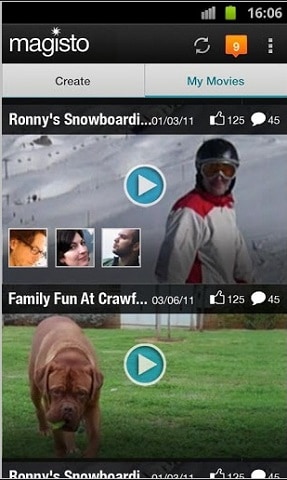 Overvideo
Overvideo is the simplest way of adding text or audio content to your video. It gives you a variety of fonts, caption, and cool effects to customize your video title or text. You can use it to put your favourite music to any point of the video. What's more, it also works well as a video meme maker software.
Pros:
- Better interface with variety of fonts and text customizations.
- Compatible with iOS 7.1 and above. Accessible on iPad, iPhone and iPod touch.
Cons:
- Function limited. Cannot support advanced editing.
- Not good at long videos.
- Easy to crash.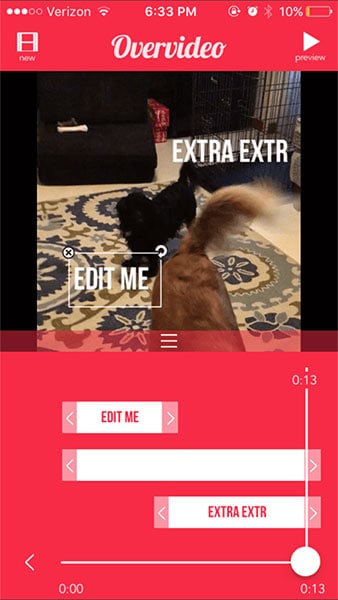 Power Director
Power Director is designed to create magnificent green screen videos. It also comes with inbuilt tutorial videos to understand the interface and functions well. Although, it is available in free version, however, upgrading to the pro version would allow you to remove ads, watermark and extracting the videos in 4k and 1080 resolutions. This app is supported on Android 4.3 and so on. The Pro version is $69.99.
Pros:
- Easy interface that make it smooth to use this tool, and renders the video quickly while you're editing.
- It has the best 360-degree video editing tools as compared to others.
Cons:
- The maximum number of tools can confuse you if you are a new user.
- It cannot trim the video in the source panel
- For some people, the pro version is a little bit expensive.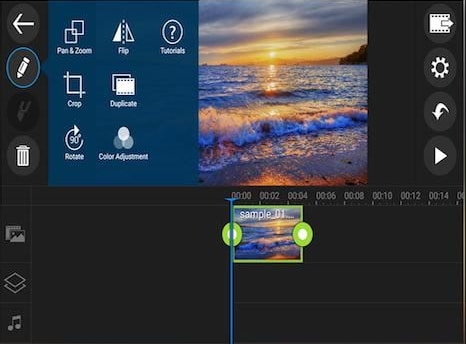 Kinemaster
Kinemaster is a video editing app with a full-featured interface for iOS and Android devices. You would get multiple features like layers of audio/video, images, effects and texts with so much more. It would help you to create an enticing video in no time.
Pros:
- It supports good resolution capacity and converts the video automatically to the most compatible level.
- The multilayer on this software allows adding multiple audio and video clips easily.
Cons:
- You need to go pro to remove the watermark from the videos else you would see it on your videos.
- It doesn't support audio formats such as wav.
Price: $4.99/monthly, $39.99/yearly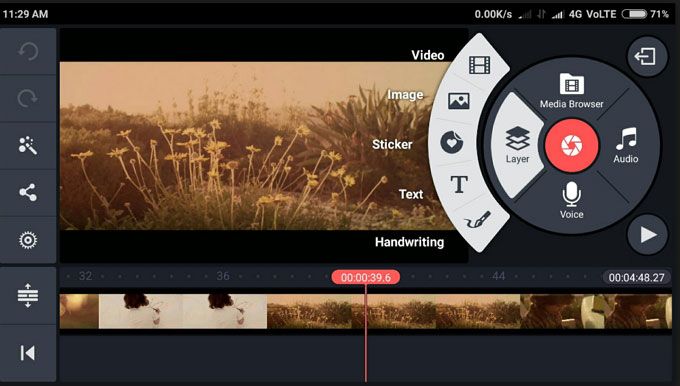 ---
Filmora Video Editor - Ideal Alternative Tool to Android Video Editing Apps
Unlike applications, a desktop video editing software for Android always comes with powerful editing skills and numerous video effects to make a video amazing. Filmora Video Editor and Filmora Video Editor for Mac is a desktop application, which allows users to cut, trim, split, crop or edit a video with 1000+ video effects. And apply lots of advanced video editing effects to your video, including green screen, apply picture in picture, video stablization, etc.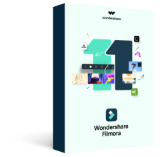 Provide users with 1000+ video effects to customize a video freely, including splitting, cutting, editing, overlays, transitions, filters, titles, texts, etc.
Compatible with almost all popular formats, devices and social platforms, such as AVI, WMV, MP4, 3GP, iPhone, Android, BlackBerry, YouTube, etc.
User-friendly interface makes the whole process as simple as 1-2-3, and requires no professional skills for every users.
100% risk free, works on both online and offline.
You might wish to know how to use Filmora video editor to edit video in details, below are some tutorials for your reference:
- How to edit a video from beginner to professional
- How to rotate videos by 90 or 180 degree
- How to overlay videos (apply Picture in Picture effect)
- How to split video into frames
---
Conclusion
Above are 8 advanced Android video editor for you to cut, split or edit a video for Android and other devices. Now, I want hear from you:
Which app are you ready to try first? And how about the experience after using it?
Do you have any other recommendations of the best video editor for Android?
Please leave a comment in the below area and if you don't know how to start it,
I'd like to recommend you to get the Filmora Video Editor to start your video editing journey, and you'll never regret your choice.