- How can I add text to my video?
- How do I add text to a video on Android or iPhone?
- ...
When you are making a video, there might be times you need to add text to video or add captions to video so that to upload to YouTube and other sites. So do you have gotten the right way to add text to a video effectively?
When searching around the internet, you will find many apps for adding text to videos on Android and iOS. They all have their specific features, pros and cons as well as market price. In this post, I'd like to pick up 10 apps (that proved useful) to help you add text to video on iPhone or Android easily.
[Attention] This post will focus on the add text to video apps, so if you're looking for ways to add animated or desired text to videos online, you can follow the point to learn more online solutions.
Top 5 Apps for Adding Text to Videos on iPhone/iPad
#1: FilmoraGo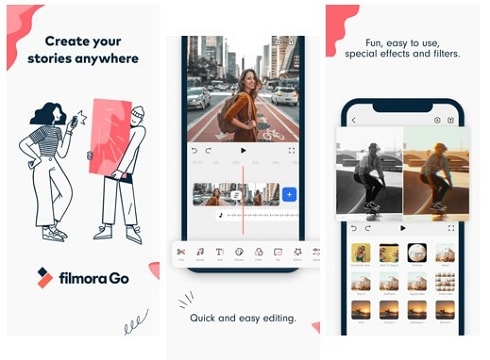 FilmoraGo is an app to add text to video, which works at very high speeds and offer ease of use in editing videos. It is one of the best programs to use in adding text to a video file.
Price: Free with In-App purchases
Pros:
You can easily adjust the font, size, color and spacing of the text you add. You can also add shadows and outlines to the text, rotate your text or add motion tracks to the text.
The quality of edited video remains high and you can share your edited video easily on YouTube, Facebook and Instagram, etc.
Cons:
The download option for the app is not available for Android now.
---
#2: Vont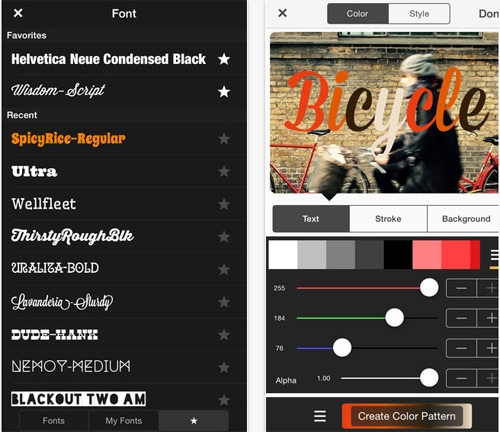 You will get Vont to add text to video from the app store and will allow you ease in adding text to a video file. It has over 400 fonts all available for your use.
Price: Free
Pros:
It is easy to add captions to video and adjust size, color, gradient, stroke, shadow and background of your text. That will allow you to customize videos as per your personal preference.
Cons:
Its availability for free might cause you limitations to some important features.
---
#3: Text on Video Square FREE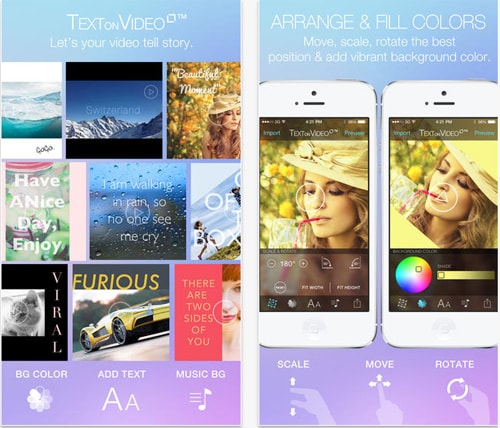 Text on Video Square FREE has cool features that will definitely make your editing excellent and enjoyable. Using the software is another cool thing to enjoy when adding text to your video file.
Price:Free
Pros:
The app eliminates all the advertisements which are sometimes very annoying in a video and allows for easy video sharing.
Cons:
There are several countries where downloading the software will not be applicable.
---
#4: Overvideo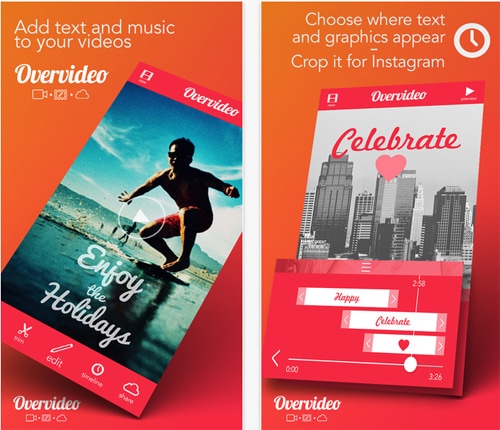 Overvideo will provide you with the best way to have text added to your video file without experiencing any challenges.
Price: Free
Pros:
The timeline feature will help you select the right positioning of the text.
Cons:
The full package of this app does not work effectively so you should not pay for that.
---
#5: Splice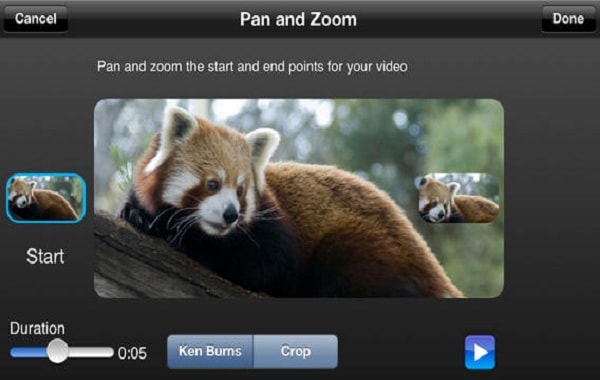 Splice is a very powerful editor with quality tools to offer simple editing through using a timeline. Apart from text, it allows one to add effects.
Price: Free
Pros:
It is a good choice for use by beginners who are learning basics of video editing because of its intuitive interface.
Cons:
It has very limited export options.
---
5 [Actionable] Apps to Add Text to a Video on Android
#1: Video Editor Trim Cut Add Text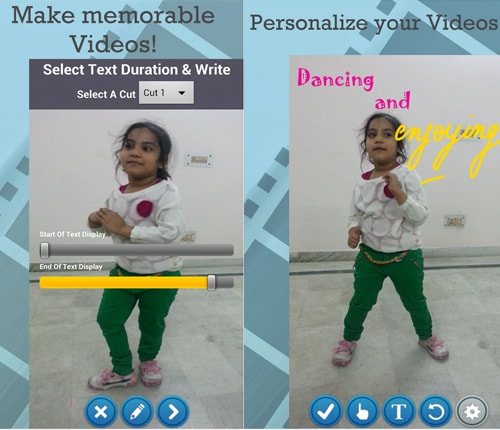 You will have Video Editor Trim Cut Add Text help you create an awesome video with simple editing tasks that include inserting text.
Price: $0.99
Pros:
You can beautify your video through adding text to the vid sections as well as enjoy easy video sharing.
Cons:
Downloading might occasion some challenges as well as features limitation.
---
#2: VidTrim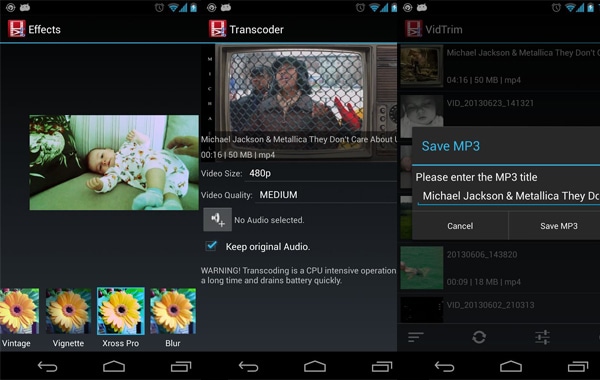 The limitless number of features you will enjoy using with VidTrim is the best thing that can happen to any video editor. Apart from adding text, you will be in a position of trimming as well as merging videos.
Price: Free
Pros:
Its support for multiple languages means you will enjoy using the app in different countries.
Cons:
You will not get maximum benefits since it's available freely.
---
#3: AndroVid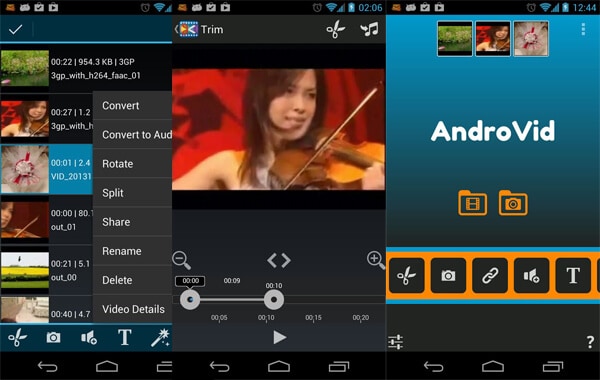 The high number of features for AndroVid will make it an ideal choice to add text to your videos any time. You will also have easy time sharing your edited video.
Price: Free
Pros:
It has very powerful capabilities for editing that suit Android devices.
Cons:
Expect some limitations because it's available as a free version.
---
#4: Qditor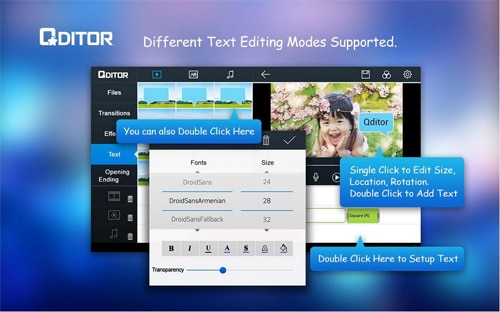 Qditor is easy editing that this app offers and which will encourage you to use it in adding text to your videos. After that, you can share freely with friends.
Price: $3.99 - $5.99 per item
Pros:
The app has an intuitive interface that makes it suitable for use by even beginners.
Cons:
The price range might be too high for some people to afford.
---
#5: VideoShow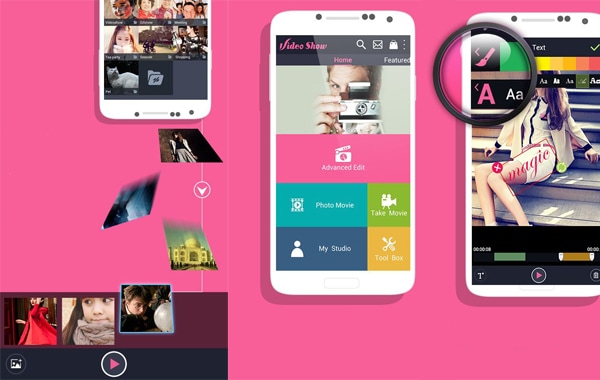 VideoShow is regarded as the most popular software program for video editing in the Android market. You will have an excellent experience editing video with the program.
Price: Free
Pros:
It is very easy to share edited videos on sites like YouTube and Facebook in addition to adding multiple texts.
Cons:
There are features limitations because it's available as a free version.
---
Filmora Video Editor - Best Software to Add Text to Video on PC/Mac [Recommended]
When you use Filmora Video Editor for Windows (or Filmora Video Editor for Mac), it will be an experience like no other in your life as far as video editing is concerned. From the user-friendly interface to high compatibility rate and availability of multiple features, you will have the best ever experience to add text to video on Mac and Windows. It only need some drag-n-drops and clicks to export professional-looking videos. There are over 130 types of text for you to choose. And you can add text or captions to video easily.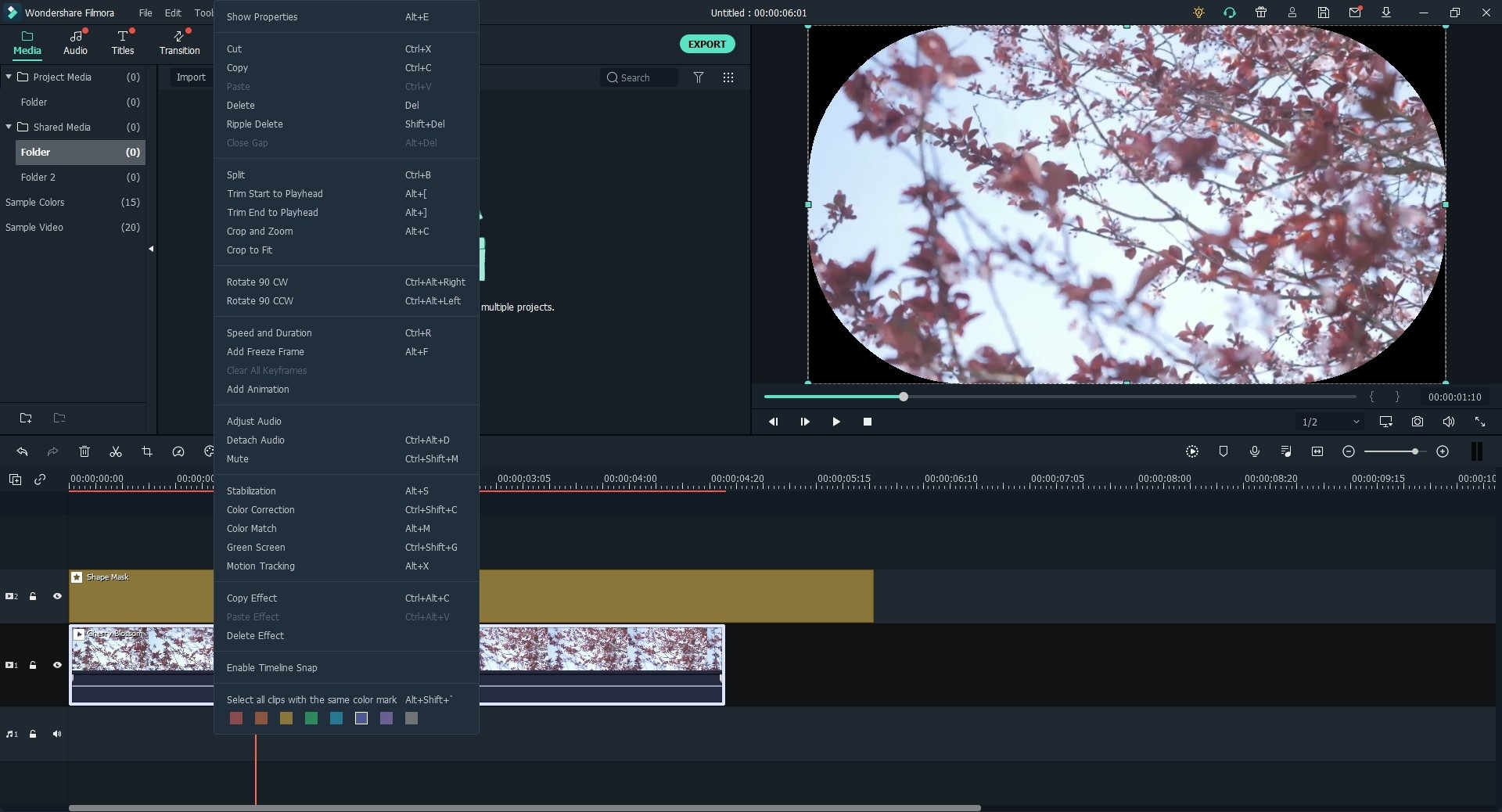 Key Features:
You have more than 130 types of text and title effects to fit your theme and 1000+ special text effects from Filmstock to satisfy your different editing needs.
You can customize your video with filters, overlay, PIP, face-off, and more according to different situations.
It is easy to trim, crop, rotate, split and combine video with editing tools.
It provides you 300+ new effects to personalize your videos.
You can directly share your video to YouTube, upload to devices, and more.
---
How to Add Text to Video with Filmora Video Editor?
Step 1: Import video to Filmora Video Editor
The first step will be adding files to edit into the program after which you will double-click for the interface to open.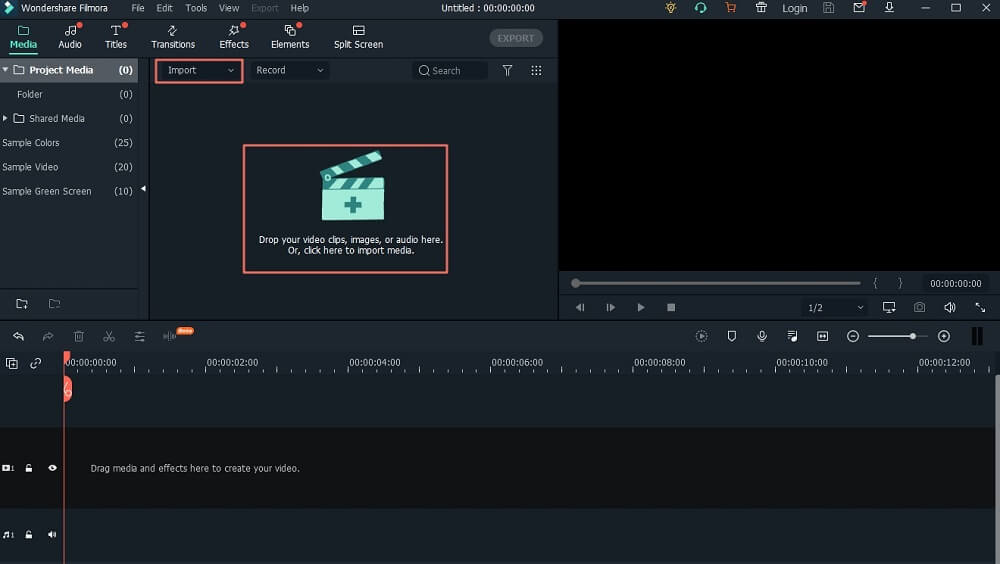 Step 2: Drag video to the timeline for editing
Just add your videos to the timeline with drag-n-drop.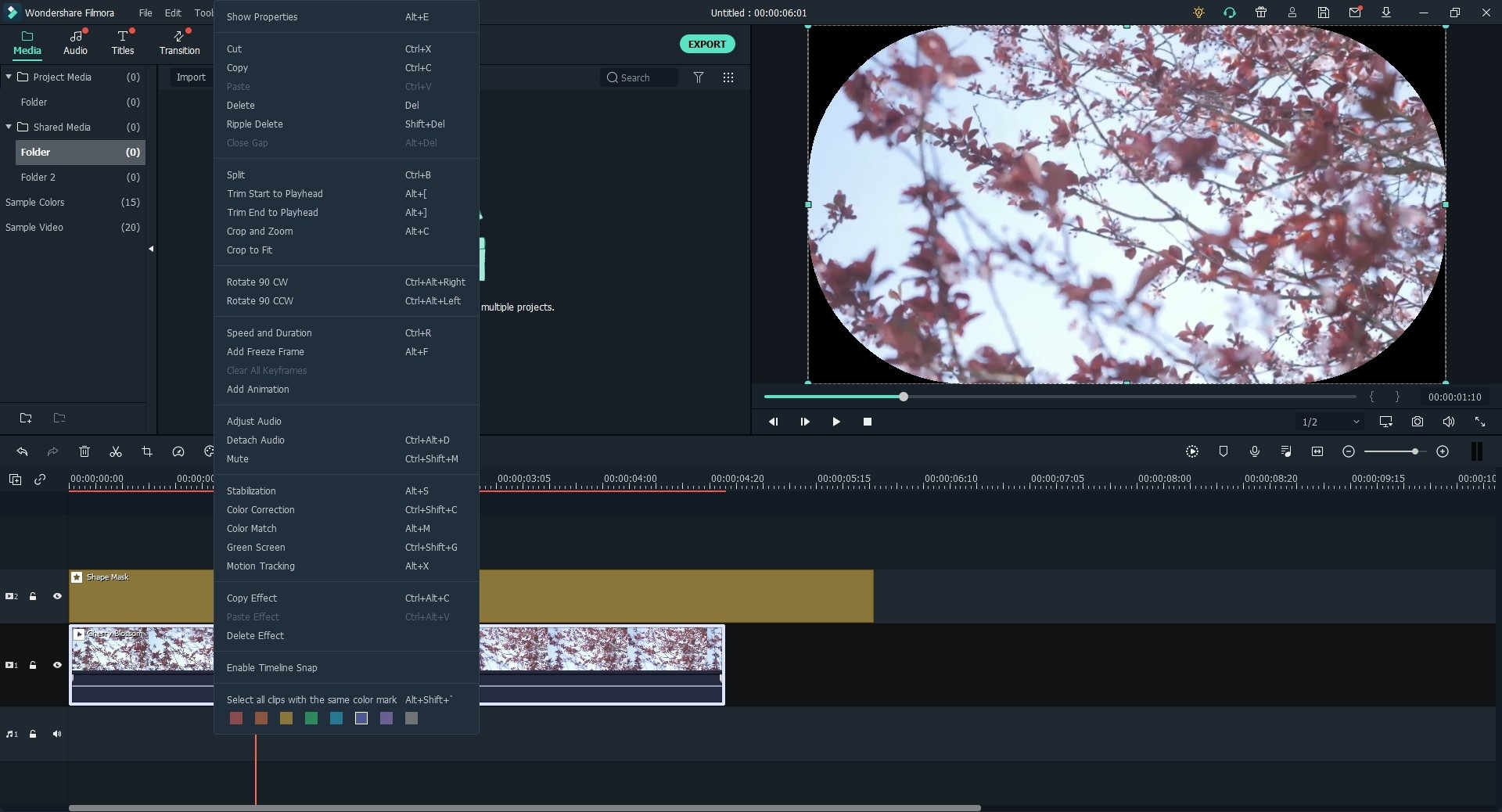 Step 3: Add text to video
Next, you can check the left panel and hit the "T" icon. Here you will get a lot of text templates. Just select one and add it to the timeline below.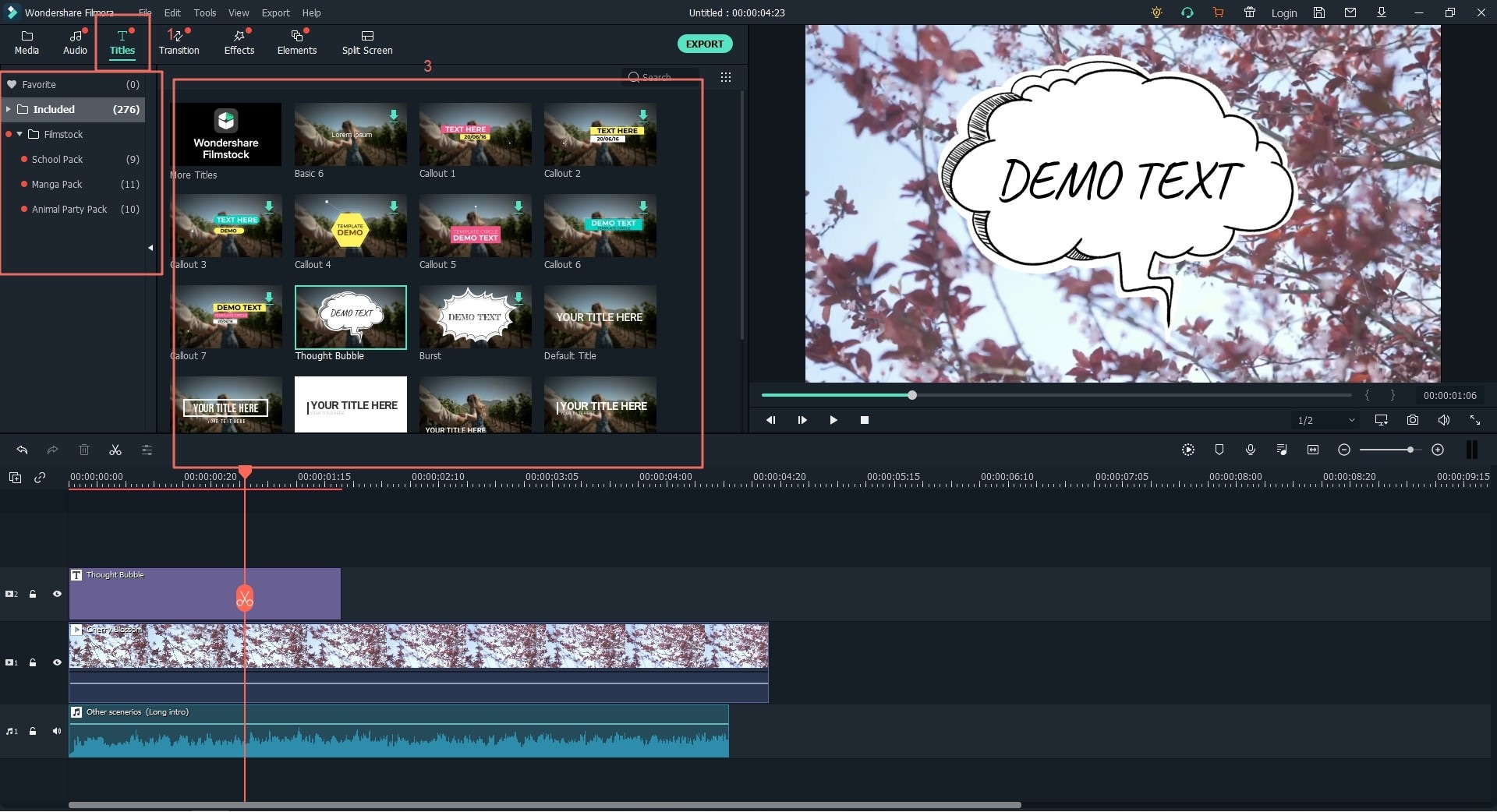 Step 4: Edit text in video
Right click on the text file, please set up the color, font and some motions for the text you have added to the video.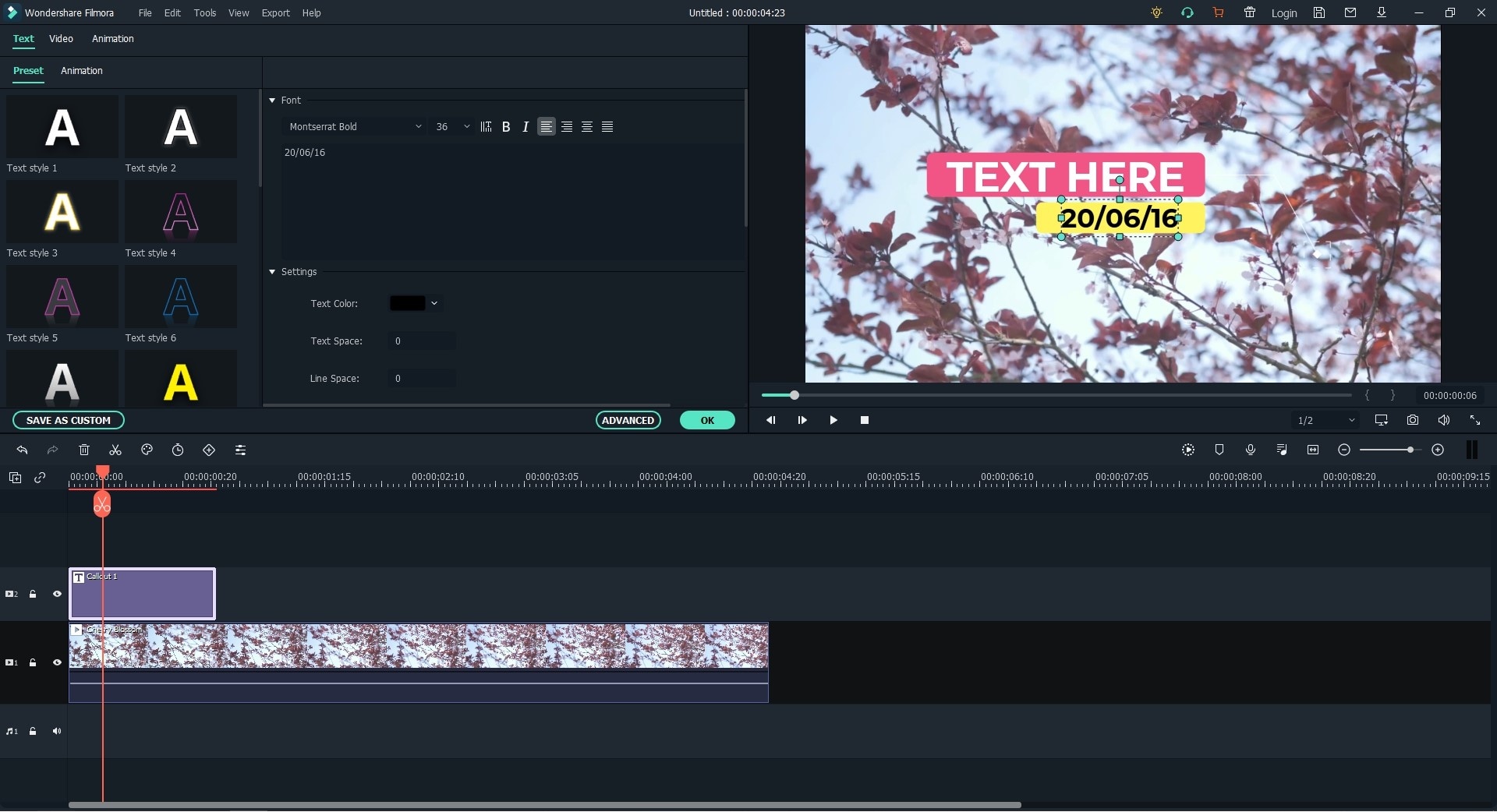 Step 5: Export video with text
When it's done, click the play button in the preview window to check out the text you have added. If it is OK, then click "Export" to save the video.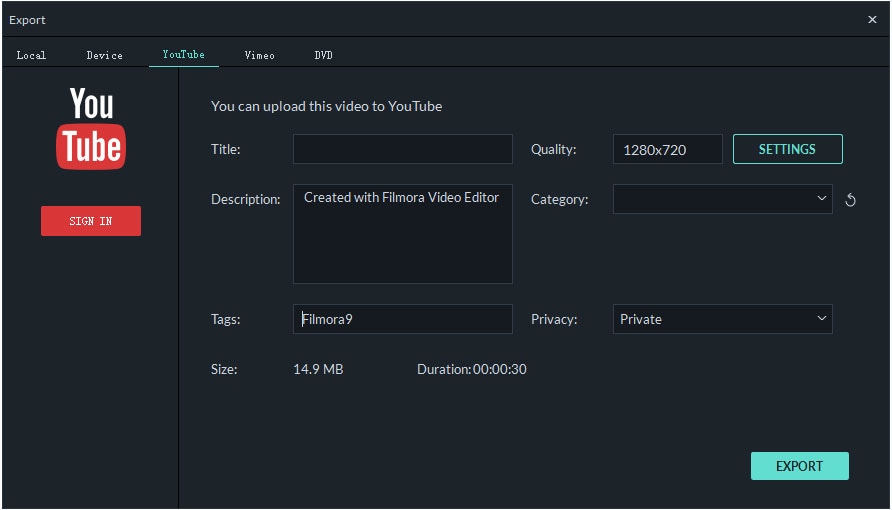 Above are the text tutorial about adding text or title to a video on PC or Mac. Below is also a video tutorial to explain the detailed steps one by one.
---
Sum up
In this post, you've seen 10 apps to add text to video for iPhone and Android, and 1 desktop application to add or edit text in video on PC/Mac.
Now, it's your turn! Which program are you ready to try first?
In my opinion,
If you wish to make a simple editing in a video on iPhone or Android, then the top 10 apps will be a good choice for you. Then among these apps, you can try FilmoraGo first. Its powerful video editing function and adding text function won't let you down.
But, if you'd like to edit a video like a pro, then tools like Filmora Video Editor is the right option here.
Then, what is your decision? No matter what it is, I hope this article is useful to you. And if you trust me, you can click the below button to download the Filmora Video Title Editor free trial version to edit your video text easily.