Can I edit GoPro videos on my iPhone?
It is definitely justifiable to go to bed with the idea that the worth of video files in our life is unmeasurable. The invaluable spark of excitement it triggers is actually amazing. Videos may come in different formats and may have or lack some of your desired aspects. However, all is not lost for your GoPro videos on iPhone. The advent of top pinnacle video editing software makes the whole task easy and fascinating. There are scores of powerful video editor tools with outstanding functionality.
Read this article, and get yourself the appropriate tool for your iPhone and enjoy seamless GoPro video editing.
Note: At the end of the article we also chose a desktop GoPro video editing software for you. If you want to make a more professional GoPro video, it will be more suitable for you.
Part 1: Top 10 Apps to Edit GoPro Videos on iPhone/iPad/Android Phones
#1. FilmoraGo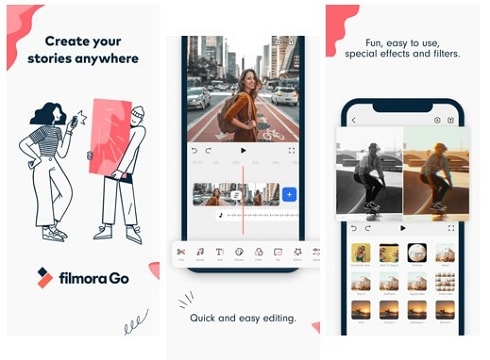 FilmoraGo is a easy-to-use video editing app for iPhone. This amazing tool will make your editing work quite easy and fun. The highly user-friendly interface ensures a good editing experience. Just like any powerful video editor, it can meet most of your video editing needs on iPhone. You can simply slice your videos, drag and arrange them on the timeline, and edit them as per your desire. Its powerful features include adding background music, applying filters, text, stickers, and effects, etc. In addition, you can directly share your edited videos to YouTube, Facebook, and Instagram.
Supported OS: iOS
Price: Free with In-App Purchases
---
#2. Quik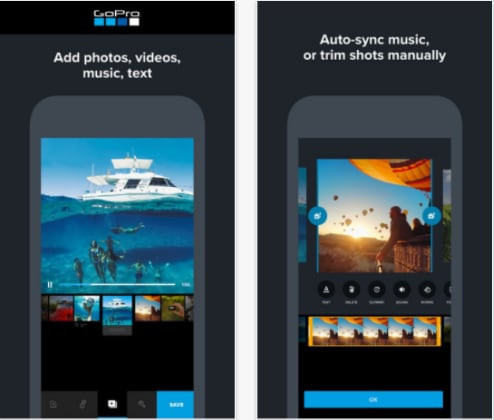 Quik is a top free GoPro editing app compatible with Android and iOS devices. Free of bias, the tool is worth mention owing to its convenience and ease of use. In fact, new beginners find it extremely flawless to perform the necessary editing task however daunting they could be. By simply selecting the video clips to be edited, the rest is left for Quik movie to complete creation of eye-catching videos in just a few minutes. Note that users can only edit the video or image files located in the device library. However, you have absolute freedom of mixing GoPro footage with other footage in your phone without anticipating a rather rough editing.
Supported OS: Android, iOS
Price: Free
---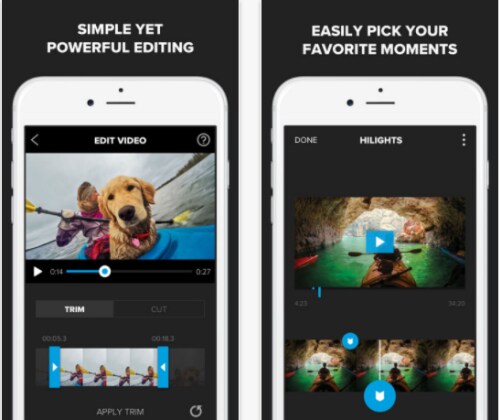 If you are in dire need of a video editor tailored for more precise control, then Splice could perfectly mitigate your struggles. Splice is a free powerful iOS app that supports a couple of editing features every user would hang on. The clear and straightforward interface transforms the whole editing process into perfect glam as there is virtually no navigation hurdles and time wastage. This program lets you select more than one backing track, add filters, manual transitions, and records voiceover among others. Millions of users across the globe are never wrong keeping tuned to this amazing platform but simply an embodiment of the scores of beauty it does.
Supported OS: iOS
Price: Free
---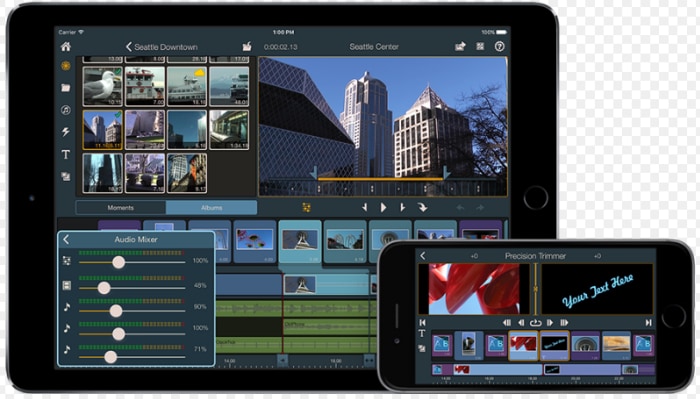 This is another popular yet powerful GoPro video editor tool for iOS and Android devices. The tool provides the simplest effective manner in which you can edit your GoPro footage at a go. It is enriched with great features and works pretty well with iOS devices. Although it is a bit pricey, the value of services offered is quite commensurate.
Supported OS: iOS, Android
Price: Free
---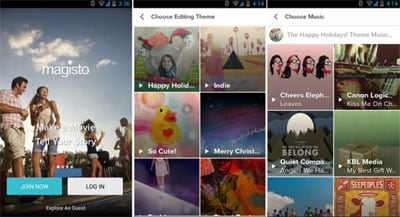 Magisto is a great free simple video editor for iOS and Android devices. Although other useful editing features like adding text overlays, and tilt shifts are missing, the inspiration hooks on the program's simplicity. However, there are a number of good editing options available including a wide pool of themes to choose from. Simply import your videos and select your favorite theme. Remember you can also add music to your videos, set the length of your video as well as add a title to the video. When done, the program creates the video and sends a notification upon completion.
Supported OS: iOS
Price: Free
---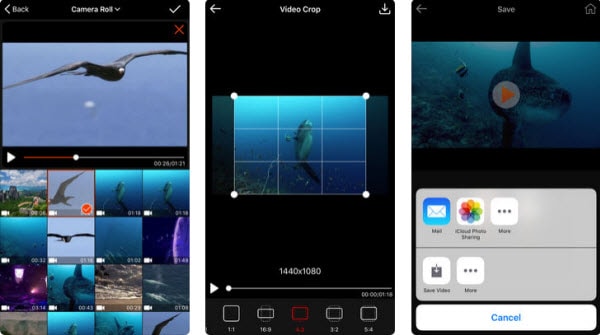 Video Crop is a common yet useful video editor app designed for iPhone device. This free software as the name suggests is meant to handle one task-to crop videos. This may sound rather a characteristic much unwelcomed but the amazing cropping speed and smoothness of the entire process makes it an ideal choice for video cropping. If you are caught between a rock and a hard place solely curating for a suitable cropping tool, then do yourself no harm by trying this software. Since the tool is simply tailored for cropping, you would definitely anticipate a user-friendly interface. That's true since the program features an intuitive interface which simply allows users to choose the target video and select the area to crop.
Supported OS: iOS
Price: Free
---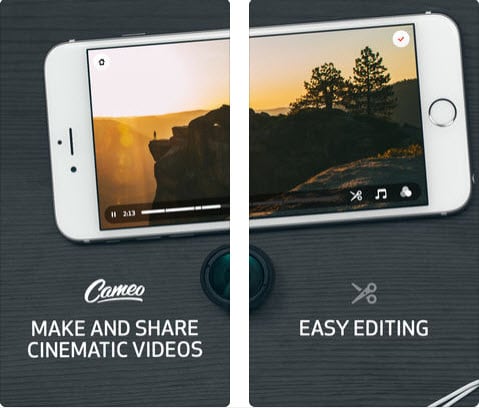 Cameo is a free yet excellent video editor tool for not only GoPro videos but also a variety of other popular file formats. This editor designed for iPhone offers plenty of great video editing functionalities such as trim, add music, and add themes among others. The well designed intuitive and total-no brainer interface is another massive hit that augur well for beginners. Users can simply upload photos and videos from the camera roll, edit them and share them to Vimeo-that is if you are logged in to the app- or just save them in the camera roll. Supported resolutions for exporting videos include 720P, 1080P, and 4K.
Supported OS: iOS
Price: Free
---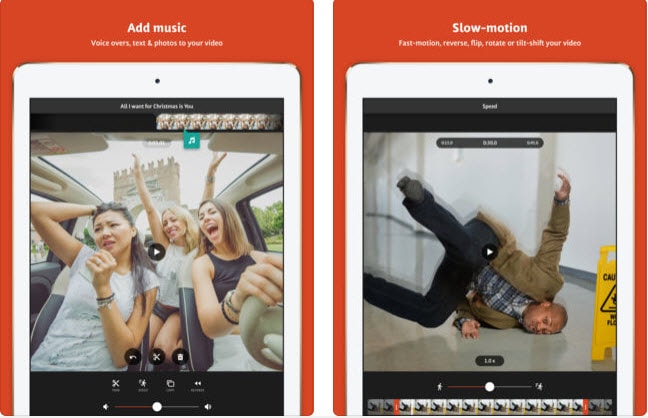 Videoshop, as the name implies, is a great video editing tool that offers scores of video editing capabilities. The program allows users to either record clips directly within the app just upload them from the camera roll. When the target video is uploaded, you can perform various video edits like add text, add narration, merge clips, add tilts and shift to videos, and add transitions among others. Surely, the large pool of options ensures an amazing user experience. You can then export your newly created videos to Dropbox, Photos, or even share them on popular sites like Vimeo, YouTube, and Instagram among others.
Supported OS: iOS
Price: Free
---
#9. PowerDirector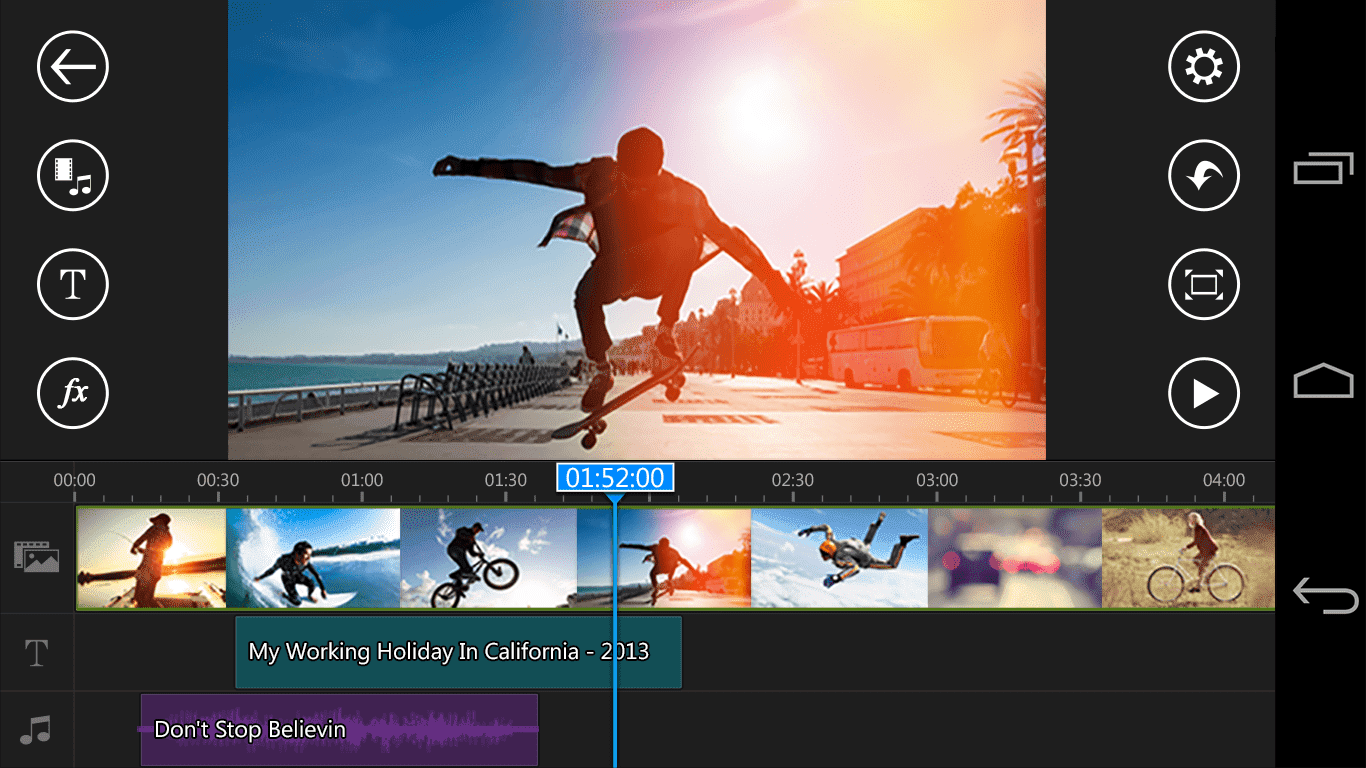 This Android video editor is a top-notch far-reaching tool specially developed for video and photo editing. The program is equipped with an array of great features capable of transforming the entire video editing experience full of fun. The various edits possible with your action cam include rotate, split, trip, and create slow motion among others. There is no intricacy at all as far as the edit process and the ease of use is concerned. By simply uploading the respective GoPro videos and dragging them to the timeline, you can start editing without leaving any task hanging in the air.
Supported OS: Android
Price: Free
---
#10. Adobe Premiere Rush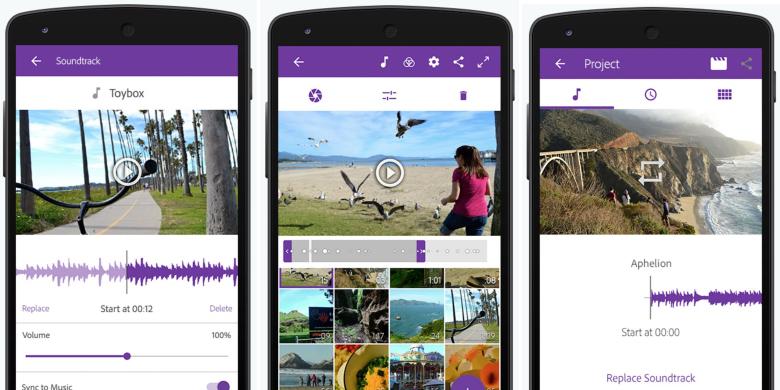 This is a useful video editor tool capable of handling a vast number of media file formats with great tempo. If you got an iPad or iPhone, then this tool is of much suit to you. The assortment of basic functionality like crop, cut, add effects, and audio controls makes it a wise notion to go for. Others worth mention include the amazing Adobe Creative Cloud and other Adobe apps integrated within this program. In general, basic video editing is driven home and there absolutely no reason to hesitate in seeking this outstanding tool.
Supported OS: Android
Price: Free
---
Part 2: Best GoPro Video Editing Program for Mac/Windows PC - Filmora Video Editor
Filmora Video Editor for Windows (or Filmora Video Editor for Mac) is a complete steadfast tool capable of piecing together all your video editing problems. The program is enriched with invaluable host of capabilities ranging from simple basic to crucial advanced features. The up to par speed and the intuitive interface is simply the highlights of a horde of the aforementioned capabilities. This potent tool is surely unmatchable and millions of users have not gotten it wrong. Just download, install it in your PC and start enjoying the amazing GoPro video editing experience.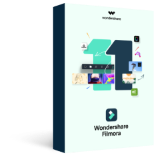 Best video editing software for beginner and semi-professional, that comes with powerful editing skills like trimming, splitting, rotating, editing, etc.
Advanced video effects like green screen, PIP, audio mixer, etc. can also be found and applied to your video within few clicks.
500+ free special video effects to customize and create an awesome movie by yourself.
1000+ standalone effects downloading resources to make videos in all kinds of styles.
Record voice in real-time: you can have you voices recorded in realtime and instantly add them to the video files.
Save/Export video: At the end all of editing, Filmora gives you multiple options to keep the video or even share it.
---
How to Edit GoPro Videos using Filmora Video Editor
Step 1. Import GoPro Videos
Before importing GoPro videos, make sure you transfer them to a suitable location in your PC. Now, launch Filmora video editor and navigate to the "Import" button on the toolbar. Choose the "Import Media Files" option and subsequently select the respective GoPro videos to be edited from the file explorer window displayed. Click "Open" to upload them to the "Media Library".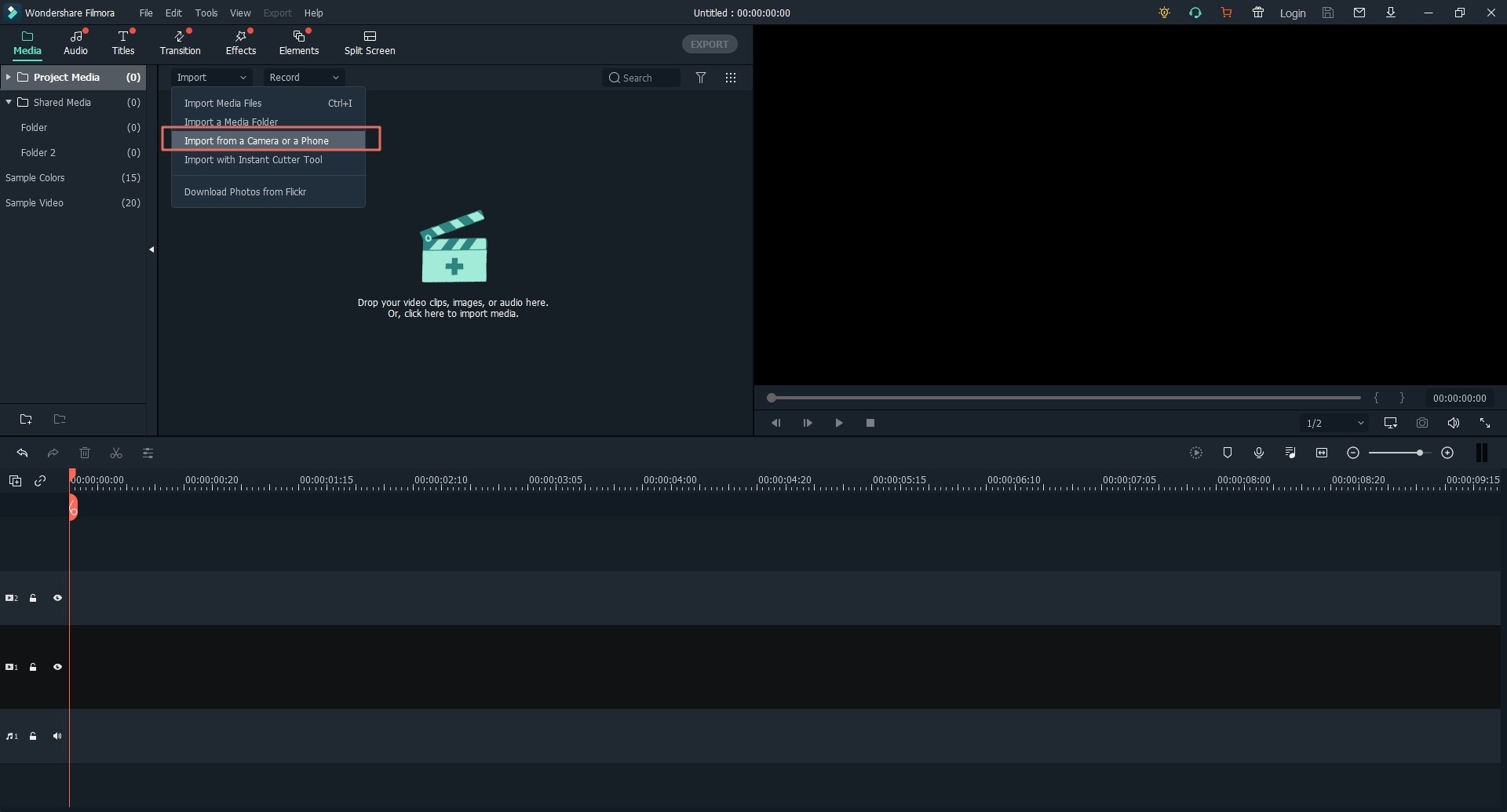 Step 2. Edit your GoPro Videos
Drag the clips one by one to the Timeline and make sure not to place one on top of another one as this would simply spit the video clips.
Start editing your videos and preview them by simply playing the preview window. The various edits include trim, split, add filters, and add transitions, overlay and texts among others. Just select the respective icon and perform the editing task flawlessly.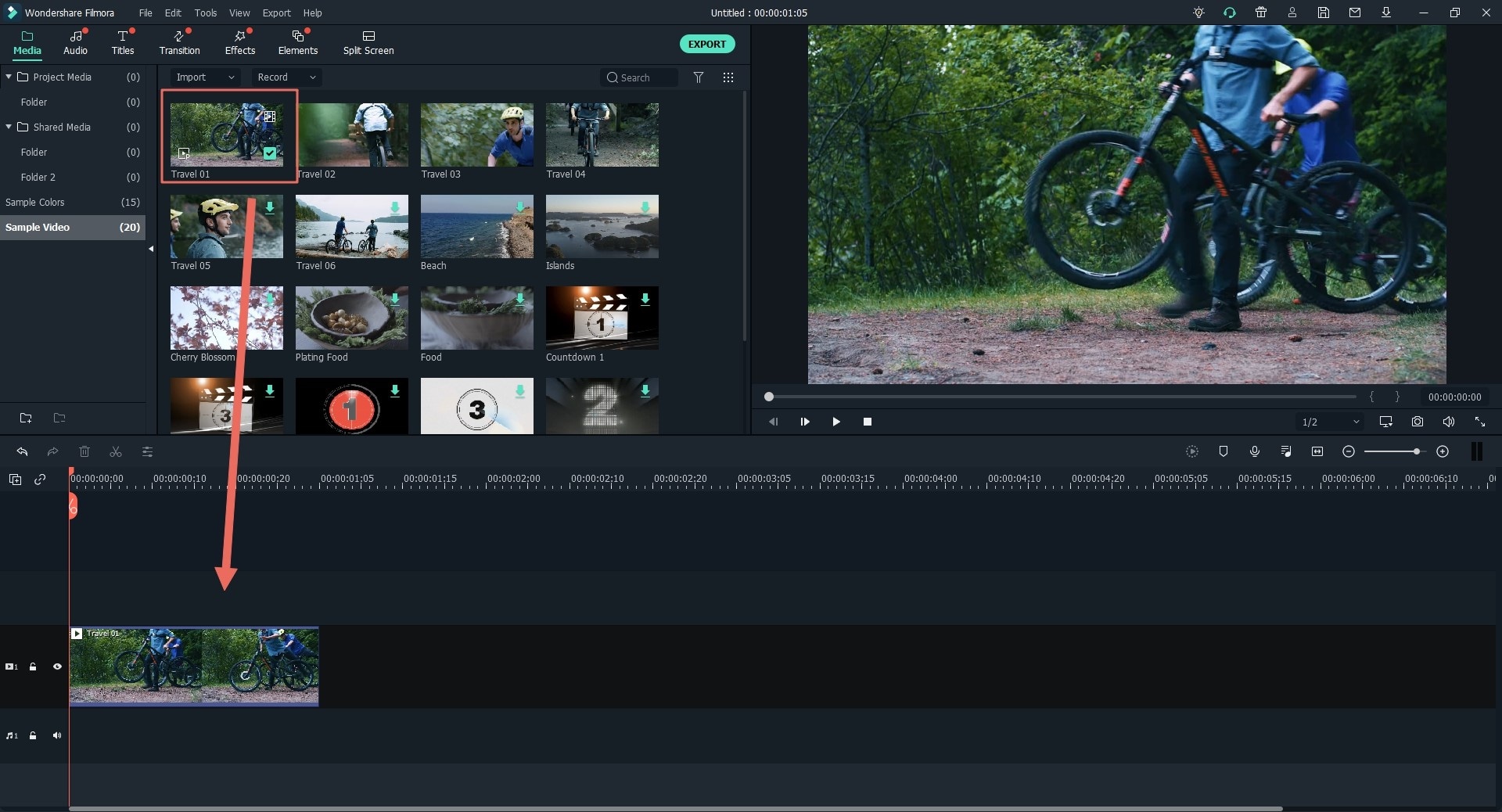 Step 3. Export Edited Videos
When done, press the "Export" tab then "Create Video". From the output window, choose the target format, save path, and resolution if necessary and hit "Export".