Much has happened since the inception of the first smartphones in the late '80s. Gradually entering into the market, evolving and eventually conquering it, smartphones are now the most owned devices. Mobile app developers on the other end aren't sleeping; they're constantly pushing the limits as to what can be achieved with mobile apps —from productivity apps to amazing games for gamers ... and guess what? Movie lovers and amateur movie producers aren't left out!
Making movie trailers with the use of mobile apps has never been easier! Everything from spitting videos into clips, reordering/joining them and adding those lovely transitions, write-ups, and badass sound effects—just like you see on Hollywood trailers—can be achieved with your smartphone. 
How cool is that? 
Let's quickly sweep through the top 10 movie trailer makers.
10 Best Making Movie/Video Trailers Apps for iPhone or Android
Alright! Let's talk about movie maker apps and the top 10 best movie trailer maker apps on Android, iPhones and iPads. We've compiled a list of apps that makes/creates movie trailers and here are the top 10. Set? Let's go!
#1. FilmoraGo (iOS)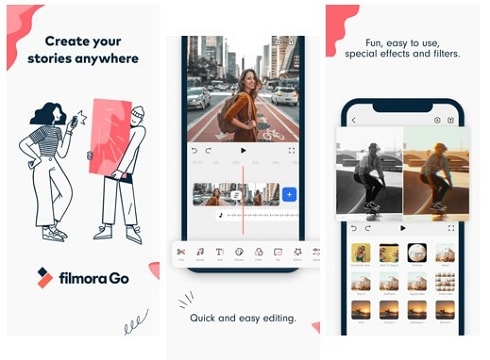 If you've been playing around with videos editors, then you've probably heard of FilmoraGo. FilmoraGo is a free, fun and easy-to-use video editor capable of creating your perfect movie trailer.
Here are the main features of FilmoraGo:
• Choose and add custom soundtracks to videos
• Add transitions, filters and video effects
• Adjust video speed
• Reverse video (play backwardly)
• Text, stickers, canvas and frames.
FilmoraGo provides a clean interface for navigating these features. Once you're done, with a click of a button, you could easily share your creation with friends on various social media platforms!
Cost: Free download + In-app Purchases
---
#2. iMovie (iOS Only)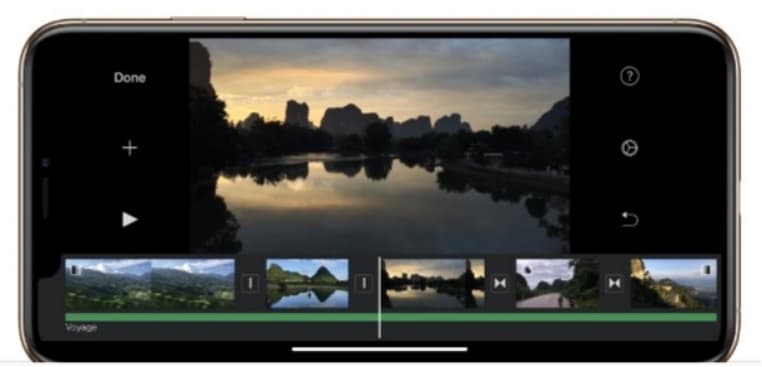 Here's another cool video editor built for iPhones and iPads. iMovie is a fine, intuitive movie trailer app for creating Hollywood-style trailers. This app comes with 14 trailer templates, graphics and scores by top real-world composers!
Let's quickly take a look at some of the features of iMovie:
• Trailer templates
• Customize casts, credits and studio logos
• In-app video recording
• Themes, sound effects, transition effects and built-in/personalised music
• Picture-in-picture and split-screen effects
iMovie also supports cloud storage (AirDrop and iCloud) and synchronization across your various devices. Have fun and share with a click of a button!
Cost: Free download + In-app Purchases
---
#3. Stop Motion Studio (iOS Only)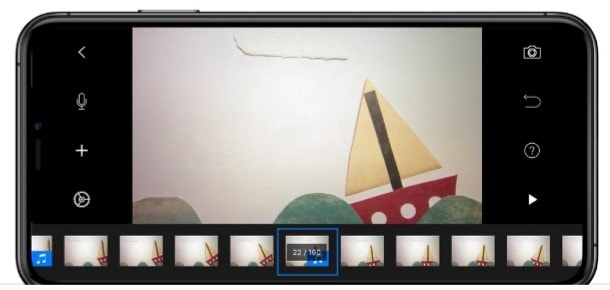 Stop Motion Studio is another amazing movie maker/video editor for iOS users. This app is arguably the most easy-to-use yet powerful app. Are you never okay with just a few features on movie editors or looking out for more advanced features? Stop Motion Studio may be the app for you.
Here are the top features of the app:
• Overlay frames
• Place animated objects on video
• Title, credits and text card templates
• Speech bubbles and sketch/drawing tools
• Change movie foreground/background
Stop Motion Studio also supports external keyboards for video editing shortcut.
Cost: Free download + In-app Purchases
---
#4. FlipaClip: Cartoon Animation (Android & iOS)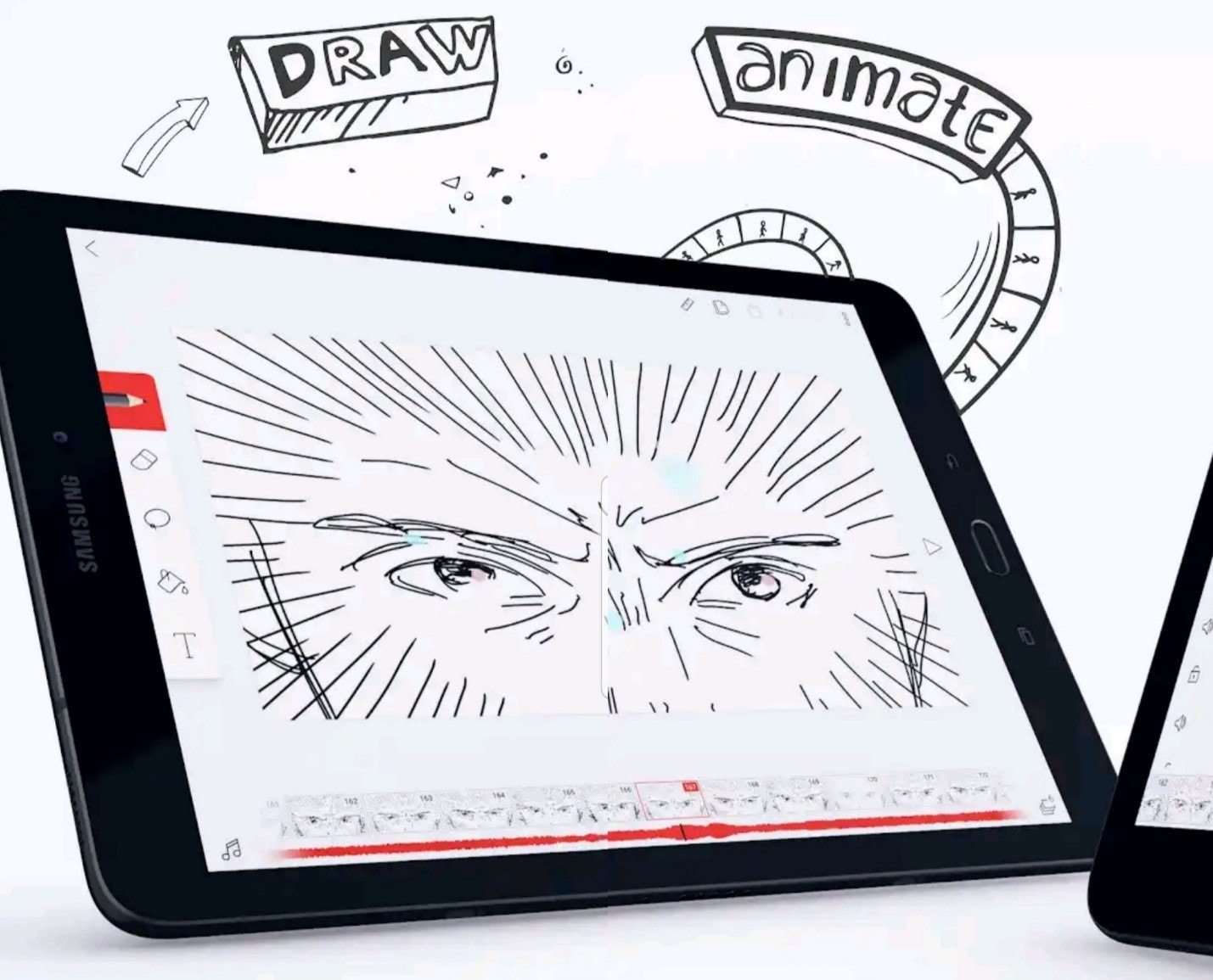 Want to have a taste of how animations are made? FlipaClip is one of the top apps for creating short animated films/trailers. You simply sketch your character in a frame-by-frame style and breathe life into your cartoon character! Bring your imagination to life and share with friends on social media platforms.
Let's quickly check out its features:
• Sketching, storyboarding
• Frame-by-frame animations
• Support for Apple pencil
• Draw over videos
• Brushes, Fill, Eraser, Ruler shapes, Lasso, and Text
So, these are the major features of FlipaClip. Upgrading to the pro version is required to get more layers. Only three layers are available for the free version.
Cost: Free download + In-app Purchases
---
#5. Flimmaker Pro (Android & iOS)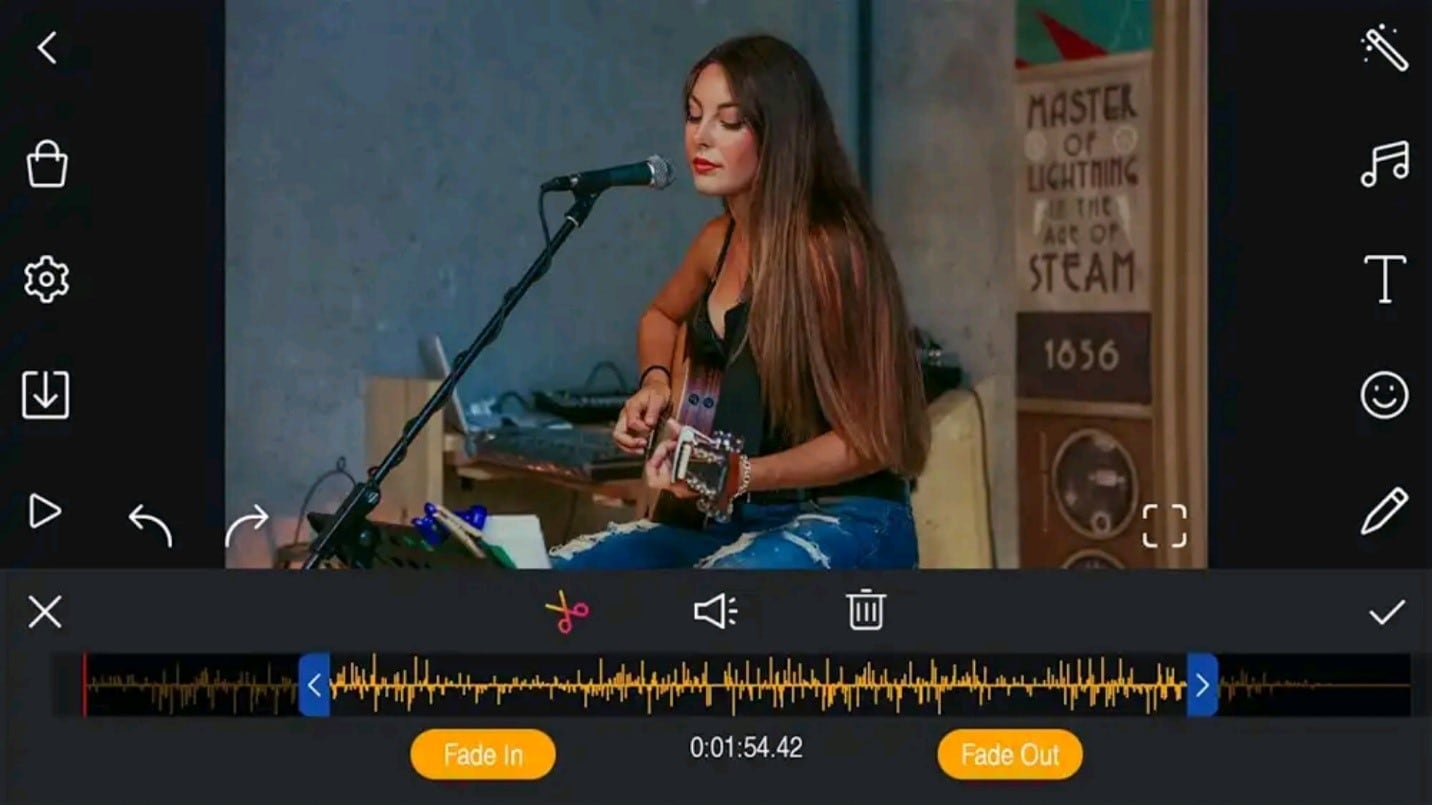 Filmmaker Pro is yet another cool movie maker app. Create clips with intros, emoji, video FX and custom soundtracks. Access all 220 illustrations and labels, over 30 professional transition options, over 70 custom composed thematic music tracks, and 80 animation stickers (in-app purchase may be required) and have fun without doing most of the hard work yourself!
More features include:
• Save video in 720p, Full HD 1080p with no quality loss
• Modify export frame rate
• Fade in/fade out transition effects
• Text and drawing tools
• Picture-in-picture modes
• Custom soundtracks and volume control
A distinguishing feature of Filmmaker Pro is its autosave feature: while working on your videos, you don't have to be fearful of sudden losses as you'll be able to continue from where you stopped even after an unexpected shutdown.
Cost: Free download + In-app Purchases
---
#6. Magisto (Android Only)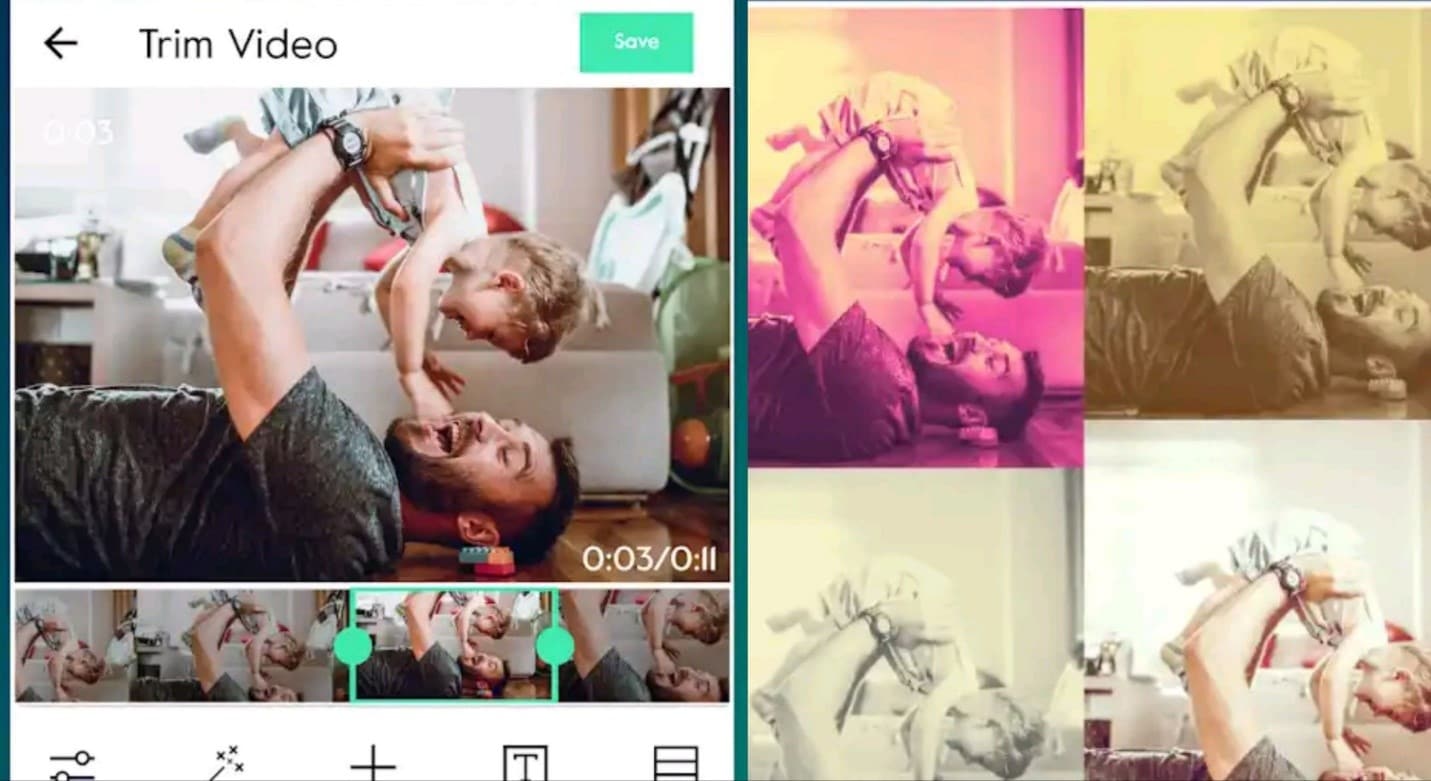 Magisto is a very simple movie maker tool used for creating movies on the Android OS. It provides basic video editing features:
• Music Slideshow and collage
• A.I powered editor
• Object detection
• Video filters and effects
• Surprise movie!
With Magisto installed on your phone, be prepared to get surprise movies created by A.I from time to time. It is a fully automated process that may surprise you!
Cost: Free download + In-app Purchases
---
#7. Magi+: Magic Video Editor (Android & iOS)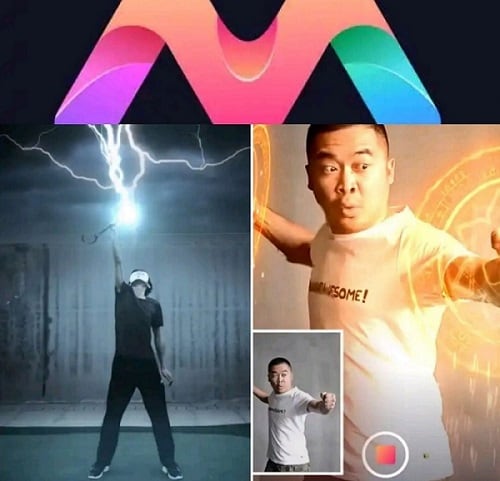 Magi+ is another smart video editor. A distinguishing feature it has is its ability to add effects to your video while recording!
• Effects (superpower, thunder, tornadoes, earthquakes, etc.)
• Sound effects (UFOs, mechs, aliens, robots, dragons, etc.)
• Weapons (missiles, rockets, drones, flamethrowers, etc.)
Cost: Free download + In-app Purchases
---
#8. Video FX: Movie Maker & Editor (iOS Only)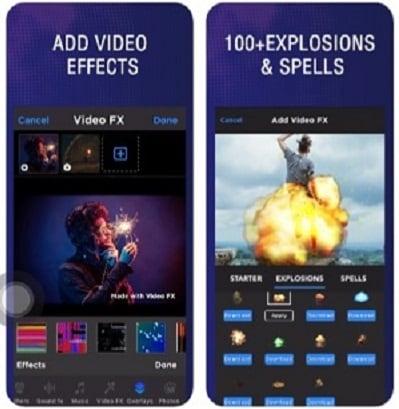 If you're looking for a one-click video editor, Video FX may be the app for you. With Video FX, you simply import a video and add various lovely effects. Here are some of the video effects available:
• Cherry Blossoms: Create a romantic atmosphere
• Dandelions
• Film Damage: Create aged films
• TV Glitch and Color Frames
Cost: Free download + In-app Purchases
---
#9. PicPlayPost Video Editor (Android & iOS)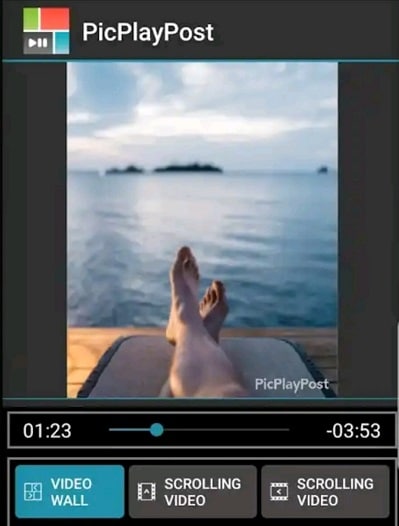 Here's another basic video editing app. Edit your videos and save them as GIFs/video and create beautiful slide shows out of your photos. Other features include:
• Combination of videos and photos in slideshows
• 150 background patterns
• Voice-over and watermarks
• Horizontal and vertical scrolling videos
Cost: Free download + In-app Purchases
---
#10. Adobe Premiere Rush (iOS Only)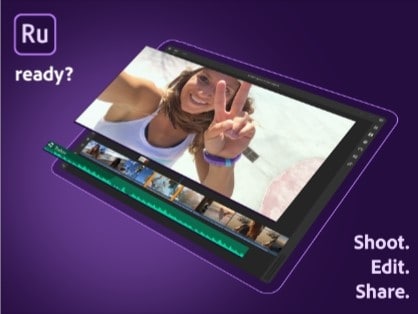 Finally, here's one from Adobe. This app lets you record high-quality videos directly from the app and add cool effects and transitions to them. Here are the top features of the app:
• Multitrack timeline
• Intuitive drag and drop
• A.I powered sound balancing
• Voice-overs
• Automatic sync to the cloud
Rush can be downloaded for free, however, the paid plan (optional) costs just $9.99/mo.
Cost: Free download + In-app Purchases
---
Conclusion
Alright! There you have it. The top 10 best movie trailer maker apps for Android and iOS. These apps are the top 10—which means they're all great. 
However, here's a summary:
For fantasy trailers, FilmoraGo and Filmmaker Pro seem to be doing a great job there. iMovie and Stop Motion Studio on the other end, are creating narrative and YouTube video trailers. You have Magi+ at your service for crazy magical video effects and FlipaClip for your frame by frame (animated) clips and trailers!
PS: If you want to know how to make your own movie trailer, here is a tutorial for your reference >>