When we speak of the biggest fanbases globally, sports is one of the markets with a high level of consumer interest. People enjoy different types of sports, whether as a participant or viewers.
However, with the increase in streaming services and situations like the recent global pandemic, sports fans turn to online media to watch their favorite events. Certain sports streaming app options allow global sports event/match streaming, with additional features like a real-time scoreboard, reviews, and private streams.
Here, we have listed the top 5 platforms in the market to provide this service. Read ahead to learn about them further.
Multiple sports streaming apps are available for web-based and/or mobile-based sports watching through an all-in-one platform. We checked the specifications and benefits of many of them and finally compiled this list of the best five options.
Hulu is one sports streaming app that allows Live Sports from various regions with their Hulu + Live Plan. Common types include NFL, NHL, NCAA, college-level leagues, and other professional matches.
Overall, the platform supports 75+ channels, covering various content like sports, live news, and entertainment. There is no extra installation of hardware necessary. You can access ESPN and NFL content and download the matches other than streaming them.
Users get personalized recommendations and track/mark the last viewed moment of their shows or events.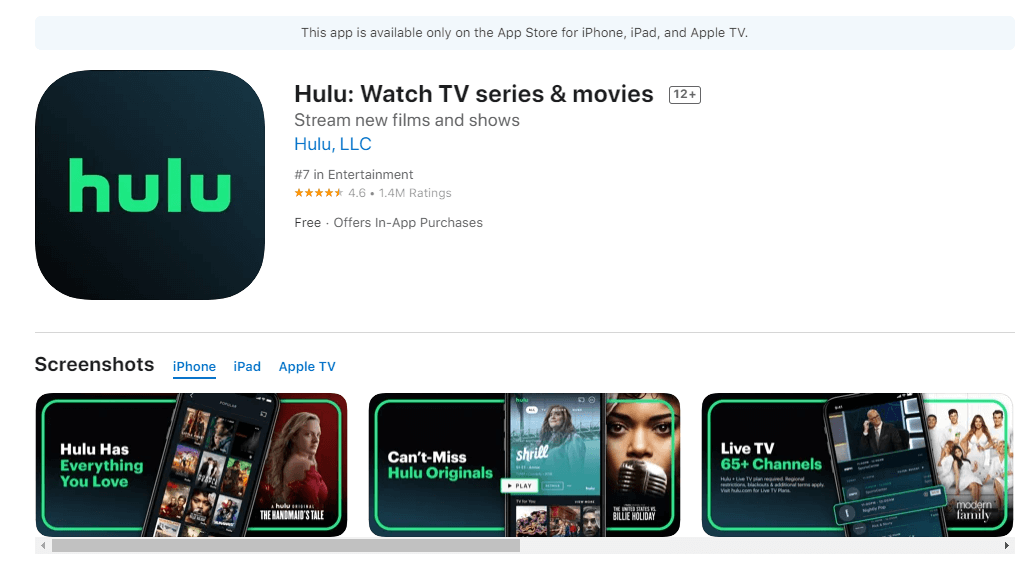 How to download: Google Play Store, Apple App Store, Website
Platform Compatibility: iOS, Android, Smart TVs
Price: Hulu- USD 6.99/month, Hulu (No ads)- USD 12.99/month, Hulu + Live TV- USD 69.99/month
VPN Support: VPN is needed for users in countries that do not support Hulu. Use ExpressVPN or NordVPN.
Main Selling Point: Use this app to get Unlimited DVR content with Live TV or Live Sports recording, with around 60 days of content. Fast forward through the recordings.
Features:
Steam content library with live sports, on-demand movies, and TV episodes.
Original Hulu content is available.
Get recent content with the latest time gap of 1 day.
Supports viewing on two screens simultaneously.
Pros:
Even the lowest plan allows 6 users to use their profiles at the same time.
Compatible with laptops, TVs, smartphones, and tablets.
Even the lowest plan is relatively low priced.
Cons:
A free trial is only available for the plan with no ads.
Live Sports/ESPN+ integration is only available under Hulu + Live plan, which is very high priced.
Best For:
Hulu is useful for families who want different content types on one platform, with original and on-demand content. Live Sports matches are viewable here, and users get access to Disney+ content. So, sports fans and even children can find the content of their choice on the app.
---
Another top contender for the best sports streaming app list is Fubo TV. People can watch different types of sports events here, like NCAA college football, NASCAR, MLB, NFL, NBA, World Cup, Champions League, and more.
It supports many channels like ESPN+, Sling TV, and YouTube TV for live sports. Besides that, it can work with entertainment streaming platforms like HBO NOW, Netflix, and others. More than 50,000 live college and professional events like NHL Stanley Cup Playoffs, U.S. Open, and Olympics are streamable through Fubo TV.
Also, replay any show or game in the previous 3 days using the 72-Hour Lookback feature.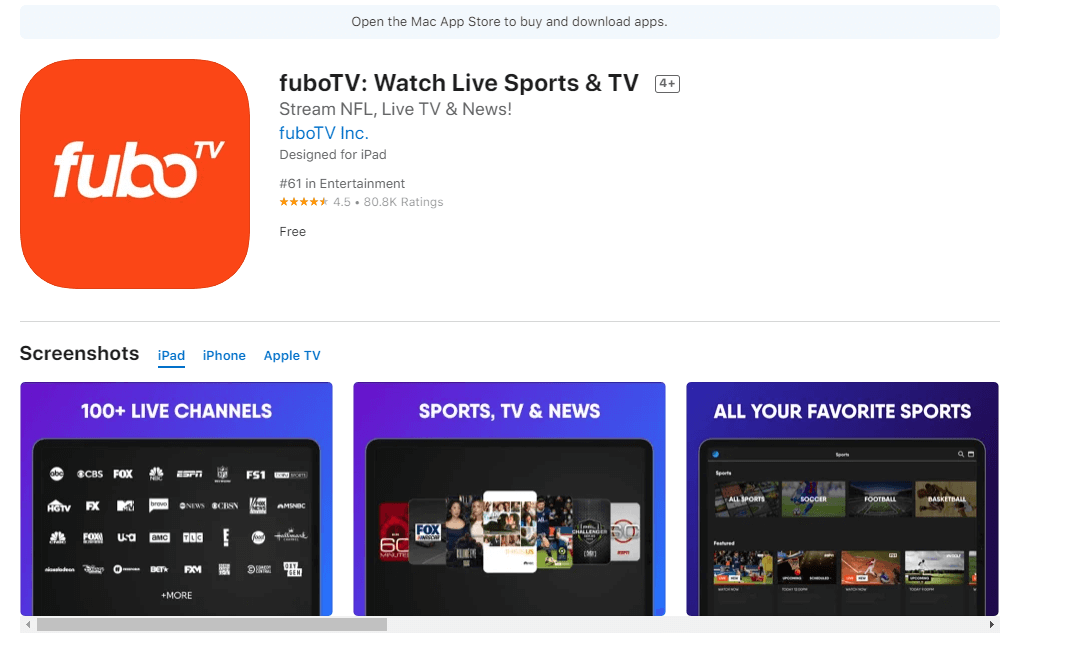 How to download: Google Play Store, Apple App Store
Platform Compatibility: iOS, Android, Smart TVs
Price: Free
VPN Support: Yes, VPN is required. ExpressVPN is a suitable option.
Main Selling Point: This application allows the streaming of diverse sports like NBA, La Liga, Champions League matches, and NASCAR matches. Use Cloud DVR service to save 30 hours of recording or 500 hours after account upgrade.
Features:
More than 100 Live Sporting Streaming and miscellaneous channels are supported.
Users can watch movies and tv shows through the platform.
Live news is available on channels like NBC, CBS Sports, etc.
Cloud DVR benefits for 30 hours for each app member.
Pros:
The size of the app is relatively low compared to some other options at 60 MB.
It is completely free to use.
Various sports events are supported here, like NASCAR, NFL, and NBA.
Cons:
Not available in particular locations, like India.
Does not work on older models before Android 5.0 and iOS 14.0.
Best For:
Everyone. On this sports streaming app, users can get access to a wide range of sporting events, shows, and even live news. Instead of investing in multiple streaming platforms, my family and I use this one platform for all-in-one entertainment. If we do not have the time, we can record the matches or shows on the Cloud DVR for future watching.
---
DAZN is a top option as a sports streaming app that features boxing events primarily. Viewers can access the app with membership and watch over 250 classic boxing fights. They would get access to live content and even on-demand matches to view.
Besides the boxing matches, users can enjoy UEFA and UWCL content here, watching highlights of matches. Check the schedule of upcoming events easily as well. Lastly, there are original documentaries available as well for streaming.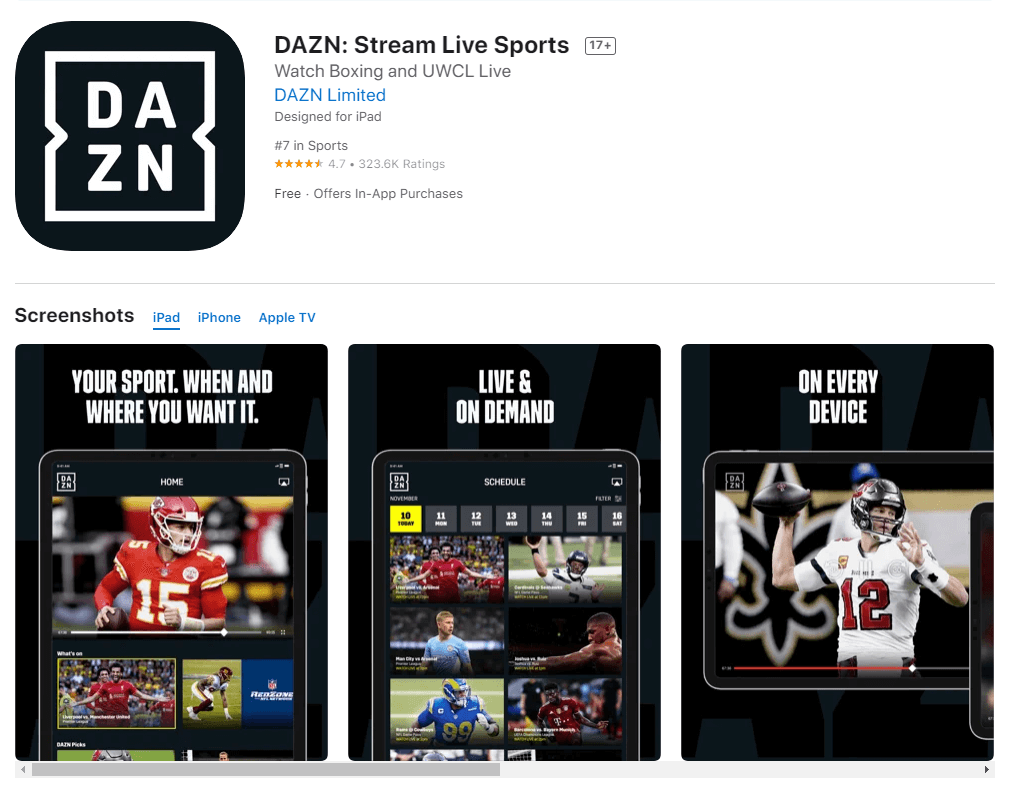 How to download: Google Play Store, Apple App Store, Website, Microsoft Store
Platform Compatibility: iOS, Android, web-based, smart TVs, game consoles
Price: No free plan. Users have to pay USD 89.22 per month to get exclusive boxing content, documentaries, classic fights, and weekly shows.
VPN Support: VPN is necessary to stream in some countries. Use ExpressVPN.
Main Selling Point: This is best for watching boxing matches and related documentaries.
Features:
Users would get match highlights.
It is possible to watch both on-demand and live matches via DAZN.
Original DAZN documentaries are available for streaming.
Also supports UWCL (UEFA Women's Champions League) soccer match streaming.
Pros:
Get access to a variety of content, like classic fights, weekly shows, exclusive boxing events, and documentaries.
The application is compatible with various devices like smart TVs, mobile devices, PCs, tablets, game consoles, and connected devices.
A very simple log-in and payment integration process assure a faster viewing experience.
Cons:
It only supports the English language.
Not available for free; users have to signup to the platform to watch any content.
Best For:
For total boxing enthusiasts, DAZN is a high-quality sports streaming app to try. A friend of mine who enjoys boxing matches highly could not find any medium to watch his favorite, Angel Acosta's match. He downloaded this app, created an account with his email and password, added payment details, and streamed the most recent match live on his smart TV.
---
ESPN is known as one of the top service providers for sports content. So, through the sports streaming app version of ESPN+, users can access the matches on ESPN networks and get other benefits like live scores, expert analysis, and highlights. On-demand news and premium articles are also available.
Users interested in Fantasy match services can use this app for real eSports games. A variety of content is available here, like Soccer, MLB, NBA, Monday Night Football (NFL), Tennis tournaments like Wimbledon, ESPN Shows like First Take and more.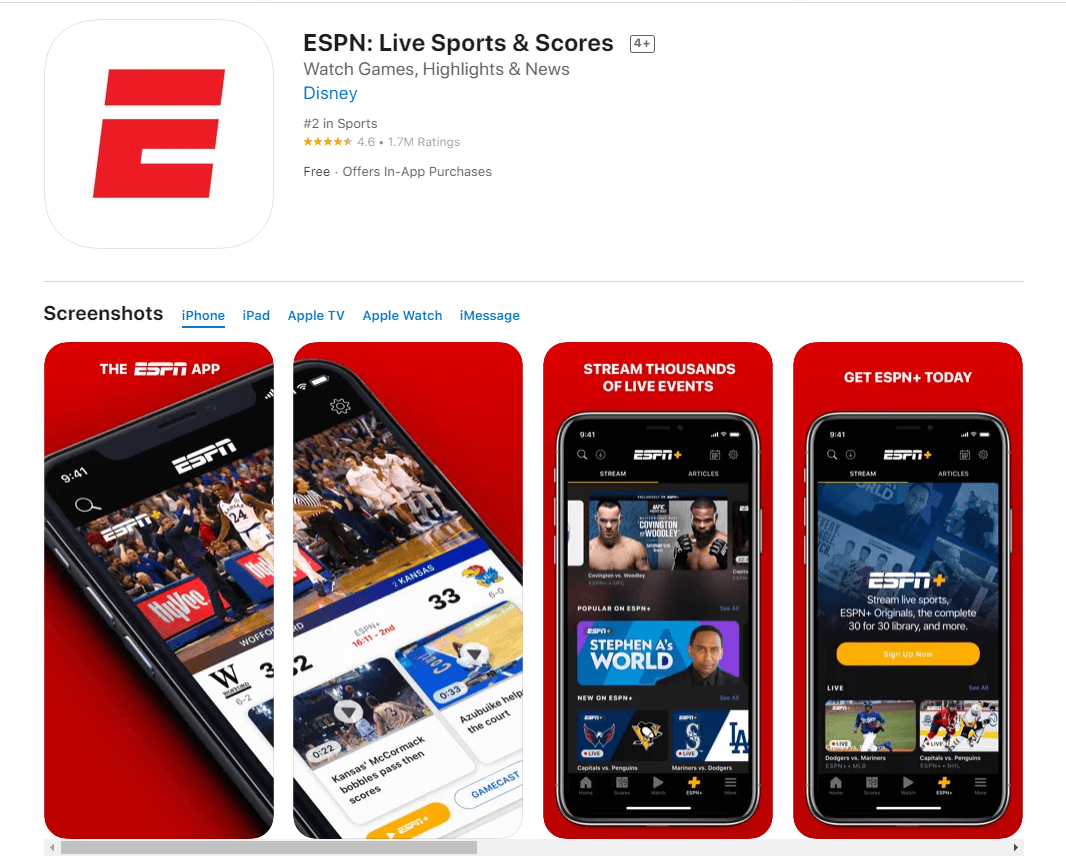 How to download: Google Play Store, Apple App Store
Platform Compatibility: iOS, Android
Price: Monthly plan- USD 6.99 per month, Annual Plan- USD 69.99, UFC PPV 274 plan- USD 29.99- USD 74.99, UFC PPV 264 plan- USD 69.99
VPN Support: VPN is useful. Try ExpressVPN.
Main Selling Point: You can watch ESPN+ Originals and matches in High Definition without any cable connection.
Features:
Library of ESPN+ Original shows hosted by major sportspeople like Dana White, Peyton Manning, and Kevin Durant.
Features a wide variety of sports events in College Sports, MLB, NBA, NFL, Tennis, and Soccer.
E-sports content is available on this platform.
In-depth content or premium articles are available for users.
Pros:
Stream like events from different locations and get real-time updates/scores.
Articles are available for sports-related events.
Real-time scores of ongoing matches are displayed on the home screen.
Cons:
Automated renewals are active for the subscription unless one deactivates it.
Some play-by-play broadcasts do not show accurate on-air stats because of contractual limitations.
Best For:
ESPN+ is a suitable choice for sports fans who want to get real-time updates on all sports matches from one platform. Besides the live events, you can get fantasy tools and premium articles on access. We especially enjoyed the 30-for-30 content library and wide range of exclusive shows, all available in HD.
---
The sports streaming app of DirectTV Stream covers both live sports and entertainment content for viewers. You can access local sports channels with three of the plans under this application and get Regional Sports Network content.
You can access Premium Networks, or Steam Live matches through this application across diverse devices. There are a high number of local MLB matches viewable through this app and around 65,000+ titles (on-demand). Under the biggest plan, i.e., Ultimate, you can get access to 140 channels.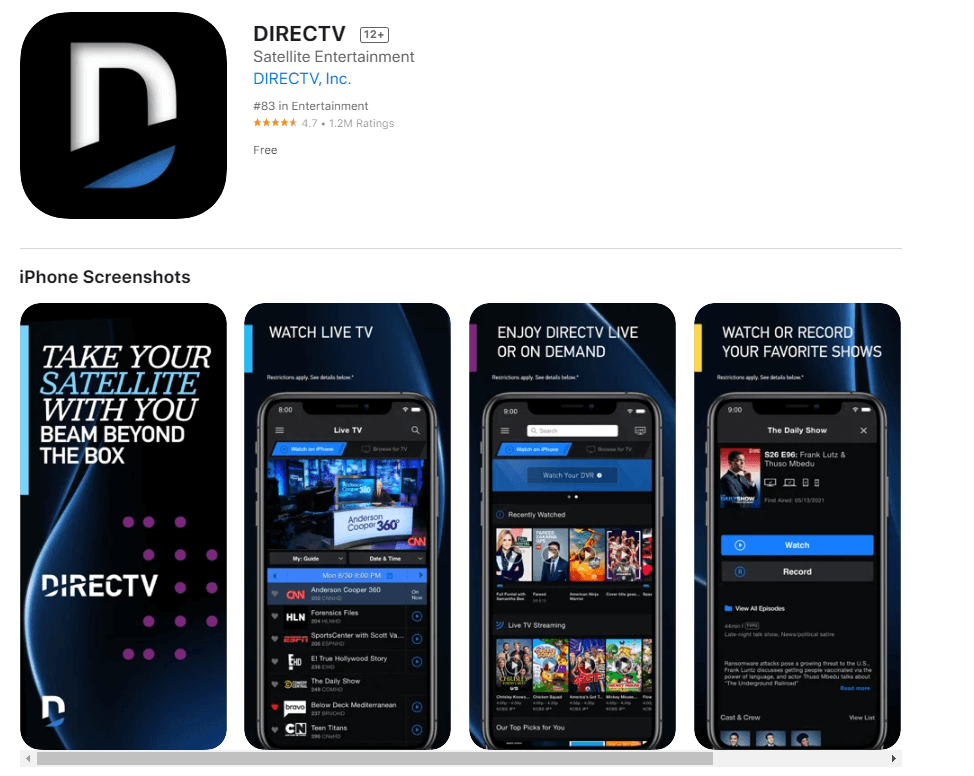 How to download: Google Play Store, Apple App Store, Website
Platform Compatibility: iOS, Android
Price: Entertainment- USD 69.00/month, Choice- USD 89.99/month, Premier- USD 104.99/month, Unlimited- USD 149.99/month
VPN Support: You can use VPN to stream at locations that do not allow this app. Use NordVPN or ExpressVPN.
Main Selling Point: Users can stream on-demand movie/tv show content and live local sports and Regional sports-related networks for MLB and other matches.
Features:
Top channels are accessible to users, like ESPN, FOX, NBC, CBS, and more.
Stream live sports, additional highlights, and on-demand requests for movies and shows.
Record events for future use.
Split-screen for multiple content viewing on one screen.
Pros:
Even at the lowest plan, you would get various supported channels, averaging 65.
Users can choose the type of content they want to stream.
Options like HBO Max, EPIX, and STARZ are available for the initial three months after subscription.
Cons:
The app size of 87 MB can be high for some devices/users.
A free trial is available for 5 days only.
Best For:
For users who want to choose the type of content they want to watch and many plan options, DirectTV is suitable. Users who want Entertainment channels can choose than plan while sports fans get options like Premier, Choice, and Ultimate, with access to regional sports networks.
---
Conclusion
The live sports streaming app options here provide diverse content and services for users. If you want other options besides live sports, both Hulu and DirectTV Stream is suitable.
Under Hulu, the original content library is diverse with award-winning shows, while DirectTV Stream allows users to choose diverse plans. The Cloud DVR feature under Fubo TV can hold a lot of recordings and three days' worth of playback.
DAZN is good for UWCL matches or boxing matches, while ESPN+ provides users with diverse sports-related channels/articles.
Make your choice based on your needs.
If you're a sports fan and a video creator, you might want to create a sports video with highlights by yourself. We recommend you to use Filmora, the easy-to-use video editing software for both beginners and pros. Take a try and you won't regret!