- What is the best video filter app?
- How do you put filters on iPhone videos?
Search from the internet, and you can find many people are looking for the video filter app to add filters on iPhone or Android videos. Many video filter apps can help you add filters to your videos and offer you other unique features. It is still hard to say which one is the best because your editing needs might differ from others.
So, in this post, I've picked up 10 awesome apps for video filters and introduced them one by one. You can check them to get the right one according to your own needs.
Now, let's get started.
Part 1: Top 5 Video Filter Apps for Android
#1: Effects Video - Filters Camera | Android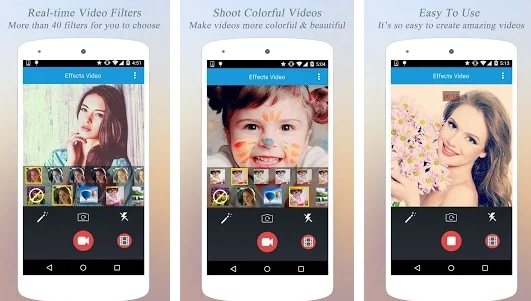 Effects Video - Filters Camera is a video filter app for Android that lets you easily record videos with colorful effects. You can choose more than 40 fiters for your video. The app is straightforward to use, and it allows you to share your videos on Facebook, Instagram, etc.
Price: Free
Pros: The app is best for shoting videos with fiter.
Cons: There are not many advanced video editing features.
---
#2: video filters | Android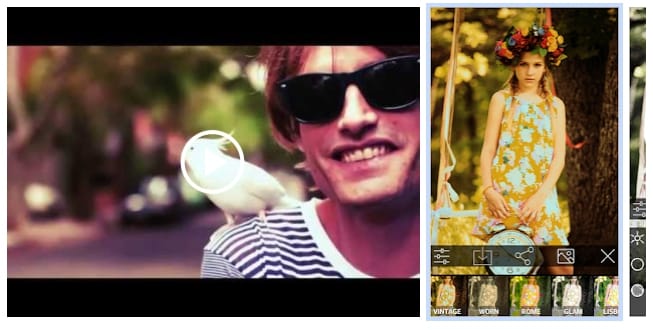 Pixelab video filters is an easy to use basic video filter app for Android that lets you create your videos with amazing filters.
Price: Free·Offers in-app purchases
Pros: It has variety of videos effects.
Cons: It contains ads.
---
#3: VidTrim | Android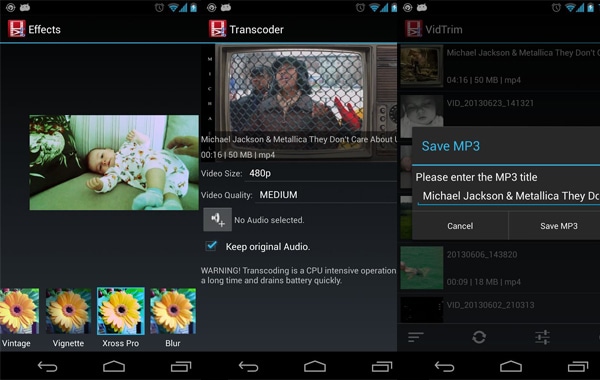 VidTrim is a straightforward video filter app that lets you add fundamental features to your videos.
Price: Free with ads and $2.49 without ads.
Pros: The app offers one-touch filters and is very easy to use.
Cons: It is fundamental and does not offer advanced options.
---
#4: KineMaster | Android & iOS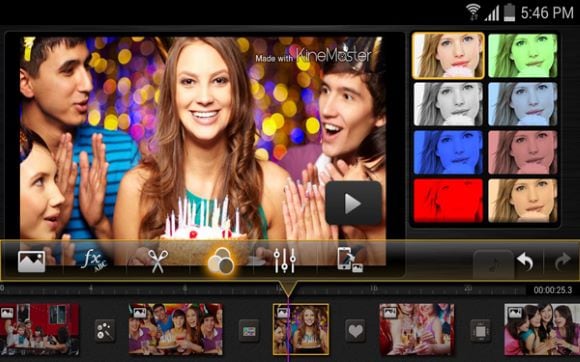 KineMaster is the video filter app for Android and iOS users. It it a powerful video editing app with lots of built-in video filters. Color filters and color adjustments in Kinemaster can enhance your videos. Otherwise, Kinemaster has a multitracked timeline that allows you to drag and drop, import multiple videos, and edits them in various ways.
Price: Free but with watermark. Otherwise, it is $2.99 per month and $39.99 per year for a complete version.
Pros: A variety of editing tools are available.
Cons: It is only available on a restricted range of devices.
---
#5: WeVideo | Android & iOS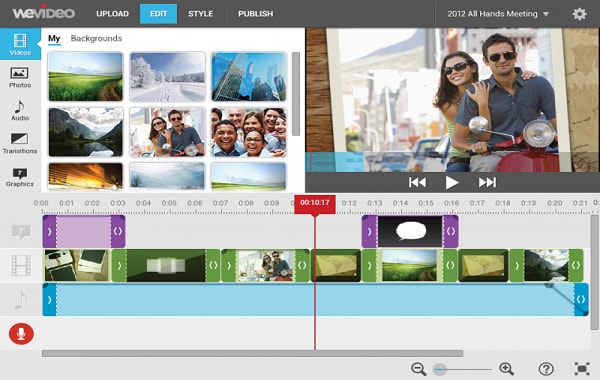 WeVideo is a free video editing app for Android and iOS users that lets you edit videos, add filters to video and publish them on Youtube.
Price: The basic version is free. The Premium version costs $4/month.
Pros: It is effortless to use, and you can share your videos online.
Cons: You have to upload videos to the app's server, which takes time.
---
Part 2: Top 5 Video Filter Apps for iOS
#1: FilmoraGo | iOS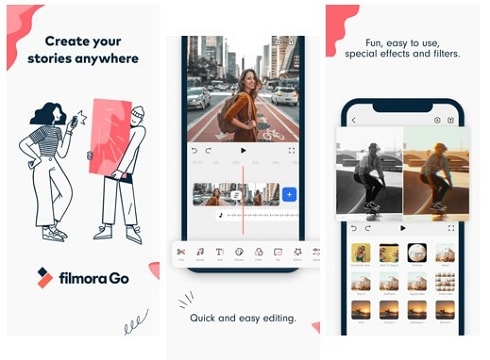 FilmoraGo is a cool video filter app that lets you edit your videos. It has more than 15 different built-in filters; you can manually adjust the filters' intensity to suit your needs. Besides, it has a built-in filter store. You can find more unique filters here. You can also use it to complete your video editing, including splitting, cutting, adding background music and text, and more.
Price: Free with In-App Purchases
Pros: This app is pretty funny and easy-to-use; you can quickly edit your photos just within seconds.
---
#2. iMovie | iOS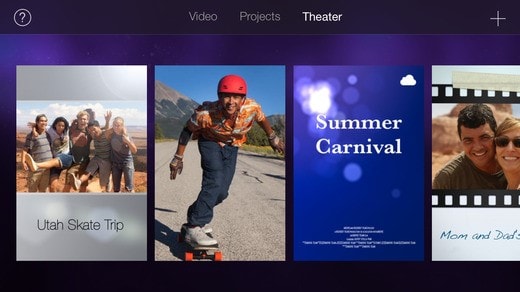 iMovie is a video filter app for iPhone, iPad, and other iOS devices. It lets you make videos on your iPhones with its latest movie themes, effects, and filters.
Price: Free
Pros: The app is easy to use.
Cons: You cannot change the video's aspect ratio in iMovie.
---
#3: Magisto | iOS & Android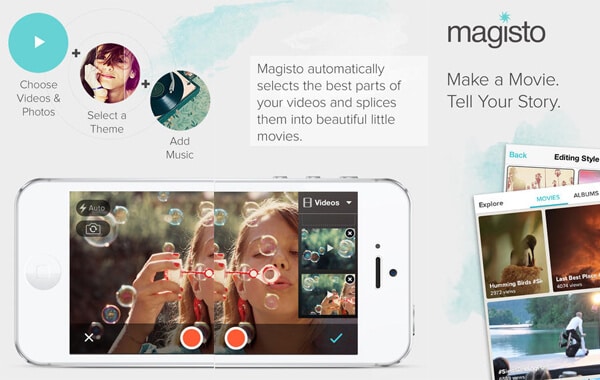 Magisto is a powerful video filter app that lets you create fantastic movies out of ordinary video clips. Magisto is also a simple app that enables you to add filters and transitions. It has various features, such as filters and changes that can be used to edit your videos. In Magisto, you can select a video you want from the gallery to edit and add a unique theme to the video. The app will automatically add amazing effects to give a perfect movie to share.
Price: From $4.99/month.
Pros: It is effortless to operate.
Cons: It takes a lot of time to render videos.
---
#4: Camera Plus Pro | iOS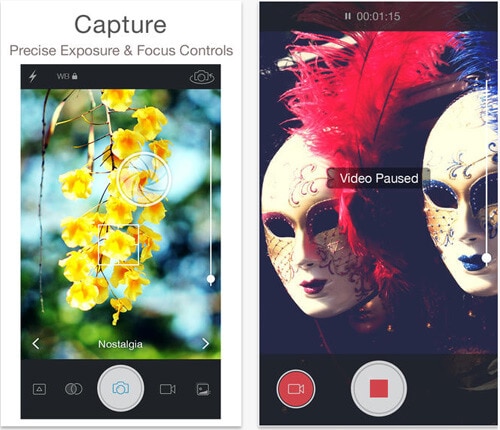 Camera Plus Pro is an easy-to-use video filter app. It contains a lot of features like changing video brightness, adding filters and effects, etc. You can also edit photos using various photo filters as well.
Price: $0.99
Pros: It offers the user to add filters and effects rapidly.
Cons: The effects are not novel and can be found in some free video editing apps.
---
#5: Capcut | iOS & Android
Capcut is an easy-to-use video filter app that lets you edit your video clips and turn them into memorable movies. It has advanced filters and beauty effects.
Price: Free
Pros: Free all-in-one video editing app.
Cons: Limited features.
---
Part 3: Advanced Tips: Try Filmora Video Editor to Enjoy the Unlimited Filters Effect
The above apps can only be used on iPhone or Android phones. Suppose you prefer to edit and add filters to photos and videos on the computer. In that case, you can choose to use some excellent video filter software like Filmora Video Editor, as I mentioned in the advanced tips.
Filmora Video Editor for Windows (or Filmora Video Editor for Mac) is the highly recommended video filter app for Mac and Windows users. You can have options of 200 types of filters and overlays, including lens flare, light leaks, cinema flairs, old film, and more. This video filter app is a handy video editing tool to help you turn your videos into masterpieces. This video filter app is fully compatible with macOS High Sierra and Windows 10.
Guide to Add Filter Effects to Video in Filmora Video Editor
Step 1: Import Video to the Video Filter App
Choose "New Project" after installing the software on your computer. Bring the video clips to the project window by importing them. You can do this only by drag and drop the video to the program interface.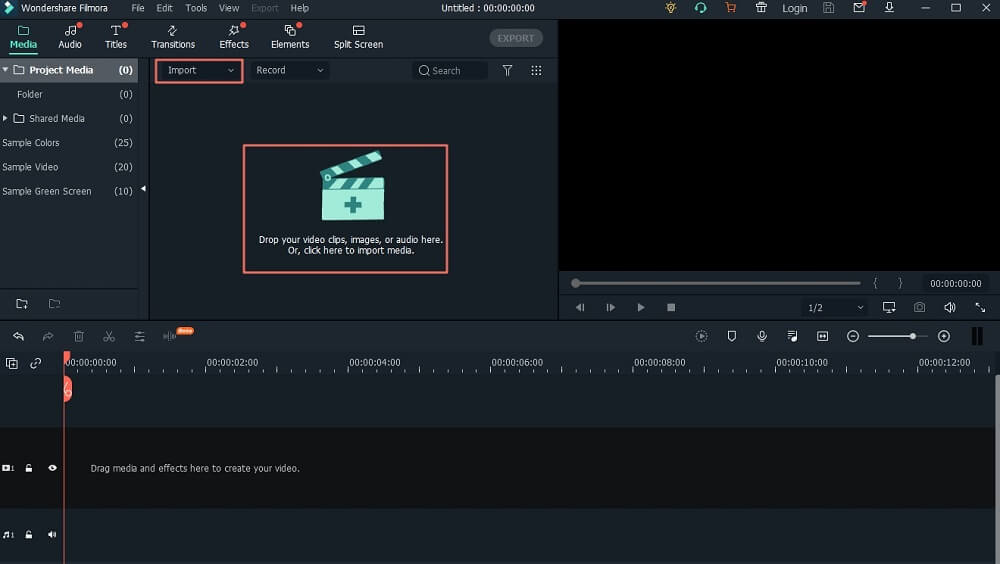 Step 2: Add Video to the Timeline
Drag and drop the videos in the timeline. And you can start to edit the video easily.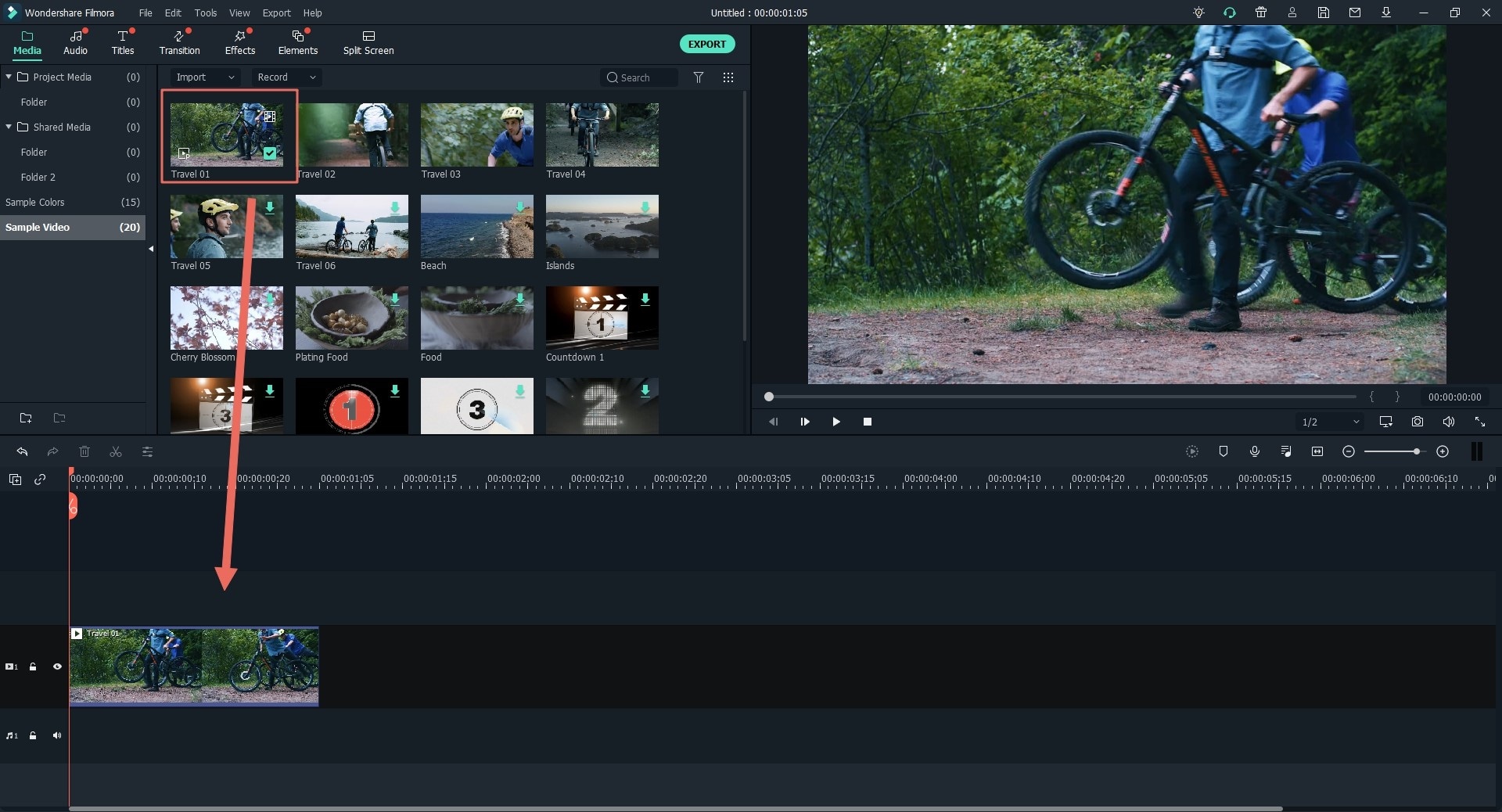 Step 3: Apply Filter to the Video
In this step, you should press the "Filters" option on the interface to continue. After viewing various filter effects (over 160+ filters to choose from), you can add any filter to your video by adding it to the timeline.
[Attention] For more filters, you can go to the Filmora's Effects Store (Filmstock) to pick up more filters, transitions, or other effects on your target video.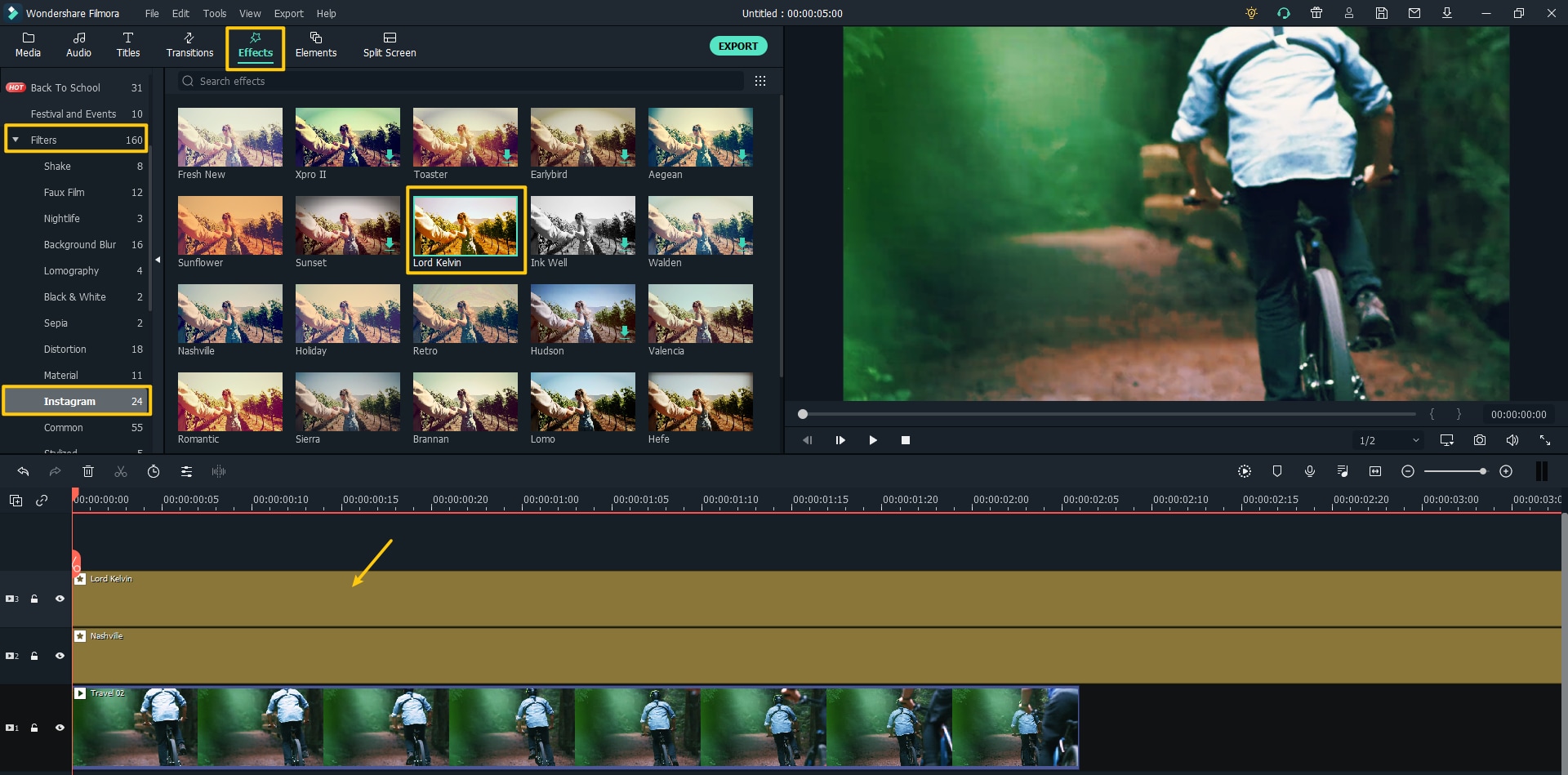 Tips: You can add multiple filters to one video if you want a mixed effects of them by dragging multiple filters to the timeline above your video. As in this guide, we add both the "Nashiville" filter and the "Lord Kelvin" filter to the riding video (as shown in the picture above). Moreover, you can double-click on the filter on the timeline to activate the Adjust window, so you can easily adjust the filter effect as you like.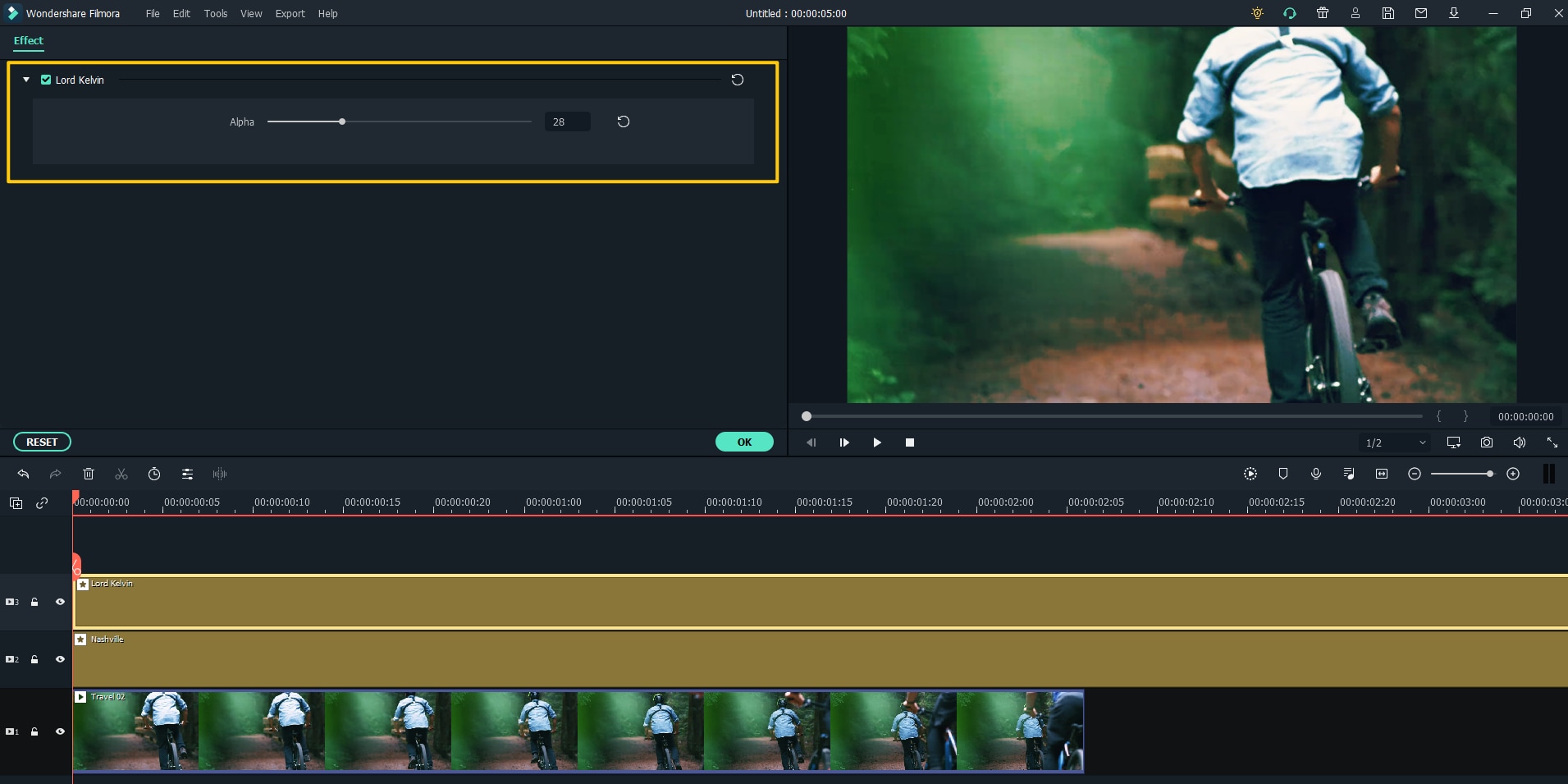 Summary
Compared to apps, editing photos, and videos on a computer may make your videos look more professional and attractive.Besides, Filmora Video Editor for Windows (or Filmora Video Editor for Mac) also has its own Effects Store. See more about 100+ Free Video Transition Effects in Filmora Video Editor.
For more advanced editing techniques, check the short clip below to learn more about Filmora and its power!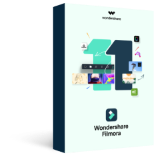 Best video editing software for beginner and semi-professional, that comes with powerful editing skills like trimming, splitting, rotating, editing, etc.
500+ free special video effects to customize and create an awesome movie by yourself.
1000+ standalone effects downloading resources to make videos in all kinds of styles.
Personalize your video with filters, overlays, motion elements, PIP, and face-off.
Apply video effects such as titles, transitions, green screen, split-screen, and 300 more.
Edit video by trimming, cropping, rotating, splitting, and combing.
Share video to YouTube, send to devices, or burn to DVD.