- Is Windows Movie Maker still available?
- Is Movie Maker discontinued?
- Can I still download Windows Movie Maker?
- ...
Windows Movie Maker is a free video editing software for Windows 7/8, which allows users to split, cut, trim, edit a video easily on the Microsoft Windows system. However, this free video editor is reached the end of the support on January 10, 2017. Then, more and more users want to know is it possible to get Microsoft Windows Movie Maker again, and if no, what program can works well as the best Windows Movie Maker alternative tool in 2018 or the coming 2019.
Well, you can get an ideal answer in this post.
It's important for the aspiring film makers to choose the best video editor that fit their needs, not only the beginners or the professionals. In this article, I'll not only recommend an ideal alternative tool to Windows Movie Maker, but also compare it to Windows Movie Maker from different aspects. So that you can easily find the recommended tool can works well in Windows video editing tasks.
Now, let's get started.
Filmora Video Editor - Top Windows Movie Maker Alternative
Filmora Video Editor for Windows (or Filmora Video Editor for Mac) is one of the best Windows Movie Maker alternative. It is specially designed for a beginner or semi-professional user, so that they can use the 100+ editing tools and 1000+ video effects to customize or edit a creative video on Windows 10/8/7/Vista/XP, Mac OS (10.14 include). What's more, it features the ability to easily exported to 24+ video formats, 20+ mobile devices like an iPhone, Blackberry, most Android devices, etc.or uploaded to YouTube, Viemo as you like.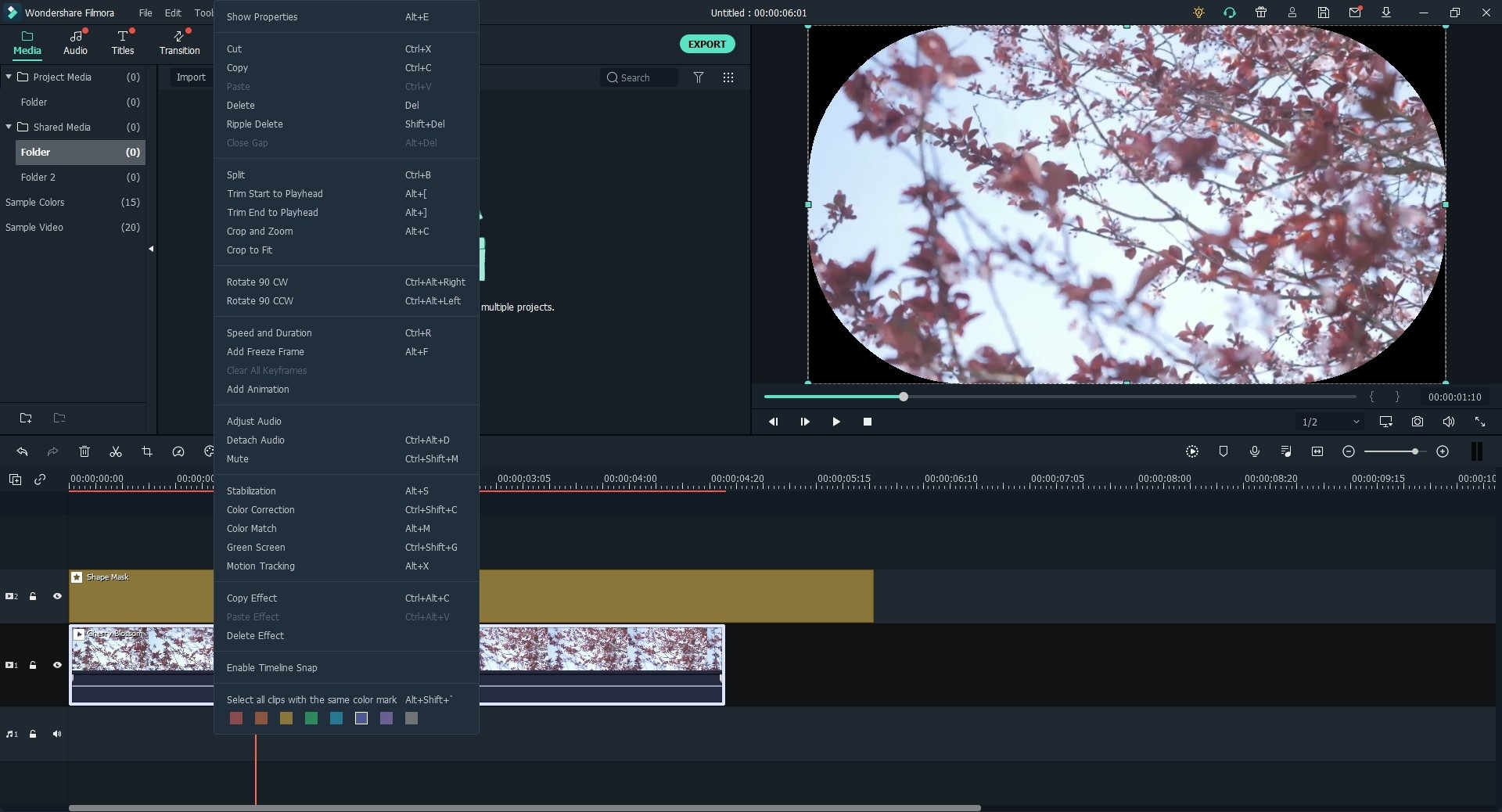 Pros:
Basic and advanced editing tools enables you to split, trim, crop, cut, edit a video or perform effects like PIP, green screen, video stablization, etc. with simple clicks.
Import and export videos in 24+ formats, including MP4, MP3, WMV, 3GP, AVI, etc.
1000+ video effects help you customize and create an awesome video easily, including title, text, transition, filter, overlay, element, etc.
Specially designed for beginner and semi-professional, requires no professional skills.
Now, let's check how to perform this Windows Movie Maker alternative software on your PC or Mac.
Step 1. Launch the program and enter "Full Feature Mode", then you can click "Import Media Files Here" to load all video files you wish to edit into the media library.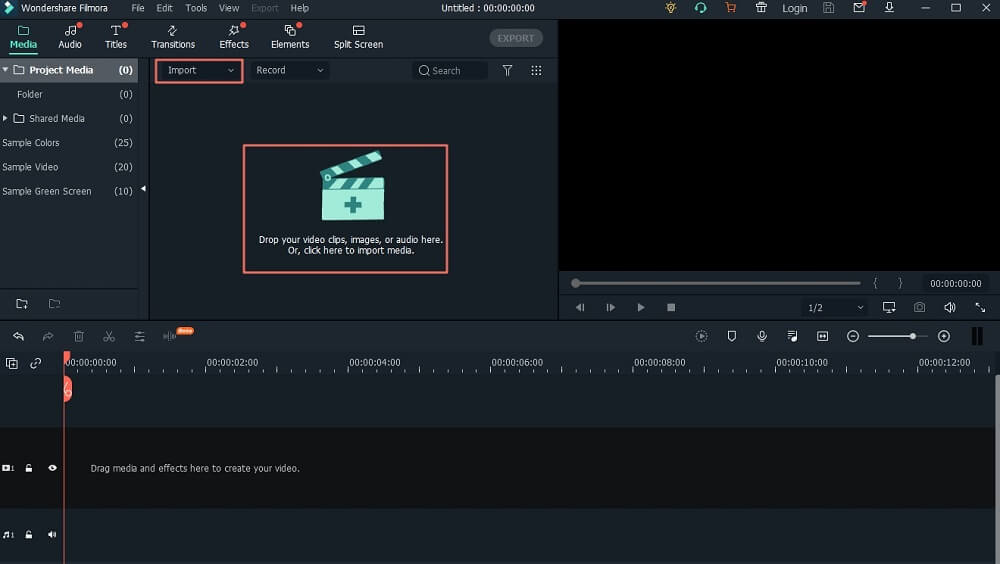 Step 2. Drag and drop the video file into the Timeline, and now you can start your editing process as follows:
- Split, cut or remove unwanted part
If the video is too long and you want to remove some contents, you can drag the slider to the position you want to cut, and hit "Split" scissors icon to cut the video from one to two part. Then drag the slider to the end of the part you wish to remove, and hit scissors icon agian. After that, right click on the video clip, and click "Delete" button to remove the cutted part.
For more info about split a video, please click here - how to split a video into several parts.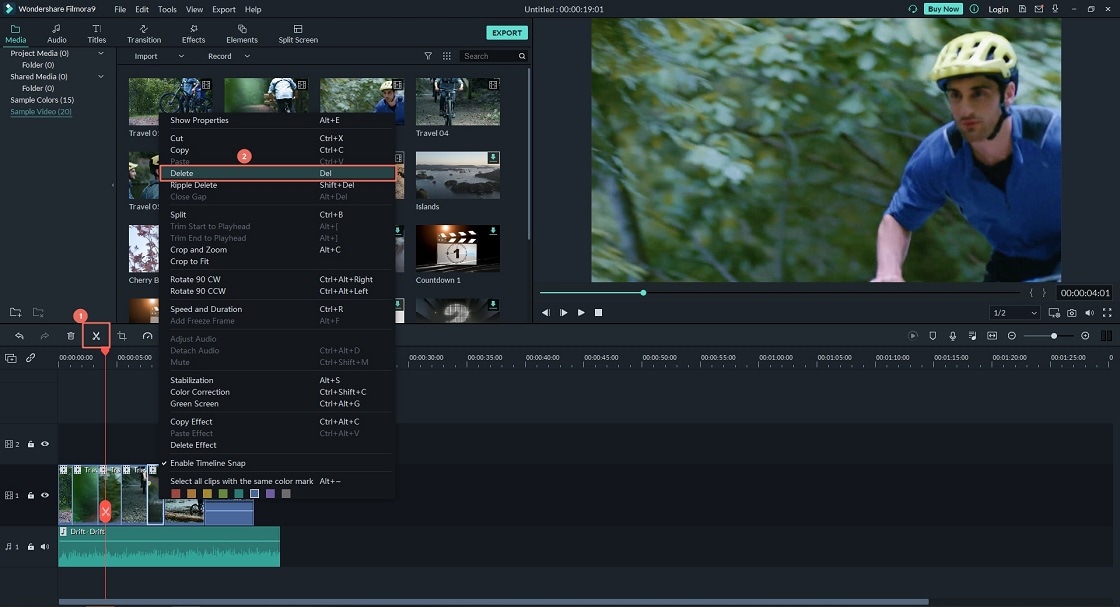 - Add text or title to video
Click "Text/Credit" option, and you can add a video intro, outro, or any text to any postion as you like.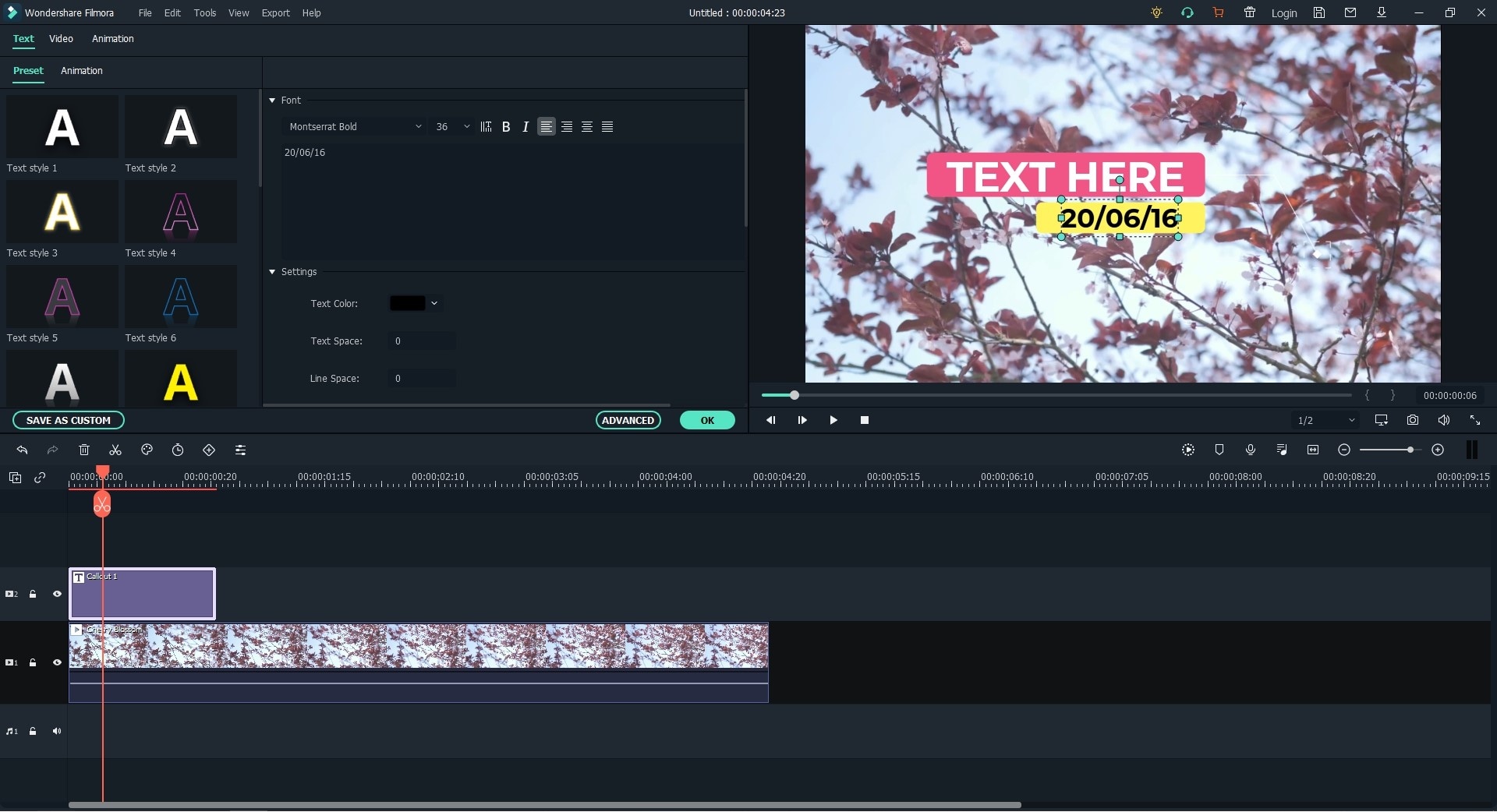 - Apply Effects to Video
To add effects like transitions, filters, overlays, etc. to a video, you only need to choose the corresponding function icon in the program, and then select your desired effects to your video with 1 click. (Maybe you want to know what is video effects Maker?)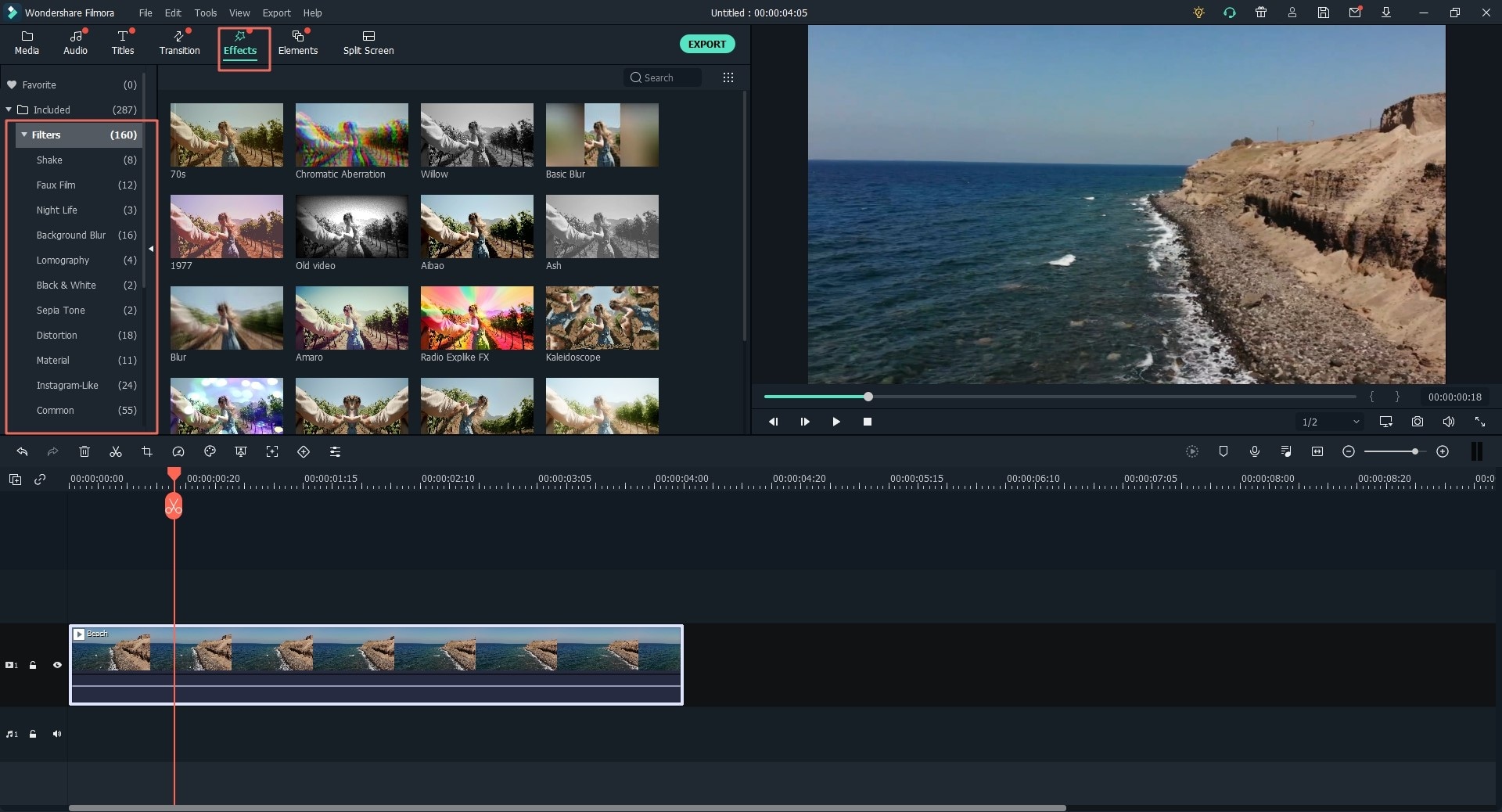 For more editing tips, please read the full guide of Filmora Video Editor - how to edit a video completely.
Step 3. When your video is reached your desired effects, you can click "Export" button and choose an output format to save the video on the PC or Mac.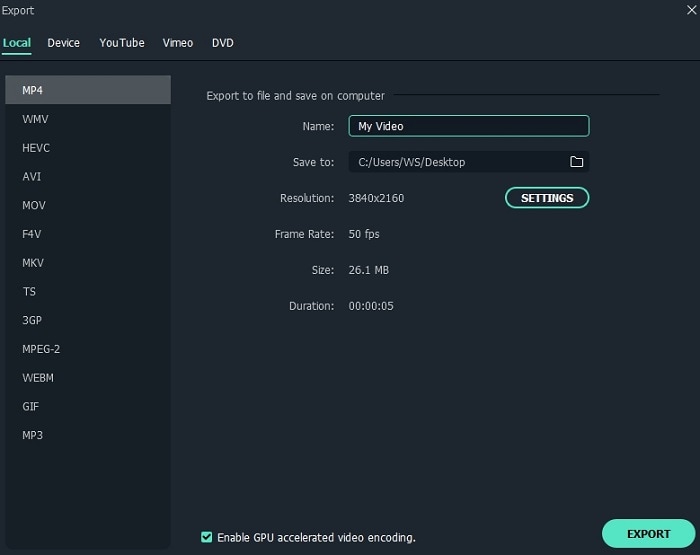 ---
Comparison: Filmora Video Editor vs Windows Movie Maker
Below is a tablesheet to help you understand the different between Filmora Video Editor and Windows Movie Maker, and how powerful the Windows Movie Maker alternative is.
 
Windows Movie Maker

Filmora Video Editor

Support Media Formats
Input: Almost all popular media formats;
Output: Only MPEG-4, WMV, AAC.
Input: Almost all popular media formats;
Output: 24+ output formats, including MP4, WMV, AVI, MP4, MP3, etc.
Support for Most Devices
Yes
Yes
Support for 4K Video
 
Yes
Transitions & Effects
Few
200+
Caption Presets
Few
200+
Callouts, Stickers
 
Yes
Flip, Crop, Split, Trim, and Rotate
Yes
Yes
Sound Adjustment and Editing
Yes
Yes
Pan & Zoom
Yes
Yes
Video Stabilization
Yes
Yes
Auto Adjustment
 
Yes
Mask & Highlight
 
Yes
Compatible System
Windows 7/8
Windows 7/8/10;
Mac OS X 10.10-10.14
Price
Free
$39.99/year, $59.99/lifetime
Lifetime Update

Reach the end of the support on January 10, 2017

Yes
---
Conclusion
From the above tablesheet, you might find that the Filmora Video Editor can provide more functions than the Windows Movie Maker, so if you wish to edit a video on PC or Mac, Filmora Video Editor could be an ideal alterntive to Windows Movie Maker.