- Is there a Windows, Andorid or iOS version of iMovie?
- What is a good alternative to iMovie?
- Is iMovie free for Windows?
- ...
Although iMovie is pretty good at video editing, especially for a beginner, but still lots of people want to find some iMovie alternatives for different purposes. Thus, you can find many similar questions as the above on the Internet, and if you're also one of them, Here is the right lace for you.
Actually, there are many iMovie alternatives you can choose from on the Internet, but it is not an easy task to pick up a proper one. In facts, almost all alternative tools to iMovie can offer the same editing features, even more easy-to-use and powerful functions to their users. But it could be time-consuming to take a free trial on these video editing software one by one.
So, in this article, I have picked up 12 best iMovie alternatives from 4 main aspects: functions, compatible systems, price and customer feedback. If you're going to find a iMovie alterantive for Windows, Mac, or even mobile devices (Android or iPhone), you'll love this post because it will help you greatly narrow your choice and save your time.
[Attention] If you only wish to find the iMovie alternative for Windows, you can read another post to get more options.
Now, let's get started.
Filmora Video Editor - Edit Video on Mac or PC Easily (Recommended Option)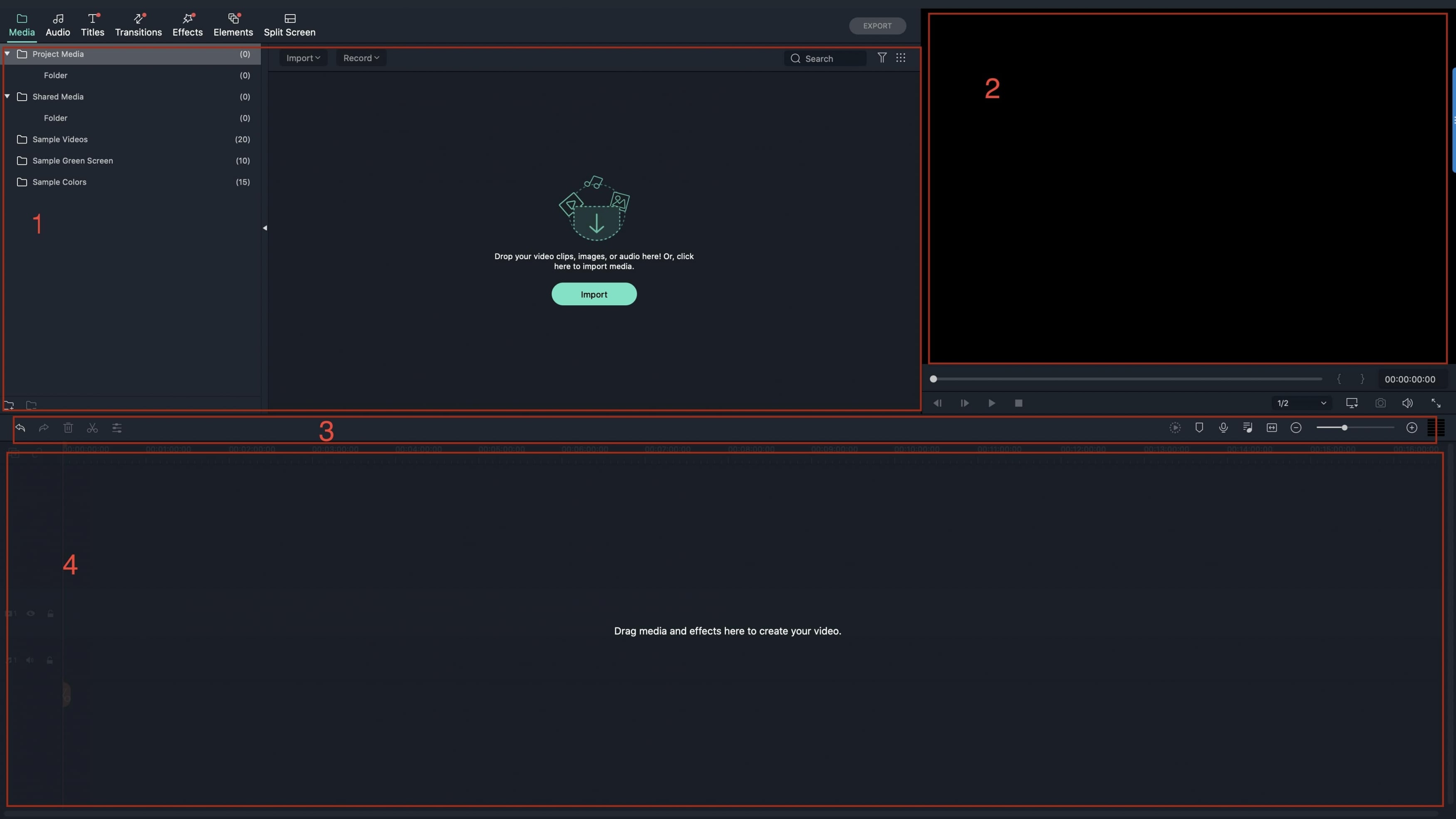 Filmora Video Editor for Mac (Filmora Video Editor for Windows) is the best iMovie alternative for Mac and Windows system. It allows users to edit videos, audio tracks, and even pictures with simple clicks and drag-n-drops. It's interface is far more clean than that of iMovie and offers users almost anything that you need for making a great video: basic or advanced editing tools, special effects, and free music library, etc.
Key Features of Filmora Video Editor
It is famous for its hand-picked effects: filters, overlays, motion graphics, animated text and titles.
New elements to reflect different occasion, like wedding, Halloween, Christmas, are added continuously.
Help you to enhance your video editing: stablizing the video, using green screen to making things floating, change the face of a person off (face-off), Mosaic, tilt-shift, adjusting the brightness and saturation, and so on.
The Easy Mode will allow users to export a good video quickly and efficiently. It streams the process of editing a video with basic editing features. This mode is especially helpful for individual users who do not know much about video editing and also professionals who want to edit a video quickly.
The Full Featured Mode comes with multiple advanced editing features are included: overlay, filters, dynamic text, transitions, background music, filters, Intro/Credit, picture in picture, and more. Professionals will find the feature he or she needs in this mode.
...
Please be noted that Filmora Video Editor provide users with the same functions and processors on Windows and Mac system.
How to Edit A Video on Mac with the Best iMovie Alternative for Mac (Filmora Video Editor)?
Here, I'll only guide you to edit a video on Mac in the simplest way. If you want to create an amazing video effects, you need to learn the detailed tutorial - How to edit a video completely.
Step 1. Download, install and launch the program on your Mac computer. Then, directly enter the mode of "Create New Movie".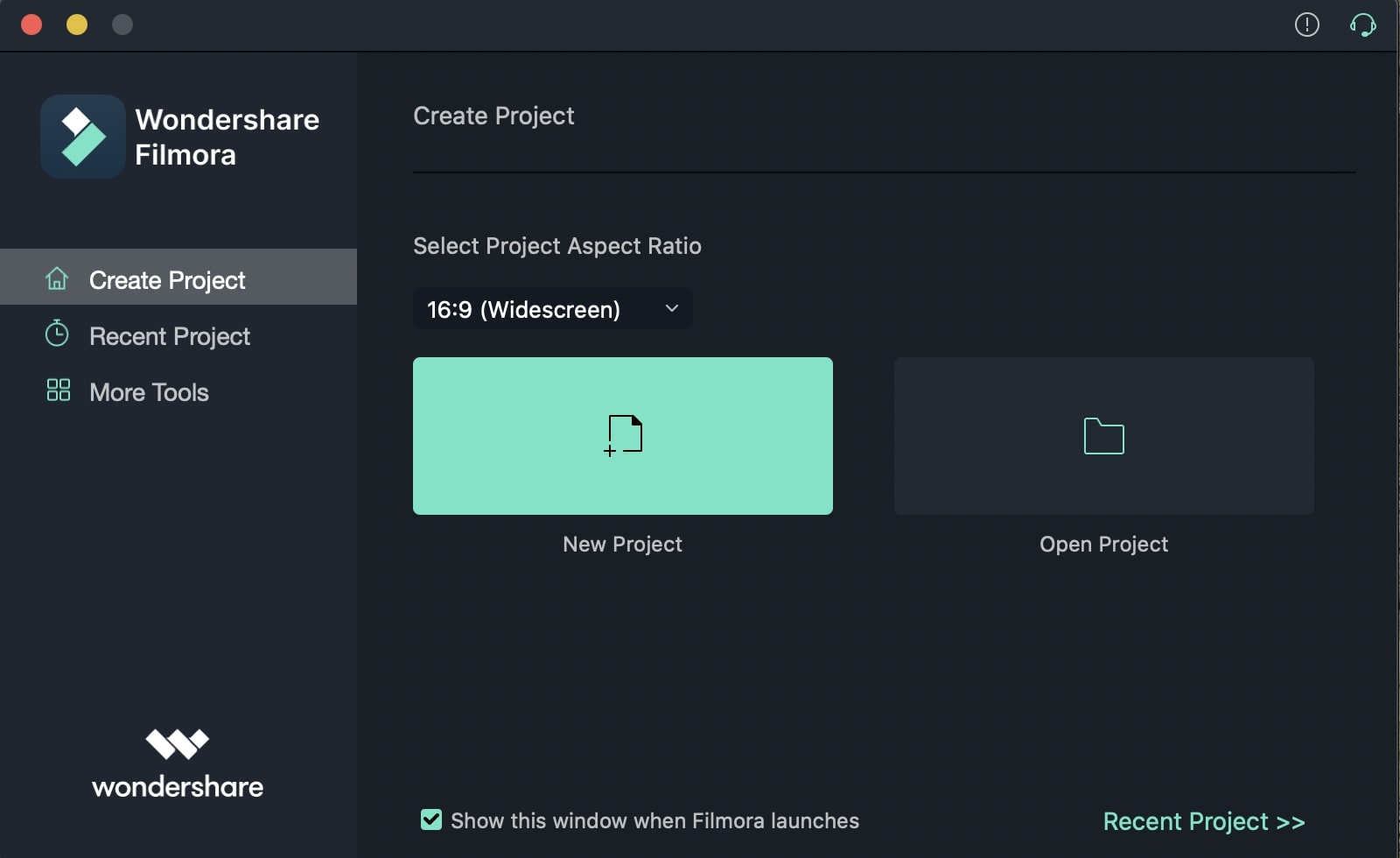 Step 2. Click "Import Media" to load the video you wish to edit into the media library. Then click "+" or directly drag and drop the video into the Timeline for editing.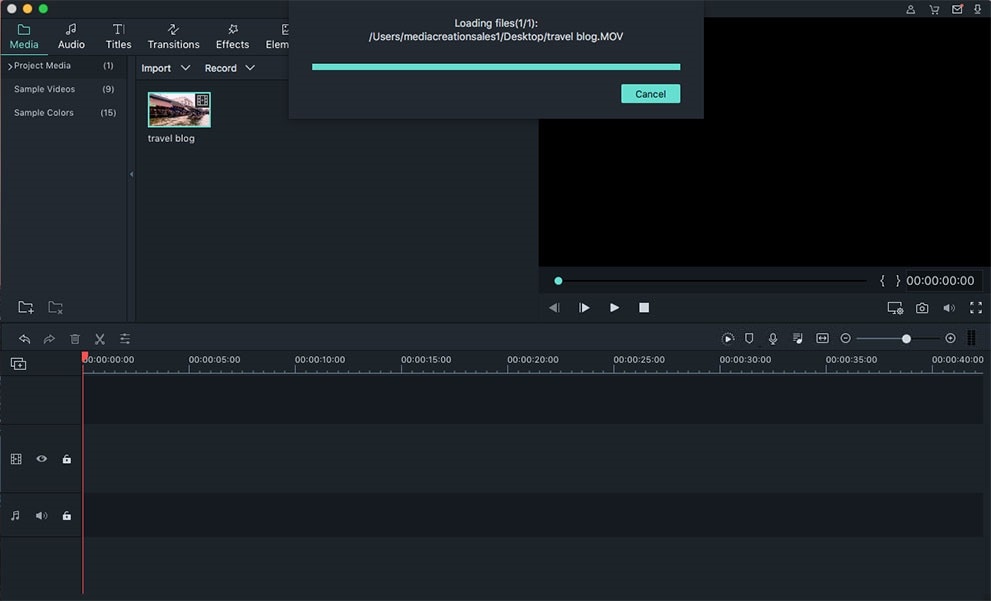 Step 3. Now, you can use the listed tools like split, trim, rotate, edit, etc. to customize the video as you like. You can also choose "Title", "Filter", "Transition", "Overlay", etc. option to apply effects on your target video.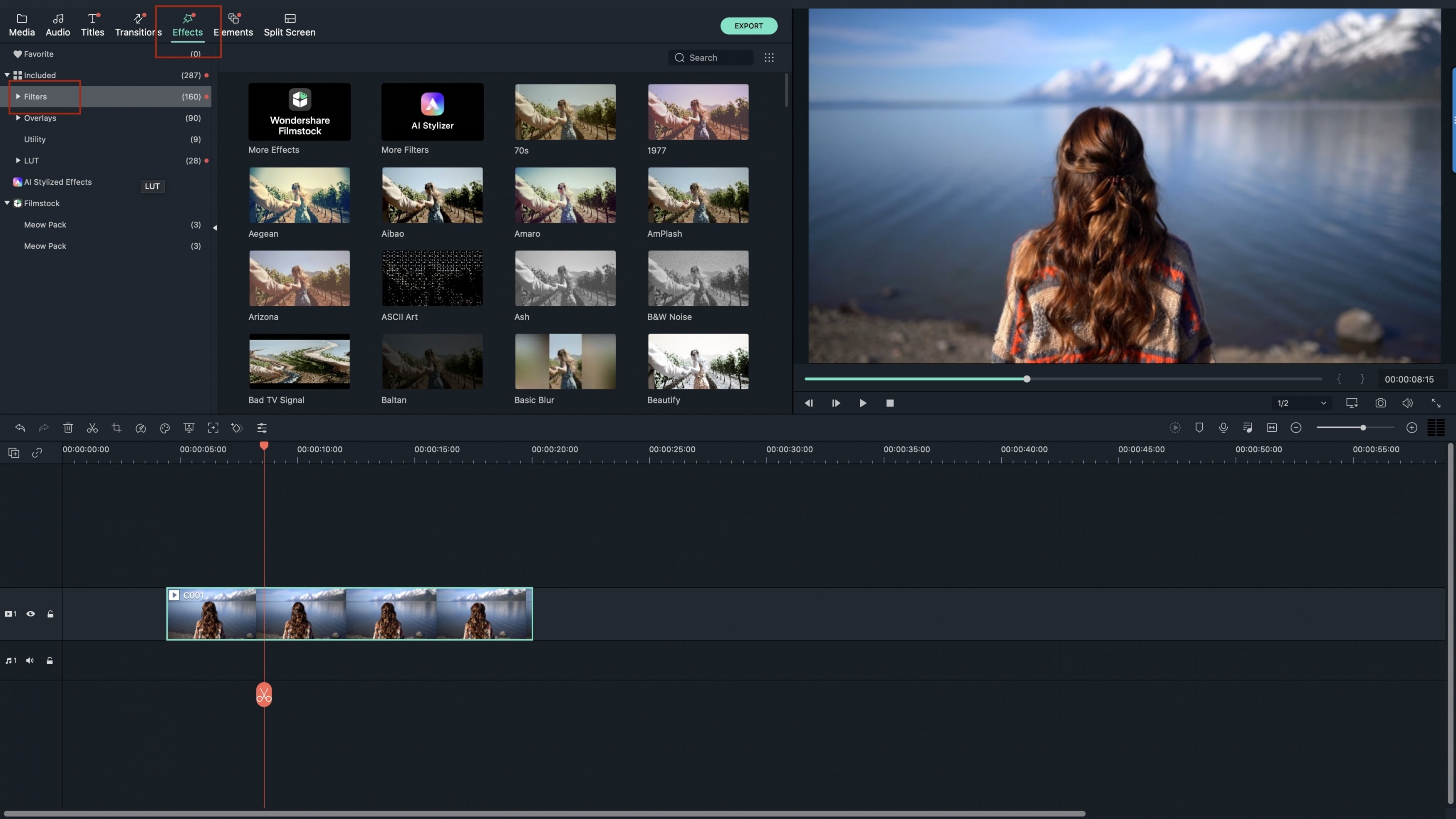 Step 4. When the video is editied, you can click "Export" button to choose an output format and save the edtied videos easily.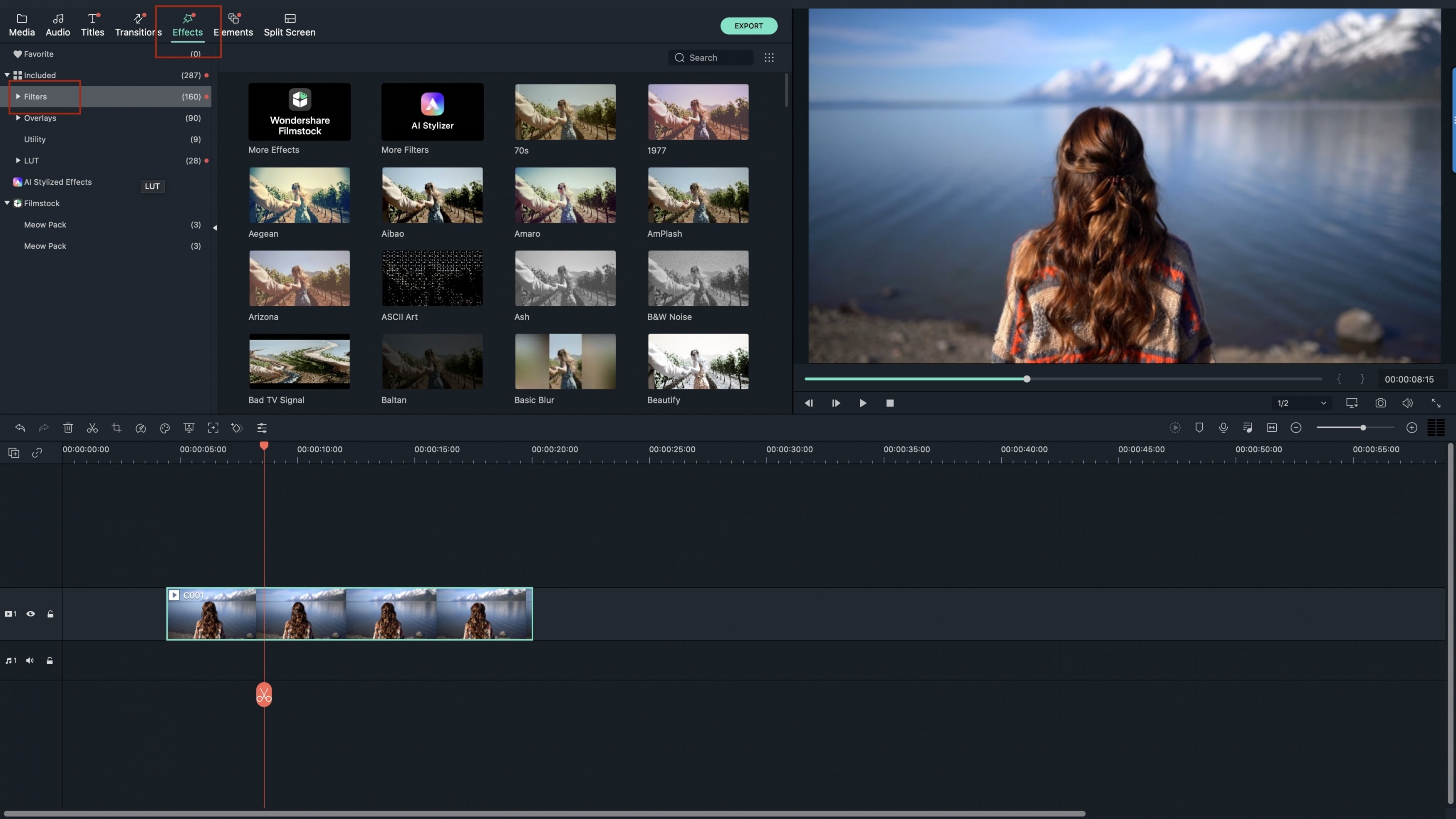 For more detailed instructions about how to edit videos on Mac with Filmora Video Editor for Mac, you can read the user guide.
---
6 Best iMovie Alternatives for Mac OS X
#1. Adobe Premiere Pro (for Mac and Windows)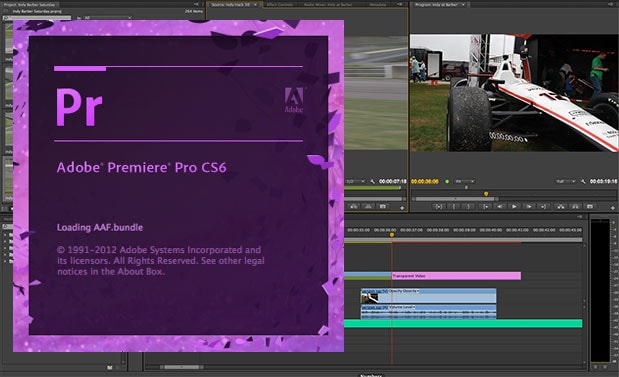 Hardcore users must know about Adobe's multimedia tools, which in the case of video edition features Premiere Pro as part of their suite. If you are looking for the most complete option iMovie alternative on the market to work with various types of multimedia files, it should be a no-brainer to choose Adobe's solutions for you at a professional level. However, with the departure of Creative Suite, now you have to subscribe to the Creative Cloud program to enjoy the goodies of their software.
Keep in mind that part of the whole productivity point is that their solutions compliment and work flawlessly within themselves, so if what you are looking for is a standalone application that you can use at a personal or even professional level, you should give it some thought before acquiring any of their products. Remember you can also try Adobe Premiere Elements in case you are looking for a much simpler tool.
#2. VideoLAN Movie Creator (for Mac, Windows and Linux)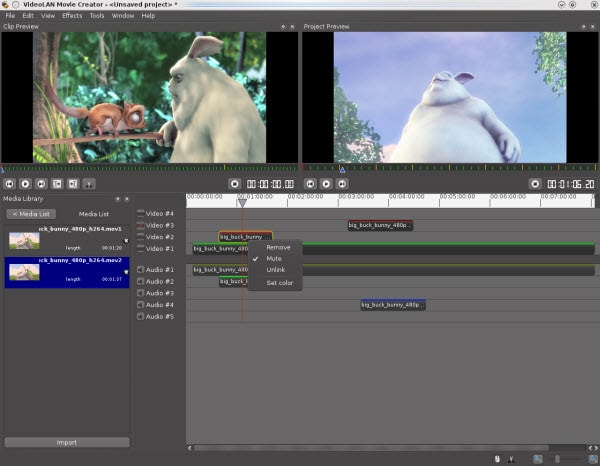 You may have heard already about the VideoLAN projects for their most known product, the VLC Player which is a cross platform application that was first intended to play video files over local area network connections. Their hard work on this project and others have led to one of the most stable and complete media players to use anywhere, even on mobile devices, and now they are on to create a video editing tool as open and complete, under the name of VideoLAN Movie Creator, or VLMC for short.
Despite it is still on the works, VLMC is expected to support as many multimedia formats as the VLC Player does, in a similar and lightweight application. If you are curious already and want to give it a try, there are some early versions available.
#3. Final Cut Pro X (for Mac)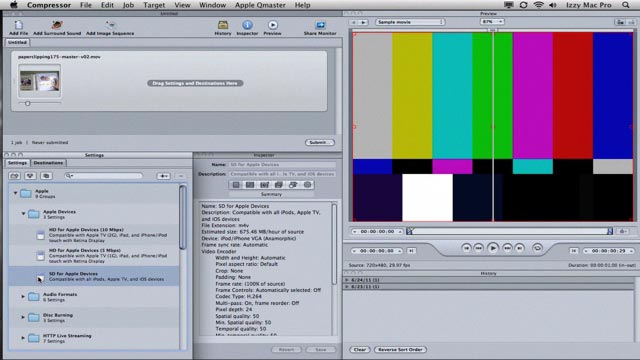 Another well known alternative to iMovie for professional users is Final Cut Pro X, which has been completely rewired to become Final Cut Pro X, now developed by Apple itself, ensuring an optimal performance on Mac machines, specially their Mac Pro. After its release, some of the changes in the application may have not thrilled all of its fans, but Apple continues working on its flaws and making it the ultimate video management and edition software on the market.
That being said, you should not be surprised when checking at its price tag. As one of the best applications available even at an enterprise level, and considering it is a standalone application, this solution will be at your disposal staring at $299.99. Yes, an expensive option, but probably the most advanced on the list, so remember you can always give it a try first.
#4. Jahshaka (for Mac, Windows and Linux)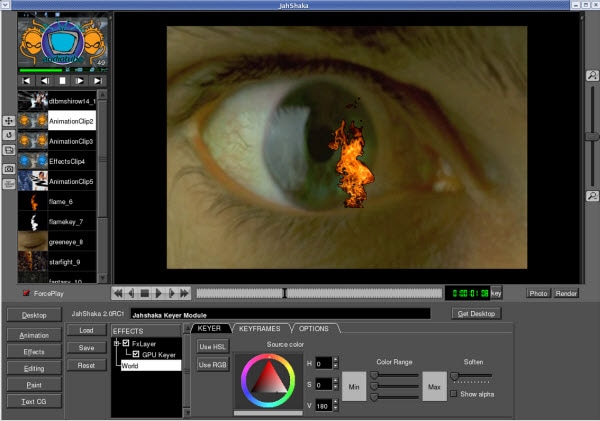 On almost every situation where you need applications for a specific task, you can be sure you will find great free iMovie alternative. Video edition and management is not the exception, and for this, we have Jahshaka. Using open libraries, Jahshaka comes as one of the few applications that is available on every desktop OS: Mac, Windows and the Linux family.
Mostly aimed at post-production, you can create animations, add or edit audio and tweak your video, among other utilities. Like its proprietary counterparts, Jahshaka includes support for a non-linear editing environment, allowing you to share your work and resources with your teamwork in real-time.
#5. VideoPad Video Editor (for Mac, Windows, iPad, Kindle Fire and Android tablets)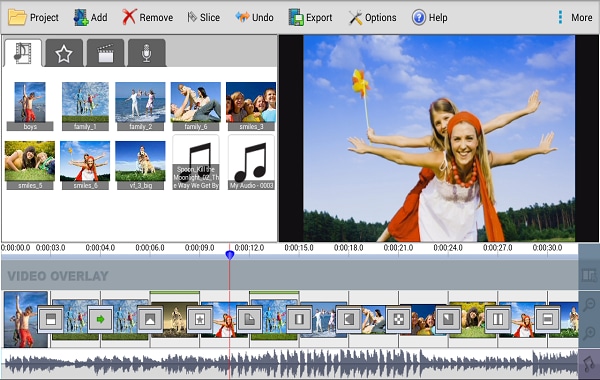 Now, if you are looking for a iMovie alternative that you can use across devices no matter what OS you use, VideoPad Video Editor is your best shot. It has versions for both Mac and PC and also for all three major tablets: the iPad, Android tablets and the Amazon Kindle Fire. One may argue the unavailability of an app for phones is a drag, but do you really get to do much of video editing on a small phone screen? In most cases you will find yourself working on video edition on your computer or even a tablet, so this makes VideoPad Video Editor a great basic option.
About VideoPad Video Editor price, you also get several options: the desktop versions of the software include 'free' versions for personal use only and also paid versions; on the tablet applications you will find free and paid versions as well. Well, nothing in life really comes for free, does it? While the free versions of the software is freeware, it offers in-app purchases along with advertisement through its interface.
#6. WeVideo (for Mac, PC, Linux, Chrome OS, iPhone, iPad, Android phones and tablets)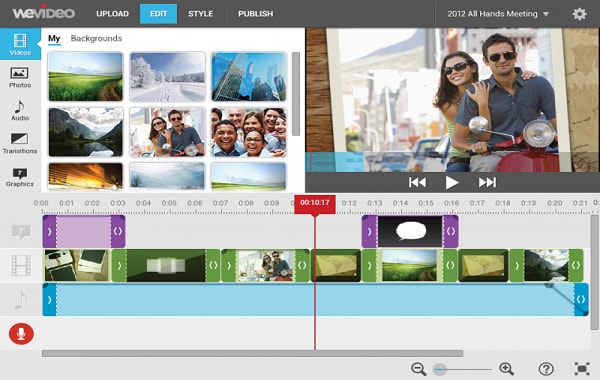 While other developers decide to simply make their products available through the internet with some online storage features, charge a monthly fee, brand them 'cloud services' and call it a day, WeVideo is an actual online video editing service. It is no wonder why Google has partnered with them to add their service in YouTube and Google Drive and make it easier for users to create and modify their videos without downloading any additional software. Their service allows you to have quick access to most features traditional basic software has to offer on your desktop.
All you need to enjoy WeVideo is your web browser and an internet connection. But it does not stop there, they have also stepped in the mobile market with apps for iOS and Android, so you can easily work on your phone or tablet.
It is important that you keep in mind that a cloud service for video editing sounds great, but you should also estimate upload and download times along with the limitations that the service itself imposes. You can start using WeVideo for free with these limitations and from there they also offer several subscription options for personal use going up to $199 per month for a small team of users. In the end, WeVideo might be just the right solution for the guy that is always on-the-go, switching devices and working online.
---
Top 4 iMovie for Windows 10/8/7/Vista
#1. VirtualDub (for Windows)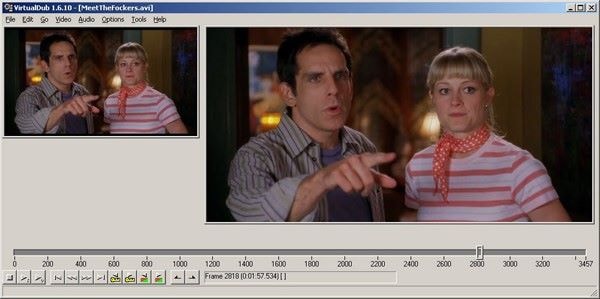 If you are looking for a basic yet complete free iMovie alternative for Windows PC in video capturing and editing, VirtualDub might come at handy. While it may not have fancy exporting options or many utilities for editing your videos, VirtualDub is everything you can ask for when it comes to making a quick fix.
You can trim your video, delete scenes, reorder it and get it all ready to look just as you need it. Then you can export the video to continue working on any other software, if you still need to. Since it is made to work exclusively on Windows machines, you can rely on VirtualDub's performance, and the best part is it does not cost anything.
#2. Studio (for Windows and iPad)
In most of the cases, you may only need some basic features for video edition and a couple special tools. If that is the case, one of the best options around is Studio, in which you will find anything a home-user may need with even some professional features. Depending on what you need, you can choose from options that range between $59.95 and $129.95, making Studio in which you may find your ideal match.
One of the most outstanding achievements of Studio is that it has also a mobile version on iOS for iPad and now also for iPhone at $9.99. Of course the mobile version differs greatly from the desktop applications available for Windows, but it is important to remark on how the mobile version is very complete, even outperforming the mobile versions of iMovie.
So there you have, a great tool from which you can select the version that better suits you on your PC, or an app for your iPad/iPhone that is fairly complete, above the competition.
#3. (for Windows)
Another great video editing software alternative to iMovie by is their . Raising the bet a little higher than Studio, offers a few options that will make it much useful, just do not expect it to be at the level of other professional tools we have reviewed so far. You can consider a great personal video editor with some professional features, while may be considered an entry-level application.
is an iMovie alternative for Windows PCs, and it will prove being more than sufficient for most users, in two different versions: Ultimate for $99,99 and Pro for $79,99. Before choosing, remember you can always have a free trial first.
#4. CyberLink PowerDirector (for Windows)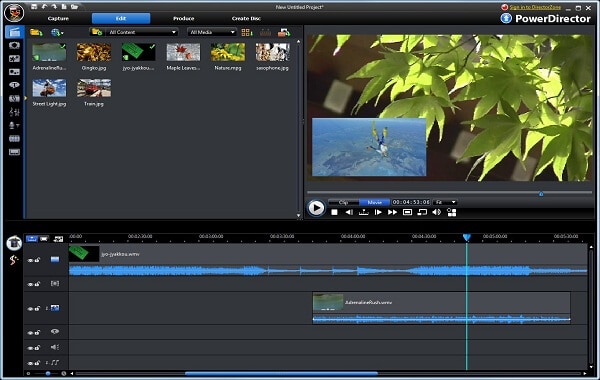 PowerDirector is one of the solutions that has also stood for a long time in the video edition game. The CyberLink software hangs somewhere between regular and professional users, with great tools that may come at handy. Several options for the software are available, range from $99,99 up to $299,99. However, like other developers, CyberLink has also adopted a cloud-based model for you to enjoy their software starting at a $49,99 subscription for three months that will also allow you to enjoy several goodies that are not available in the classic versions.

---
Comparison: Choose the Right iMovie Alternative for Yourself
Have checked out the top 11 alternatives to iMovie, still don't know which one to choose? Choose the one that's right for you. Take a look at the comparison below.
| Software | Platform | Video capture/edition | Video formats supported | Price |
| --- | --- | --- | --- | --- |
| | Mac and Windows | Yes/Yes | AVI, MP4, MPG, 3GP, WMV, MOV, FLV, M4V, MKV, MOD, MTS. | $39.99/year, $59.99/Lifetime |
| VirtualDub | Windows | Yes/Yes | AVI, FireWire | Free |
| Adobe Premiere Pro | Mac and Windows | Yes/Yes | 3GP, ASF, AVI, DV, F4V, GIF, M2TS, M4V, MOV, MP4, MPG, MTS, VOB, WMV. | Starting $19.99 per month as part of Creative Cloud |
| VideoLAN Movie Creator | Mac, Windows and Linux | ---/Yes | Expected 3GP, ASF, AVI, DV, FLV, MKV, MOV, MP4, MPG, VOB, WMV. | Free |
| | Mac | Yes/Yes | 3GP, AVCHD, AVI, DV, MP4, MPEG, MOV MTS. | Starting $299.99 |
| Studio | Windows and iPad | No/Yes | MVC, AVCHD, DV, AVI, WMV, 3GP, MPG, FLV, MKV, MOV. | Starting $59.99 |
| Jahshaka | Mac, Windows and Linux | No/Yes | WMV, AVI, FLV, MPG, MOV. | Free |
| | Windows | No/Yes | AVI, MPG, AVCHD, DV, MOV, WMV, MOD, 3GP. | Starting $79.99 |
| VideoPad Video Editor | Mac, Windows, iPad, Kindle Fire and Android tablets | Yes/Yes | AVI, MPG, WMV, MP4, MOV, 3GP, FLV. | Starting $39.95 |
| CyberLink Power | Windows | No/Yes | 3GP, AVI, FLV, MPG, MOD, MOV, MP4, MTS, WMV. | Starting $99.99 |
| WeVideo | Mac, PC, Linux, Chrome OS, iPhone, iPad, Android phones and tablets | No/Yes | 3GP, AVI, DV, FLV, MP4, MPG, MTS, WEBM, WMV. | Starting for free up to $199 monthly subscription. |