The iMovie version 10.1.1 does not have an automatic snap to the 'Beat Detection' function. Hence you should know how to add beat markers in iMovie with the help of the following article.
Markers are quite helpful in the production of videos. They can help you make video editing super accessible and exciting. Similarly, the use of beat markers means locating beats within the track. Whether you want to impart beats at the beginning of the video or the end, you can always use beat markers as of great help.
As the name suggests, beat markers are identifiers of beats that can help you in specific ways such as placing a particular video, taking a new start, or other immense video editing tasks.
So, let's begin with the exact steps on adding beat markers in iMovie. We will also discuss the best alternate solution if you are encountering any problem in iMovie.
How to Add Beat Markers in iMovie
You would always want to know the location of beats in iMovie. Well, this is what we are going to discuss the exact steps in the section. The beat detection function of iMovie helps you mark different points in an audio track and then place a specific video with cuts to match those beats. After timing out the beats, you need to drag and drop particular videos or photos in iMovie.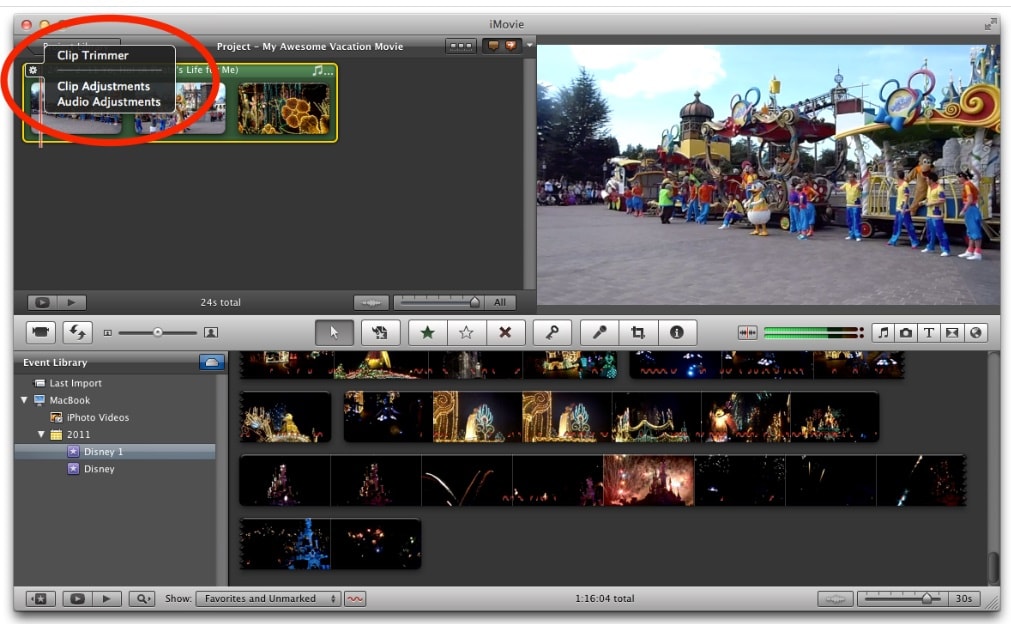 1. Add Beat Markers in iMovie 10
As we already mentioned that iMovie version 10.1.1 doesn't contain a Beat detection function. Therefore, you need to add beat markers by clicking the letter M manually.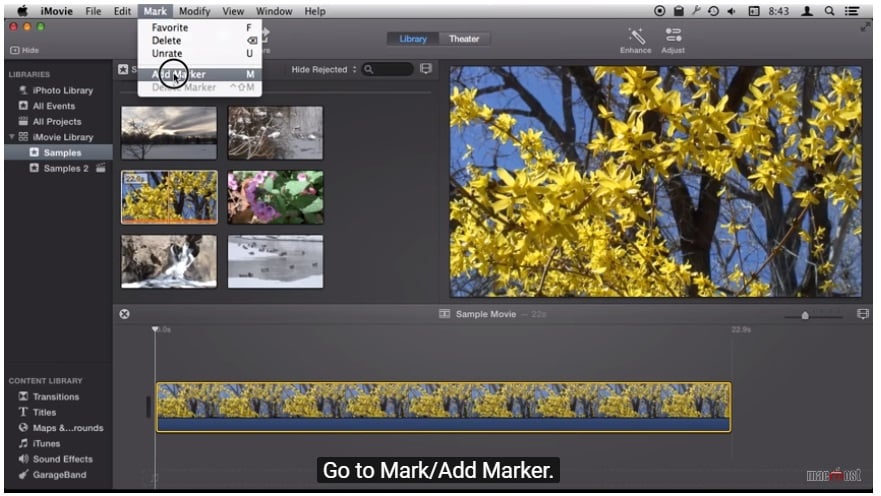 So, it's quite easy to do this task. After you have added specific videos in the timeline, go to the Mark button in the top menu list. From the drop-down list, you can click Add Marker (M). Thus, click on the timeline where you want to add the marker.
For instance, you want to add a cutaway of a particular video, and it will be a kind of 'snap to' to the video.
2. Add Beat Markers in iMovie 11.
Step 1. Add music First of all, you need to add music to use the beat markers. Take an audio track and drag it into the empty project. It's just a sound with no video. With this particular soundbox selected in the project section, go to Window and choose Clip Trimmer.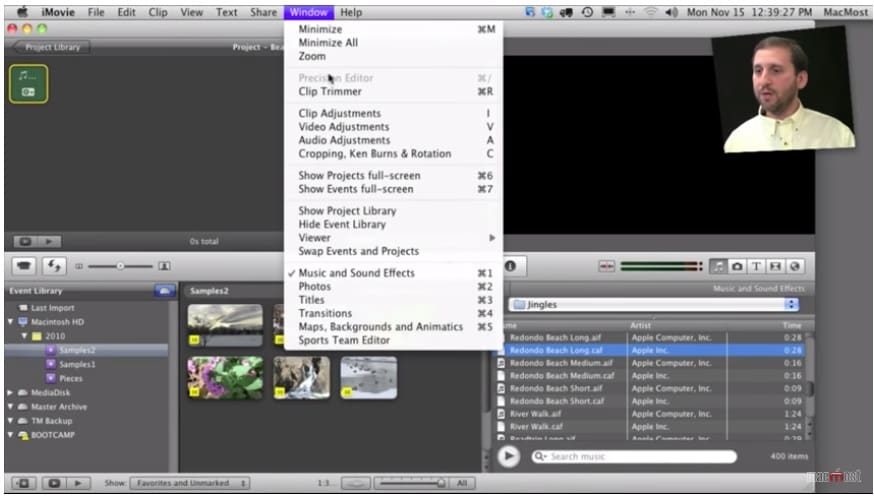 Step 2. Add Beat Markers Then, proceed to add beat markers by selecting Clip in the top menu list. Then, choose Add Beat Markers from the list. Or, you can drag and drop beats from the music icon into the video. The significant part is that you can add different beats even while playing the video.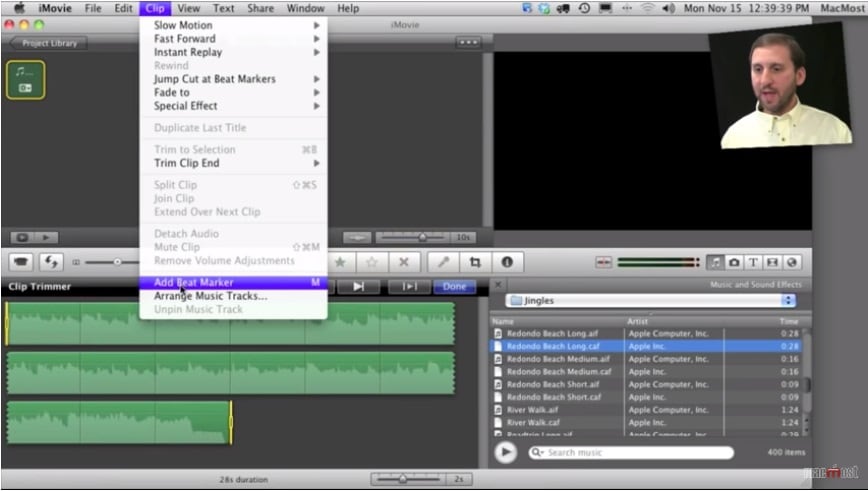 So, this is how simple to add beat markers in iMovie 11. You can further add simple video clips to the project starting from the beginning of the music track.
Your addition to other elements such as sound effects, titles, and voiceover tracks also snaps automatically with the beat markers you used previously. Moreover, there is no bad to add transition effects to make excellent video clips.
---
Alternative Solution: Add Beat Markers in iMovie in Fimora Video Editor for Mac
Alternative Solution: Add Beat Markers in iMovie in Fimora Video Editor for Mac Filmora Video Editor or Filmora Video Editor for Mac. It is one of the best alternative solutions to the problem.
This video editor software comes out as a perfect solution to edit videos amazingly. The software is also known as a type of spiritual successor to the past and classic iMovie because most features of iMovie and its usage procedure are still alienated.
Let's discuss some of the notable features of the software in detail as follows:
• Basic Editing: On the very first page, you should go through basic editing features provided by the software. It includes editing audio, videos, images, texts, and titles.
• Apply Effects: Apply Effects is another stage you can observe to add transitions, elements, filters, and overlays within the video or audio.
• Advanced Editing: The advanced editing feature is quite versatile and notable in the software. It consists of various functions such as pan & zoom, advanced color tuning, Record PC screen, scene detection, beat detection, PIP, Play video in reverse, stabilizes video, Green Screen, and Power tool, etc.
• Action Cam Editing: Its action cam editing tool lets you use the features such as Instant Cutter Tool. Even if you are a beginner at using such software, these features are so user-friendly and helpful in further processes.
• Other features: Other features that we love the most are access to Filmstockand Watermarks removal. So, we can say that iSkysoft Filmora Video Editor for Mac is a complete tool in itself with all the essential features and user-friendly working process.
Tips: Learn how to Sync Video to Music Beat in Filmora Video Editor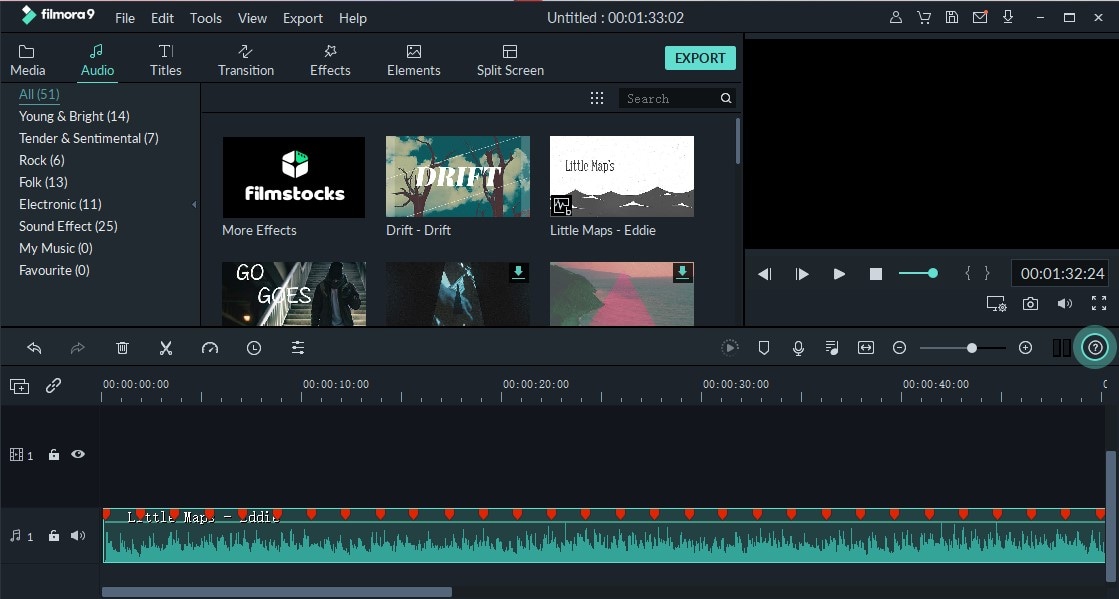 ---
Conclusion
Some Tips to using Beat Markers in video editing
• Try to use markers only for their primary purpose of marking particular points in videos.
• You can also use the markers while screen capturing sessions.
• There are two ways to add markers, namely while recording on Filmora Screen or during the post-production process. So, try to utilize both ways and decide the best.
So, beat markers are 'snap to' for your video clips and thus help to mark different locations within the track. Even if you want to add other videos, photos, transition effects, or other similar effects, they won't affect the applied beat marker and will best correspond to it. They make your video look fascinating than before and even helps you out in correcting mistakes within different sections of the video.
Our article on how to add beat markers in iMovie has described two possible ways to do the task. Furthermore, we have also suggested an alternative solution with the best software available called Fimora Video Editor for Mac. So, do check out both the answers and use as per your suitability and requirements.