A video's aspect ratio is the ratio of the width to height (respectively) of the video. It is simply how the video appears on the screen. By default, the aspect ratio is set by the recording device—your phone, computer, digital camera, etc.
These days, 16:9 (widescreen aspect ratio) is the preferred ratio widely used in TVs, computers and smartphones.
Among other commonly used aspect ratios, 4:3 was mostly used in the past as screens were much smaller and almost squares. 1:1 is used for Instagram, 9:16 for TikTok, 21:9 for cinema.
Uploading an image or video to a platform that requires specific ratios (e.g. 16:9 for YouTube) will require you to crop it—leaving out important parts. Other times, you may just discover that files become abnormally cropped or stretched when viewing. Actually, you wouldn't face such issues if you apply the appropriate aspect ratio 
— so, let's quickly learn how to do this using video editing tools. Moving on…
How to Change Aspect Ratio in iMovie 10
Want to change aspect ratio on Mac using iMovie? First, please note that the aspect ratio in iMovie 10 is fixed at 4:3 for SD videos and, 16:9 for HD videos. iMovie 10 users face a common issue when trying to achieve a standard aspect ratio—for example, square aspect's ratio on iMovie. Even if the video is cropped, one may not get the desired output as the area within the cropped frame fills the entire viewing device screen. The alternative solution suggested below (using Filmora) will do a better job as Filmora Video Editor has dedicated aspect ratio functions for video/photos. However, you could use the following steps to crop your video using iMovie:
Step 1. Launch iMovie and import your videos.
Create a project or open an existing project containing the video you want to crop. Browse and import/drag and drop the video on the timeline.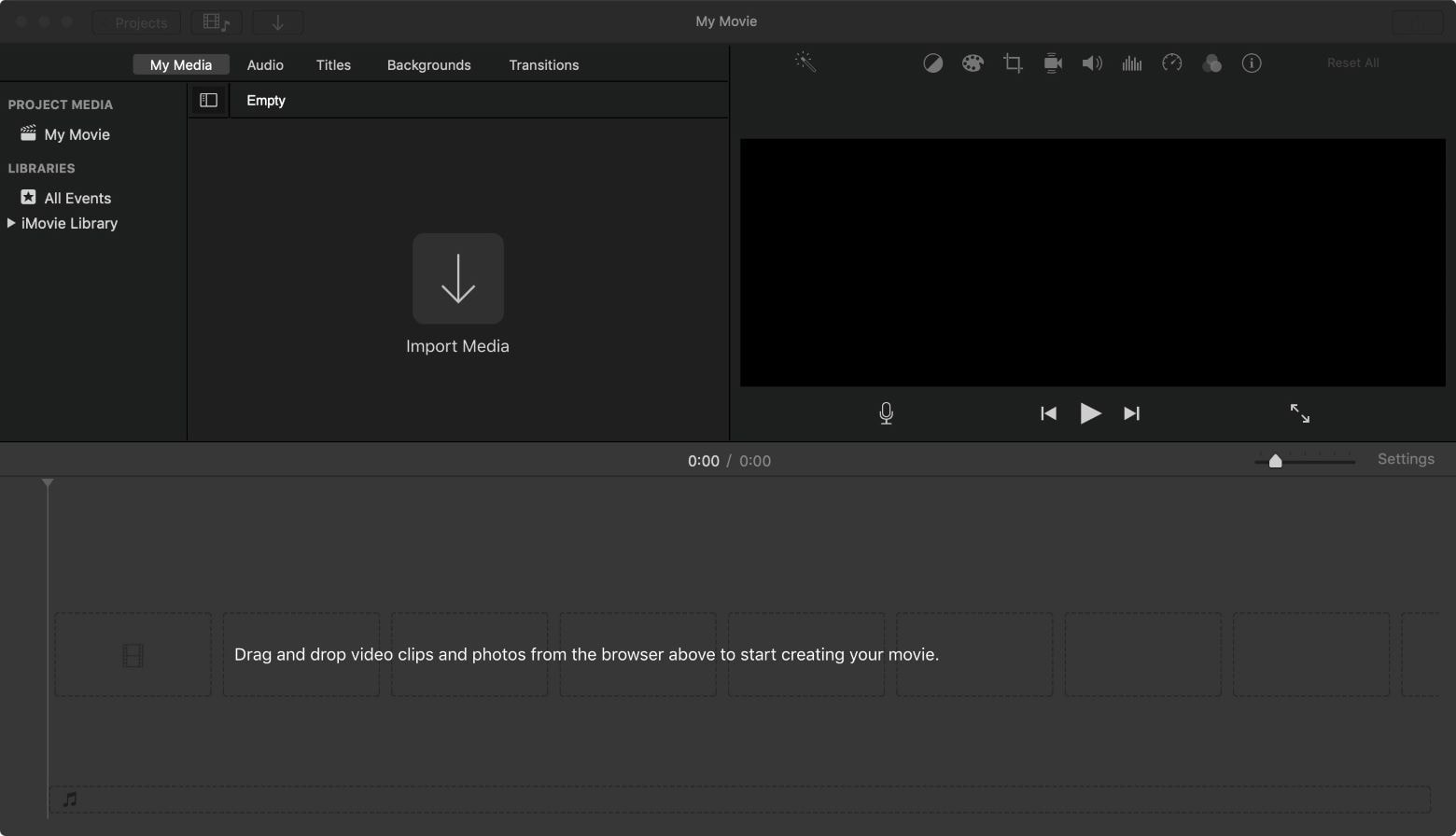 Step 2. Crop your media file to change aspect ratio.
Just above the timeline, you'll find the crop icon (as in the image above). Click on it and adjust your video size. When you're done, click on Reset.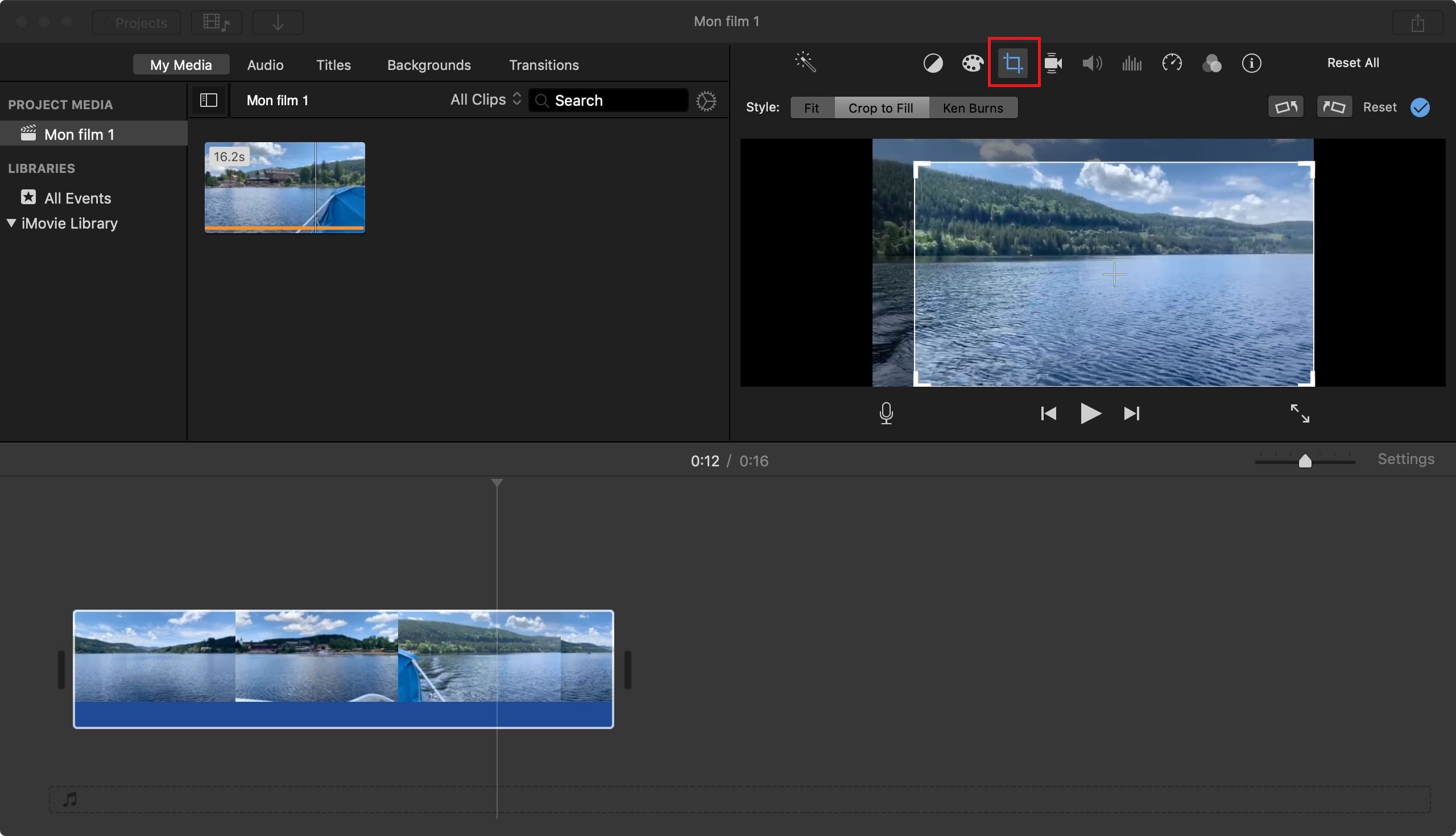 NOTE: If you want standard and fixed values for better presentation such as 16:9, 4:3 or 1:1, use the Alternative solution below:
Alternative Solution: Change Aspect Ratio on Mac/Windows using Filmora Video Editor
Filmora Video Editor for Mac (or Filmora Video Editor) is a powerful video editor which can help you easily edit and change aspect ratio of videos.
There are two methods of changing aspect ratio using Filmora, you can either set custom values A.K.A. cropping or select from the pre-set —16:9, 4:3, 1:1 and 9:16 (method recommended). Click the button below to install Filmora on your Mac or PC and try these simple methods.
Step 1. Import your media file.
Simply launch Filmora Video Editor and create a new project and import/drag and drop the media file to the timeline —that's if it doesn't already exist in a project; if it does, simply open the project.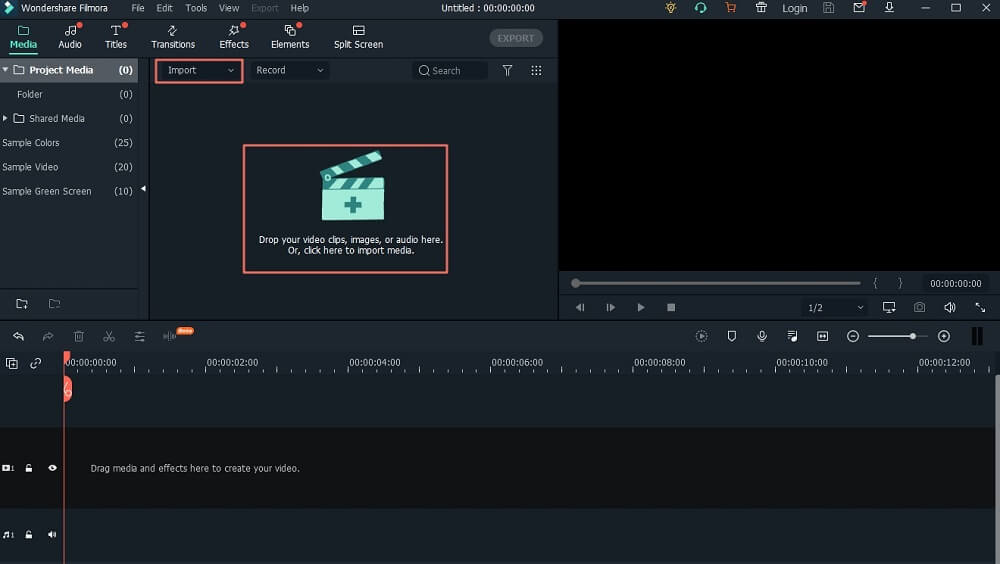 Step 2. Change aspect ratio
Right-clicking on the video on the timeline will display more editing options. Find and click on Crop and Zoom as in the picture below: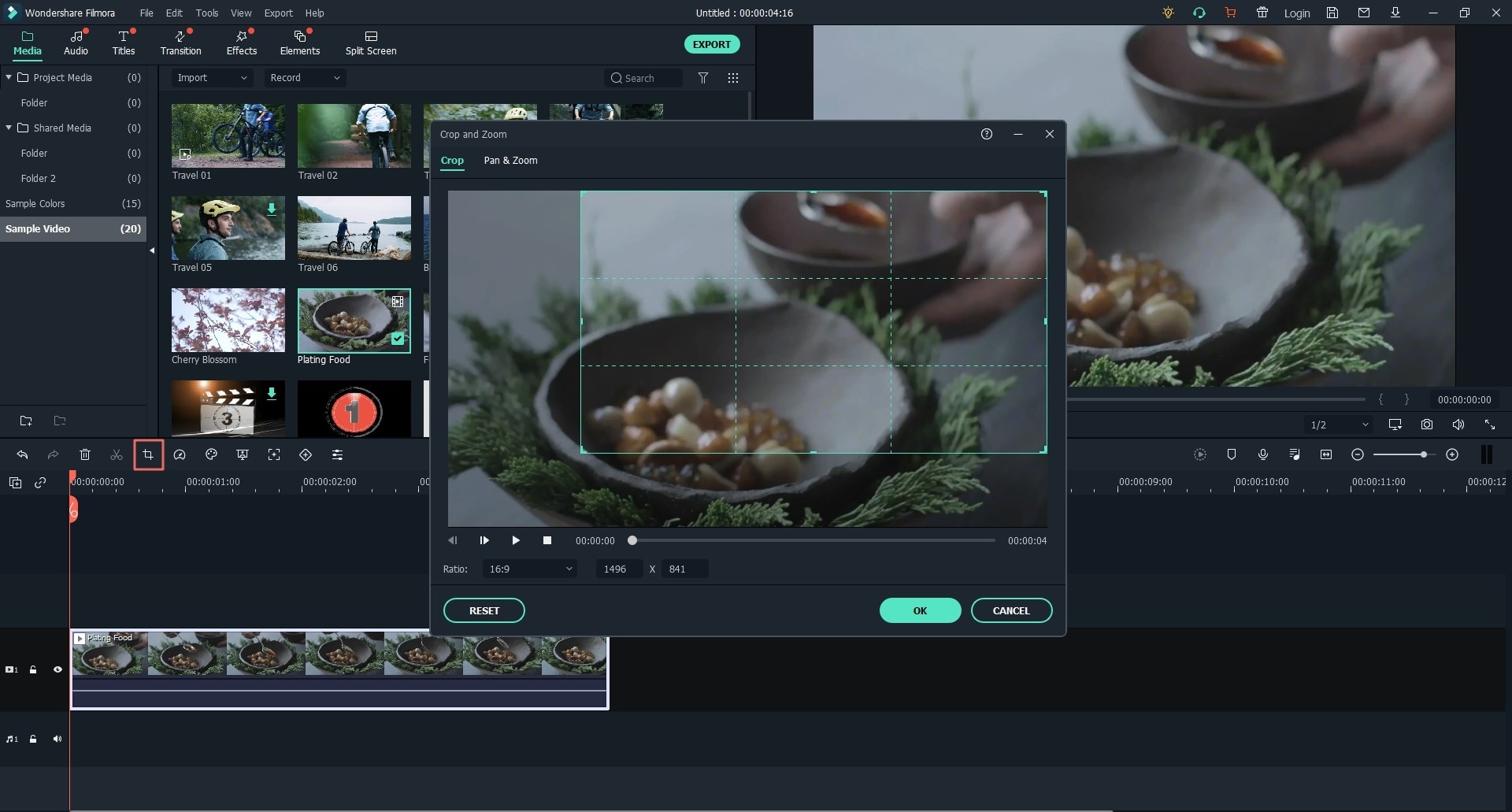 After clicking Crop and Zoom, you'll find Ratio (16:9, 4:3, 1:1, 9:16, custom) below the video.
1. Change aspect ratio by cropping your file: The option you're looking for is Custom. Simply adjust the crop handles and focus on the area you want.
2. Change video aspect ratio to 16:9, 4:3, 1:1 or 9:16: Using pre-set values for video aspect ratio is usually the best approach to modifying video aspect ratio. That way, your video looks good on all devices capable of handling media files.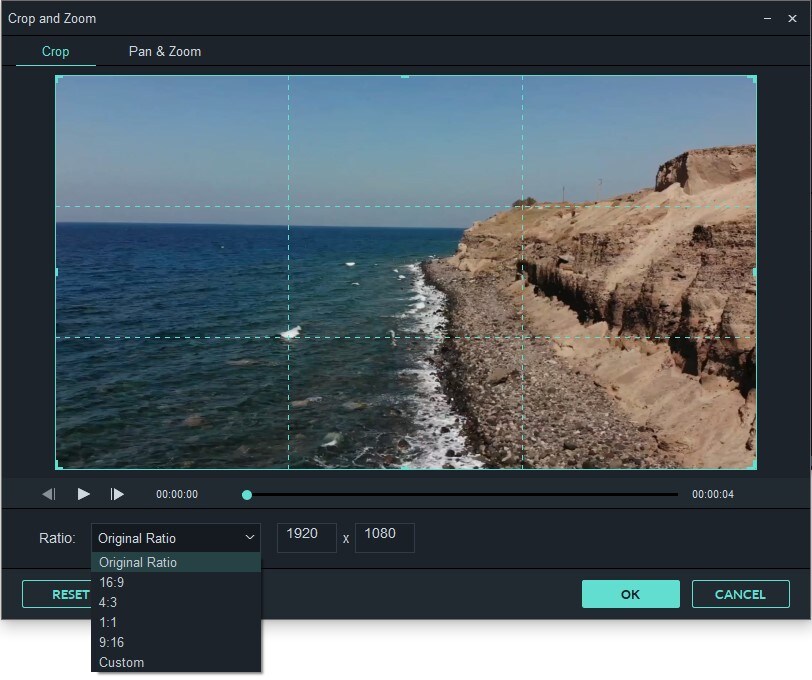 Bonus: Auto Reframe feature is available in Filmora for Mac, which allows you to crop your video clips automatically.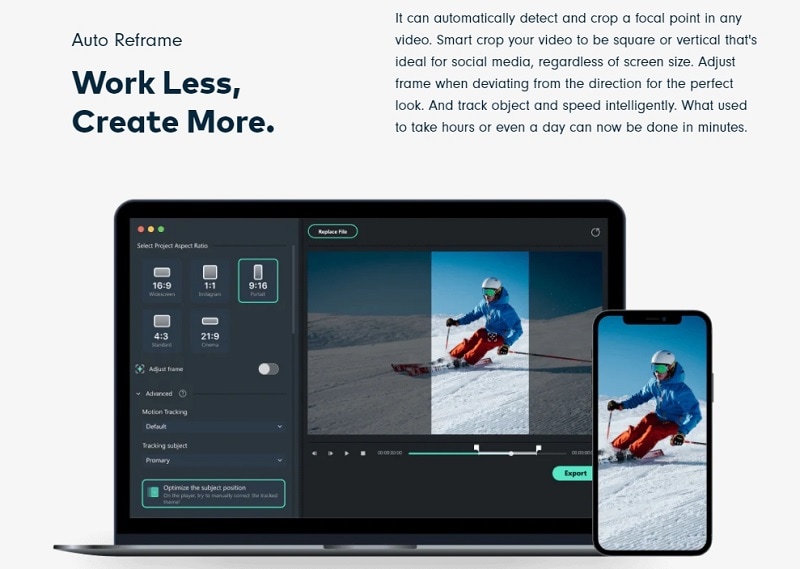 Click here to know more ways about changing aspect ratio in Filmora Video Editor >>
---
How to Change Aspect Ratio in iMovie on iPhone
Video editing can also be done on the iPhone using iMovie. However, just like iMovie for Mac, standard/pre-set values for video aspect ratio such as a square movie aspect ratio can't be achieved on iMovie for iPhone—well, unless you achieve that manually.
Thankfully, an alternative method using FilmoraGo can be used to set standard video aspect ratios. If you want standard ratios, you can skip to the alternative solution below, otherwise use the steps below to change the video aspect ratio in iMovie for iPhone (crop):
1. Open iMovie on your iPhone.
2. Click the Plus icon and select Movie.
3. Import your video(s).
4. Tap the video in the timeline and select the magnifying glass to start cropping.
5. Zoom/Crop your video as desired.
6. Click Done, and next Save Video.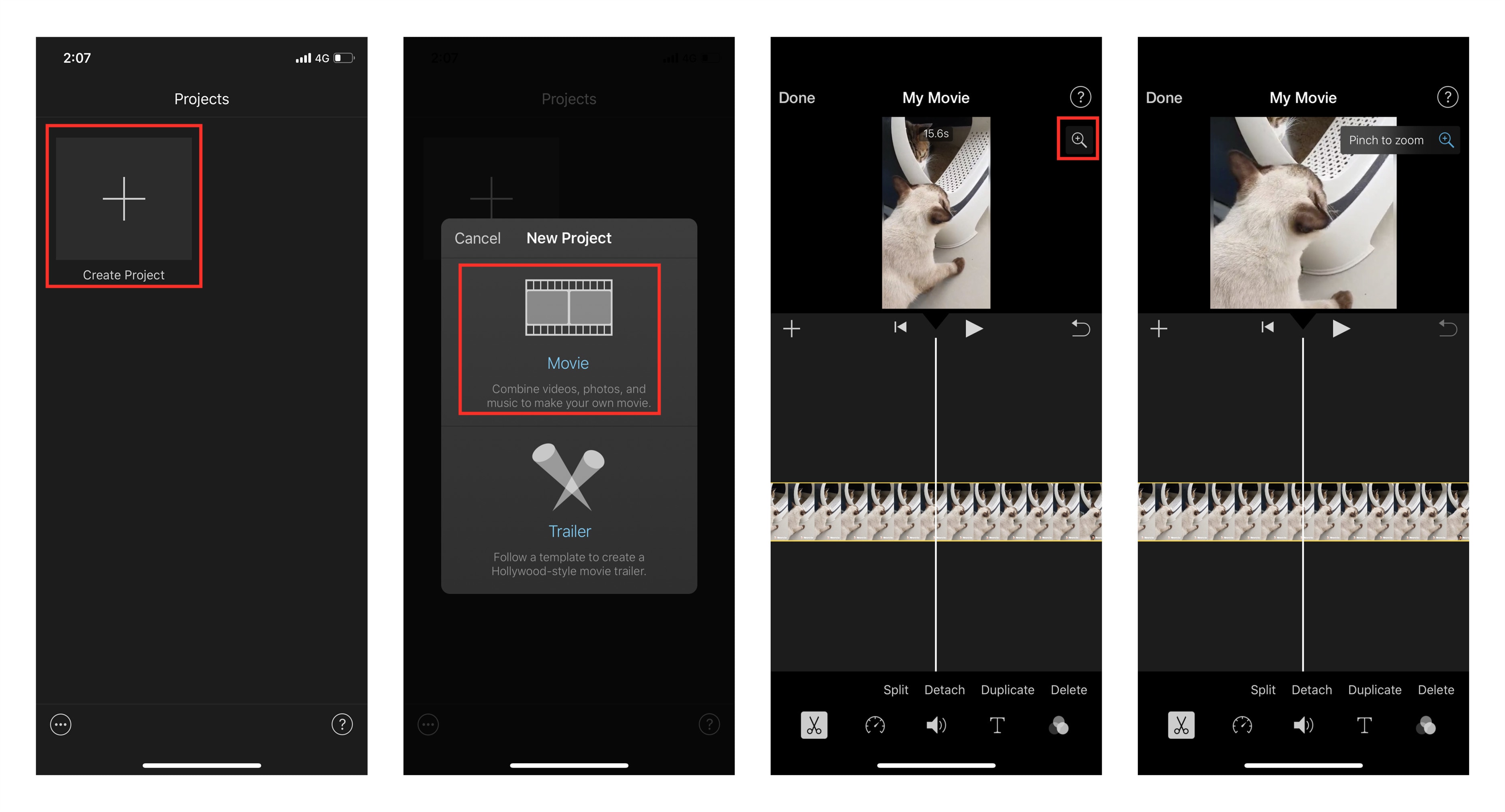 Alternative Solution: Change Aspect Ratio using FilmoraGo
With FilmoraGo (available on iOS now) you can use standard and internationally recognized video aspect ratios for your videos. Please follow the simple steps below to change aspect ratio using FilmoraGo.
Step 1. Create a new project or open your recent project.
Step 2. Select Canvas: On the next screen after adding a video, select Canvas from the list at the bottom of the page.
Step 3. Select Format: You can select your desired ratio in format. 1:1 is a squared image/video—appropriate for profile photos on WhatsApp, for example.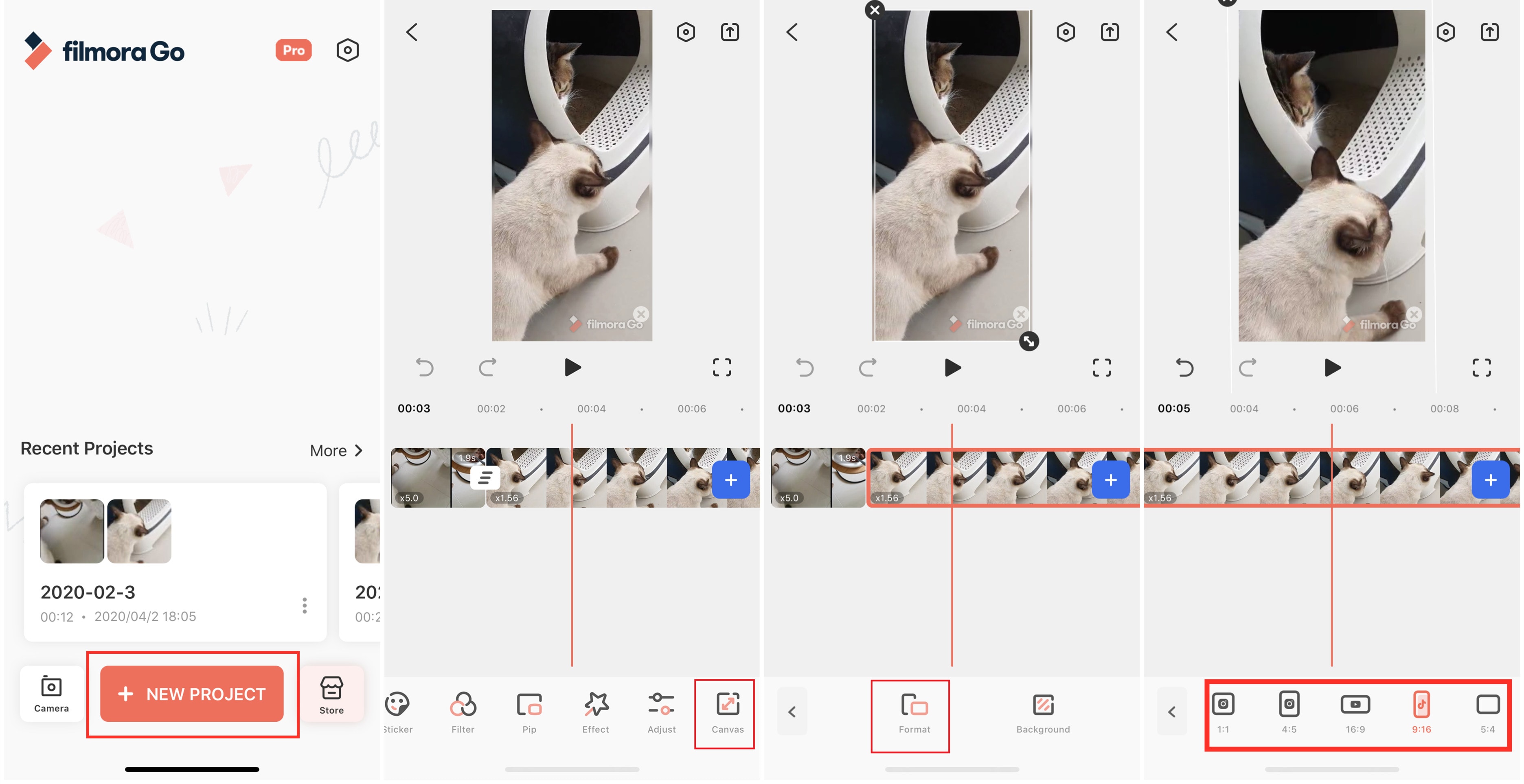 ---
Write in the end
Hopefully, you've learned how to change a video's aspect ratio to custom values using iMovie and custom/standard/pre-set values using Filmora Video Editor for Mac (or FilmoraGo). That was our major goal—the aim of this tutorial.
You see, setting the appropriate video aspect ratio is important as it helps compose better videos. It also helps you understand how to configure your camera to capture with the appropriate ratio so as to you upload or share your videos with zero or little editing.