All of you know that iMovie is a built-in yet basic video editing software for Mac users, but you might not know that the iMoive can also do lots of professional video editing jobs. To perform the duties professionally, iMovie requires critical add-on and plugins, and most of these plugins and add-ons will not run autonomously.
Thus,
It is necessary for us to learn what iMovie plugins and add-ons will make your video outstanding. That's also why I write this post today.
In this piece, you will learn about the top ten iMovie plugins and add-ons that you can't ignore and you can install them on your Mac and work it with iMovie.
The best part?
Some people might find the iMovie stll cannot satisfy their editing needs after installing these popular iMovie plugins and add-ons, so I also take another powerful video editor as your iMovie alternative option. You can compare them and pick up the one for using according to your own needs.
Top 10 iMovie Plugins and Add-ons and Installation Tips
Ascii
& Art
This iMovie plugin comes with quality and ease of use which are the biggest benefits that you will enjoy. Its price is equally affordable but don't go for very cheap options whose quality is mostly compromised. Using Ascii & Art will give you the opportunity to enhance your video through adding key abstract and artistic effects. Its key feature is high conversion speed for any video or image.
Big
& Bold
The notable feature for Big & Bold is an easy-to-use interface that is highly rated by users. This plugin for iMovie features titles that have sturdy graphic elements which are in motion. For every title, you will get controls which offer total flexibility for modification of the general appearance and motion of the texts.
BKMS
All Pix
Its documentation might not be what you are looking for but it will always be a good choice when using iMovie. Its notable features are washes and fades which are pixelated transitions. They help to improve the quality of videos as you will experience pixel fade which easily dissolves to either black or from black while pixel wash dissolves to either white or from white. When in use, you will see images changing at a random rate and you can be able to view the entering images easily.
BKMS Curl
& Copy
This comes with twin transitions which you can use to make your movie professional in iMovie. There is page curl which begins from any of the corners and will show a blurred version of the exiting shot from the back side. The second transition is copy machine and it will display a brighter version through a lit bar. This bar will be seen moving from one end of the screen to the other and the new scenes will be visible while the old ones will be concealed. Once through with displaying the new scenes, the bar will retreat to its original position.
Crops
& Zooms
This is an iMovie plugins that will offer you several options for zooming and includes ultra-smooth, blocky, square and circular peephole effects. There are also some ramp effects which you can consider for your iMovie. An image transformation is the key feature for Crops & Zooms plugin and it brings together transformations like flip, stretch, shrink and rotate. They are all effective enough when used with iMovie together with a camera shake effect that is well animated.
Effects
for titles
With this plugin for iMovie, it has key effects that operate on standard white-on-black titles. These effects come in huge varieties but will include dropped shadows, color schemes and title placements. All these effects and many others coming with effects for titles are added when necessary and in their right context.
deDigital
Effects#1
This is a highly complex plugin that has up to 90 others in it. The plugin is capable of adding specialized visual effects to a movie on iMovie and many other software programs used for editing video. It is anchored on the principles of FixPlug from Apple and uses the power of Mac OS X 10.4 as well as Quartz Composer. Some of the key effects that deDigitalEffects#1 comes with include video cubes, video feedback, explosions, oil painting, underwater, 3D titles, dots, comets, fire and 3D video wall. It is a professional plugin that you will always cherish using with iMovie to edit your movies.
deDigital
Effects#2
This is more or less the same as deDigitalEffects#1 but it has its own unique features. Therefore, don't confuse any for the other or decide to substitute them which will be a wrong move to take. Some of the effects that you will be looking for in deDigitalEffects#2 include fireflies, 3D bubbles, tunnel, sonar, chess, pedal, maze, BarCode, flying toasters, roller coaster, fireworks and bouncing cows. For all the effects, deDigitalEffects#2 will allow you to download a demonstration for free which you should use to determine that the one you choose is the best.
Gree Three
Slick
It has ten volumes which includes titles, transitions and effects in their hundreds. Your choices when using iMovie will definitely be ample so don't make any regrettable decision. By choosing to use GreeThree Slick for iMovie, it will be an opportunity of saving huge costs that can amount up to 40%. All its effects are award-winning thus will be good for advancing capabilities of iMovie to guarantee you of the best experience and quality videos. The main advantage of GreeThree Slick is its integration with key versions of iMovie and it makes it possible to have the best effects added to your project. This is the right iMovie plugin to help you come up with a Hollywood-like movie.
iBubble
This iMovie plugin comes with thirteen titles which you will enjoy using with iMovie. Inside the plugin you will get glowing text, moving text, plain text, labels, thought bubble, labels with arrows and speech bubbles included. You will have to be wise enough in choosing an option that will favor your iMovie project. The outstanding feature that makes iBubble the ideal plugin for iMovie is an easy-to-use interface. It has graphics that make it possible for the user to position titles in any part of the videos as wished. It is a reason why you will consider iBubble over several other alternatives.
---
Filmora Video Editor - The Best iMovie Alternative for Mac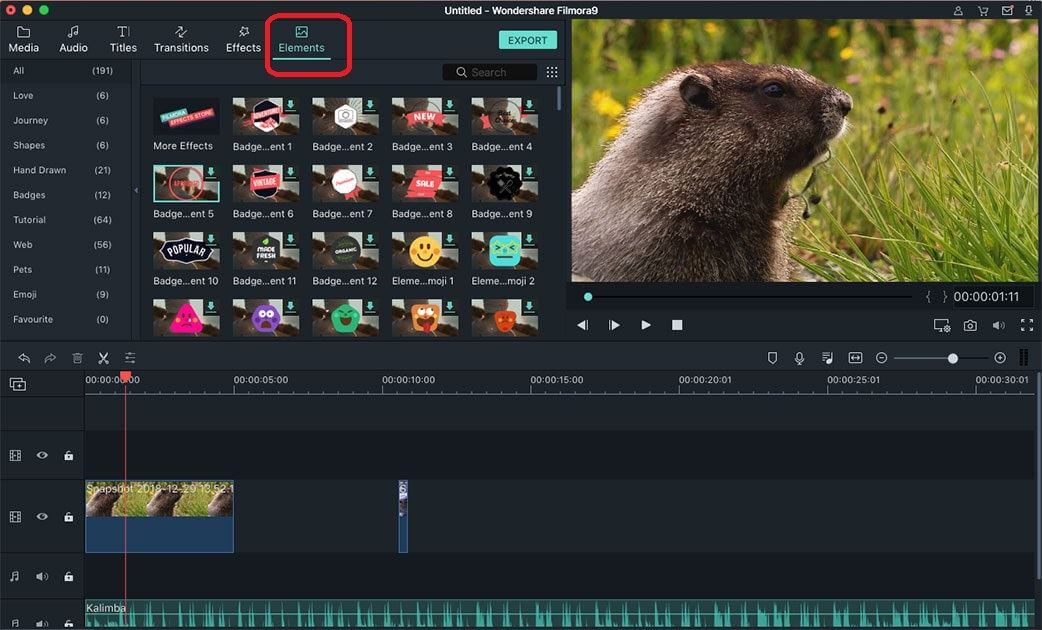 Filmora Video Editor is the best iMovie Alternative for Mac in the market and provides the best methods, tools and techniques to perform the video editing easily. The program easily answers the question that how to edit videos and requires no plugins and add-ons. You can find all neccessary functions and tools in the panel quickly and apply them to your video directly.
Key Features of Filmora Video Editor:
Various special effects including split screen, green screen, and face-off features are also available.
It has over 300 video effects that allows you to be more creative using themes on love, the internet and pets.
Great-looking animated titles can make your video stunning and special.
It includes advanced editing power to Mac users with reverse playback, video stabilizer and pan and zoom features.
Now, let's have a brief look on how to edit a video with Filmora Video Editor:
And, you can also follow the below guide to edit video on Mac with the best iMovie alternative software.
- How to Color Correct Video Easily
- 100+ Free Video Transition Effects to Customize Your Video
---
Write in the End
With that information, the ball is in your court to choose the one that you feel best suits your iMovie project. Obviously, there are several factors that will determine that but the focus should not be lost. Researching extensively from online sources will open up your world to many queries and concerns raised over the suitability of iMovie plugins which you can use in making an informed choice. When adding an effect with any of the discussed iMovie plugin, be advised to have the preview feature disabled. This is a warning that you must heed to otherwise the whole process might fail to mature.
Since certain plugins are slowly becoming unstable with some versions of iMovie, it is good that you first download, test their functioning and then decide on which is good enough for your use. Don't fall for any plugin just because your friends are using it or you have heard of nice things said about it. Go for a plugin that you are sure is the best and right one for your iMovie project. In cases where you find a plugin incompatible with any version of iMovie, you can decide to upgrade its features which are an effective option that is tried and tested.
The time to spend in having your plugin installed to the iMovie is significantly lowered courtesy of the compression feature but it's not found in all plugins. Even though not mandatory in all plugins for iMovie, you will be lucky to enjoy that for your project.