Mac users can apply iMovie for Mac OS to edit videos. And it also has a mobile application for you to enjoy in the iPhone and iPad. Android users also would like to find an iMovie similar app for Android. However, there is no iMovie for Android. Luckily, here we introduce you to top 5 best iMovie alternative to Android, allowing you to edit videos on Android easily.
Recommend Best Desktop Video Editor to Edit Android Videos Easily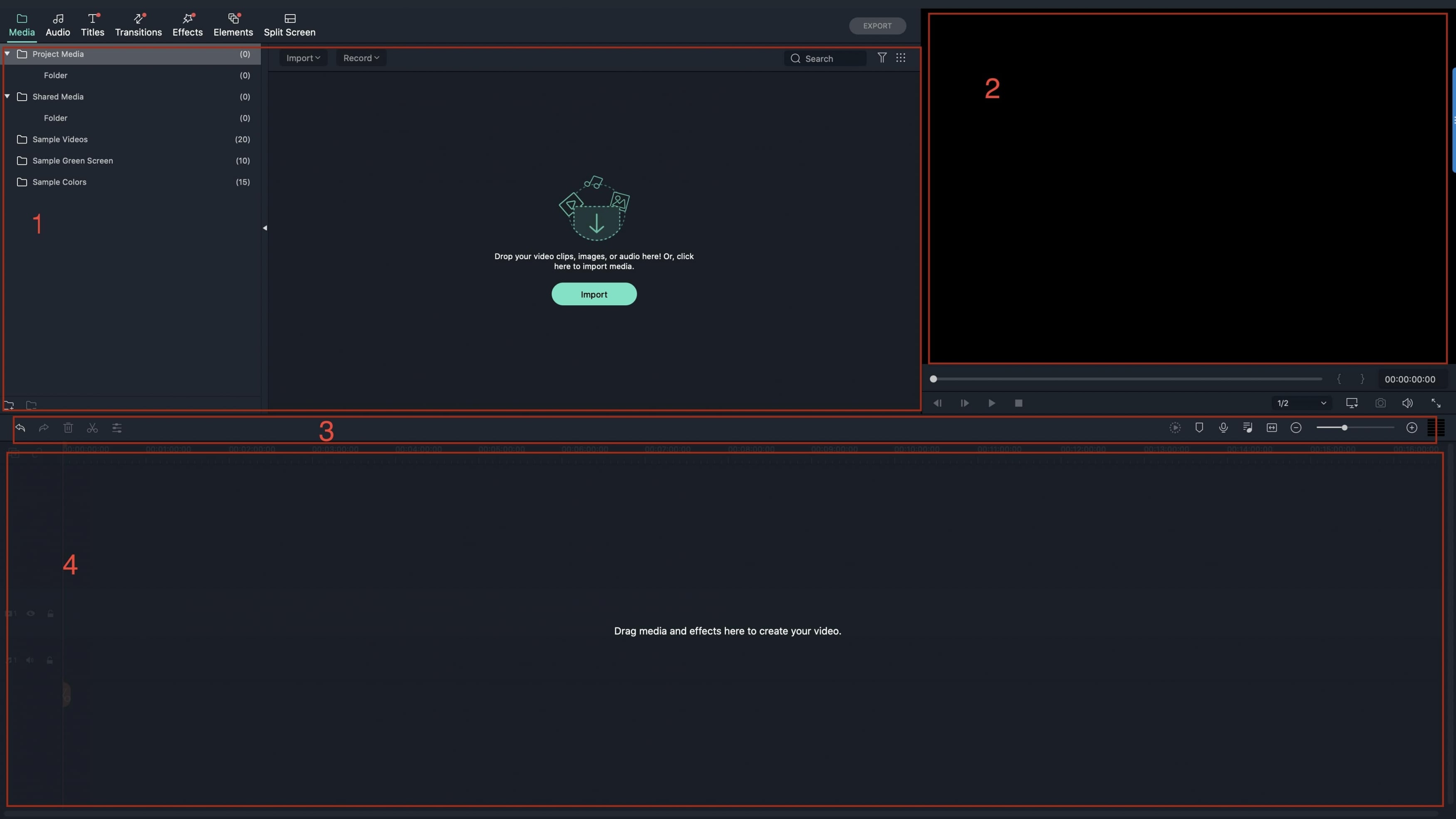 For Mac and Windows users, you can also get the best iMovie alternative like Filmora Video Editor for Mac (or Filmora Video Editor for Windows) to edit video on (macOS 10.13 High Sierra) and Windows easily. It comes with easy mode for beginners in basic editing and full feature mode for professionals in advanced editing. And you can apply a plenty of free video, audio and picture effects to make your video special.
Why Recommend This Alternative to iMovie:
Easily trim, rotate, split, crop and combine videos.
Apply filters, PIP, motion elements, face-off and 300+ new effects.
Add audio to the video and edit the audio track per your need.
Save edited video in any format, or upload to YouTube and devices.
---
Part 1. Top 5 Video Editor Similar to iMovie but for Android
#1. Video Show: Video Editor & Maker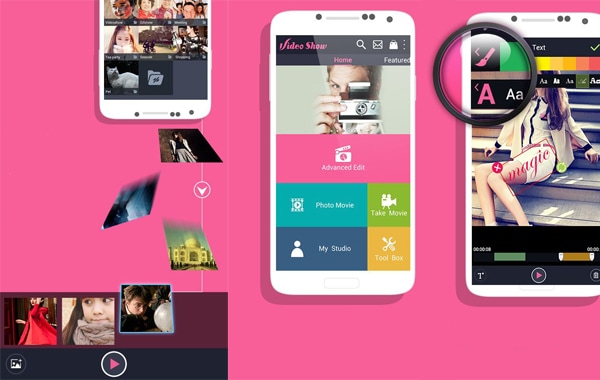 If anyone still thinks that editing video from your cellphone is not possible, then they might still be living in the 90's. Smartphones take up almost every minute of our lives and it would only be fair if we could take advantage of them and use them for stuff that would be more complicated on a computer, for example. It is known that video editing can take up a lot of time and resources but smartphones take down a weigh from our backs. Video Show: Video Editor & Maker is a video editor for Android and even though its pink interface might make you think twice before downloading, you should really give it a try.
With this iMovie for Android app you can change the color of your videos, merge several videos (it does not matter if they do not have the same video format), you can add music or subtitles, you can even record a voice note and add it to your video, you can do so much with this app that you probably will not notice that it lacks the option for transitions, not even in the paid version.
---
#2. VidTrim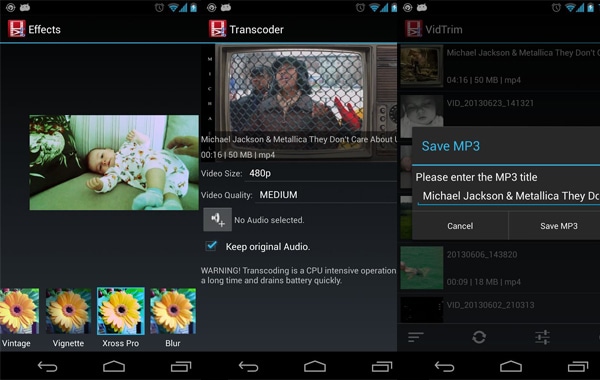 If you are a fan of stock Android's interface then you will probably like how VidTrim looks. With a plain dark grey background and a simple design, you will find refreshing how useful this iMovie for Samsung app is. You can start by easily trimming your video and choosing the best scene of it, then you can choose whether you want to keep the quality of the original file or improve it.
If you want to, you can add effects just like those we already got used to with all those picture editors out there and last but not least, you can even extract the audio from your video. Cool, huh? There are a whole lot of great features but you definitely should be careful before using them because this app can take up a lot of your CPU resources and you might end up with your phone discharged before you finish working on your video.
---
#3. AndroVid Video Editor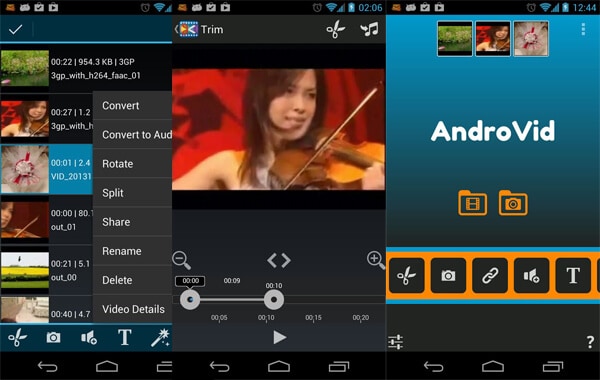 AndroVid Video Editor is another application similar to iMovie for Android with terrific looks. At the main screen, you will find yourself with some self-explanatory icons that will help you get started right away. You can quickly choose the video from your video library and start editing. Trim it, rotate it, add effects, add text, or your favorite song and these are just a few of the things you can do with this app but the best of it is that its design is so clear that you do not even need to read about what you are doing because you can easily undo the changes you have applied in case you do not like them. However, most of these great features are only available if your purchase the app.
---
#4. Video Maker Pro Free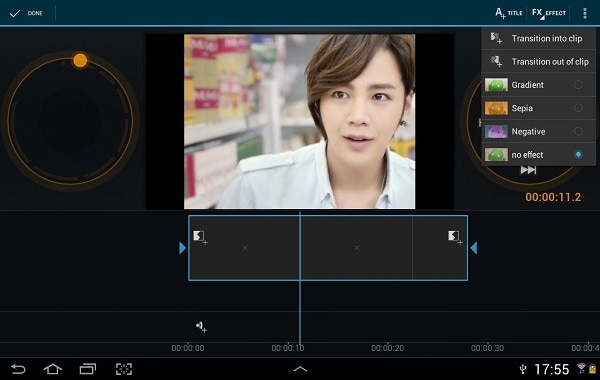 This iMovie for Android app might look a little like the previous one except with this one you will feel like a pro. Although clear and friendly interfaces are always welcome, it is also nice to see one that is not trying to make you feel like a dummy with all those explicit buttons.
With Video Maker Pro Free you can capture videos, split it or merge video clips that you have on your smartphone, add music and text, have fun with the video effects and once you are done you can share it on YouTube. Unfortunately, it cannot all be happiness. If you do decide to download this application then get yourself ready to deal with lots of advertising. Free.
---
#5. VideoFx Music Video Maker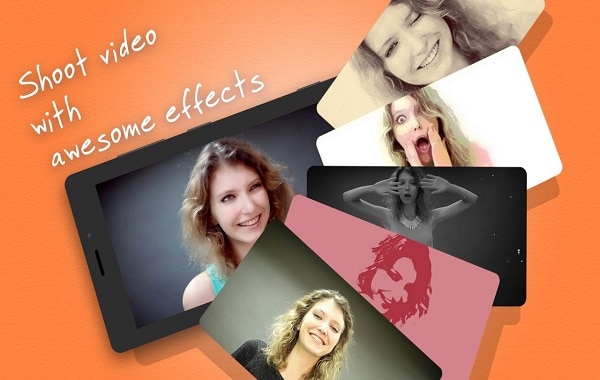 Do not let yourself get mislead by this iMovie for Android (including Samsung Galaxy S9) alternative. Although it would be safe to assume that VideoFx Music Video Maker is only for creating music videos, that is definitely not the only thing you can do with it. You can capture your video and do pretty much all the things you can with any video editor, for example, trim, crop, rotate, add effects, add text, add music or voice notes but the awesome thing here is that you can do all that while you are capturing the video, so you do not have to spend a while capturing and then another while editing.
Even when it looks pretty awesome and promising, it does have a major downside and it is that you cannot save your videos on your phone library, you must upload them to YouTube or to another media service, not so good for those who are not big fans of sharing with the world.
---
Part 2. Comparison of the Best 5 Android Video Editor
Now that you have the necessary information concerning the top five YouTube download plugins, make sure you have chosen the right ones. Don't enterThese are just a few application that you can get on Google Play for your video needs on Android, remember there are many, many more but most of them will work pretty much the same way.
So in the end it is more likely that you will choose the tool you feel more comfortable working with or the one with the better looks for you. Here is a quick recap of what you can get on the applications reviewed:
| Software | Supported formats | Embedded Video Player | Audio Extraction | Price |
| --- | --- | --- | --- | --- |
| Video Show: Video Editor & Maker | MP4, MP3. | Yes. | No. | Free. Pro Version: $2,99 |
| VidTrim | MP4, MP3. | Yes. | Yes. | Free. Pro Version: $3,99 |
| AndroVid Video Editor | MP4, MP3. | Yes. | Yes. | Free. Pro Version: $1,99 |
| Video Maker Pro Free | MP4, WMA, MP4A. | Yes. | No. | Free. |
| VideoFx Music Video Maker | MP4, MP3. | Yes. | No. | Free. |