- What is the easiest way to create videos with animated text for Instagram Stories?
- How can I use After Effects text animation like it is being formed out of spilled ink?
- How could I make a cool marketing video with animations, effects (various text effects, etc.) for an advertisement?
It is recommended to add text animations in videos, especially for educational or commercial video. Lower thirds, intro animations, call-out templates and captions show their importance when the sound is weak or turned off by the viewers. You can use animated text effects to grab people's attention to something key point and make the videos more creative.
But, it is really hard to learn how to animate text in After Effects, right?
Thus,
A powerful yet easy-to-ues animated text video maker is what you need.
No need to spend time leaning complex software like Adobe After Effect, there are many video editors provide you with as many as wonderful effects, including awesome text effects. Filmora Video Editor is the best one of them.
What's the best?
Apart from the hollywood-looking built-in video effects, Filmora Video Editor has established a one-stop shop for royalty-free video effects, audio, and stock media - Filmstock, which is dedicated to helping novices and professionals to create stunning videos in clicks.
Now, let's have a look at how to apply Text or Title effects to your videos.
Best Program to Help Add Text/Title Effect to Videos - Filmora Video Editor
Filmora Video Editor for Windows (or Filmora Video Editor for Mac) is the highly recommended video editor with text effects. It comes with more than 130 types of built-in text and title effects, so you can apply to your video to fit your theme. And you can add text effects to video just by dragging and dropping. There are still many great features that you can try.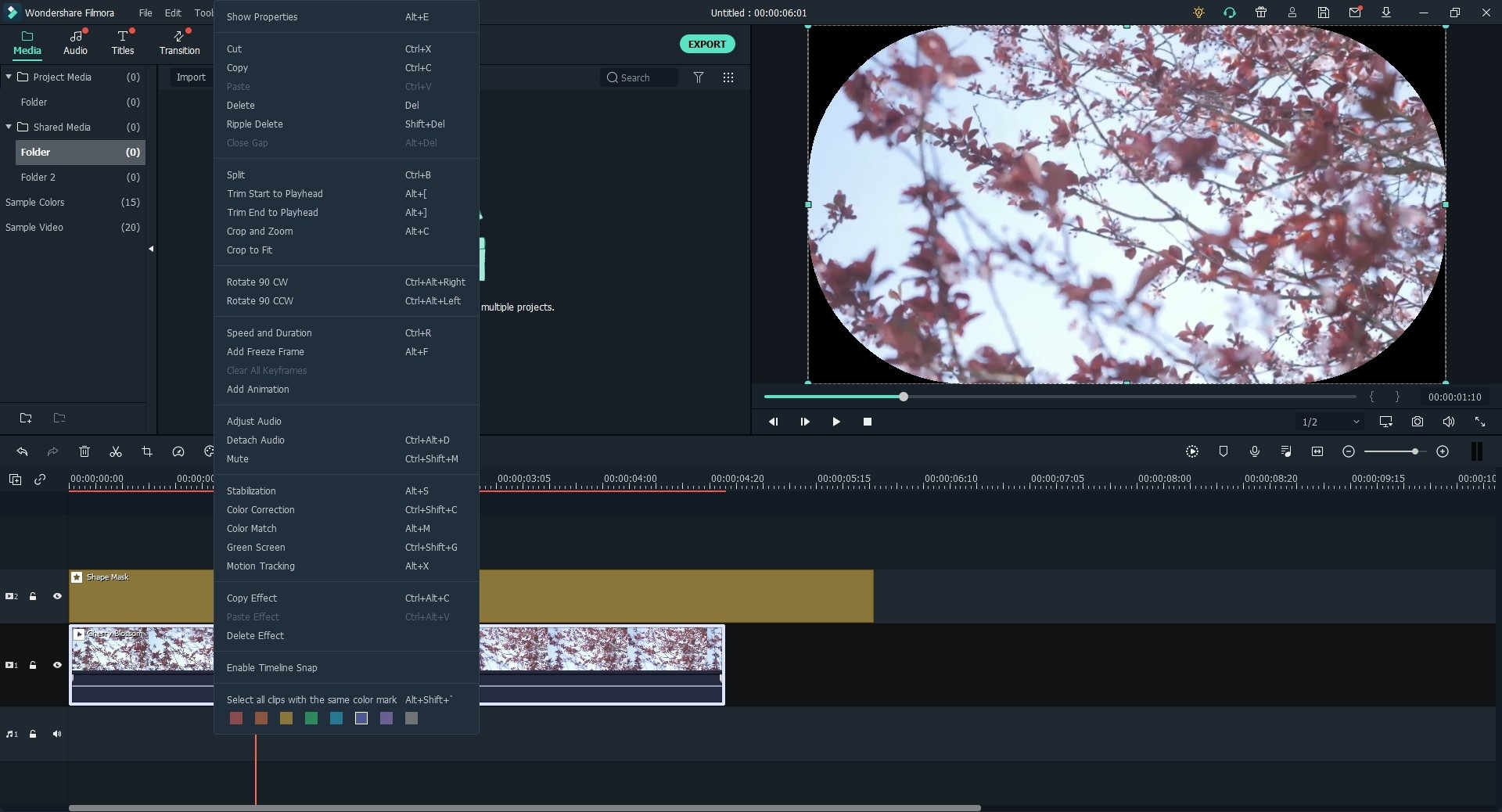 Let's see why recoomend to choose this animated text maker:
You can have 130+ text and title effects to choose from.
Also come with other effects like transitions, green screen, split screen, etc.
You can also personalize your video with filter, PIP, face-off and more motion elements.
The basic editing helps you to crop, trim, split, and join video.

[bonus]

Filmstockprovides 1000+ stylish theme text effects including intros, outros, lower thirds and caption effects.
---
How to Add Text/Title Effect to Videos Using Filmora Video Editing Software with Text Effects
With the software you can easily apply amazing Text and Title effects that can capture your audience completely. The following guide will show you step by step how you can add text effects to your videos.
Step 1. Import your video
The first step is to bring your videos that you want to edit into Filmora Video Editor. You can easily do this by clicking the "+" icon and selecting the files you want to add text to. By the way, you can achieve that with drag-and-drop method as well.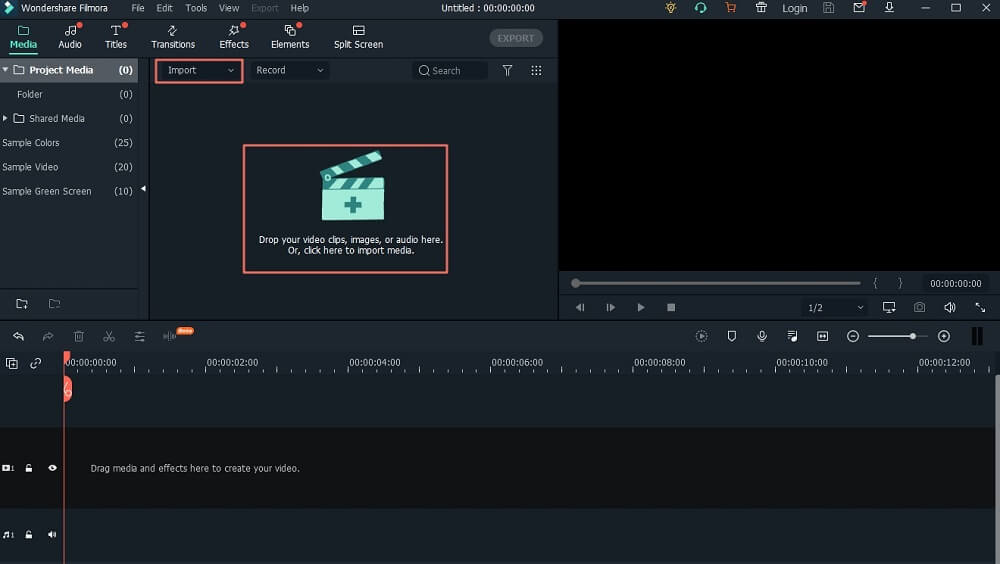 Step 2. Drag video to the timeline
Once you have imported the files into this animated text generator, please add video to the timeline.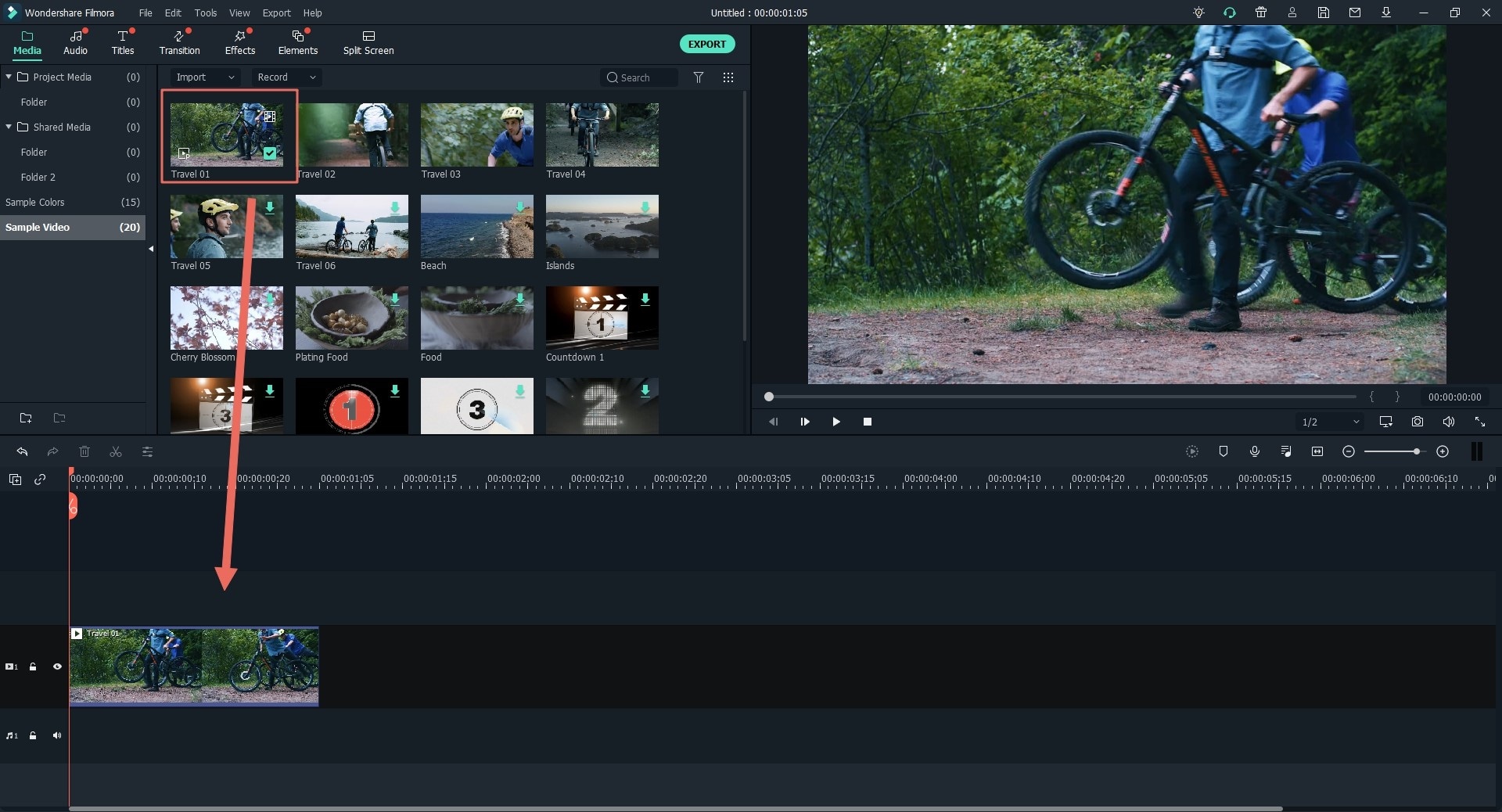 Step 3. Add Text effect
Check the toolbar on the left panel, and then click the "T" icon. Here you will get various text templates. Now you can add it to the timeline with ease.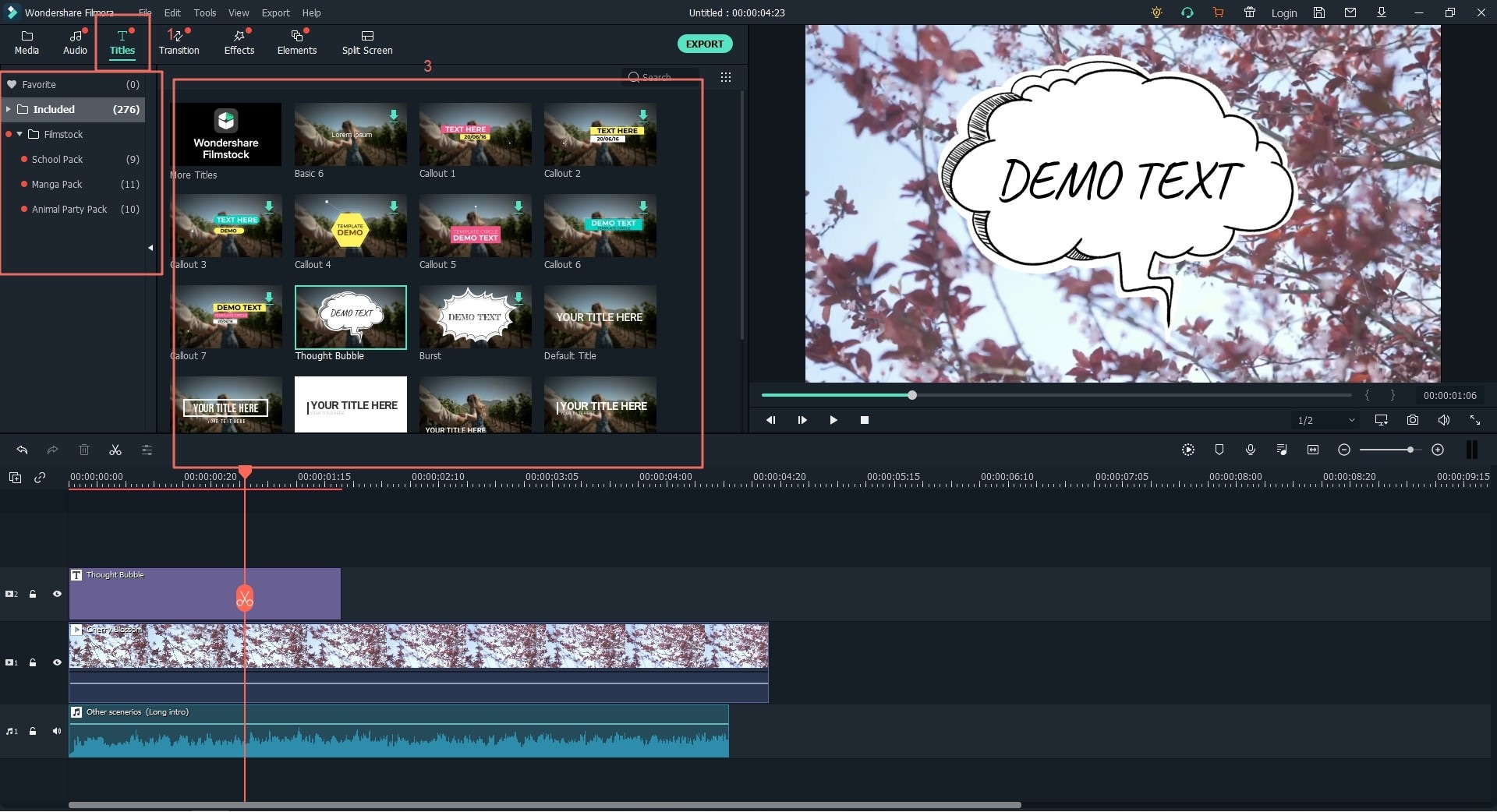 Right click on the text file, it will show a drop-down menu. Now you need to choose "Show Inspector" to continue. After getting a pop-up window, you can type in the text box, and then adjust its position, font, size and color as needed. And you can hit "OK" to finish this process.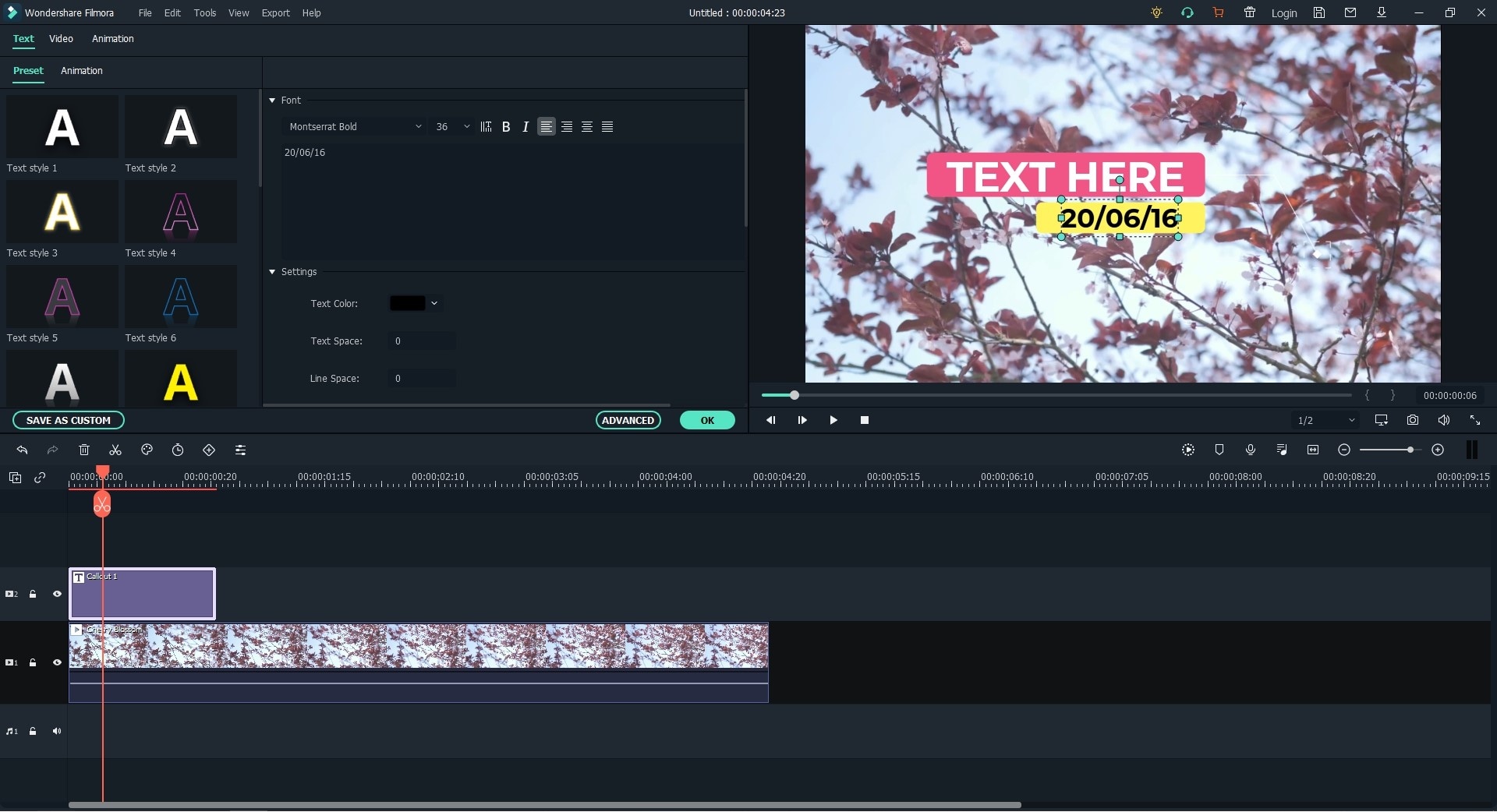 Step 4. Save and export video
At last, just hit the "Export" button to save your video with Text/Title effect.
---
Add Text Animation Effects to Video from Filmstock[Updated]
Filmstockis devoted to providing video creators tons of stylish video effects, images, footages, music and audio effects. These stock medias are Royalty-Free and fully compatible with Filmora Video Editor, which means you can directly download and use the effects in Filmora Video Editor by drag-and-drop.
Step 1. Download animated text effects in Filmstock
Find your desired theme effect pack in Filmstock, for example, you try to add Birthday title animation in your video. Locate at the "Birthday Pack" page, click on the "Free Download" button.
[Attention] Before you download Filmstockeffects, please confirm that you have launched Filmora Video Editor on your computer.
After the download process completes, the "Birthday Pack" will be automatically installed in Filmora Video Editor.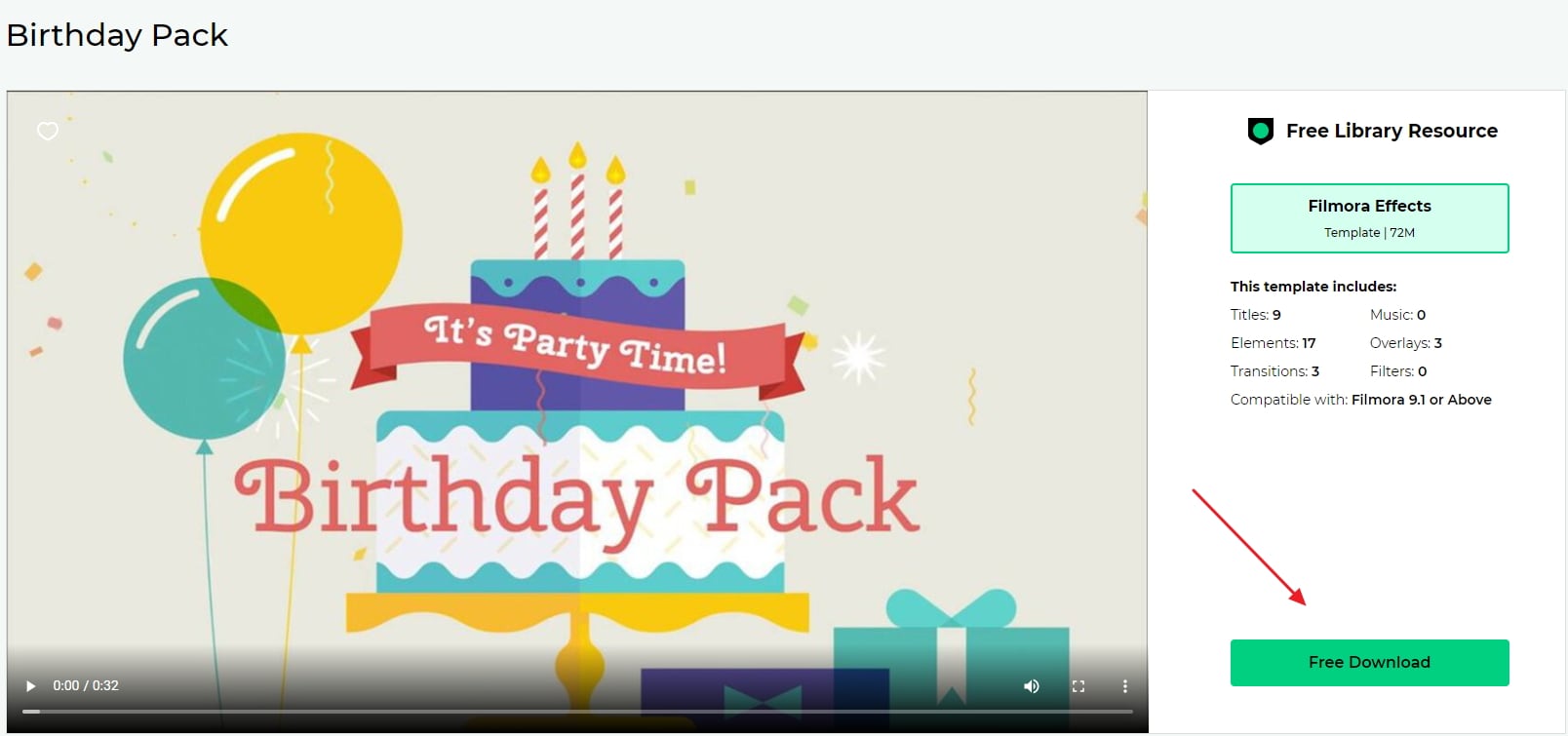 Step 2. Add animated text in your videos
Navigate to Filmora Video Editor, you can find the various effects of "Birthday Pack" are installed in corresponding categories. For example, you want to animate the text, click the "Titles" from the menu bar, you will find the "Special Event" category, click and expand it you could find the newly downloaded "Birthday Pack" text effect templates.
[Tips] A red dot will appear in front of the category to show that you have newly downloaded effects in this category.
Choose the desired one and drag it to the timeline track, double-click on it to animate the text as you want.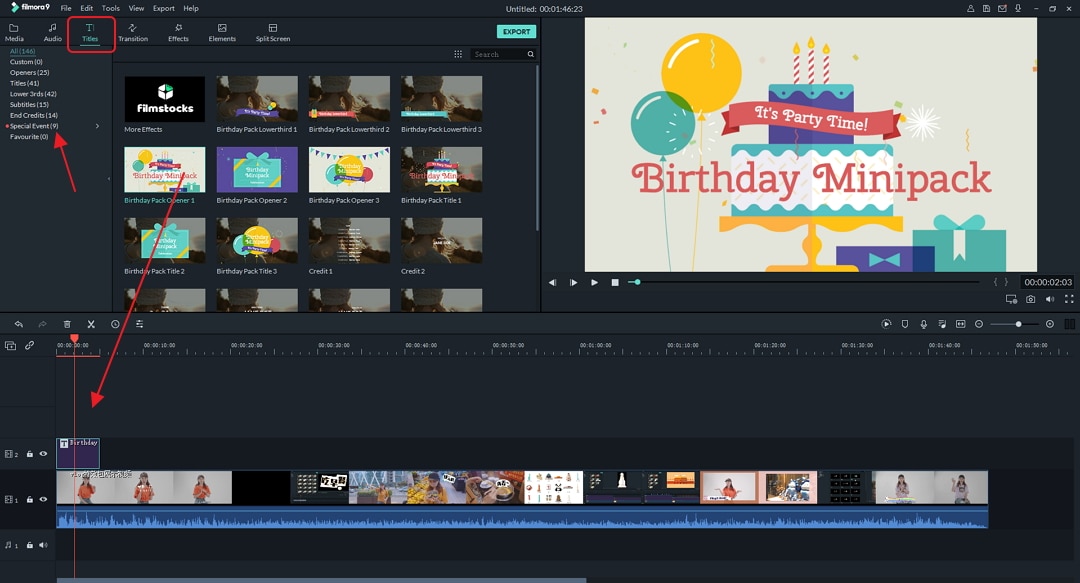 After creating your animated text effects, you can choose to save it as the preset setting. At last, preview your video and export it.
---
The Finish Line
Animated text effects are precisely the punchline in your video creating. In my opinion, it really needs a long learning curve to learn how to make animated texts in Adobe After Effects.
Especially when it comes to beginners and casual creators, it is not a good choice to waste time learing professional text animation software from scratch.
So,
Why not find a template-rich yet powerful video editing software?
That's the reason why I recommend Filmora Video Editor, with the visual built-in free effects and creative royalty-free effects in Filmstock, you can create a stunning video in clicks.
Now, it's time to free trial it, make animated text effects in your awesome Vlogs and other kinds of videos.