Contents
6. Video Filter Effects

9. Video Editing Tips
Applying video filters can really enhance your video and make it more impressive. If you are already a bit familiar with video editing, then you must have heard of some very famous video editing softwares such as Adobe Premier, Sony Vegas Pro, iMovie that also provide filter effects. So, adding filters to video in order to enhance it is quite easy. If you don't know yet, just read this article.
The Best Tool to Apply Filters to Videos - Filmora Video Editor
Filmora Video Editor is a professional yet affordable video editor that can be used to put filter effects into your videos. It has prepared more than 200 types of filters and overlays for users, including light leaks, lens flair, old film, cinema flairs, etc. With these filter effects, you can make your films full with sunshine and turn videos into old films or Hollywood masterpieces.
Super simple interface with all features and tools well-listed.
All the basic video editing features you might need provided: trim/cut, crop, merge, split, rotate, etc.
This video editor also provides lots of other effects like transitions, animated titles and text, background music, split screen, green screen, picture in picture, etc.
Fully compatible with the latest macOS and Windows system.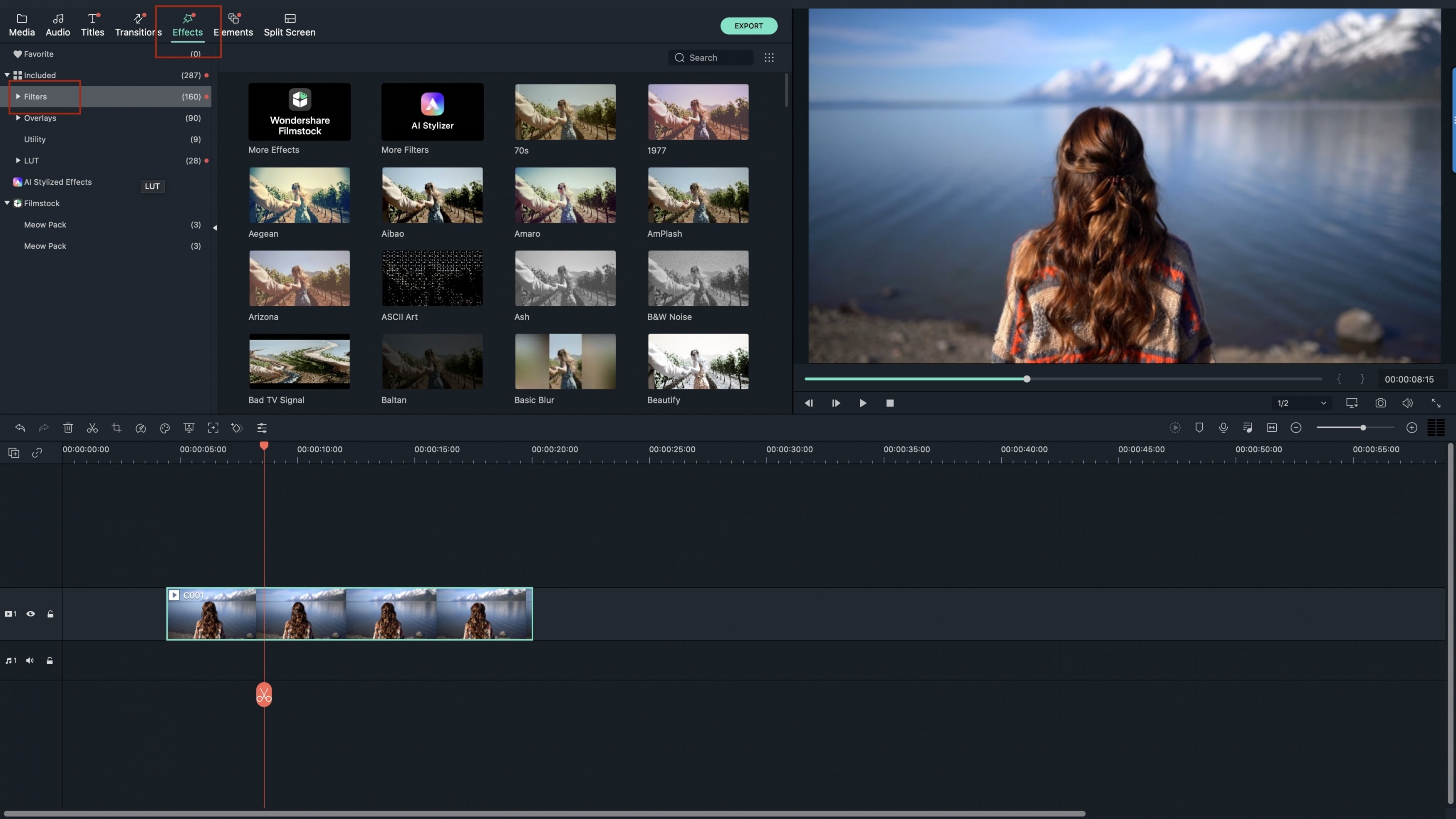 A Simple Guide to How to Add Amazing Filter Effects to Your Videos
Several Steps to Add Video Filter Effects with Filmora Video Editor
With Filmora Video Editor you can easily apply amazing Text and Title effects that can capture your audience completely. The following guide will show you step by step how you can add such effects to your videos.
Step 1. Open up Filmora Video Editor and import any video file that you would like to edit. You can easily do this by clicking the "+" icon and selecting the files. Meanwhile, you can achieve that with drag-and-drop method as well.
Step 2. Next, you need to drag and drop video to the timeline for editing.
Step 3. Here you can press the "FX" option to preview all filter effects.
Step 4. In this step, you are able to select any effect from the above menu and then add it in the "FX" track of timeline.
Step 5. Lastly, you can just click the "Export" option to save your video with filter effects.
More Tips about Adding Filter Effects to Video
Video editing is a very interesting field that has developed through ages of hard work and creativity. Ever wondered how these Hollywood movies go about making Superman flying in the skies or at least trying to delude you into thinking as such? How does Harry Potter plays with his wand to cast all sorts of spells and do stuff out of the ordinary?
Well, the secret to all these screenplays is nothing but professional video editing. Today, in the age of computers and sophisticated technology, video editing has become more than just changing backgrounds and colors. It has moved beyond simple transitions to more complex editing such as Green screens, sound editing and much more.
Video editing is therefore a very exciting area of work. However, for a starter it may seem very discouraging. You might be thinking that this field is only for professionals with advanced knowledge of video editing. However, the truth is that these professionals were once just like you. They learned and became the best in their fields. What's more, given the technological space today, there are so many software and programs that can easily give you a start with video editing.